We've made this Chicken Francese recipe so many times we've perfected it! Tender chicken breasts simmered in an easy, addicting lemon sauce!
Serve this easy chicken dish with Creamy Mashed Potatoes or these Crispy Homemade French Fries on the side! If you like rice as a side dish, try our Spicy Mushroom Rice instead. Just make sure there's something to soak up all the sauce!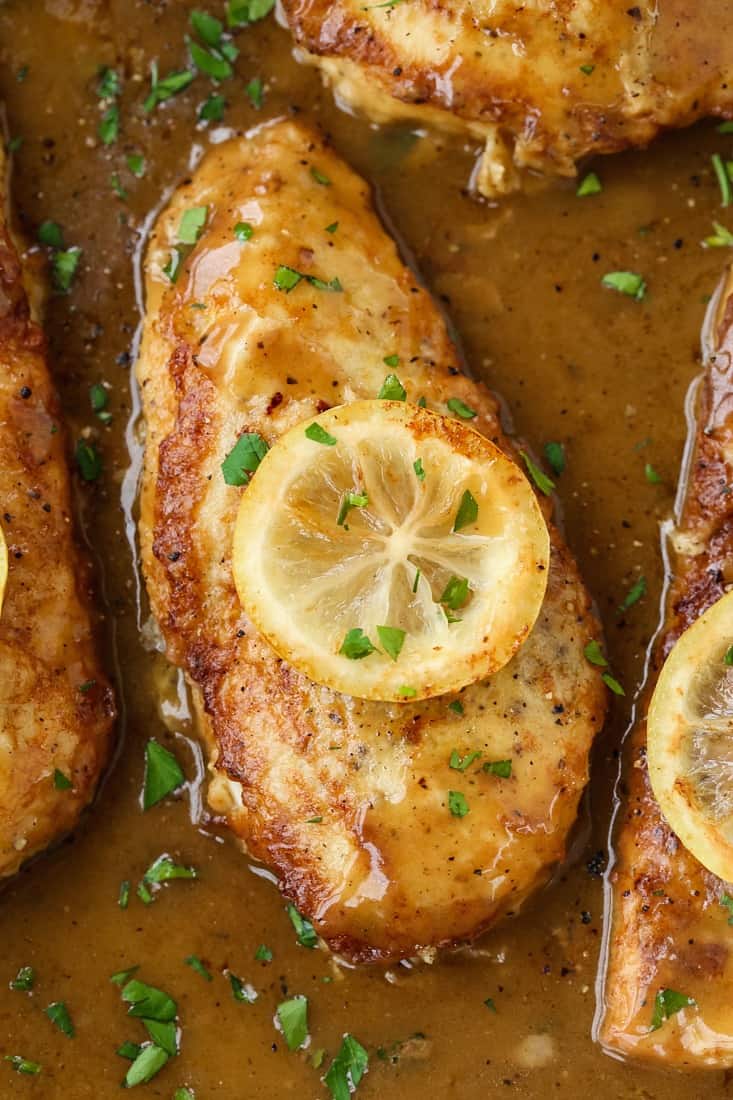 Why This Is The BEST Chicken Francese Recipe
We're pretty much experts on easy chicken dinners around here. Our boys love chicken and so do we, so we find ourselves making it ALL the time. Not just for dinner but for lunch and even snacking on. There's usually a plate of marinated grilled chicken in our refrigerator at all times for lunches, fast dinners and to add to salads.
So, this Chicken Francese recipe is one that we've been making for a long, long time. It's a super easy chicken recipe that can be on the table in just about 20 minutes. The other bonus is that we always seem to have the ingredients on hand, so there's never a need to run to the store.
Now, why do we think our Chicken Francese recipe is the best? It all comes down to the sauce. Yes you have to make sure that you coat the chicken properly and simmer it in the sauce until it's almost fork tender. BUT the sauce is what it's all about.
One of our friends kids calls this "that delicious brown sauce" and there's really no other way to describe it. Delicious sauce with the perfect amount of lemon and white wine and just the right thickness to coat the chicken. Simple ingredients with just the right ratio.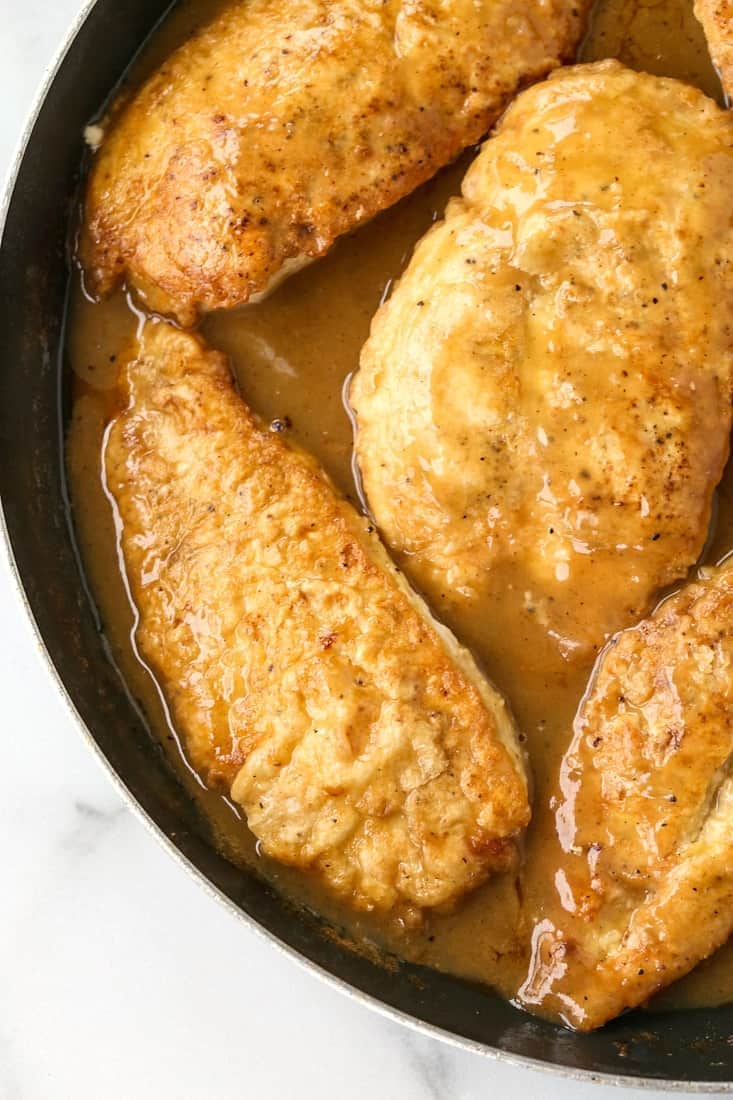 Tips For Making The Best Chicken Francese
Just a few ingredients go into this classic dish, so make sure each one is the best you can find. For instance, use fresh lemon juice, not the stuff from the bottle. Find the best store bought chicken stock you can find, or make your own and freeze it for recipes like this. And as far as the wine goes, it doesn't have to be really expensive wine, just a good quality wine that you like drinking.
Don't buy cooking wine from the grocery store! It's really not even close to the same flavor as real wine and it will make this chicken recipe taste subpar at best.
Also try and grab the best quality chicken you can find. The actual chicken that you use makes a difference in the flavor, too! And in this case, bigger is not always better. Sometimes those crazy big chicken breasts you see at the grocery store all pumped up with growth hormone and when the chicken is cooked it's has a rubbery texture.
You'll notice this more if you've had a chance to buy quality, organic chicken from a farm or a good brand from the store. Unfortunately, once you go this route you really won't be able to go back!
Ingredients
Boneless, Skinless Chicken Breasts
Fresh lemon juice and lemon slices
White Wine
Butter
Chicken Stock
Cornstarch
Seasonings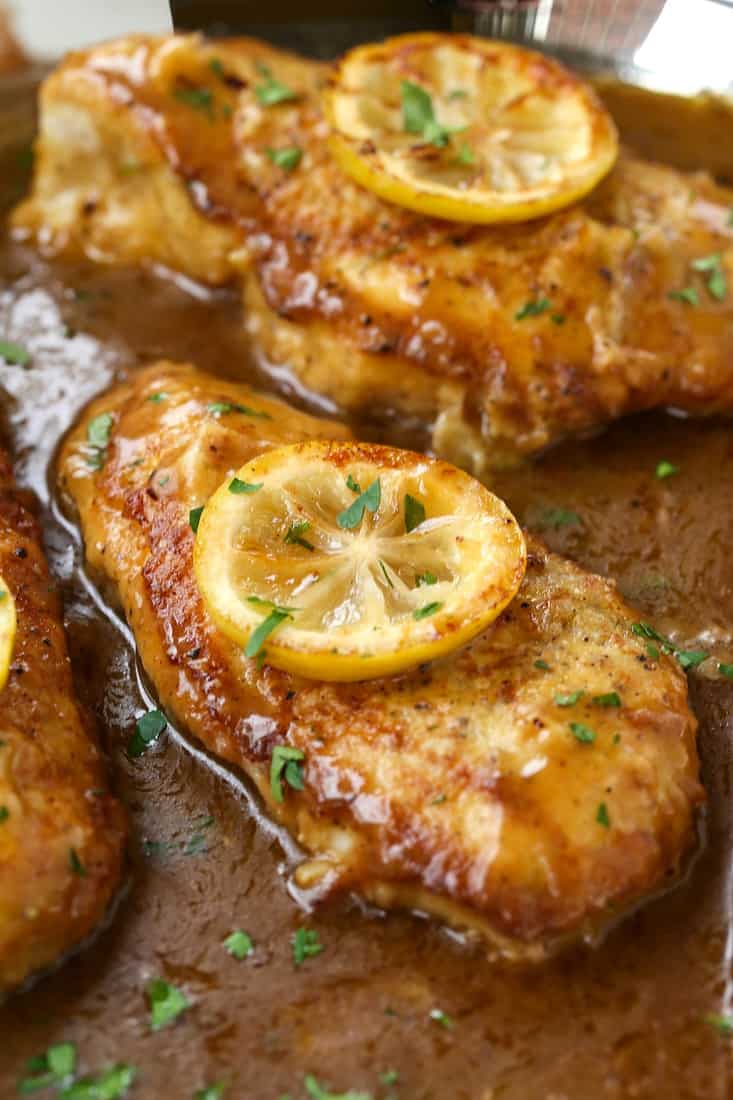 Can You Make This Chicken Dinner Ahead Of Time?
The answer is yes, but it's better if you make it right before serving. The sauce is the most delicious when made fresh, when reheating the sauce can tend to "break" a little. That means that the butter can separate from the rest of the ingredients making it seem a little greasy.
Even reheated though, this chicken is absolutely delicious, so don't be afraid to make it ahead of time if you need to. You can reheat these chicken breasts in the oven at about 350 for 30 minutes or until heated through. When you take the chicken out of the oven, just give the sauce a quick stir to mix it back together again and you'll be good to go.
Microwaving is another option but the chicken breasts can get a tough in the microwave so if you're going for this reheating method, cut the chicken up into pieces before you heat it up.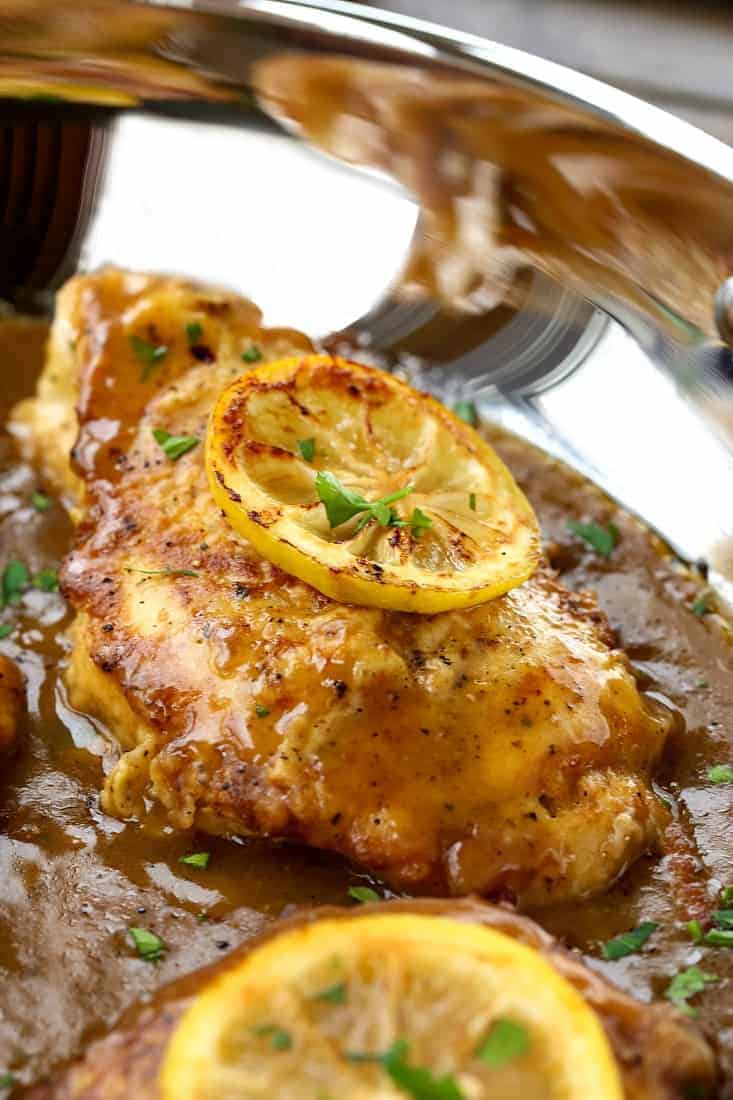 Can You Freeze This Chicken Recipe?
Definitely. Make this Chicken Francese recipe in larger batches if you'd like for meal prepping and freeze it. Defrost the chicken in your refrigerator and then reheat it in the oven following the instructions mentioned above.
This is a great dinner recipe to take to a friend's house or to bring to a potluck, we even make it for dinner parties. Everyone seems to love it and it doesn't keep you in the kitchen for hours making it!
PIN IT!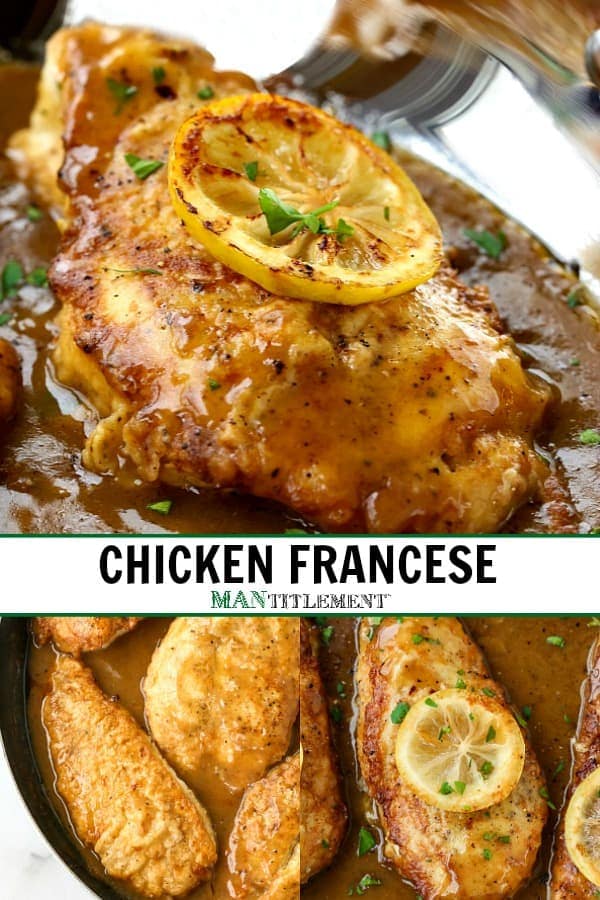 Looking For More Easy Chicken Recipes?
Print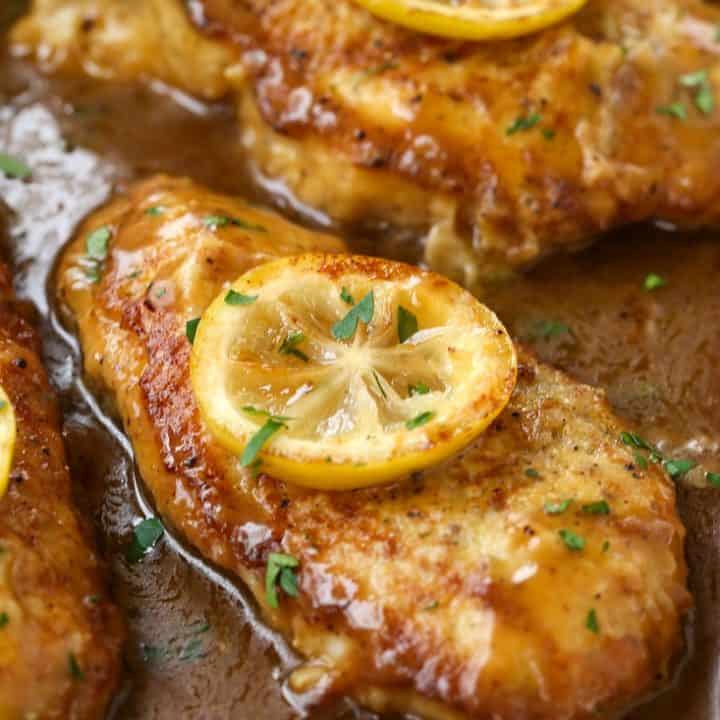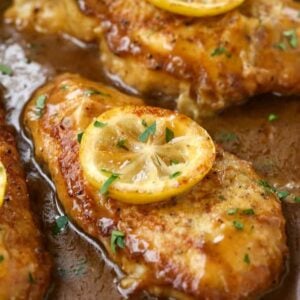 Chicken Francese
Author:

Prep Time:

5 minutes

Cook Time:

20 minutes

Total Time:

25 minutes

Yield:

6

Servings

1

x
Tender chicken breasts simmered in an addicting lemon sauce with a splash of white wine! This is going to be your new go to chicken recipe!
Scale
Ingredients
2

pounds boneless, skinless chicken breasts
Garlic powder
Kosher salt
Fresh Black pepper
Flour (for dusting the chicken)

2

eggs

1 tablespoon

whole milk or heavy cream

3 tablespoons

butter, divided

2 cups

chicken stock

1/2 cup

dry white wine

1 tablespoon

cornstarch mixed with 1 tablespoon of water

2 tablespoons

fresh lemon juice
Lemon slices
Instructions
Season the chicken breast generously, on both sides, with the garlic powder, salt and pepper. If your chicken breasts are very thick, slice them in half horizontally first.
Add the flour to a shallow plate or bowl, then add the eggs to another bowl and beat them with the milk or cream.
Dredge the chicken breasts in the flour, tapping off the excess and place on a plate. Once the chicken breasts have been coated in the flour, add 2 tablespoons of butter to a large skillet over medium heat.
Dip the chicken into the egg mixture, letting the excess drip off and then place into the hot skillet. Repeat with the remaining chicken breasts.
Cook for 3-4 minutes on each side until golden brown and then remove the chicken from the skillet to a plate and cover with foil.
Carefully pour in the wine to deglaze the skillet and let reduce for 1 minute. Add the chicken stock, lemon juice and the remaining tablespoon of butter, stirring to combine. Bring the sauce to a simmer and cook for 5 minutes, then add the cornstarch mixture and whisk to combine with the sauce.
Bring the sauce back to a simmer, add the chicken breasts back to the skillet and top with the fresh lemon slices.
Simmer the chicken for 8-10 minutes over low heat, spooning the sauce over the chicken as it cooks. Cover to keep warm or serve immediately.
Category:

Dinner

Method:

Stove Top

Cuisine:

American
Keywords: chicken francese recipe, chicken recipe, easy chicken recipe, dinner recipes, dinner ideas, low carb recipes