Rotisserie Chicken and Broccoli Stir Fry is a an easy and healthy chicken stir fry recipe that can be on the table in just 15 minutes!
We LOVE making stir fry for dinner! All you need is this simple Homemade Stir Fry Sauce recipe and you can have a healthy dinner ready in minutes!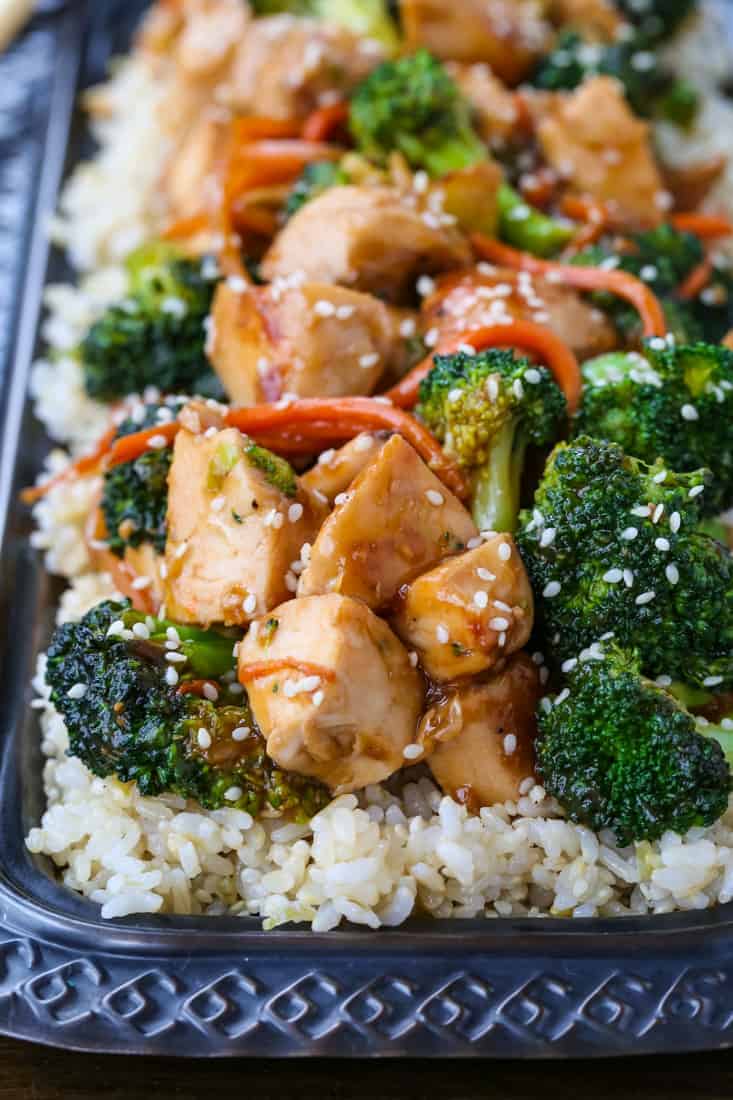 Rotisserie Chicken and Broccoli Stir Fry
Stir fry night is a favorite dinner night at hour house! Our kids will pretty much eat anything if it's made into a stir fry recipe! Take note there parents…I do mean anything.
Stir fry vegetables are so much better tasting when they are cooked in a hot wok and tossed with our homemade stir fry sauce. We use it in so many stir fry recipes like these Asian Stir Fry Chicken and Brussels Sprouts and this Easy Stir Fry Shrimp and Cashews.
But that's not all! There's even non-stir fry recipe that we use our stir fry sauce in like these Easy Chicken and Broccoli Meatballs.
It's just such an easy, delicious recipe we seem to have it in our refrigerator all the time.
How To Make Stir Fry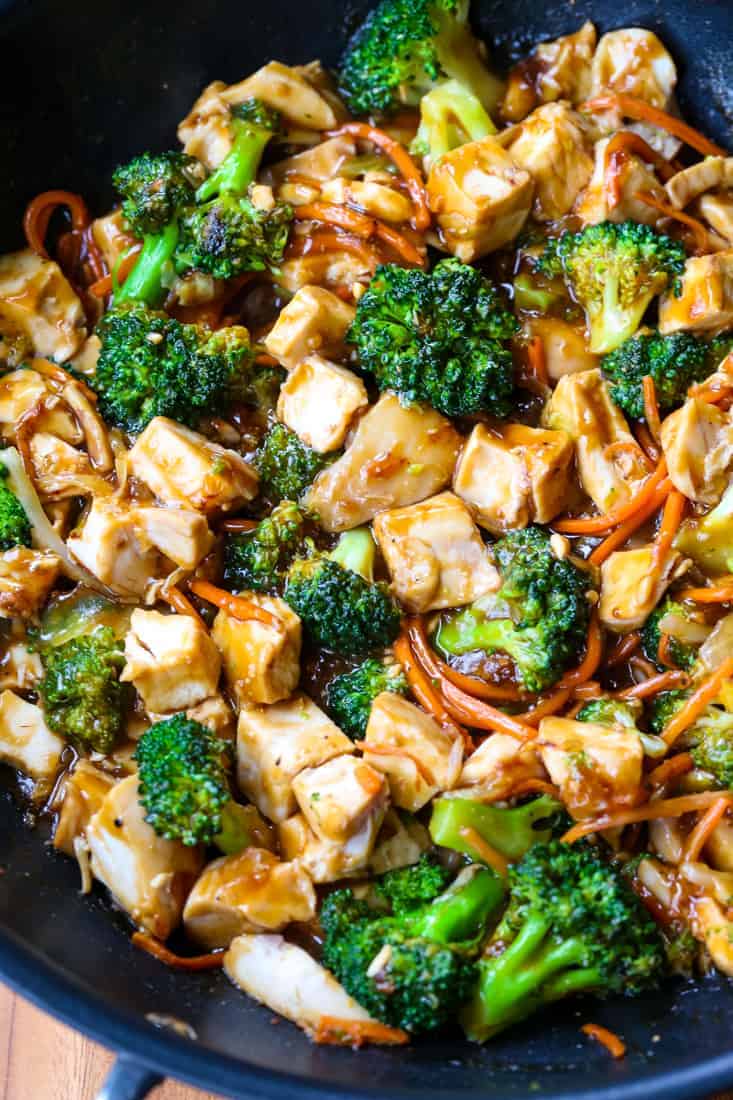 Here's the basics on making stir fry in our house. First you need a wok or a large deep skillet. The reason for cooking stir fry in a wok is that the deep, sloped sides give you more surface area for the meat and veggies to sear instead of simmering in sauce.
Next you need to pick your vegetables. There's tons of stir fry vegetables to choose from, these are some of our favorites!
• Broccoli
• Shredded Carrots
• Shredded Cabbage
• Asparagus
• Snow peas or pea pods
• Sliced peppers
• Mushrooms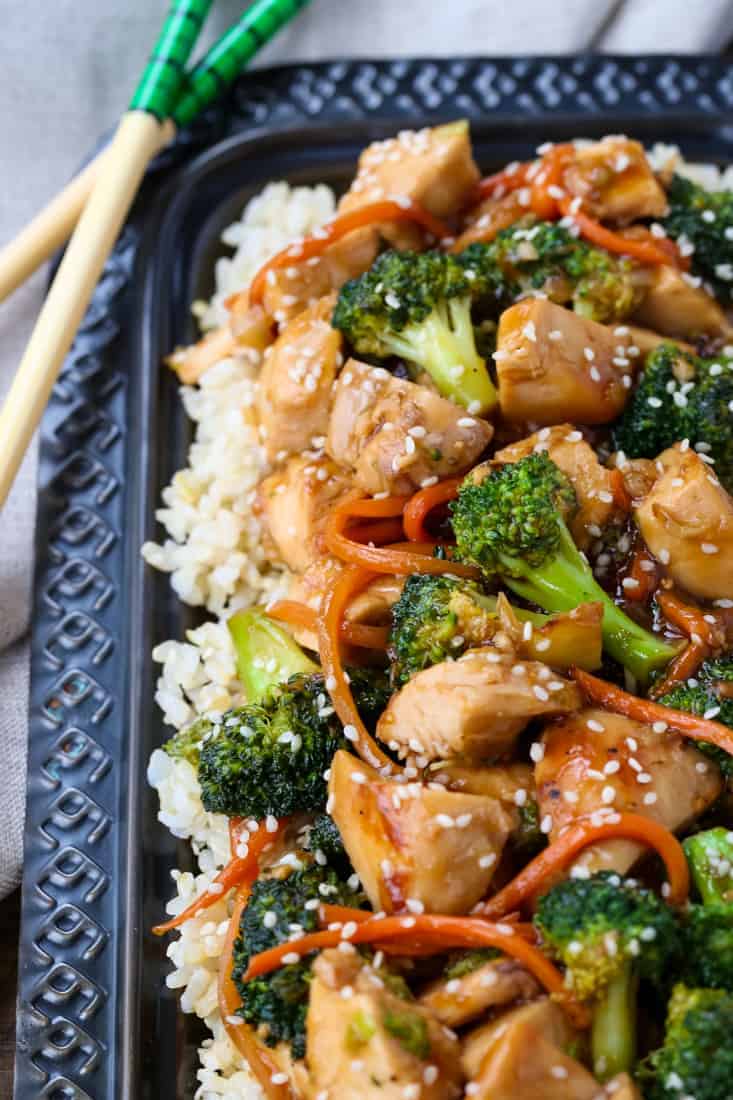 Now it's on to the protein. Chicken and broccoli is one of the most popular stir fry recipes it seems, so obviously chicken is a good choice. Some other options are:
• Sliced steak
• Ground beef
• Ground Pork or sliced pork
• Shrimp
• Scallops
• Tofu
You can use leftover turkey or chicken, or a rotisserie chicken like we did in this Rotisserie Chicken and Broccoli Stir Fry recipe, just to save a step and get dinner on the table faster.
We all know how busy weeknight dinners can be so let's do this.
What To Serve With Stir Fry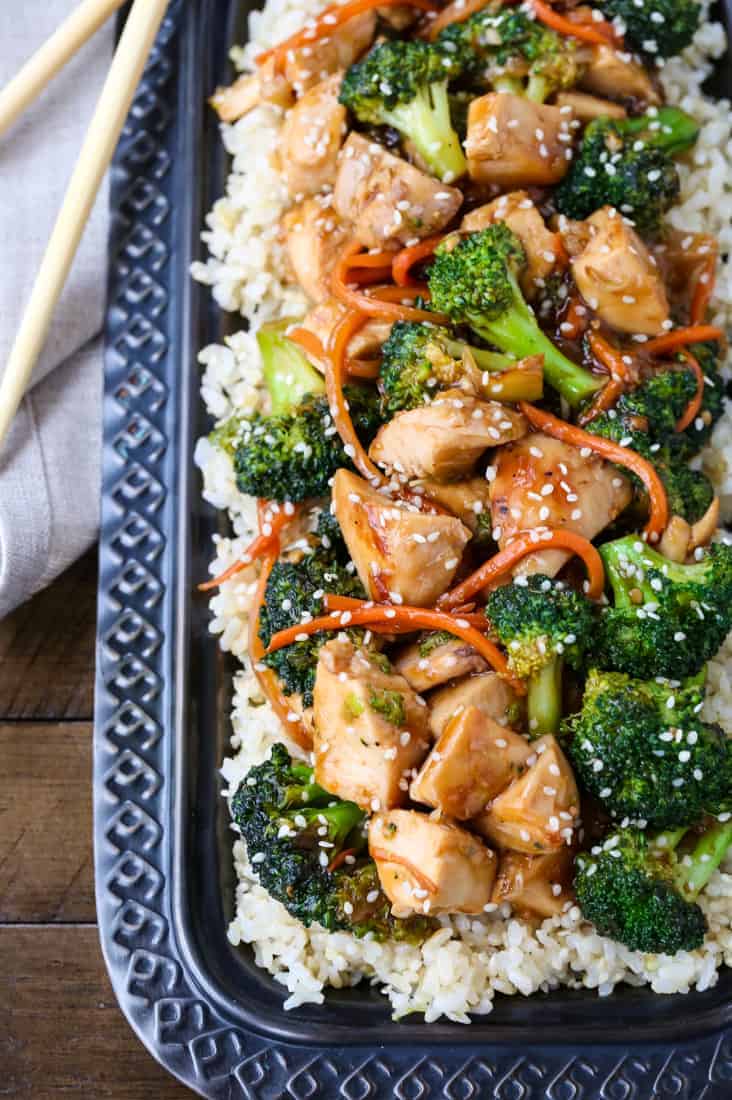 Rice is the obvious choice for most people. You can make brown rice or white rice, either will work in most stir fry recipes. Other options are ramen noodles or thin spaghetti (which are delicious tossed in the homemade stir fry sauce) or even cauliflower rice for a low carb stir fry option.
Since a stir fry recipe is already loaded with vegetables and protein, besides one of the options listed above you really don't need much else!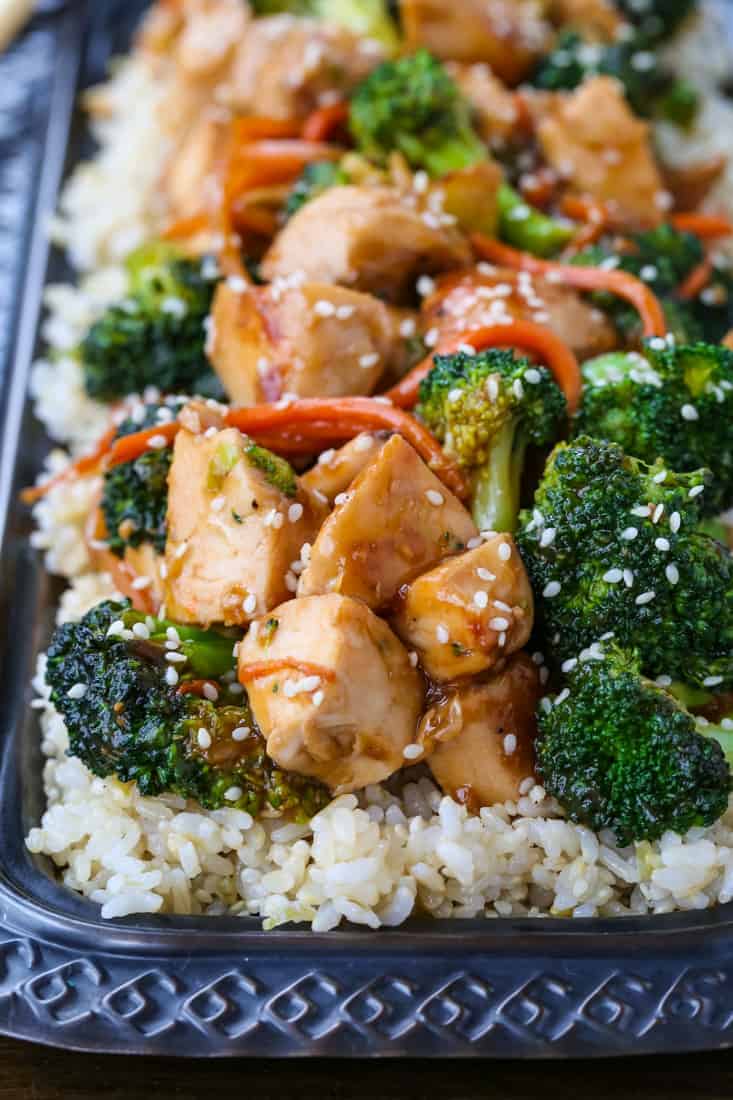 And of course, you can use raw chicken too for this chicken and broccoli recipe. Just cut the chicken into pieces, add a little oil to the wok and cook the chicken until browned and cooked through.
Then you can continue with the rest of the recipe!
Shop This Recipe!
Print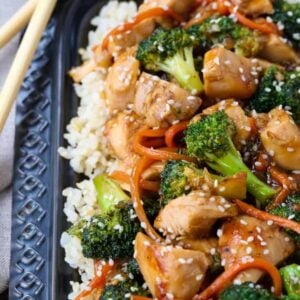 Rotisserie Chicken and Broccoli Stir Fry
Author:

Prep Time:

5 minutes

Cook Time:

10 minutes

Total Time:

15 minutes

Yield:

6

1

x
This easy chicken stir fry recipe uses some help from the store, but you can still use regular chicken breast or chicken thighs or even beef or pork!
Scale
Ingredients
1 tablespoon canola or vegetable oil
4 cups (about 1 pound chicken) cooked chicken, cubed
4 cups broccoli florets
1/4 cup chicken broth or water
1 cup shredded carrots
1 cup cole slaw mix (shredded cabbage)
1 batch of Homemade Stir Fry Sauce
salt and pepper to taste
Instructions
Heat a wok or a large skillet over medium high heat.
Add the oil and then the broccoli, stirring to coat the broccoli in the oil.
Pour in the chicken broth or water, cover and let the broccoli steam for 2-3 minutes.
Uncover the wok stir the broccoli, then add the carrots and cabbage. Stir fry the vegetables for 3-4 minutes until softened.
Add the chicken to the wok along with the stir fry sauce. Start out with about half the amount of stir fry sauce, then you can keep adding more depending on how much sauce you like in your stir fry.
Toss the sauce with the chicken and vegetables then serve.
Category:

dinner

Method:

stir fry

Cuisine:

Asian
Keywords: stir fry, stir fry recipe, chicken stir fry, easy dinner ideas, easy dinner recipes, healthy dinner recipes, chicken recipes