This Classic Potato Salad recipe is our favorite summer side dish! This potato salad recipe is creamy, delicious and tangy all at the same time!
Side dish recipes like this potato salad are always a good thing to have in your back pocket! Looking for a potato salad recipe with a twist? Try our Roasted BBQ Potato Salad – it's a family favorite!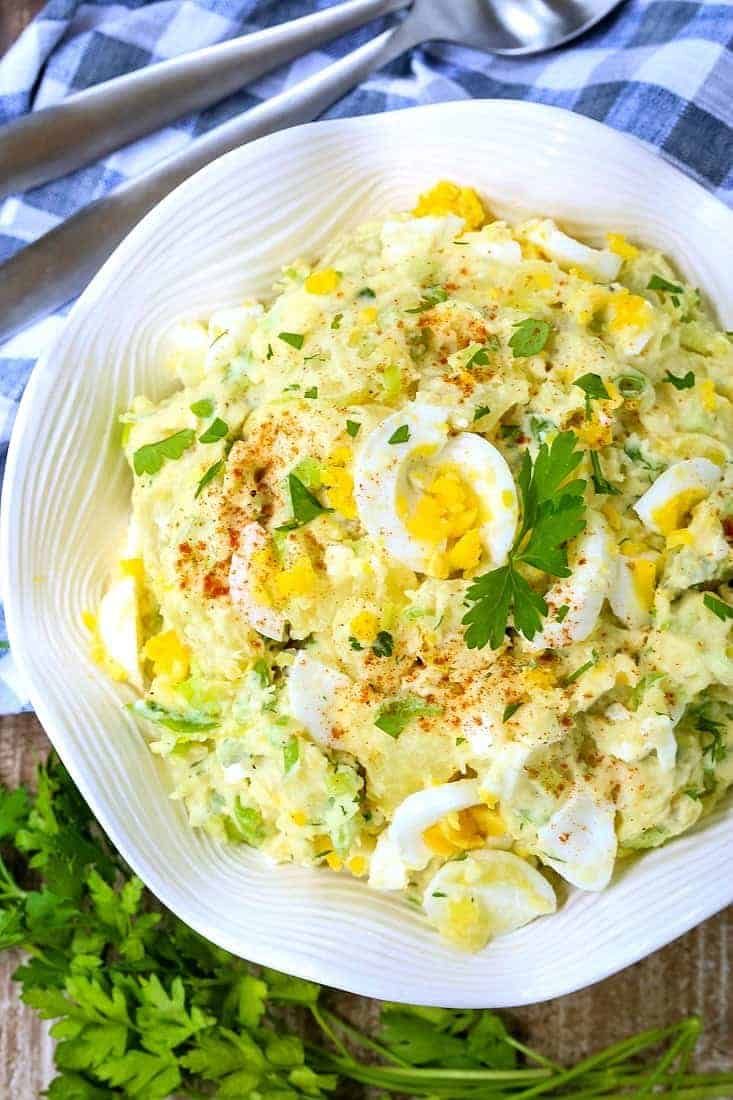 Perfect Potato Salad Recipe
I know it's bold, but we've tested this Classic Potato Salad Recipe so many times, it literally comes out perfect every time.
The perfect amount of seasoning with just the right amount of tanginess from the pickle brine and vinegar, mixed together with a creamy dressing that you could eat all by itself.
What Kind Of Potatoes Make The Best Potato Salad?
After we tested and tested different types of potatoes to make potato salad with, we have found that the best are Yukon Gold potatoes.
Yukon gold potatoes have a sweetness to them that you can't find in a lot of other potato varieties. For different potato salads you can use red potatoes, too but for this classic version I'd stick to the Yukon Gold.
Russet potatoes are going to fall apart on you too much, but you don't want a waxy potato either that won't allow the dressing to be absorbed. Because let's be honest, potatoes themselves don't have a ton of flavor, it's what you put on them that makes them shine.
We prefer to peel our potatoes for this classic version of the recipe, but feel free to wash the skins and keep them on if you like!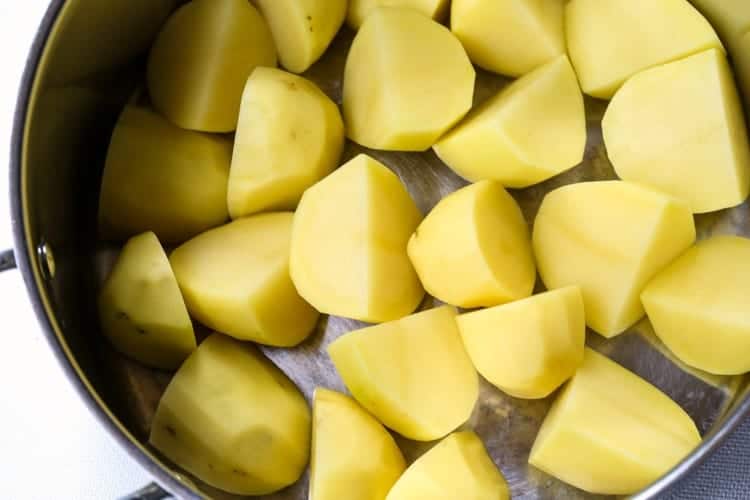 Tips For Making The Best Potato Salad:
There's a few things you need to remember for the best possible potato salad you can make!
Don't Overcook The Potatoes! Boil the potatoes until they are just fork tender. Over boiling the potatoes will lead to mushy potato cubes that just break down as you mix them. You'll end up with more of a mashed potato consistency than a potato salad.
Put The Potatoes Back Into The Hot Pot After You Drain Them: After you cook and drain the potatoes, add them back into the pot that you cooked them in so that the heat can dry out the remaining water from the potatoes. No one likes watery potato salad, so this is another great way to make sure there's no extra water hanging around.
Add Vinegar To The Potatoes When They Are Still Warm: While the potatoes are still warm in the pot, add the salt and white vinegar so it really gets a chance to soak into the potatoes. Again, plain potatoes don't have a ton of flavor on their own so this is a great way to add a layer of flavor.
Let It Chill: Give your potato salad a chance to relax, it's been through a lot at this point. Cover the bowl with plastic wrap and let the potato salad sit in the refrigerator for at least an hour to leet the flavors come together. You can actually make this recipe the day before to really save yourself some time!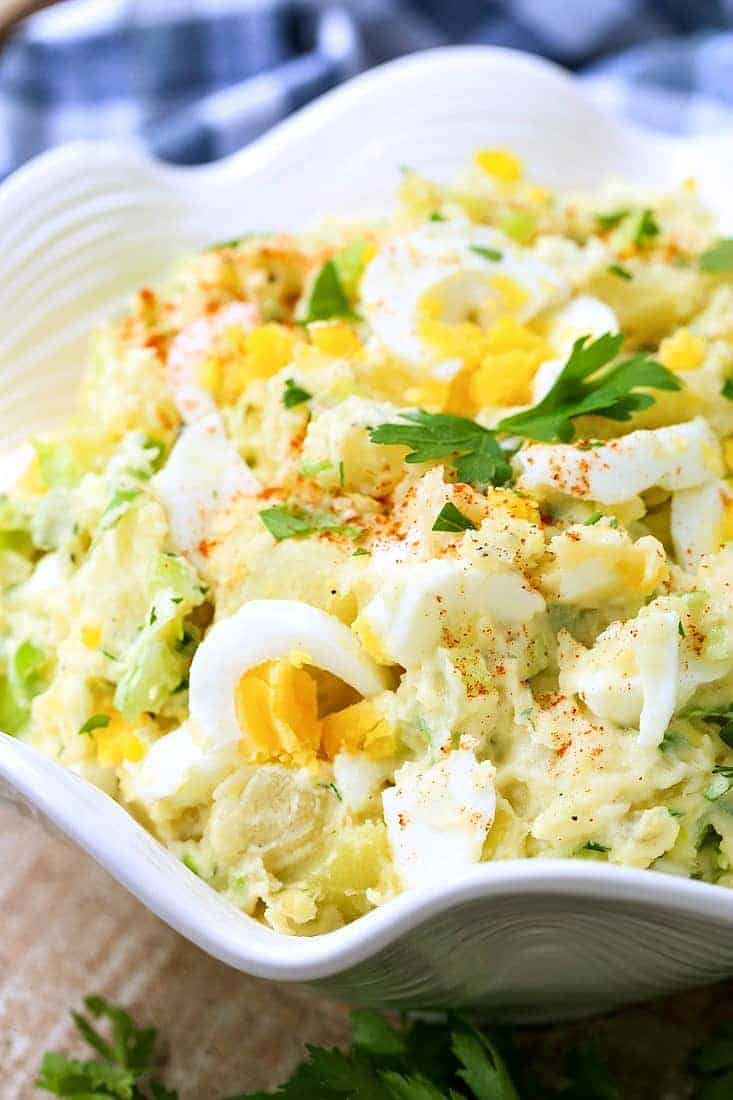 Ingredients For This Potato Salad Recipe
Yukon Gold Potatoes: We've already covered why these potatoes are our go to for this potato salad, but if Russet is all you have just be careful not to over cook them.
Hard Boiled Eggs: You can leave out the eggs if you want to, but we love how the yolk adds even more creaminess to this dressing.
Mayonnaise: Full fat, regular mayo makes the best flavored dressing but low fat will work too. I don't recommend using fat free because it has a very sweet flavor to it.
White Vinegar: Regular white vinegar, but you can use champagne or rice vinegar as well.
Dijon Mustard: Sharp dijon adds to the tangy flavor in this potato salad.
Celery: You need some crunch in this creamy side dish and celery is the perfect way to do it!
Pickle Brine: A few tablespoons from your favorite jar of pickles, if you don't have pickles in your refrigerator you can add a tablespoon of sweet pickle relish.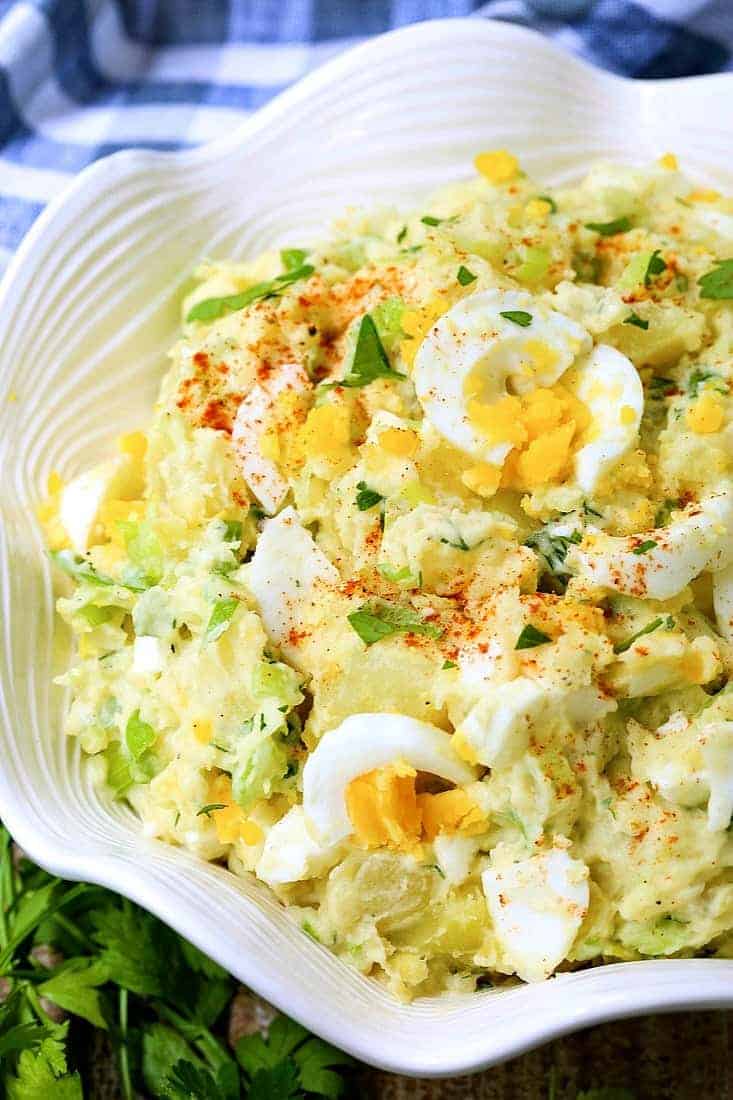 What Are Some Other Ingredients I Can Add Or Swap Out In This Potato Salad?
This is a classic version, but there are so many delicious ingredients that you can add to a potato salad recipe! Let's get some ideas going…
Bacon
Olives
Chopped Pickles
Fresh herbs like dill or basil
Scallions or red onions
Looking For More Side Dishes?
Print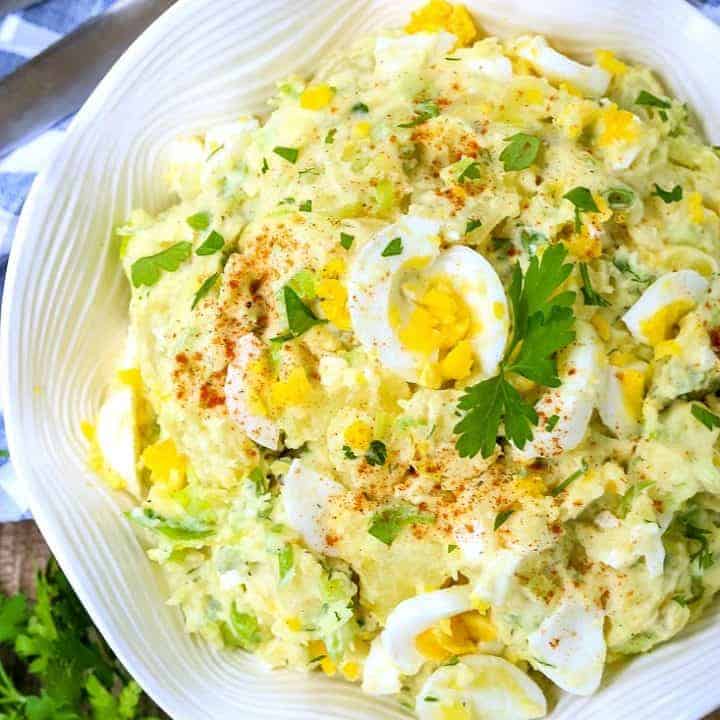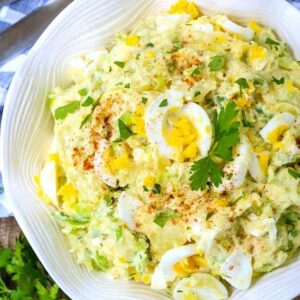 Perfect Potato Salad
Author:

Prep Time:

15 minutes

Cook Time:

10 minutes

Total Time:

25 minutes

Yield:

1

0

1

x
This Perfect Potato Salad recipe is sure to become a family favorite! Tender potatoes tossed in a creamy, tangy dressing made with a special ingredient!
Scale
Ingredients
5

pounds Yukon Gold Potatoes

2 tablespoons

white wine vinegar

3

–

4

teaspoons kosher salt (add a little at a time, it seems like a lot of salt but potatoes need a lot of flavor!)

1 cup

diced celery

6

hard boiled eggs, peeled and sliced

1/4 cup

chopped fresh chives

1/4 cup

chopped fresh parsley

1 cup

mayonnaise

2 tablespoons

milk

2

–

3

tablespoons pickle brine (optional but it gives the potato salad great flavor!)

2 tablespoons

dijon mustard
Fresh black pepper to taste
Instructions
Peel the potatoes and cut them into large cubes, either in half or quarters depending on the size of the potato. You can reference the size of the pieces by looking at the picture above. You want the pieces to be all about the same size so they cook evenly.
Add cold water to just cover the potatoes, add a few good pinches of salt to the water and bring to a boil. After bringing to a boil, cook the potatoes for 12-15 minutes, then check with a fork to see if they are tender. If you can't easily push a fork through the potato give them another couple of minutes of boiling time. Make sure that you don't overcook the potatoes or else they will fall apart.
Drain the potatoes and place back into the pot. Add the vinegar and salt and let the potatoes sit in the pot while you make the dressing.
Add the mayonnaise, milk, mustard and pepper to a bowl and whisk together.
Transfer the potatoes to a large bowl. Break the potatoes into smaller pieces with a knife if needed, they don't need to all be the same size, just into more bite sized pieces.
Add the celery, eggs, chives and parsley to the potatoes then pour on the dressing.
Toss the potato salad gently in the dressing until combined. Cover the bowl with plastic wrap and chill for at least 1 hour or up to overnight..
Toss the potato salad once more right before serving and garnish with more chopped parsley.
Recipe Notes
You might want to add more salt and pepper to taste after the potato salad chills, do this according to your own taste!
The boiling time for the potatoes will depend on how big or small you cut the potatoes, so make cure to check a couple of pieces for tenderness before draining.
Category:

Side Dish

Method:

Stove Top

Cuisine:

American
Keywords: potato salad, potato salad recipe, side dish recipe, side dishes, potato recipe, bbq sides