One bite of these BBQ Bacon Turkey Burgers and you'll be hooked! Homemade turkey burgers kicked up with bacon, cheese and BBQ sauce!
Make our homemade Turkey Burgers for meal prepping, dinner and lunch during the week and even parties! Also try our Caramelized Onion Turkey Burgers and these cheesy Jalapeño Turkey Burgers!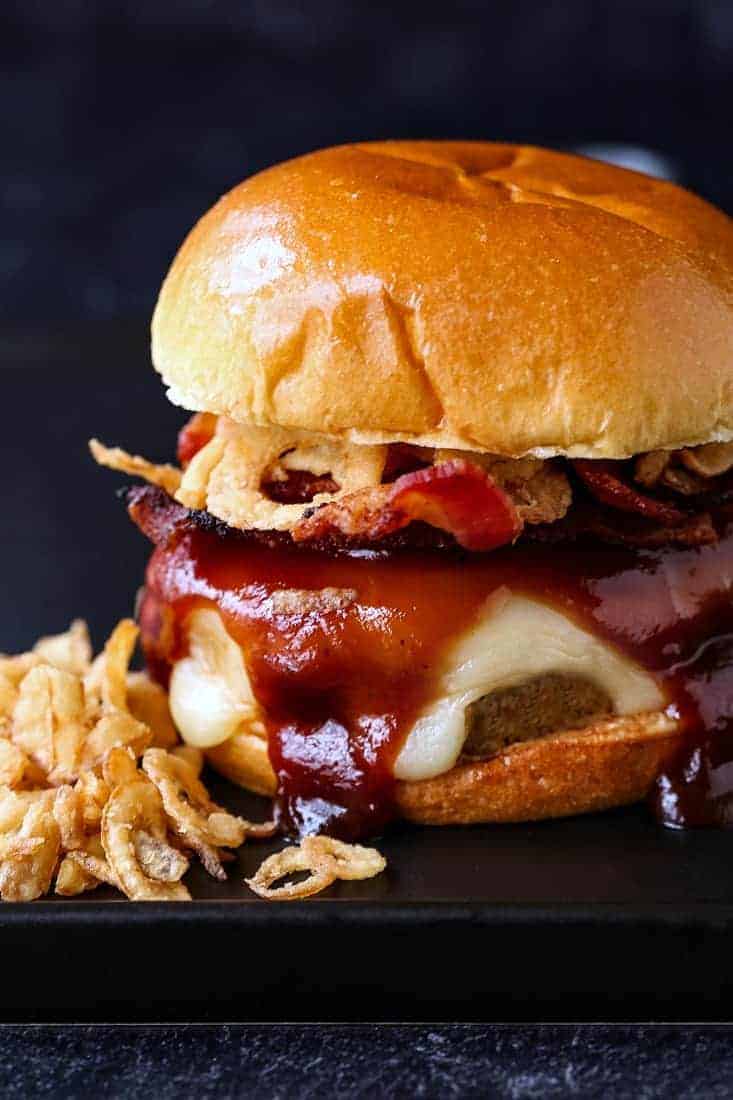 Why Make Burgers With Turkey?
Well because turkey burgers are super delicious, for one. But ground turkey is also a little healthier than ground beef if you're looking to save on saturated fat levels, but TBH, is you're using a real lean ground beef there's not too much difference nutritionally.
So why make these BBQ Bacon Turkey Burgers? Because we love how they taste! We're all about flavor here, and to us there's regular burgers and there's turkey burgers. Just two different flavors, equally as delicious.
What Are The Ingredients For This BBQ Bacon Turkey Burger?
Again, we like to use lean ground turkey, 93% lean, as the base for our turkey burger recipe. Honestly, I don't really like the taste of ground turkey with more fat content. It's much gamier tasting since they use some of the dark meat from the turkey, but if you like that you can definitely use that to make these turkey burgers.
To keep our turkey burger patty recipe easy, we've just added these simple ingredients:
Salt & Pepper
Garlic Powder
Eggs
Mayonnaise
Onion
For The Topping:
Your Favorite BBQ Sauce
Fried Onions
Mozzarella, Provolone, Monterey Jack or Cheddar Cheese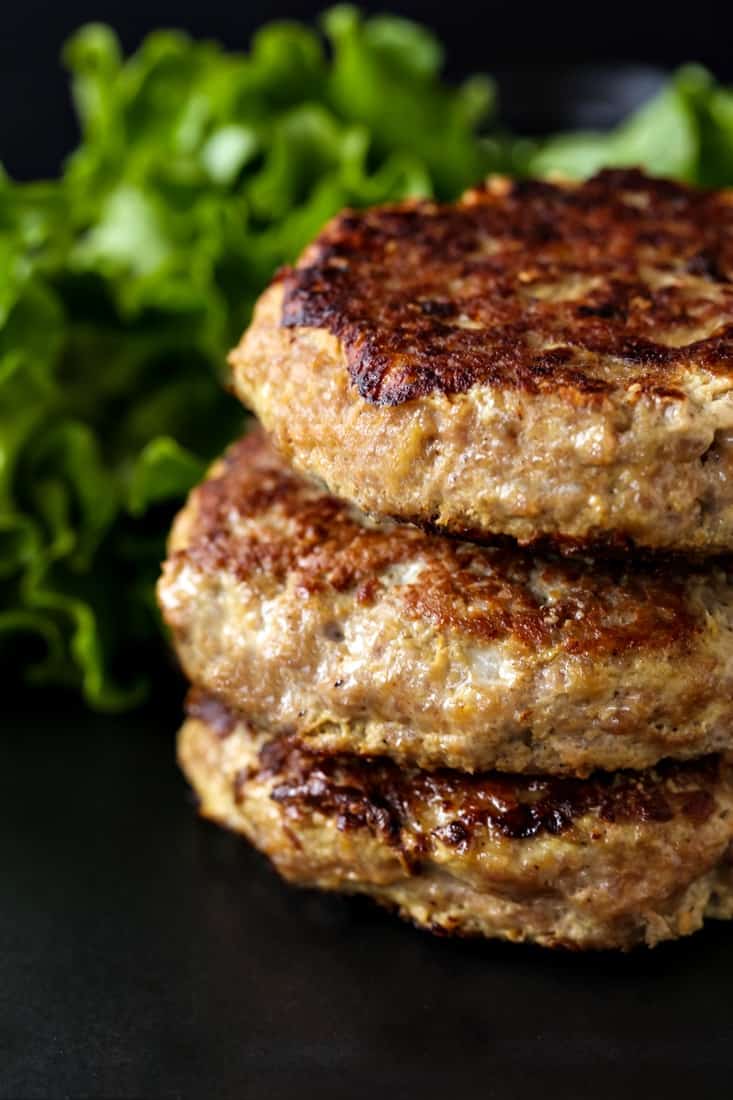 I know you might be wondering…what's with the mayonnaise??? And I'll tell you. The mayonnaise is one of the ingredients that helps to make these turkey burgers stay moist and juicy, even with using lean ground turkey.
The other ingredient that helps make this turkey burger recipe stand out from the rest if grated onion. Not diced onion, grated onion on a grater. Grating the onion makes the pieces smaller, of course, but it also "juices" the onion too!
So make sure you scrape up the onion with the juices before adding it to your turkey burger mixture.
How Do You Reheat Turkey Burgers Without Drying Them Out?
This is a great question because we often make these turkey burgers in large quantities on the weekend so that we have them for dinners and meal prepping during the week.
I know I keep saying it but this turkey burger recipe has been PERFECTED. Like I mean, it's kind of perfect. So they are super juicy and – yep I'm going to say it – moist – that you won't have much trouble reheating them.
We find that just heating them up in the microwave for a minute or so works just fine. If you're turkey burgers are on the thicker side, then you can slice the burger in half horizontally and lay them out on a plate. This way they'll heat up quicker, in just about 30 seconds, then you can put the tow halves back together when you're fixing to eat it!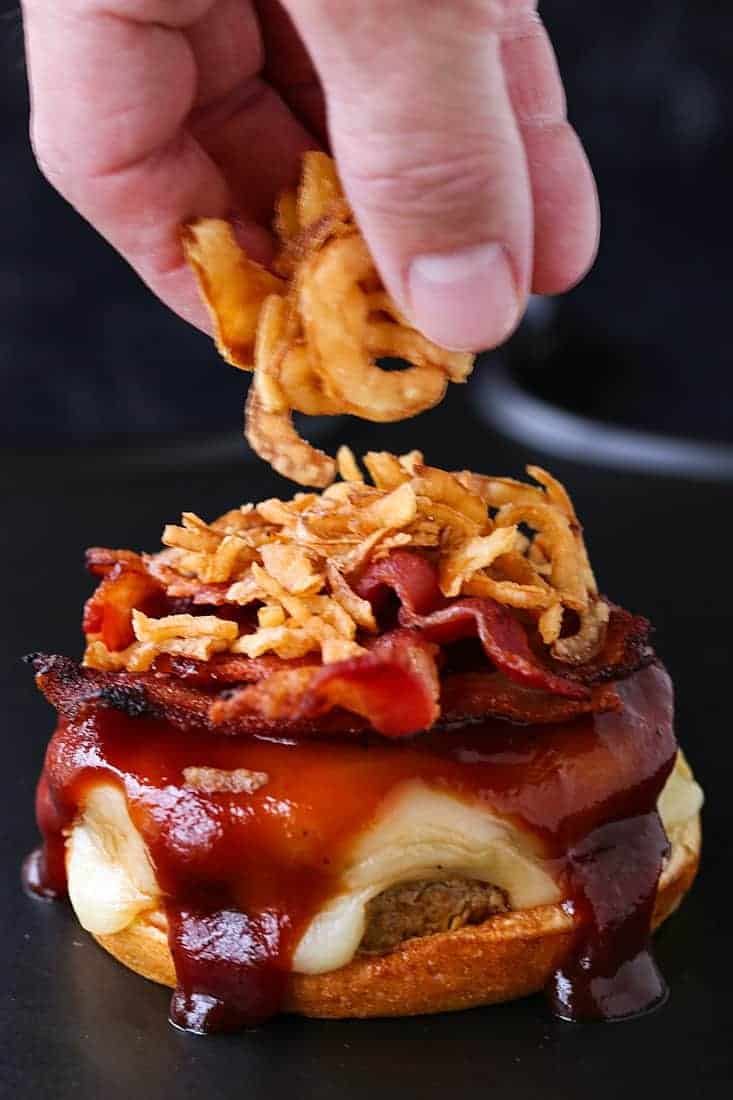 How To Store Leftover Turkey Burgers
Meal prepping is big at our house, which is why we make a lot of these burgers and save them for a quick lunch or dinner during the week! All you need to do is wrap them in aluminum foil or place them in a container and keep them in the refrigerator for up to 4 days.
Ours usually don't last that long, especially these BBQ Bacon Turkey Burgers, but plan to use them up in about that time.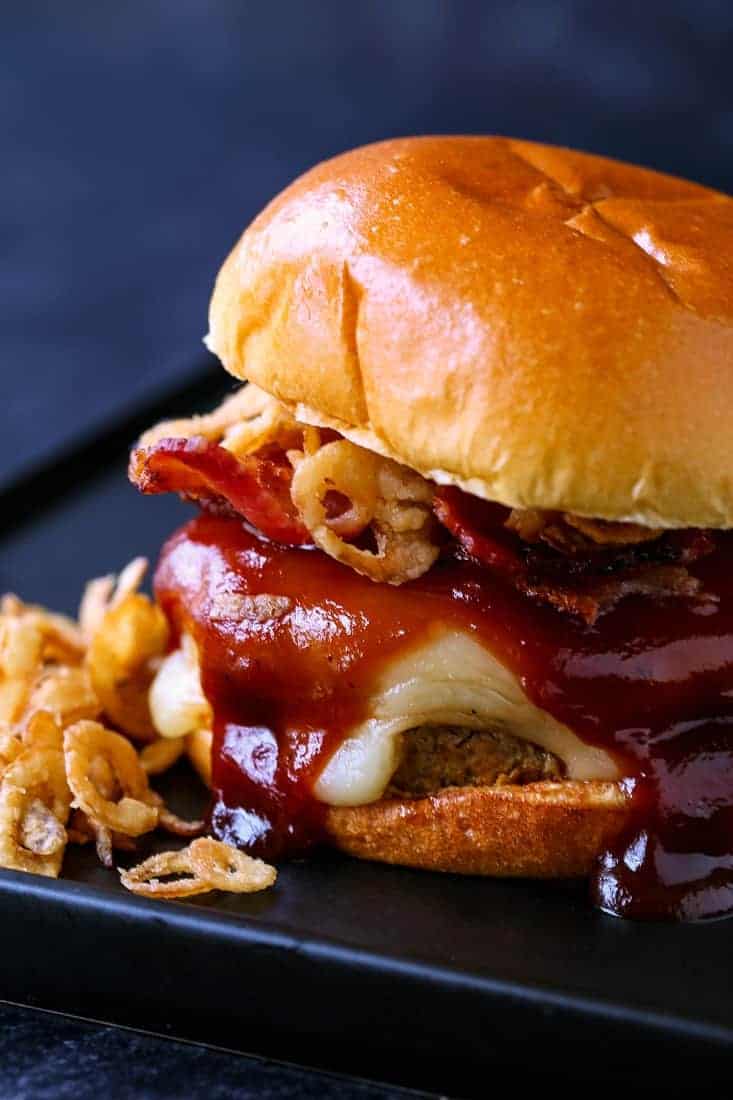 How Long To Cook Turkey Burgers?
Our turkey burger patties cook for just about 5 minutes on each side. You can cook these turkey burgers in a frying pan or on a griddle, the grill is not recommended for this turkey burger recipe. These turkey burger patties are very moist, which is just the way we like them, so they will most likely stick to your grill and end up falling apart.
Which gives us another reason to love these turkey burgers! You can make them any time of year, or just when you don't feel like firing up the grill and cooking outside.
Can I Freeze Turkey Burger Patties?
Yes! So do make as many as you please…we love having these tasty patties on hand whenever we need a fix. Simply thaw them out in the refrigerator and then you can reheat them in a skillet or the oven. Even the microwave will work, too!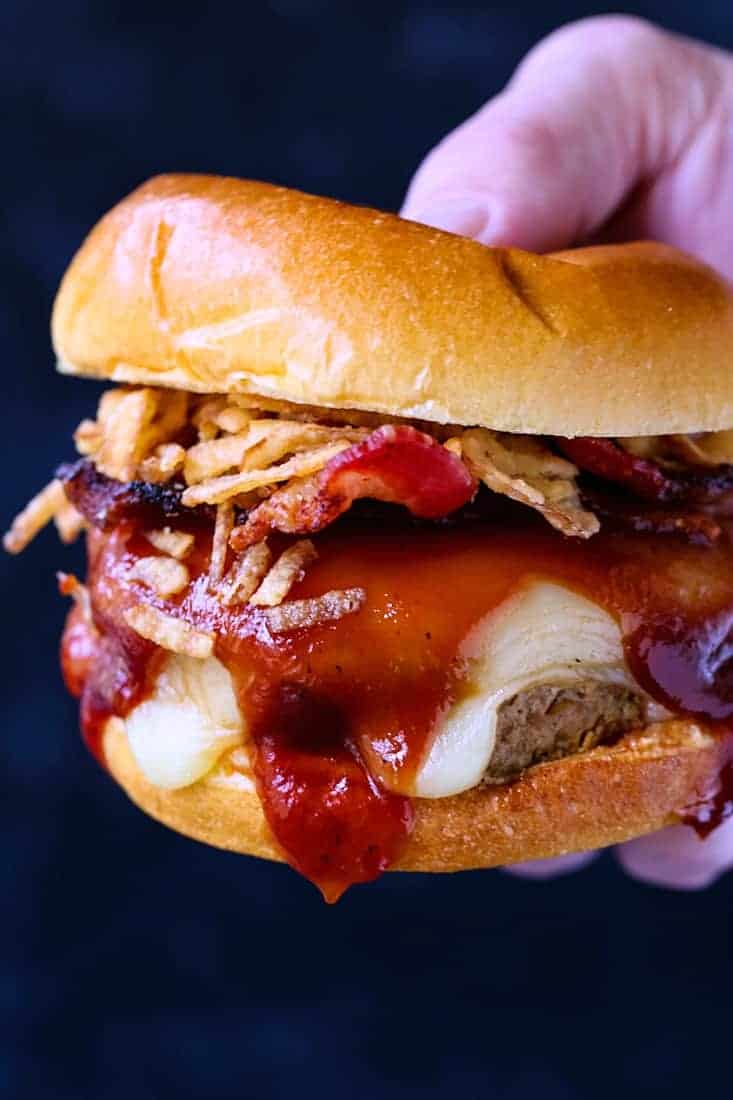 What Can I Serve With Turkey Burgers?
Just about anything! We've got SO many side dish recipes that go awesome with turkey burgers, head over to our Side Dish menu and check it out! But we'll give you some of our favorites here:
Print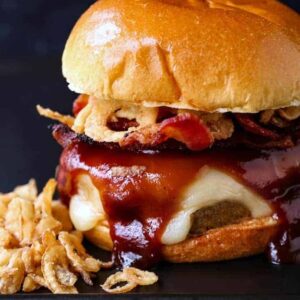 BBQ Bacon Turkey Burgers
Author:

Prep Time:

10 minutes

Cook Time:

10 minutes

Total Time:

20 minutes

Yield:

6

Servings

1

x
These turkey burgers are even better than a restaurant! Top these turkey patties with your favorite BBQ Sauce and thick slices of bacon!
Scale
Ingredients
For The Turkey Burger Patties:
2

pounds ground turkey (93% lean)

2 teaspoons

kosher salt

1

–

1 1/2

teaspoons ground black pepper, depending on your taste

1 1/2 teaspoons

garlic powder

2 tablespoons

mayonnaise

2

eggs, beaten

2

heaping tablespoons grated onion with juice
For The Toppings:
Fried Onions
BBQ Sauce

12

slices thick cut bacon, cooked
Instructions
Mix all the ingredients for the turkey burger patties together in a large bowl.

Spray a large skillet or griddle with non-stick cooking spray over medium heat. You can also spray your hands with cooking spray or wet them slightly with water so the turkey mixture won't stick to your hands when you're forming the patties.

Form the turkey mixture into 6 patties, about 5 ounces each. You can make smaller patties, about 4 ounces each and get 8 turkey burgers.

Place the patties onto the hot skillet and cook for 5 minutes on each side, until no longer pink in the center. During the last minute of cooking on the second side, add the cheese to melt.

Transfer the turkey burgers onto a plate covered with foil and repeat with the remaining patties.

Serve the turkey burgers topped with warm BBQ sauce and bacon 2 slices each.
Category:

Dinner

Method:

Stove top

Cuisine:

American
Keywords: turkey burger, turkey burger recipe, burger recipe, low carb recipe, low carb dinner recipe, recipes with ground turkey, dinner ideas, bacon recipes