Hands down, this is the best Homemade Turkey Soup recipe to make with your leftover turkey! Delicious soup from scratch that is pure comfort food in a bowl!
How To Make Turkey Soup From A Leftover Turkey Carcass
My love for soup started goes deep. It might have started with our famous Beefy Tomato Soup recipe, but there is something to be said about turkey soup made from a turkey carcass.
Leftover turkey bones, don't throw them away!
Every year we take turns going to the wife's family or mine on Thanksgiving and every time we got to my mom's house we take a big pot with us. She doesn't make homemade turkey soup with her leftover turkey bones…so we grab them and take them home with us.
Crazy, right? Not that she doesn't make homemade turkey soup, but crazy that we bring pots with us for leftover turkey bones.
So once you devour that big, beautiful turkey…get most of the meat off of the bones and break the carcass down to fit into a pot. The largest pot you've got!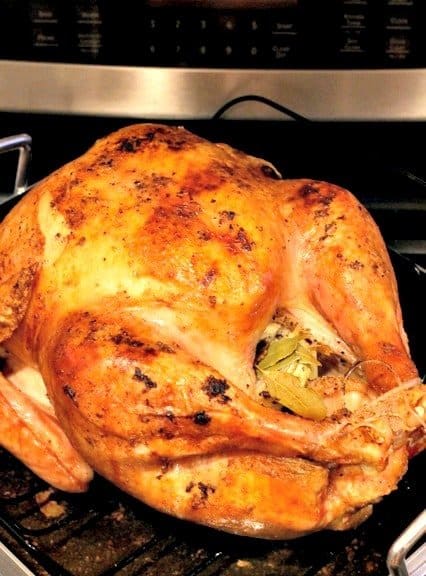 Homemade Turkey Soup Ingredients
Now these are all the basic ingredients you're going to need to make this turkey soup recipe…
Celery, carrots, onions, noodles, seasonings like kosher salt and black pepper, leftover turkey and the rest of the turkey carcass.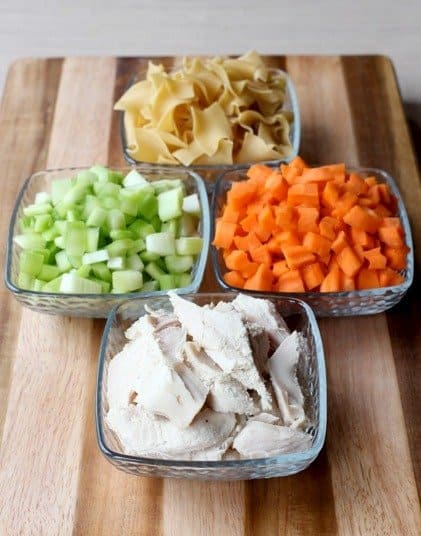 How to Make Turkey Soup
As you'll see in the recipe below, you can cook your noodles right in the soup or you can make them separately and add them in to each bowl.
Once you have your turkey in your soup pot you can add the rest of the ingredients for making the turkey stock.
Throw in a couple of onions cut into large pieces, some celery and carrots. Add in a few bay leaves, salt and peppercorns and water.
The key to making the most flavorful turkey broth is that you want to cover the bones and vegetables with water just to the top of the ingredients.
Not too much over the top because then your broth will be weak.
As you can see we added a few seasonings in here too – lots of salt, peppercorns and a bay leaf or two.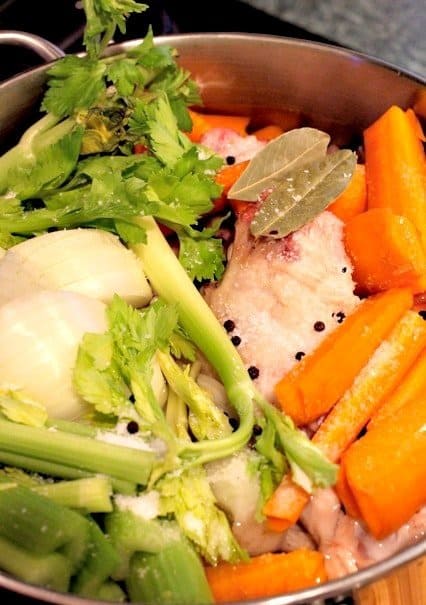 Let the pot come to a boil and then reduce the heat down to medium heat, cover and simmer.
Depending on how big your turkey was will depend on how long you need to simmer the broth, but I'd say a good average is about 3 hours. Our bird was huge so I did 3 1/2 hours.
Once the stock is done, strain it into another large pot, let it cool and stick it in the refrigerator. You'll want it to chill for a few hours so you can strain off whatever fat rises to the top.
Strain as much fat off the top as you can, no one wants greasy broth! Now you have delicious, hearty homemade turkey stock.
If you don't want to make soup with all of your turkey stock just take out what you need and save or freeze the rest. We usually make the whole thing because we eat a ton of soup in my house.
Now, when you go to make turkey soup from that homemade turkey stock you'll simply be adding fresh vegetables and noodles to the stock, following the recipe below.
The hard part is over!
If you weren't a soup junkie before you certainly will be after making this homemade turkey soup recipe!
Looking For More Soup Recipes?
Print
Homemade Turkey Soup
Author:

Prep Time:

20 minutes

Cook Time:

4 hours

Total Time:

4 hours 20 minutes

Yield:

12

servings

1

x
Turn your leftover turkey into a meal that lasts for days! We love making this soup with our leftover turkey from Thanksgiving!
Scale
Ingredients
For the stock
1

leftover turkey carcass, picked clean of meat and large pieces of skin and fat

4

large carrots, peeled and chopped into large pieces

2

large onions, peeled and cut in fourths

5

celery stalks, including the leafy tops, cut into large pieces

2

bay leaves

2 Tablespoons

– 4 Tablespoons of salt

1

T. peppercorns
water
For the soup
1

batch of turkey stock

4

–

5

carrots, peeled and diced

4

celery stalks, diced

2 cups

leftover turkey meat

1

bag (12 oz) egg noodles
fresh thyme for garnish
salt and pepper to taste
Instructions
Add the turkey carcass to a large stock pot.
Add in the onions, bay leaves, carrots, celery, salt and peppercorns.
Fill the pot with enough water to just cover the turkey, too much water will result in a weak stock.
Set the heat to high and bring to a boil.
Once boiling, turn the heat down to a good simmer and let cook for 2-3 hours.
Drain the stock into another smaller stock pot and let cool.
Once cooled for about an hour on the counter, put in the refrigerator to chill for 3-4 hours or overnight until you can see the fat start to separate to the top.
Skim the fat off the top as much as you can and place your pot back on the stove.
Add in the diced carrots, celery and salt and pepper to taste and cook 15 minutes or until the vegetables are tender.
Add the pasta and turkey pieces and cook until the pasta is done, another 10 minutes.
Test for seasonings again and serve.
Recipe Notes
Everyone cooks and seasons their turkey differently so the salt and pepper are to taste depending on how salty the stock is when it's done.
The key to this recipe is that whatever size chicken or turkey you use, just add enough water to cover the top of the bones and the vegetables. So a larger turkey or chicken will yield more soup than a smaller one.
Category:

Soup

Method:

Stove Top

Cuisine:

American
Keywords: turkey soup, homemade turkey soup, leftover turkey bones, the best turkey soup recipe, leftover turkey soup