Waldorf Chicken Sausage Stuffing is sweet, savory and insanely delicious! Made with chicken sausage, apples, walnuts and raisin bread, then baked in a casserole dish for an easy Thanksgiving side!
If you love a good sausage stuffing, you should also try our crazy popular sausage stuffing recipe! Just like mom used to make, only we think just a tad bit better!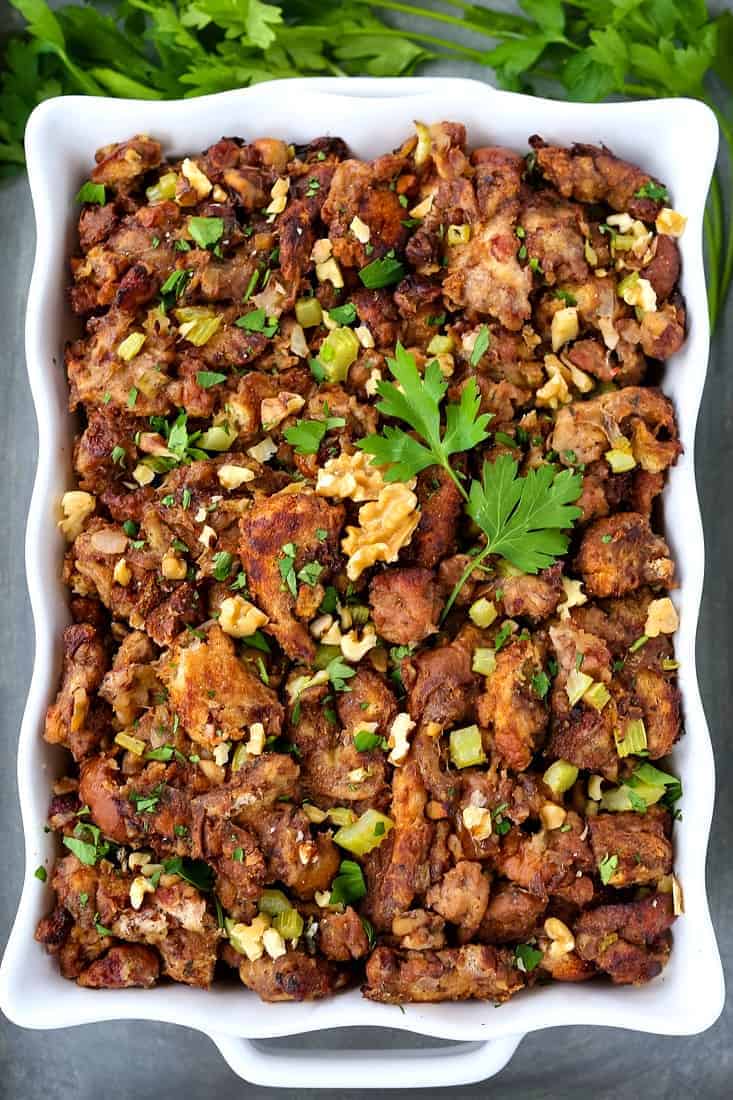 A Favorite Sausage Stuffing Recipe for Thanksgiving
Waldorf Chicken Sausage Stuffing is our day 3 stuffing recipe for Stuffing Week! We used our best stuffing dressing, The Best Sausage Stuffing, made a few changes and came up with this totally unique stuffing recipe!
All the stuffing recipes, all the food. It's the best part about Thanksgiving, planning out the food fest for a few days. You do have to think about the leftovers too…
I mean, leftover recipes are a huge part of Thanksgiving, and sometimes my favorite part to be honest. Of course, you have to make Homemade Turkey Soup, but there's also so many more things you can do with all that leftover turkey.
Let's get into the main part of dinner here though. Today is all about stuffing! Or dressing…I explained a little bit about that in my other stuffing post so I'll bring it back here just for info.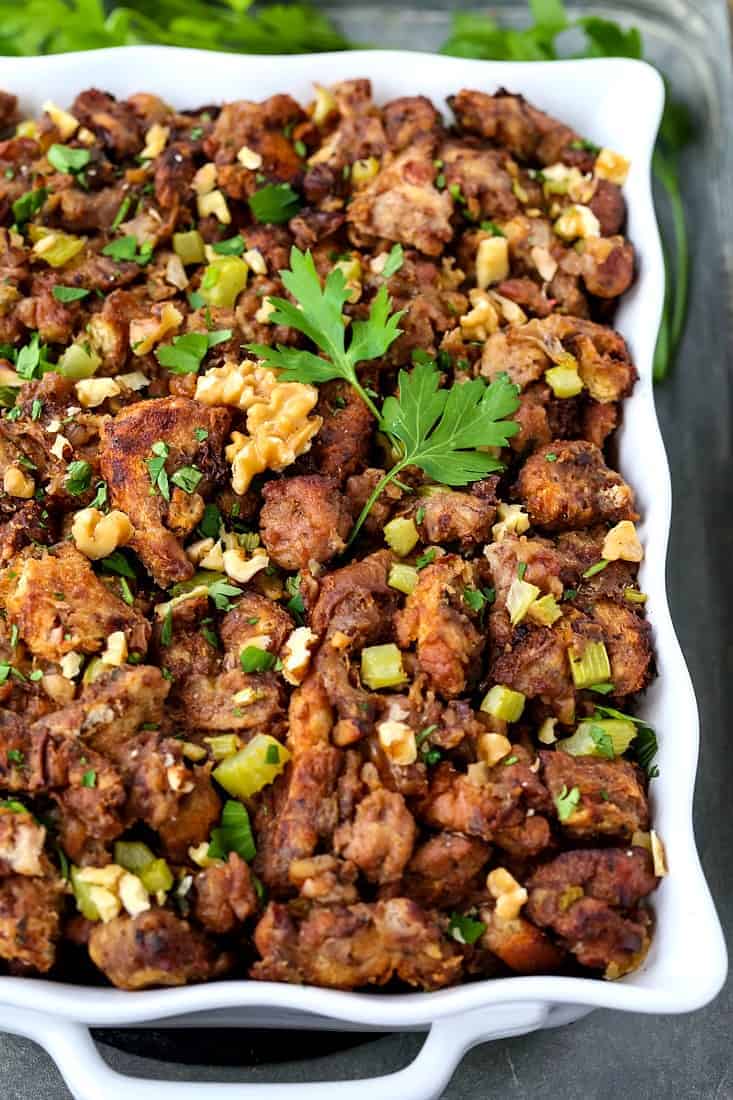 What's the Difference Between Stuffing and Dressing?
Here's the short answer. Nothing really.
Stuffing is just like it says, a recipe used to "stuff" something, typically at Thanksgiving time a turkey. You can stuff a chicken though or a butterflied steak…it's all called stuffing.
Dressing is the same thing as stuffing just that it is cooked in a baking dish or a casserole dish on it's own. Not stuffed inside anything. So you can have the exact same recipe, cook it two different ways and call it two different things.
Most people use the two words interchangeably though, like we do. Our favorite sausage stuffing recipe is not technically stuffed into anything so it's really a dressing…but you get the point.
What Is Waldorf Salad & Why Did We Make a Stuffing Version?
Waldorf salad is generally a fruit and nut salad, usually made with apples, celery, grapes and walnuts. Tossed in a light mayonnaise dressing. A common twist on Waldorf Salad is to make a Chicken Waldorf salad which is a crazy delicious recipe for lunch or a light dinner.
I love the flavors so much that I turned it into a stuffing recipe! Chicken sausage, walnuts, celery and wait for it – raisin bread. Yep, raisin bread.
Because a raisin is a grape – and it's also going to work much better in this sausage stuffing recipe than an actual grape. Then I thought to use raisin brioche bread as the bread base for this Waldorf Chicken Sausage Stuffing.
How To Make This Sausage Stuffing Recipe
Start out by toasting your raisin bread. If you can find a sweet brioche raisin bread like this one I grabbed, that's perfect.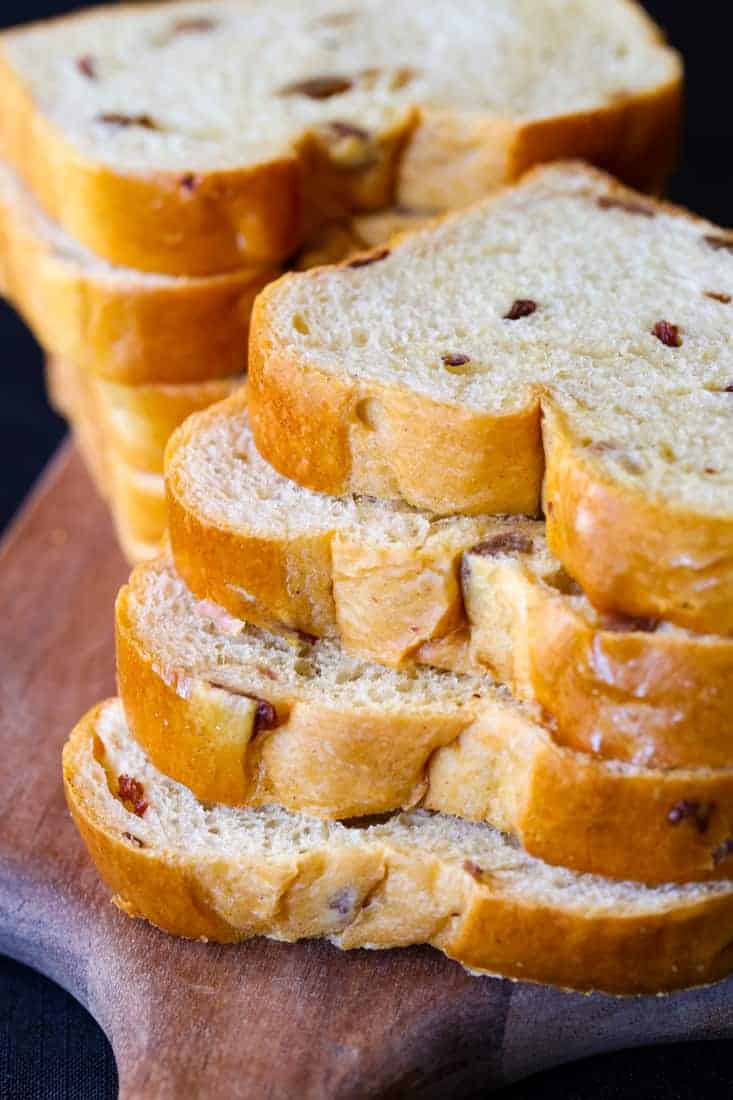 After the bread is toasted tear it into bite sized pieces like I have here and put it into literally the biggest bowl you have.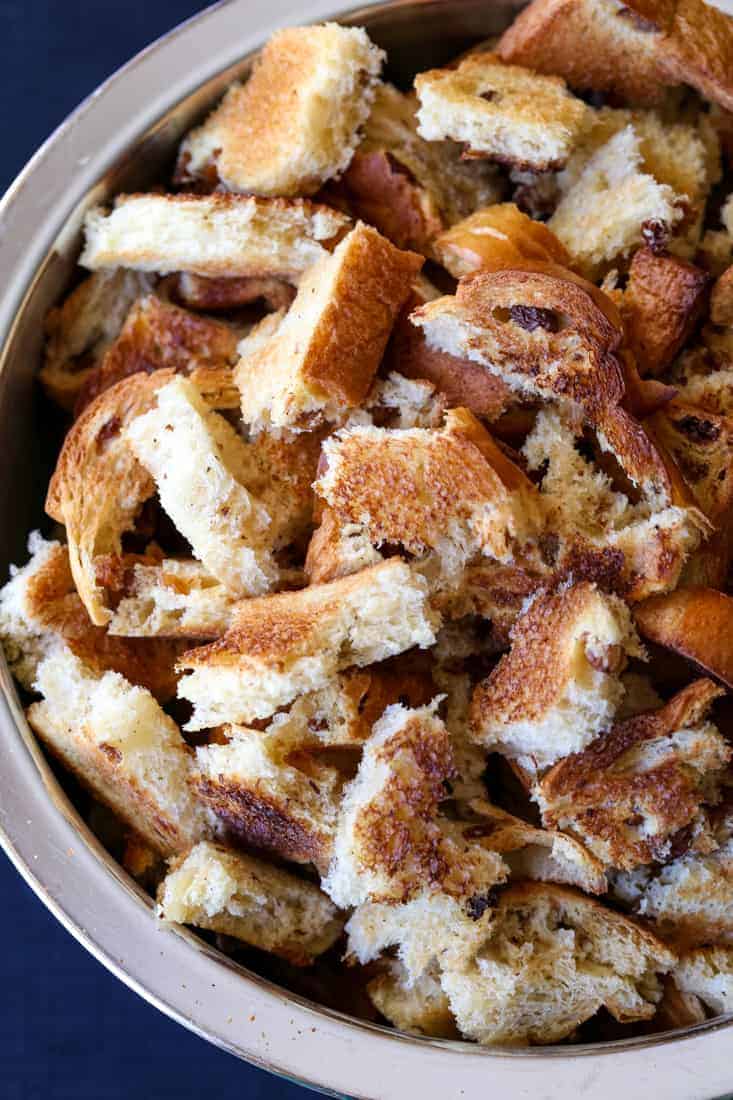 Now grab a large skillet, add just a few tablespoons of butter (like 6) and start browning the chicken sausage. For this sausage stuffing recipe I used a sweet sausage to go along with the apple and the raisin bread.
But if you want a spicy sausage stuffing, you can definitely do that too, this is your Thanksgiving dinner after all. Once the sausage has browned, add the diced onion, apple and celery. Cook that down for another few minutes then add the seasonings and chicken broth.
Let that mixture simmer for 10 minutes to let the flavors come together, then turn off the heat and let the broth cool down. Just about 5 minutes or so, then pour it on top of your toasted raisin bread.
Give it a good stir – like a good stir so that all the bread coated in the broth and sausage. Next add a few beaten eggs to hold it all together and get it into a 9″ x 13″ buttered baking dish.
Cover the stuffing with aluminum foil and bake for 35 minutes. Uncover the stuffing, dot with butter and bake for another 15 minutes to crisp up the top of the stuffing.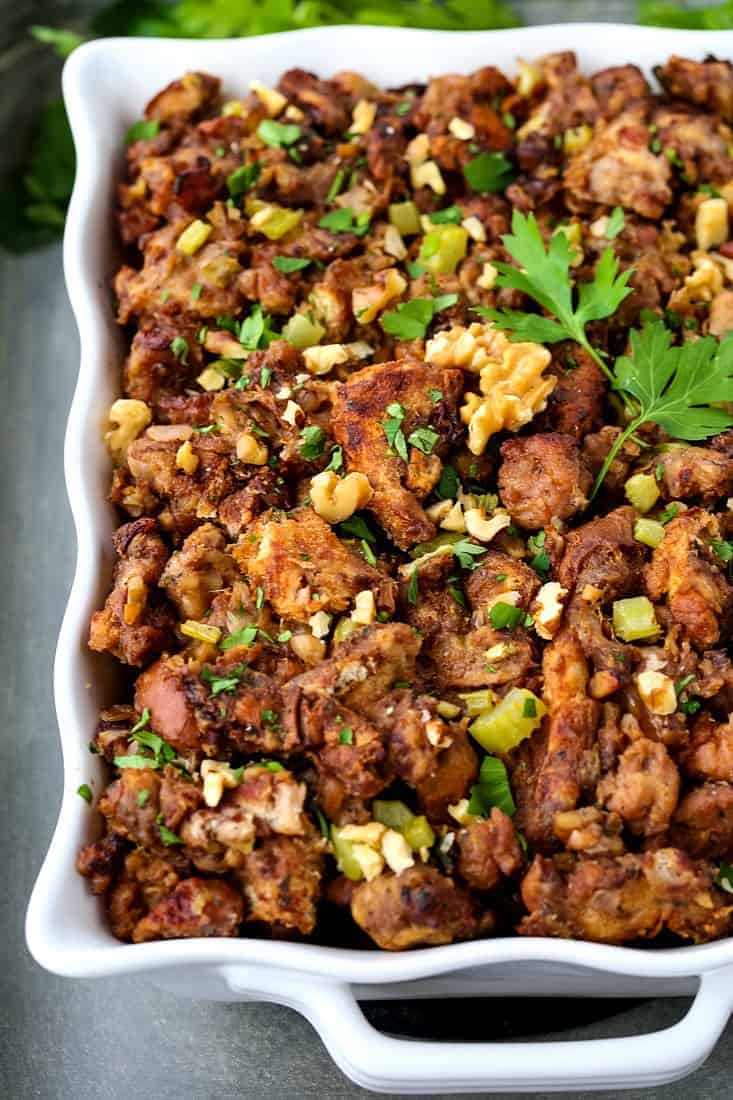 Now it's time to get your gravy and pour it all over this Waldorf Chicken Sausage Stuffing…making sure you're doing that on your own plate of course.
There's nothing better than homemade sausage stuffing, in any form!
Can I Make This Sausage Stuffing Recipe Ahead Of Time?
Yes, yes you can. And you should. The flavors will be better if you let it hang out in the refrigerator for a few hours or even overnight. Pull the stuffing out of the fridge about 30 minutes before you're going to bake it, just to get the chill off.
You might have to add a few more minutes on to the covered cooking time, but still a lot easier than having to make a stuffing recipe at the last minute.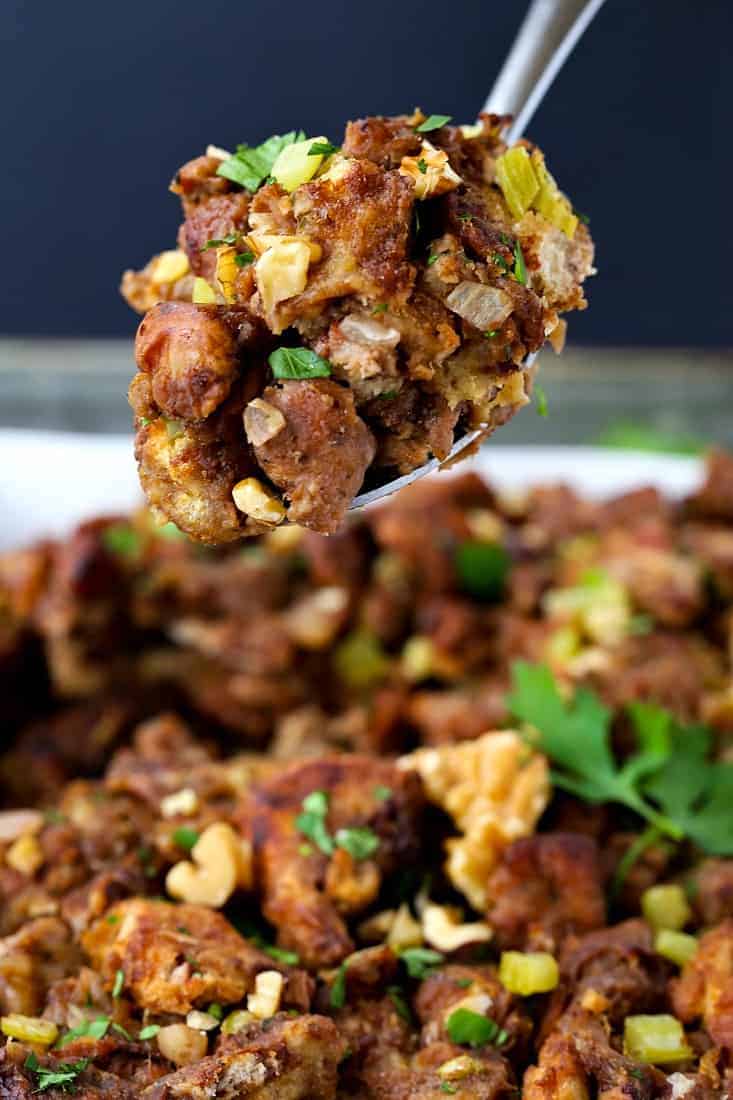 Looking For More Thanksgiving Stuffing Recipes?
Print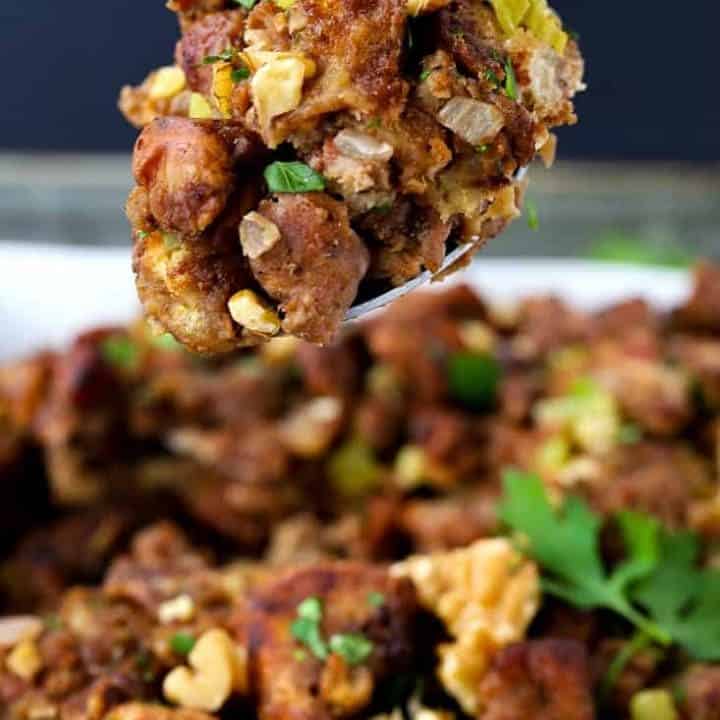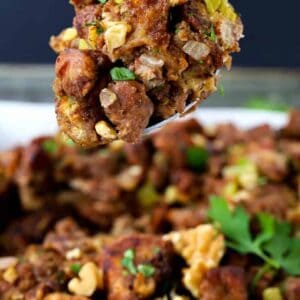 Waldorf Chicken Sausage Stuffing
Author:

Prep Time:

15 minutes

Cook Time:

45 minutes

Total Time:

1 hour

Yield:

1

0

1

x
This Waldorf Chicken Sausage Stuffing has chicken sausage, apples, walnuts and raisin bread, baked in a casserole dish for an easy Thanksgiving side!
Scale
Ingredients
1 1/2

lbs. chicken sausage

6 tablespoons

butter

1 cup

diced onion

1 cup

diced green apple

1 cup

diced celery

1 cup

walnut halves

2 teaspoons

poultry seasoning

1 teaspoon

kosher salt

1/2 teaspoon

black pepper

3 1/2 cups

chicken broth

24 ounces

sweet brioche raisin bread, toasted and broken into pieces (if you can't find brioche raisin bread, use regular brioche bread and add

1/2 cup

of raisins to the stuffing)

3

eggs beaten with 1 tablespoon milk
chopped parsley and chopped walnuts for garnish
Instructions
Preheat the oven to 350 degrees.
Add the butter to a large skillet over medium heat. Once the butter is melted, add the sausage to brown, breaking up with a spoon.
Once the sausage is browned, add the onion, apple, walnuts and celery.
Cook for 5 minutes until the onion and apple have softened.
Add the poultry seasoning, thyme, salt, pepper and the chicken broth.
Bring the broth to a simmer and cook for 15 minutes over medium low heat. Remove the skillet from the heat and let cool for 5 minutes.
Place the toasted raisin bread pieces into a large bowl then pour the chicken broth and sausage mixture on top. Stir gently to combine then add the beaten eggs mixture and stir well to combine.
Pour the stuffing into a buttered 9″ x 13″ casserole dish, cover with foil and bake for 35 minutes.
Remove the foil, add a few pieces of butter on top of the stuffing and bake another 10-15 minutes, uncovered, to crisp up the top of the dressing.
Recipe Notes
If you're making this right from the refrigerator you'll need to add about 10 minutes to the covered cooking time.
Category:

Side

Method:

Stove/Oven

Cuisine:

American
Keywords: sausage stuffing recipe, easy sausage stuffing, thanksgiving stuffing recipe, thanksgiving sides dish, chicken sausage stuffing, homemade stuffing