Cranberry Whiskey Gravy is an easy turkey gravy recipe that's kicked up with a touch of whiskey! You'll want to pour this gravy on everything!
Wondering what to serve with this gravy recipe? We love pouring it over Roasted Turkey, and a side of Creamy Mashed Potatoes, and of course our most popular stuffing recipe, The Best Sausage Stuffing!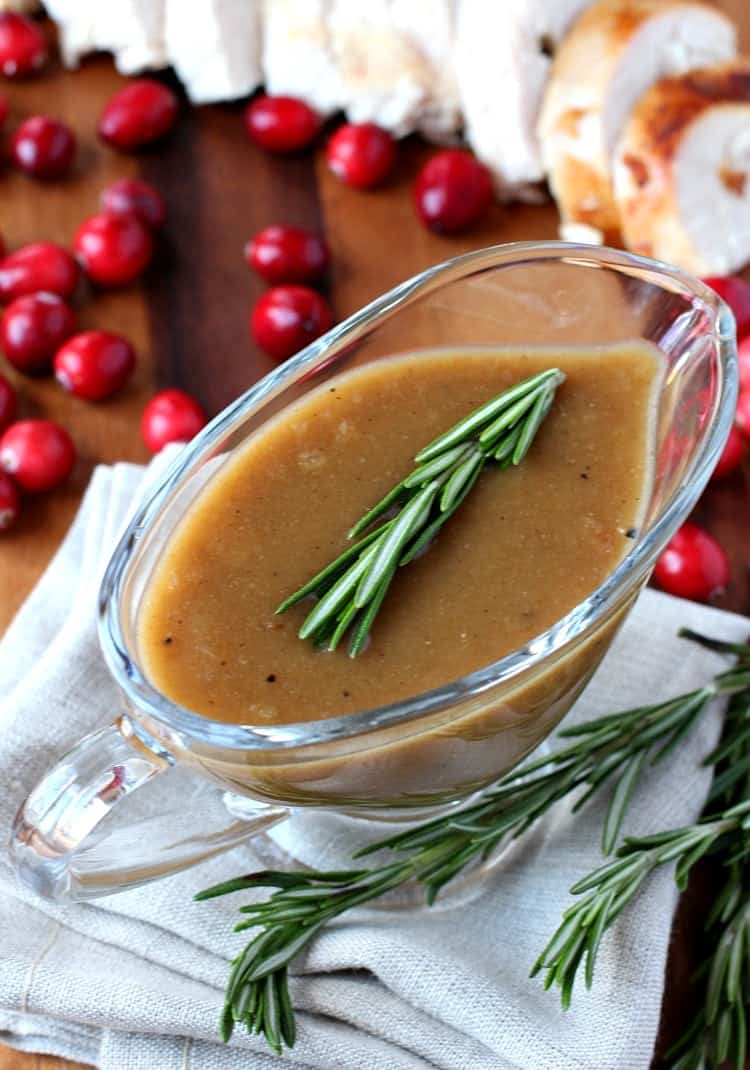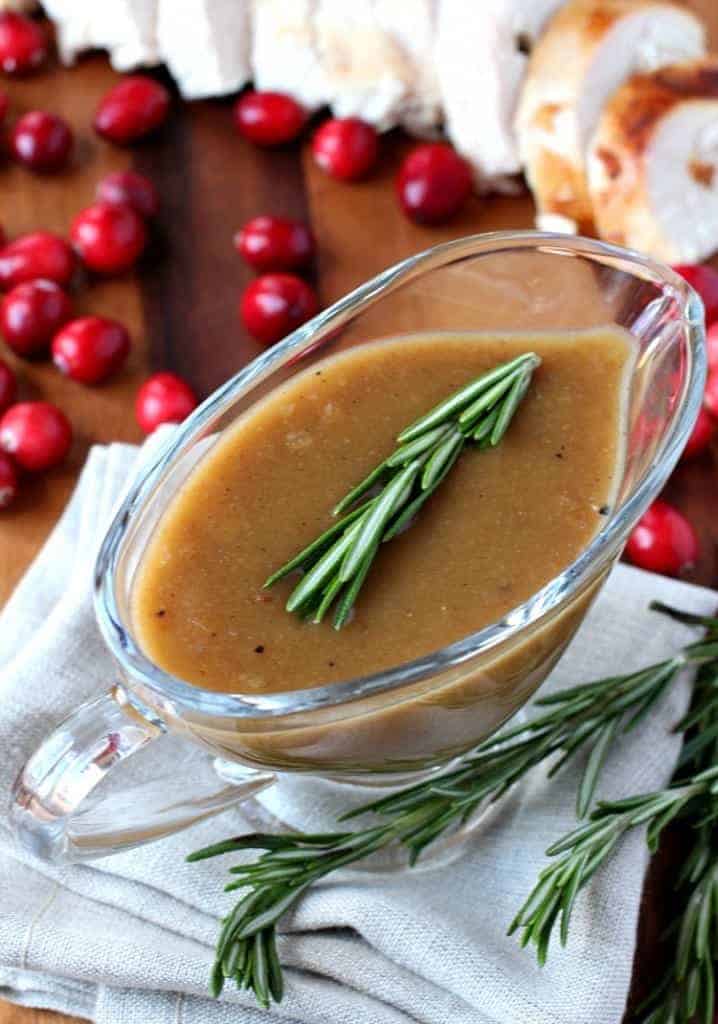 An Easy Homemade Turkey Gravy Recipe
Adding cranberry and whiskey to turkey gravy? Genius! Yeah, I'm sure it's been done plenty of times but I'm not looking it up to find out. I'm going to keep on thinking that this was only my idea for a little while longer.
We were pouring this gravy on EVERYTHING. Our turkey breast, of course. Our mashed potatoes, of course. Our stuffing, of course. But also the next night when we had oven fries…poured this gravy all over those things.
The cranberry sauce not only gives the gravy an unbelievable flavor, but it also helps to thicken it. And the whiskey? Well that just makes everything taste better…but you know that. So be sure to save all of those turkey drippings to make this unbelievable gravy. (Save the carcass too to make homemade turkey soup!)
How to Make Cranberry Whiskey Gravy
One key step to making really good gravy is the let the drippings sit so that the grease can separate and rise to the top. If you've ever had greasy gravy before, you'll know that you don't want to skip this step.
A gravy separator works great for this, but if you don't have one just pour the drippings into a container and use a ladle to skim the grease of the top layer.
Now in a large saucepan, melt a few tablespoons of butter and add diced onion. Let the onions cook down until they are soft and brown in color, then carefully pour in the whiskey.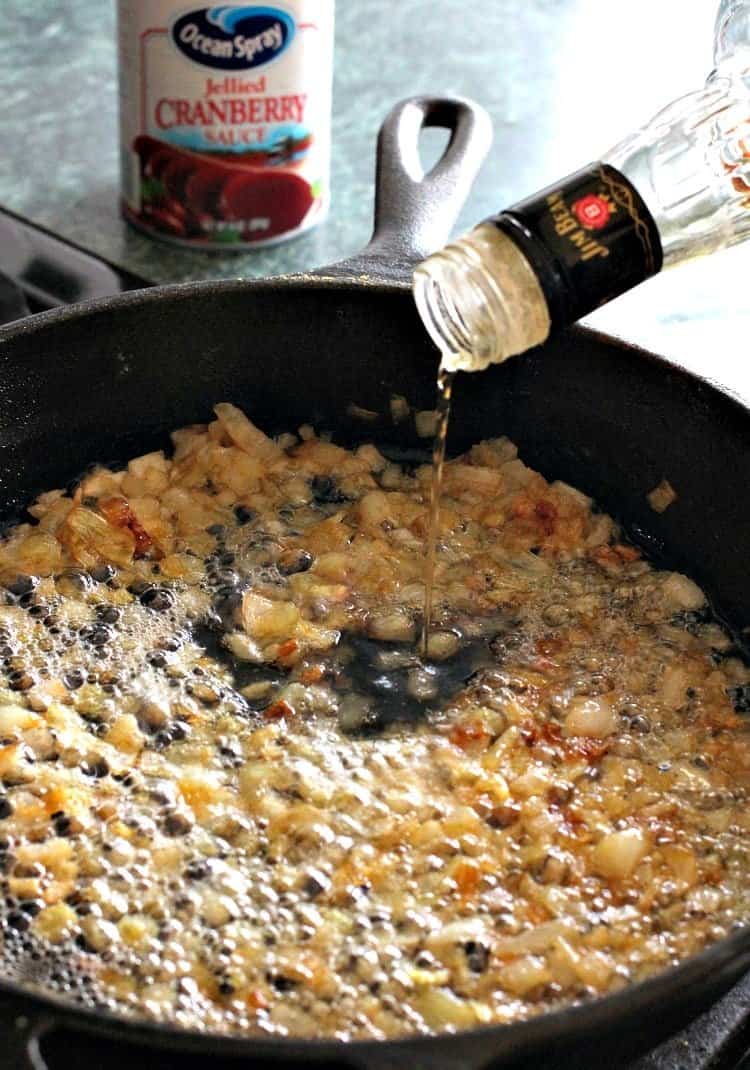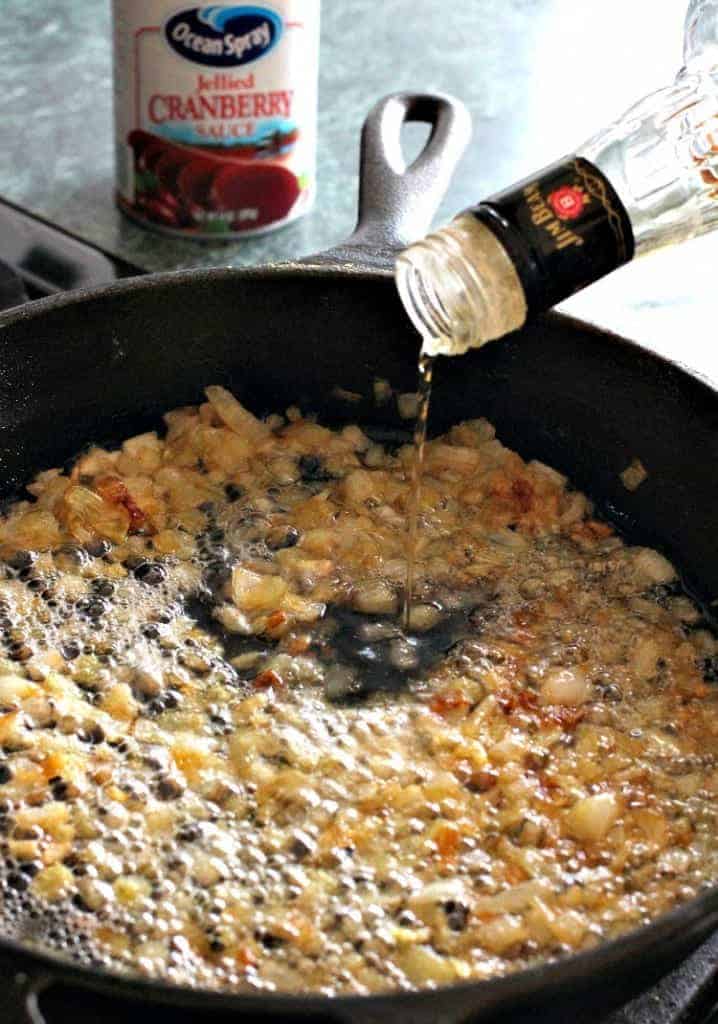 Turn the flame off to your stove before you add any alcohol to a recipe while you're cooking, always good to be safe! To make this turkey gravy recipe nice and thick, sprinkle 1/4 cup of flour over the onions and whisk to combine.
Cook out the flour for a minute then slowly pour in the chicken stock and drippings, whisking as you go until it's all mixed together with the flour and butter.
Add a sprig of fresh rosemary, or thyme if you prefer, and let the gravy simmer for 5 minutes until it's thickened.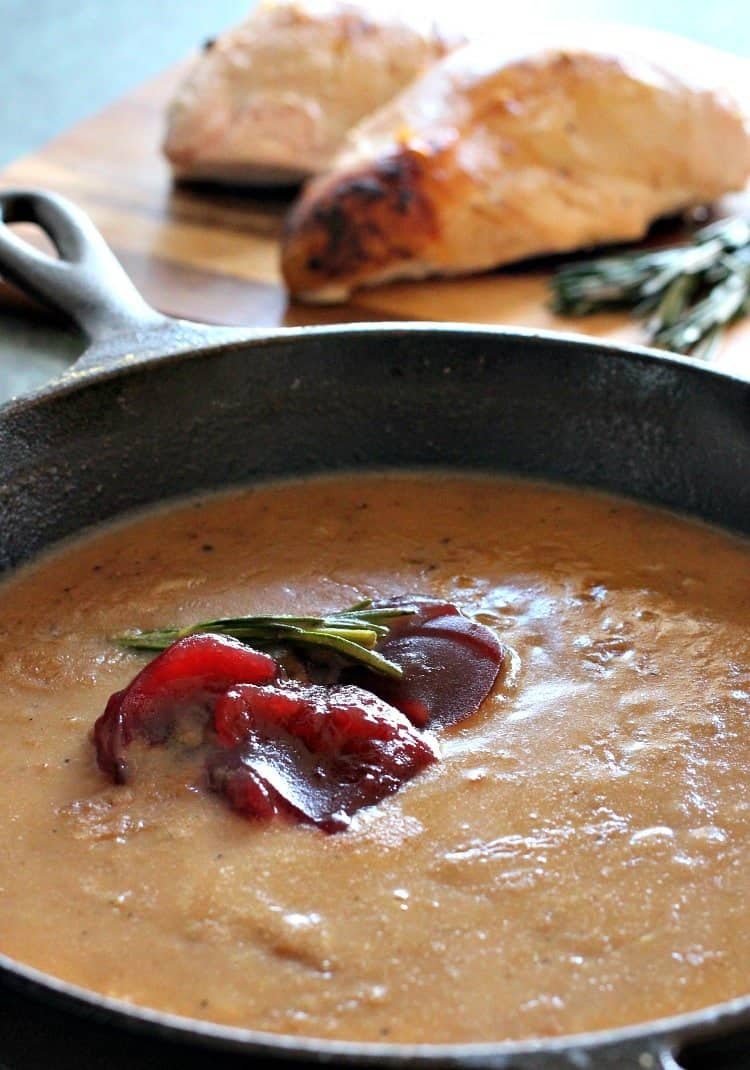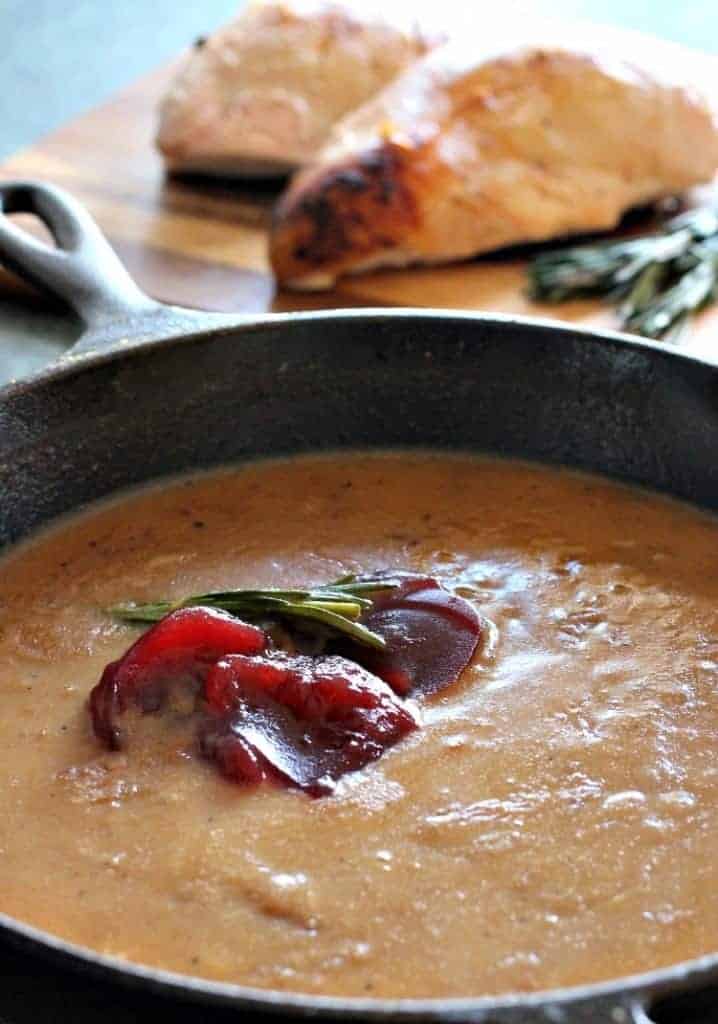 Once the gravy has thickened, whisk in cranberry sauce for the final step. We use the canned kind for this gravy recipe because it's smooth and we want a thick, smooth gravy.
Can You Make Gravy Without Turkey Drippings?
You definitely can, it won't be AS flavorful as this turkey gravy recipe – but it's still going to be delicious. Use chicken stock in place of the turkey drippings and add a few more seasonings to the gravy at the end.
And yes, you can also leave the whiskey out of this gravy recipe, it's still going to be delicious. Just omit the whiskey and proceed with the rest of the instructions, or you can add a splash of white wine instead of the whiskey.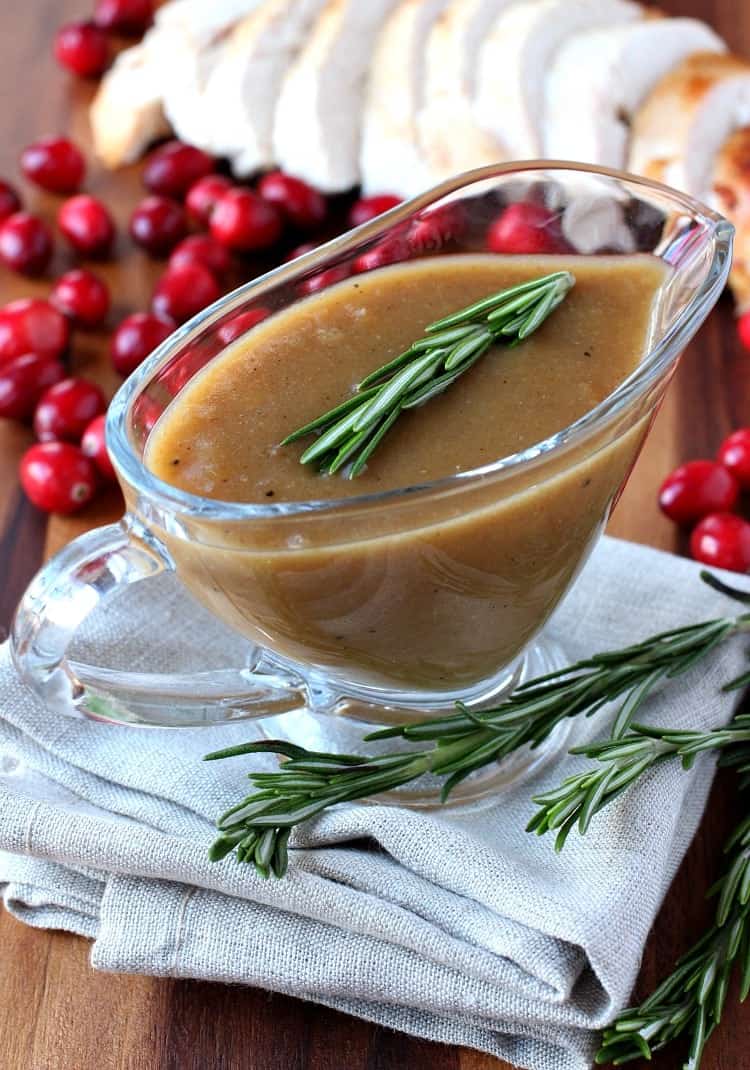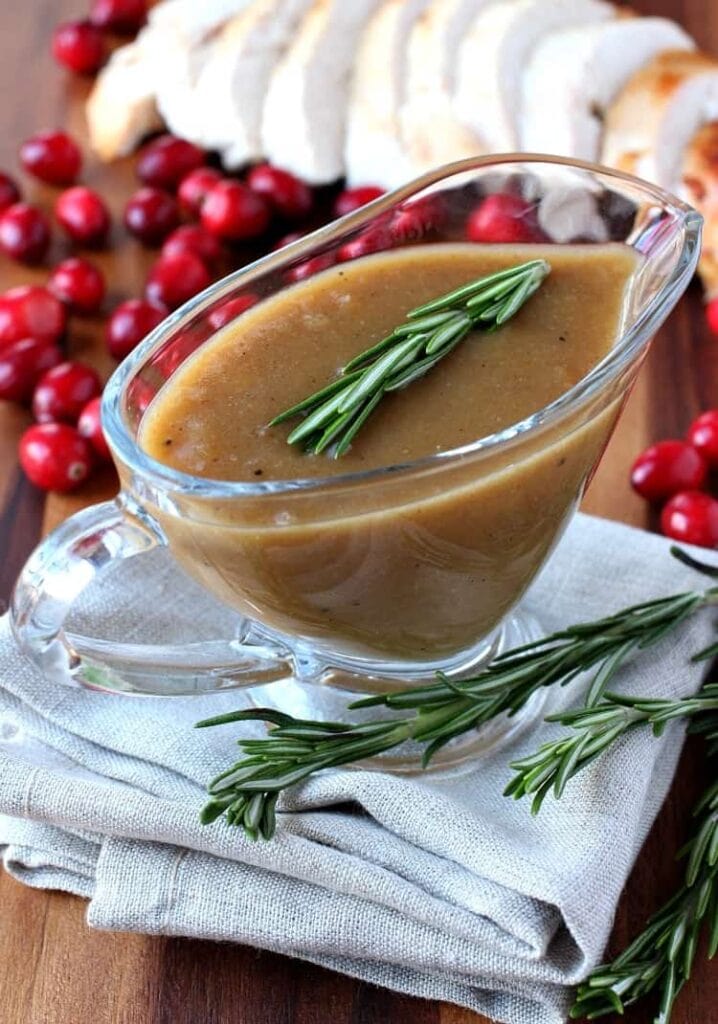 Can You Freeze Turkey Gravy?
Give me a fist bump for this one, because YES YOU CAN! We don't EVER waste homemade gravy at our house. Usually leftover gravy isn't an issue because there are plenty of recipes you can make with it, as detailed below.
But if you can't get to any of these recipes then by all means, freeze it! Frozen gravy defrosts perfectly, even right in the microwave. Imagine having delicious homemade gravy on a random weeknight over a store bought rotisserie chicken?
That's leftover magic.
PIN IT!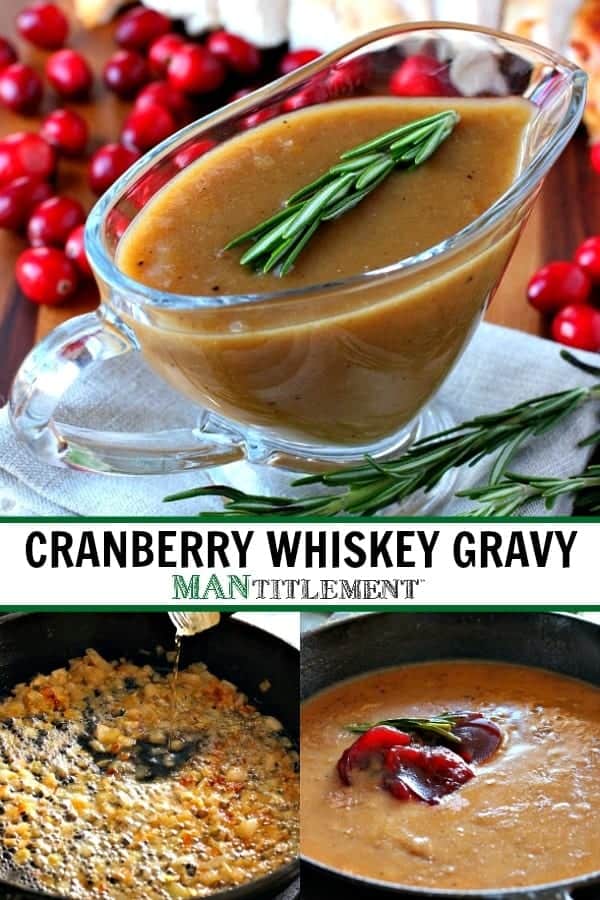 Recipes To Use With This Turkey Gravy:
Print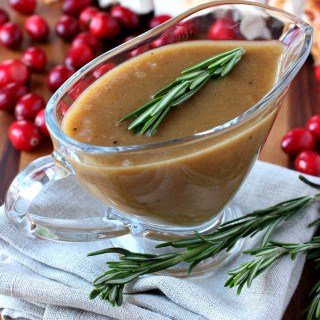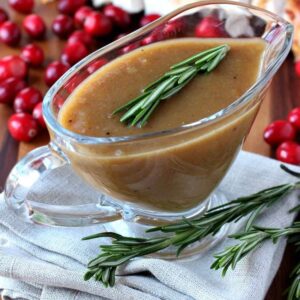 Cranberry Whiskey Gravy
Author:

Prep Time:

5 minutes

Cook Time:

15 minutes

Total Time:

20 minutes

Yield:

10

servings

1

x
This Cranberry Whiskey Gravy is the only gravy recipe you're going to need this Thanksgiving! Homemade gravy is actually easy to make with these few simple steps!
Scale
Ingredients
5 tablespoons

butter

1/4 cup

flour

1 cup

onion, diced fine

1/4 teaspoon

ground black pepper

1/2 teaspoon

salt (this will depend on how salty your drippings are so you could add the salt at the end if you like)

1 1/2 cups

chicken stock

1 cup

turkey drippings

1/4 cup

cranberry sauce (canned)

1

sprig fresh rosemary

1 ounce

whiskey (We used Jim Beam Maple)
Instructions
Melt the butter in a large saucepan over medium-low heat, then add the onions and cook for 10 minutes until softened. Don't skip this step, the onions add tons of flavor to the gravy.
Next, carefully pour in the whiskey, whisk and cook down for one minute.
Sprinkle in the flour and whisk to combine with the butter and onions and cook for a minute more.
Slowly whisk in the chicken broth and drippings, then add the rosemary to the pan.
Bring to simmer and cook 5 minutes to thicken.
Whisk in the cranberry sauce and taste for seasonings.
Recipe Notes
If you don't have a cup of drippings from your turkey just add in more chicken broth to equal 2 cups of liquid.
Category:

Side Dish

Method:

Stove Top

Cuisine:

American
Keywords: gravy recipe, homemade gravy, thanksgiving recipes, turkey gravy, easy gravy recipe, how to make gravy, brown gravy, easy brown gravy recipe