Crispy Baked Steak Fries are a delicious and healthy side dish to almost any meal! Soft, fluffy, tender insides with a crispy, perfectly seasoned crust!
Not only so these steak fries go perfectly with steak recipes like our famous Whiskey Steak or our Teriyaki Steak recipes, but they're also a fun appetizer served with different sauces like Awesome Sauce or a creamy Yum Yum Sauce!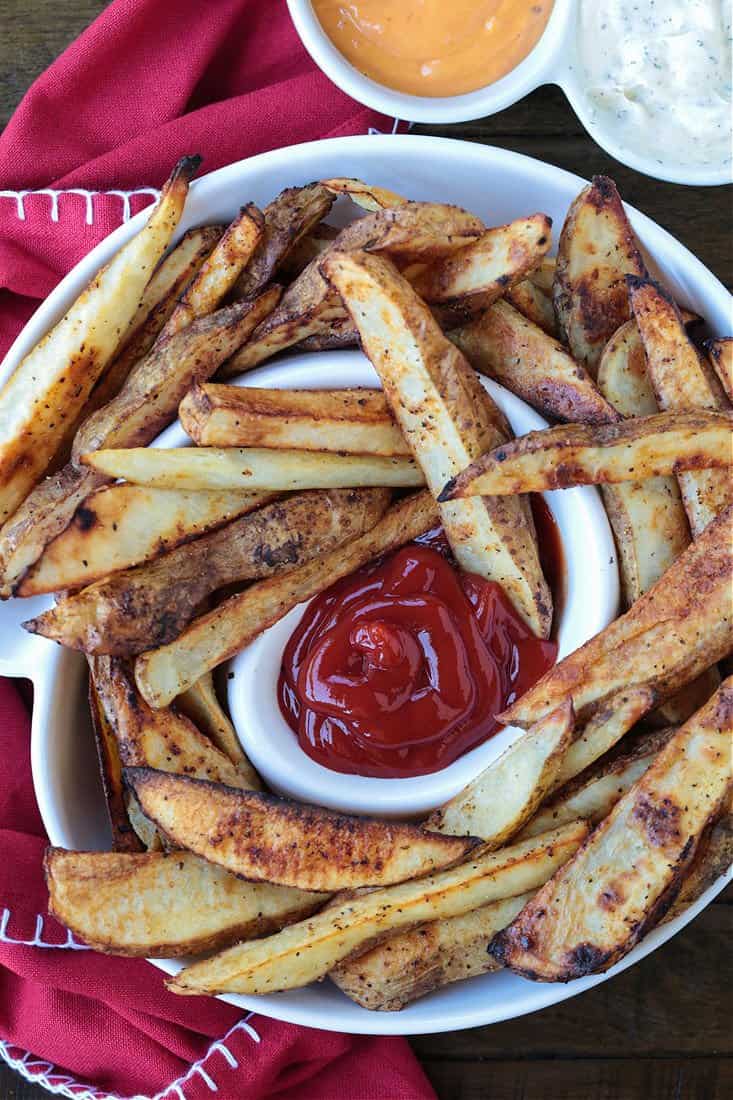 Steak Fries (Baked Not Fried!)
Sure, you can fry these babies up, we're not going to stop you. But these Crispy Baked Steak Fries are so delicious baked in the oven, we don't think you're going to want to.
Traditionally, steak fries are deep fried, and believe you me they are super tasty that way. But in the effort to save some clogged arteries, we've decided to perfect these fries in the oven. And perfect, we did.
What you end up with is a tender, soft, fluffy inside and a mega crispy, perfectly seasoned crust on the outside. More addicting than potato chips, once you start you won't be able to stop!
How Do You Make The BEST Oven Baked Steak Fries?
There are a few things that we need to keep in mind to make the most crispy, addicting steak fries without frying.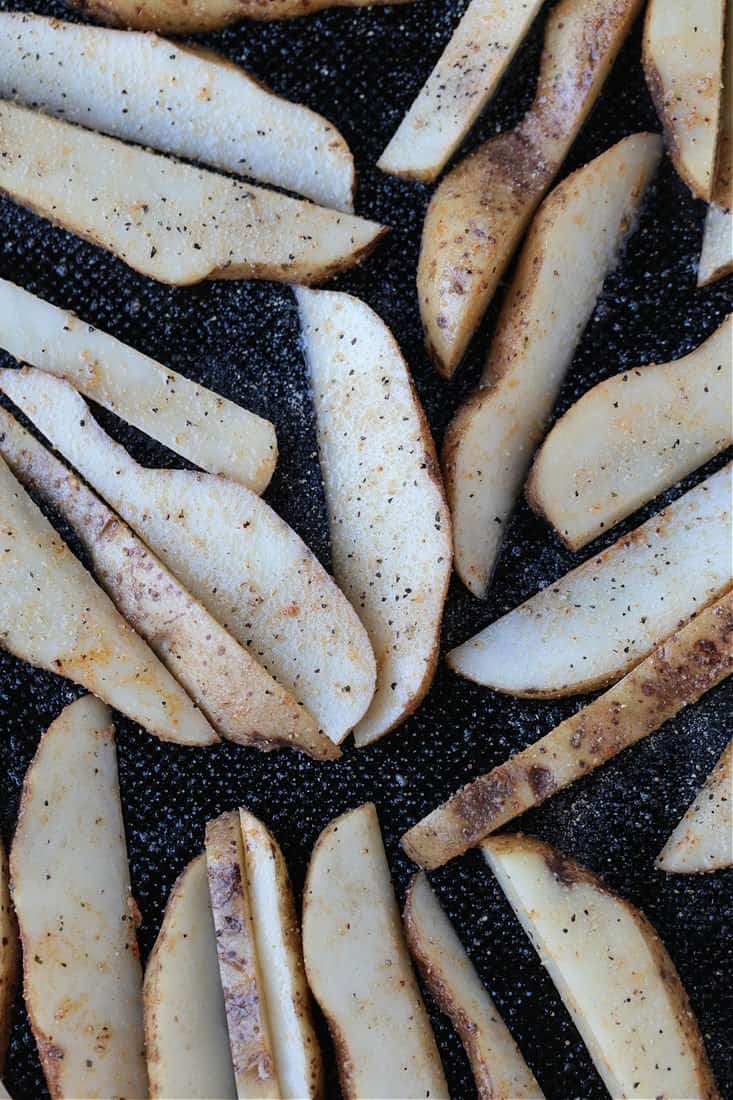 Start With The Right Potato: First, let's talk about the potatoes. Russet potatoes are perfect for making these oven baked fries because they are a starchy potato instead of a waxy potato. Starchy potatoes will give you that crispy crust that you're looking for in an oven fry.
Don't Cut The Wedges Too Large: Although steak fries are a larger french fry than say a Shoestring French Fry, don't cut the wedges too large. We want the perfect crust to tender inside potato ratio, so usually a potato cut into eighths works the best.
Smaller potatoes might not need to be cut into eighths, and larger potatoes might need to be taken down smaller. Refer to the photos in the post here for the best size.
Cook The Potatoes In A Single Layer: Make sure the you get the potato wedges onto your baking sheet in a single layer for the best crust. Steak fries need to cook in a single layer, so don't overcrowd the pan. Using two sheet pans is a better option than stacking or overcrowding the fries.
Season Generously: Start with the amounts of seasoning that we have in the recipe card below, but also season as you go. When you toss the potato wedges in a bowl, some of that seasoning stays behind, so you may need re-season after you get them onto the sheet pan.
Soak In Water First: Some methods for making french fries call for soaking the cut potatoes in water before cooking to remove excess starch. If you do soak the potatoes first make sure to dry them with paper towels very well before continuing.
What's The Best Steak Seasoning To Use?
The best steak seasoning is your favorite steak seasoning, and believe me, they do vary in flavor. A popular steak seasoning is Montreal Steak Seasoning by McCormick®, Kinders® steak seasoning has also become very popular.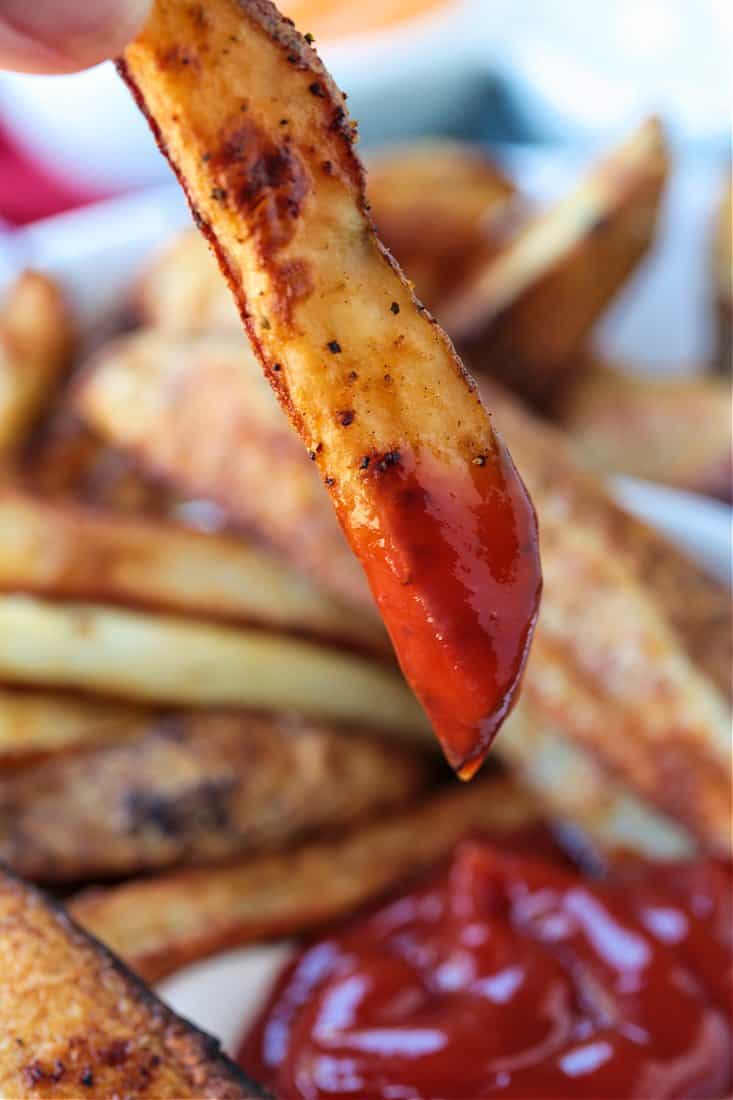 What Sauce Can I Serve With Steak Fries?
If you're not a purist and want these baked fries as is, we know it's all about the dipping sauce! Of course ketchup is a go to dipper for fries, but there are so many other options!
Mayonnaise: Do like the Belgiums do and grab your favorite mayo!
Barbecue Sauce
Mustard
Awesome Sauce: Also a go-to sauce for steak!
Yum Yum Sauce: A mayonnaise based sauce that is often served at Hibachi restaurants.
Spicy Chimichurri Sauce: A flavorful herb and oil sauce.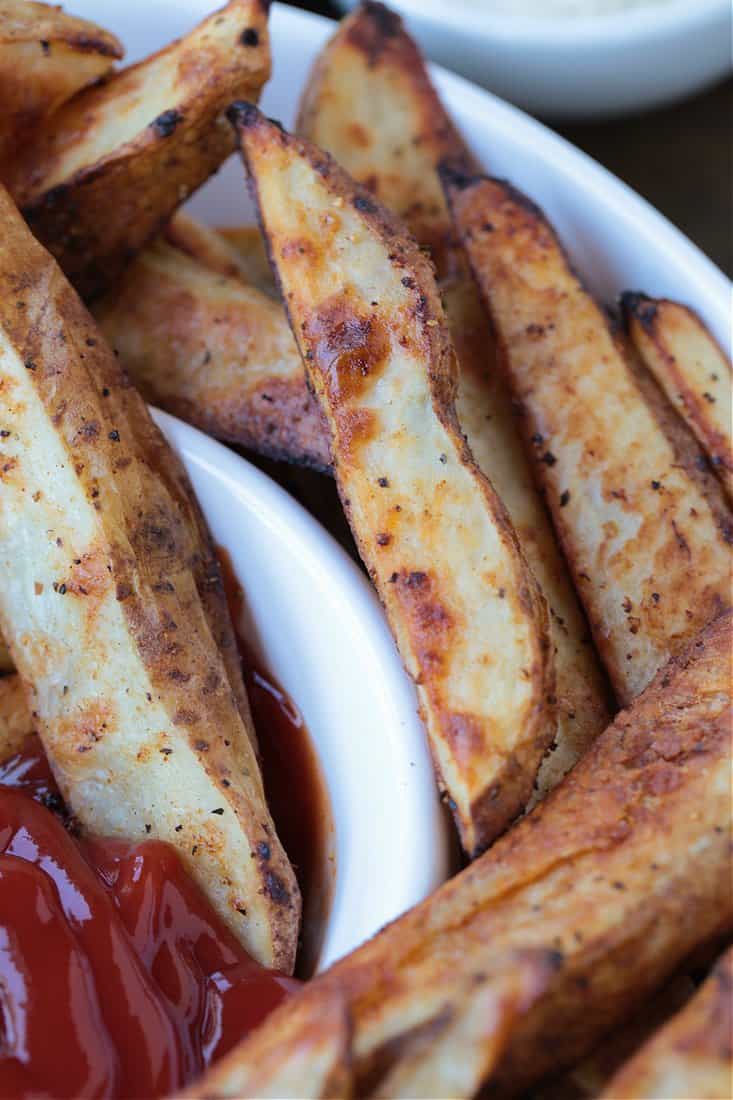 Can You Make These Fries Ahead Of Time?
Although these steak fries are best served when they first come out of the oven, you can do them a little in advance. Once the fries are done, keep them on the sheet pan and in a 325 degree oven until you're ready to serve.
Don't do this any more than an hour before serving as the fries will dry out. Got an air fryer?? These fries crisp up wonderfully in an air fryer, just a few minutes on each side at 400 will do the trick!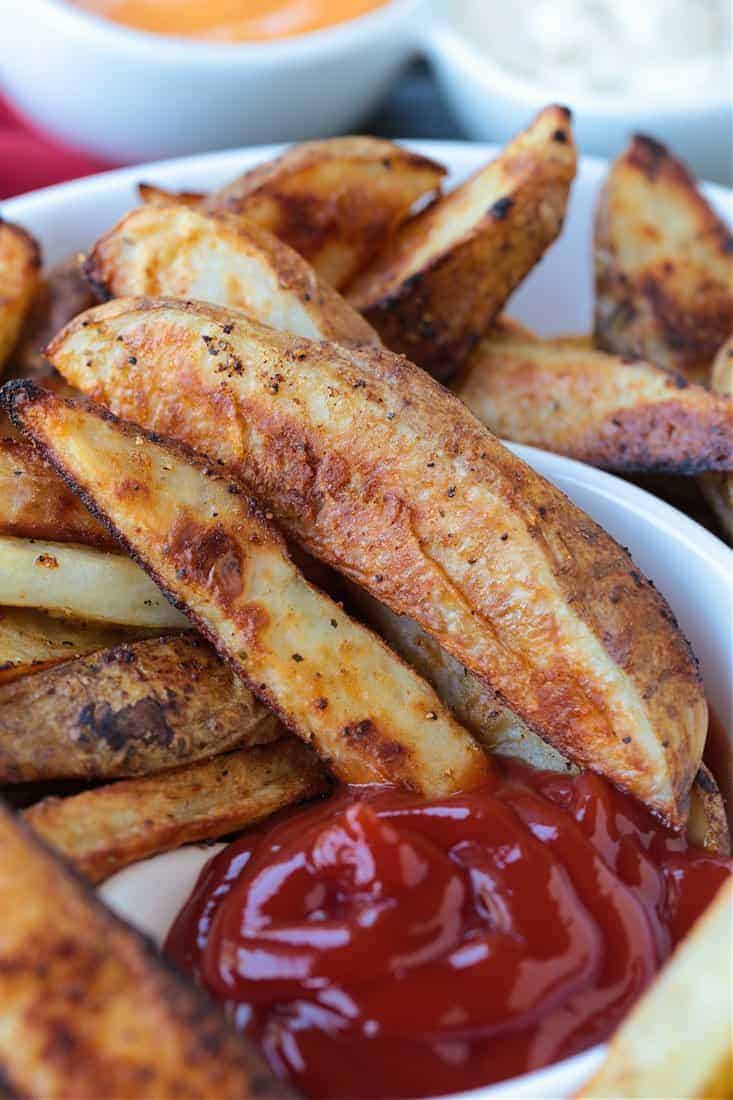 Can You Make These Steak Fries In An Air Fryer?
Yes! These fries are literally perfect made in an air fryer. Preheat your air fryer (if required) to 400 degrees and place the seasoned and oiled potato wedges in a single layer in the basket. Cook for 6-7 minutes on one side and then flip for another 6-7 minutes until brown and crispy.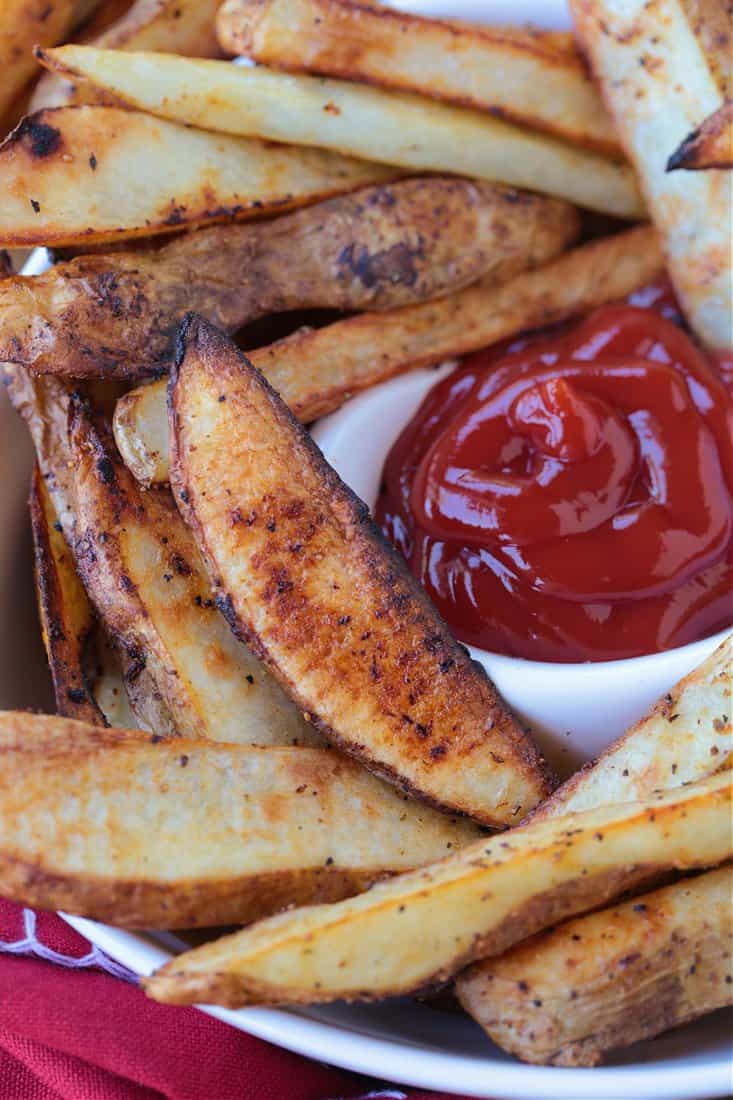 Looking For More Potato Recipes?
Print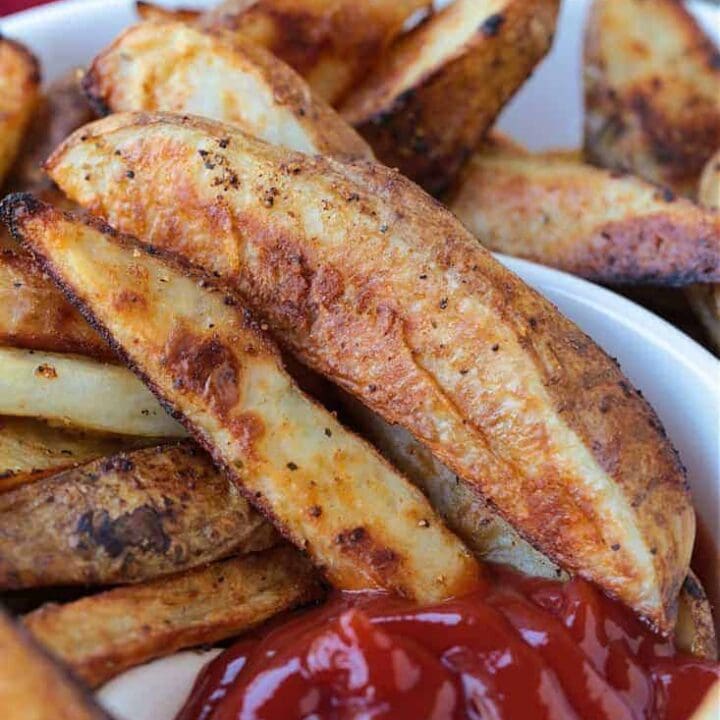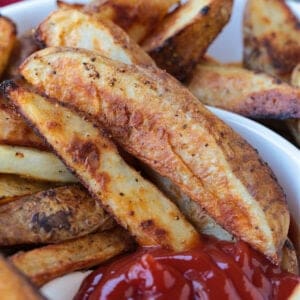 Crispy Baked Steak Fries
Author:

Prep Time:

5 minutes

Cook Time:

35 minutes

Total Time:

40 minutes

Yield:

4

servings

1

x
These Crispy Baked Steak Fries are the perfect side to just about any meal! Soft and fluffy on the inside with a crispy, seasoned crust!
Scale
Ingredients
2

pounds russet potatoes

2 tablespoons

olive oil

1 tablespoon

steak seasoning (plus extra)

1 1/2 teaspoons

paprika (plus extra)
Kosher salt and fresh black pepper to taste
Instructions
Preheat the oven to 425 degrees.
Scrub the potatoes with a vegetable scrubber, leaving the skins on. Cut the potatoes in half lengthwise, then place the cut sides of the potato down on the board. Now cut each half in half again (lengthwise) and then cut each of those half in half until you have large wedges of potatoes. How many times that you need to cut each half will depend on how large the potatoes are. A small potato might only need to be cut in fourths instead of eighths.
Add the potatoes to a large bowl along with the olive oil and seasonings. Toss to combine and then place onto a baking sheet that's been sprayed with non-stick cooking spray in a single layer. You might need to use two baking sheets to ensure that the fries are in a single layer with room for browning.
Add extra steak seasoning and paprika to the top layer of the fries and then bake for 20 minutes. Remove the sheet pan(s) from the oven and turn the the fries over to the other side. Cook for another 10-15 minutes until the fries are golden brown and crispy.
Taste the fries for seasoning and add salt and pepper if desired. (See note*)
Recipe Notes
Some steak seasoning is more salty than others, ours is just right so we don't need to add any salt, but we do like adding fresh black pepper.
You can also cook these fries on a parchment lined baking sheet instead of spraying the sheet pans with cooking spray. We do prefer making them right on the baking sheet for the ultimate crispiness!
Category:

Side Dish

Method:

Oven

Cuisine:

American
Keywords: mantitlement, steak fries, oven baked fries, potato recipes, low fat recipes, healthy recipes