This addicting Teriyaki Steak Recipe is sure to become a favorite! An irresistible blend of soy sauce, garlic, ginger, brown sugar, and spices will infuse your steak with flavor and tenderize it to perfection.
Try serving this flank steak with a side of Cheesy Roasted Asparagus and this Parmesan Bacon Orzo! Need a cocktail to wash it down? A classic Aperol Spritz will do the job!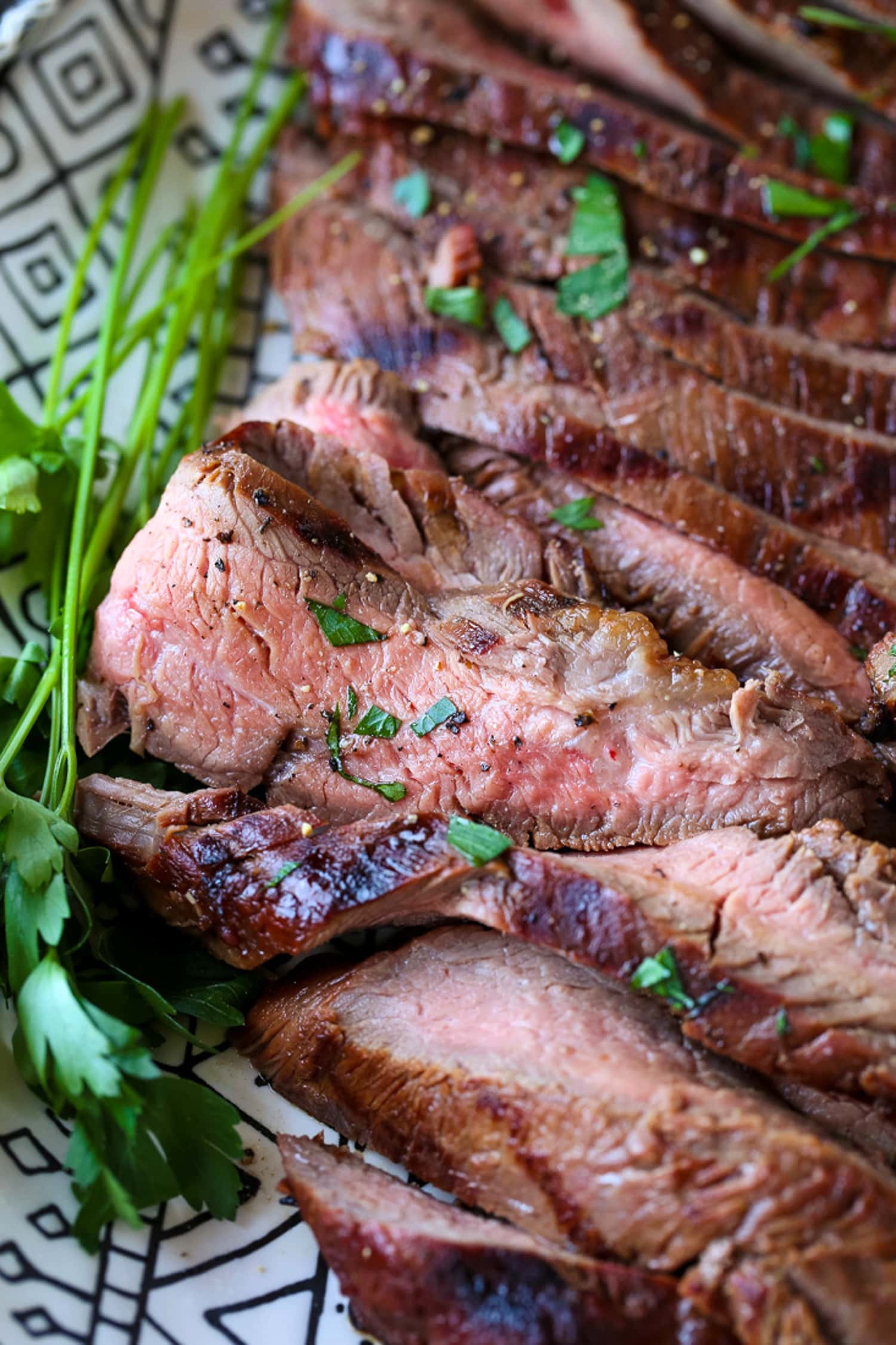 Addicting Teriyaki Steak Recipe
Even though we made this Teriyaki Steak recipe with a flank steak, there are definitely other options which we'll talk about a little later. Our boys love flank steak, they'd eat it every night if they could, so flank steak is our go-to for this recipe.
A homemade teriyaki marinade makes this steak super tender – and super addicting. Fresh ginger, garlic and scallions are just a few of the powerhouse ingredients that soak into your steak in a short amount of time.
Sometimes you don't have all day to let a steak marinate, or even overnight, so this teriyaki marinade is the recipe you need! All you need is 4 hours of marinating to get an addicting, tender and juicy steak on the table.
Ingredients For The Teriyaki Marinade
To get the most flavor into any type of steak, you need powerful flavors like the ingredients we have here. Whether you're marinating this Teriyaki Flank Steak overnight or just a few hours, you're still going to end up with a ton of delicious teriyaki flavor.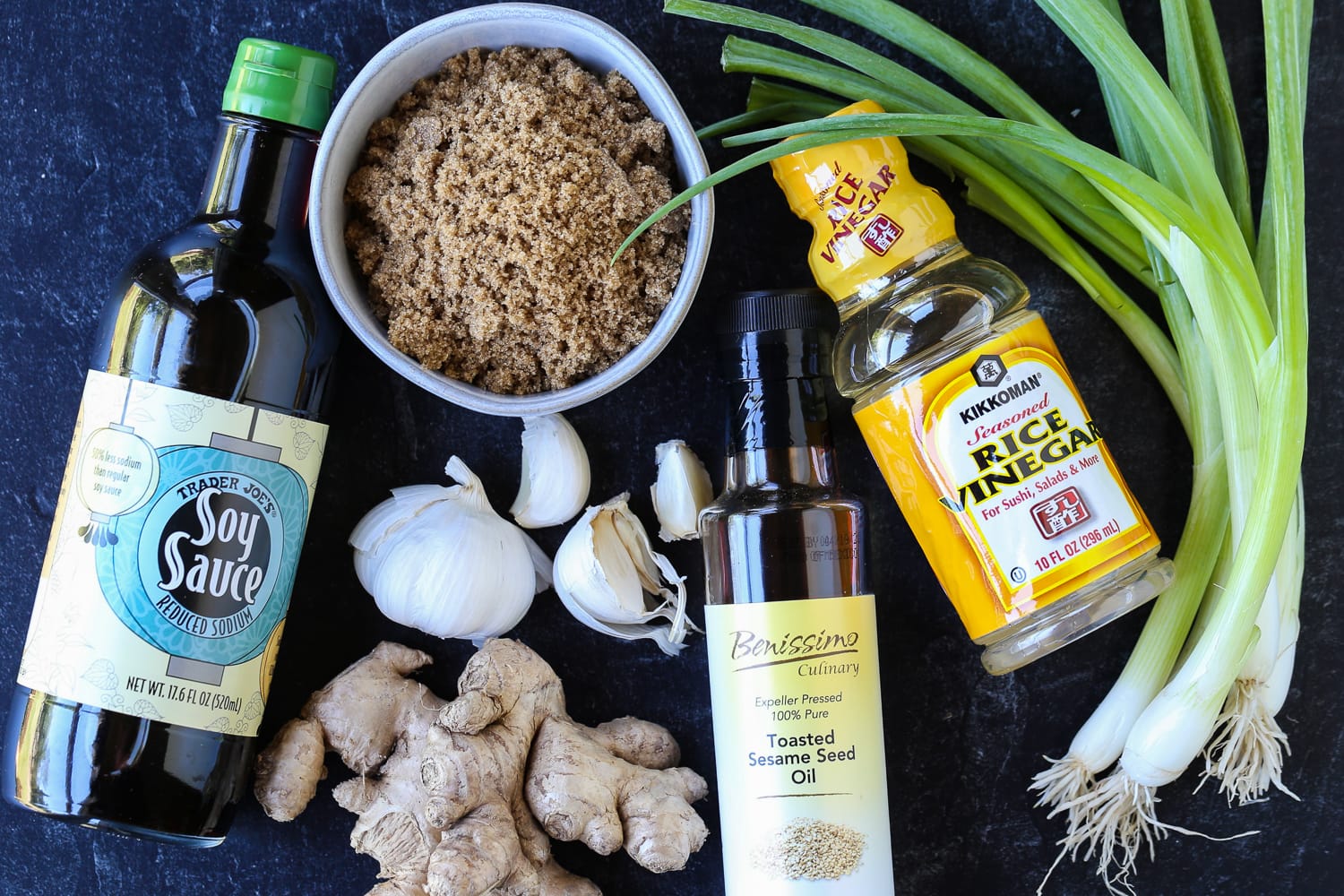 Soy Sauce: We recommend a low sodium or reduced sodium soy sauce, especially if you're planning on an overnight marinade.
Brown Sugar: Light or dark brown sugar; we're using brown sugar to add some sweet flavor to this teriyaki marinade.
Garlic: Fresh garlic please! Not the stuff in a jar. We want the most flavorful ingredients to penetrate the beef and make the best steak ever.
Ginger: Fresh ginger please! Again, when making this marinade try to get fresh if you can.
Toasted Sesame Oil: Toasted sesame oil is a powerhouse of an ingredient. You don't need a lot of it because it's strong, but it will add that nutty, delicious taste that you're looking for in any Asian-inspired recipe.
Rice Vinegar: This vinegar will add a tangy flavor to the marinade and also help tenderize the steak.
Scallions: Fresh, chopped scallions will add a nice, onion-y flavor to this teriyaki marinade.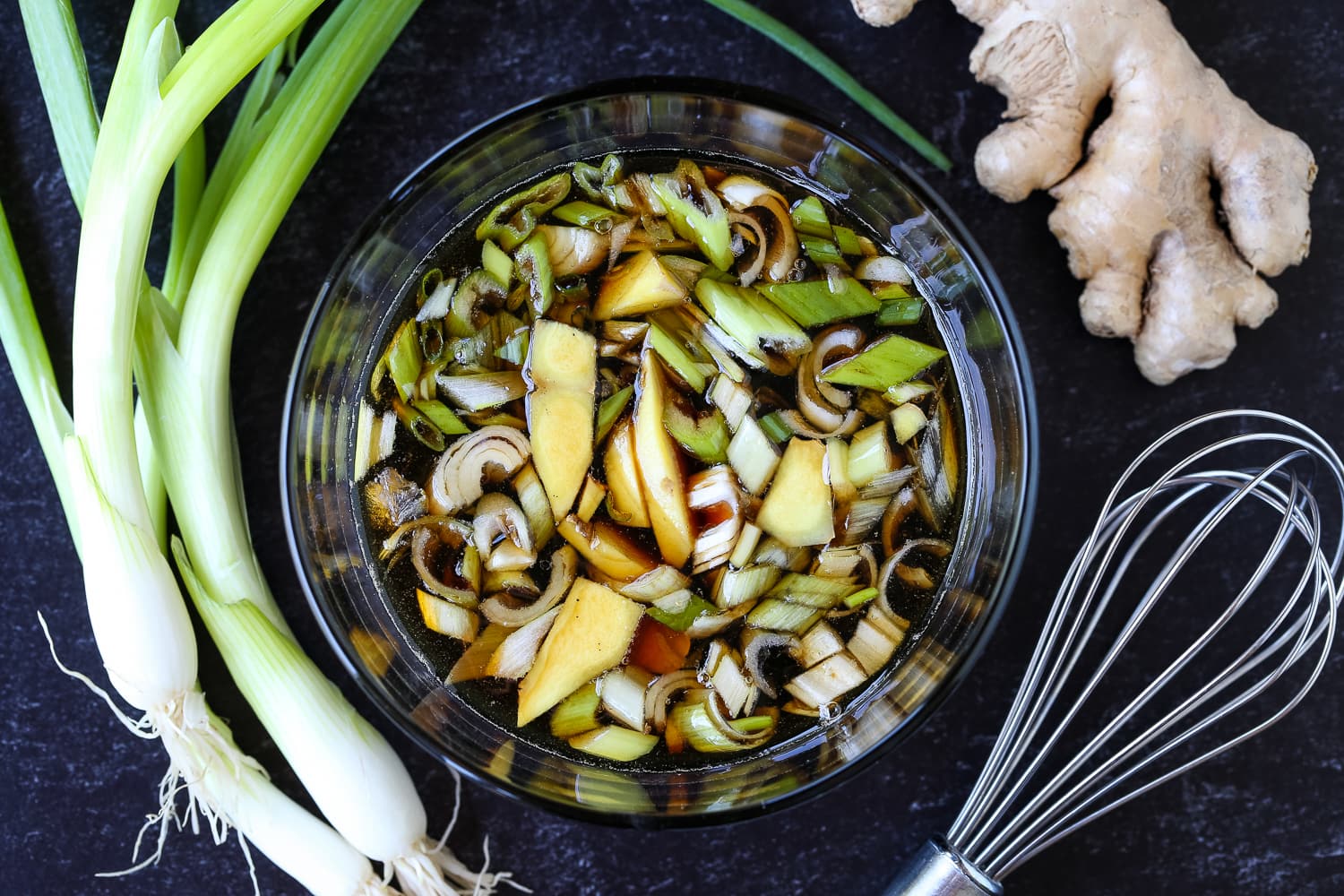 Once you get your ingredients prepped, simply add them to a bowl and whisk together until the brown sugar dissolves. Place the flank steak (or your steak of choice) into a resealable bag or a dish like we have here.
Pour the marinade over the steak, turning the steak over to make sure the marinade is on both sides. If using a baking dish, cover with plastic wrap and refrigerate.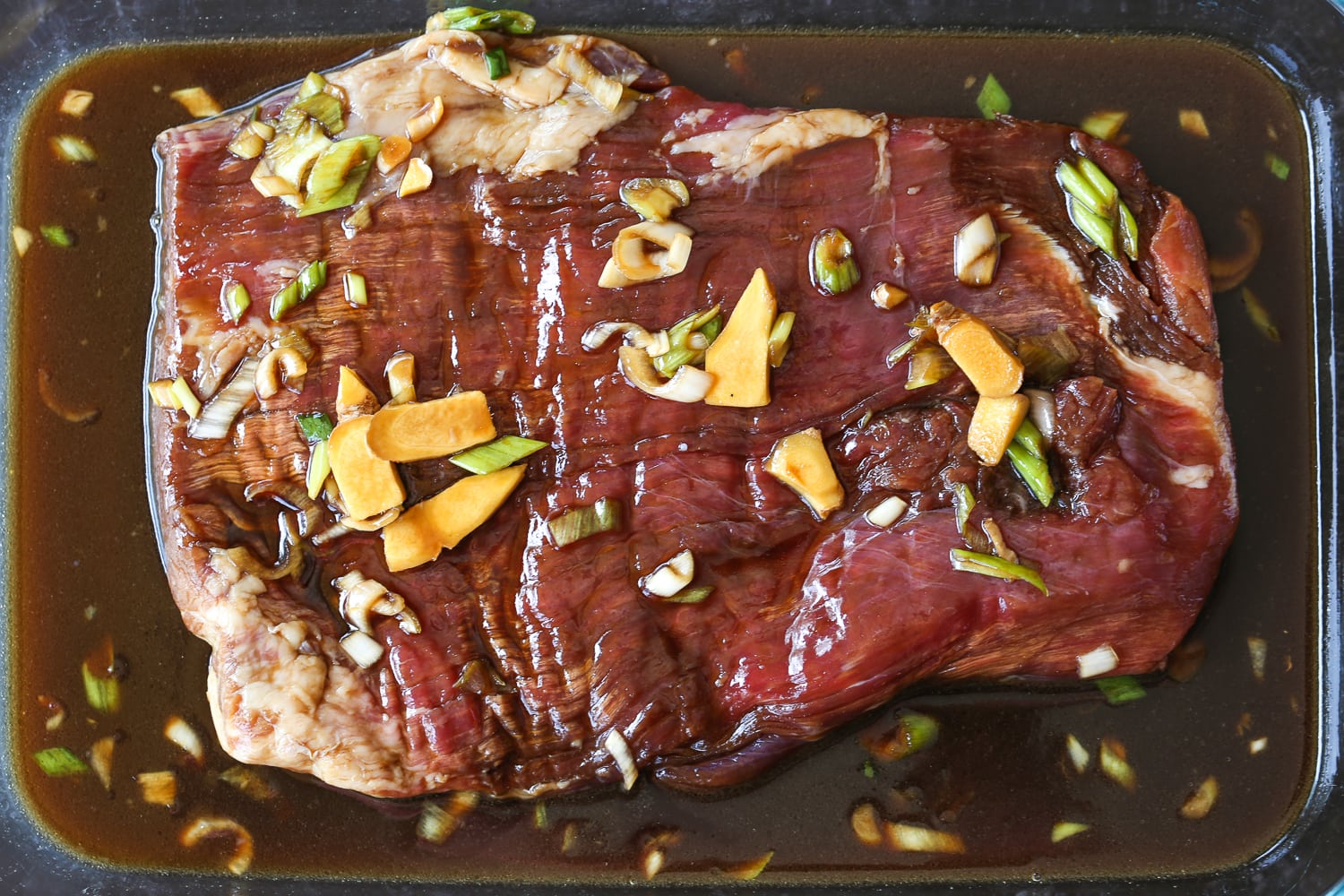 How Long Do I Need To Let The Steak Marinate?
At least 4 hours, but you can go up to overnight. Since the ingredients in this teriyaki marinade are so strong and flavorful, 4 hours will get you a nice teriyaki steak flavor.
Marinating this steak the morning of is optimal, and also what we normally do when making this Teriyaki Steak recipe. Sometimes have this steak prepped and ready for dinner and then something happens, as life does, and we don't get to grilling it.
Then this delicious, marinated steak is ready and waiting for us the next day and it's extra tasty!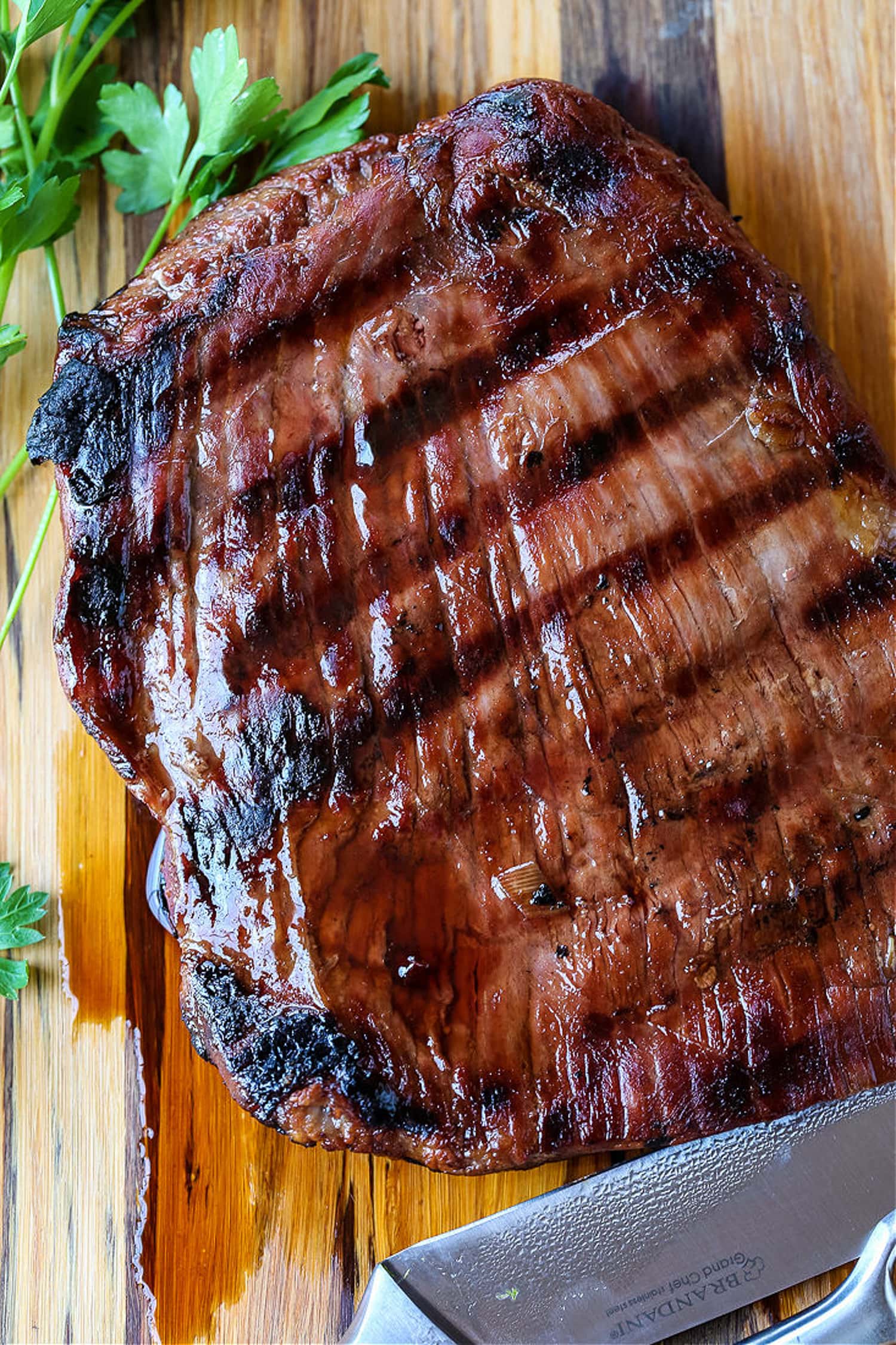 What Other Types Of Steak Can I Use To Make This Steak Recipe?
Even though flank steak is our steak of choice for this steak recipe, there are a few other options. Some are more expensive than others, but flank steak isn't very inexpensive these days, either!
Skirt Steak
Hanger Steak
Sirloin
Tri-Tip
Rump Steak (Round Steak)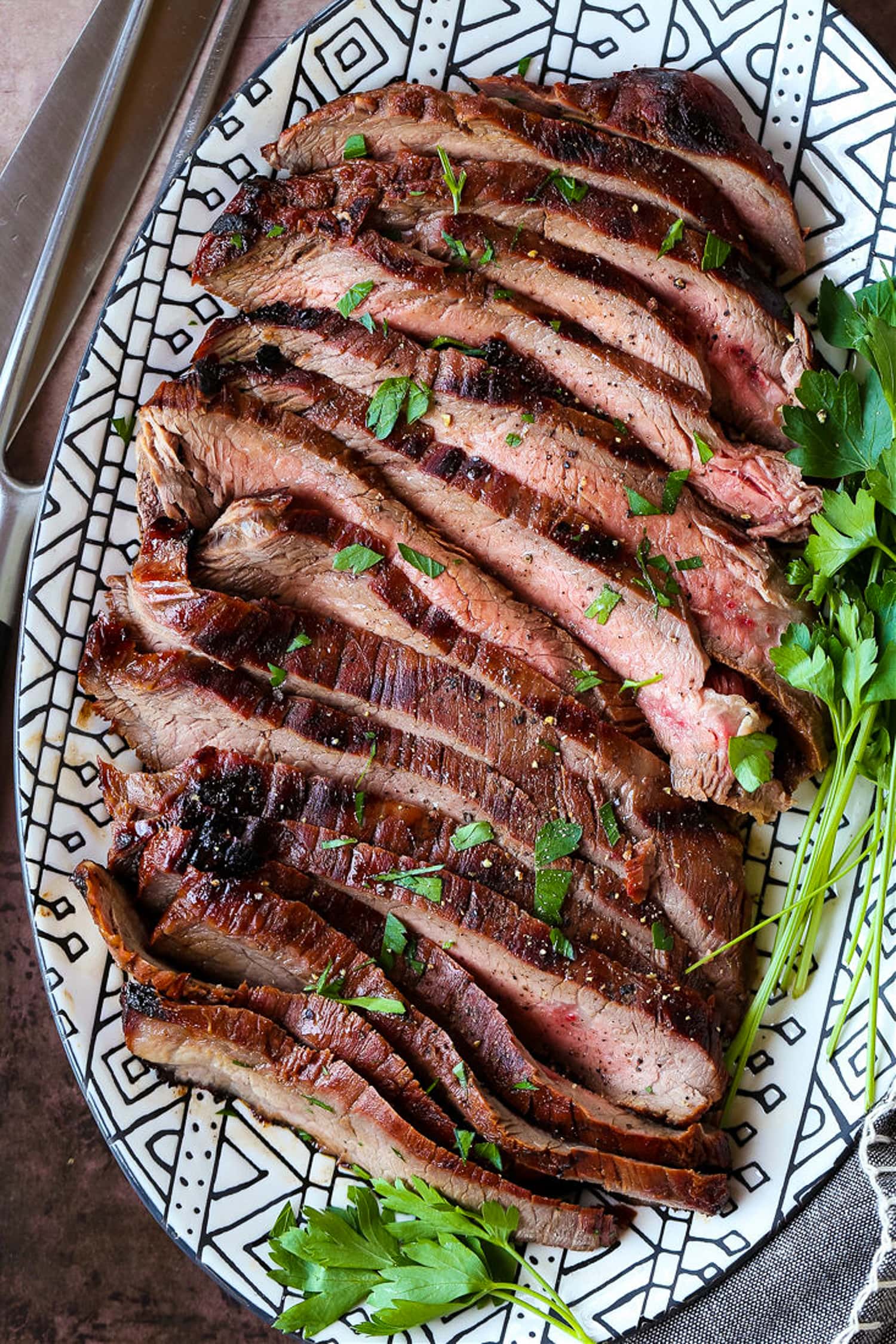 How Do You Know When The Steak Is Done?
The best way to know when your steak is done to the right temperature is by using a meat thermometer. These temperatures are for when you take the meat out of the oven or off the grill, then it will rise a few more degrees during the resting period.
Rare: 125° F
Medium Rare: 135° F
Medium: 145° F
Medium Well: 150° F
Well Done: 160° F
Our flank steak here was cooked to medium rare, which is how we like most of our steaks to be cooked. A flank steak usually has a thin side and a thick side, so the thinner side will be more well done than the thicker side.
Also a great steak option for those that like their steak cooked to different temperatures!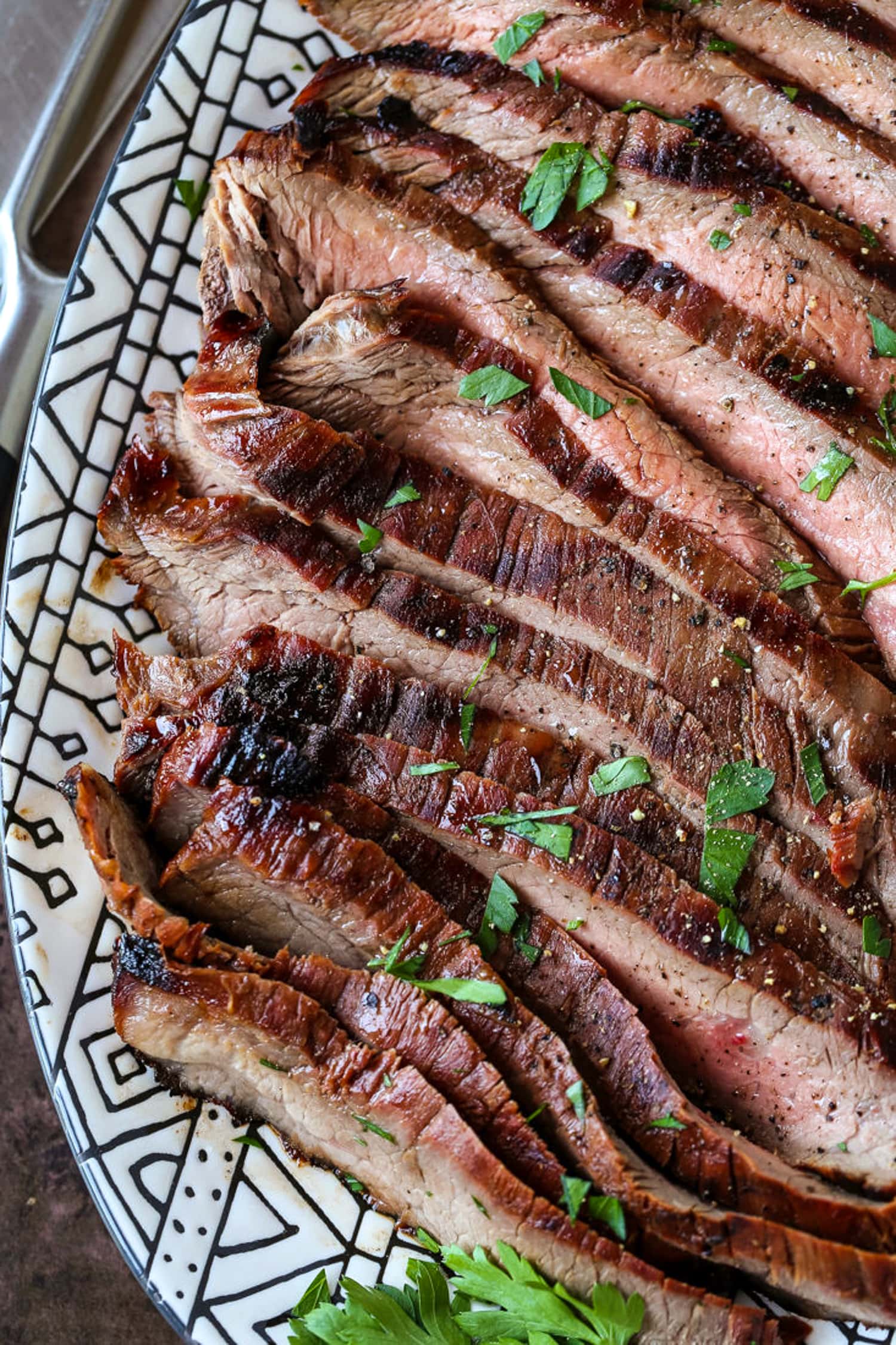 What Other Ways Can I Cook This Steak Recipe?
If the grill isn't an option, you can also make this teriyaki steak in the oven or on the stove top. An indoor grill pan works great for steak, or even a heavy duty skillet or griddle pan.
You can also cook steak in the oven, Pour off most of the marinade and place the steak in an oven safe dish or a sheet pan with a lip.
Side Dishes To Serve With This Steak Recipe
Looking for a few delicious side dish recipes? We've got tons, and I mean tons. Head over to our Side Dish Menu for a complete list, but here are a few ideas for you!
Need More Steak Recipes?
Print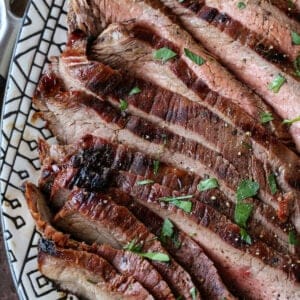 Teriyaki Steak Recipe
Author:

Prep Time:

5 minutes

Marinating:

4 hours

Cook Time:

8 minutes

Total Time:

4 hours 13 minutes

Yield:

6

Servings

1

x
This addicting Teriyaki Steak recipe is sure to become a favorite! A flavorful marinade that you can use with many different cuts of steak!
Scale
Ingredients
2 1/2 – 3 pound flank steak or for other types of steak that can be used, see note*
Ingredients for The Marinade:
3/4 cup

soy sauce

1/4 cup

rice wine vinegar

1/4 cup

packed dark brown sugar

2 tablespoons

toasted sesame oil

1/4 cup

chopped scallions

2

inch piece fresh ginger, peeled and sliced

4

cloves garlic, peeled and smashed
Instructions
Add all the ingredients for the marinade into a bowl and whisk together until the brown sugar is dissolved.
Add the flank steak to a resealable plastic bag or a 9″ x 13″ glass dish. Pour the marinade over the steak, turning to make sure the steak is covered on both sides.
Refrigerate for at least 4 hours or up to overnight.
Preheat the grill to 400-425 degrees. Remove the steak from the marinade, leaving any pieces of ginger, garlic or scallions behind. Lightly pat the steak dry with paper towels.
Grill the steak for 4 minutes on each side for a medium rare temperature. This will depend on how thick your steak is, so use a meat thermometer to make sure your steak is done to your liking.
Remove the steak from the grill and place on a board. Cover with foil and let rest for 5 minutes, then slice the steak against the grain and serve.
Recipe Notes
Different types of steak could include: Skirt Steak, Hanger Steak, Sirloin, Tri-Tip, Rump Steak (Round Steak)
Category:

Dinner

Method:

Grill

Cuisine:

American
Keywords: mantitlement, steak recipe, grilling recipe, flank steak recipe, teriyaki steak, teriyaki marinade, easy recipes, low carb recipes