This Aperol Spritz Recipe is a refreshing cocktail made with Aperol and Prosecco, plus a splash of seltzer and fresh orange garnish!
How much do we love champagne cocktails? Like, a LOT. Check out our Island Champagne Cocktail which is perfect for brunch or happy hour, or these fun Champagne Moscow Mules!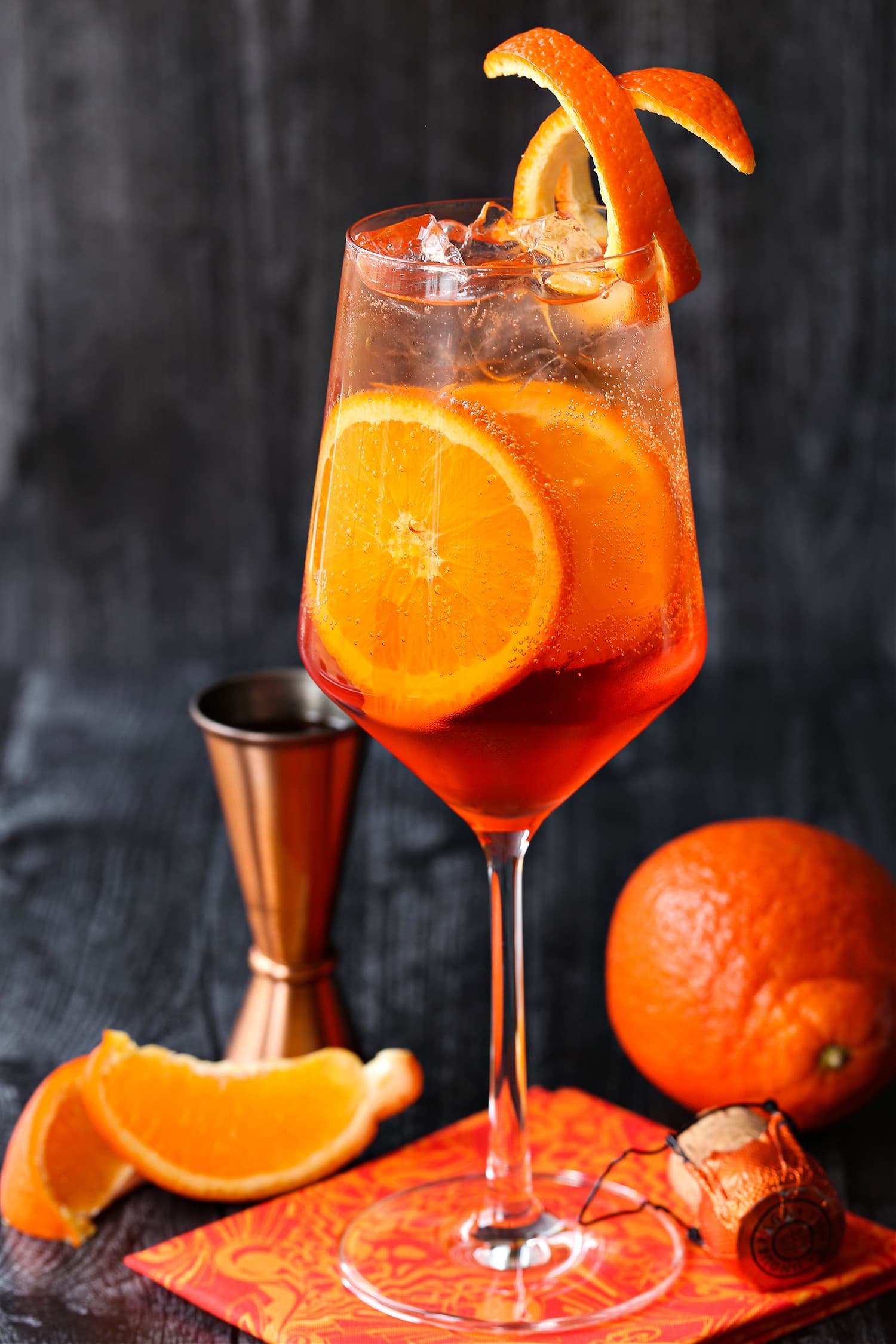 What Is An Aperol Spritz Recipe?
An Aperol Spritz is an Italian aperitif cocktail, which means that it's usually served before a meal to stimulate the appetite. Aperitif cocktails are usually dry, instead of a sweeter drink that could fill you up.
Aperol is an Italian, bitter liquor that is made from rhubarb, gentian (a flowering plant) and cinchona (a flowering plant). These main ingredients are primarily bitter, which is used to stimulate the appetite. Aperol's bitter flavor pairs perfectly with champagne or prosecco and fresh orange flavors.
These drinks are very popular in Northern Italy but they have become wildly popular in the United States as well. The fun and bright orange color makes this drink perfect for outdoor, warm weather celebrations.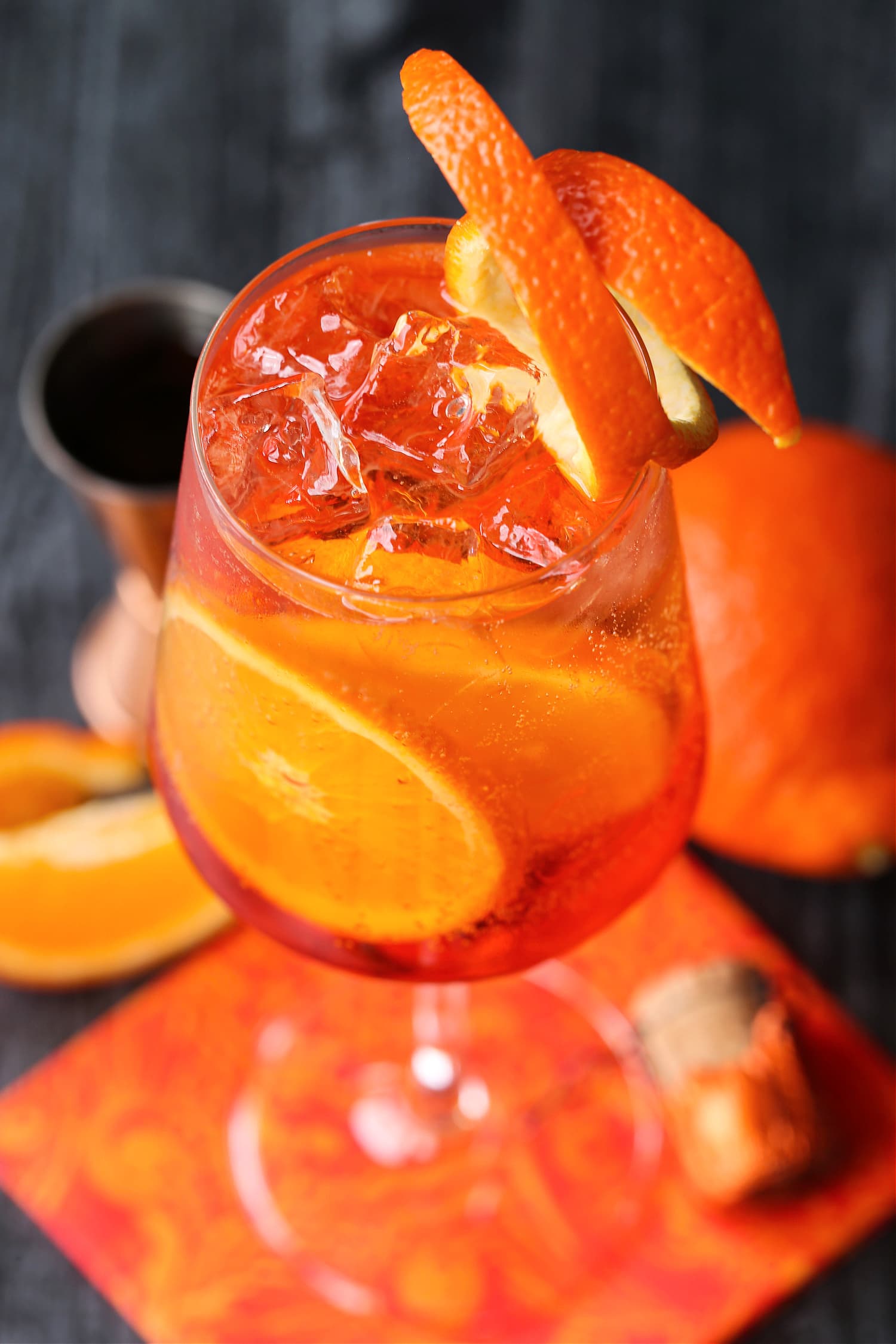 How Do You Say Aperol Spritz?
So I was as confused as the next person when we first started digging into this drink. Aperol is pronounced /AH-peh-rawl/ and Spritz is pronounced /sprits/. Honestly, I had to look this up because I didn't want to go into my liquor store and pronounce it wrong looking like a rookie.
So now when you go to find Aperol, and I guarantee you'll need to get a bottle after trying this refreshing cocktail recipe, you can look and talk like a pro.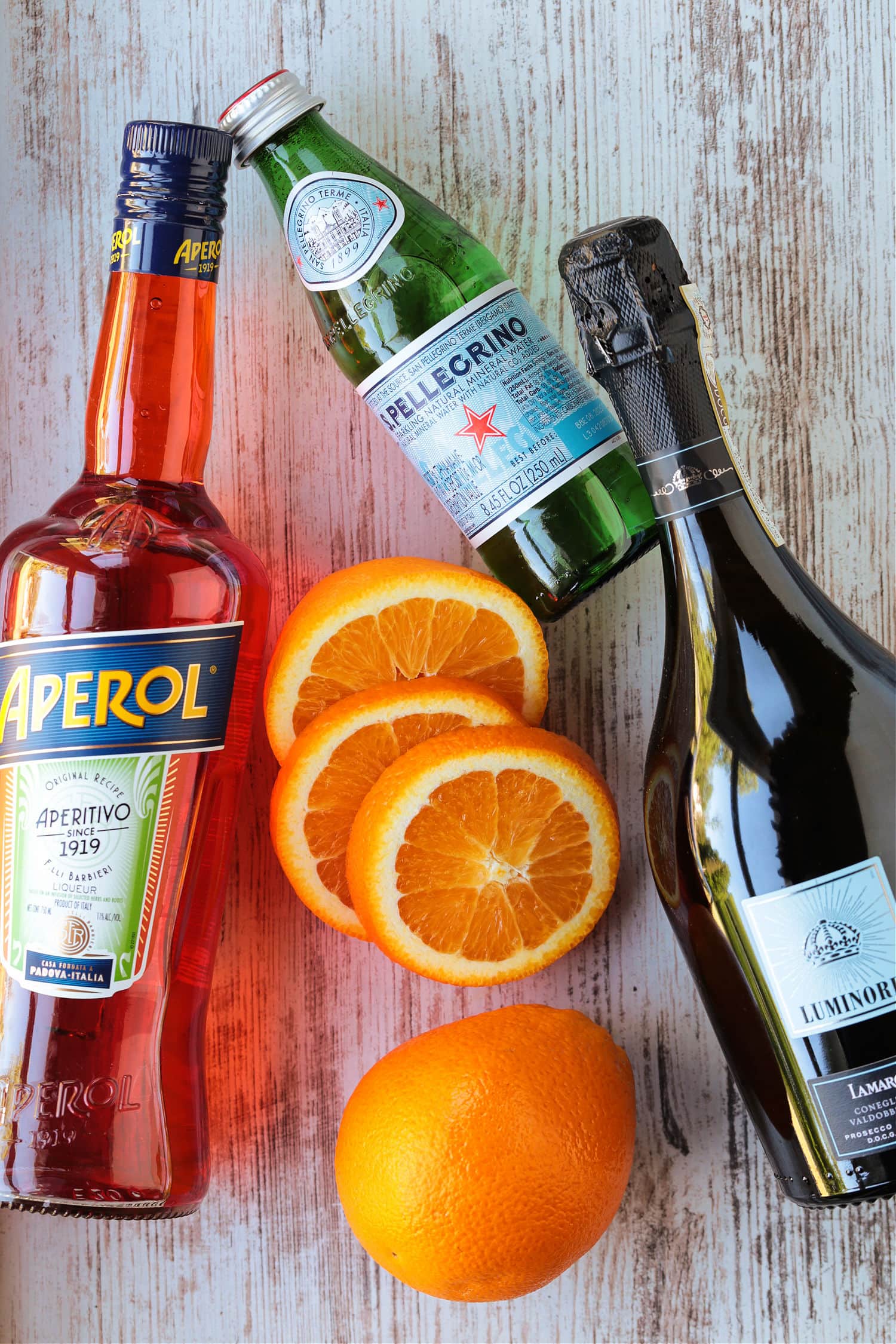 Ingredients For An Aperol Spritz Recipe
There are only three ingredients in this champagne cocktail so it's really easy to make whenever you want it!
Aperol: As we described before, Aperol is a bitter orange flavored liquor made from rhubarb, herbs and flowers. If you like Campari, Aperol is less bitter than that so you'll definitely be a fan.
Champagne or Prosecco: I have to admit, we buy more champagne than prosecco these days. But prosecco is really the classic ingredient for this cocktail so don't blow the budget when you're mixing drinks. What you want to make sure of is that you like to drink the brand of champagne or prosecco on its own. Don't buy something that you don't like and then try and "hide" it in a cocktail by mixing it with other ingredients.
Soda Water: Soda water or plain seltzer tops of this drink just to give it some more bubbles without adding to much sweetness from the prosecco. Remember that this drink is an aperitif, so we want it more on the dry side than the sweet side.
Slice of Fresh Orange for garnish.
How To Make A Classic Aperol Spritz
Let's get into making this easy champagne cocktail! This drink is made in a 3-2-1 ratio. 3 parts prosecco, 2 parts Aperol and 1 part soda water.
First add ice to a glass, a couple of orange slices and then the Aperol.
Next slowly pour in the prosecco so the bubbles don't fizz over the top of the glass.
Top off with seltzer or soda water and serve!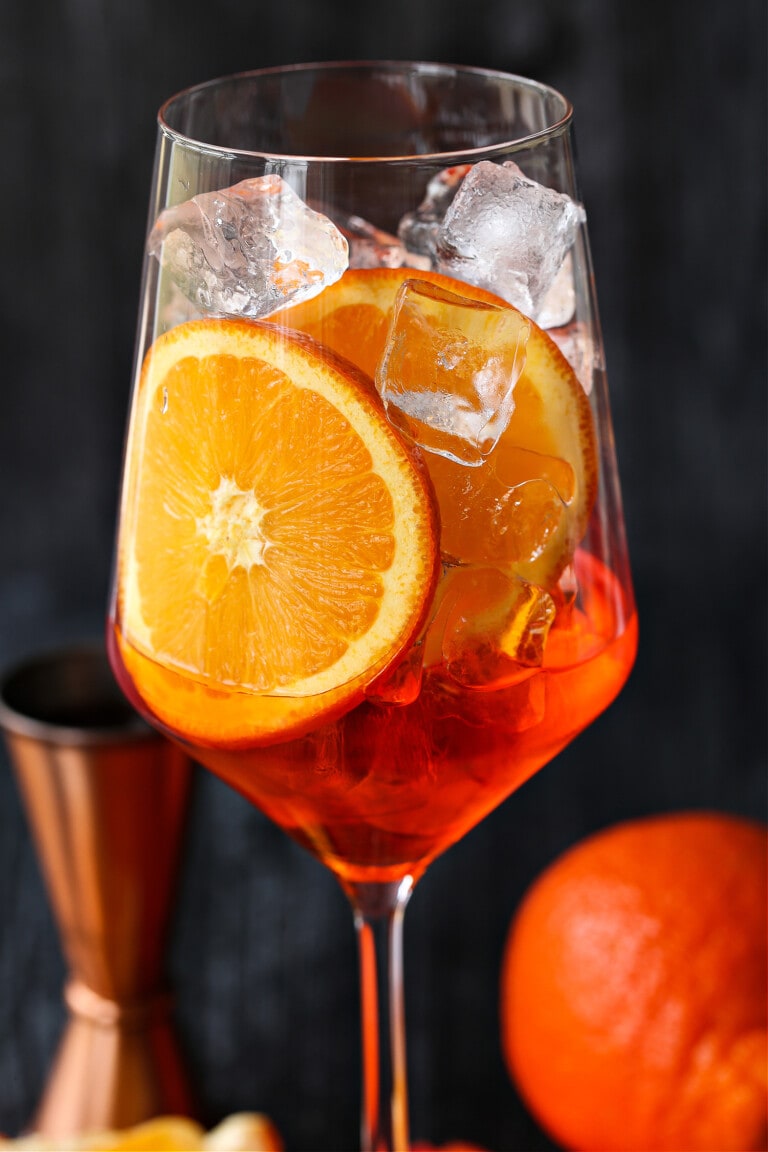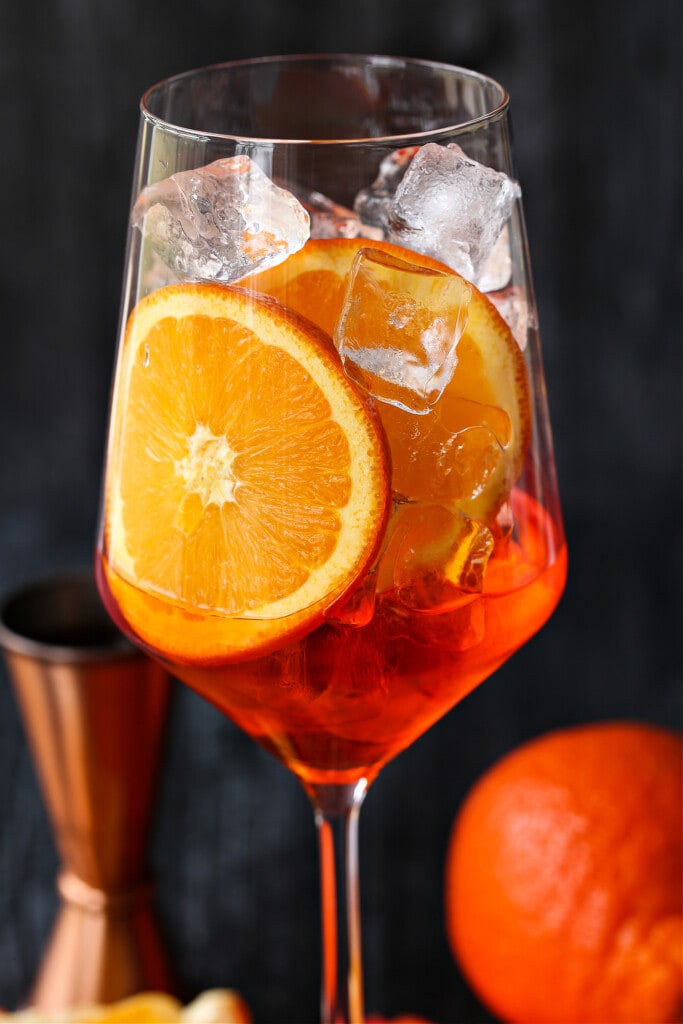 How To Serve An Aperol Spritz
Typically, an Aperol Spritz is served in a wine glass with a fresh orange garnish. Of course there are lots of variations to this recipe, some adding fresh herbs like basil or rosemary.
We like to stick with the classic version here, and then once we've nailed that we can spin it out into other variations.
For a party, try making these drinks ahead of time by adding the Aperol and orange slices to glasses. Right before serving, top off with prosecco and seltzer, garnish and serve!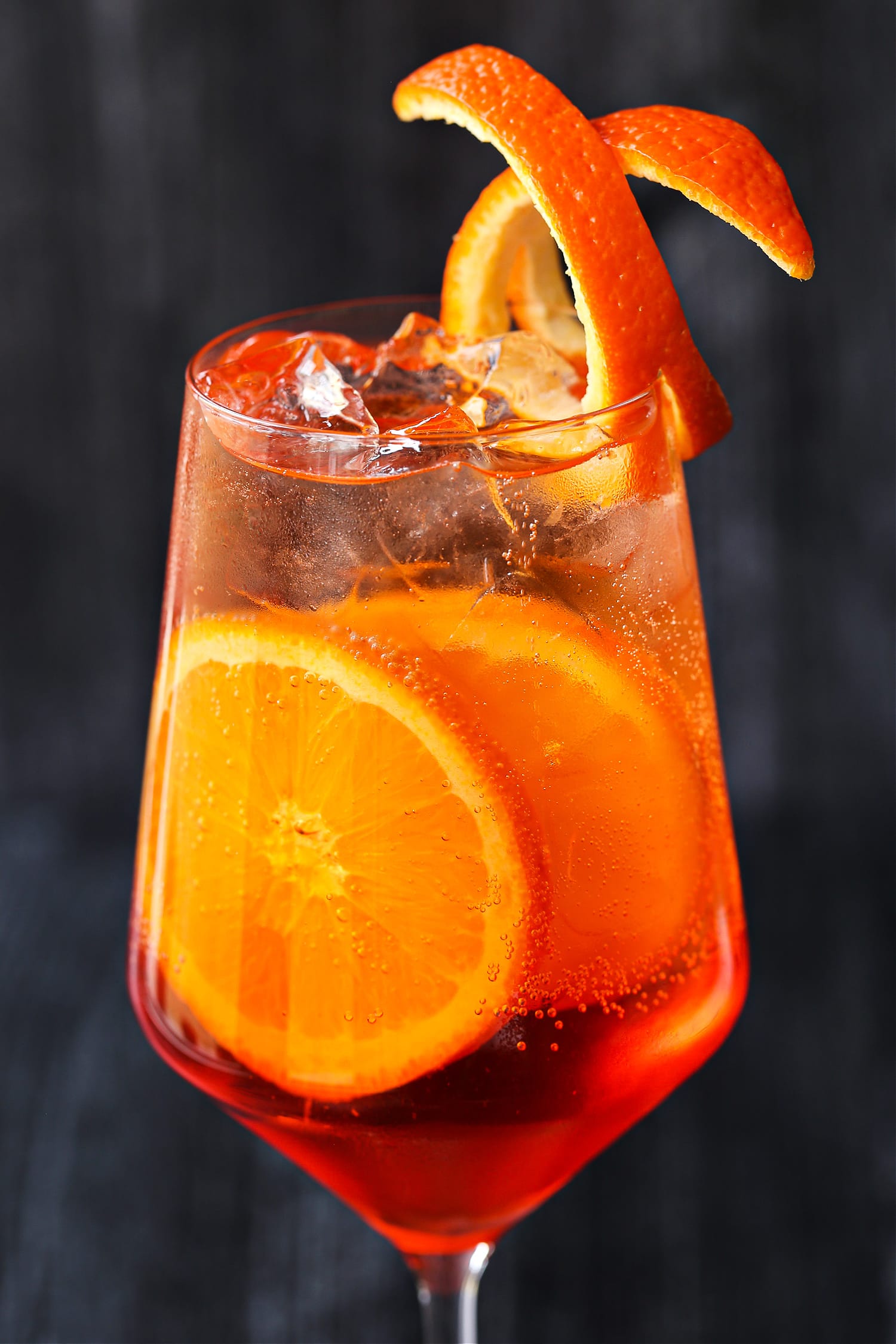 Making tasty appetizers to serve with this Aperol Spritz Recipe is a fun way to do happy hour or even a date night at home! Making a drink like this champagne cocktail can make things feel a little more fun.
Feed the kids and then make a couple of these appetizers and go sit out on the deck if it's nice, or by your pool if you're luck enough to have one. Enjoy a couple of drinks with your apps and there's really no dinner needed.
We used to do this a lot when our kids were smaller and we didn't want to pay babysitters to go out for the night. You can still have an affordable, fun night at home just by making a few homemade recipes and setting aside some time to relax.
PIN IT!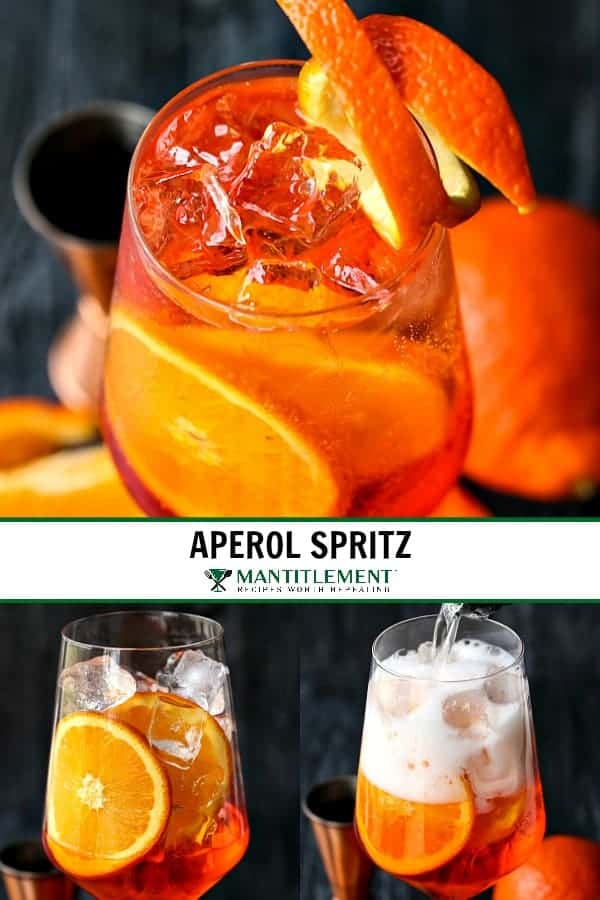 What Food Goes Well With An Aperol Spritz?
Now here is where the fun begins! You're going to want to serve something light with these drinks, but that doesn't mean a veggie platter.
This bitter drink recipe can stand up to hearty flavors with lots of fat. Sort of our expertise…so when we say light we just mean not a TON of food. Little bites of super flavorful appetizers will work perfectly.
Print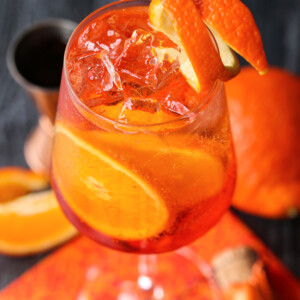 Aperol Spritz Recipe
Author:

Prep Time:

5 minutes

Cook Time:

0 minutes

Total Time:

5 minutes

Yield:

1

drink

1

x
Have happy hour at home with this beautiful Aperol Spritz! A refreshing, easy to make champagne cocktail that has the most vibrant color!
Scale
Ingredients
3 ounces

prosecco (or champagne, whichever brand you like drinking)

2 ounces

Aperol
Soda water or seltzer for topping
Orange slices for garnish
Instructions
Add ice to a wine glass, then pour in the Aperol.
Top with prosecco and seltzer, then garnish with orange slices. Stir gently and serve.
Category:

Cocktails

Method:

Stir

Cuisine:

American
Keywords: cocktail recipe, drink recipe, champagne cocktails, aperol spritz recipe, date night idea