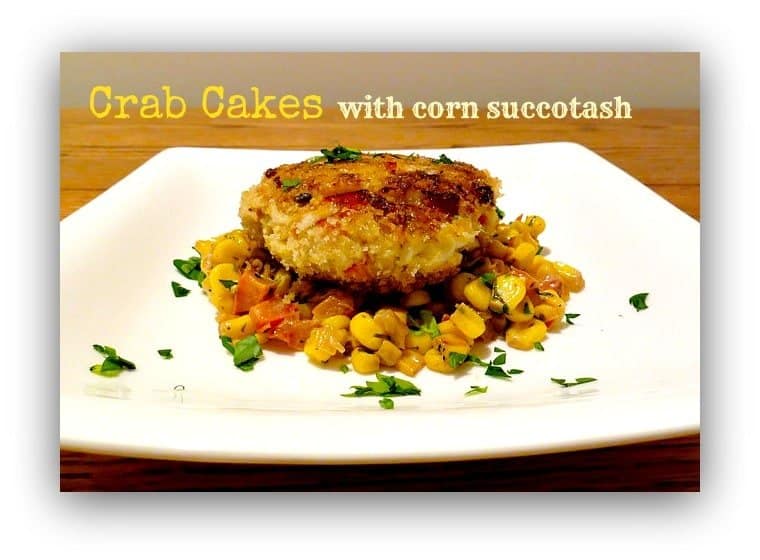 Crab Cakes with Corn Succotash
Well, now that Christmas is over it's time to move on to the next party- New Years Eve! After eating, eating, and more eating over the last few weeks I thought I'd make something a little lighter for New Years Eve. I love crab cakes- usually with Hollandaise sauce poured all over the top…but that's not so light.
I remembered a crab cake that I had at The NYY steak house with corn succotash. Usually I'm a tailgate in the parking lot on the top deck kind of guy, but once in a while, I like to head up to the steak house and have a nice meal. The food there is really good and you can get a nice drink there too, which is also very important!
First I make the corn succotash. I like to make this ahead of time and let it sit in the fridge so the flavors can combine. I love the hot/cold contrast of the crab cake and cold succotash, but you can heat it up and have it warm too.
Just chop everything up and saute it for a few minutes in a pan.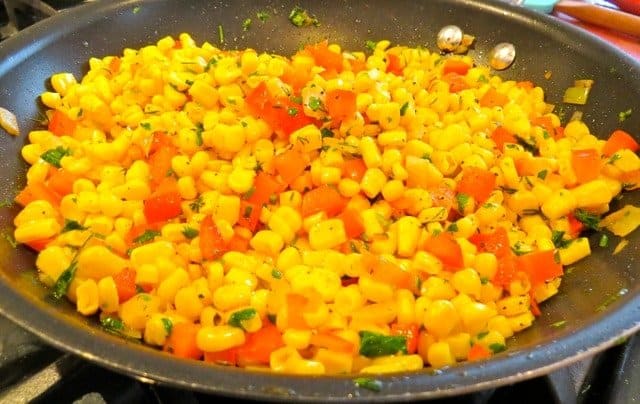 And that's it- you're done with the succotash. Now move on to the crab cake…
This recipe for the crab cakes is really simple. All you do is mix your ingredients together in a bowl, tossing the crab lightly.
Form them into patties and saute them in a little extra virgin olive oil.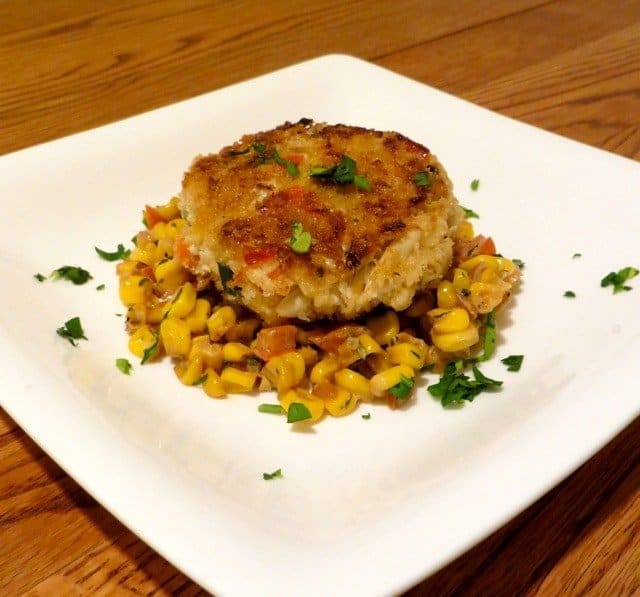 To serve, place a mound of the corn succotash on a plate (hot or cold) and place the hot crab cake on top. I threw a little parsley on top for some decoration, obviously you don't have too- but it makes it look nice for the picture!
Then just eat it up and enjoy! I had three since they are so light and good for you with all those veggies…
Print
Crab Cakes with Corn Succotash
---
Ingredients
For the Succotash
16 oz

. frozen corn (fresh would also be good when in season)

1 cup

chopped red pepper

1/2

medium onion, chopped

1

T fresh dill, minced

2

T fresh parsley, minced

2

T red wine vinegar

1

T lemon juice
Salt and pepper to taste

1

T mayonnaise

2

T butter

1/2

t sugar
For the Crab Cakes
3

T extra virgin olive oil

2

scallions, finely chopped

1/2

c. finely chopped red pepper

1/2

c. panko, plus extra for coating the crab cakes

1

large egg, beaten

2

T milk

2

T mayonnaise

2

t. worcestershire sauce

2

t. dijon mustard

1

T fresh lemon juice

1/2

t. Old Bay seasoning

3

–

4

dashes of hot sauce

1

pound lump crab meat
salt and pepper to taste
---
Instructions
For the Corn Succotash, Heat the butter in a medium skillet over medium-high heat. Add in the scallions and red pepper, cook for 3-4 minutes. Add in your frozen corn, dill, parsley, and some salt and pepper to taste. Remove from heat and transfer to a bowl. Once cooled, add in the mayonnaise, red wine vinegar, lemon juice and sugar. Adjust the seasonings to your liking and chill.
For the crab cakes, Heat 1 T. of the extra virgin olive oil in a skillet over medium-high heat. Add the scallions and red pepper, cook stirring often for about 5 minutes. Transfer to a bowl to cool.
In a bowl mix the 1/2 cup of panko, the egg, and milk. Add in the mustard, lemon juice, Old Bay and hot sauce. Once this mixture is combined, gently fold in the crab meat, 1/4 t. of salt and a few grinds of black pepper. Shape into 8 patties and chill in the refrigerator for at least 30 min. You can do this in the morning too and just have them ready for dinner.
Carefully coat the crab cakes in about another 1/2 cup of panko.
Heat the remaining 2 T of olive oil in a skillet. Cook the crab cakes for 3-4 minutes on each side.
Remove to a plate lined with a paper towel.
---
Notes
There's not a lot of binder in these crab cakes, which is why I like them, if they fall apart a bit just form them back together. It'll all work out in the end!