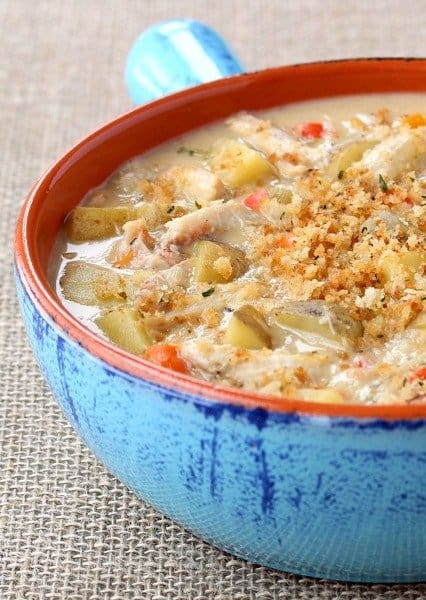 Crab cakes are one of my favorite things to eat, so I took all the flavors of a crab cake and turned it into this Crab Cake Chowder! Also a less expensive way to have crab for dinner!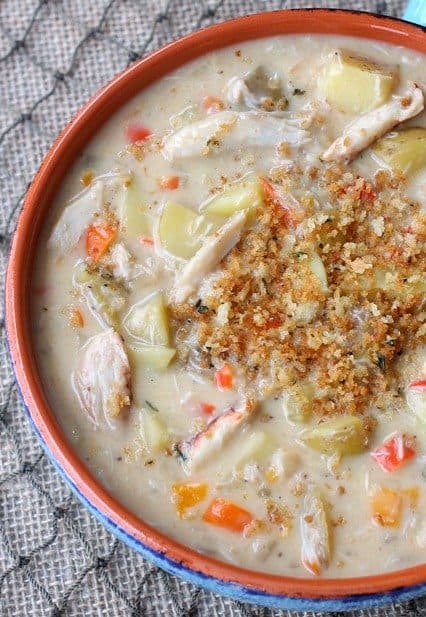 If I could eat crab cakes every day I would.
A nice filet on the side wouldn't be bad either…but I'll take just the crab cakes.
If lump crab wasn't so expensive we'd absolutely make crab cakes once a week.
But it is, so we don't.
I've been playing around with using the claw meat because it's pretty much half the price of lump.
I grabbed a container of it at the store and started thinking about what to make with it besides a crab cake and chowder came to mind.
Here's how I did it…
I started with a lot of potatoes and vegetables and a pound of the claw meat.
And some wine for the booze element, it adds great flavor to the chowder.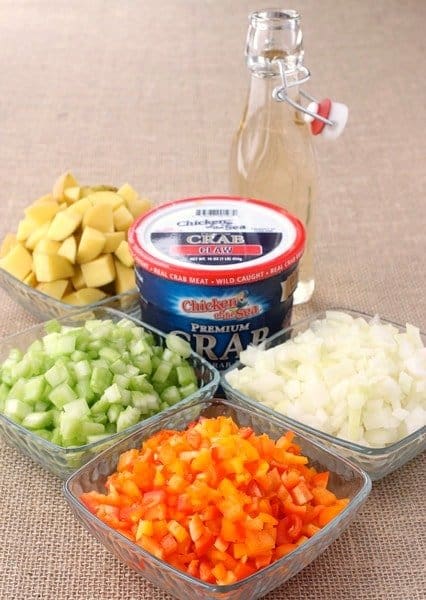 I put all those potatoes and vegetables in my pot and cooked them for a few minutes. Then I added in about a half cup of white wine and let it cook down.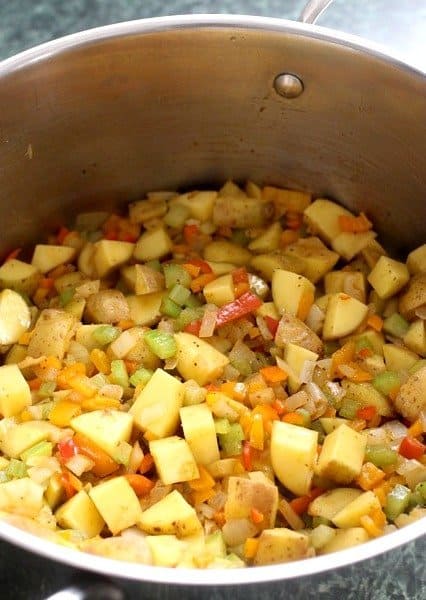 Pour in some chicken broth then cover the pot half way and let it simmer for 20 minutes.
While the soup is simmering mix together the milk and cream into a large measuring cup or bowl and whisk in 3 tablespoons of flour.
After the chowder has simmered for 20 minutes, whisk in the milk and flour mixture then let the chowder come back to a boil. Take the lid off and simmer for another 15 minutes.
Last but not least add in the crab meat and give it a stir.
The best part about this Crab Cake Chowder comes at the end…the crispy panko topping.
Just like the crispy crust on a crab cake, this chowder gets a crispy topping of panko, butter and fresh thyme.
That buttery panko topping is so much better than those boring oyster crackers.
Try this chowder the next time you're feeling like an expensive crab cake dinner, I bet you won't miss that crab cake at all!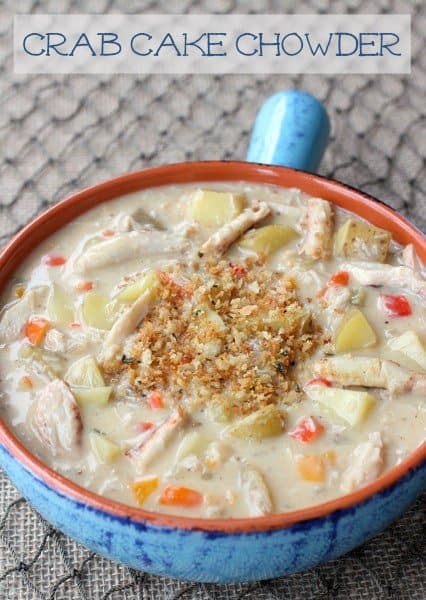 Print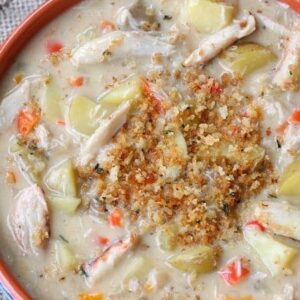 Crab Cake Chowder
---
Ingredients
1

lb. crab meat (I used claw meat instead of lump)

2

T. olive oil

1 1/2

c. onion, chopped

1 1/2

c. celery, chopped

1 1/4

c. bell peppers, chopped (any color, I used red and orange)

1

lb. yukon gold potatoes, washed and chopped into a small dice

1 1/2

t. salt

1/2

t. fresh ground black pepper

1/4

t. cayenne

2

t. Old Bay seasoning

2

t. worcestershire sauce

1/4

c. heavy cream

2

c. 2% milk

3

T. flour

4

c. chicken stock

1/2

c. white wine
For the Topping
2

T. butter

1

c. panko bread crumbs

1

T. fresh thyme, chopped

1/4

t. Old Bay seasoning
---
Instructions
Add the olive oil to a large pot over medium heat.
Add in the potatoes, onion, celery and bell peppers and stir.
Season with salt, pepper, cayenne and the Old Bay.
Let cook, stirring occasionally, for 15 minutes until the potatoes begin to get soft.
Carefully pour in the wine and let it cook down for a minute.
Next add in the chicken stock and the worcestershire sauce, stir and let simmer with the lid partially covered for 20 minutes.
In a a large bowl or measuring cup, combine the milk and the cream.
Whisk the flour into the milk and cream mixture until it's well combined and there are no lumps.
After the 20 minutes are up, remove the lid from the pot and stir.
Slowly pour in the milk and cream mixture, whisking as you go.
Bring the chowder back up to a boil and simmer, uncovered, for 15 minutes.
While the soup is simmering, make the panko topping.
Melt the butter in a skillet and then add the panko breadcrumbs, stirring to combine them with all the butter.
Add in the fresh thyme and the Old Bay Seasoning and stir.
Let cook for about 5 minutes, stirring, until the breadcrumbs toast and get brown in color.
Remove to a bowl to cool.
To serve, add a couple of large ladles of chowder to a bowl and top with the crispy panko topping.
---