Italian Wedding Soup is loaded with meatballs, pasta and vegetables in every bite! A comforting, healthy soup recipe that everyone will love!
We love soup recipes so much they have their own menu on our site! Try our popular Beefy Tomato Soup (if you haven't already) or it's fun spin-off, Beefy Taco Soup!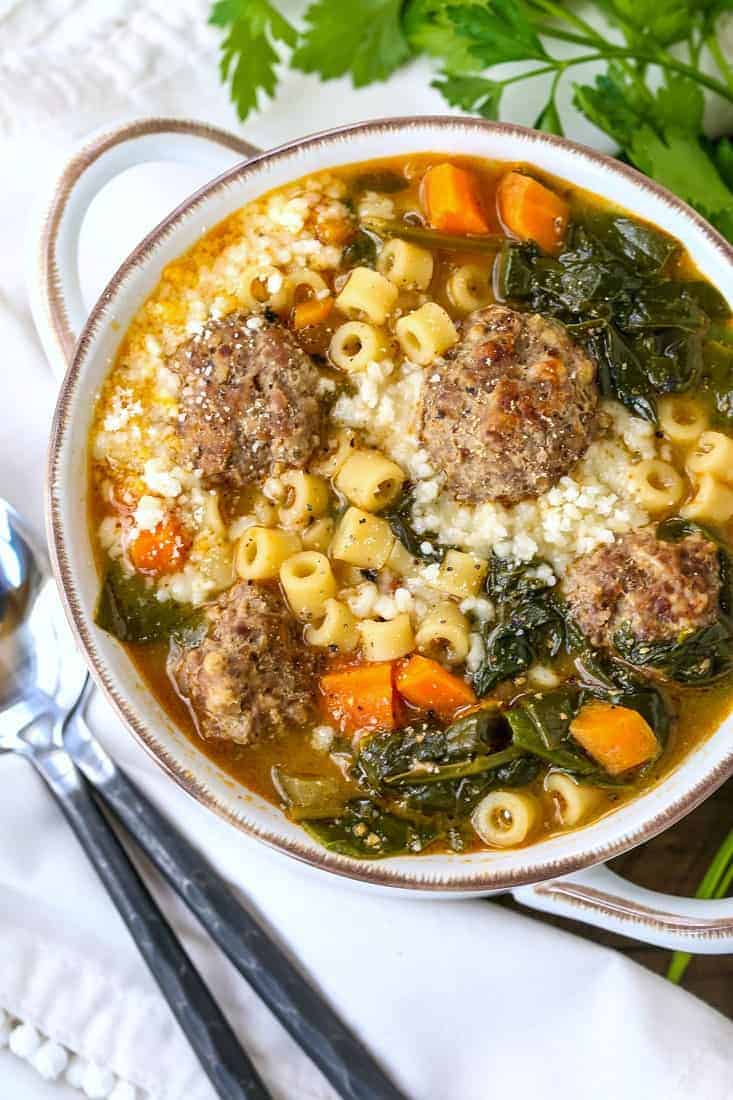 What Is Italian Wedding Soup Made Of?
Italian Wedding Soup, authentically know as Minestra Maritata, usually consists of green vegetables like escarole, kale or spinach and ground beef and/or sausage. The meat is usually in the form of small meatballs that float in a flavorful chicken broth.
Minestra Maritata means literally "married soup". The word marriage refers to the marriage of ingredients blending together. Wedding soups are always going to have green vegetables combined with meat.
We love topping this soup recipe with grated parmesan cheese and fresh cracked black pepper. Crusty bread or crackers on the side for dipping is also our go to.
Our Italian Wedding Soup is made with ground beef and pork meatballs that are so delicious, we make sure to make a lot of them. Not only so we make a lot of meatballs, but we make them big.
Instead of tiny meatballs that you typically find in this soup recipe, we make larger meatballs to make this wedding soup feel more cozy and hearty.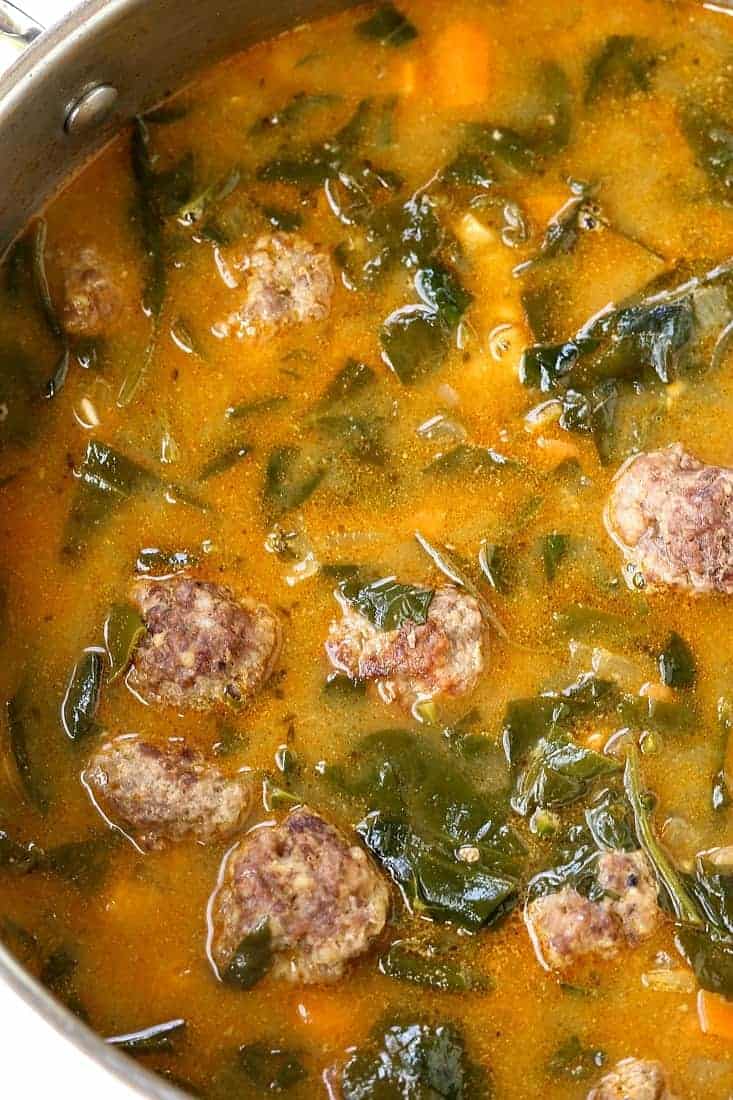 Can You Freeze Soup With Pasta?
There's two different ways to finish off this soup. One way is to cook the ditalini pasta right in the broth and the other is to cook the pasta separately and add it to each bowl as you serve.
Both ways are good, it's up to you how you make it, but if you are going to freeze this soup I would add the pasta in separately so it doesn't get mushy after it's frozen.
If you do cook the pasta in the soup, just note that the pasta will soak up some of the broth so leftovers will have less broth than when you first make the soup.
We love that thick pasta loaded soup consistency but if you prefer your soup to have more broth then definitely cook it on the side.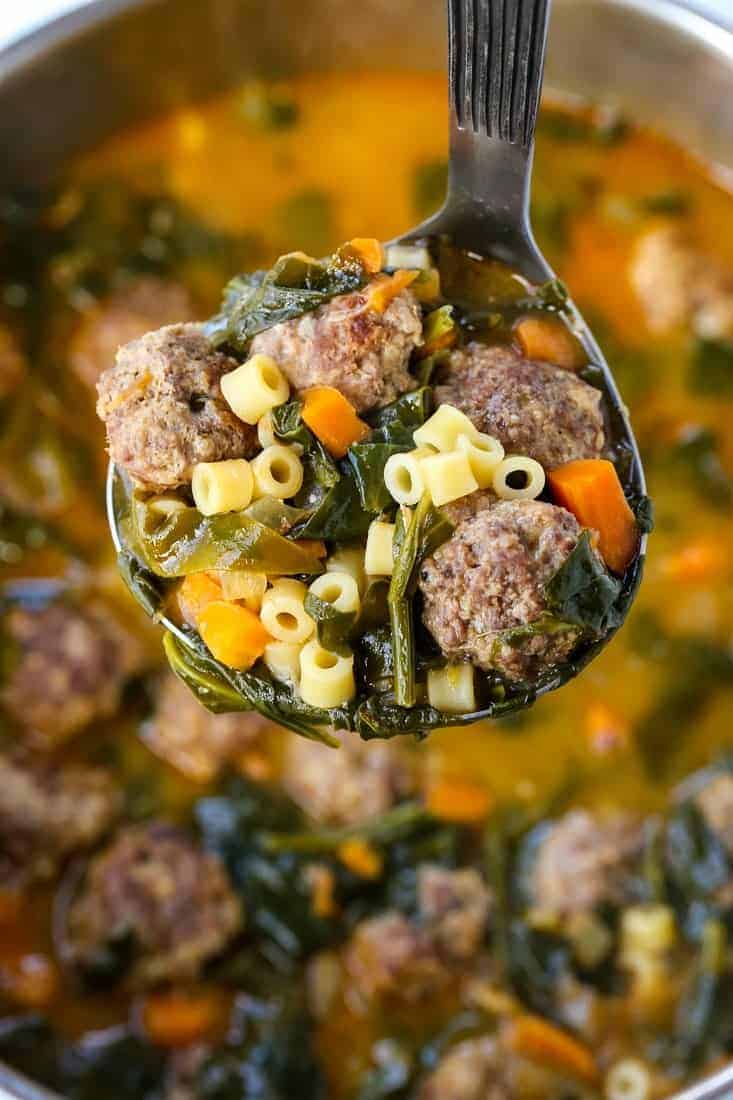 What Other Vegetables Can You Add To This Soup?
Like I mentioned before, traditional Italian Wedding soup usually has escarole, spinach, kale or even lettuce. We typically use fresh spinach but you can also use frozen spinach. Baby kale is a great option if you don't cook with kale often.
When kale simmers in a soup broth like this one it will get very tender, not like the rough kale you'll find in salads or even quickly sautéed for a side dish.
So when we do eat kale, it's usually in a soup recipe like this Italian Wedding Soup.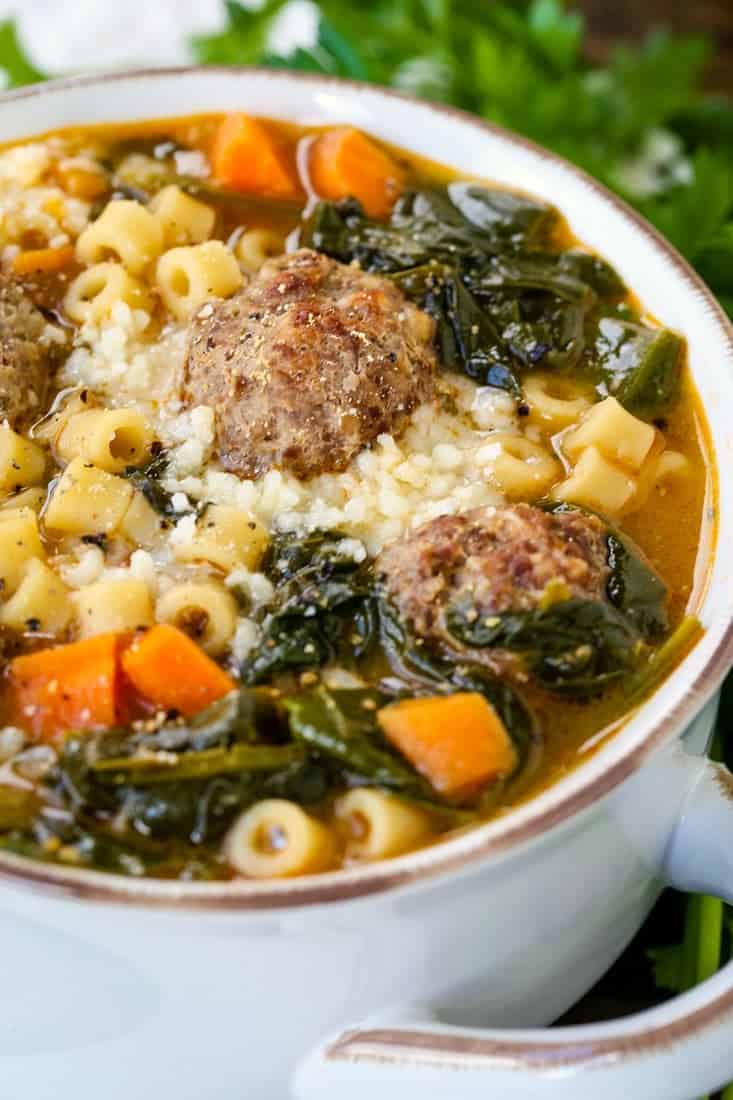 Can I Use Frozen Meatballs In This Soup Recipe?
Honestly, I haven't found a frozen meatball that I really like, but if you have then go ahead and skip the meatball part of this recipe and add frozen meatballs.
I'm sure that this is a great time to use frozen meatballs since they will cook in the broth and therefore become more flavorful than they were.
Again, I'm not a huge fan but if you need to shave some time off of this recipe than find the best frozen meatballs you can and add them in here.
Sometimes we just make the meatballs for this soup, double the batch, and freeze them for a later time. So when we get a craving for Italian Meatball Soup, the meatballs are ready and waiting for us.
Looking For More Soup Recipes?
Print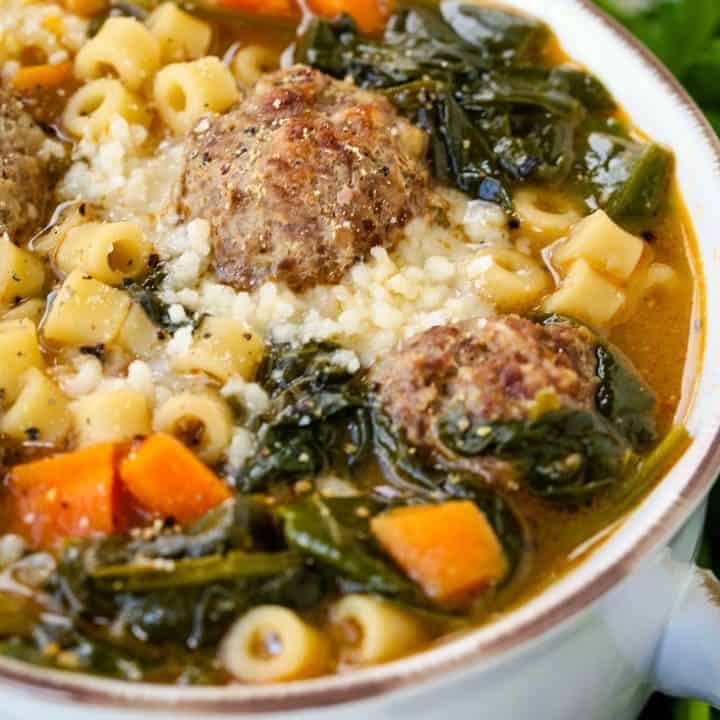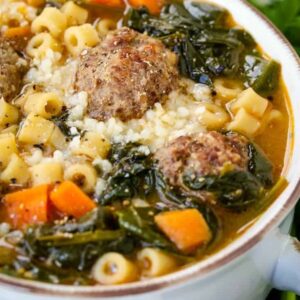 Italian Wedding Soup
Author:

Prep Time:

15 minutes

Cook Time:

20 minutes

Total Time:

35 minutes

Yield:

8

servings

1

x
Meatballs, pasta and vegetables in a super flavorful broth topped with grated parmesan cheese…this comforting soup recipe has all you need in one bowl!
Scale
Ingredients
For The Meatballs:
1

pound ground beef

1/2

pound ground pork

1 teaspoon

kosher salt

1/4 teaspoon

ground nutmeg (or several grates of fresh nutmeg)
Fresh black pepper to taste

1 teaspoon

garlic powder

1/2 teaspoon

dried oregano

1/4 cup

grated parmesan cheese

1/4 cup

panko bread crumbs

2

eggs

2 tablespoons

milk
For The Soup:
2 tablespoons

olive oil

1 cup

diced onion

1 cup

diced carrot

1 tablespoon

chopped garlic

1 tablespoon

tomato paste

8 cups

chicken broth

1 teaspoon

chopped fresh thyme

1/2 teaspoon

kosher salt
Fresh black pepper to taste

5 ounces

fresh baby spinach, rough chopped

1 cup

ditalini pasta
Grated parmesan cheese for serving the soup
Instructions
Preheat the oven to 400 degrees. Add all the ingredients for the meatballs to a bowl and mix together until combined.
Form the meat mixture into meatballs a little smaller than golf ball size then place on a baking sheet covered in parchment paper. Bake the meatballs for 12 minutes, remove from the oven and set aside.
Add the oil to a large soup pot or dutch oven along with the onions and carrots. Cook for 6-7 minutes until softened. Add the garlic to the pot, cook for 30 seconds and then stir in the tomato paste.
Pour in the chicken broth into the pot and stir to combine withe the vegetables. Add the thyme, salt and fresh black pepper to taste. Bring the soup to a simmer and then add the spinach, stirring to wilt into the soup.
Simmer the soup for 15 minutes over medium heat, covered. Remove the lid, stir and then add the meatballs and pasta to the soup. Stir and bring the soup to a simmer. Cook for 10 minutes, covered, stirring every couple of minutes so that the pasta doesn't stick to the pot.
Taste the soup for seasonings and garnish with grated parmesan cheese.
Recipe Notes
Store: Let the soup cool down completely before storing in an air tight container in the refrigerator. Use within 3 days.
Reheat: Reheat the soup in the microwave for a quick and easy meal.
Freeze: This soup can be frozen, although the past may become slightly mushy upon reheating. You can also make the soup without the pasta, freeze and add cooked pasta to your bowl while reheating.
Category:

Dinner

Method:

Stove Top / Oven

Cuisine:

American
Keywords: italian wedding soup, wedding soup, meatball soup, ground beef recipes, comfort food