Comfort food dinners like this Burgundy Beef Soup Recipe are all I have on my mind these days! Loaded with beef, mushrooms and noodles in an amazing, creamy broth!
Nothing tastes better than a warm bowl of delicious, comforting soup! We love making our Homemade Turkey Soup with leftover turkey bones after a holiday! Or our for a faster soup recipe, our Beefy Tomato Soup is loved by everyone!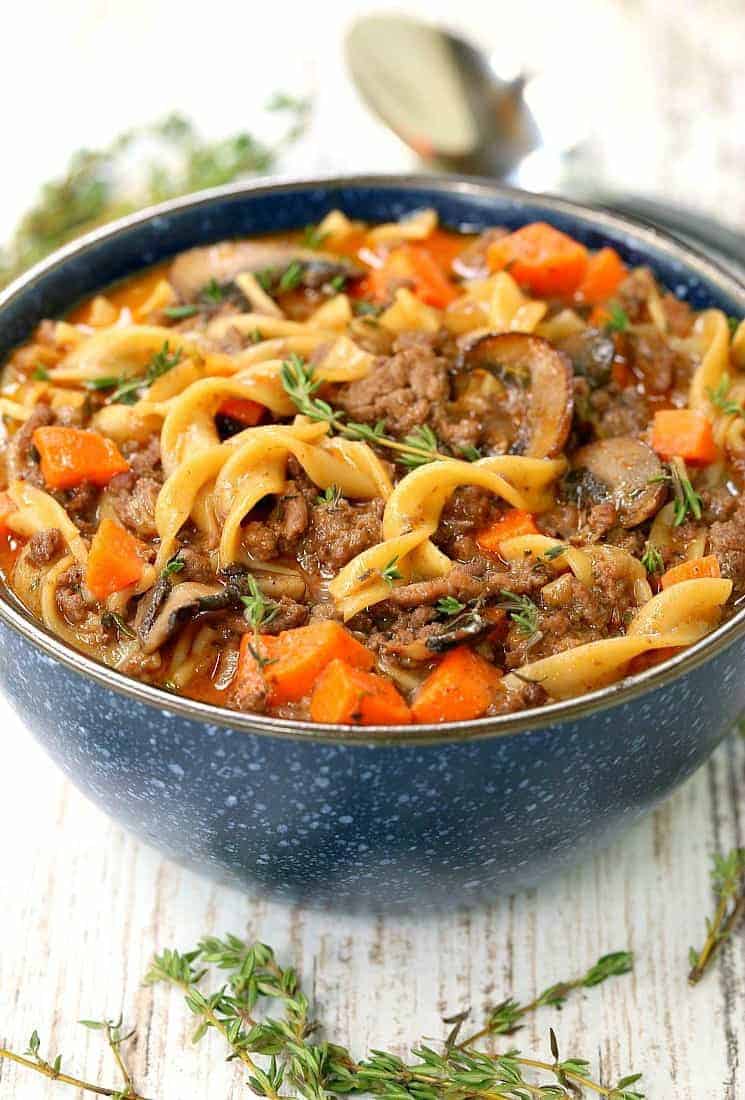 Burgundy Beef Soup Recipe
I'm sure I've said it before, but we are a soup loving family. And we are totally in love with this Beef Burgundy Mushroom Soup with loads of noodles and fresh thyme.
We make soup recipes all year long, and I mean ALL year long. Even in the heat of the summer we make soup, I mean we do have air conditioning so it works. Summer soup feels like a bowl f clam chowder with a lobster roll or a light chicken noodle soup with fresh dill.
Then when you get into the colder months you can start making all your big bowls of comfort food soup like this creamy potato & sausage chowder or this stove top split pea and ham soup with tons of croutons. You get the idea, soup all year long if you live at our house.
The other reason we love making soup is that most soup recipes are pretty affordable and they usually feed at least 4 people, with most recipes feeding many more like our slow cooker pasta fagioli recipe.
Ingredients For Beef and Noddle Soup:
We'll start out here with the basics, and in the descriptions we'll give you some alternative ingredients if there are any.
Ground Beef: You can also use ground pork or Italian sausage instead of ground beef, or a combination of them.
Mushrooms: There's really no substitute for mushrooms here because it's a beef and mushroom soup. But if you really don't like mushrooms you can either leave them out or add another vegetable like celery, peas or chopped spinach.
Egg Noodles: And type of egg noodle or pasta will work.
Beef Broth: Beef broth adds a depth of flavor to this soup broth but if you're really in a jam you can grab chicken broth instead.
Carrots: Diced carrots add a sweet flavor to this soup recipe.
Onions: Yellow onions add flavor and another layer of sweetness to the soup.
Fresh Thyme: Thyme has a lemony, herby flavor that really goes perfectly with beef and mushrooms. You can also swap out rosemary too, or if you're not a fan of stronger flavored herbs you can leave it our and add chopped parsley.
Cream: We use just a touch of heavy cream to make the broth slightly thicker and creamier.
Red Wine: Open up a bottle of your favorite red and add a few splashes to the mushrooms and onions as they are cooking down. The wine deglazes the pan and gets all the brown bits off the bottom of the pot which is where all the flavor is.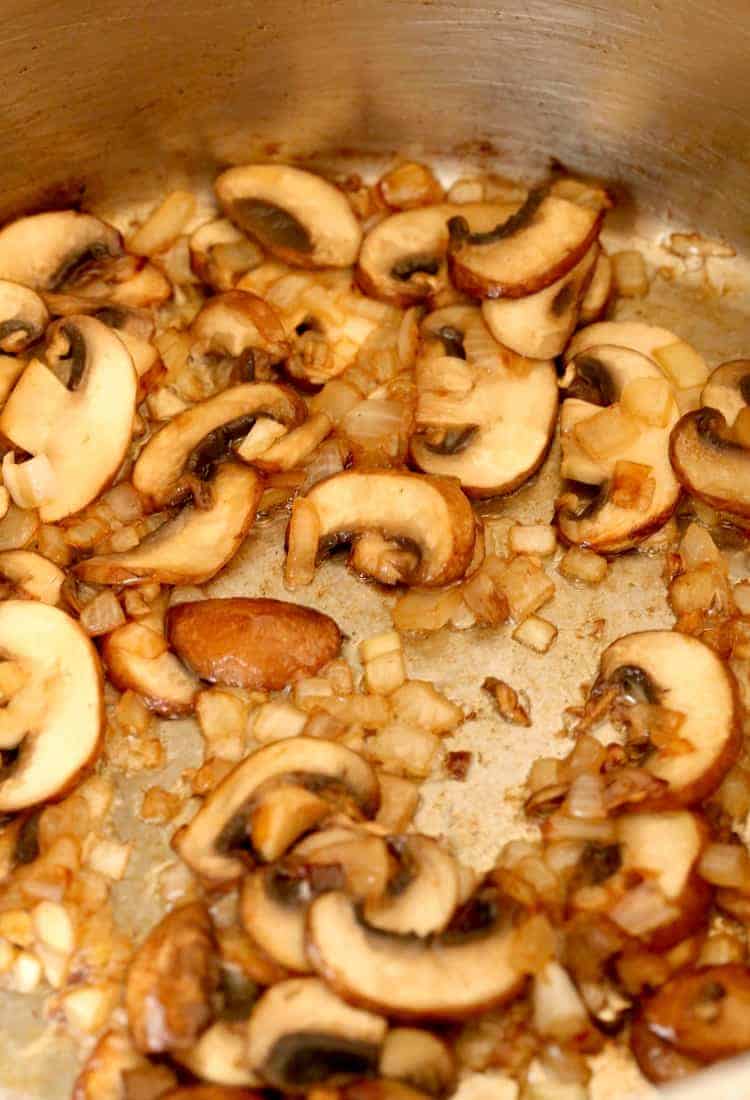 How To Make This Beef Soup Recipe
A huge key to this flavor in this soup recipe is to brown the mushrooms really, really well. Don't skip this step because it adds so much flavor to the base of this soup.
After you brown the mushrooms with the onions, add the ground beef, fresh thyme and a few seasonings and cook together until the beef is browned through. Drain any drippings from the pot if there are any.
Carefully pour in the wine to deglaze the pot, turn the heat off if you have a gas stove so that there isn't a live flame while you're pouring alcohol. Let the wine come to a simmer and then start scraping up the bottom of the pot to get all the flavor out.
Work in a couple of tablespoons of tomato paste and then pour in beef broth. Bring the soup to a simmer for 20 minutes, stirring occasionally.
After the soup has simmered, taste it to see if the seasonings need to be adjusted, then add the noodles. stir and cover the pot to let the noodles cook for about 8 minutes. To finish the soup add the cream and stir.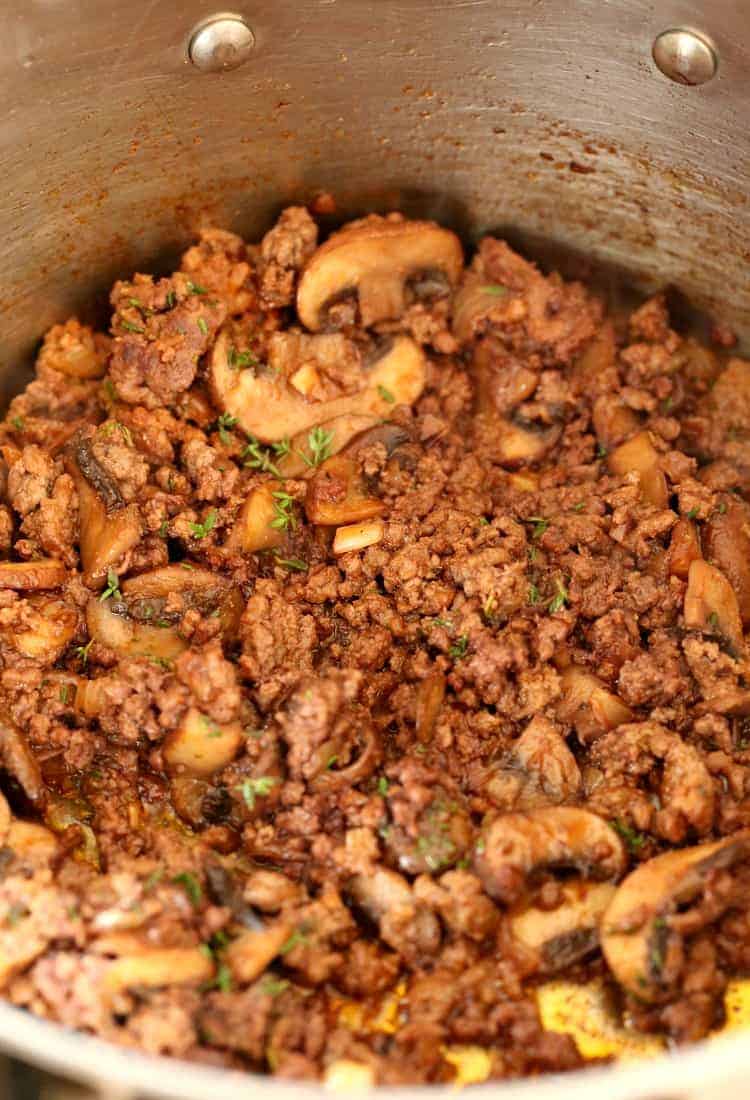 Can You Make This Soup Ahead Of Time?
You can, and I think the flavor gets even better! If you do make this recipe ahead of time, don't add the noodles until right before serving. You can either cook the noodles separately and then just add them to each bowl or warm up the soup in the pot when you're ready and then cook the noodles.
Unless you don't mind the soup getting a little thicker because the noodles will soak up some of the broth if you make this ahead of time with the noodles in the soup. We actually love when soup gets nice and thick like this, you can always add a little more broth and cream if it gets too thick.
So it's up to you, make your soup the way you like it!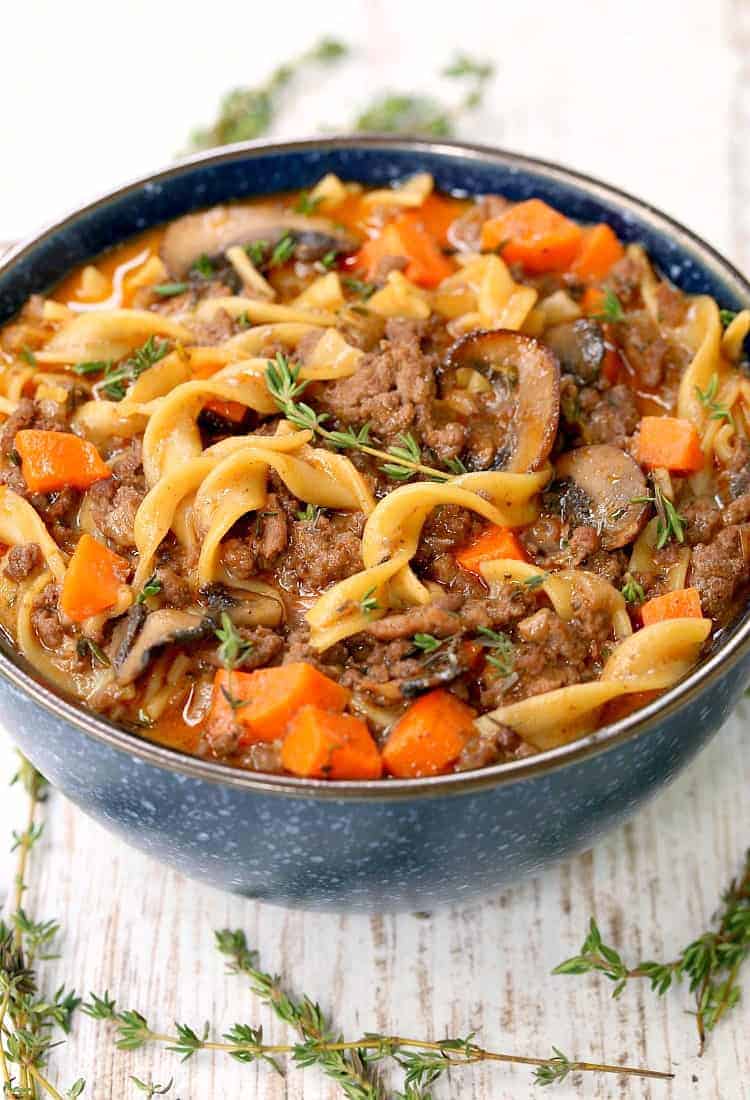 How Do You Reheat Soup?
As easy as the microwave – let's keep things simple here. You can heat it back up on the stove if you are warming up the whole pot again, but for individual bowls just heat for a couple of minutes in the microwave.
Yet another reason why we love making soup, it's perfect for easy dinners or lunch the next day!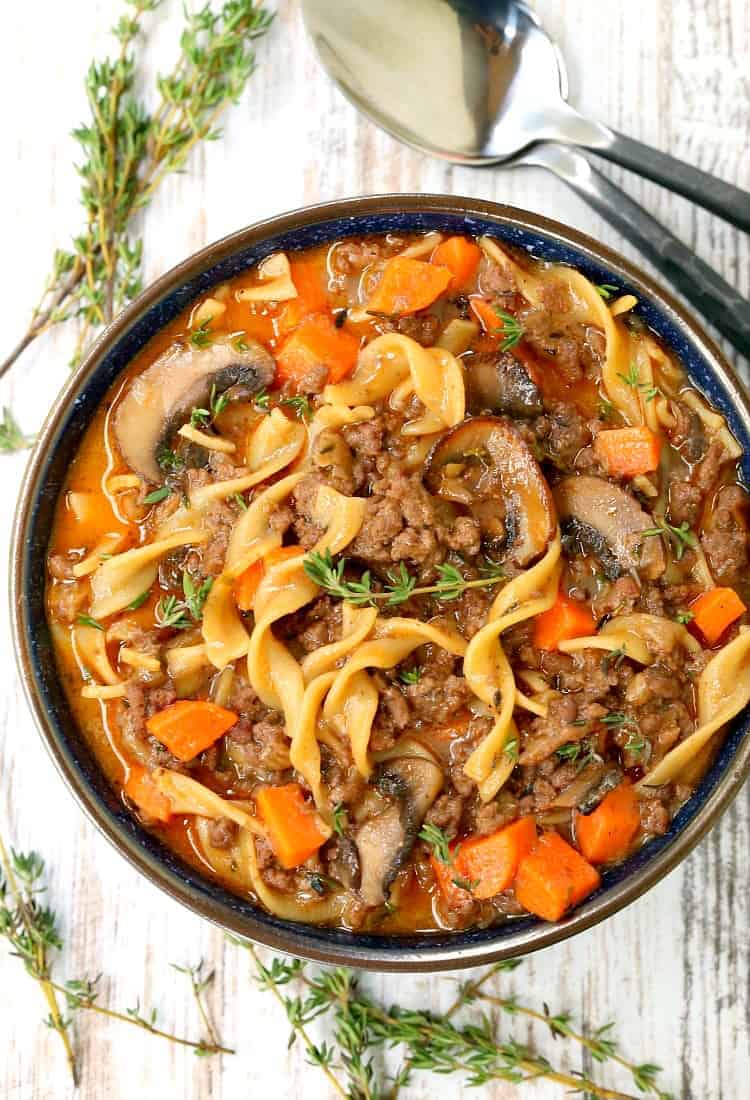 Looking For More Soup Recipes?
Print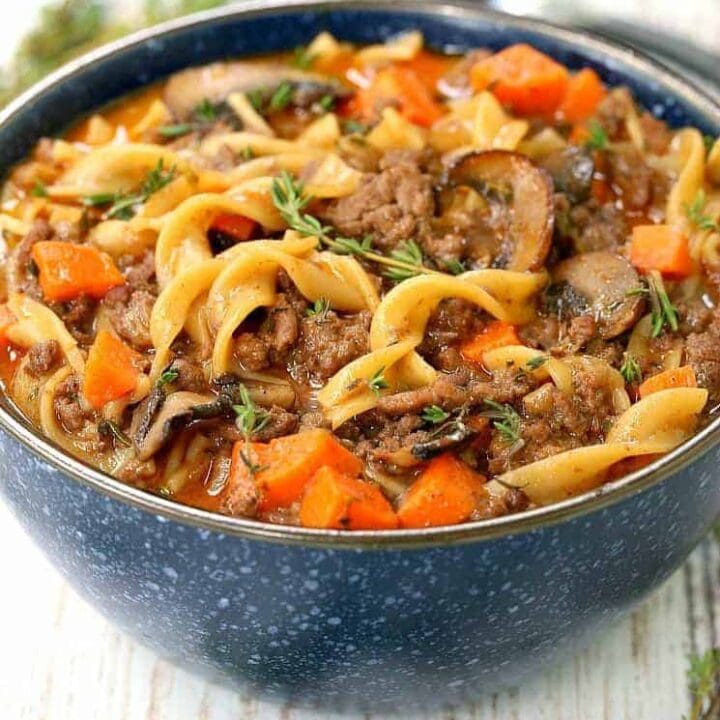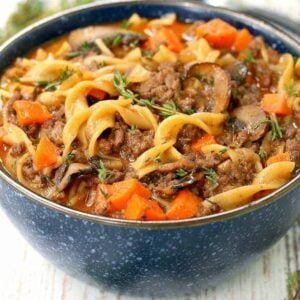 Burgundy Beef Soup Recipe
Author:

Prep Time:

20 minutes

Cook Time:

30 minutes

Total Time:

50 minutes

Yield:

6

servings

1

x
Comfort food dinners like this Burgundy Beef Soup are all I have on my mind these days! Beef, mushrooms and noodles in a delicious, red wine beef broth!
Scale
Ingredients
1 1/2 tablespoon

olive oil

10 ounces

mushrooms, cleaned and sliced

1/2

pounds ground beef

1/2 cup

diced onion

1 1/2 cups

diced carrots

2 teaspoons

fresh thyme, chopped

2

cloves garlic, chopped

1 teaspoon

kosher salt

1/2 teaspoon

black pepper

1/2 cup

red wine

2 tablespoons

tomato paste

4 cups

beef broth

1/4 cup

heavy cream

3/4 cup

small egg noodles
Instructions
Add the oil to a soup pot or dutch oven over medium high heat.
Brown the mushrooms, stirring about 10 minutes.
Add the beef and cook until almost browned though, about 5 minutes.
Add the onions, carrots, thyme, garlic, salt, and pepper to the pot. Stir and cook together with the beef and mushrooms until the beef is cooked all the way though.
Pour the wine into the pot, stir and let reduce 2-3 minutes.
Stir in the tomato paste and beef broth. Bring to a low simmer, then cook for 20 minutes uncovered.
Taste for seasonings (adjust if needed) then add the noodles. Stir and cook covered for 8-10 minutes until the noodles are cooked.
Pour in the cream and stir, then serve!
Category:

soup

Method:

stove top

Cuisine:

American
Keywords: mantitlement, beef soup recipe, soup with mushrooms, ground beef recipes, comfort food