Our Perfect Crab Cake Recipe can be served for dinner or appetizers! These crispy crab cakes are so delicious you'll crave them all the time!
We serve these crab cakes with Homemade French Fries or super Creamy Mashed Potatoes! Or to keep this dinner low carb, serve with Roasted Asparagus or a Caesar Salad!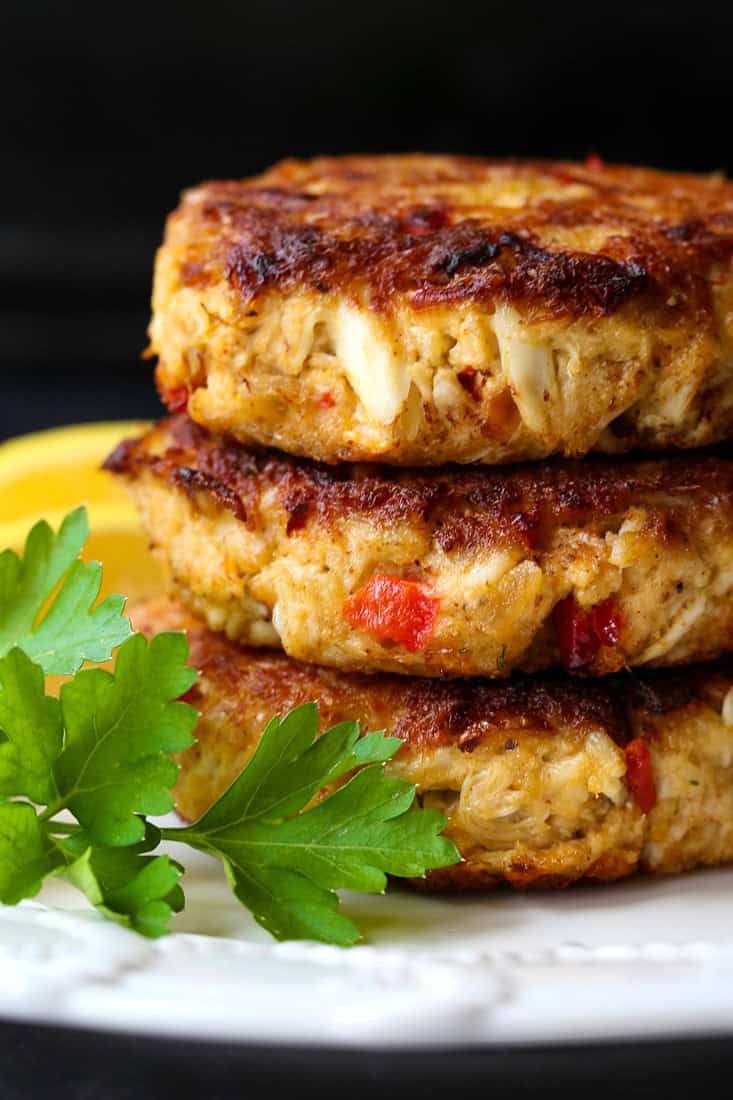 What Makes Our Crab Cake Recipe The Best?
So there's a couple of things that make this Excellent Crab Cake Recipe so darn good. Because even though crab cakes are pretty simple to make, a lot of people really mess them up!
Too many breadcrumbs in the filling or too much oil when they fry them…greasy crab cakes are no bueno in my opinion. Either are crab cakes that have too much filling because people might be trying to stretch out the crab meat to make more crab cakes.
Here's the thing, when you make crab cakes, you have to use lump crab meat. You just do. There's a time and a place for claw meat, like chowders or soups or a hot crab dip even. But when you're showcasing crab meat like in a crab cake recipe – please go for the lump crab meat.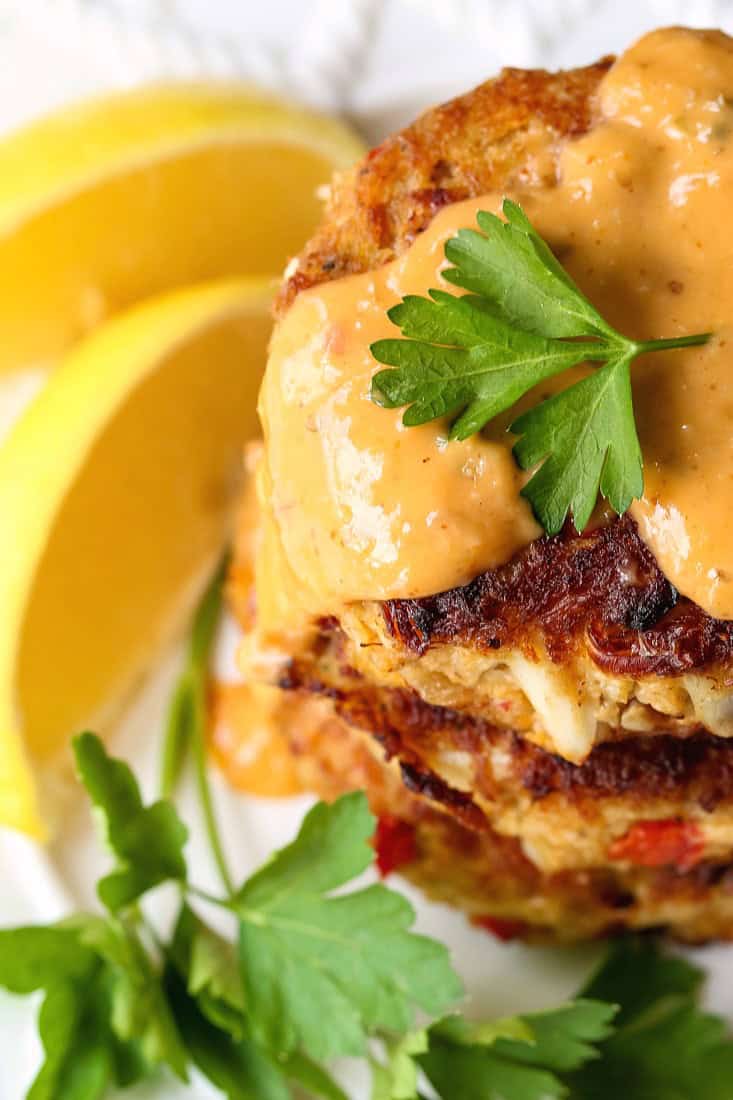 What Kind Of Sauce Can I Serve With Crab Cakes?
Typically crab cakes are served with a tartar sauce or a remoulade like we've shown you here. Remoulade sauce is made with mayonnaise, mustard, some sort or Creole or Old Bay seasoning and usually a little hot sauce.
I really do prefer homemade remoulade sauce, to this day I haven't found a store bought brand that is any good at all. Most of them, actually, are pretty horrible. And you guys know I'm all about grabbing store bought items when you can! But in this case, definitely make your own.
Another sauce that you can serve crab cakes with is Hollandaise sauce. Hollandaise sauce is one of my favorite sauces for spooning over poached eggs, salmon or shellfish, roasted vegetables like asparagus or broccoli and even steak!
So how you serve our Perfect Crab Cakes Recipe is up to you, maybe you even prefer plain crab cakes without sauce – also totally fine.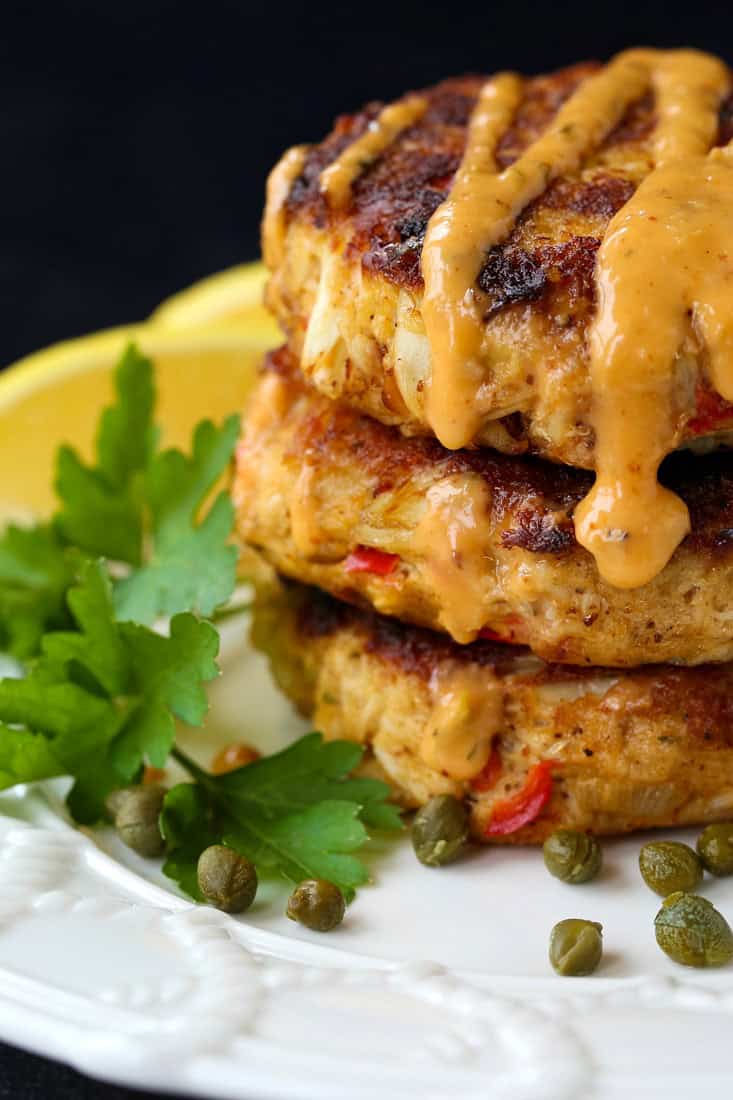 Can You Make This Recipe Ahead Of Time?
These crab cakes are best when served right away but they can be made ahead of time in a couple of different ways! You can make the crab cakes and keep them on a platter in your refrigerator until you're ready. Then all you have to do is quickly pan fry them and serve!
Or you can cook the crab cakes and keep them in a warm oven, just about 300 degrees for about an hour. Any longer than that and they might not be as crispy when you serve them, which is my most favorite part about these crab cakes!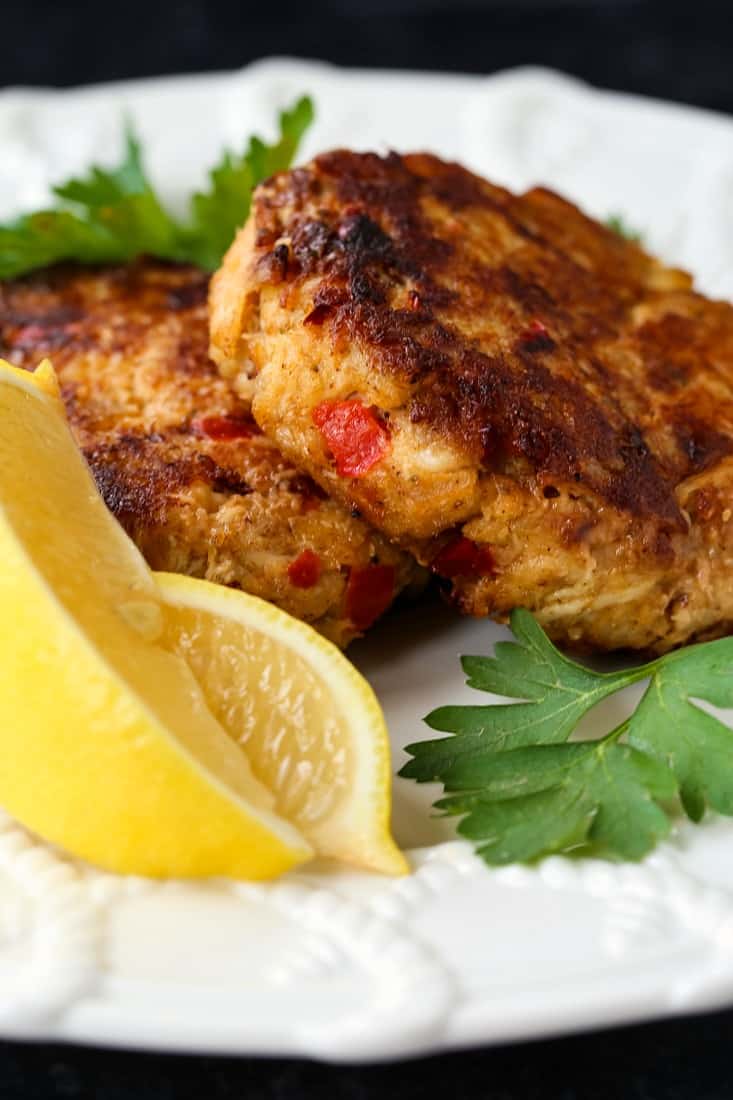 If you're going to serve these for appetizers, you can make them smaller or just account for one crab cake per person. For dinner I plan on two crab cakes per person, especially if you're serving a side dish like potatoes or rice and vegetables.
This recipe makes six large crab cakes, so if you're planning on a dinner for 4 adults, you might want to go with doubling this recipe. Leftover crab cakes are delicious heated up in a skillet or in the oven, even on a buttery brioche bun for a sandwich!
If you're on a budget and you're really trying to stretch out the crab here, you can make the crab cakes a little larger and count on 1 crab cake per person. As long as you're serving this crab dinner with some hearty sides you're going to be fine. Crab cakes are pretty rich in flavor so one large crab cake and sides will be plenty.
Looking For More Crab Recipes?
Print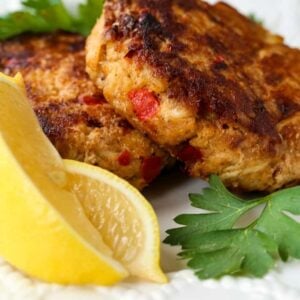 Perfect Crab Cake Recipe
Author:

Prep Time:

10 minutes

Cook Time:

15 minutes

Total Time:

25 minutes

Yield:

6

servings

1

x
This crispy crab cake recipe has been recipe tested tons and tons of times! We found the perfect combination of breadcrumbs to crab ratio for the freshest crab flavor!
Scale
Ingredients
1 tablespoon

olive oil

1/2 cup

diced red pepper

1/2 cup

diced onion

1 teaspoon

kosher salt
Fresh black pepper to taste

1

pound lump crab meat, rinsed and picked through for any shells

2 tablespoons

mayonnaise

1 tablespoon

dijon mustard or spicy brown mustard

2 teaspoons

Worcestershire sauce

2 teaspoons

Old Bay seasoning

1/4 cup

Panko bread crumbs
Olive oil for frying
Instructions
Heat the oil in a skillet over medium heat. Add the peppers and onions, cooking until soft, about 5-7 minutes. Season with salt and pepper and remove from the heat.
Add the crab meat, mayonnaise, mustard, Worcestershire sauce, Old Bay and breadcrumbs to a large bowl. Gently fold the ingredients together until combined, being careful not to break up the crab meat too much.
Form the crab mixture into 6 cakes, depending on the size you need for serving. (for appetizers they can be made smaller, for dinner make them larger)
Add olive oil or canola oil to a skillet just to cover the bottom of the pan evenly. Once the oil is hot, carefully add the crab cakes, leaving enough room in between them to get in there and flip them over. These crab cakes don't have a lot of filler so they will be very delicate. If they do break apart on you in the pan just use a spatula to bring them back together.
Cook the crab cakes for about 3-4 minutes on each side until brown and crispy. Remove to a platter to keep warm until all the crab cakes are cooked.
Serve immediately or keep warm in a 300 degree oven. The crab cakes will be crispiest when served right away, but they will keep pretty well in a low oven for about an hour.
Recipe Notes
To reheat any leftover crab cakes, place them in a 350 degree oven on a baking sheet for about 15 minutes until warmed though. You can also heat them up again in a skillet. Microwaving is also fine but the crust won't be as crispy.
Try our homemade remoulade sauce recipe to serve with these crab cakes!
Category:

Dinner

Method:

Stove Top

Cuisine:

American
Keywords: crab cakes, crab cake recipe, seafood recipe, crab recipe, lump crab meat, appetizer recipe, easy dinner recipe, low carb recipe