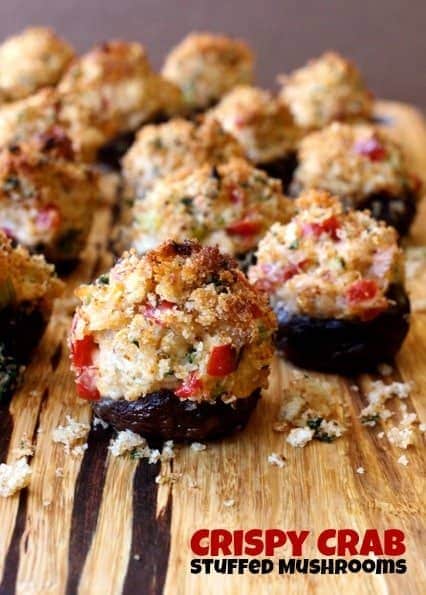 Crispy Crab Stuffed Mushrooms
These Crispy Crab Stuffed Mushrooms will be devoured from the appetizer table in seconds! A crispy garlic breadcrumb topping on top of crab and cream cheese stuffed mushrooms. Not just crab and cream cheese though, these mushrooms have a lot going on.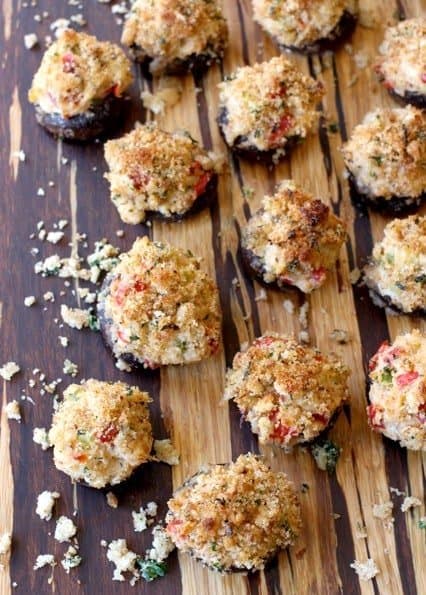 I'm guessing you guys are going to be needing appetizers for Thanksgiving. If your family is anything like my family, the appetizer/cocktail round is as important as the turkey. We like our cocktails, that's for sure. But because we like to have a few cocktails, you have to make sure there's always something to snack on so that you actually make it to the turkey round.
There's a few standards that we have but every year we try and make something new to see if it will make it to the "must have" list of appetizers.
These Crispy Crab Stuffed Mushrooms made it.
I tested them out on some of Christie's family that were in from Chicago and New York City and they all seemed to love them. There wasn't a lone mushroom or two left, sitting there waiting to be eaten – all of them were eaten – all 30.
You don't even have to use lump crab meat for these mushrooms. I used the claw meat, it's a lot cheaper and when you're mixing crab meat up with cream cheese and mayonnaise I don't think you need to buy the expensive stuff. In fact, I know you don't because no one was complaining.
The best part about these mushrooms (besides the crab) is the crispy garlic breadcrumb topping. Homemade bread crumbs with tons of garlic and butter…these are not your ordinary stuffed mushrooms.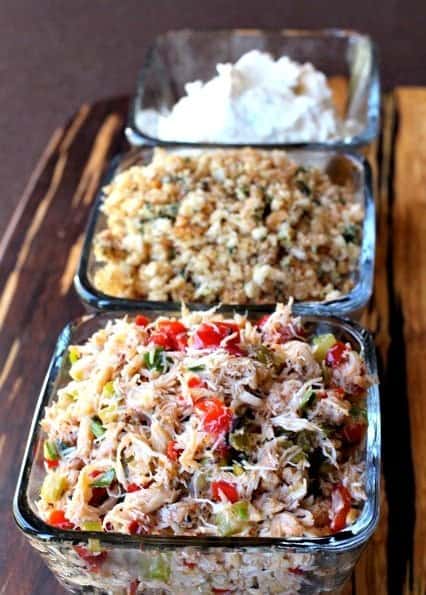 Start out by making the garlic bread crumbs. Grab some white bread and throw it in your food processor to make the crumbs. You'll need about 2 cups. Add the crumbs to a skillet along with 4 tablespoons of butter and let them toast.
Add some (a lot) of chopped garlic and parsley, stir it up and the topping is done.
Wipe out the skillet and add some celery, red pepper and yep – a little more garlic.
Now it's time to stir in the crab meat with the rest of the ingredients. I threw in about 1/4 cup of the toasted garlic breadcrumbs inside the filling too.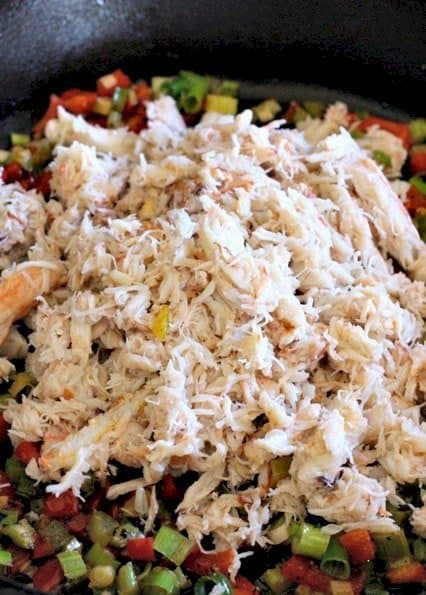 Fill up your mushrooms caps and bake-
This recipe makes about 30 stuffed mushrooms and it only uses 1/2 pound of crab meat. A totally affordable and tasty way to start your Thanksgiving meal!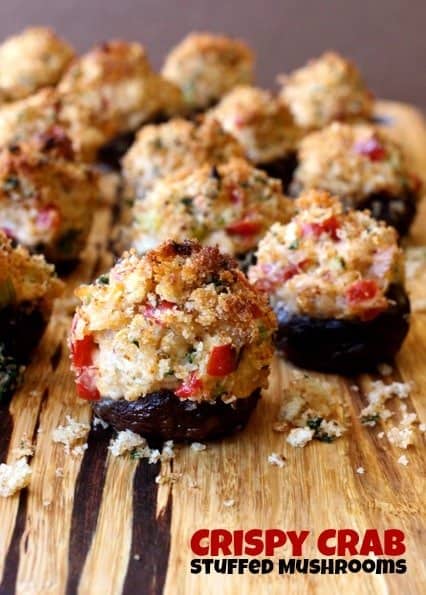 Print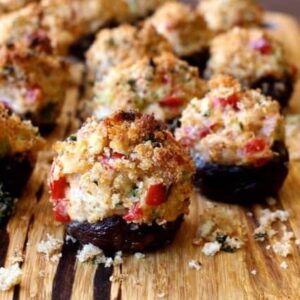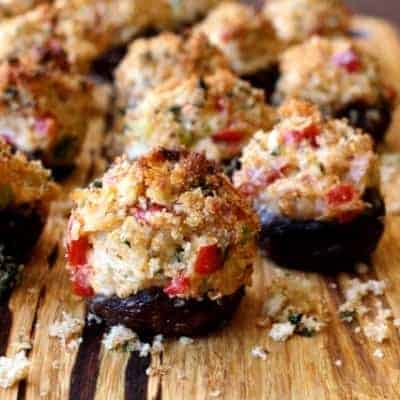 Crispy Crab Stuffed Mushrooms
Author:

Yield:

30
---
Description
Mushrooms stuffed with cream cheese and crab, topped with garlic breadcrumb topping.
---
Ingredients
For the Garlic Breadcrumb topping
7 slices of Italian bread, placed in a food processor to make crumbs. You'll have about 2 cups.
6-7 cloves of garlic
4 T. butter
1/4 c. chopped parsley
For the Mushrooms
30 mushrooms, stemmed and washed
2 T. butter
1/2 c. celery, diced fine
1/2 c. red pepper, diced fine
1/2 c. scallions, chopped
2 cloves garlic, minced
1/2 t. salt
1/4 t. pepper
8 oz. crabmeat (you can use claw meat)
4 oz. cream cheese, softened
2 T. mayonnaise
1/4 c. grated parmesan cheese
1/4 c. of the garlic bread crumb topping
1/2 lemon, juiced
2 T. olive oil
salt & pepper
---
Instructions
Wash (yep, I wash 'em) the mushrooms and pop the stems off of the caps.
Toss in a bowl with the 2 T. olive oil and season with salt and pepper.
Place on a baking sheet and set your oven to 425 degrees.
Melt 4 T. butter in a large skillet and then add the 2 cups of bread crumbs.
Toss in the butter until toasted, about 5 minutes.
Add the minced garlic, lemon juice and the parsley. Stir to combine.
Remove the breadcrumb mixture from the skillet and transfer to a bowl to cool.
Add the 2 T. butter to the same skillet. Add in the celery, scallions and red pepper and cook for 4-5 minuets.
Next add the garlic, salt, pepper and crab meat, stirring to combine.
Transfer to a bowl to cool.
Once cooled, add the mayonnaise, cream cheese, parmesan cheese and 1/4 c. of the breadcrumb topping.
Fold all the ingredients together until well combined.
Test for seasonings and then start filling your mushrooms.
Top the filled mushrooms with the rest of the breadcrumb topping and place in the oven to bake.
Bake for 15-18 minutes, until the tops of the mushrooms are golden brown.
Let cool 5 minutes and serve.