These Bourbon Steak Kabobs are marinated in a brown sugar and bourbon marinade and then grilled for just a few minutes until the steak and vegetables are tender and perfectly charred. Add a side of rice or potatoes and dinner is done!
Fun dinner recipes like these steak kabobs are always a hit! Also check out our Bang Bang Chicken Sliders that are fun for appetizers or for dinner. A new favorite on pizza night at our house are Pepperoni Pizza Totchos! Ever hear of totchos? Head on over and read on…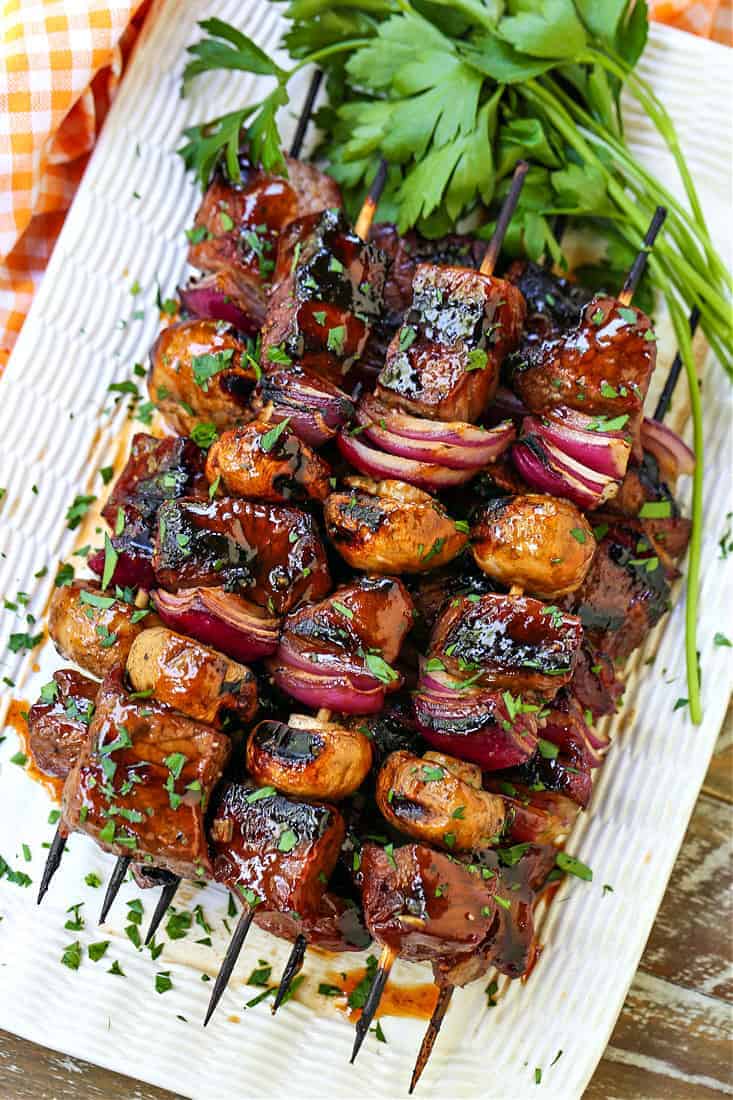 Steak Kabobs On The Grill
Grilling season never gets old. If you're lucky enough to live in a climate that you can grill all year long, well I am jealous. We're on the East coast so our grilling season is only about half of the year, because I'm not one of those hard core grillers that wants to stand outside when it's 10 degrees.
I'll break out the grill pan if need be.
So when it's time to grill – we grill. These Bourbon Steak Kabobs are such a fun dinner recipe, for adults and kids. There's only a little bourbon in the marinade and it's going to cook right off and just leave that delicious flavor behind. So don't worry about your kids getting hopped up on the bourbon in here.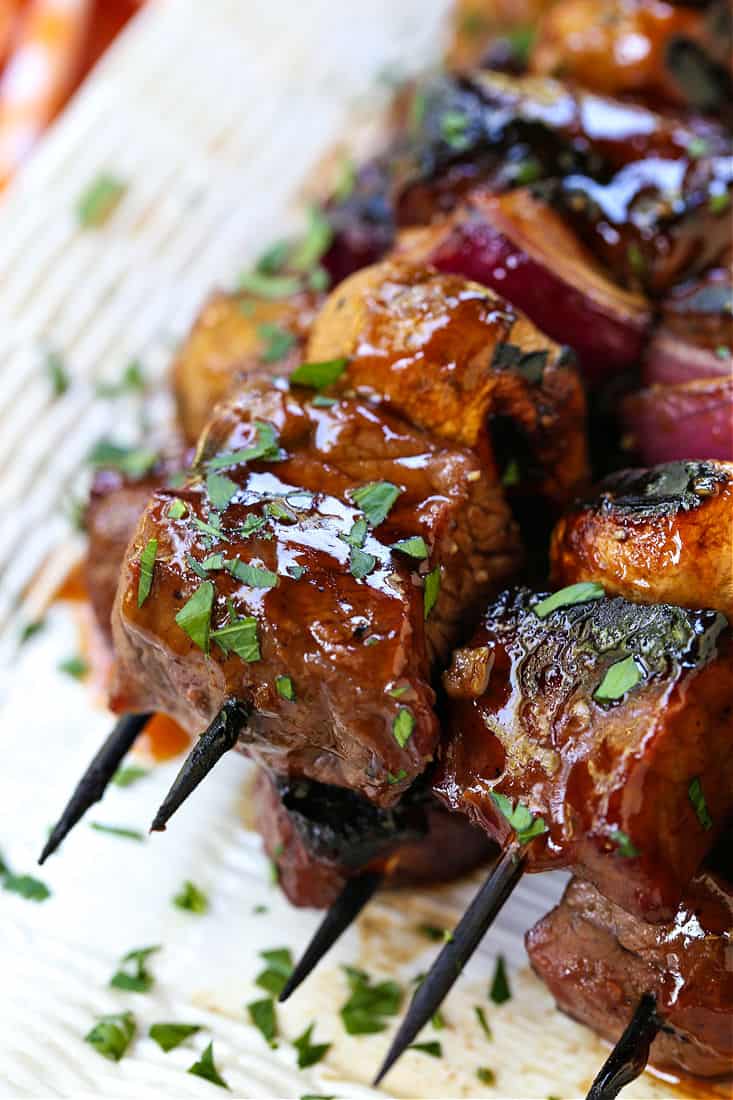 Ingredients You Need For The Bourbon Marinade
Just a few simple ingredients are needed to make this tasty bourbon marinade. You can also use this marinade on chicken, turkey and pork!
Bourbon: If you're not a bourbon drinker and don't have a bottle handy, just grab an affordable but not bottom shelf bourbon at the liquor store. There's 1/4 cup in this marinade but you can grab 2 of those small airplane bottles and that will do just fine.
Brown Sugar: There's a 1/2 cup of brown sugar in this recipe, which seems like a lot but trust me when it's mixed with the garlic and bourbon and mustard…you're going to love it.
Fresh Garlic: Stick with fresh garlic here, not the jarred stuff. Fresh garlic is much stronger than jarred garlic and you need that punch for this marinade.
Spicy Brown Mustard: You can also use a whole grain mustard, just not the yellow mustard that you squirt on your hot dogs.
BBQ Sauce: Your favorite brand will do, I like to stick to a plain BBQ sauce instead of a flavored variety for this marinade.
Olive Oil: Olive oil helps to pull the flavors out of ingredients like garlic and helps to tenderize the meat. Especially when you're using a cut of beef like sirloin, you want to make sure it come out nice and tender.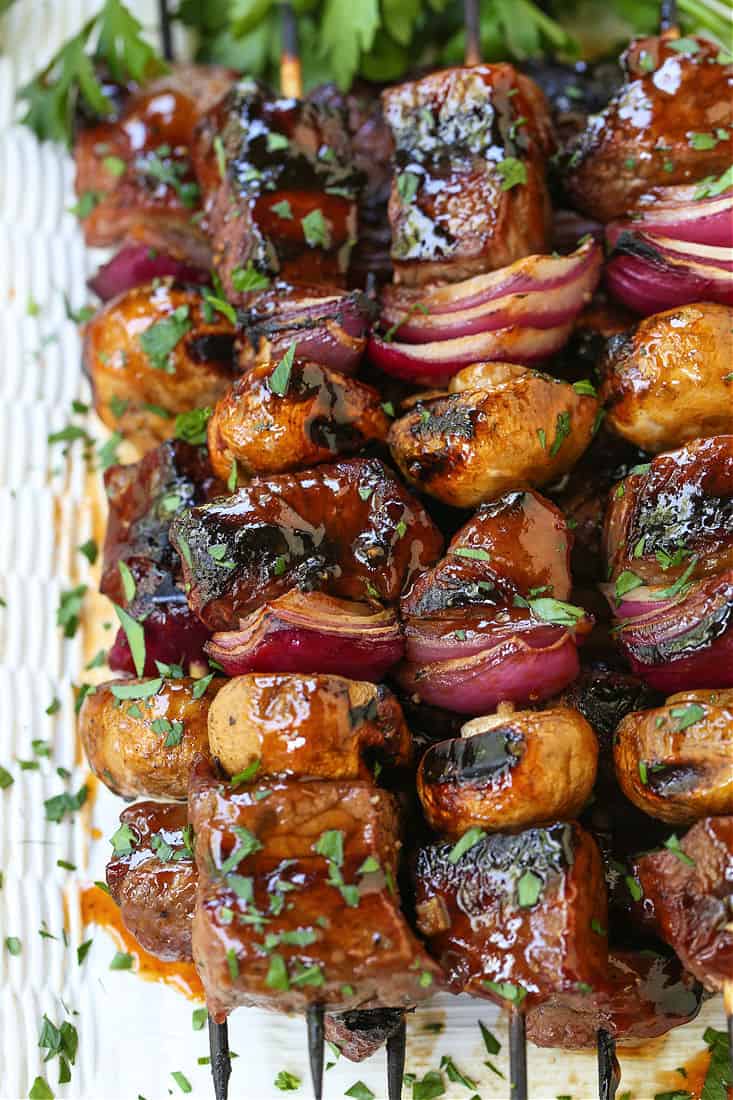 How Do You Grill These Steak Kabobs?
After the steak has marinated, add some mushrooms, red onions and the steak pieces onto skewers and grill over medium to medium-low heat for 4-5 minutes on both sides. You definitely don't want the grill too hot because the sugar in the marinade will burn.
What you want is a nice char on your vegetables and steak like you see here, but also at a low enough temperature so that the steak is cooked through. Since the steak is cut into small pieces it will only take a few minutes to get that perfectly cooked, pink in the middle steak.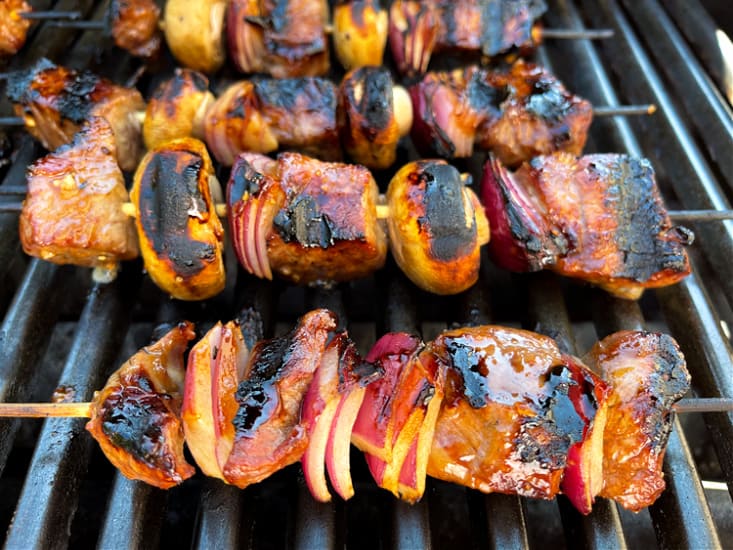 Can You Add Different Vegetables To These Kabobs?
Definitely! Try using pieces of bell pepper (any color), zucchini, brussels sprouts (steam for a few minutes before hand), eggplant, diced potatoes (steamed before hand) and even some fruits like pineapple or peaches!
What Kind Of Steak Is Best For These Steak Kabobs?
Sirloin is our go to for making kabobs, it's affordable and cooks up really tender since it only cooks for a few minutes on the grill. Other cuts of beef like tri-tip, skirt steak or hanger steak will also work but they are a little more pricey.
Of course you can grab a filet or a strip steak if you really want to indulge here, that will make for some really tasty bourbon steak kabobs!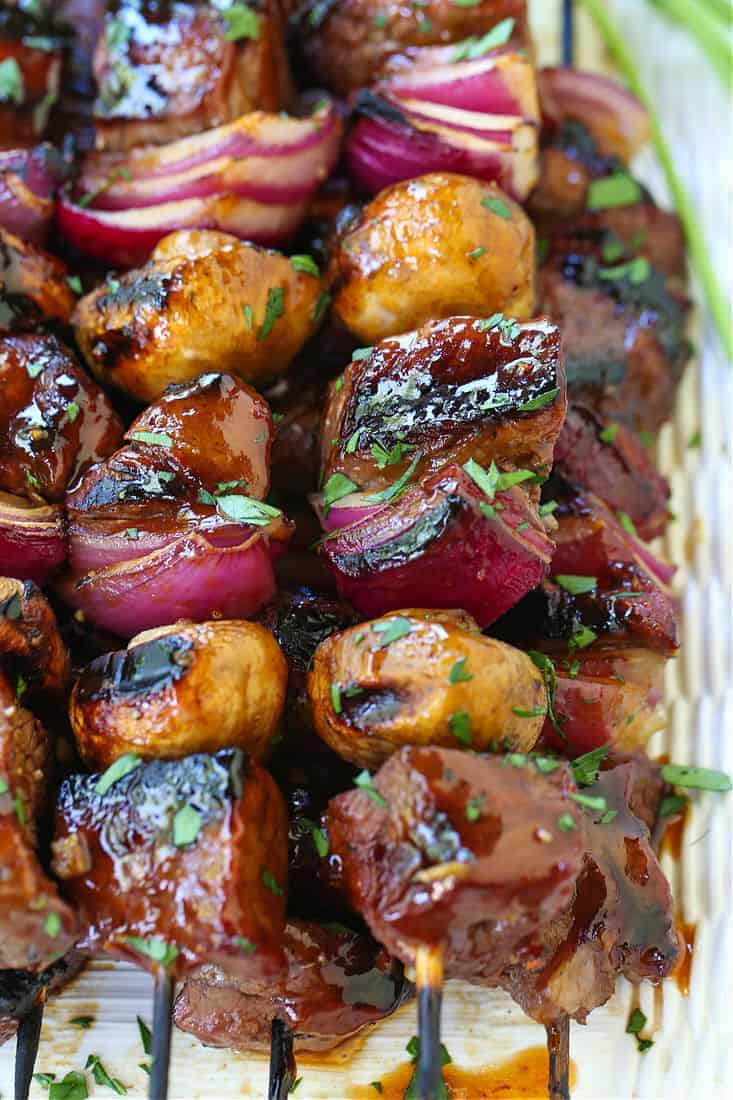 Is It Safe To Use A Marinade As A Glaze After Meat Has Been In It?
Yes. Google all you want out of this answer, but my answer is yes. You do have to boil the glaze for at least 5 minutes before using, that will kill any bacteria that has been left behind from the meat.
If you really don't love the idea of using the marinade after the beef has been in it, just reserve about 1/2 cup of the marinade before add the steak and use that for the glaze at the end.
Looking For More Recipes With Beef?
Print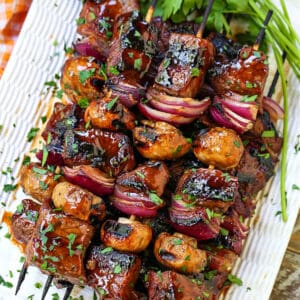 Bourbon Steak Kabobs
Author:

Prep Time:

15 minuts

Cook Time:

10 minutes

Total Time:

53 minute

Yield:

8

Servings

1

x
These Bourbon Steak Kabobs have the most addicting bourbon and brown sugar glaze! these steak kabobs are perfect for dinner at home or for your next BBQ!
Scale
Ingredients
For the Marinade:
1/4 cup

bourbon

1/2 cup

brown sugar

1/4 cup

bbq sauce

1/4 cup

olive oil

1 teaspoon

salt

1 teaspoon

fresh black pepper

1 tablespoon

chopped garlic

1 tablespoon

spicy brown mustard
For The Kabobs:
2

pounds sirloin, cut into 1 1/2 inch cubes

10 ounces

mushrooms (you'll need

16

mushrooms total for

8

kabobs, see note)

1

red onion, sliced into thick wedges (see photos for size)

8

wooden or metal skewers (soak for at least

1

hour if using wooden)
Fresh chopped parsley for garnish
Instructions
Mix all the ingredients for the marinade in a small bowl. Add the cubed steak into a resealable bag and pour the marinade into the bag. Make sure all the steak is coated in the marinade and place in the refrigerator for at least 4 hours or up to overnight.
Remove the steak from the marinade (reserving the marinade) and place onto a board along with the vegetables. Add a piece of steak followed by a few pieces of onion and then a mushroom. Repeat until you have 2 pieces of each ingredient on the skewer. Make the remaining 7 skewers in the same pattern, cutting some of the mushrooms in half if you run out of mushrooms.
Preheat the grill to 375-400 degrees. Spray the kabobs with an olive oil cooking spray before adding them to the grill and then grill for 4-5 minutes on both sides. Remove the kabobs from the grill and place on a plate covered with foil.
Pour the reserved marinade into a small pot and bring to a boil. Boil the marinade for at least 5 minutes and then remove from the heat. Baste the kabobs with the glaze and serve any extra glaze on the side for dipping.
Recipe Notes
If you run out of mushrooms for the kabobs you can cut some of the larger ones in half.
Category:

Dinner

Method:

Grill

Cuisine:

American
Keywords: mantitlement, kabobs, steak kabobs, bourbon steak, grilling recipes, steak on the grill, recipes on the grill, recipes using steak