This New York Strip Steak tastes just as good as if it came from a steak house! Tender and juicy steak flavored with fresh herbs, garlic and butter. It doesn't get much better!
We love making strip steak for special dinner nights at home. Looking for something besides wine to drink with steak? Try this Amaretto Sidecar Cocktail made with Homemade Amaretto!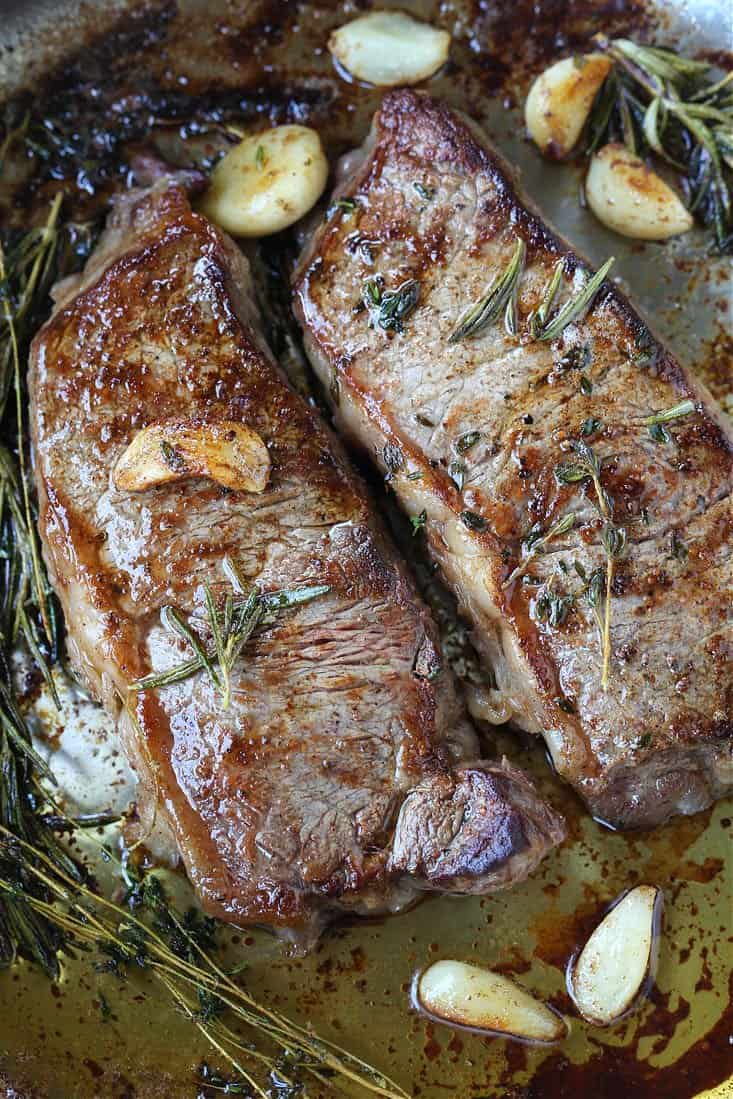 Strip Steaks with Garlic Herb Butter
Everything is so expensive these days, so instead of having a pricey night out, make a New York Strip Steak dinner at home instead! Even though a strip steak can be a little expensive, it's still way cheaper than paying restaurant prices.
Add a potato side dish and a roasted vegetable and you've got a dinner at home perfect for that special occasion. The most tender, juicy steak you'll ever make at home is finished off right in the oven!
What You Need To Make New York Strip Steaks
First of all, try to get the best quality strip steak that you can find. This might mean heading out to your local butcher instead of the grocery store, but try to find a prime cut of meat instead of choice.
New York Strip Steak: Strip steaks are most often a boneless cut of beef with a lot of marbling. The marbling in the meat makes these steaks very tender and full of flavor. We like to cook with larger cuts, about 1 inch thick.
Fresh Herbs: Rosemary and thyme are our favorites with a strip steak, but you can play around with those ingredients, too.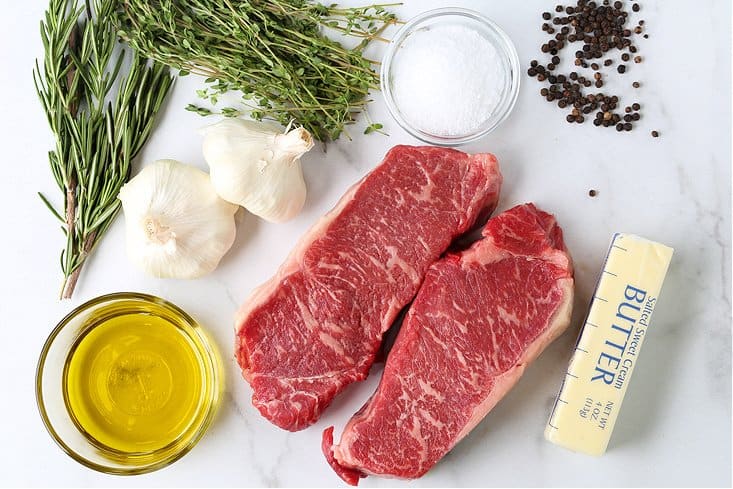 Butter: Salted butter for us, it adds more flavor. And yes, even though we're generously salting the steaks.
Garlic: Go for the amount that you feel is right:) The garlic in this New York strip steak recipe really just flavors the oil that you use to baste the meat with. So in our opinion, the more the better.
Olive Oil: Since we're searing these steaks at a high temperature, olive oil wouldn't be a good choice on its own. Since olive oil has a relatively low smoking point, you typically don't use it with higher temperatures. But since we've added tons of butter to the mixture, the olive oil will hold up and add the flavor that we're looking for.
Kosher Salt & Pepper: To this day I haven't found pre-ground black pepper that really adds the flavor that fresh ground pepper does. So if you can use a pepper grinder, that's the best bet. And always, always Kosher salt for it's coarser texture and better flavor.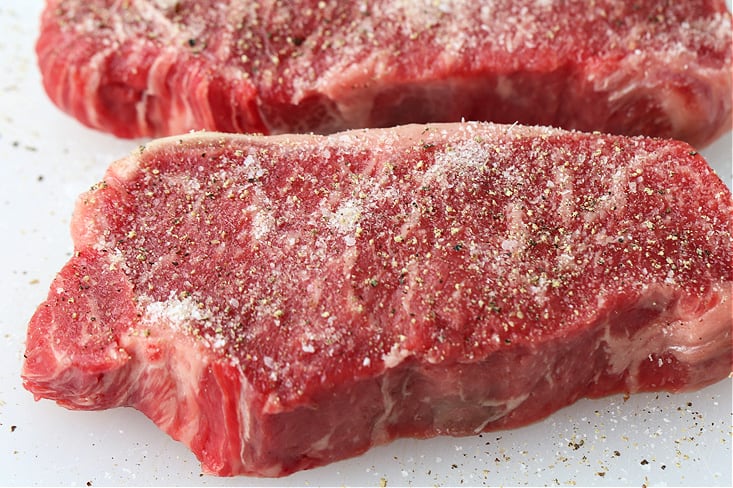 How Do I Know When My Steak Is Done?
The best way to know when your steak is done to the right temperature is by using a meat thermometer. These temperatures are for when you take the meat out of the oven, then it will rise a few more degrees during the resting period.
Rare: 125° F
Medium Rare: 135° F
Medium: 145° F
Medium Well: 150° F
Well Done: 160° F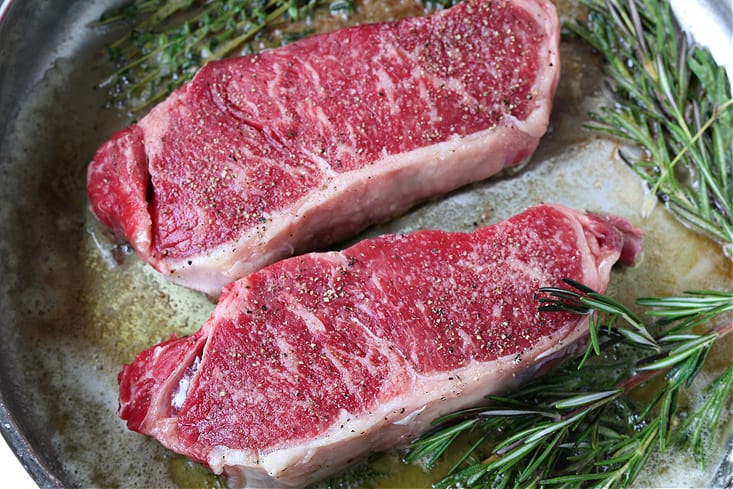 Cooking a strip steak over 150 degrees isn't recommended as it will become tough. If you don't prefer your steak on the rare side, then the most I'd cook this steak to is medium well.
New York Strip Steak is a little pricey so try not to overcook it and dry it out.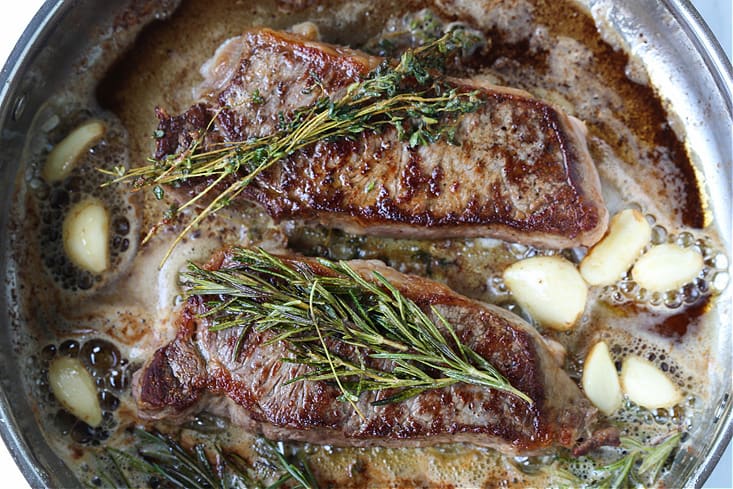 What Is The Best Pan To Use To Cook Steak In The Oven?
Cast iron skillets do work nicely, but if you don't have a cast iron pan, no worries. Usually we grab a heavy bottomed, stainless steel skillet and that works just fine. As long as you have a sturdy skillet that's oven-proof, these steaks will come out beautifully!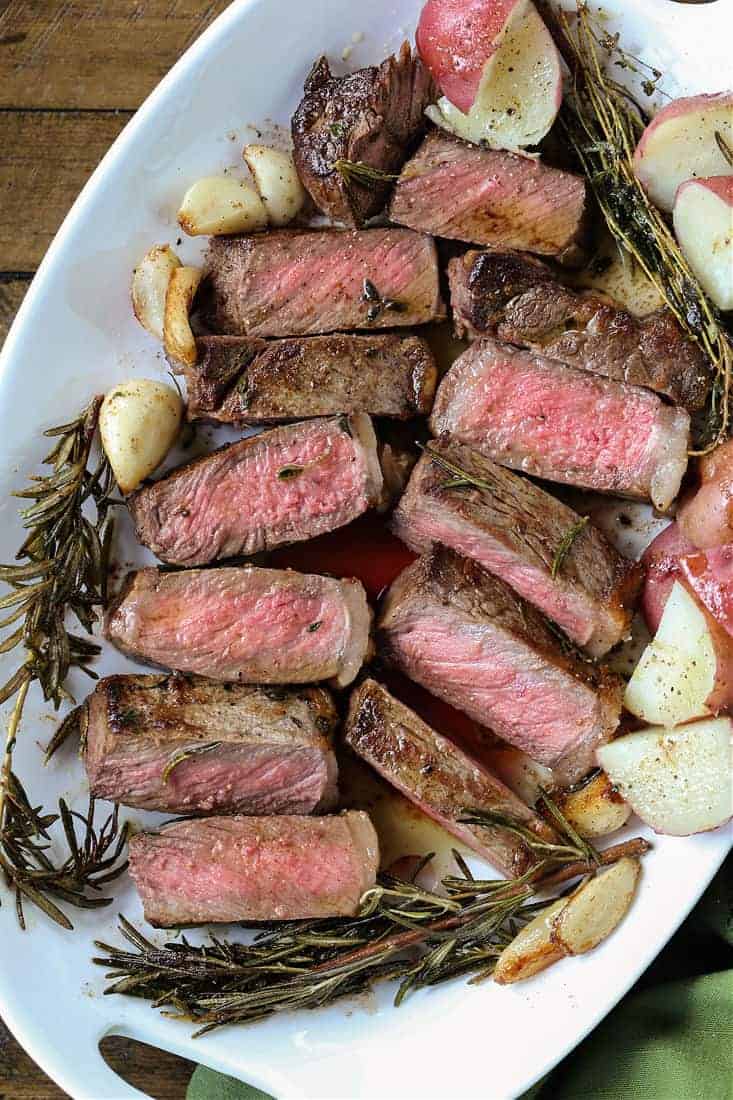 Should I Trim The Fat Off A Strip Steak Before Cooking?
Definitely not. The layer of fat on the outside of a strip steak is what gives it so much delicious flavor. Of course, you don't have to eat the fat; after it's given its flavor to the meat you can trim it off as you're eating.
Also, you can sear the fat side of the steak in the skillet before it goes into the oven. This will crisp up and render the fat down slightly.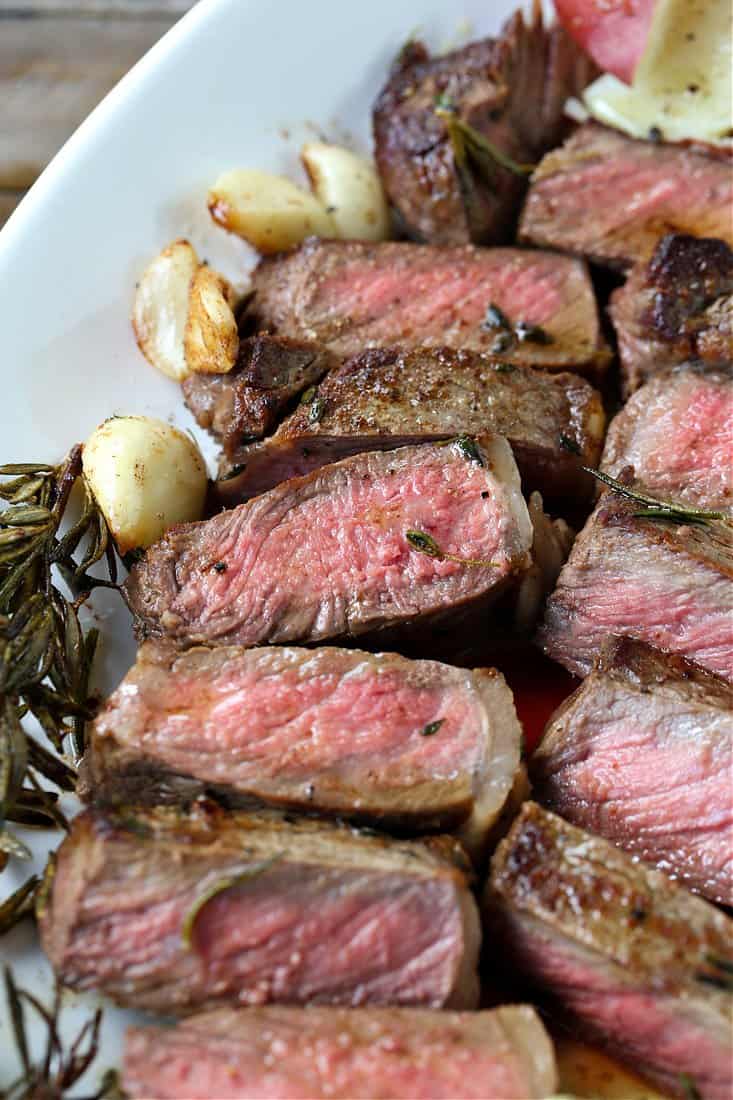 What Sides Go Best With A Steak Dinner?
Because you can't have a steakhouse dinner without the sides! We've got SO many delicious side dishes to go with this NY Strip Steak dinner, it's going to be hard to choose. Make a couple, make a few.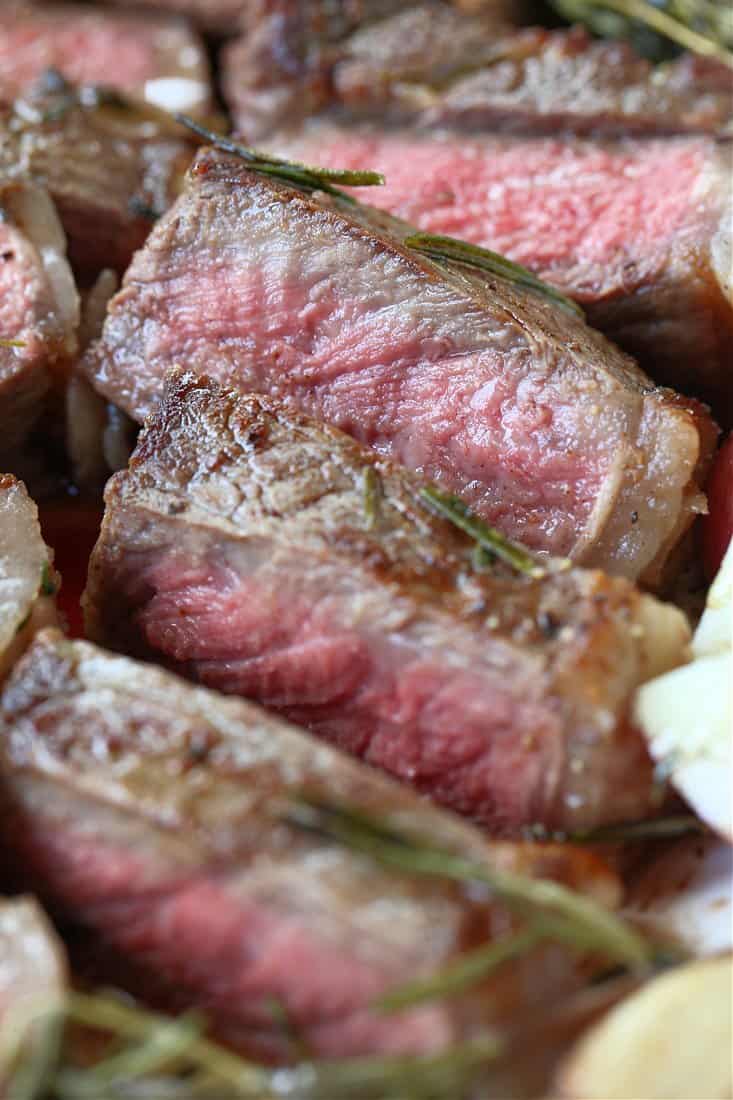 Can I Make This Steak Recipe On The Grill?
Of course you can make strip steaks on the grill, but for this recipe stick to the oven. For one, there's a lot of butter going on with these steaks and that will most likely cause a flame up on the grill.
But if you're really looking to make steaks just on the grill, here's how to do it.
Grill first: Season the steaks with salt and pepper and then grill to your liking.
Make the butter and herb sauce: Add the butter, olive oil, garlic and herbs to a skillet and cook until the garlic and herbs are slightly softened and the butter is browned.
Let the steaks rest: After the steaks are grilled and have rested for 5 minutes, slice the steaks and then spoon the butter and herb sauce on top.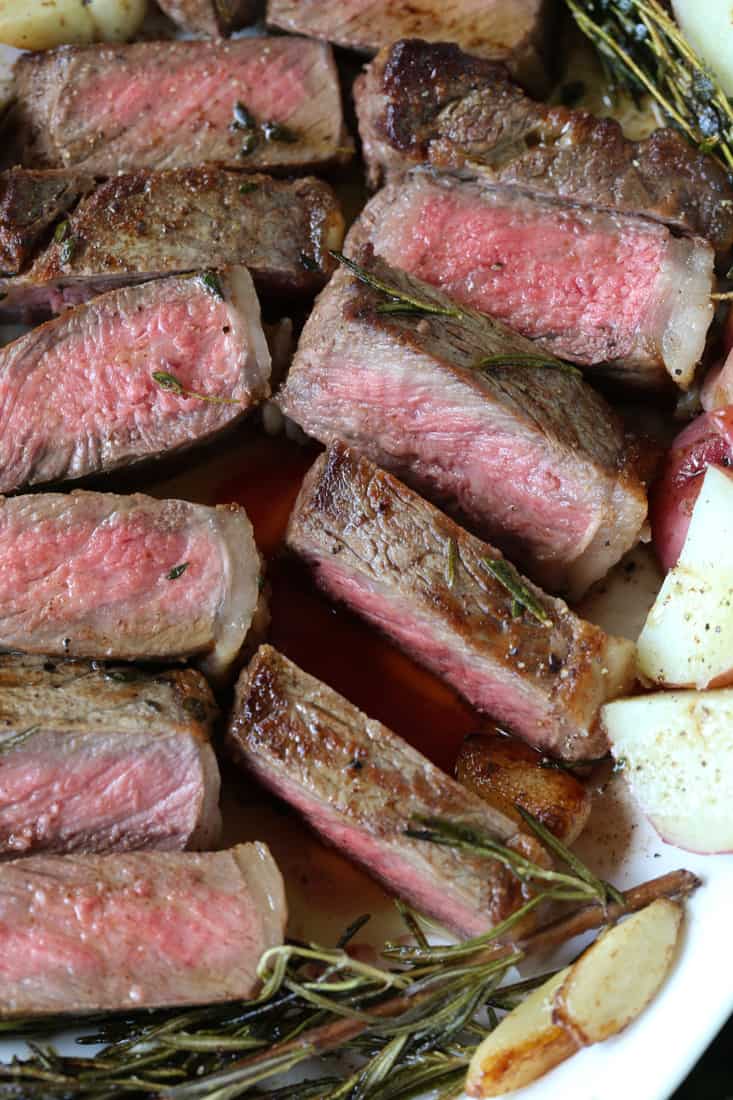 Looking For More Steak Recipes?
Print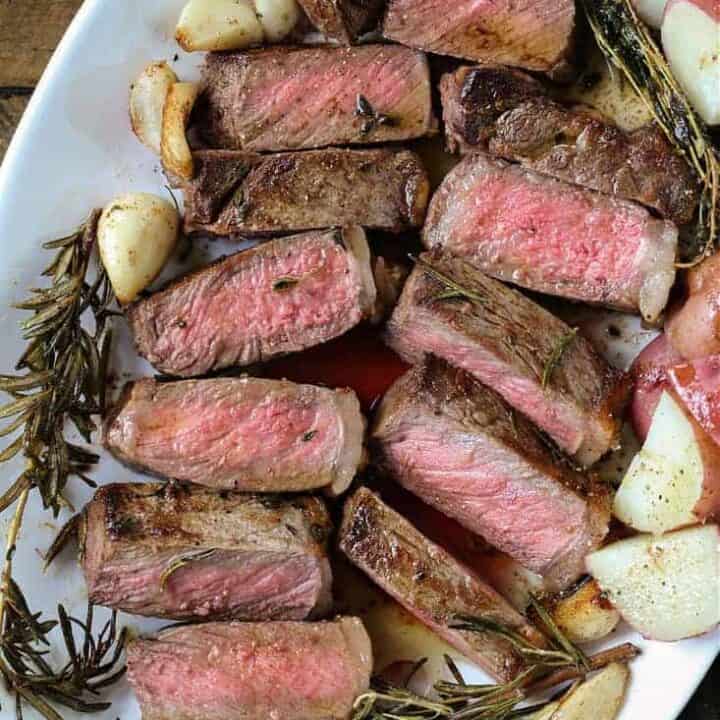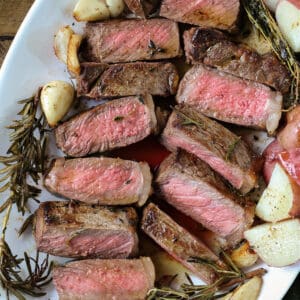 New York Strip Steak
Author:

Prep Time:

30 minutes

Cook Time:

15 minutes

Total Time:

45 minutes

Yield:

4

servings

1

x
Perfectly cooked New York Strip Steak is so easy to do at home! All you need is fresh herbs, garlic and butter to have the most juicy, tender steak dinner ever!
Scale
Ingredients
2

New York Strip Steaks, approximately 1 pound each (see note)

4 tablespoons

butter

2 tablespoons

olive oil

1

bunch fresh rosemary

1

bunch fresh thyme

8

garlic cloves
Kosher salt
Fresh black pepper
Instructions
Take the steaks out of the refrigerator 30 minutes before cooking to let come to room temperature.
Preheat the oven to 450 degrees.
Season the steaks generously on both sides with salt and pepper.
Add the butter and oil to a heavy bottomed, oven-proof skillet. Once the butter has melted add the rosemary and thyme, swirling around in the butter and oil. When the butter starts to brown slightly, add the steaks and let sear for 3 minutes per side until nicely browned. You can also sear the fat strip if you want the fat to render down.
Add the garlic cloves and place the skillet in the oven for 5-7 minutes, or until desired temperature is reached. We like our steaks medium rare so we take them out at 130 degrees.
Remove the steak from the skillet and place on a board or plate. Cover with foil for 5 minutes to let the steak rest.
Slice the steak into thick pieces and serve with the garlic herb butter from the skillet drizzled on top.
Recipe Notes
The best way to know when your steak is done to the right temperature is by using a meat thermometer.  These temperatures are for when you take the meat out of the oven, then it will rise a few more degrees during the resting period.
Rare: 125° F
Medium Rare: 135° F
Medium: 145° F
Medium Well: 150° F
Well Done: 160° F
To reheat leftover steak: Place in a low oven (250 degrees) until warmed through. Sliced steak can also be reheated in the microwave in 30 second intervals, just until warmed through.
Strip Steaks are anywhere between 10 ounces and 1 1/2 pounds. Any size will work with this recipe (you'll need to adjust cooking times for larger steaks), but you'll need at least two 12 -14 ounce steaks to feed four people.
Category:

Dinner

Method:

Stove Top / Oven

Cuisine:

American
Keywords: mantitlement recipes, steak recipes, ny strip steak, new york strip steak, how to cook strip steak, steak dinner, how to cook steak in the oven