Potatoes Romanoff is a classic steak house side dish! We love serving this potato casserole for steak dinners at home or for holiday meals!
These super fluffy, creamy, cheesy potatoes are going to be perfect with your Thanksgiving Turkey or your Christmas Roast Beef! But don't save these delicious spuds for just the holidays, they're also delicious with a simple grilled steak dinner!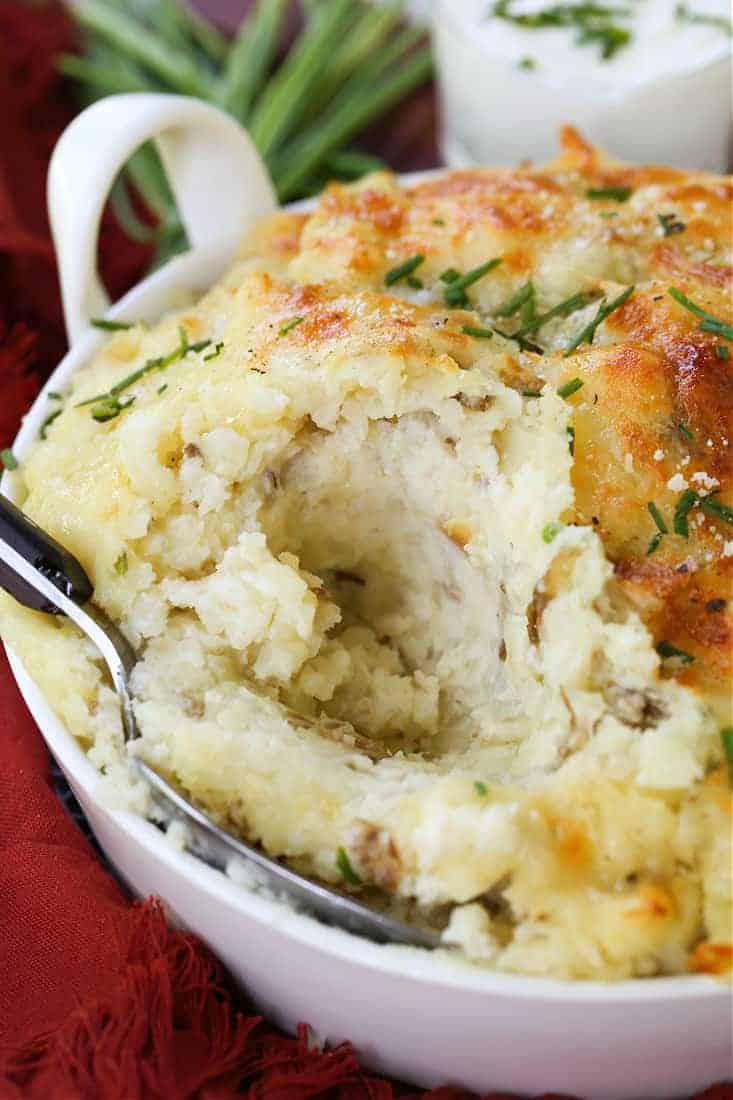 Potatoes Romanoff Recipe
Potatoes Romanoff is a classic steak house side that's made with baked potatoes that have been cooled and grated, skin and all. When the grated potatoes are delicately combined with butter, cheese and sour cream you get the most delicious, light and creamy potato casserole you've ever eaten.
This potato side dish can be easily made ahead of time for busy holidays, too. Then all you need to do is pop them in the oven and bake! Side dishes like this are a life saver around the holidays or even when just planning a dinner at home on busy nights.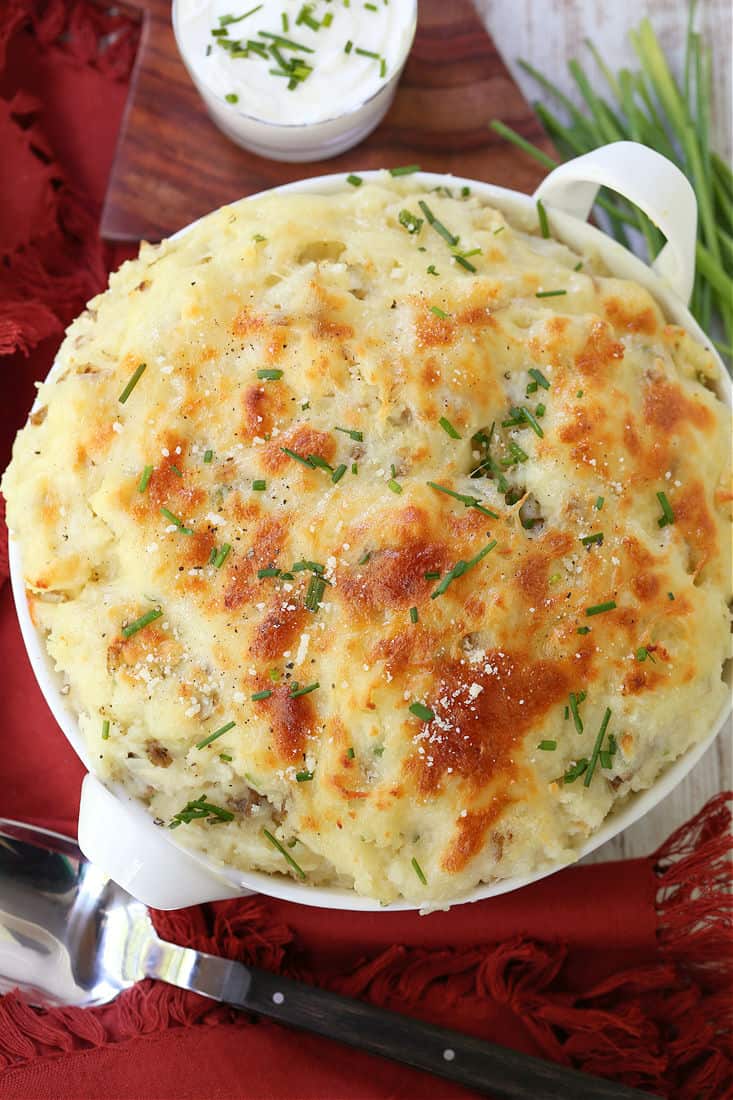 How Do You Make Potatoes Romanoff?
So you do need a little prep time to make this delicious potato casserole. You start off by making baked potatoes, then letting them cool in the refrigerator overnight. Don't have that much time? Give the baked potatoes at least 6 hours to chill in the refrigerator and you'll be good to go.
Next you're going to grate the cooled, baked potatoes on a box grater, with the skins on, into a large bowl along with the following ingredients:
1 teaspoon kosher salt
1 teaspoon fresh black pepper
1 teaspoon garlic powder
2 teaspoons dried, minced onions
1 1/2 cups shredded white cheddar cheese, divided in potatoes, rest on top
1/4 cup grated parmesan cheese, plus more for garnish
1 cup sour cream
3 tablespoons butter, melted
2 tablespoons chives, plus more for garnish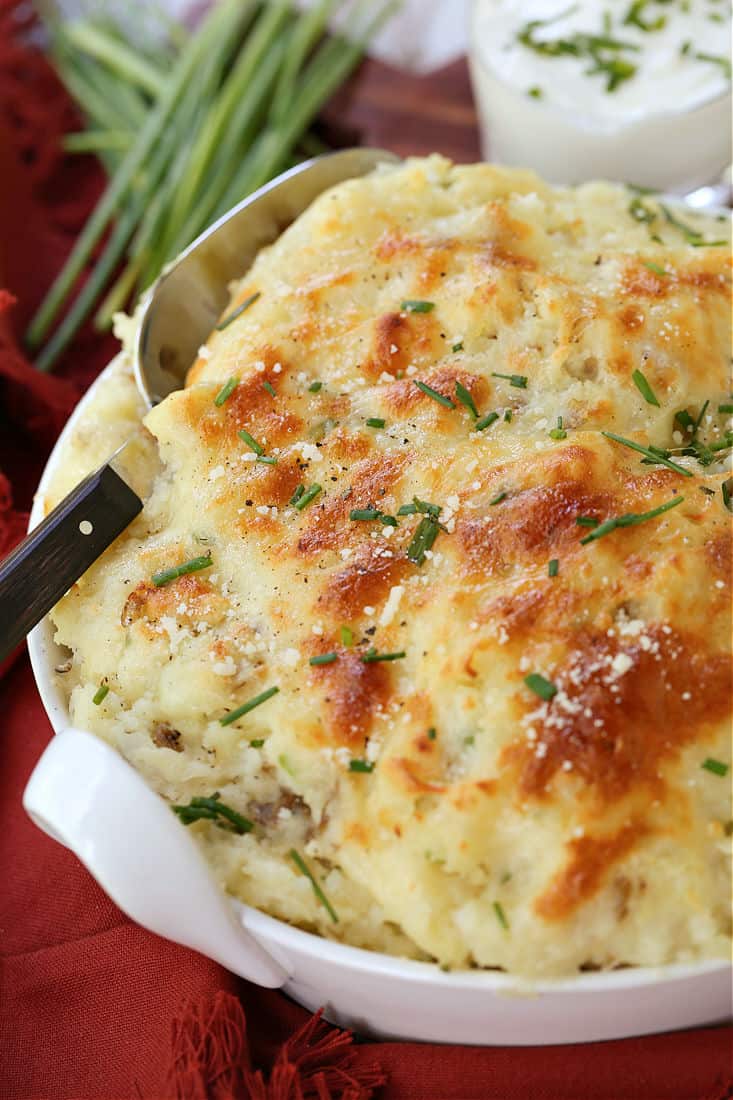 How you mix the potatoes together with the ingredients is very important! Very gently fold the ingredients together (some Potatoes Romanoff will even use their hands) so that you aren't deflating the fluffy texture of the grated potatoes.
Once you get everything combined, transfer into a 2 quart, buttered baking dish and top with grated cheddar cheese. Bake in a 350 degree oven for about 25 minutes until the potatoes are warmed though and the cheese on top is melted.
What Type Of Potatoes Work Best For Making Potatoes Romanoff?
Definitely stick with russet potatoes for this side dish recipe. Russet potatoes have a light flesh that bakes up super light and fluffy, not like a more waxy potato like a Yukon Gold or Red potatoes.
When it comes to making Potatoes Romanoff, we need that light and fluffy texture that you can only get from a russet potato!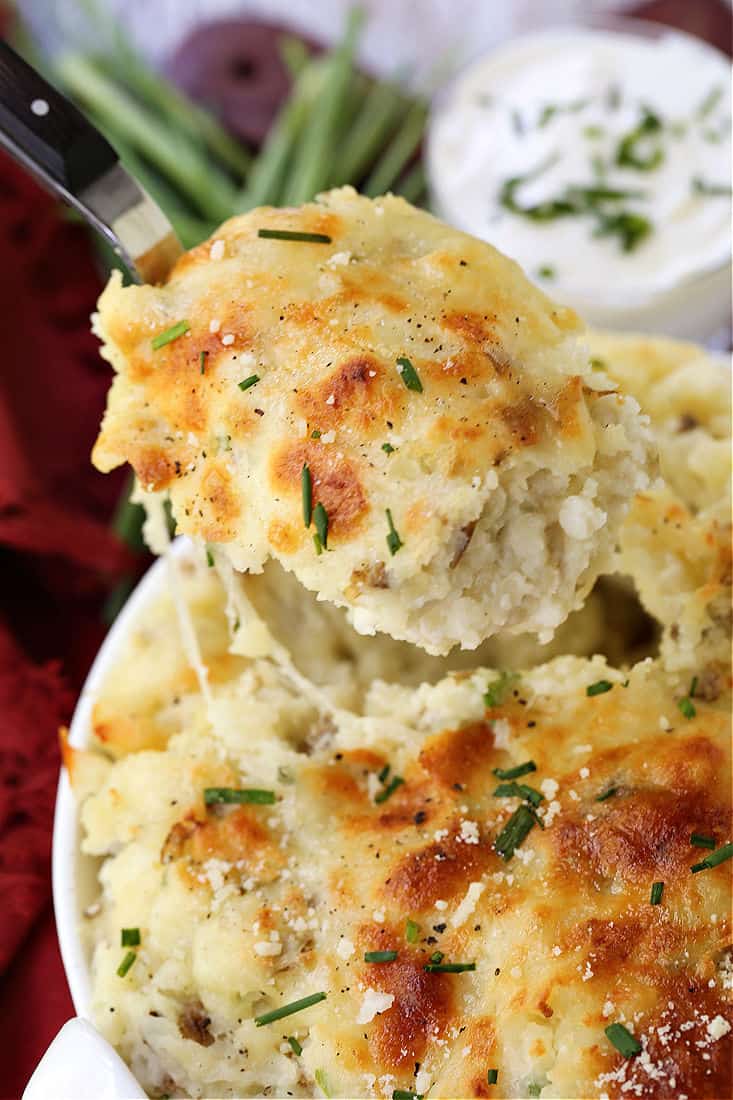 Can I Make This Potato Side Dish Ahead Of Time?
Absolutely! Which makes it the perfect Thanksgiving side dish or Christmas side dish recipe. Any recipe that lets us save time over the holidays is going to be a keeper. Make this potato casserole all the ay up to the point of baking and then refrigerate until ready to bake!
Looking For More Side Dish Recipes?
Print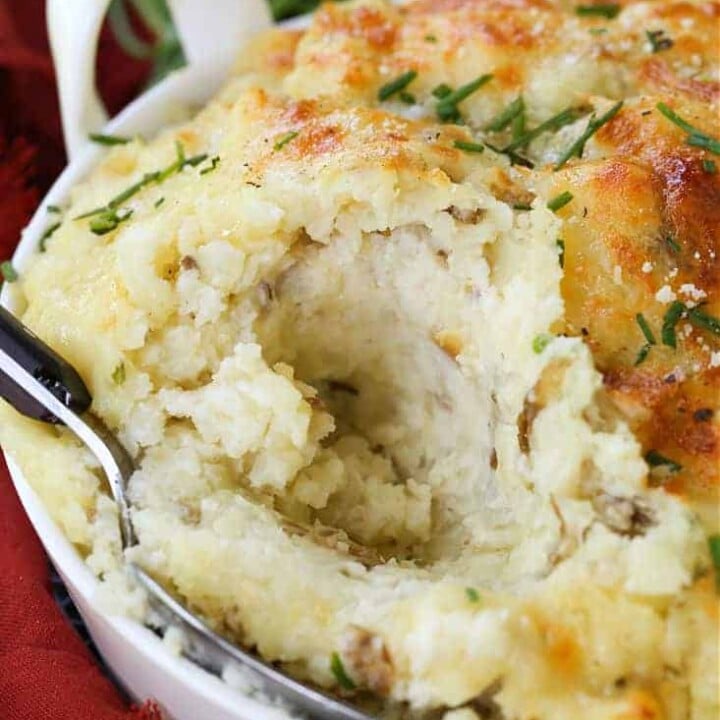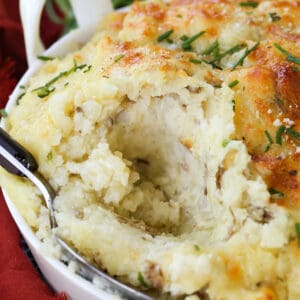 Potatoes Romanoff
Author:

Prep Time:

1 hour

Refrigerating the potatoes:

8 hours

Cook Time:

25 minutes

Total Time:

9 hours 25 minutes

Yield:

6

Servings

1

x
Potatoes Romanoff are a super fluffy, cheesy potato side dish! We make this potato casserole for our steak dinners at home, or for a make ahead side dish on the holidays!
Scale
Ingredients
2

pounds russet potatoes, scrubbed, skin on

1 teaspoon

kosher salt

1 teaspoon

fresh black pepper

1 teaspoon

garlic powder

2 teaspoons

dried, minced onions

1 1/2 cups

shredded white cheddar cheese, divided

1/4 cup

grated parmesan cheese, plus more for garnish

1 cup

sour cream

3 tablespoons

butter, melted

2 tablespoons

chives, plus more for garnish
Instructions
Preheat the oven to 400 degrees. Scrub the potatoes, leaving the skin on and then pierce each potato several times with a fork. Place the potatoes on a baking sheet and then bake for 1 hour until the potato is tender. If the potatoes are large and not quite done, add another 15-20 minutes to the cooking time.
Remove the potatoes from the oven, remove the foil and let cool to room temperature. Wrap the potatoes in plastic wrap and then refrigerate at least 8 hours or overnight.
Preheat the oven to 350 degrees. Remove the plastic wrap from the potatoes and grate on a box grater (the large holes). Do not peel the potatoes, grate with the skin on! Add the grated potatoes to a large bowl.
Add the salt, pepper, garlic powder, minced onions, 1 cup of the cheese, the parmesan cheese, sour cream, melted butter and chives to the bowl with the potatoes. Using a large spoon, gently toss the potatoes to combine the ingredients without mashing the texture of the potatoes.
Transfer the potatoes to a 2 quart, buttered baking dish and top with the remaining 1/2 cup of cheddar cheese.
Bake for 25 minutes or until the potatoes are warmed through. Serve with more chives and parmesan cheese for garnish.
Category:

Side Dish

Method:

Oven

Cuisine:

American
Keywords: mantitlement, potato casserole, potato side dish, make ahead sides, make ahead recipes, thanksgiving sides, thanksgiving recipes, potato recipes