This Homemade Bourbon Applesauce tastes so much better than store bought! A delicious side dish for holidays, parties or every day dinners!
This fun and boozy homemade applesauce goes with so many dinners like our Bourbon Glazed Ham or this Garlic Herb Roast Beef, just to name a few. But this applesauce is so easy to make, we'll make it for every day meals like a Simple Roast Chicken or these Slow Cooker Pork Chops!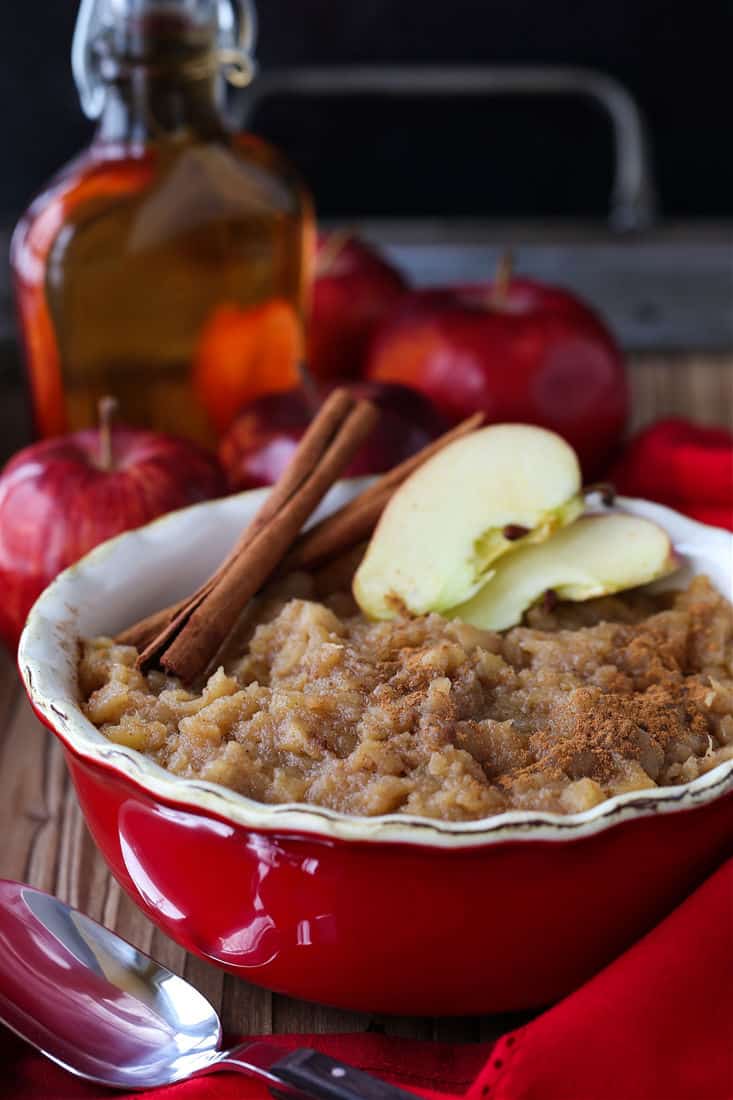 Homemade Bourbon Applesauce
Adding a splash of apple bourbon to this homemade applesauce recipe really kicks up the flavor, in the best way ever. Of course, you can make this applesauce without the bourbon, but we really hope you try it with the booze because it's perfectly delicious.
As much as we like making this Homemade Bourbon Applesauce for holidays and parties, it's easy enough to make for weeknight meals, too! It's the perfect recipe to make in the fall after you've gone apple picking, but we love this applesauce so much we make it all year long.
How Do You Make Homemade Applesauce?
We're making this applesauce a little but different than most, but that's the way we do things. A typical homemade applesauce recipe starts by cooking down apples in a little bit of water to soften them.
But water is so boring, so we decided to cook down our apples in butter and brown sugar to almost get that caramelized feeling, and then mash away. And unlike your typical applesauce recipe we're adding a little bit of apple bourbon to make it stand out from the rest.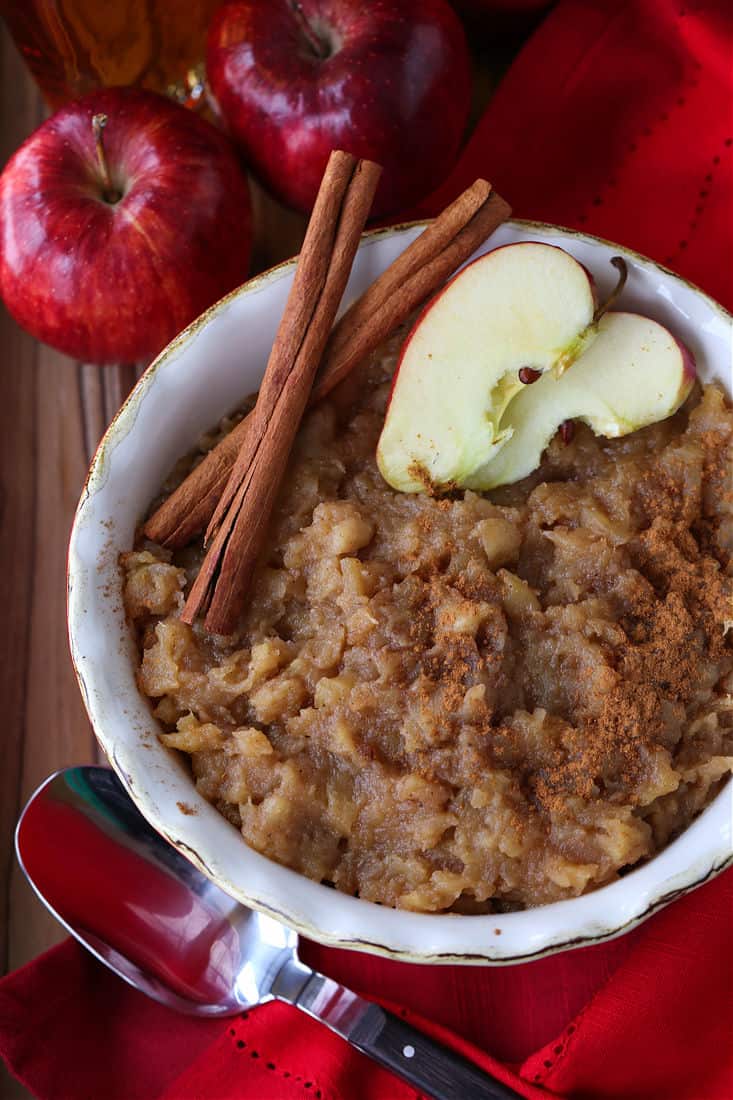 Once the apples are softened, pour the apple bourbon into the skillet (turn the heat off for a minute if you have a live flame) and let the bourbon cook out for 5 minutes. Add sugar, cinnamon, nutmeg and vanilla extract, stir and let cook for 15 minutes to blend the flavors.
Pour the applesauce into a bowl and let cool slightly, then mash with a potato masher until you get the texture that you like. We like a few chunks left in our applesauce, but if you like it smooth just keep on mashing.
If you don't want to use the bourbon for this recipe, just swap out apple juice or water instead.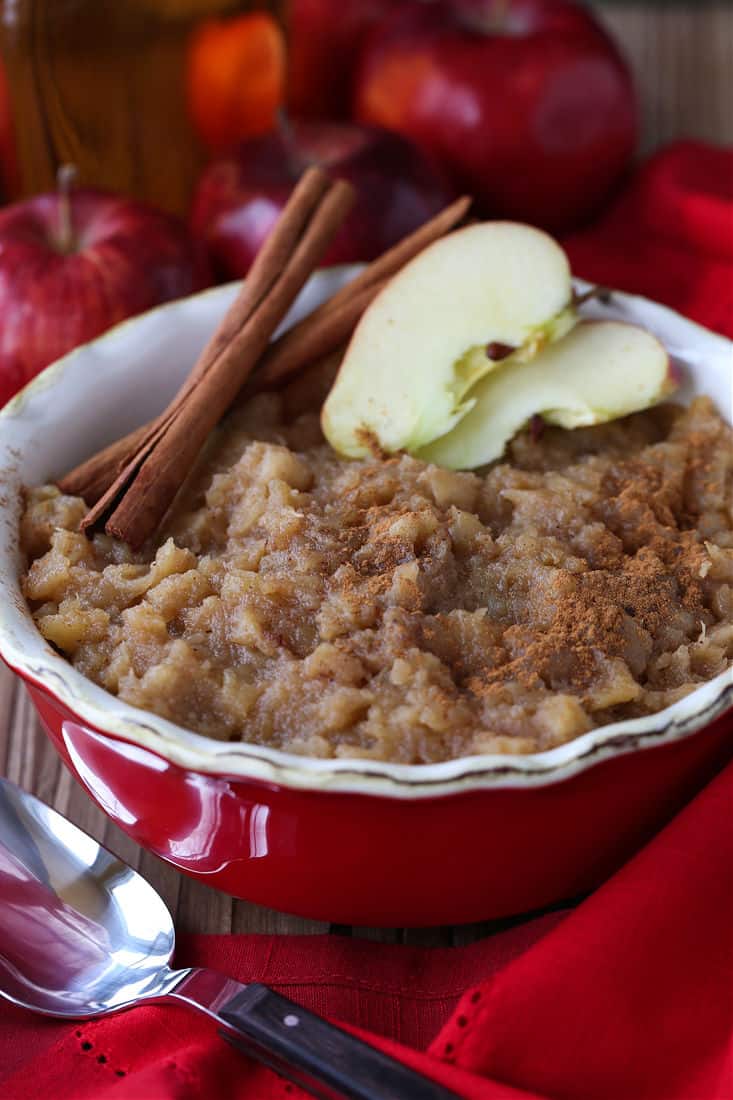 What Are The Best Apples To Use For Homemade Applesauce?
There are a lot of opinions about what kind of apples to use to make applesauce from scratch but I have to say, just use what you like to eat. Of course, a granny smith apple will produce a more tart applesauce, but you can always just add more sugar.
Also don't be afraid to use different kinds of apples! Sometimes we make this applesauce when we have a bunch of different apples leftover from the week or from a recipe that we were making, it's really all good.
As long as you follow the proportions in the recipe here, you'll end up with absolutely delicious homemade applesauce.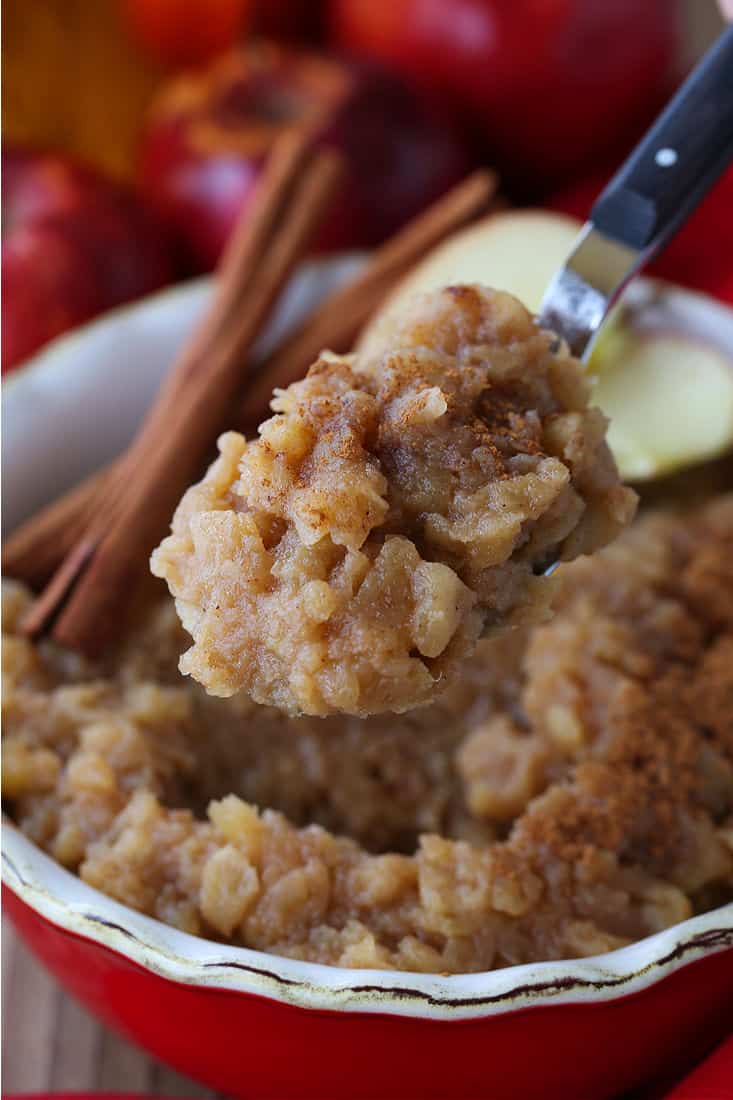 How Long Will Homemade Applesauce Stay Good For?
As long as you keep the applesauce covered in the refrigerator, this Homemade Bourbon Applesauce will keep for about a week. Ours usually doesn't last that long but if you have a double batch from a party, you've got a least a week or so to get through it.
Like we mentioned before, this applesauce will go with so many different meals, but it's also great as a dessert! Eat it as is or serve it with a scoop of vanilla ice cream or a big dollop of whipped cream.
You can also freeze any leftover applesauce that doesn't get used up so really, go ahead and make a triple batch.
Looking For More Side Dishes?
Print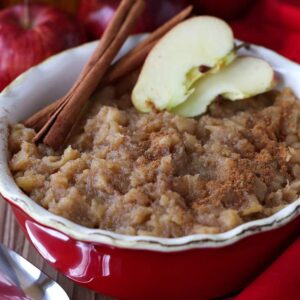 Homemade Bourbon Applesauce
Author:

Prep Time:

10 minutes

Cook Time:

15 minutes

Total Time:

25 minutes

Yield:

6

Servings

1

x
This homemade applesauce recipe is kicked up with a splash of apple bourbon! A perfect side dish for holidays, BBQ's or every day dinners!
Scale
Ingredients
4 tablespoons

butter

4

pounds apples, peeled, cored and cut into large chunks

1/4 cup

brown sugar

3 ounces

apple bourbon

1/4 cup

water

1/2 teaspoon

kosher salt

1 teaspoon

ground cinnamon

1/4 teaspoon

ground nutmeg

1 teaspoon

vanilla extract
Instructions
Add the butter to pot or large skillet over medium heat. Once the butter is melted, add the apples and brown sugar and stir. Cook the apples in the butter and brown sugar for 5 minutes until softened.
Carefully pour in the bourbon (turn off the flame if you have a gas stove) stir, and simmer for 5 minutes to cook out the alcohol. Add the water, salt, cinnamon, nutmeg and vanilla extract and cook on low heat for 10 minutes.
Pour the applesauce into a large bowl and let cool slightly. Mash with a potato masher until you have the texture that you like. Let the applesauce cool to room temperature and then store in a covered container in the refrigerator for up to 10 days.
Recipe Notes
If you don't want to use the bourbon in this recipe just substitute the liquid with apple juice or water.
Category:

Side Dish

Method:

Stove Top

Cuisine:

American
Keywords: mantitlement, homemade applesauce, bourbon applesauce, apple bourbon, holiday sides, applesauce recipe