Steak Fajitas are so easy to make at home! After the steak marinates, this delicious, restaurant quality dinner is done in just 15 minutes!
For this steak fajita recipe, we're using our Fiesta Steak Marinade that has lots of fresh garlic, lime juice and cilantro. All perfect flavors for a delicious Tex-Mex dinner!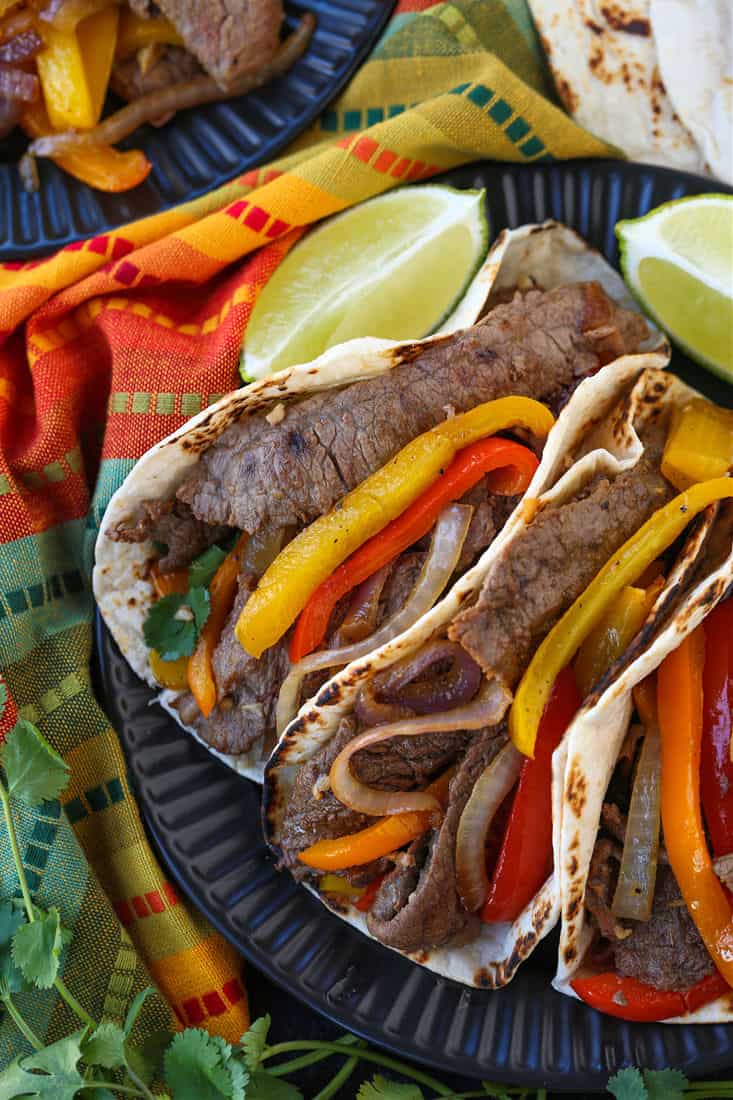 How To Make The BEST Steak Fajitas!
Listen guys, we know that going out to your favorite Mexican restaurant and getting that sizzling hot skillet of steak or chicken fajitas is pretty much the best thing ever. Believe me, we feel you.
But if you want to make Steak Fajitas at home, this recipe is going to be the closest that you're going to get to that restaurant quality meal. Of course, you can use this same marinade and swap out chicken or pork – that will also be delicious – or a combo of all three!
The key to making these steak fajitas taste like they came from a restaurant is letting the steak marinade overnight. Not only does the marinade flavor the beef but it tenderizes the meat wonderfully. Another tip is to get your skillet screaming hot so that you get a tasty, brown char on the meat and vegetables.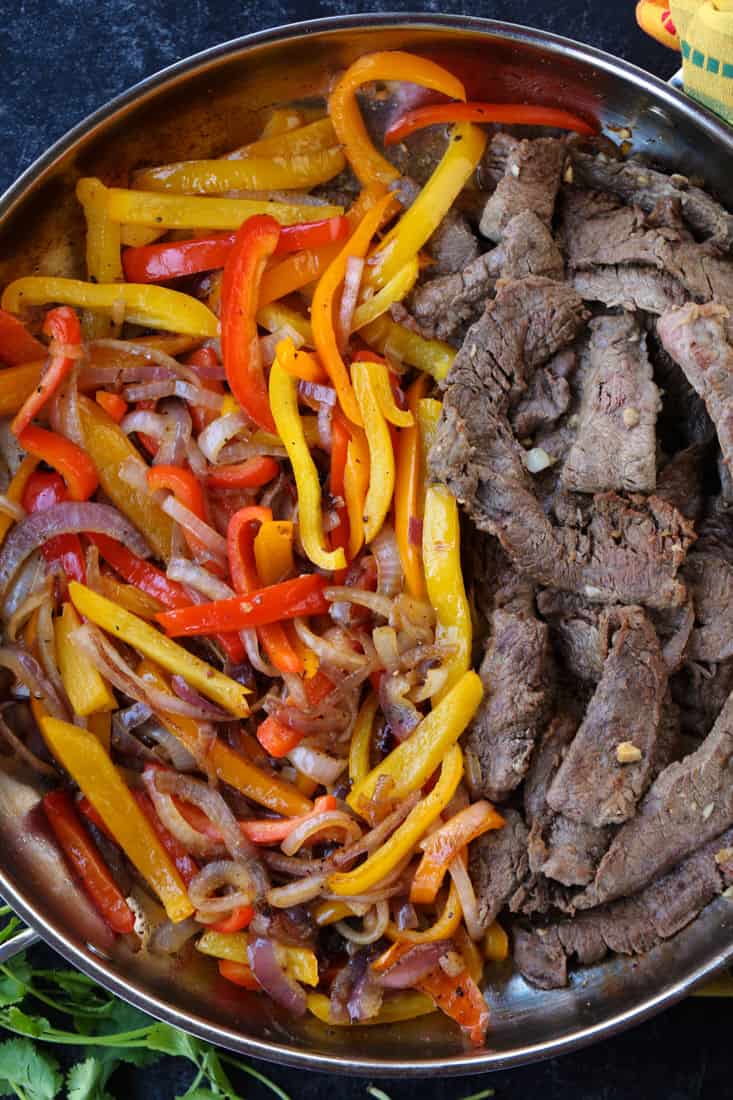 Do I Have To Use A Cast Iron Skillet?
Nope. Of course if you have one, use it. You'll get a delicious char on the steak and peppers using a cast iron skillet as those pans can really take the heat. But just to show you guys that you don't have to run out and buy a special pan if you don't have one, we used a good quality stainless steal skillet and got the same results.
Does It Matter Which Color Bell Peppers I Use?
Again, not really. It's all about your flavor preference. My boys don't love green peppers so I stick to the yellow, orange and red ones. As far as the onion in this steak fajita recipe, we used a big red onion but again, you can use white or yellow, too.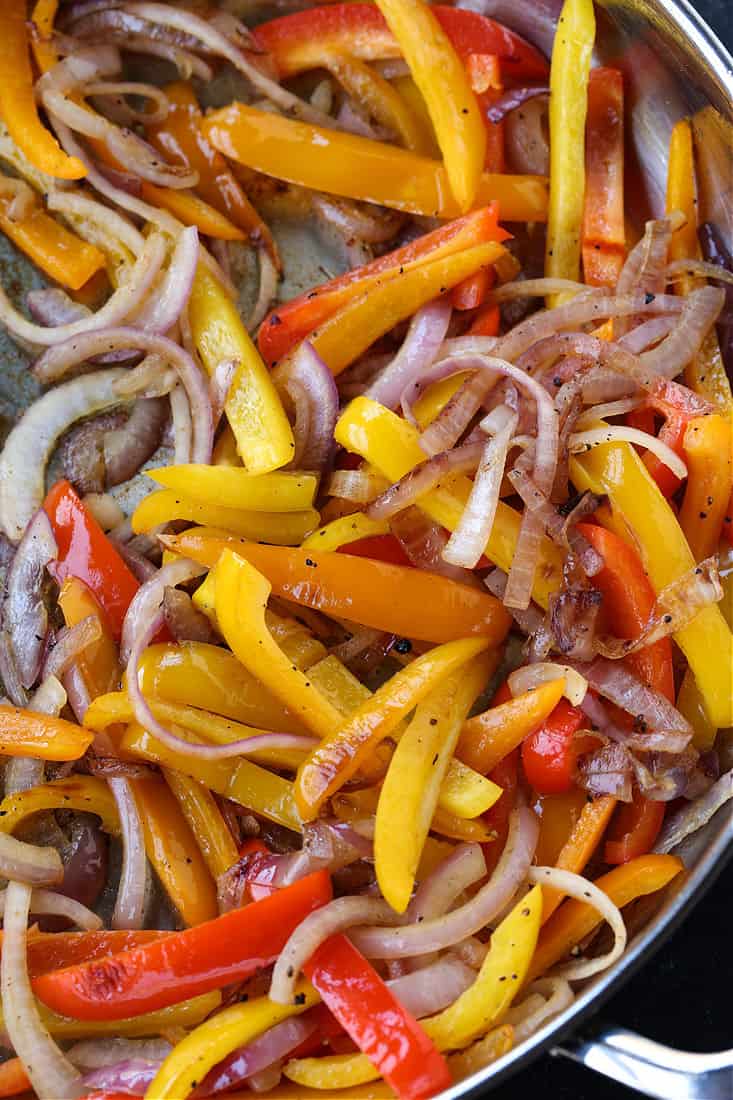 What's The Best Type Of Steak To Make Steak Fajitas?
Flank steak is our go to for this fajita recipe, but there are other options, too! Skirt steak, hanger steak and even a good quality sirloin would all be nice options. I say good quality for using a sirloin because lower priced sirloin tends to be tougher, so spend a little bit more to get a prime sirloin and slice it super thin.
Again, you can easily swap out chicken or pork for this fajita recipe, too. Just slice the chicken or pork, add it to the same marinade. Chicken or pork might need a little more time in the skillet to cook, depending on how thinly it's sliced.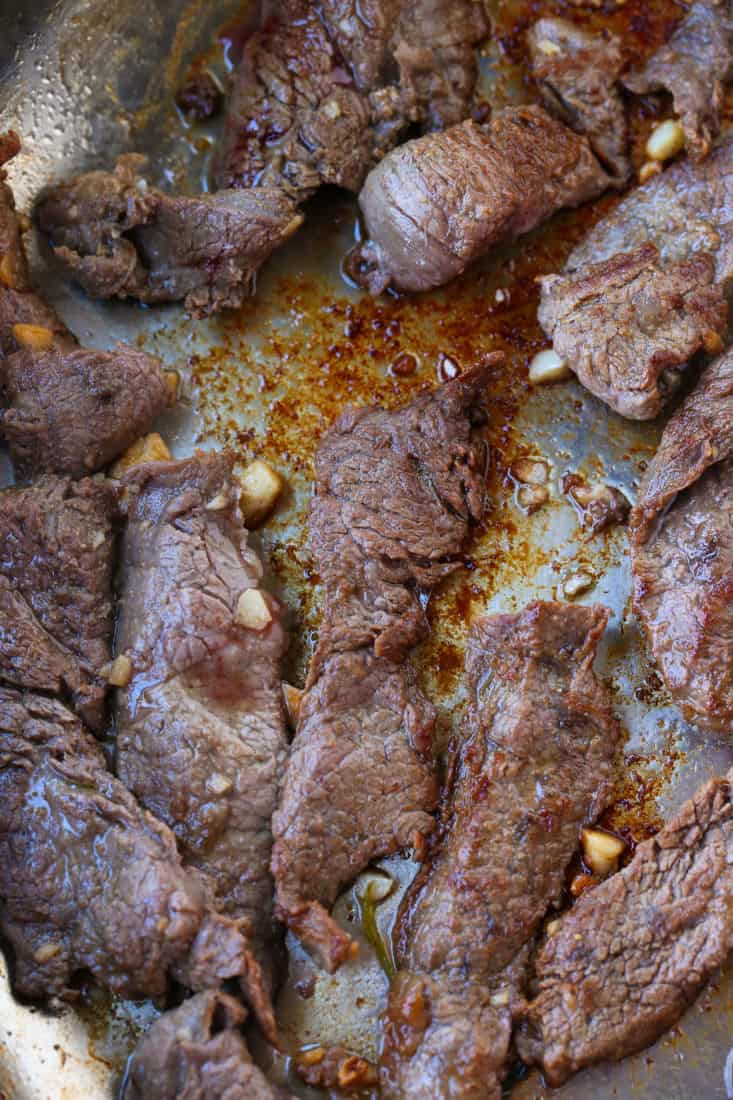 The steak will only need to cook for a minute or two on each side since it's sliced thin. That's why you want your skillet super hot so that it sears quickly on both sides. If your skillet isn't hot enough, you'll have to cook it longer to get a good sear, resulting in over cooked, tougher meat.
How Do You Serve Fajitas?
Grab flour tortillas, a few limes, sour cream and if you're like us, you gotta have the guacamole! Hopefully, you have a gas stove and you can put a nice char on your tortillas like we did here.
Alternately, you can heat up a non stick or cast iron skillet and get the same results. Doing this heats up the tortillas but the char also adds that restaurant quality flavor!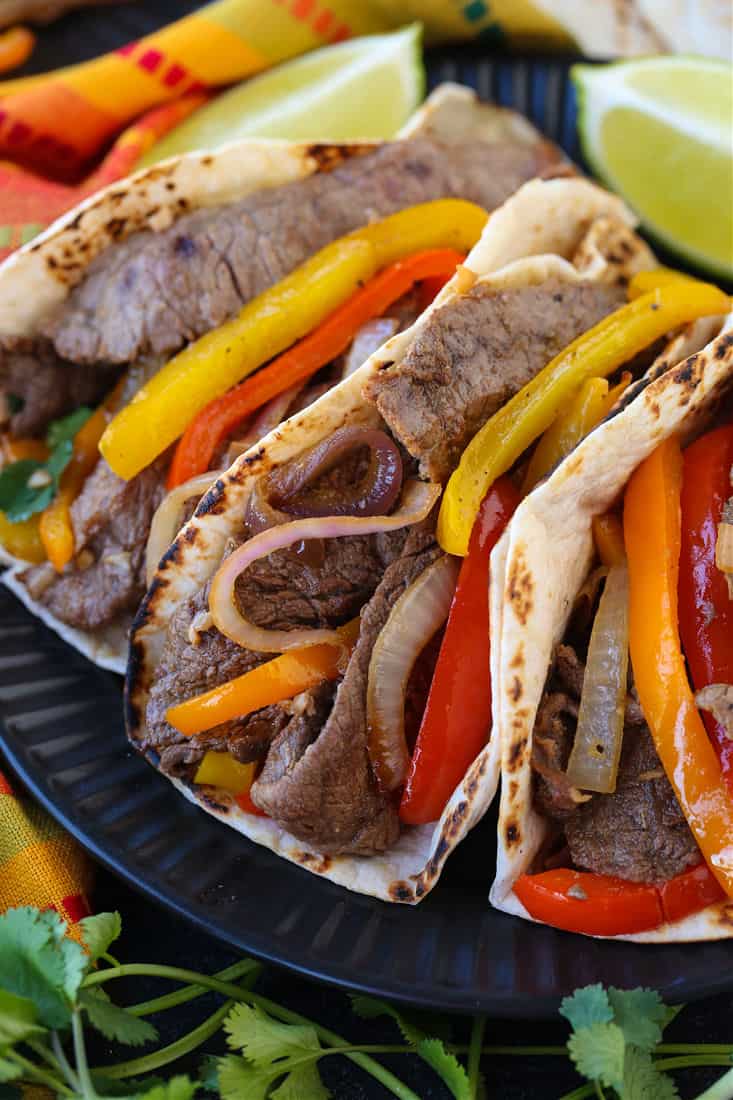 Can I Make Steak Fajitas Ahead Of Time?
Definitely! This is such an easy diner recipe that you can really have it done in about 15 minutes. However, if you're like me and just have most of your energy during the day, or need to meal prep for the week, these steak fajitas can easily be made ahead of time.
The microwave will do the trick just fine as far as reheating, but you can also grab a portion of the steak, onions and peppers and reheat them in a hot skillet to get that same sizzling effect!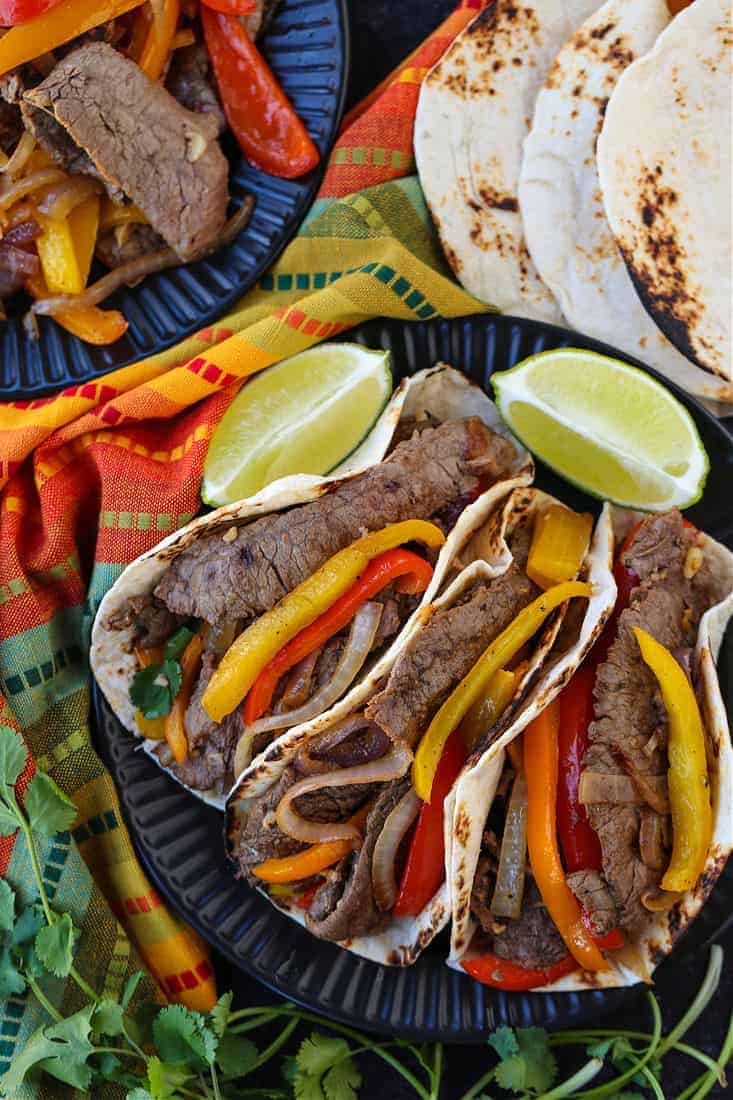 Looking For More Easy Dinner Recipes?
Print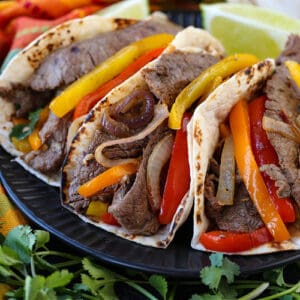 Steak Fajitas
Author:

Prep Time:

8 hours (for marinating)

Cook Time:

15 minutes

Total Time:

8 hours 15 minutes

Yield:

6

Servings

1

x
You don't need to head out to a restaurant to make delicious Steak Fajitas right at home! The marinade for the steak is one of our favorites, and after marinating this dinner recipe can be on the table in 15 minutes!
Scale
Ingredients
1 1/2

–

2

pound flank steak, skirt steak or hanger steak

2 tablespoons

olive oil, divided

3

bell peppers, sliced

1

large red onion, halved and sliced
Kosher salt and fresh black pepper to taste
Flour tortillas for serving
Instructions
Slice the steak into thin strips and add it to a glass dish or a resealable bag along with the ingredients for the Fiesta Steak Marinade. Marinate the steak for at least 8 hours or up to overnight.
Remove the steak from the marinade and place on paper towels. Use the paper towels to dry most of the marinade from the steak and set aside.
Heat a large skillet over medium-high to hight heat, depending on what type of skillet that you're using (see note). Add 1 tablespoon of the oil to the skillet along with the peppers and onions and then season with salt and pepper to taste. Cook for 7-8 minutes until the vegetables have softened and they have a slight char. Remove the peppers and onions from the skillet to a bowl and cover with foil to keep warm.
Carefully wipe out the skillet and add the other tablespoon of olive oil. Make sure that the skillet is hot again before adding the steak, then add the steak in a single layer, being careful not to crowd the pan. (You might need to do this in two batches depending on how big your skillet is.) Brown the steak for just a minute or two on both sides and then add the peppers and onions back to the skillet. Stir to combine and serve with flour tortillas (see note).
Recipe Notes
A cast iron skillet will handle high heat, as a good quality stainless steal skillet will. If you're using a non stick pan, stick to a medium to medium high heat.
Char the flour tortillas right on your gas stove to get a good color and flavor. If you don't have a gas stove, add the tortillas to a dry skillet and toast on both sides.
Alternately, you can grill the flank steak whole and then slice into thin strips.
Category:

Dinner

Method:

Stove Top

Cuisine:

American
Keywords: mantitlement, steak fajitas, fajitas recipe, recipes with steak, recipes with flank steak, easy dinner recipes