These Garlic Parmesan Steak Bites are seriously addicting! Tender bites of steak quickly seared and then tossed in our famous garlic parmesan sauce. A fast cooking appetizer or dinner that will have everyone coming back for seconds.
Serve these steak bites for appetizers or for dinner with a side of French Fries or a giant buttery mound of Mashed Potatoes to scoop up all the delicious, garlic butter sauce!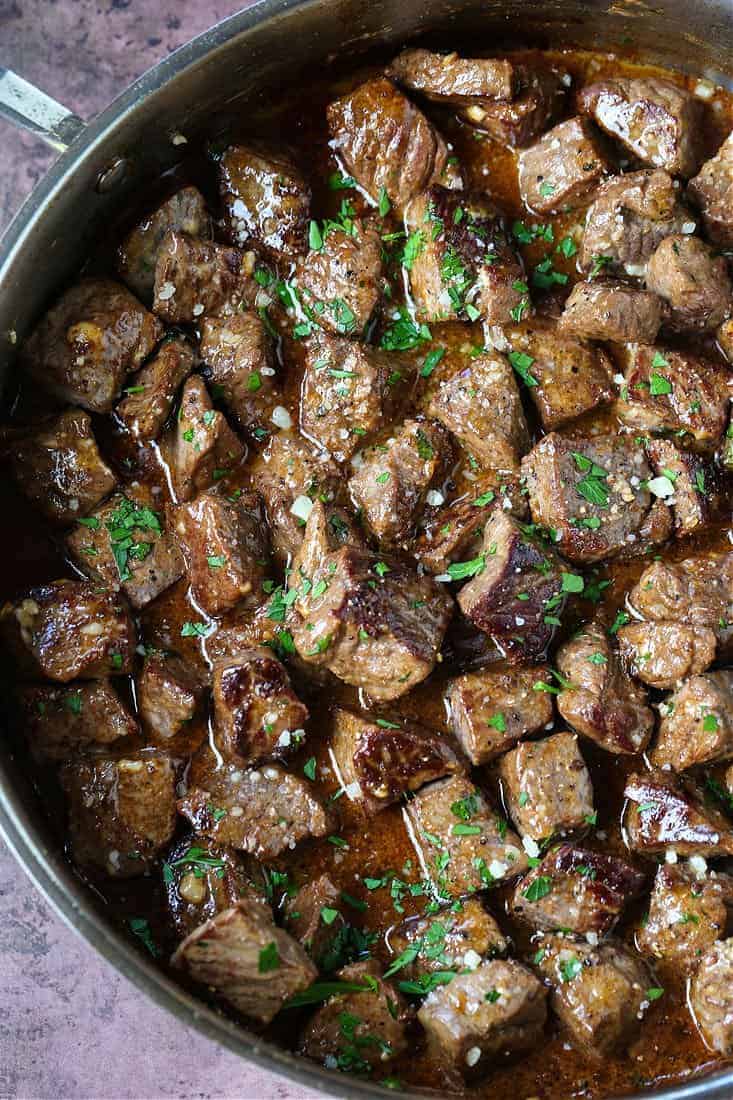 Super Addicting Garlic Parmesan Steak Bites!
We are definitely a steak and potato family. Although we do love our greens and veggies, give us our meat and carbs and we'll be good to go. These Garlic Steak Bites come from a special place in our heart.
This is the kind of appetizer recipe that we break out to celebrate a game win, a birthday or holiday, or just for a fun happy hour at home with friends. Although these steak bites can be served for dinner too! Just add a few sides and dinner is done.
What could be better than these addicting, tender bites of steak tossed in the most addicting garlic parmesan butter sauce?
How To Make Steak Bites
For this steak bites recipe, we're using our super popular garlic parmesan butter sauce that we also use to make our Garlic Parmesan Chicken Wings. Often you'll see steak bite recipe that are simply tossed in garlic and butter, but we kicked it up even further here for you.
Making this garlic parmesan butter sauce is super simple, but it does need to be assembled right before serving.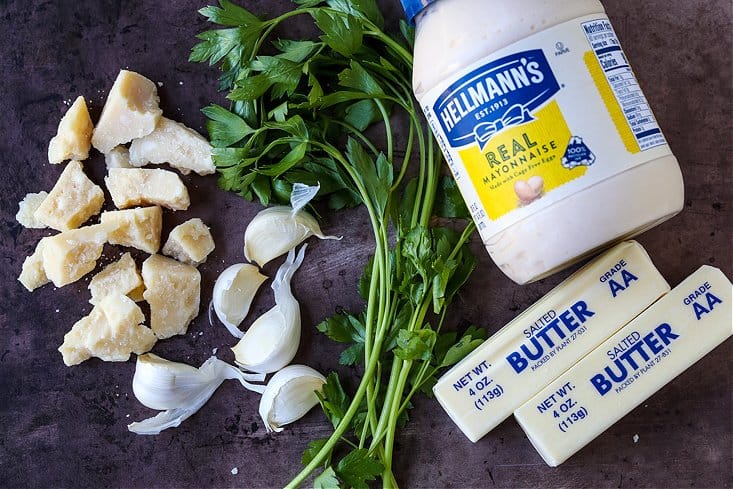 Ingredients For The Sauce:
Mayonnaise: I know it might seem strange but yes, mayo. Mayonnaise makes this sauce so creamy and flavorful and also gives it some body. Grab your favorite brand of mayonnaise, any brand will do but do make sure to use regular, full fat mayonnaise for this recipe as a low fat or fat free version will cause the sauce to break easier.
Butter: Don't freak out on me guys, but we need two sticks of butter here. Melted and cooled. However, you probably won't need all the sauce to coat your steak bites, so you can save it for another use. Maybe grab yourself a few chicken wings!
Garlic: Of course you're going to need a lot of fresh garlic to make the best garlic butter sauce! Definitely use fresh garlic, not jarred or garlic paste from a tube (we love that stuff for many recipes like these Teriyaki Meatballs,but for this garlic butter sauce you need fresh garlic so get chopping!)
Good Quality Parmesan Cheese: So no stuff from the can for this recipe. Again, when you're making a sauce recipe like this one that only has a few ingredients, you need to make sure they are all top quality ingredients. A nutty, Parmigiano-Reggiano or a Grana-Padano are two of our favorites.
Fresh Parsley: OK, you know I'm going to say it! Yes, fresh parsley please. Not dried for this sauce recipe. That fresh pop of flavor that real parsley brings to this garlic butter sauce is a must.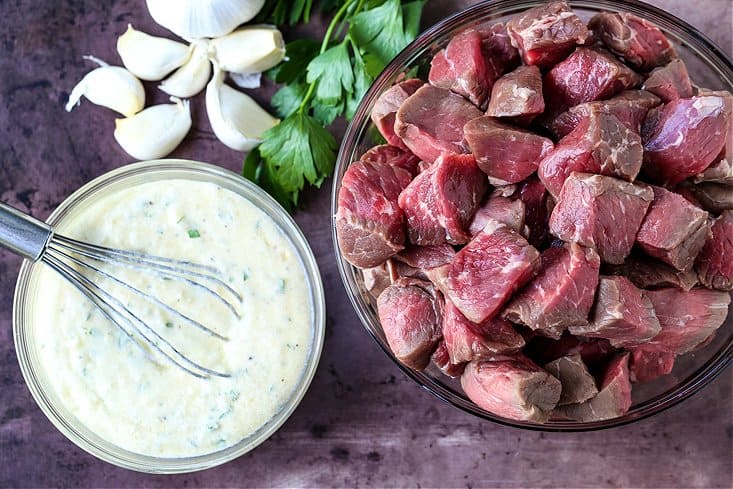 How To Properly Sear Steak
There are a few tips to properly searing a steak, whether it's a steak bite recipe like this one or a whole steak like this New York Strip Steak recipe.
Let The Steak Come To Room Temperature: Just about 30 minutes is all you need, but it makes a big difference. Super cold steak going into a pan will make the muscle fibers tense up, causing the meat to be tough. Also, allowing the steak to come to room temperature helps to ensure that the meat cooks evenly.
Get The Right Pan: Choosing the right pan will make a huge difference in getting that perfect sear on your steak. Cast iron is a great option because it holds a high heat, but if you don't have a cast iron pan a stainless steel skillet is another great option. A non-stick skillet would be the last option because you can't heat a non-stick skillet to a super high temperature. But if it's the only choice you have just heat the pan to a medium-high heat and follow the rest of the tips we have here.
Heat The Skillet Properly: You need to heat your pan to a fairly high temperature to get that perfect sear, so taking the tips above, heat your skillet to a high heat or a medium high heat, as much as your skillet will allow!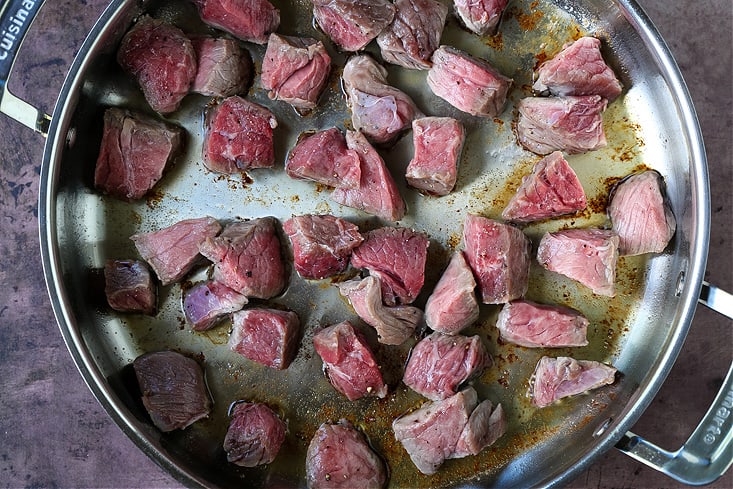 Give The Steak Some Room: Make sure that you sear your steak bites in batches like we've done here. If you crowd the pan then the steak won't sear properly, giving you that beautiful, addicting crust.
Leave It Alone: Don't keep turning your steak bites and moving them around. Once you get them into the pan, leave them alone to form that crust for at least 3 minutes. If you try to turn a piece of steak and it's stuck to the pan, let it go for another minute or so until the meat releases from the surface.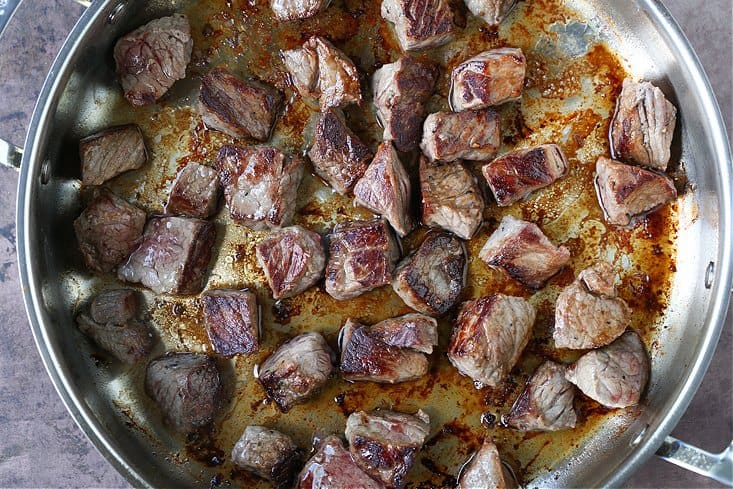 Why Is This The BEST Steak Bites Recipe?
Because instead of just a garlic butter sauce, we're adding a garlic parmesan butter sauce. Stay with me you guys, I'm telling you, this is the only steak bites recipe you'll ever want to make.
Once the steak bites are seared, add a few scoops of the garlic parmesan butter sauce to the hot skillet and toss together with the steak bites. The sauce will melt into the skillet and coat the bites of steak so beautifully, you'll be looking for a piece of bread to start sopping it up.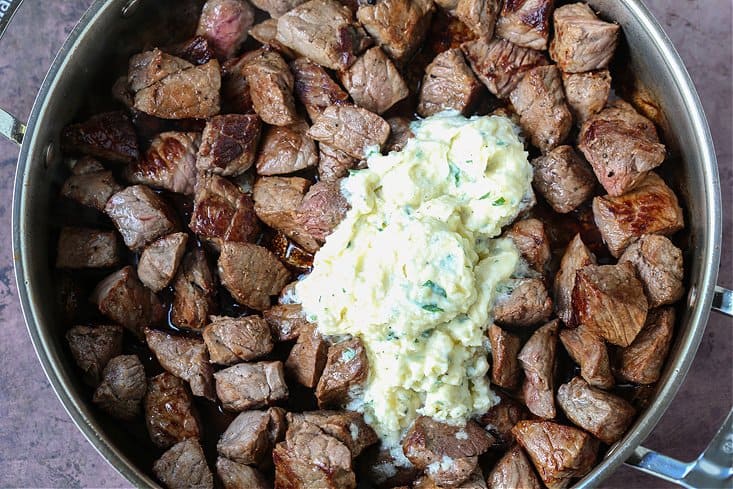 What Can I Serve With Steak Bites?
Depending on whether your serving these Garlic Parmesan Steak Bites for appetizers or for dinner, there are several options! If you're serving these steak bites for appetizers, the only thing we'd suggest is getting lots of bread for sopping up all the sauce. Other than that a few toothpicks is all you need!
But if you're making these steak bites for a lucky crew for dinner, we've got the perfect side dishes for you!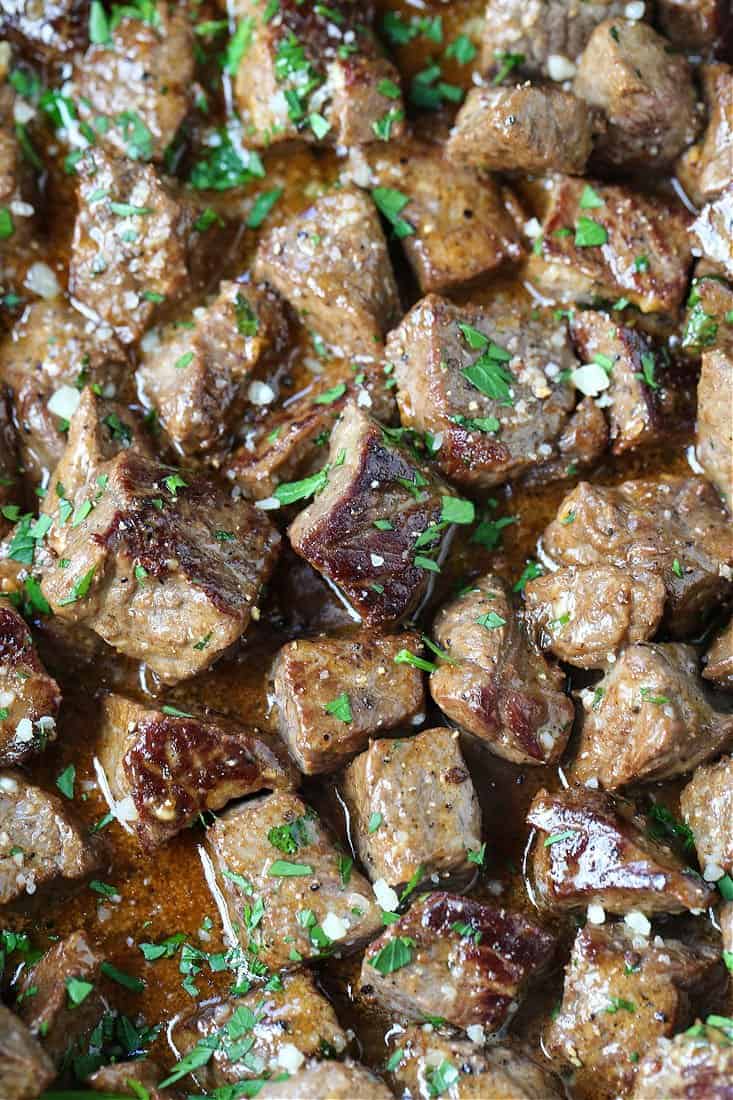 Can I Make This Steak Recipe Ahead Of Time?
This steak bite recipe is best when made right before serving. But that doesn't mean that leftovers aren't delicious! The sauce will tighten up in the refrigerator, but you can warm up leftovers in a 350 degree oven or back on the stove top.
Microwaving is our last choice for warming up this steak as the microwave tends to toughen up meat. But we all know there are those late night moments when only the microwave will do!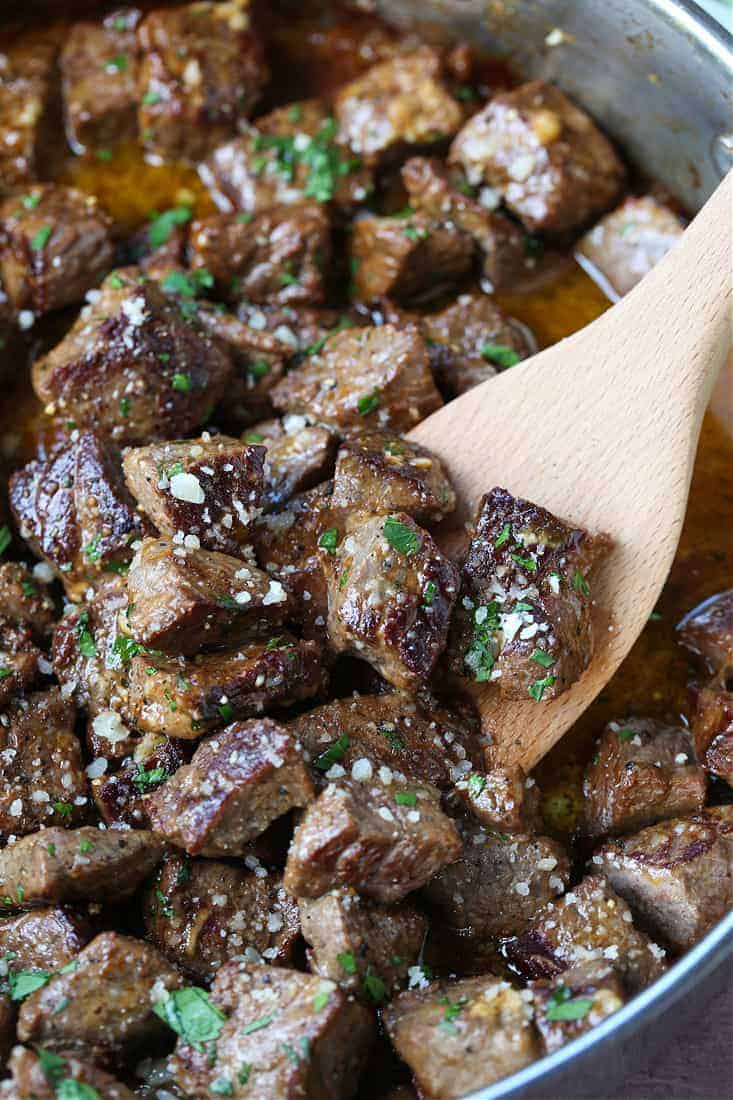 Looking For More Steak Recipes?
Print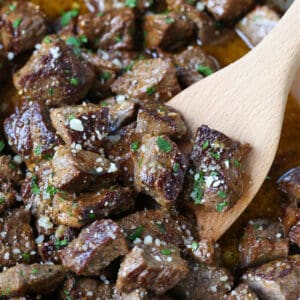 Garlic Parmesan Steak Bites
Author:

Prep Time:

10 minutes

Bringing the steak to room temperature:

30 minutes

Cook Time:

15 minutes

Total Time:

55 minutes

Yield:

6

Servings

1

x
These Garlic Parmesan Steak Bites can be served as appetizers or for dinner! Tender cubes of steak, quickly seared and tossed in our famous garlic parmesan sauce!
Scale
Ingredients
2 1/2

pounds top sirloin (see note*)
Kosher salt and fresh black pepper for seasoning the steak

4 tablespoons

butter, plus more as needed
For The Garlic Parmesan Sauce:
2

sticks of butter, melted and cooled

2 tablespoons

chopped garlic

3/4 cup

grated parmesan cheese, plus more for topping

1/2 cup

mayonnaise

1 teaspoon

kosher salt

1/2 teaspoon

black ground pepper

2 tablespoons

chopped parsley
Instructions
Remove the steak from the refrigerator 30 minutes before cooking to let the steak come to room temperature. Cut the steak into small cubes, slightly bigger than bite sized, and then season generously with salt and pepper.
Heat a cast iron or a stainless steel skillet over medium-high heat. Once the pan is hot, add 2 tablespoons of butter and swirl around the pan quickly so the butter doesn't brown too much. Once the butter has coated the pan, add the steak in a single layer leaving room around the pieces to properly sear. (See the post for more instructions on properly searing the beef) Cook the steak for 2-3 minutes and then test with a tongs to see if it's releasing from the pan. If the steak is sticking to the surface, give it another minute to let it release. Turn the steak bites to the other side and let them cook for another 2-3 minutes until the second side gets a nice crust.
Remove the steak bites from the skillet to a bowl or deep plate and tent loosely with foil. Carefully wipe out the skillet and then add the remaining 2 tablespoons of butter and repeat the searing process with the remaining steak. When the second batch of steak is done, add the the bowl with the other steak bites and keep covered with foil.
Make garlic parmesan butter sauce by whisking together all the ingredients in a boil.
Add all the steak bites back to the skillet, now over low heat, and add in a few scoops of the garlic parmesan butter sauce. NOTE: You will not need all of the sauce – add it in a few spoonfuls at a time until you get the consistency that you like. Remaining sauce can be kept in the refrigerator for up to 3 days. Toss the steak bites in the sauce and let gently simmer for just about a minute or two to warm up the sauce.
Serve these Garlic Parmesan Steak Bites right from the skillet, or transfer to a serving dish. Top with more fresh parsley and parmesan cheese if desired.
Recipe Notes
You can use a few different types of steak for these steak bites, top sirloin is our go to mainly because it's affordable and also delicious. But you can also use different cuts of steak like strip steak, rib eye and even tenderloin steak (aka filet mignon)!
Category:

Appetizers

Method:

Stove Top

Cuisine:

American
Keywords: mantitlement, steak recipes, steak bites, garlic parmesan sauce, how to sear steak, low carb recipes, party food, game day food