One bite of these easy Fiesta Steak Tips is all you need to turn any dinner into a party! Marinated, tender beef tips that are seared until crispy!
Low carb recipes like these marinated steak bites are golden! Also try our famous Whiskey Marinated Flank Steak! Or if you want to make a whole steak on the grill, use this Fiesta Steak Marinade on flank steak or skirt steak!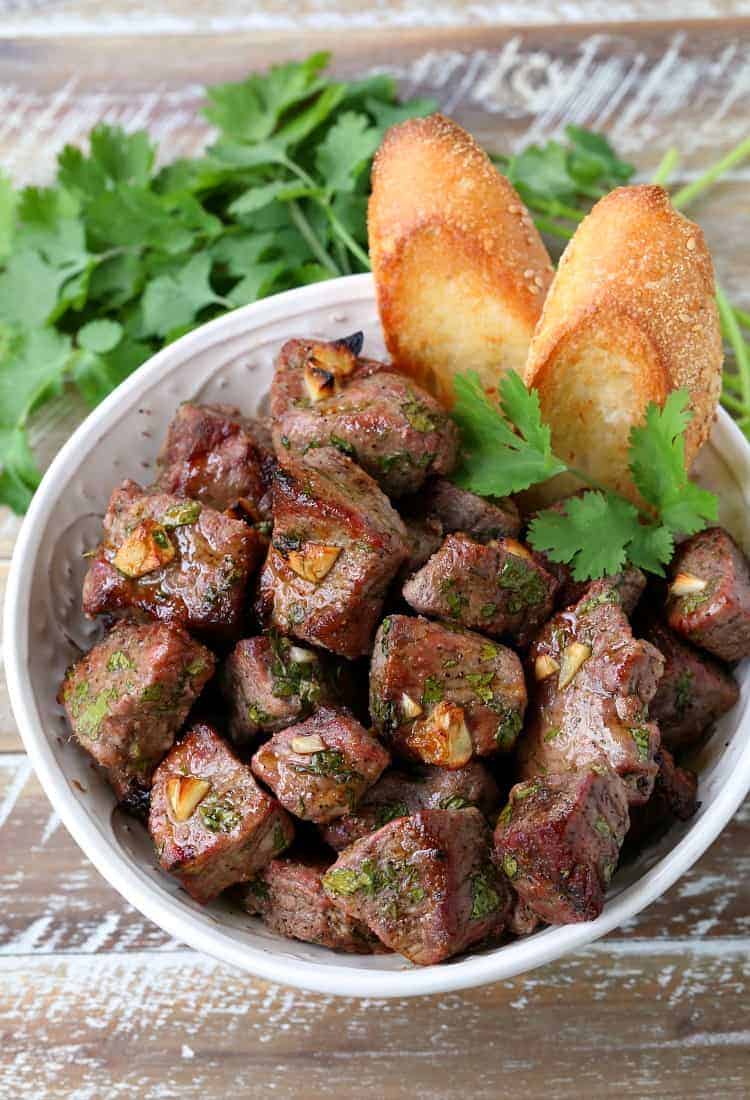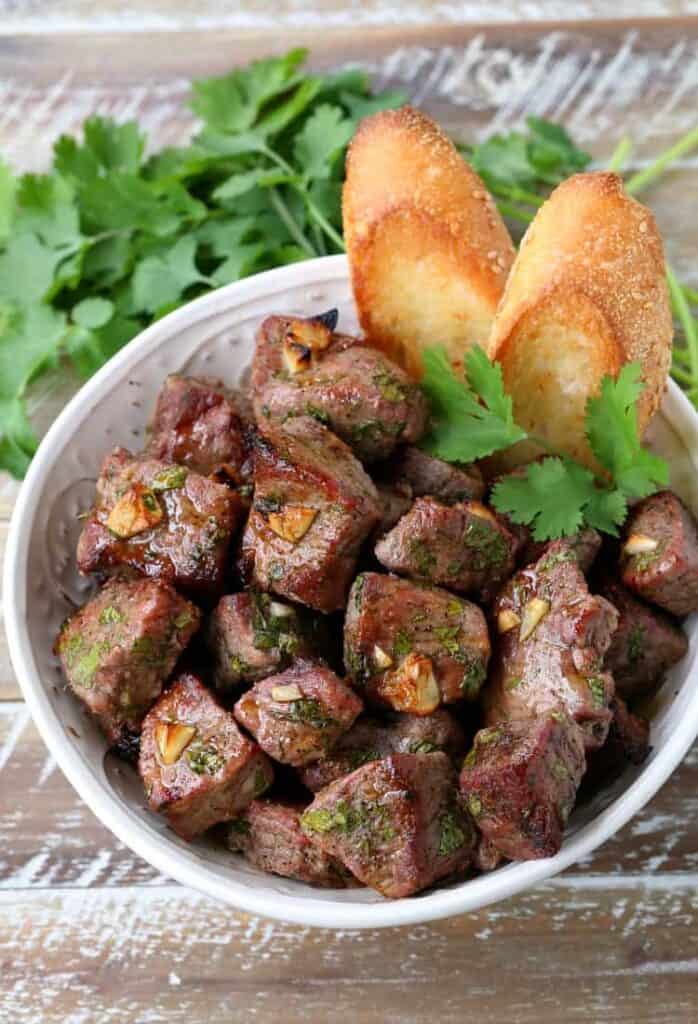 One Of My Favorite Low Carb Dinner Recipes
As you know by now if you're a reader of the blog here…I'm a big fan of beef. I think it actually should be included in most recipes. These Fiesta Steak Tips are on my top ten low carb dinner recipe, not only because of how they taste but they are so easy to make!
When I got invited to this "Meat Retreat" by the New York Beef Council I knew it was the perfect day for me. I got to learn about the entire life cycle of beef and how it eventually ends up on our plates, how to butcher different cuts of meat and also got to eat a little.
And at the end of the day they handed me a giant bag of meat to take home with me to enjoy. I'm telling you, this thing was BIG. All different cuts of meat, steaks, beef tips, filets. It was pretty impressive, and since then we've made killer recipes, some low carb, some not but all supremely tasty.
Now here I am getting into the thick of it. Learning how to trim the fat off a cut of beef and how to properly portion each piece. I left with way more knowledge than I went in with – that much is certain.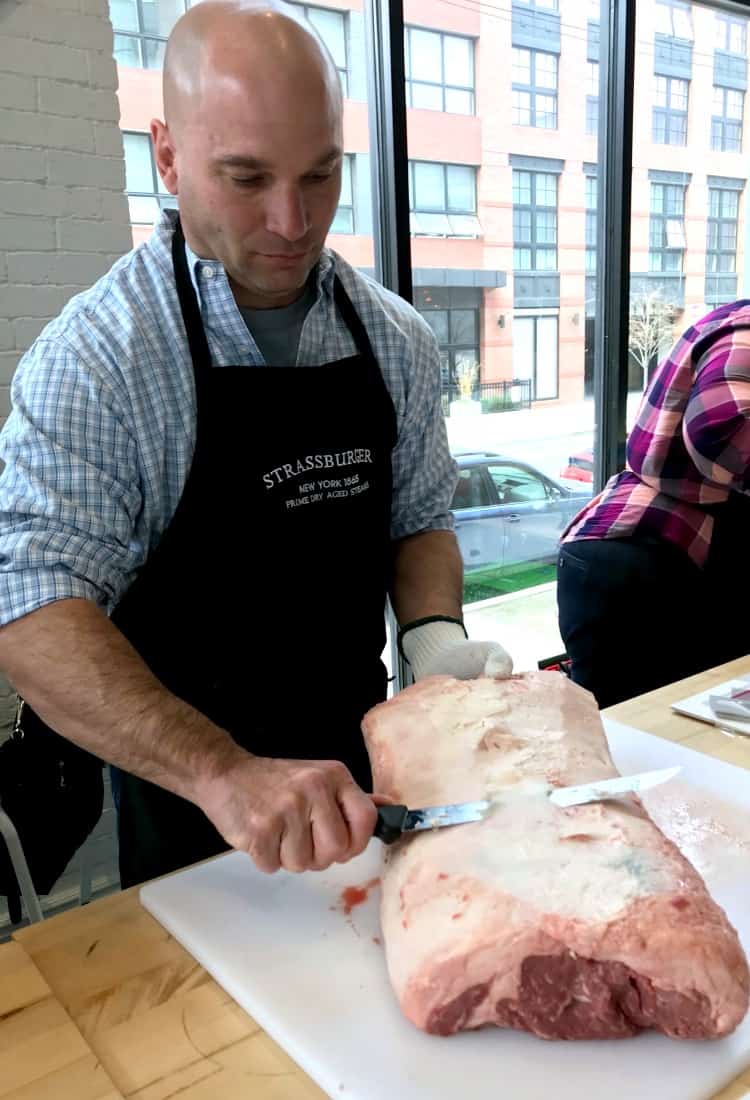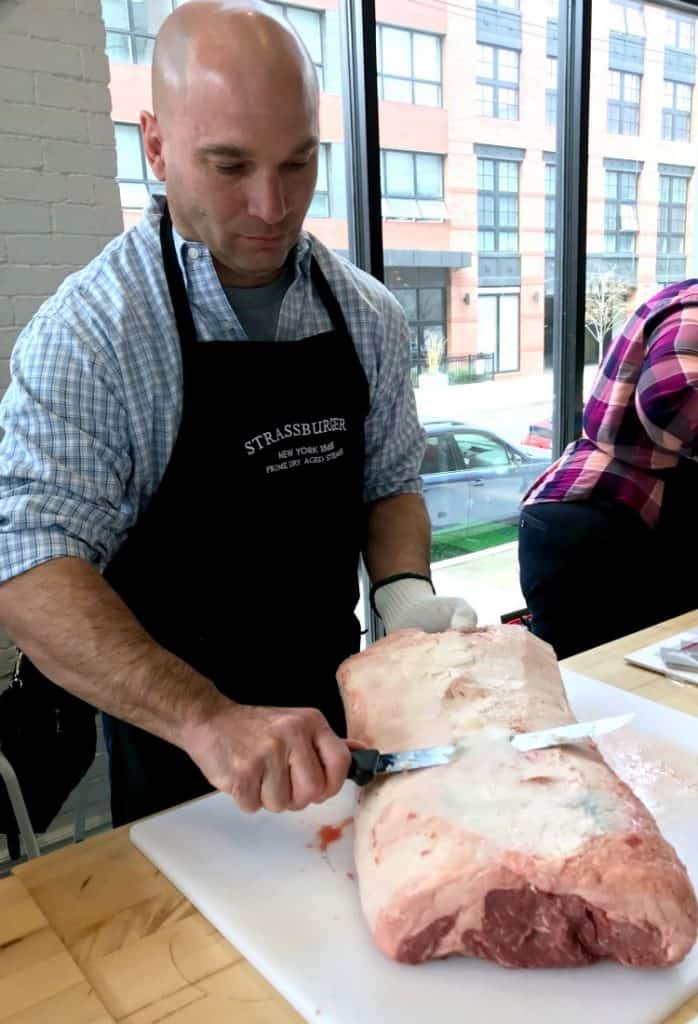 How To Make Fiesta Steak Tips
This recipe is so easy, you're going to be making these steak tips ALL the time. A healthy beef appetizer or dinner like this is a recipe for the books! Besides the delicious steak marinade, the best part about cooking this steak recipe is that you get a tasty, caramelized edge on all of the steak.
The flavor of those seared edges is out of control good.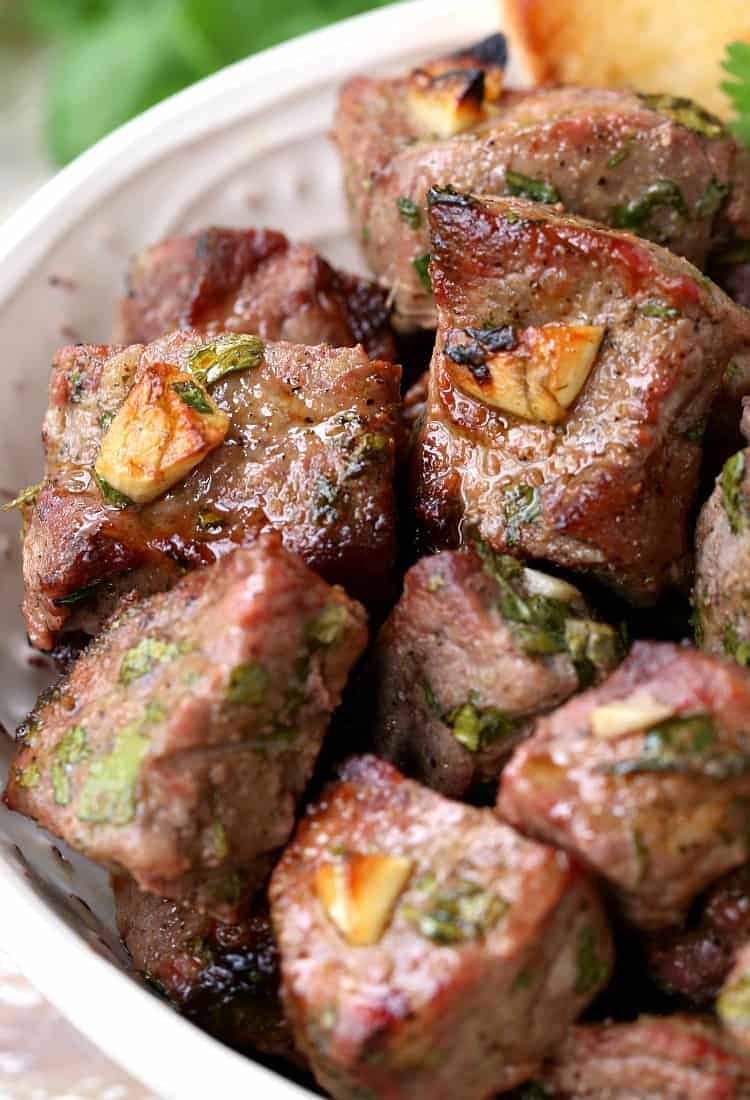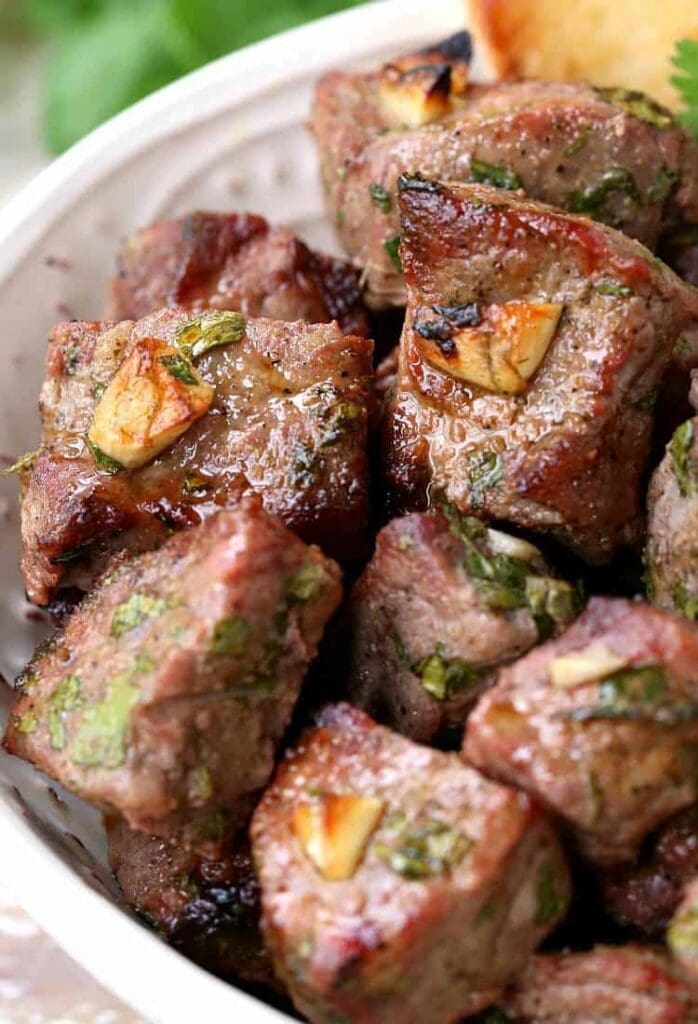 The marinade ingredients for these steak tips is just olive oil, lime juice, cilantro, cumin and garlic. Add the beef to the marinade and let it sit in the refrigerator for at least 8 hours or up to overnight. the longer the better for this steak recipe!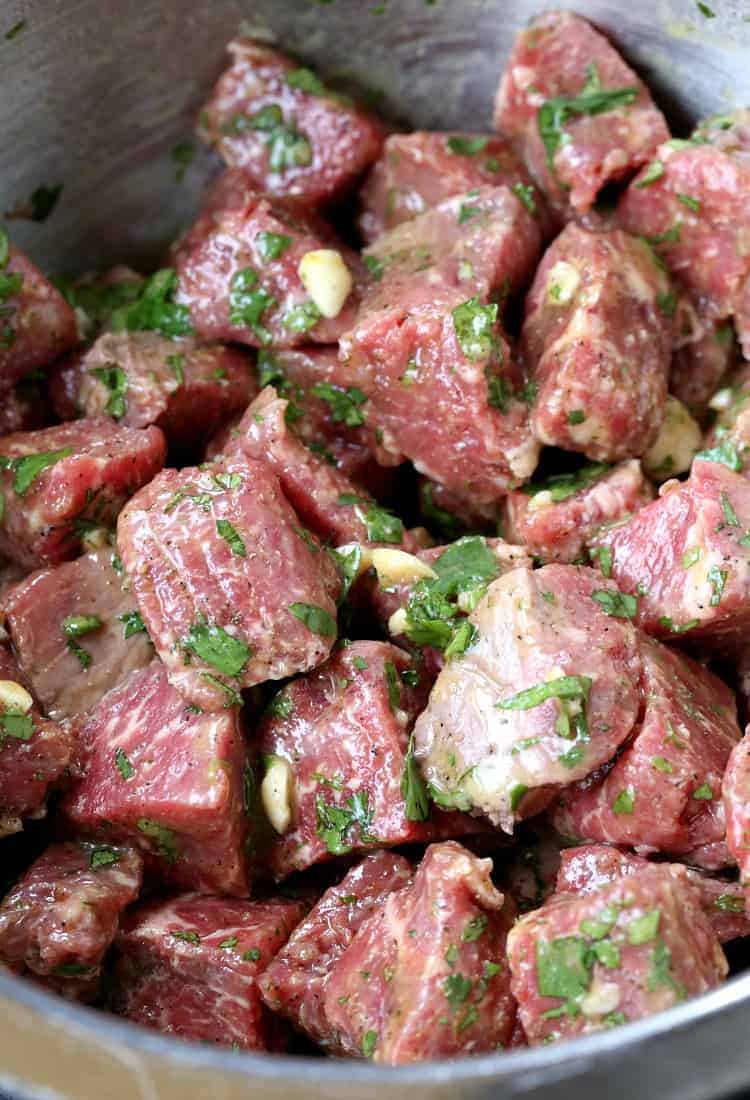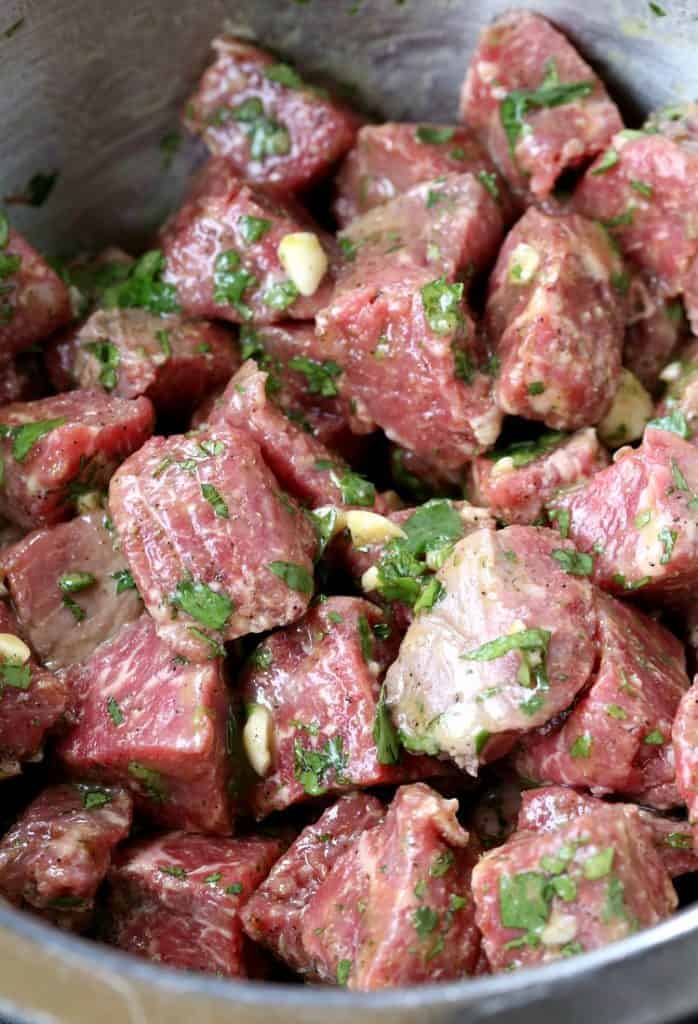 How Do You Cook These Fiesta Steak Tips?
There are two way that you can cook these steak tips (actually three) and I'll go over all of those with you. My preferred method is in a skillet. Cooking the steak in a hot skillet will give you the best sear on the steak, which is a super important part to the flavor.
You can also cook this recipe in the oven, a high oven, and then get them under the broiler for a minute or two to crisp up. Lastly, you can grill these steak tips too! If you're steak tips are cut smaller you can use a grill basket, or cut them a little bit larger and just get them right on the grill.
This Steak Recipe Is Perfect For Parties Or Everyday Dinners
One bite of these fiesta steak bites and you'll be in love. It's like a one bite piece of meat that explodes in your mouth! These are perfect for Cinco de mayo or any party you might be having.
Or if you don't have any parties coming up just make them for dinner with a side of potatoes and you'll have empty plates all around.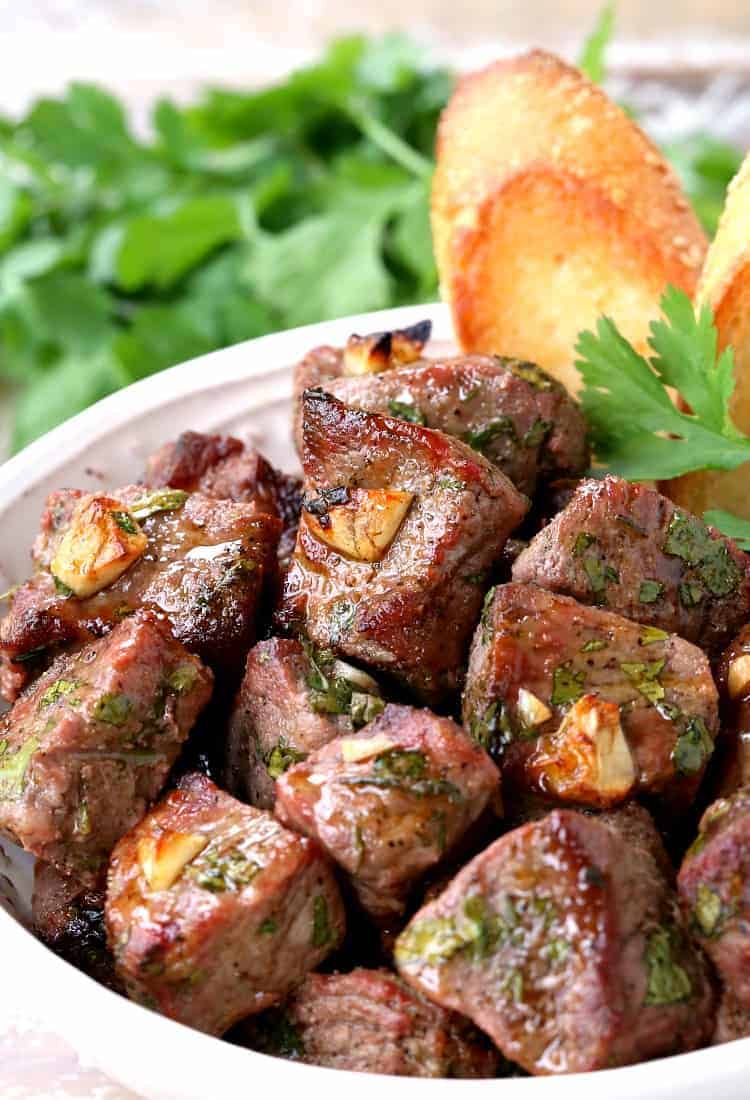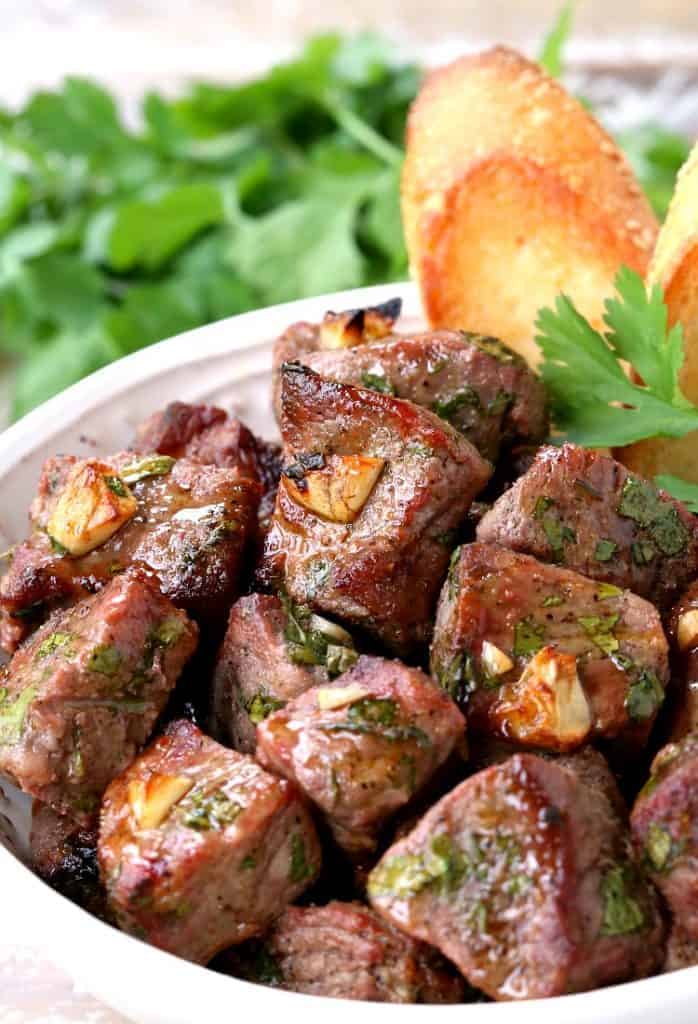 What Can I Serve Steak Tips With?
So it depends on if you are looking for a low carb meal or not. We'll give some options for both!
Low Carb Sides:
Carb Loaded Sides:
Looking For More Low Carb Recipes?
Print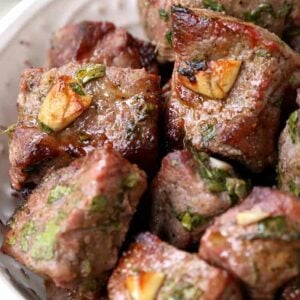 Fiesta Steak Tips
Author:

Prep Time:

8 hours (for marinating)

Cook Time:

10 minutes

Total Time:

8 hours and 10 minutes

Yield:

6

servings

1

x
These easy Fiesta Steak Tips are perfect as party appetizers or for dinner any day of the week! Super tender steak tips with an easy, Tex-Mex flavored marinade!
Scale
Ingredients
2

pounds beef tips *see note

1 teaspoon

cumin

1 1/2 teaspoons

kosher salt

1/2 teaspoon

black pepper

1/2 cup

olive oil

2 tablespoons

fresh lime juice

2 tablespoons

chopped garlic

1

small bunch of cilantro, left whole for easy removal from the marinade
Oil for cooking the steak (avocado, canola or vegetable oil)
Instructions
Add the beef tips to a large resealable bag or a glass dish.
Add the ingredients for the marinade to a small bowl and whisk to combine. Pour the marinade over the meat and stir to make sure that all the beef is coated in the marinade.
Marinate the beef in the refrigerator for at least 8 hours and up to overnight. The longer you marinade the beef, the more flavor it will have.
Remove the beef tips from the marinade and dry well with paper towels. Discard the remaining marinade.
Add a thin layer of canola, avocado or vegetable oil to a large skillet. You want the meat in a single layer and not touching, so use the largest skillet that you have, or brown the meat in batches.
Sear the beef on each for about 3-4 minutes until a crust forms. You'll want the beef to be medium, or medium rare so that it's not tough. Turn the beef tips over and sear on the other side for another 3-4 minutes. Remove to a platter and cover with foil. Let the steak rest for at least 5 minutes before serving.
Oven Method:
Preheat the oven to 450 degrees.
Place the beef tips on a baking sheet sprayed with cooking spay. Add the beef tips in a single layer, spaced apart. Cook for 5 minutes, then turn the beef tips over and cook for another 5 minutes on the other side. (See note)
Remove the beef to a serving bowl and pour any juices from the bottom of the baking sheet over the beef tips.
Serve immediately.
Recipe Notes
You can buy beef tips already cut up for you in most stores but if they aren't available buy a steak like a sirloin or a skirt steak and cut it up.
For the oven method, after the steak has cooked, you can place the steak tips under the broiler for 2-3 minutes to crisp up the edges if desired.
These steak tips will keep warm in a 250 degree oven for about an hour without overcooking too much.
Category:

Dinner

Method:

Stove Top/Oven

Cuisine:

American
Keywords: mantitlement, low carb recipes, low carb dinner, beef recipes, marinated steak, best marinated steak tips, steak tips oven, steak tips recipe, steak in oven recipe, recipe for steak tips
Thanks again to the New York Beef Council, Strassburger Steaks and Canada Cutlery Inc. for inviting me on this awesome #Beef Together Meat Retreat!