One bite of these easy Fiesta Steak Tips is all you need to turn any dinner into a party! Marinated, tender beef tips that are seared until crispy!
Low carb recipes like these marinated steak bites are golden! Also try our famous Whiskey Marinated Flank Steak! Or if you want to make a whole steak on the grill, use this Fiesta Steak Marinade on flank steak or skirt steak!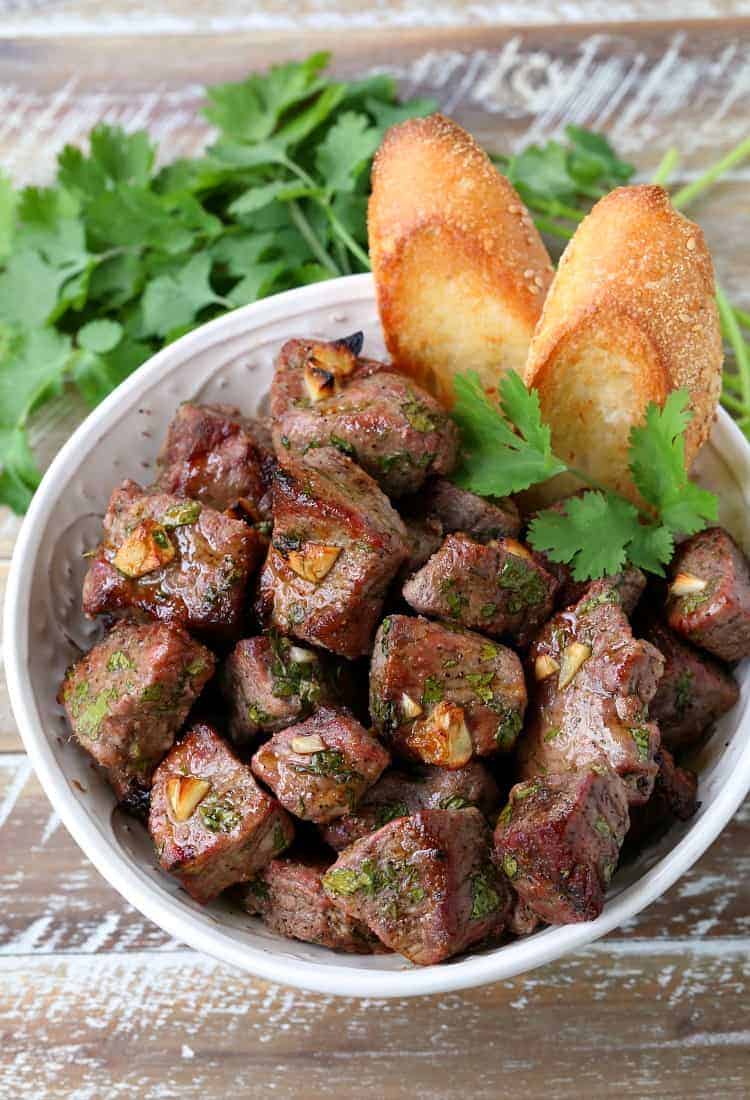 What Are Steak Tips?
Steak tips, like we use to make these Fiesta Steak Tips, are typically cut from sirloin but technically they can be cut from any part of the cow.
Other types of steak that can be used for steak tips are flank steak, tri-tip and even a beef tenderloin (filet). Depending on what cut of steak that you're using will depend on how tender these steak tips are going to turn out.
Marinating helps to tenderize tougher cuts of beef like sirloin. Also a hot skillet to sear the beef tips quickly will help keep them tender.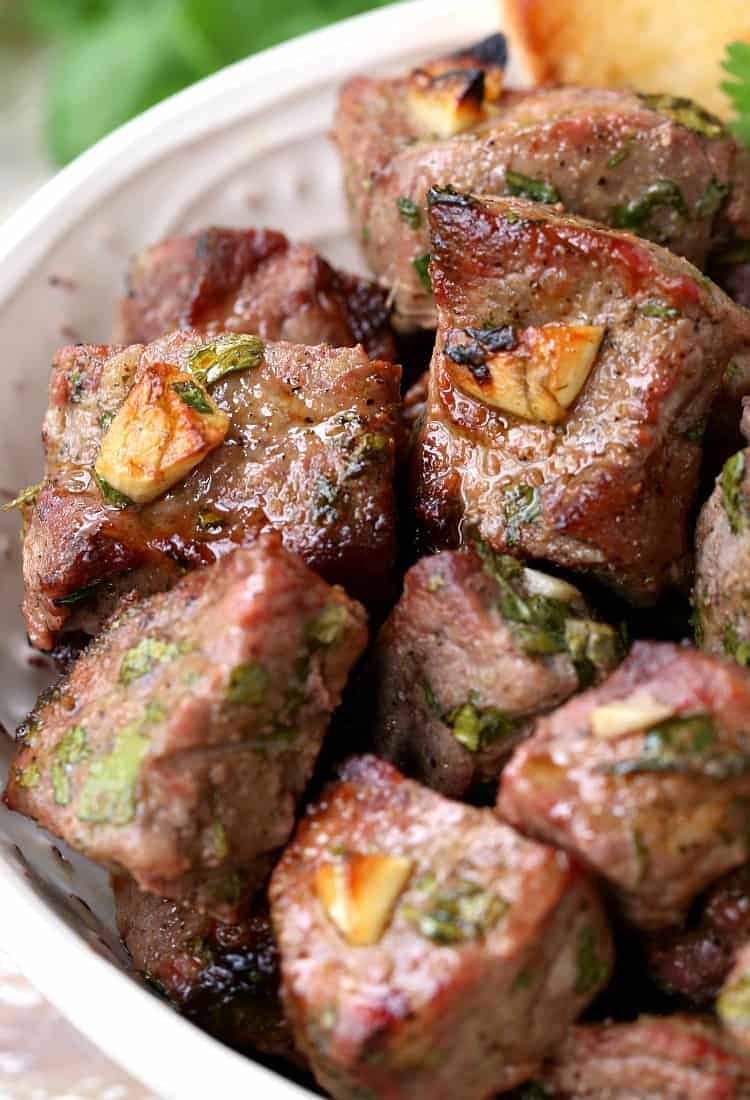 How To Make Steak Tips
This steak tip recipe is so easy, you're going to be making it ALL the time. A low carb beef appetizer or dinner like this is a recipe is one for the books!
These Fiesta Steak Tips get their name from a super flavorful marinade that we also use for our Steak Fajitas. The marinade has cilantro, cumin, lime juice, garlic and it's our of control delicious.
Make sure to give the steak plenty of time to marinate, we suggest at least 6 hours, to result in the most flavorful steak tips.
The marinade ingredients for these steak tips is just olive oil, lime juice, cilantro, cumin and garlic. Add the beef to the marinade and let it sit in the refrigerator for at least 8 hours or up to overnight. the longer the better for this steak recipe!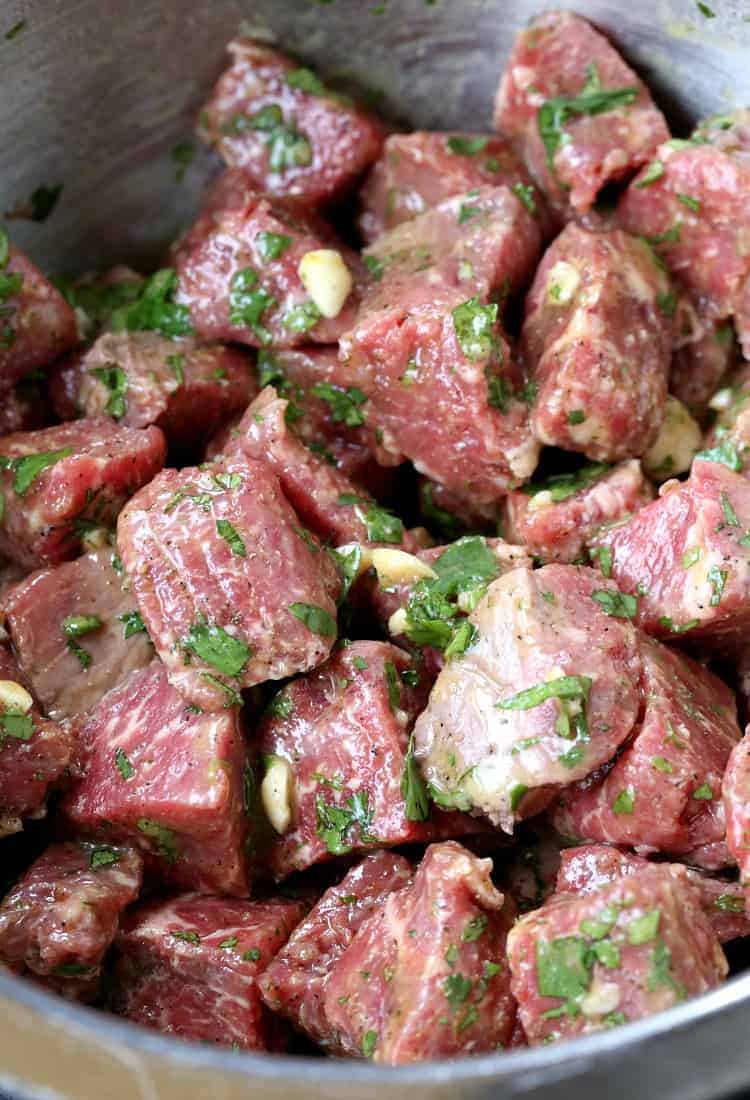 How Do You Cook These Fiesta Steak Tips?
There are a few ways that you can cook these steak tips and I'll go over all of those with you. My preferred method is in a hot skillet, but all of the methods here will result in delicious, juicy steak.
Cooking the steak in a hot skillet will give you the best sear, which is a such an important part to the flavor.
You can also cook this recipe in the oven, a hot oven such as 450 degrees for just 5 minutes. Then place the steak under the broiler for a minute or two to crisp up the outside. Use a rack as shown here for the best sear all around.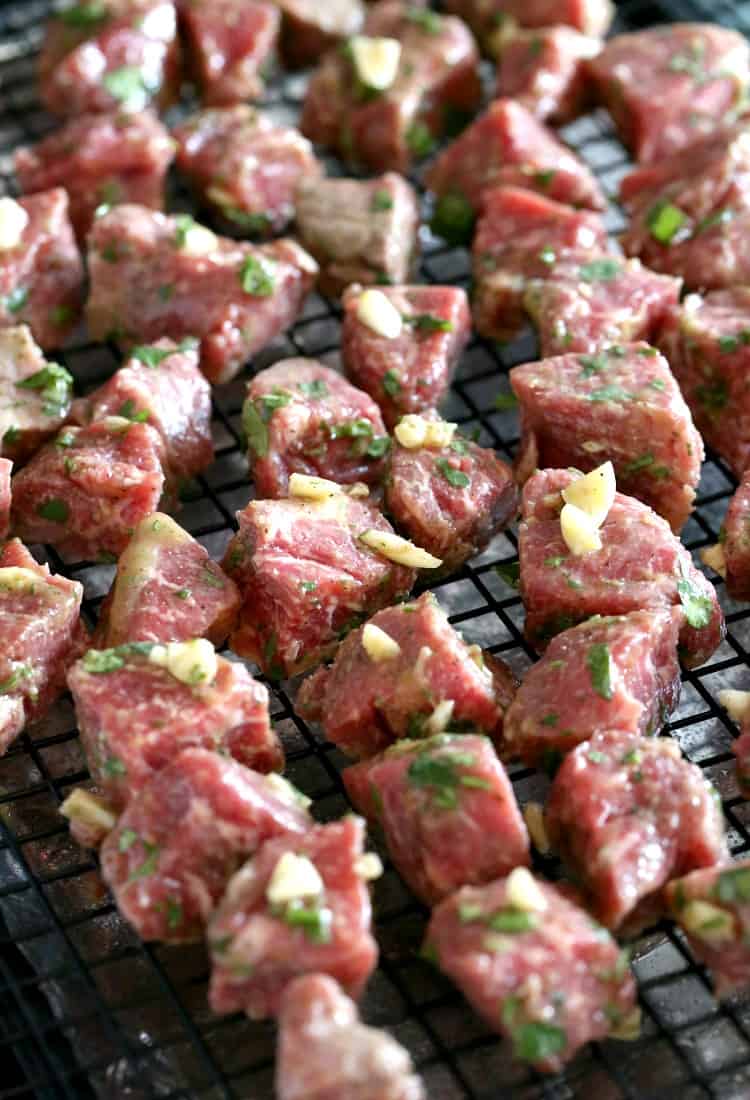 Lastly, you can grill these steak tips! If you're steak tips are cut smaller you can use a grill basket, or cut them a little bit larger and just get them right on the grill.
Can You Make Steak Bites In An Air Fryer?
Yes! So here we have yet another way to make these steak tips. Using an air fryer cuts down on the greases splattering all over your stove.
Cook the steak at 400 degrees for 8-12 minutes, depending on how rare you like your steak to be. You'll need to turn the steak bites over once in between cooking.
The total cooking time will also depend on how big or small you cubed the pieces of steak, so just make sure to check on a piece or two before you add more time.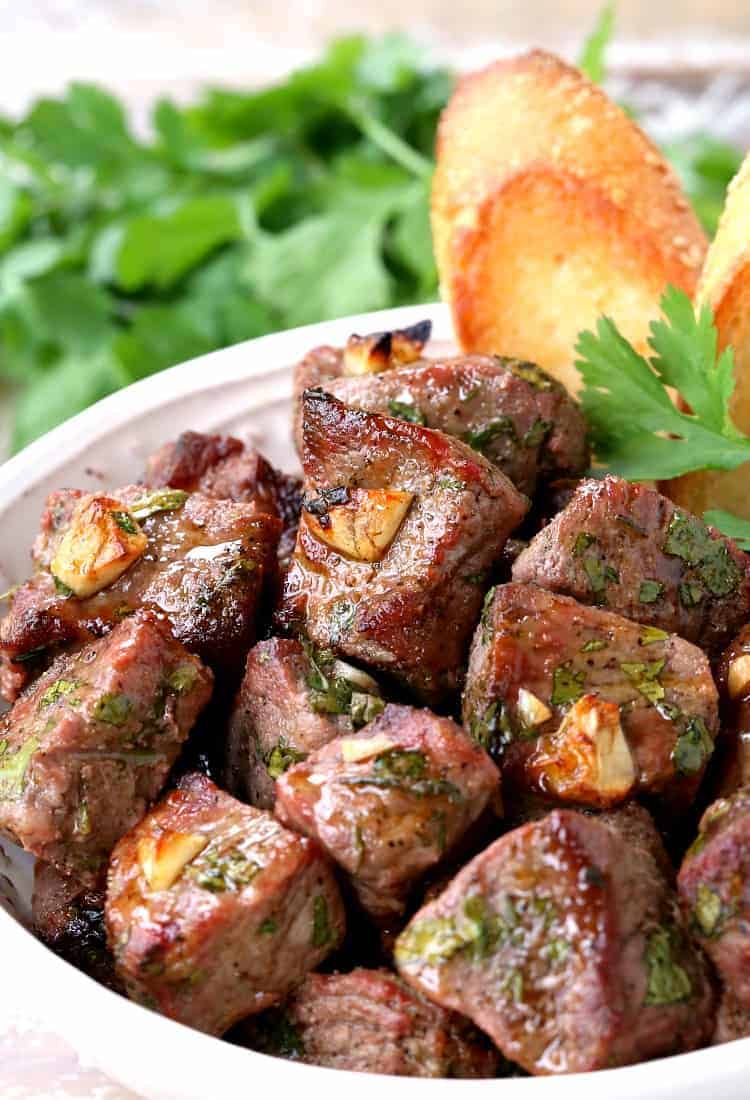 What Can I Serve Steak Tips With?
Looking for a low carb meal? Or do you need all the carb-loaded sides? We'll give you some options for both!
The great thing about this recipe is that minus the time for marinating, you'll have this steak dinner on the table in less than 10 minutes. That gives you plenty of time to whip up a couple of delicious side dishes.
Low Carb Sides:
Carb Loaded Sides:
Looking For More Steak Recipes?
Print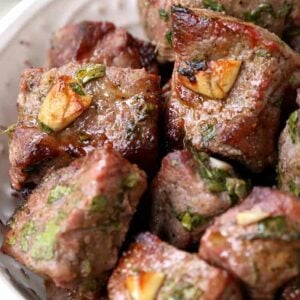 Fiesta Steak Tips
Author:

Prep Time:

8 hours (for marinating)

Cook Time:

10 minutes

Total Time:

8 hours and 10 minutes

Yield:

6

servings

1

x
These easy Fiesta Steak Tips are perfect as party appetizers or for dinner any day of the week! Super tender steak tips with an easy, Tex-Mex flavored marinade!
Scale
Ingredients
2

pounds beef tips *see note

1 teaspoon

cumin

1 1/2 teaspoons

kosher salt

1/2 teaspoon

black pepper

1/2 cup

olive oil

2 tablespoons

fresh lime juice

2 tablespoons

chopped garlic

1

small bunch of cilantro, left whole for easy removal from the marinade
Oil for cooking the steak (avocado, canola or vegetable oil)
Instructions
Add the beef tips to a large resealable bag or a glass dish.
Add the ingredients for the marinade to a small bowl and whisk to combine. Pour the marinade over the meat and stir to make sure that all the beef is coated in the marinade.
Marinate the beef in the refrigerator for at least 8 hours and up to overnight. The longer you marinade the beef, the more flavor it will have.
Remove the beef tips from the marinade and dry well with paper towels. Discard the remaining marinade.
Add a thin layer of canola, avocado or vegetable oil to a large skillet. You want the meat in a single layer and not touching, so use the largest skillet that you have, or brown the meat in batches.
Sear the beef on each for about 3-4 minutes until a crust forms. You'll want the beef to be medium, or medium rare so that it's not tough. Turn the beef tips over and sear on the other side for another 3-4 minutes. Remove to a platter and cover with foil. Let the steak rest for at least 5 minutes before serving.
Oven Method:
Preheat the oven to 450 degrees.
Place the beef tips on a baking sheet sprayed with cooking spay. Add the beef tips in a single layer, spaced apart. Cook for 5 minutes, then turn the beef tips over and cook for another 5 minutes on the other side. (See note)
Remove the beef to a serving bowl and pour any juices from the bottom of the baking sheet over the beef tips.
Serve immediately.
Recipe Notes
You can buy beef tips already cut up for you in most stores but if they aren't available buy a steak like a sirloin or a skirt steak and cut it up.
For the oven method, after the steak has cooked, you can place the steak tips under the broiler for 2-3 minutes to crisp up the edges if desired.
These steak tips will keep warm in a 250 degree oven for about an hour without overcooking too much.
Category:

Dinner

Method:

Stove Top/Oven

Cuisine:

American
Keywords: mantitlement, low carb recipes, low carb dinner, beef recipes, marinated steak, best marinated steak tips, steak tips oven, steak tips recipe, steak in oven recipe, recipe for steak tips