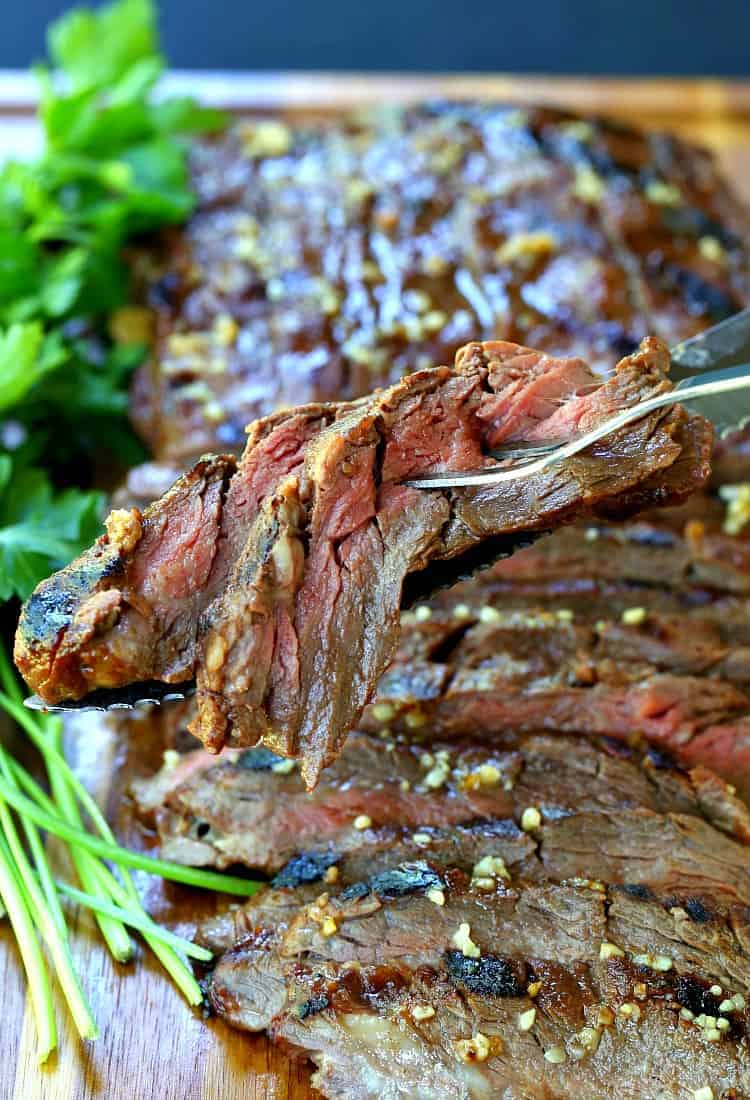 Dan's Double Down Whiskey Steak
Dan's Double Down Whiskey Steak is going to be your new favorite steak marinade! The ingredients list is easy, all you need to remember is the number two.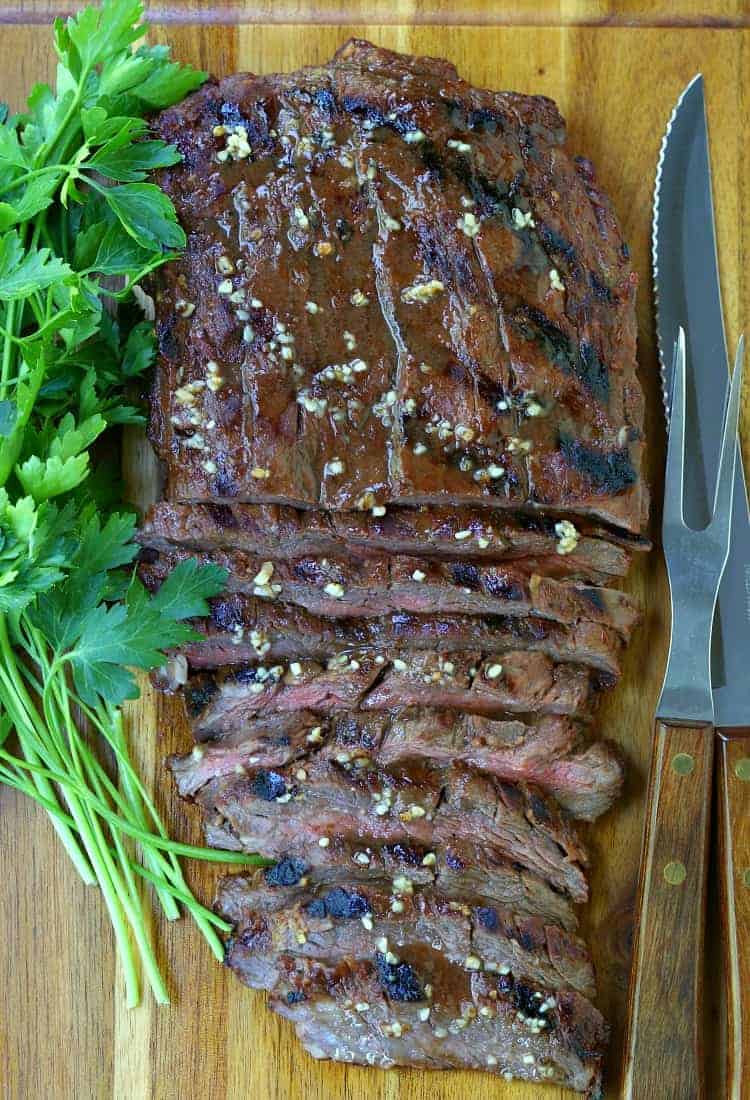 There are so many steak marinades that you can choose from, and I do suggest that you try as many as you can.
We've tried a lot obviously, just from researching recipes to family favorites like this French Dressing Steak. As much fun as it is trying new recipes though, we do have our favorites.
And this Dan's Double Down Whiskey Steak is definitely on the favorites list.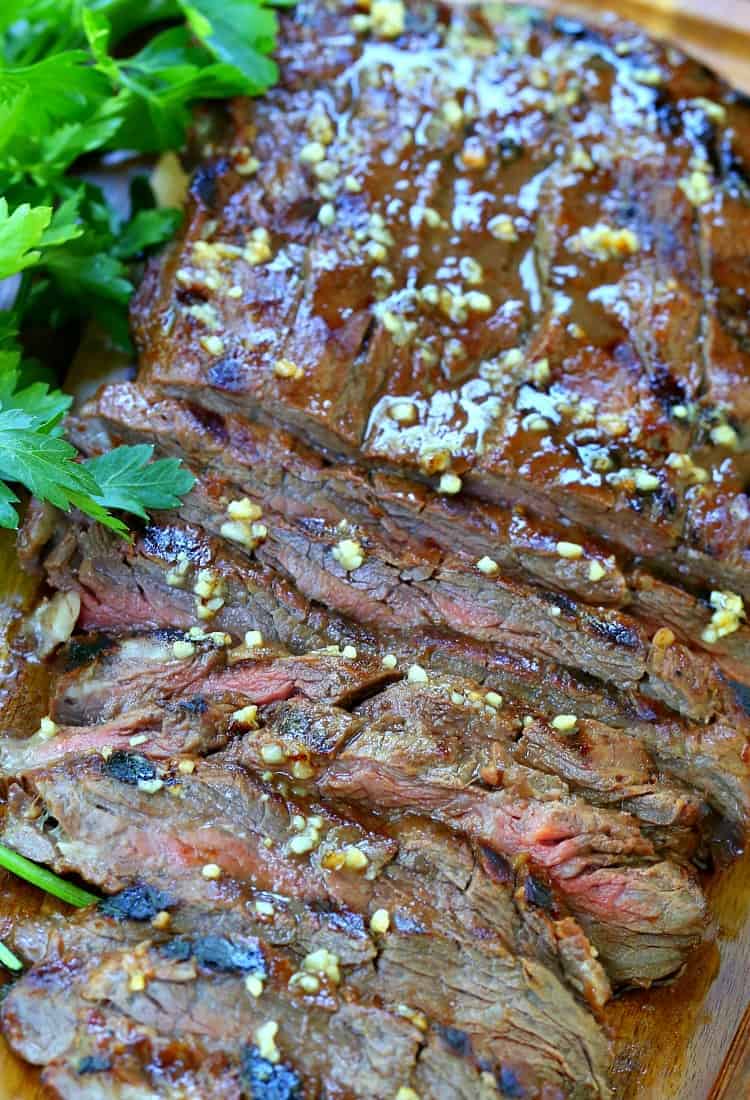 I've seen different versions of this type of marinade with similar ingredients but I decided to make this one my own – and make it really easy for all of you out there that really don't like measuring a ton of different ingredients.
All you have to remember is the number two for this one….each ingredient (besides the steak) is two of something.
Read on and you'll see what I'm talking about…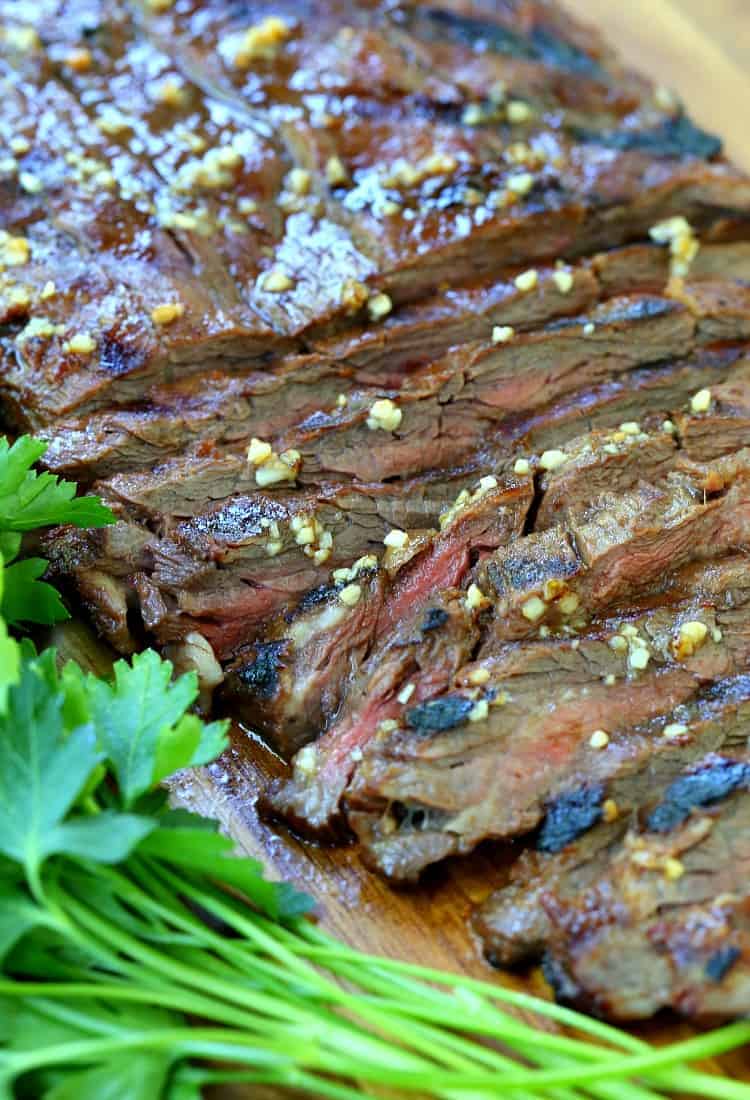 Mix that all together in a plastic bag and get the steak in there to marinate for a good 12 hours. So about the morning until dinner is good – overnight is even better – but give it enough time to soak in all the marinade.
You'll be happy you did.
This is one of those recipes that you start eating right off the grill, start slicing and the vultures will start circling…my kids stand there like they've never eaten before in their life.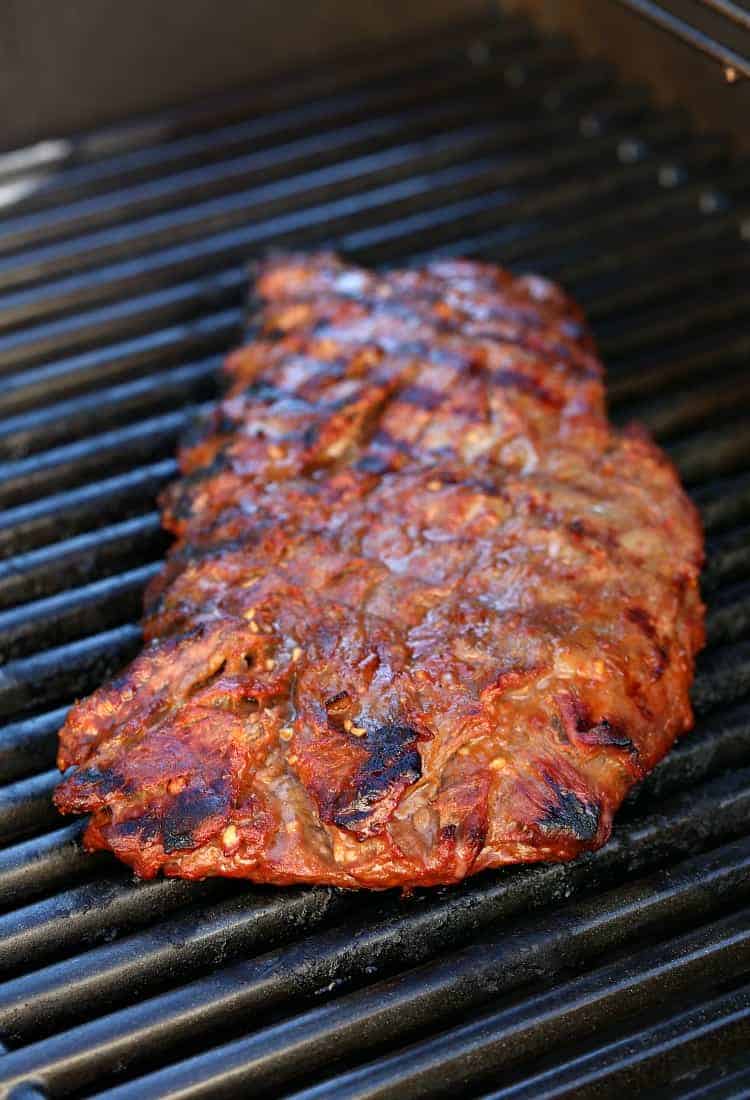 They have. A lot.
Anyway, it's just really addicting the way the acidity in the ketchup tenderizes the meat and the rest of the ingredients give it all the flavor – especially the whiskey.
Definitely make sure you're using a whiskey or bourbon that you like drinking, not something you don't like the taste of. Because then you'll have a marinade that you don't like the taste of too.
Makes sense right?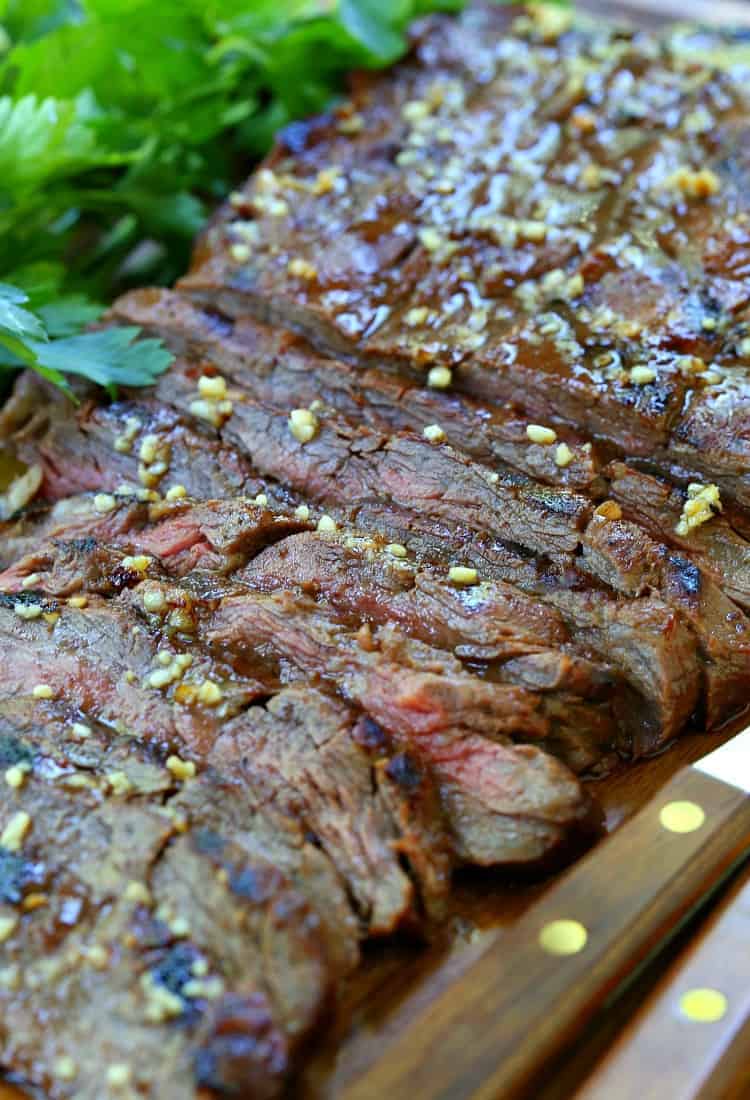 And if you aren't a whiskey drinker, still grab and airplane bottle or two and throw it in here. You don't have to drink it straight but I promise you're going to love the flavor it adds to this Dan's Double Down Whiskey Steak.
All that's left to do is add a side dish like these Stick of Butter Smashed Potatoes or Spicy Mushroom Rice and man, you've got yourself an award winning dinner that everyone will love.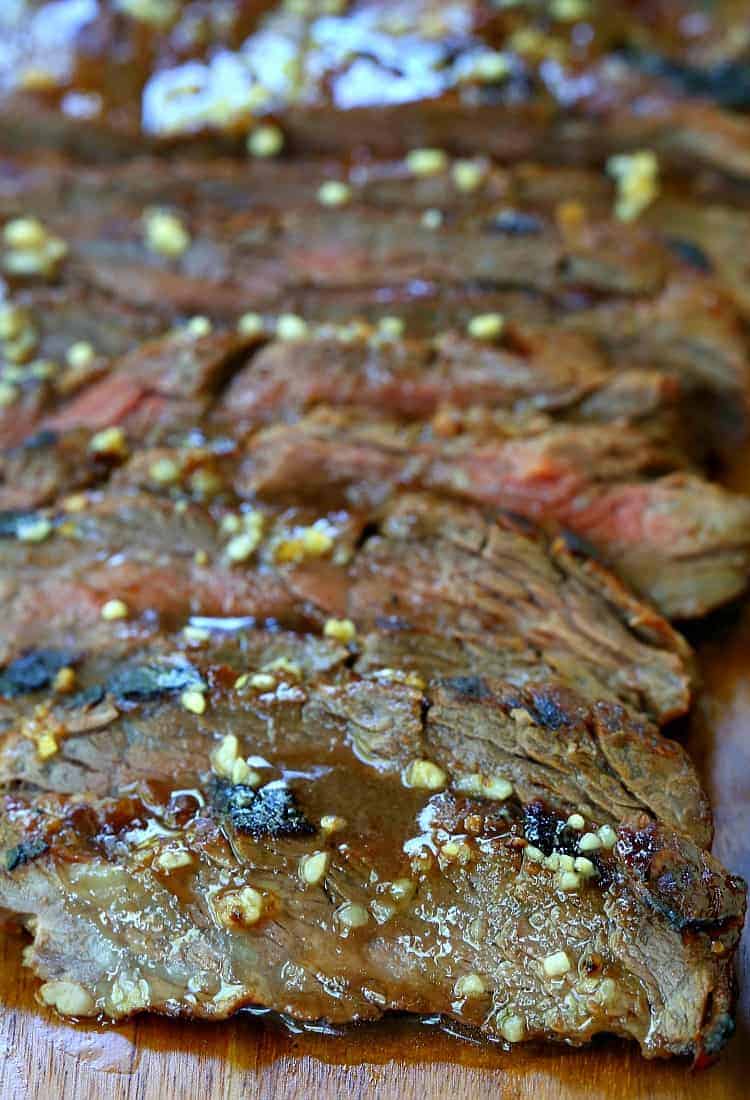 Let's really take the name seriously here…make sure you double this Dan's Double Down Whiskey Steak recipe if you're making it for more than four people. Seriously, even one more is going to tip the scales and there won't be enough.
Because once you start eating Dan's Double Down Whiskey Steak you will NOT be able to stop – that's a guarantee!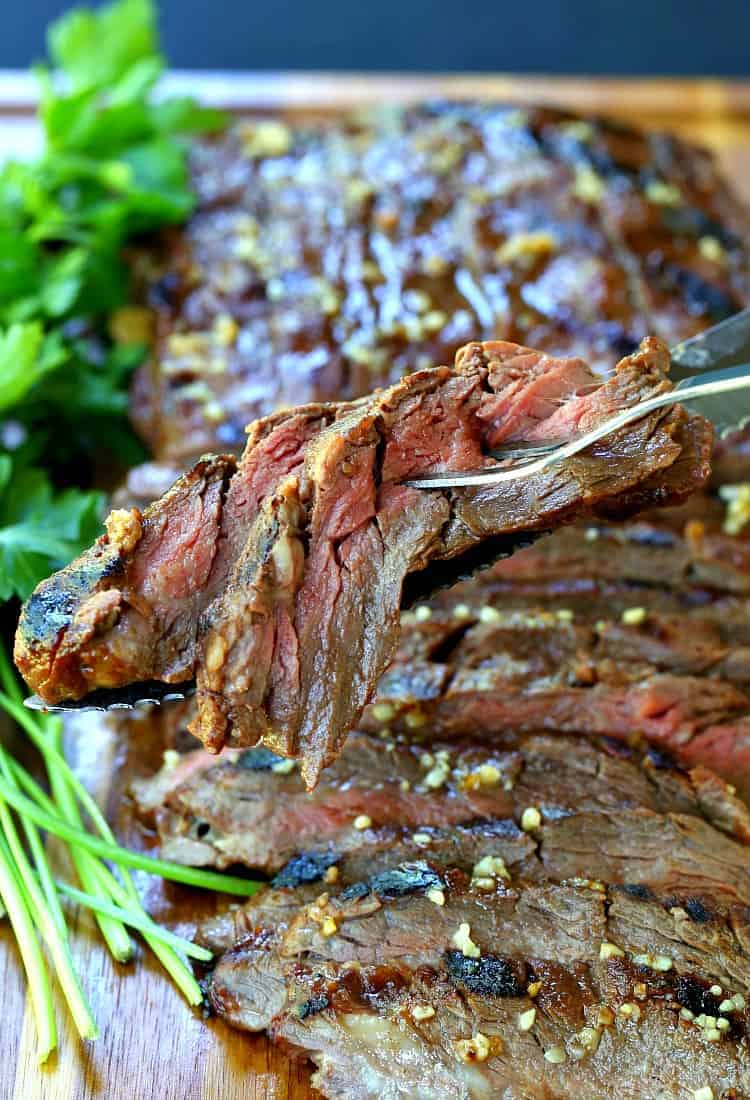 Print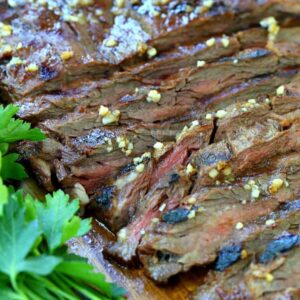 Dan's Double Down Whiskey Steak
Author:

Prep Time:

12 hours

Cook Time:

10 minutes

Total Time:

12 hours 10 minutes

Yield:

4 servings
---
Ingredients
1, 3-4 lb. flank steak
2 cups of ketchup
2 ounces whiskey
2 tablespoons worchershire
2 tablespoons soy sauce
2 tablespoons chopped garlic
2 tablespoons olive oil
---
Instructions
Add all the marinade ingredients to a resealable plastic bag and mix together to combine.
Add the steak to the bag, coating in the marinade and seal.
Place in the refrigerator for 12 hours or overnight.
Heat the grill to medium heat.
Grill the steak for 5-7 minutes on each side, depending on the thickness of the steak. For medium rare you want a temperature of 140 degrees, which after resting will get to about 145 degrees.
Remove the steak from the grill and place on a platter and cover with foil. Let the steak rest for 10 minutes before slicing.
Slice the steak against the grain into thin pieces and place back on the platter with any juices from the steak.
---
Notes
You can use a larger steak, or two smaller steaks, just adjust the cooking time on the grill.
Keywords: steak, steak marinade, steak recipes, whiskey recipes