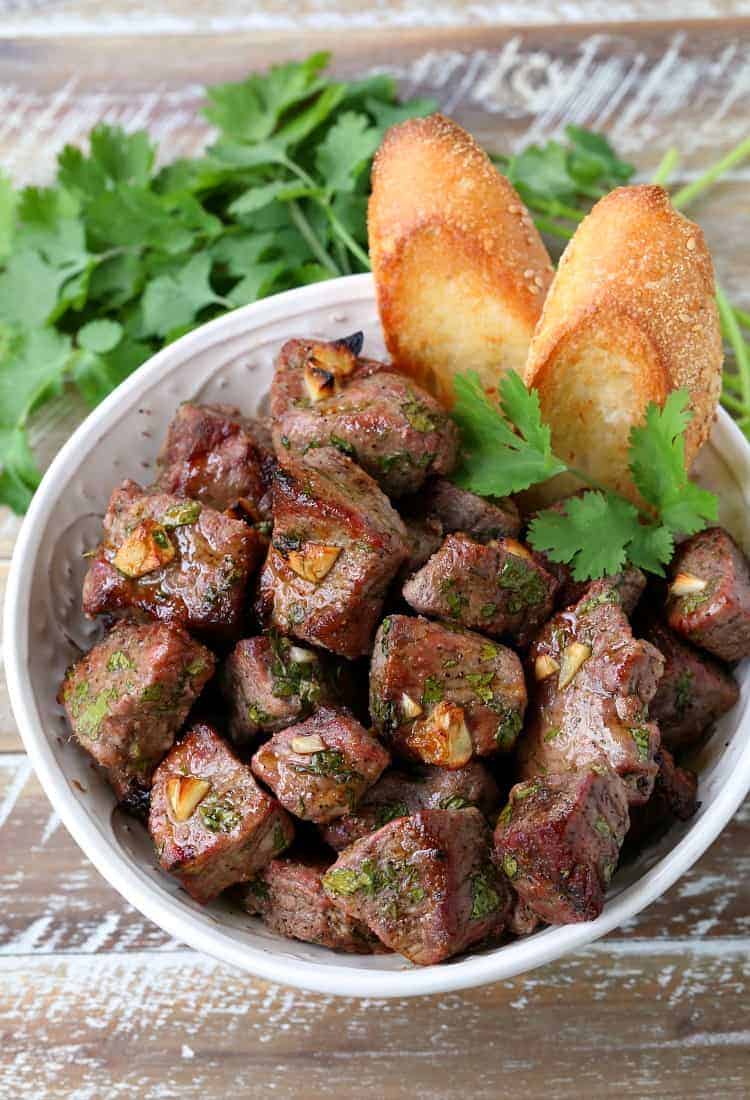 One bite of these Fiesta Steak Tips is all you need to turn dinner into a party! Marinated tender beef tips that are oven roasted to perfection!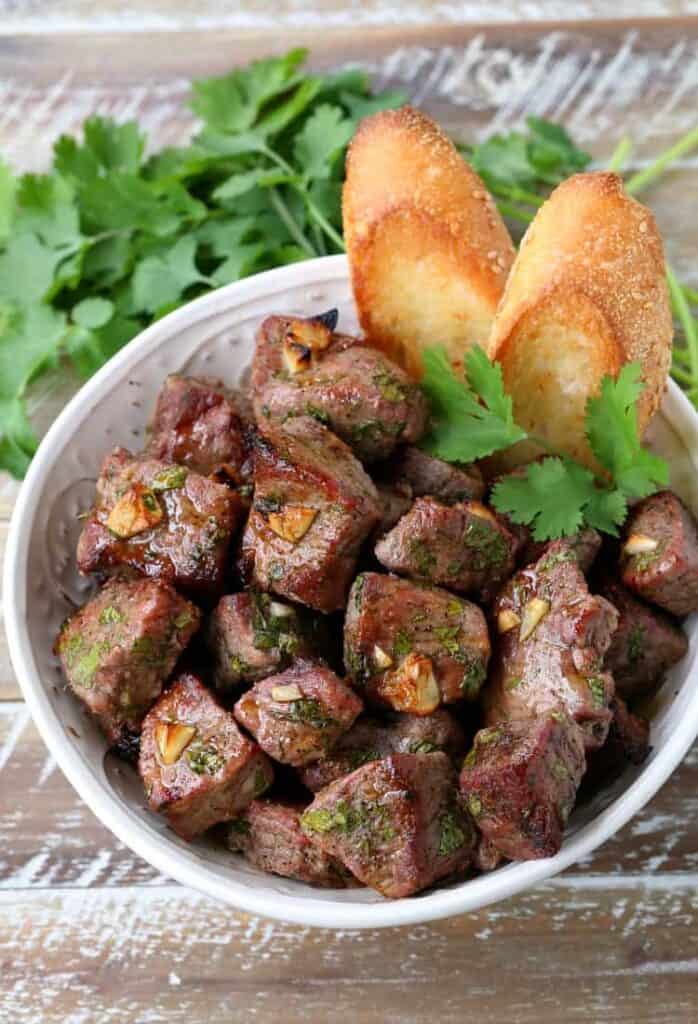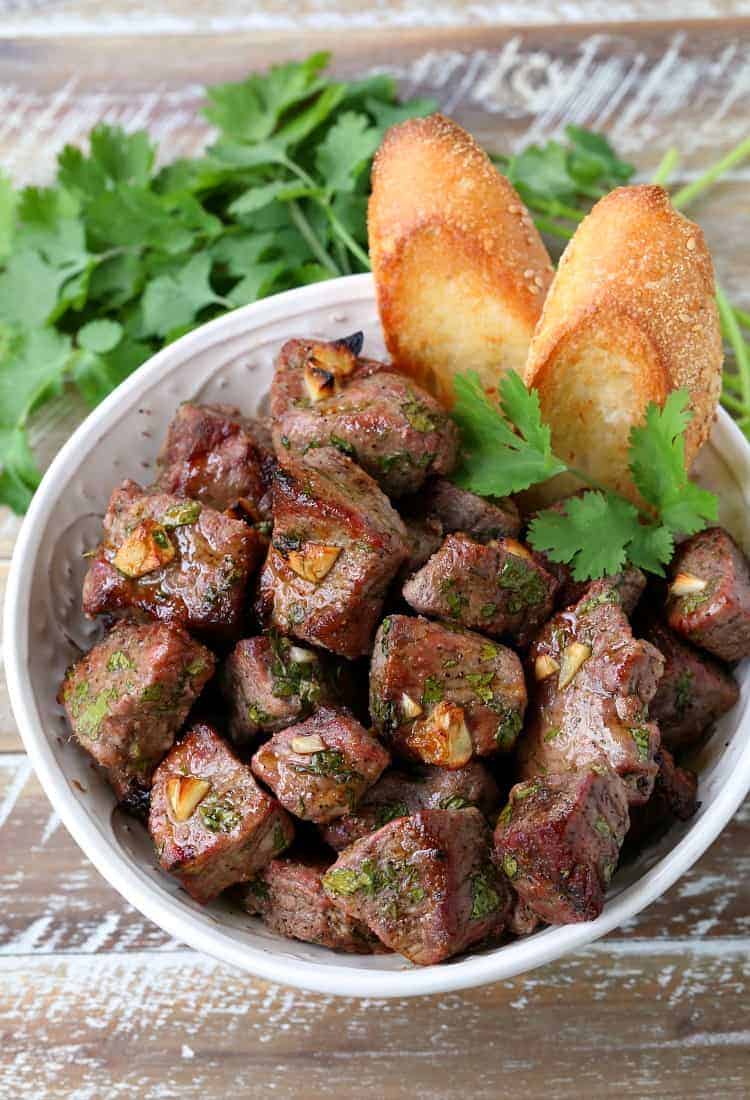 The other day I went on a day trip into Hoboken to learn about some meat. It was a meat retreat. How cool is that?
As you know by now if you're a reader of the blog here…I'm a big fan of beef. I think it actually should be included in most recipes. Even when Christie puts a meat free dinner on the table on random nights I tell her that it's delicious, but it would be better with some sort of meat of some sort.
That's me, a true meat and potatoes kind of guy.
So when I got invited to this "Meat Retreat" by the New York Beef Council I knew it was the perfect day for me. I got to learn about the entire life cycle of beef and how it eventually ends up on our plates, how to butcher different cuts of meat and also got to eat a little.
And at the end of the day they handed me a giant bag of meat to take home with me to enjoy. I'm telling you, this thing was BIG. All different cuts of meat, steaks, beef tips, filets. It was pretty impressive.
Here's a picture of me a Steven Olson, a meat cutting specialist that I learned a whole lot from. And Suzy "Sirloin" from Strassburger Meats.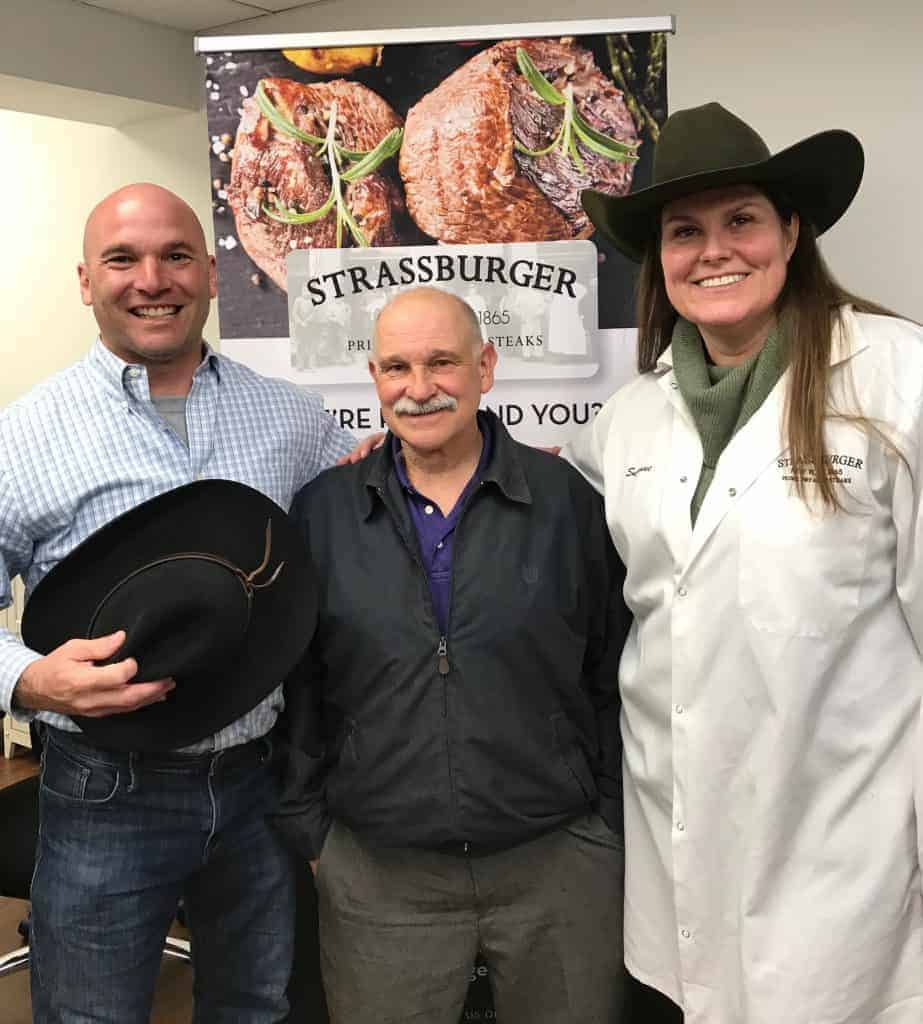 Now here I am getting into the thick of it. Learning how to trim the fat off a cut of beef and how to properly portion each piece. I left with way more knowledge than I went in with – that much is certain.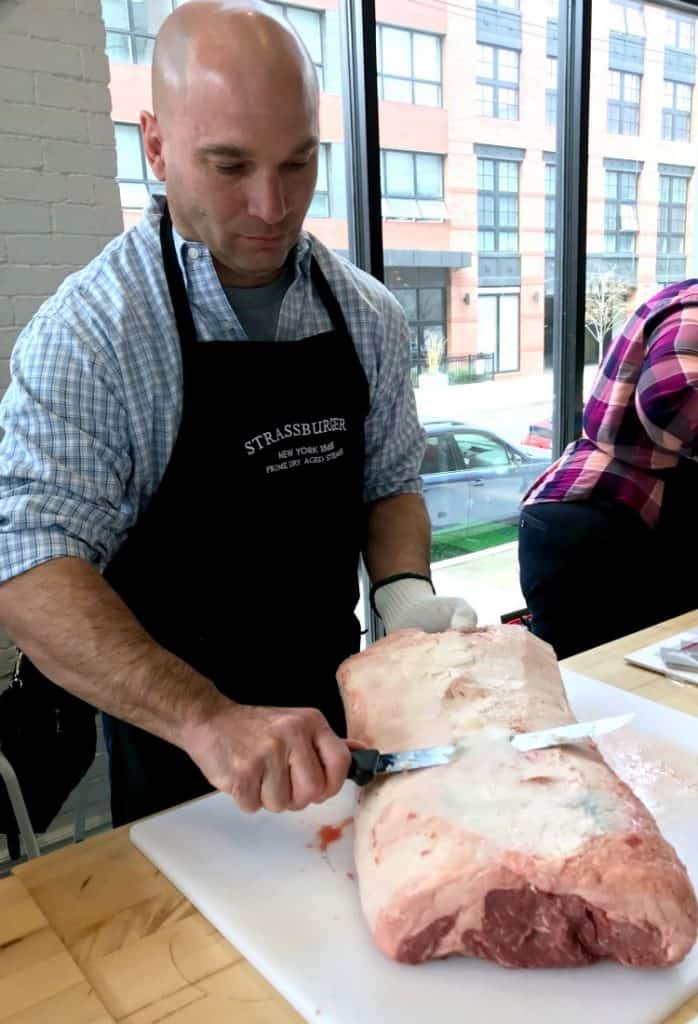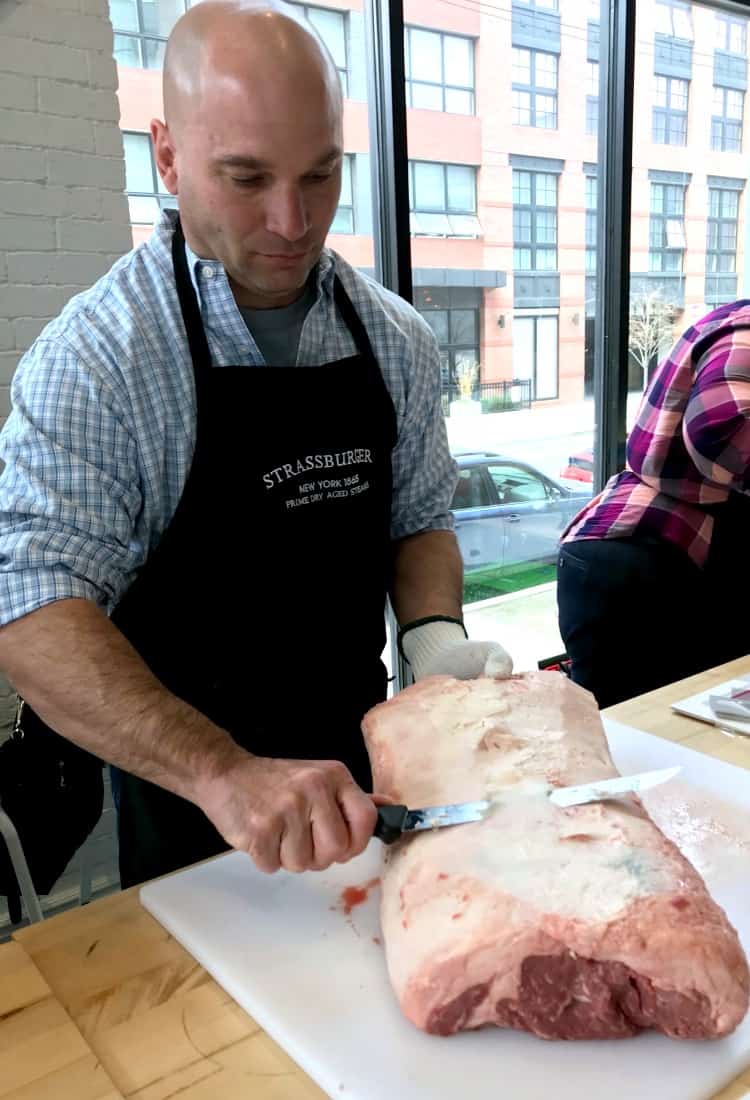 They explained to us how they age their beef and the process involved with that. My stomach was already growling…
We got to eat a few sandwiches for lunch (roast beef of course) and then it was back to work!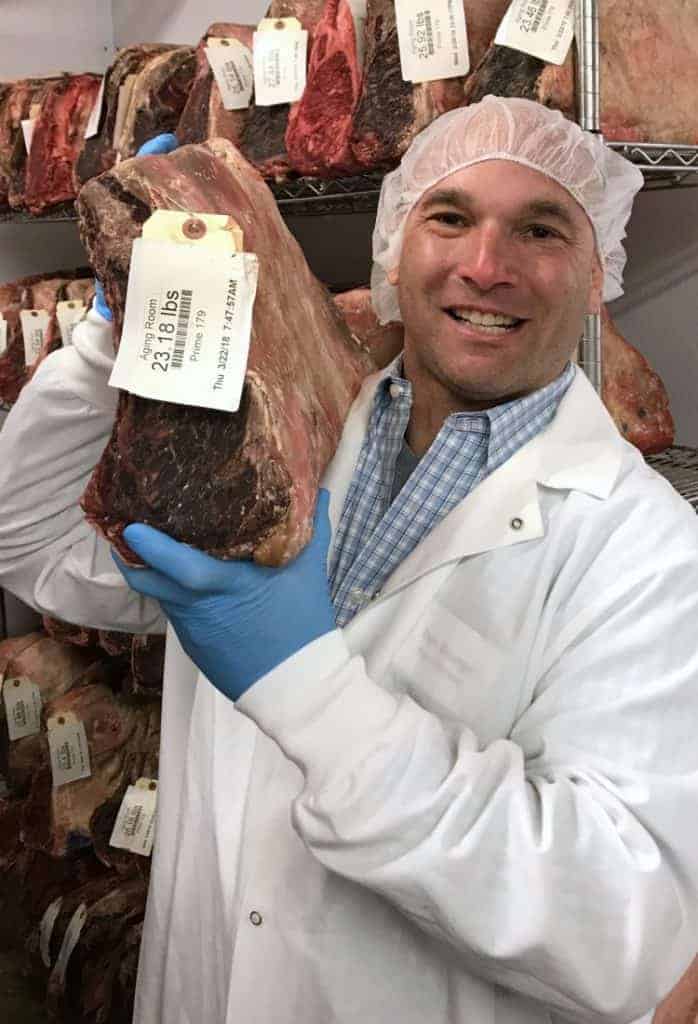 Just take a look at that aged beef. The process is really interesting, but more importantly…I wanted to get myself a taste!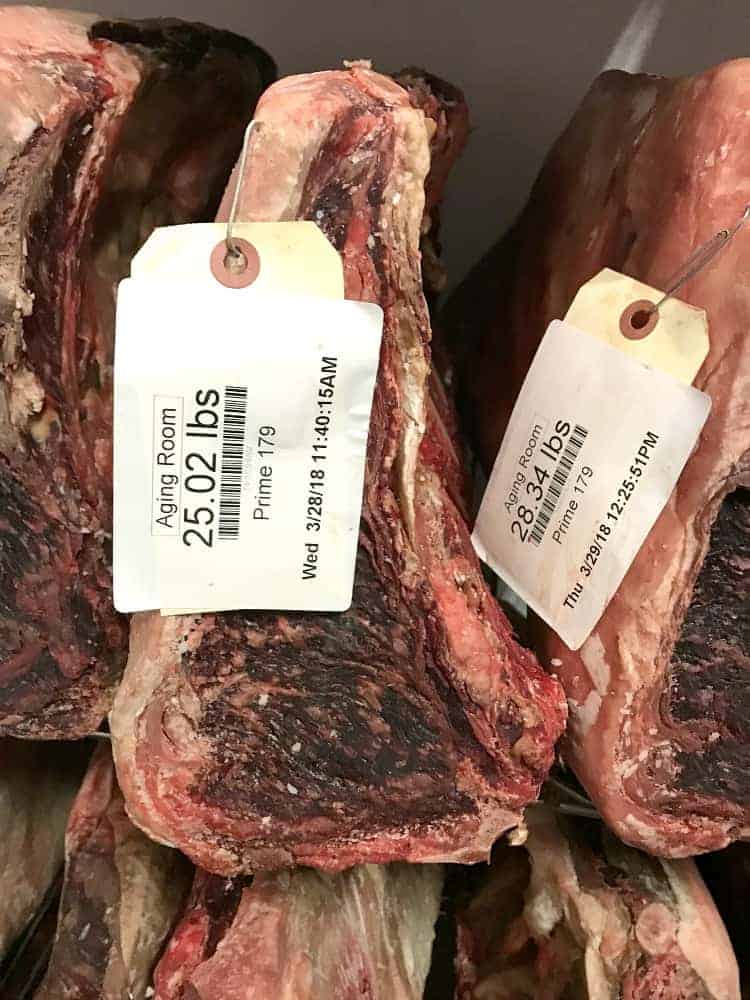 Now for these Fiesta Steak Tips.
I know I say this a lot but these are SO easy and SO over the top delicious. I'm going to be making these a lot.
I was thinking of a main course or an appetizer for Cinco de Mayo coming up so I used "fiesta" flavors like cilantro, garlic, fresh lime juice and cumin.
Party steak.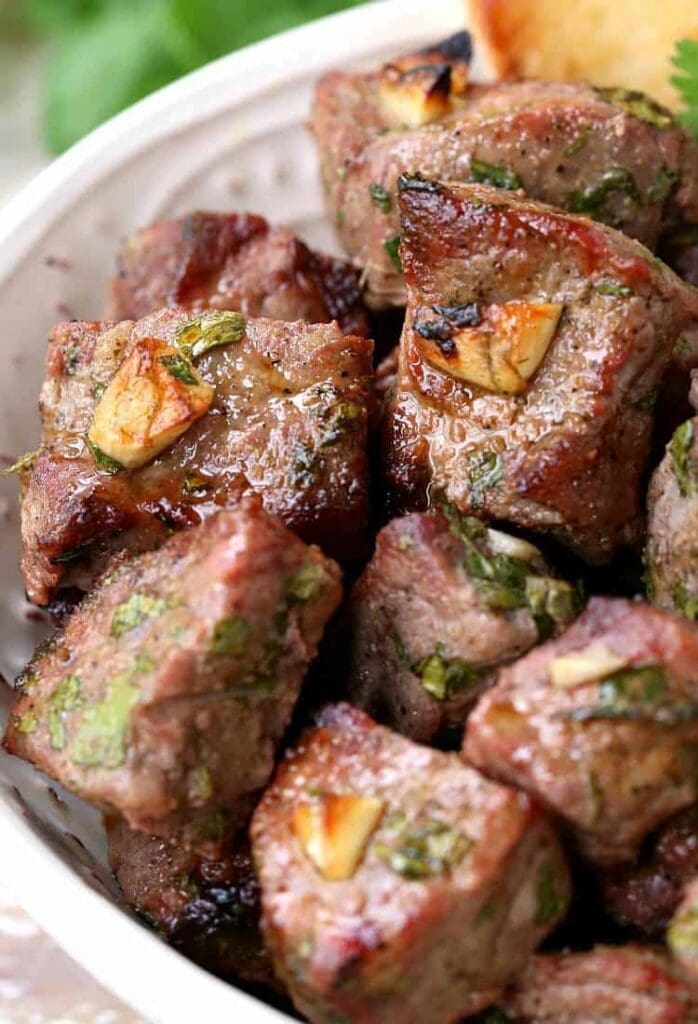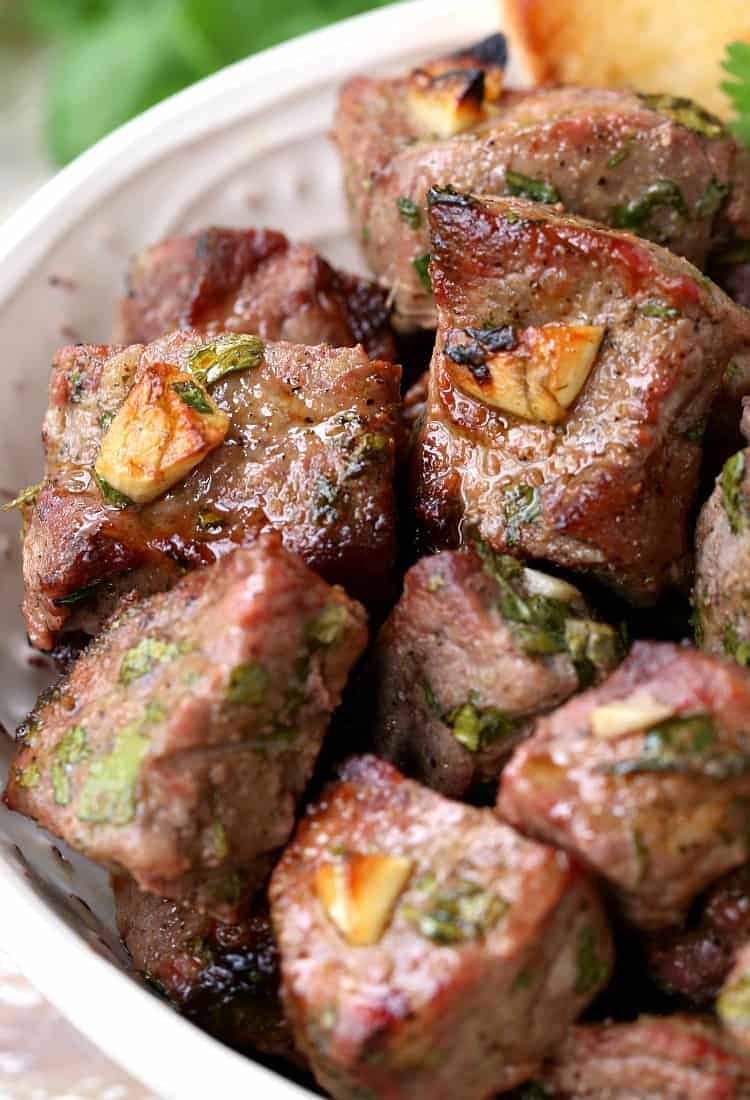 After about an hour in an easy marinade…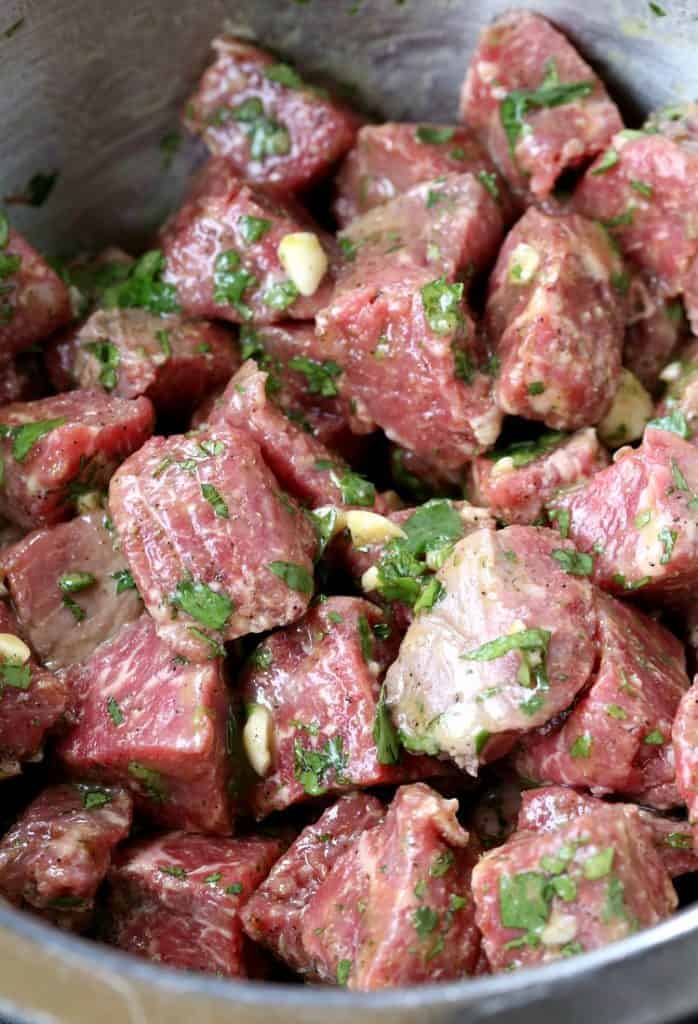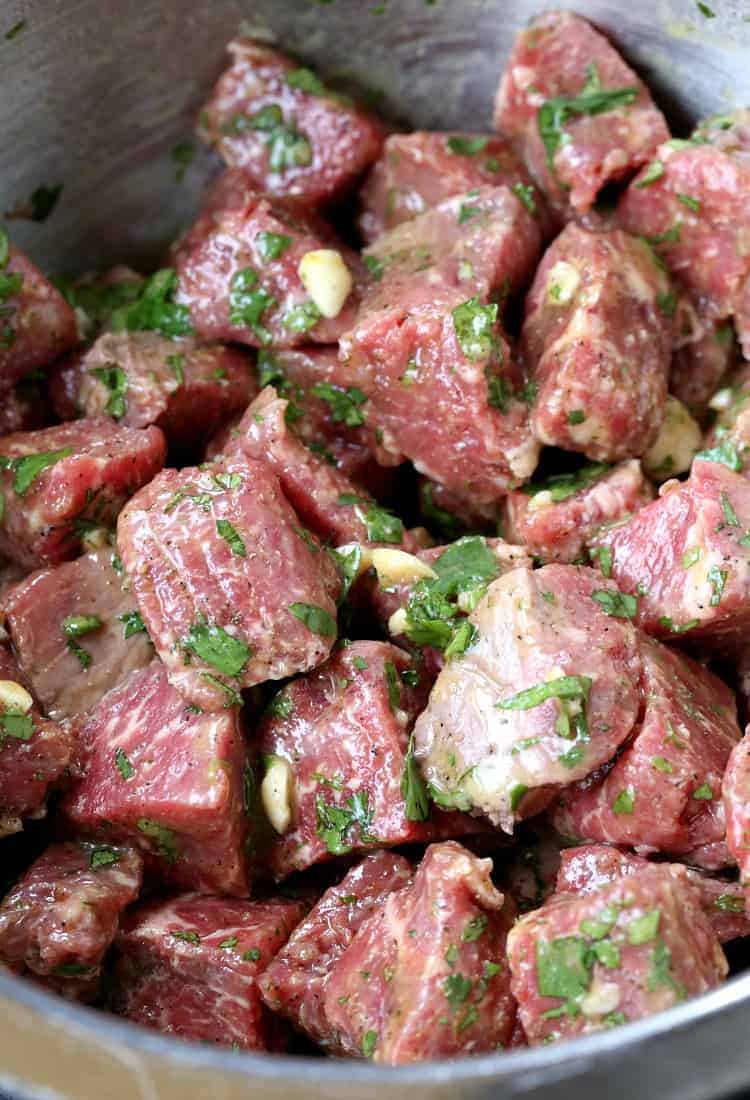 All you need to do is get the steak onto a roasting rack and get it in the oven!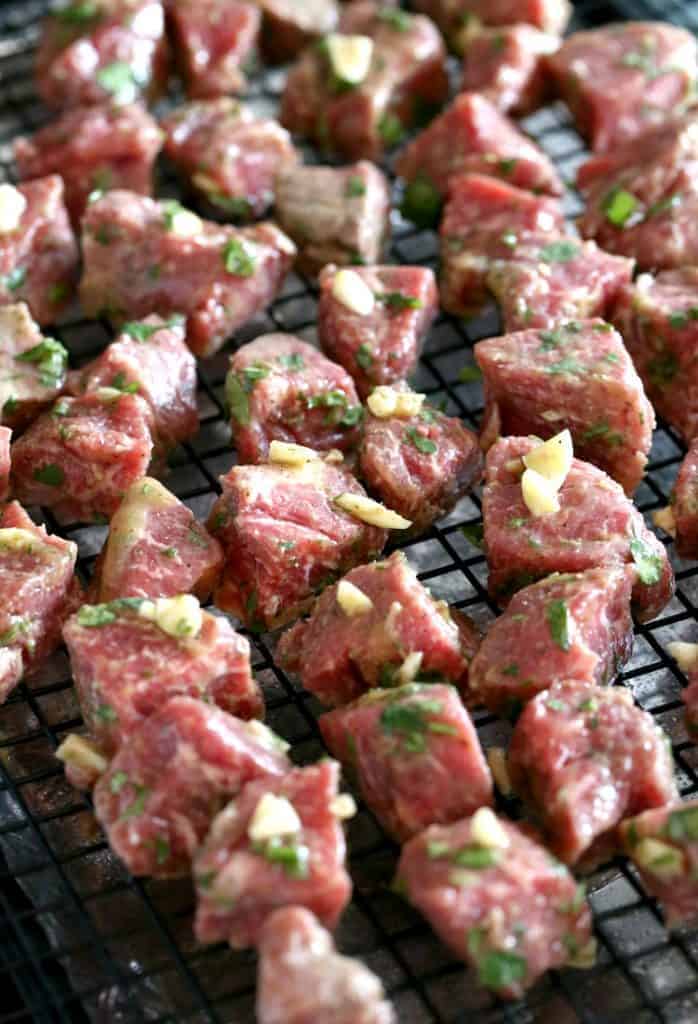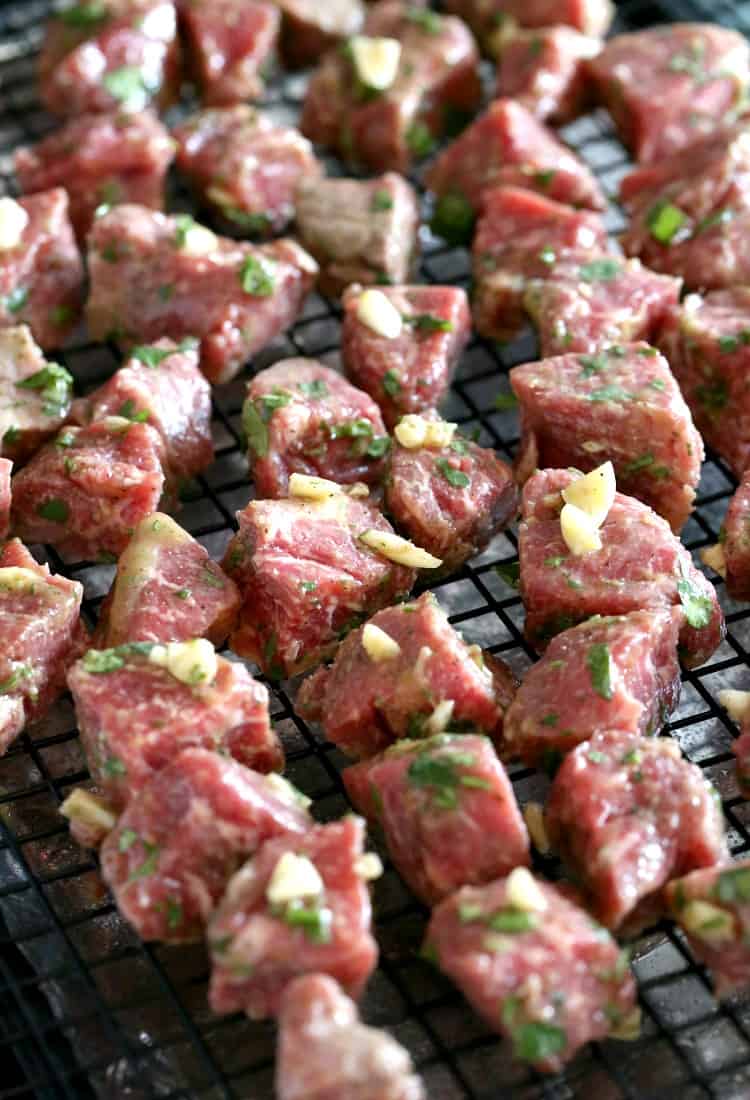 I like to roast these Fiesta Steak Tips for only 15 minutes, then you can crisp them up under the broiler for a couple of minutes to get that nice crispy texture on the outside but still rare on the inside.
If you like your steak a little more well done just adjust the cooking time a few minutes more in the oven.
One bite of these Fiesta Steak Bites and you'll be in love. It's like a one bite piece of meat that explodes in your mouth! These are perfect for Cinco de mayo or any party you might be having.
Or if you don't have any parties coming up just make them for dinner with a side of potatoes and you'll have empty plates all around.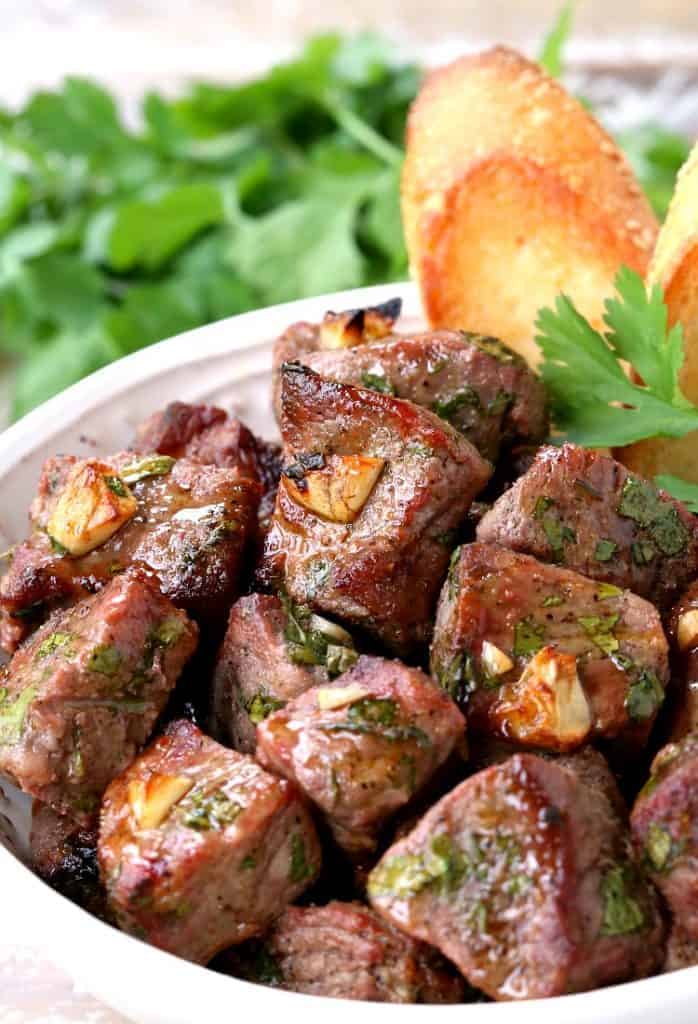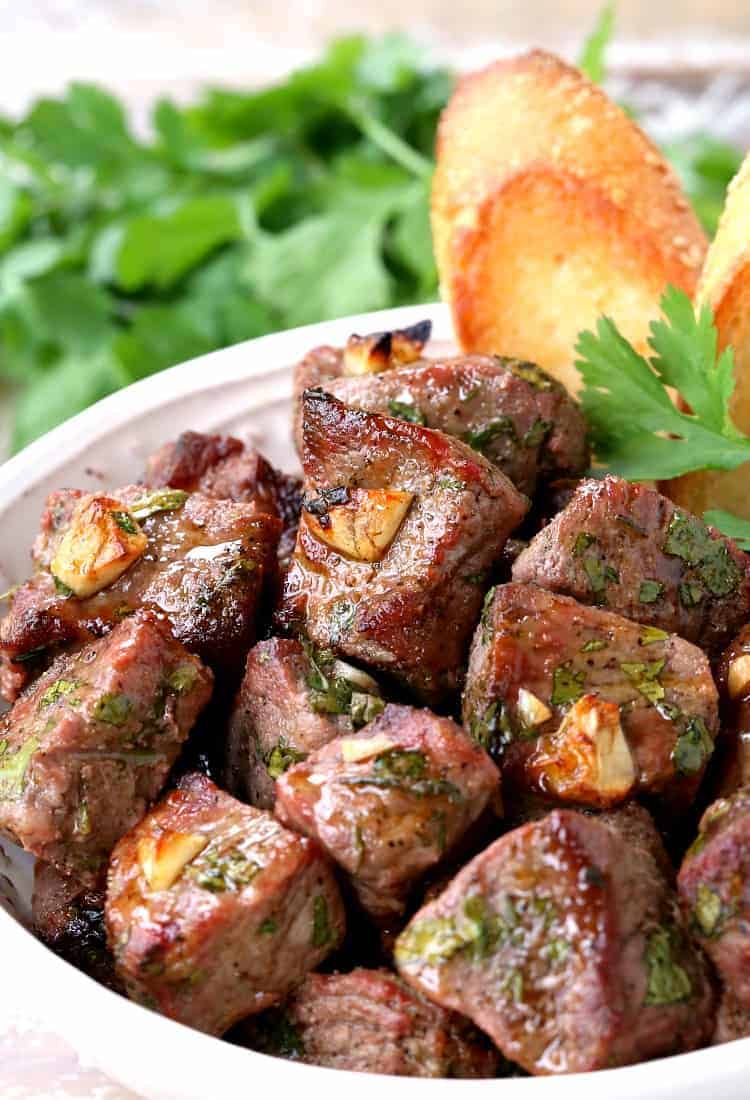 Thanks again to the New York Beef Council, Strassburger Steaks and Canada Cutlery Inc. for inviting me on this awesome #BEef Together Meat Retreat!
Don't forget everyone – Beef. It's What's For Dinner.
Print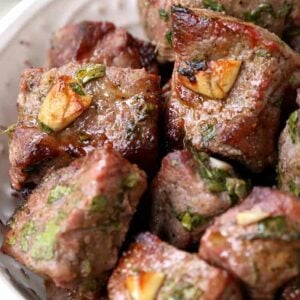 Fiesta Steak Tips
Author:

Yield:

6

servings

1

x
---
Ingredients
3 pounds beef tips *see note
1 teaspoon cumin
1 1/2 teaspoons kosher salt
1/2 teaspoon black pepper
1/4 cup olive oil
Juice from 1 lime
6 cloves of garlic, chopped
1/3 cup cilantro, chopped
---
Instructions
Add the beef tips to a large bowl.
Place all the ingredients for the marinade in a small bowl and whisk together.
Pour the marinade over the beef tips and toss to coat. Marinate in the refrigerator for at least an hour or up to 3 hours, but no longer than 3 hours total.
Preheat the oven to 425 degrees.
Line a baking sheet with foil then place a rack on top. Spray the rack with cooking spray.
Drain the marinade from the beef tips then add the beef tips to the baking rack, leaving some space in between so they roast evenly.
Roast for 15 minutes, then place under the broiler for 3-4 minutes to crisp up the edges.
Remove the beef to a serving bowl then pour any juices from the bottom of the baking sheet over the beef tips.
Serve immediately.
---
Notes
You can buy beef tips already cut up for you in most stores but if they aren't available buy a top quality cut of steak and cut into 2 inch pieces.