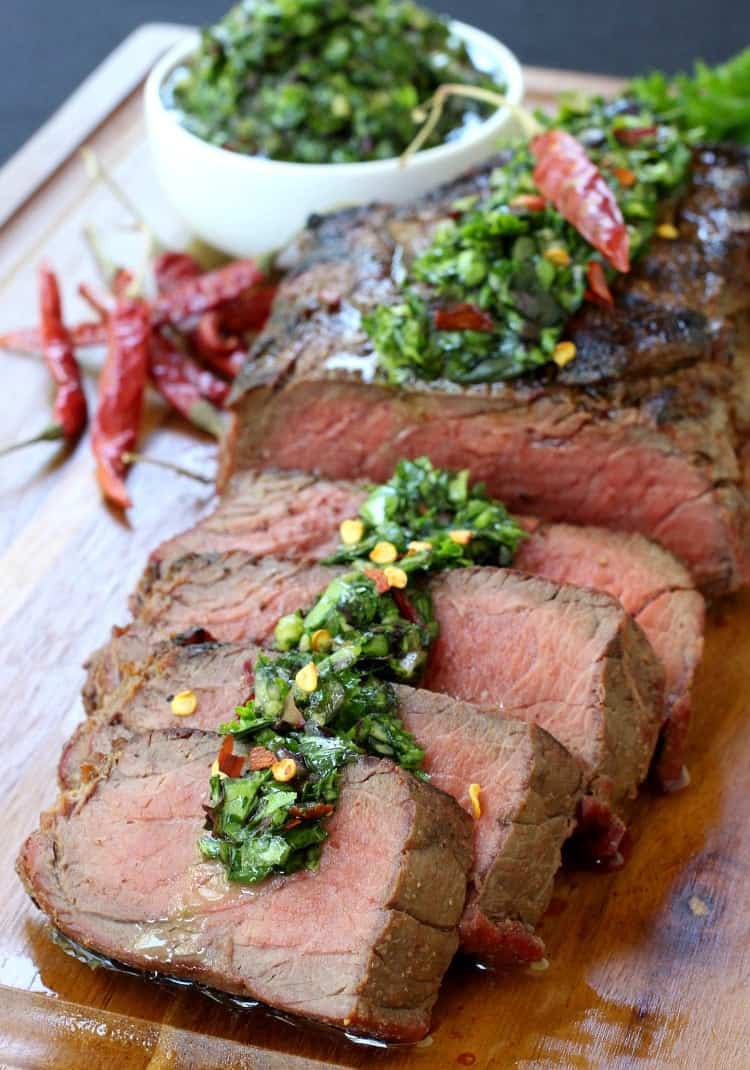 Grilled Steak with Spicy Kale Chimichurri Sauce
Grilled Steak with Spicy Kale Chimichurri Sauce is exploding with flavors I never thought a grilled steak could have!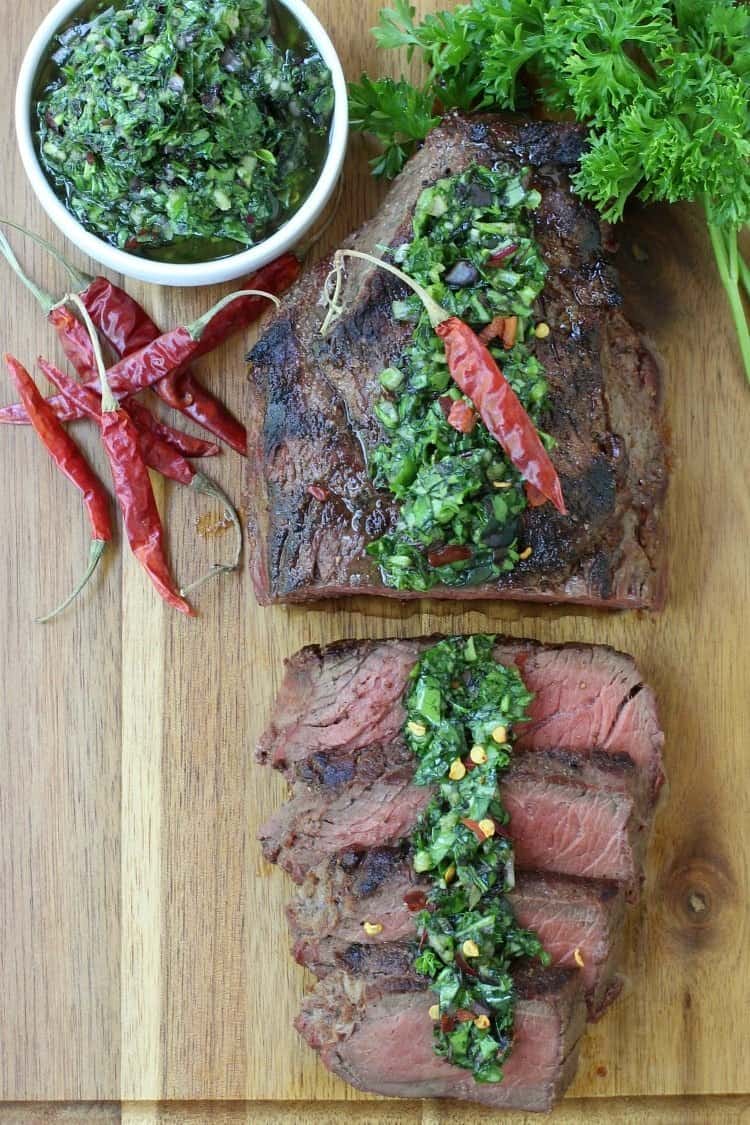 Summer time means grilling time, especially when you're still running tight on time like we are.
Running the kids to football practices now instead of baseball, soccer for the little guy and work in between, throwing chicken or burgers on the grill is an easy dinner that everyone loves.
But then there are those times when you want to grill…make something extra special for company or just for your family on a slower night when you have more time.
Either way though, no time or lots of time, this Grilled Steak with Spicy Kale Chimichurri will work for you. You only need about 15 minutes to grill the steak and about 5 minutes to make the sauce, depending on how mad your chopping skills are – mine are not so mad and it still only took me about 5 minutes.
I do most of the grocery shopping these days, so when I was at my local Stop & Shop trying to come up with a better than normal grilling recipe I came across the Nature's Promise brand in the produce section. Nature's Promise is an organic brand of meats, produce, salad dressings, cereals, and many more products that are "free" from any unnecessary ingredients. No artificial colors, flavors or preservatives in their products so you can feel good about using them to make dinner for your family.
Also, Nature's Promise is totally affordable, not like some other organic brands, so you don't have to worry about emptying your wallet to make dinner.
I don't always buy organic products but when I see the Nature's Promise brand available I usually do. We've got two growing boys that eat us out of house and home, so when they're eating the quantity of food that they do, I like to make sure I'm giving them the best product I can.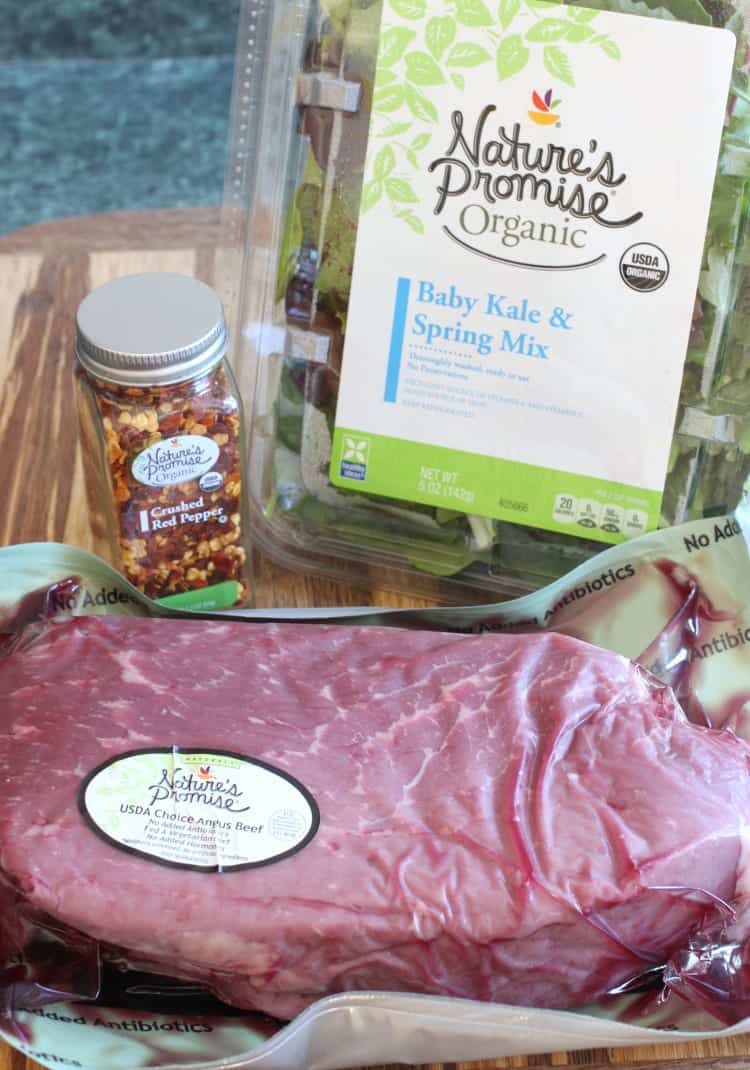 I started this recipe when I first got home by making the chimichurri sauce. Chimichurri is an uncooked sauce usually made from cilantro and parsley. But when I saw the Nature's Promise baby kale and spring mix blend I knew it would be perfect for this sauce.
All you have to do is grab a few big handfuls and start chopping…you can also make this sauce in the blender but I like the texture of it cut up small as opposed to it being completely smooth, but that's' up to you.
Either way it will taste amazing.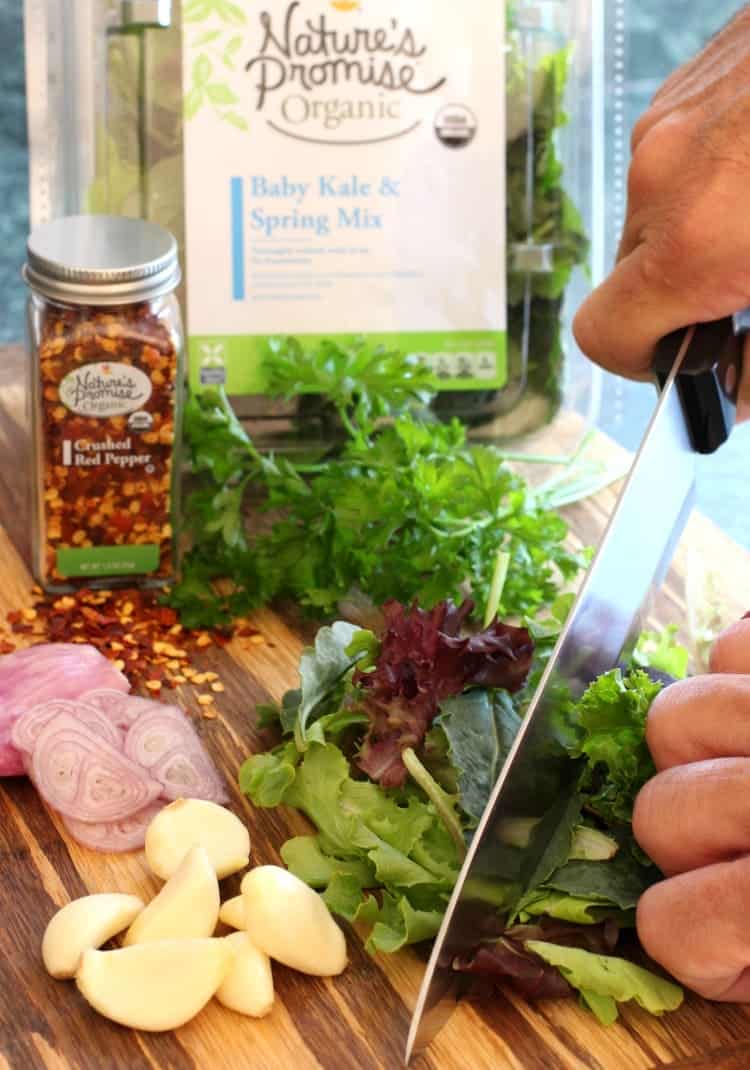 Add in some garlic, shallot, olive oil and crushed red pepper flakes and let the sauce sit until dinner time.
If you don't have time to make it ahead it's still fine, the sauce is so full of flavor not too much can go wrong with it.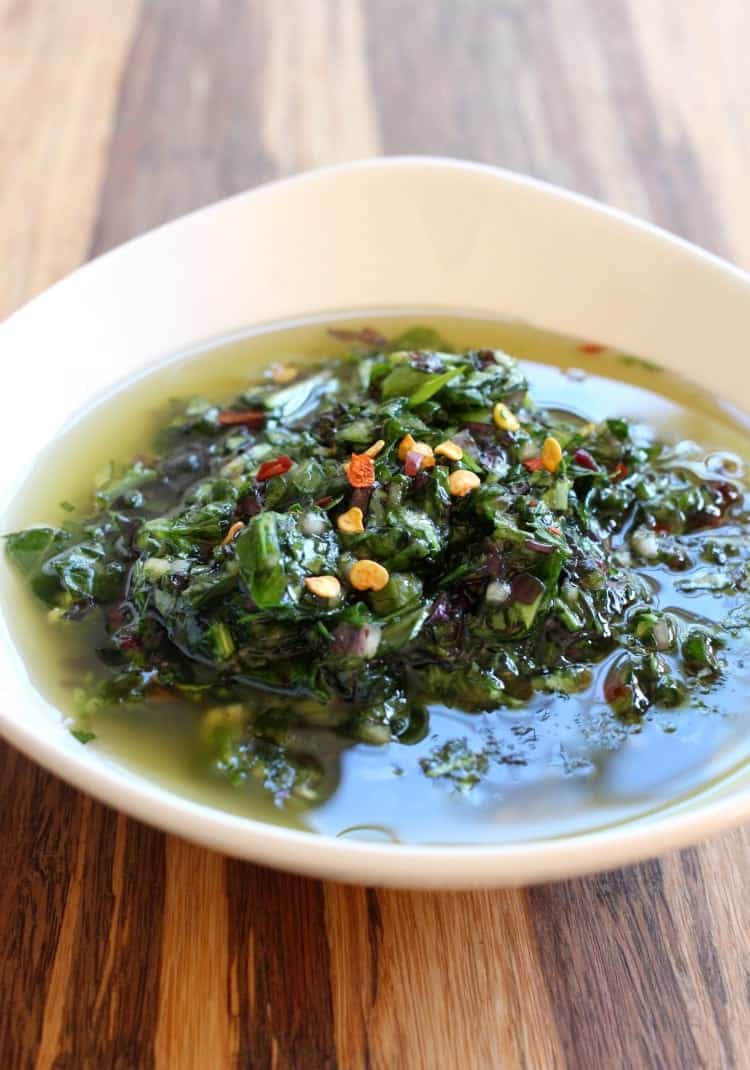 Then when it's time for dinner you just need to throw a few seasonings onto your steak and get it on the grill.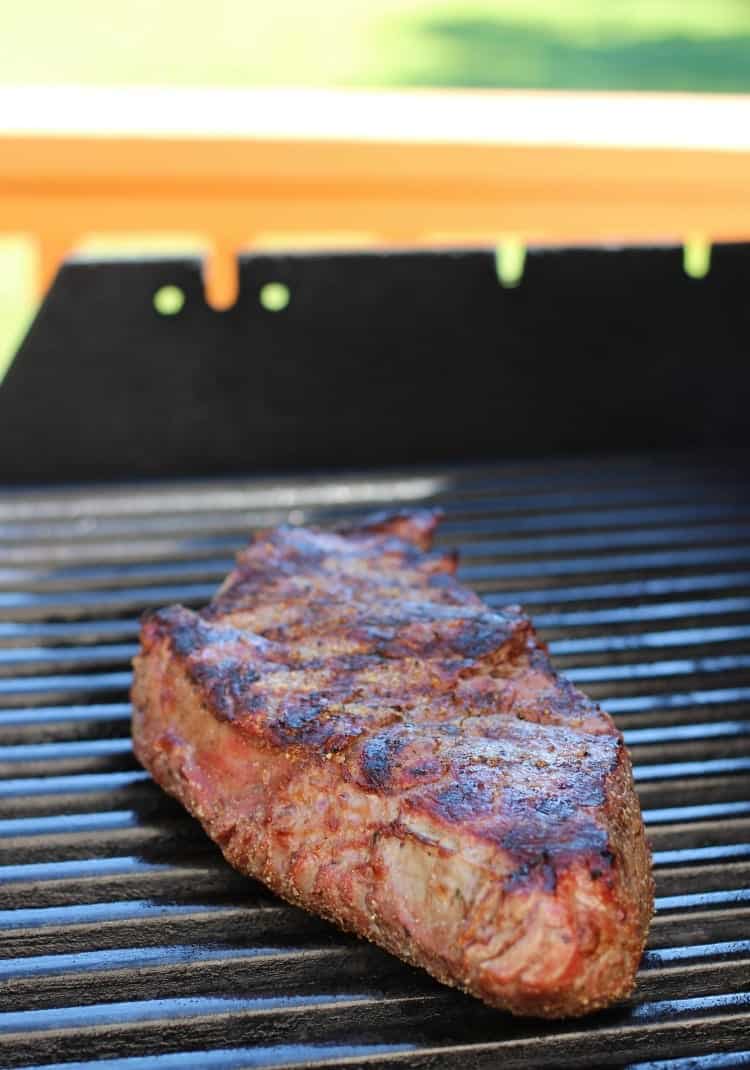 I chose a Nature's Promise London Broil for this recipe but really any cut of steak will work for this.
When the steak is done, remove it to a cutting board and cover with foil.
Then walk away.
Give it 15 minutes to rest or all the juices will come out as soon as you cut it and it won't look like this…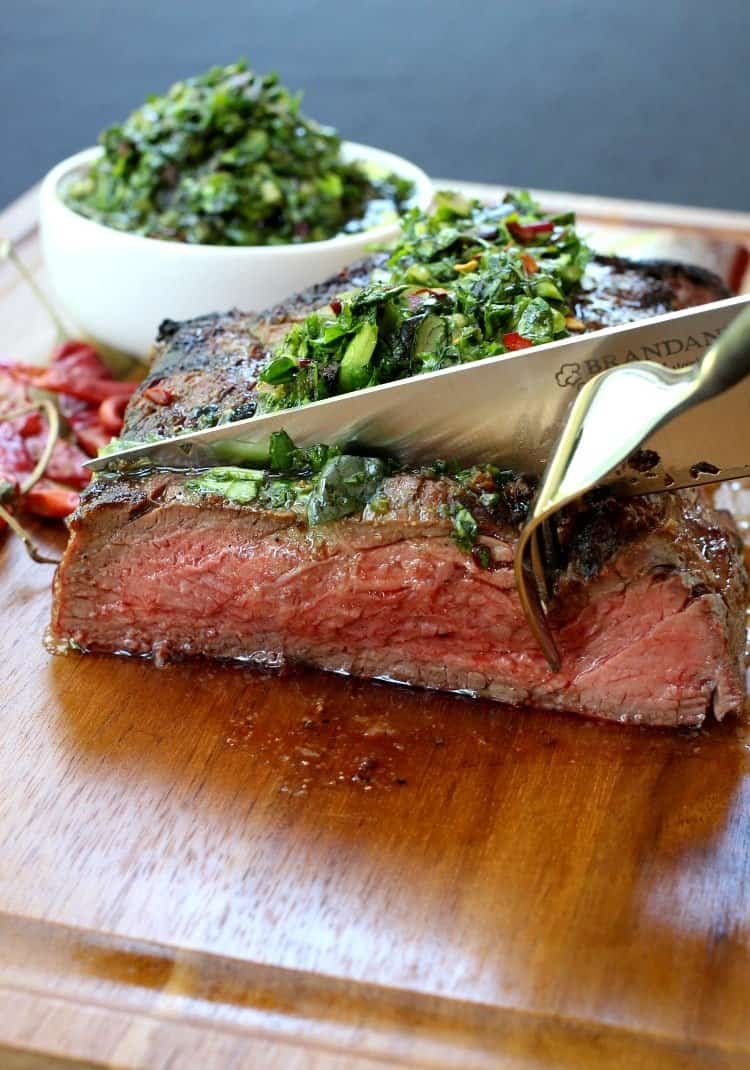 I poured the spicy chimichurri sauce all over the steak first and then sliced it. Then I poured on some more.
Worried about the spiciness for the kids? Don't be. This is seriously the best recipe to try out any type of spice level on your kids. The freshness of the kale, parsley and garlic tone down the heat so you hardly know it's there.
How did we describe dinner to our 8 year old? Salad sauce on a steak. He thought that was pretty hilarious and interesting enough to eat.
So he did and he loved it, and now he asks for Grilled Steak with Spicy Kale Chimichurri sauce every now and then when I'm grilling…you know, the salad sauce on the steak.
Family dinners are even better when the kids eat all their dinner too, right? I mean it's east to get a win if you're putting spaghetti and meatballs on the table but when you win a dinner like this it feels pretty awesome.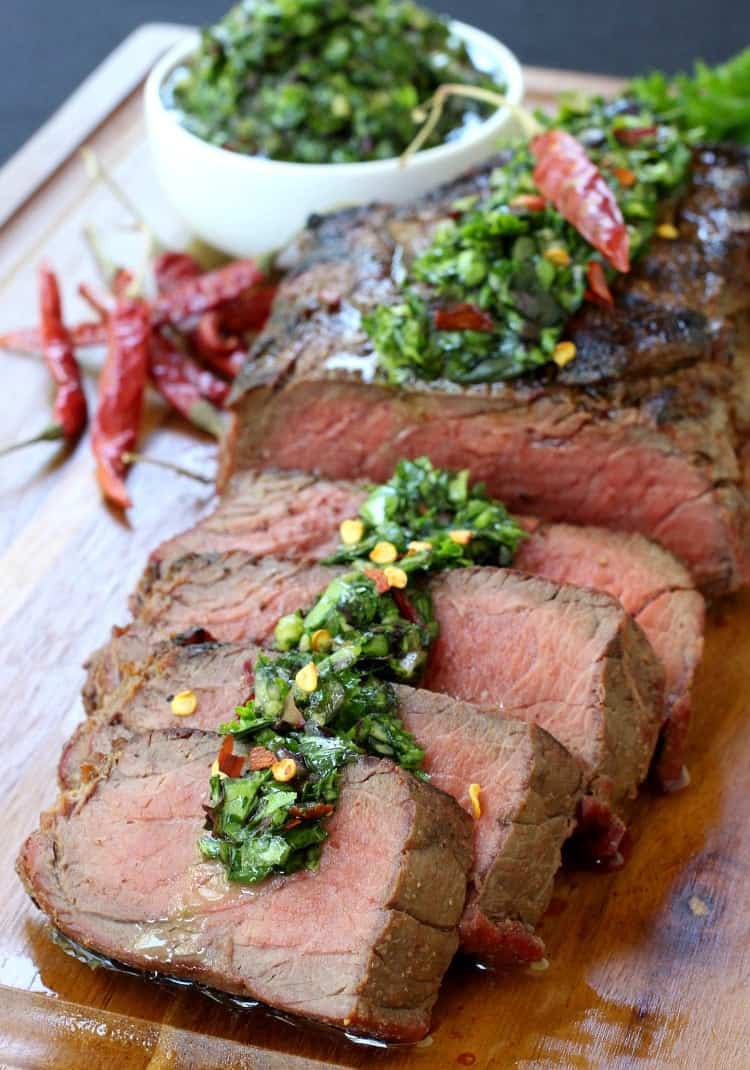 Click on the links below to load up some offers for Nature's Promise to your Stop & Shop card!
Load Offers for Nature's Promise Products To Your Stop & Shop Card Here
Using mobile? Click here to load offers
This is a sponsored post written by me on behalf of Stop & Shop for IZEA. All opinions are 100% mine.
Print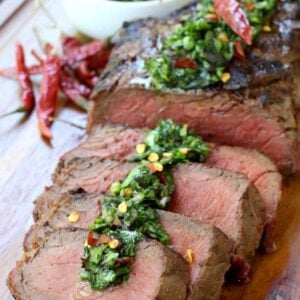 Grilled Steak with Spicy Kale Chimichurri Sauce
Author:

Yield:

6
---
Ingredients
2 lb. sirloin (or flank) steak

1 t. salt
1/2 t. pepper
1/2 teaspoon cumin
1/2 teaspoon garlic powder

For the chimichurri sauce
1/4 cup chopped parsley, chopped fine

1/4 cup chopped kale and spring mix, chopped fine
2 tablespoons chopped shallot, chopped fine

3 garlic cloves, minced
1/2 cup olive oil
1 teaspoon honey

1/4 teaspoon salt
1/2 teaspoon crushed red pepper flakes
---
Instructions
Add all the ingredients for the sauce to a small bowl and mix to combine. Let sit on the counter until the steak is done.
Preheat the grill to medium-high heat while you season the steak.
Use the salt, pepper, cumin and garlic powder to season the steak by rubbing onto both sides.
Grill the steak for 8 minutes on each side for medium rare, this will depend on the thickness of the steak you're using but you want an internal temperature of 140 degrees with a 15 minute resting time.
Pull the steak off the grill and let it rest for 15 minutes, covered with foil.
Slice the steak and top with the chimichurri sauce.