Our Turkey or Chicken Cutlets can be oven baked or air fried! These crispy breaded cutlets can be eaten in sandwiches, salads or just as is! One of our favorite ways to eat these are with a light salad right on top, Milanese style!
You can use these chicken or turkey cutlets to make so many delicious meals like a quick Chicken Parmesan dinner over spaghetti or serve with a Homemade Caesar Salad, either cut up on top or on the side!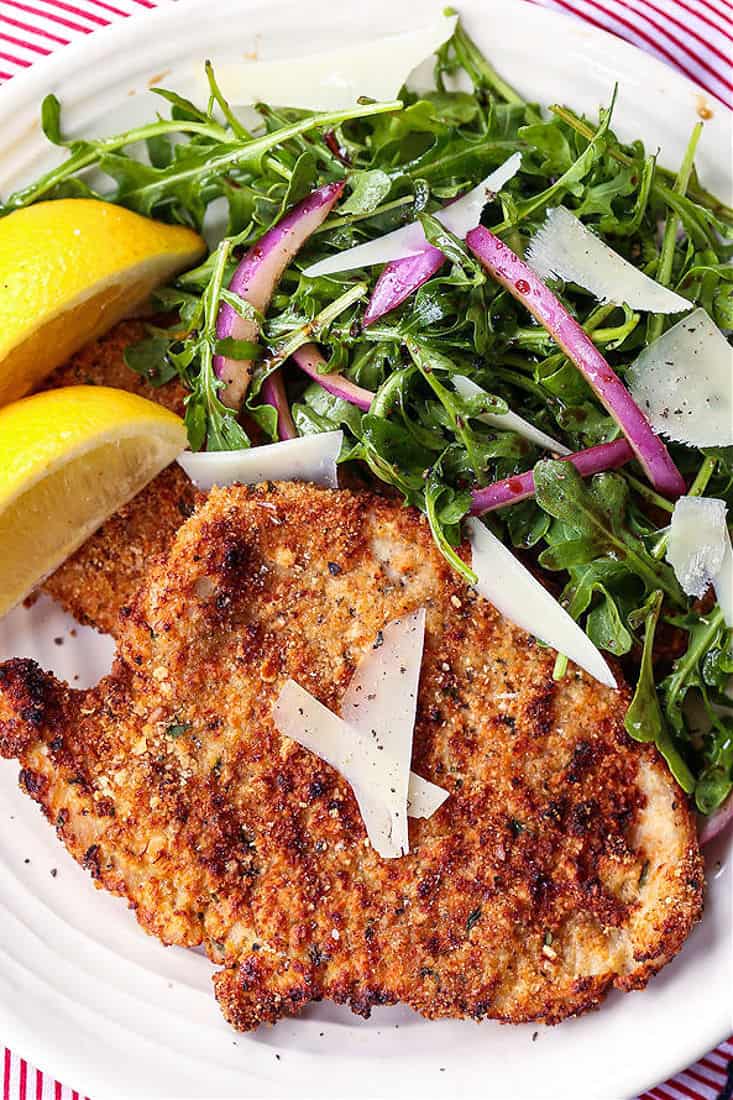 Breaded Turkey or Chicken Cutlets
Talk about the best meal prepping recipe ever. These Turkey or Chicken Cutlets are in our fridge at all times. Our older son grabs a fork and just starts eating, our younger son like these breaded cutlets on a bun with lettuce and cheese.
We like serving these cutlets Milanese style with a lightly tossed mixed greens salad right on top. You get that warm, crispy cutlet combined with a tangy, cool salad bite all together. It's pretty amazing.
How Do You Make Crispy Breaded Cutlets Without Frying In Oil?
There are a few tips and tricks for getting the crispiest cutlets ever, no oil required. First, choose your cooking method – the oven or your air fryer. After testing these chicken cutlets both ways, we found them to have pretty similar results so it's up to you!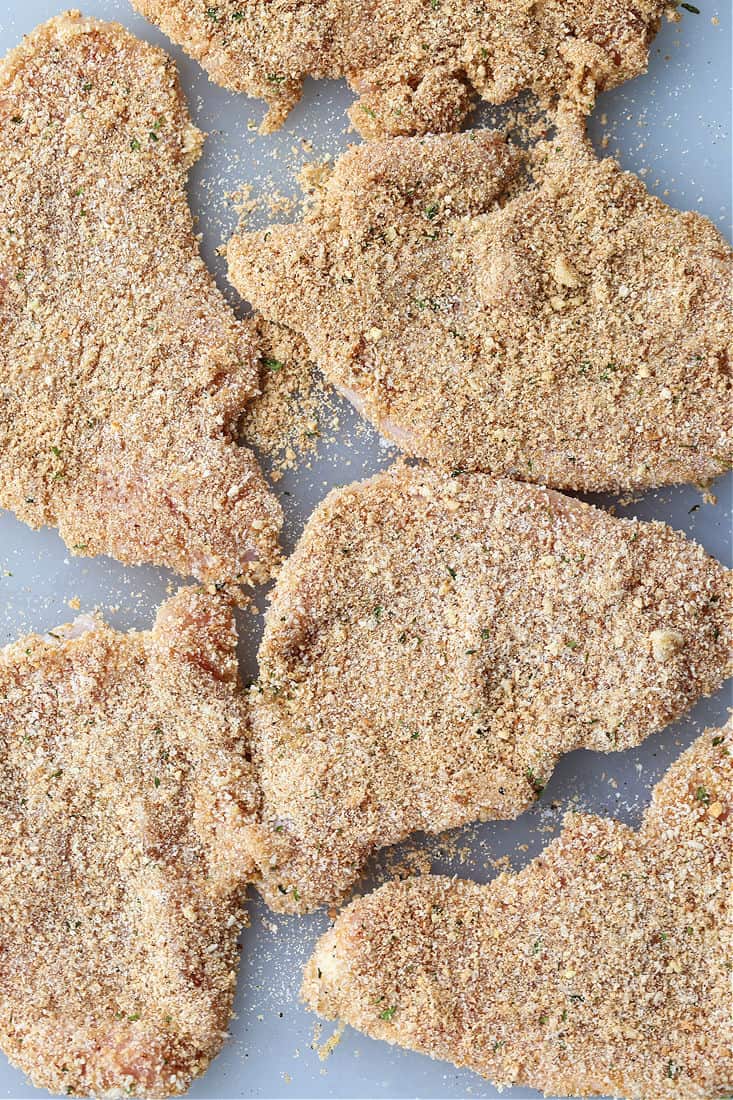 One tip that we have for you is using whole wheat breadcrumbs. Using whole wheat bread crumbs does add to the flavor, but it also gives these cutlets a deeper brown color when they're done cooking.
And we know brown food equals good food. No one wants to eat a pale looking chicken cutlet.
Another tip is to get your oven nice and hot, if you're choosing the oven method. We're talking about 450 degrees here, so you get a nice sear on the outside of your cutlets without using any oil other than a quick spray on top.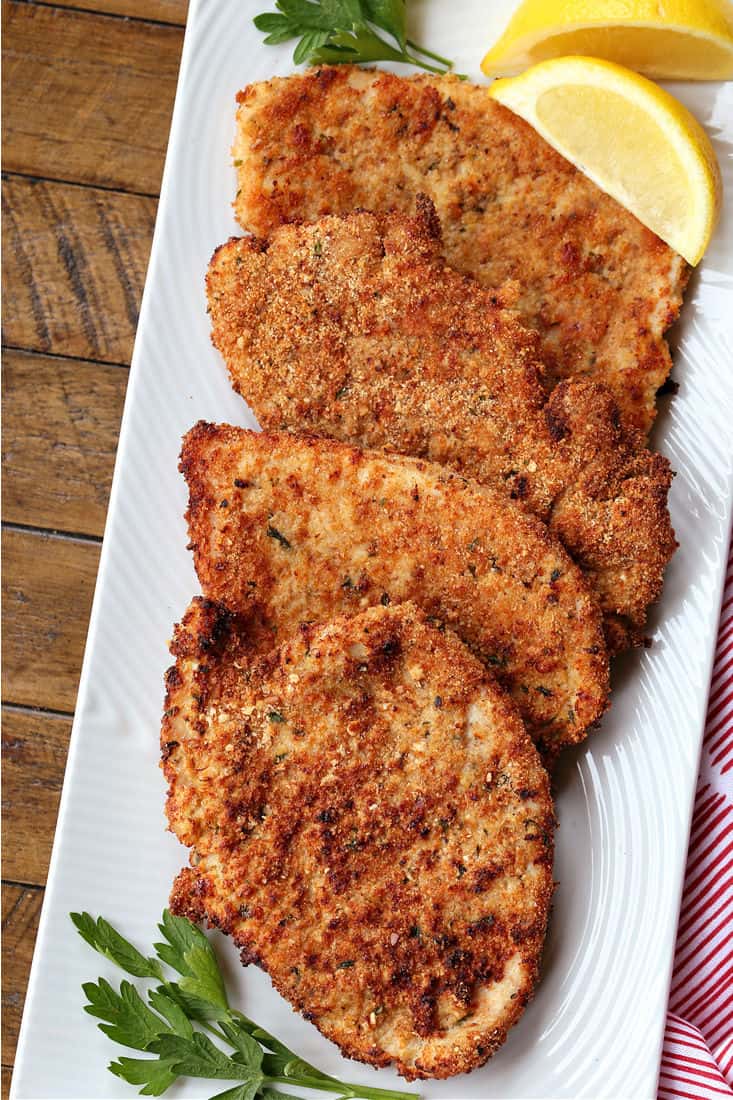 Our last tip is to use thin sliced chicken or turkey cutlets. The thinner the cutlet, the crispier it will cook up for you. Grab thin sliced cutlets right at the grocery store and stock up when they go on sale. Actually, we've found that the thin sliced cutlets are on sale much more frequently that the regular chicken breasts, so yep, we grab a bunch.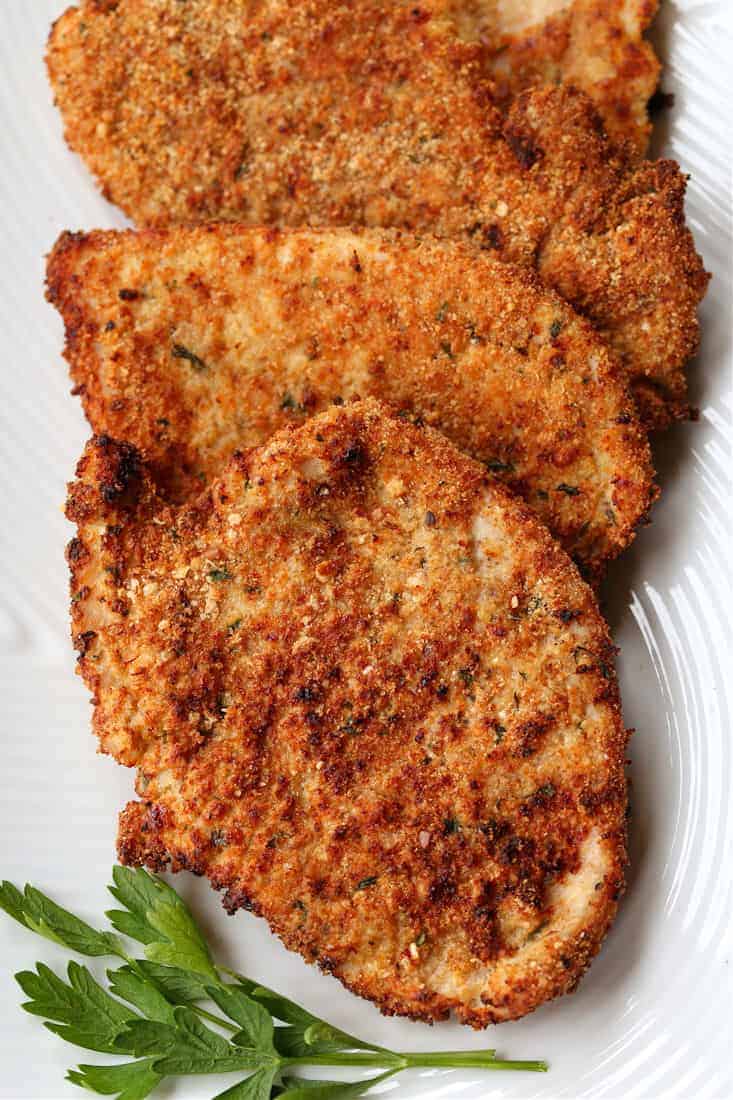 How Can You Serve These Turkey or Chicken Cutlets?
As we have already discussed, these turkey cutlets are perfect for meal prepping because they're easy to make and reheat wonderfully. Another reason we love meal prepping with these breaded cutlets is because they are so versatile, you can use them in so many different ways.
Make a quick chicken parmesan: Melt mozzarella cheese on top of these cutlets and serve them on top of spaghetti tossed with marinara sauce.
Cut up in your favorite salad: Make your favorite salad and cup up these chicken or turkey cutlets and toss together.
Serve on a Roll or Wrap: On a roll with lettuce and American cheese is our little guys favorite method, or a piece of fresh mozzarella with a tomato and balsamic drizzle, or sliced in a wrap with cheddar cheese, beans and guacamole!
AS IS: Serve these crispy breaded cutlets as is with a squeeze of fresh lemon and a few grates of good parmesan cheese. Dinner is done.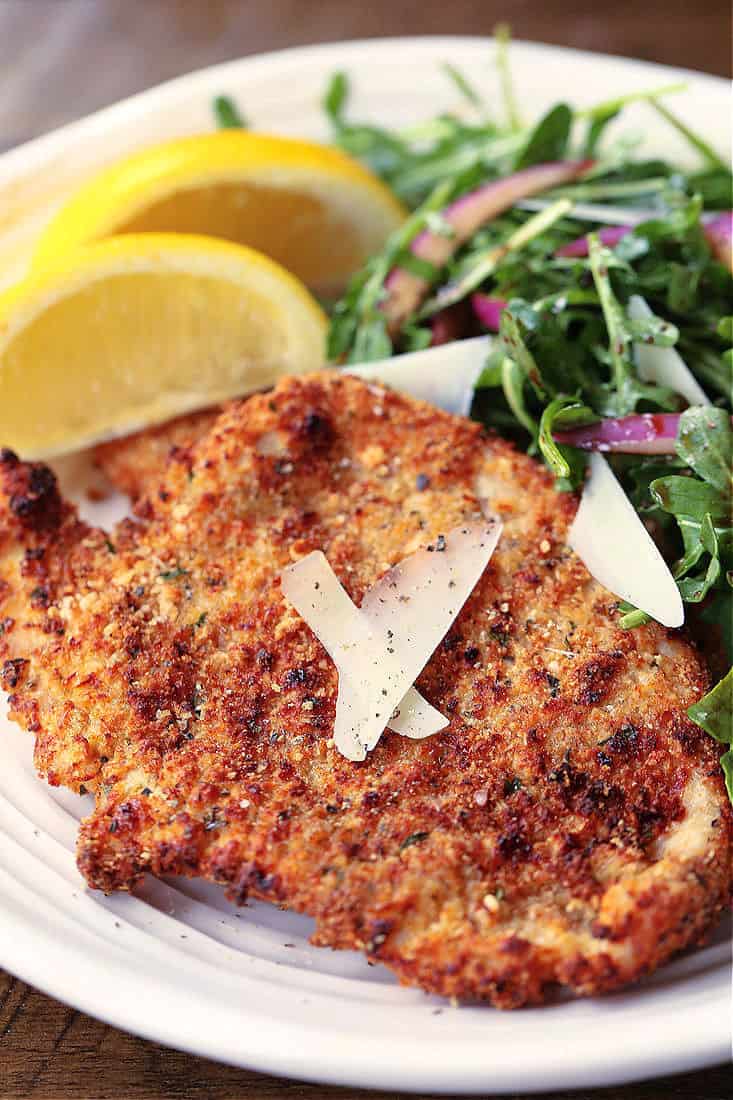 What Can I Serve On The Side Of These Breaded Cutlets?
Pretty much anything you like, veggies, pasta, potatoes, we've got tons of ideas for you here!
Print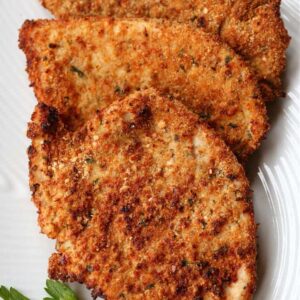 Turkey or Chicken Cutlets
Author:

Prep Time:

5 minutes

Cook Time:

10 minutes

Total Time:

15 minutes

Yield:

4

servings

1

x
Serve these crispy Turkey or Chicken Cutlets as is with a squeeze of lemon, in your favorite salad or on a bun with lettuce, pickles and cheese! Air fried or oven baked so no oil required!
Scale
Ingredients
1

pound thin sliced turkey or chicken cutlets
Kosher salt, black pepper and garlic powder for seasoning the turkey or chicken

1/2 cup

flour

2

eggs, beaten with a splash of water

1/2 cup

whole wheat bread crumbs (can also substitute regular)

1/2 cup

grated parmesan cheese
Instructions
Preheat the oven (if using) to 450 degrees. If using an air fryer, the cooking temperature will be 400 degrees, so preheat to that temperature if your air fryer requires preheating.
Season both sides of the chicken or turkey cutlets generously with salt, pepper and garlic powder. Mix the bread crumbs and parmesan cheese together in a shallow, wide bowl. Add the beaten eggs to another shallow, wide bowl. Add the flour to another shallow bowl.
Dip each seasoned chicken or turkey cutlet into the flour on both sides, tapping off the excess. Next dip the cutlet into the eggs, letting the excess drip off. Now place the cutlet into the bread crumbs and parmesan cheese mixture, pressing the coating into both sides of the cutlets. Place on a board and repeat with the remaining cutlets.
Oven Bake Method:
Spray a baking sheet with non-stick cooking spray and place the cutlets on the sheet in a single layer. Spray the tops of the cutlets with the cooking spray (we like to use an avocado oil or olive oil cooking spray) and bake in the oven for 7 minutes.
Remove the cutlets from the oven and turn over, spraying with the cooking spray again, and bake for another 6-7 minutes.
Air Fryer Method:
Spray the insert or racks of you air fryer with cooking spray and place the cutlets on the racks in a single layer. Spray the tops of the cutlets with cooking spray.
Cook for 5 minutes at 400 degrees, flip the cutlets over and spray again with cooking spray and cook another 5 minutes on the other side.
Recipe Notes
To reheat leftover cutlets, microwave for 30 seconds on each side or reheat in the oven at 350 degrees for 7-8 minutes.
Category:

Dinner

Method:

Oven / Air Fryer

Cuisine:

American
Keywords: mantitlement, chicken cutlets, turkey cutlets, air fryer recipe, oven fry, oven bake, healthy recipes, dinner ideas