Easy Parmesan Chicken Tenderloins are breaded chicken tenderloins topped with sauce and mozzarella! A mini chicken parmesan dinner!
Kid friendly recipes? Yep, we've got them. But our kid friendly recipes are loved by adults, too. I mean, we've gotta eat it too, right? Making all the different meals on the same night can really be a pain, so we make what everyone likes! For some other ideas check out or Beefy Tomato Soup filled with beef and pasta in a creamy tomato broth or these BBQ Meatloaf Muffins (another mini recipe kids love) that you can make with ground turkey or ground beef!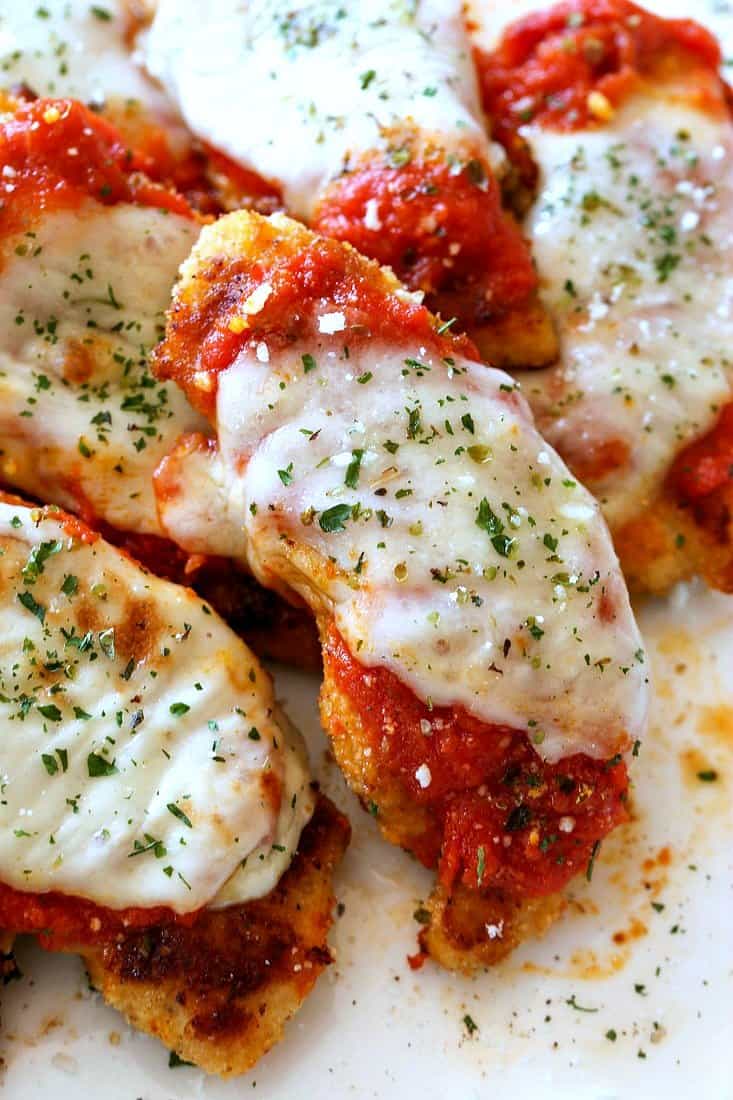 A Family Favorite Dinner Recipe
So when we make dinner, we make it for the whole family. Even when our kids were little, dinner was dinner. Unless of course we were making liver and onions…which, nope, we never made. So expecting our kids to eat whatever we were eating for dinner really wasn't a hard thing to ask.
Of course there were many times when they got macaroni and cheese or store bought chicken nuggets. Of course. We're not weird. But I have to say that most of the time they ate what we made, and now still do.
These Easy Parmesan Chicken Tenderloins are one of their favorite dinners, even at 12 and 16. We love these baked chicken tenderloins, too so we make them pretty often. A baked chicken tenderloin that's still crispy and covered with sauce and cheese…what's not to love??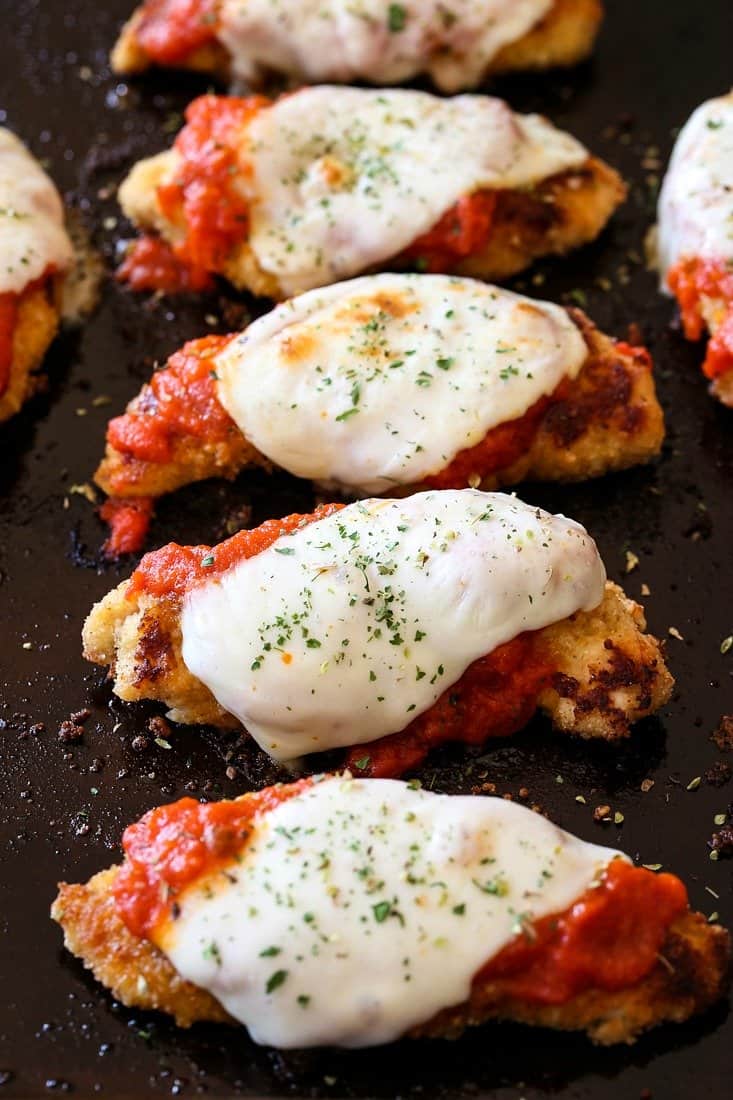 Ingredients to Make Easy Parmesan Chicken Tenderloins:
There are SO many ways that you can switch this recipe up by adding or swapping out ingredients, we'll get into that a little later but here are the basics!
Chicken Tenderloins: You can also use chicken breast that you cut into strips, really just use whatever you have on hand. But we like chicken tenderloins for this recipe because they are so easy to use, and usually at a good price at the store.
Marinara Sauce: Grab your favorite brand at the store or make your own and freeze it! We do that a lot but we also buy jarred sauce A LOT. Just find a brand that you like and stock up!
Mozzarella Cheese: It wouldn't be chicken parmesan without mozzarella cheese. For easy chicken tenderloin recipes like this one, we kept it simple and used sliced mozzarella cheese that we cut in half. Shredded mozzarella cheese will work though, too if that's what you have.
Breadcrumbs: Plain breadcrumbs or seasoned, both will work fine. For this chicken tenderloin recipe we used regular, fine breadcrumbs instead of a panko breadcrumb, but again, both will work.
Grated Parmesan Cheese: Get the best quality that you can find, usually it's in the produce or deli section of the store. The stuff that's already grated in the cans isn't going to add much flavor at all.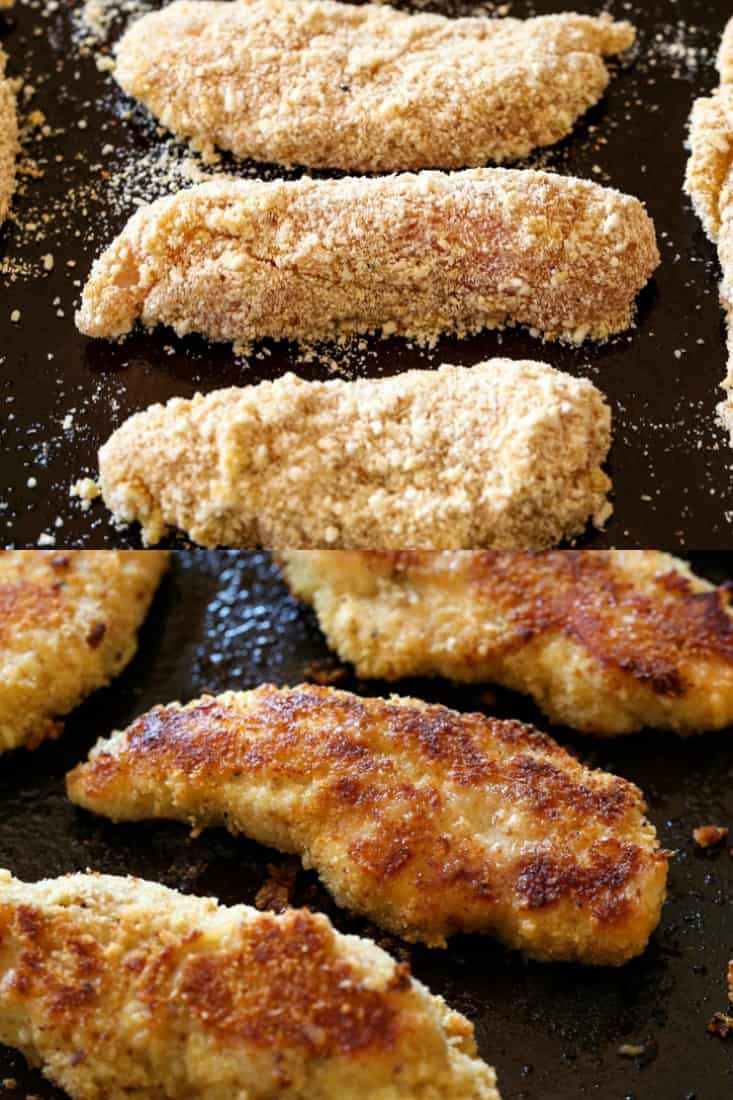 How Do You Get Oven Baked Chicken Crispy?
As you can see in the picture above, these baked chicken tenderloins are super crispy. There's a few, easy tips to getting oven baked chicken crispy and there so easy to do! First of all, you have to get your oven to the right temperature, yes, your oven does go way above 400 degrees. 425 is our go to temperature for this chicken recipe because these tenderloins are small so they are going to cook up quickly.
Next you have to get your favorite oil cooking spray ready. So you can use a regular non-stick cooking spray but we love real oil cooking sprays that use avocado oil or olive oil. they are usually found right where the regular cooking spray is and we use them all the time.
It's a great way to evenly distribute a thin layer of oil that won't make the food soggy, just perfectly crispy.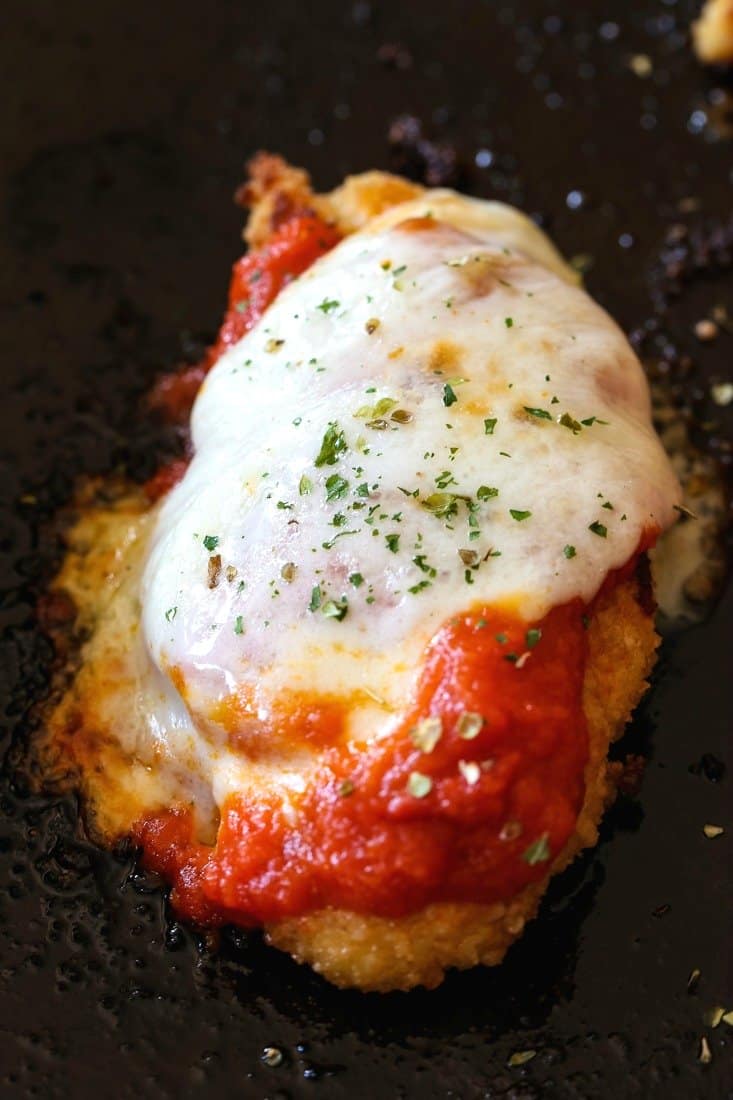 How Do You Make These Baked Chicken Tenderloins?
Set up a two bowls to use for breading the chicken. One bowl will have a beaten egg mixed together with a splash of milk and the other will have a mixture of the breadcrumbs and parmesan cheese. That's how we get our breaded chicken so flavorful, by adding parmesan cheese to the coating.
The other way that we get this chicken tenderloin recipe so flavorful is by seasoning the chicken before we bread it. This is a step that a lot of people tend to leave out, and it makes a world of difference. Once the chicken tenderloins are breaded, place them on a baking sheet and spray with an oil spray, like we discussed before.
Bake the chicken on both sides for a total of about 12-13 minutes. Then remove the baked tenderloins from the oven, add a spoonful of sauce and a slice of mozzarella cheese. Back into the oven to melt the cheese just for a couple of minutes and they're done!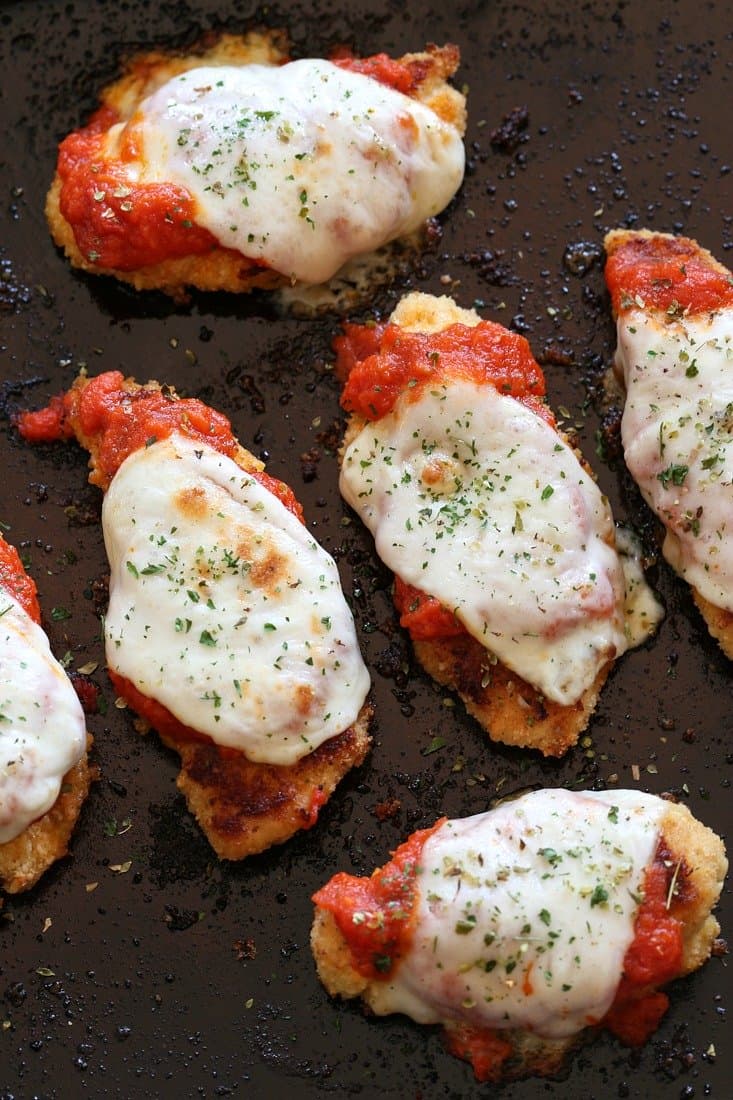 Can You Make These Easy Parmesan Chicken Tenderloins Ahead Of Time?
This is one of those recipes that is really best when it first comes out of the oven. Easy chicken tenderloin recipes like this one are usually pretty fast so making it right before dinner usually isn't a problem. And you can't beat that oven baked, crispy, cheesy coating so it's definitely worth it!
Not that we don't eat this chicken if it's leftover, because we certainly do. The coating won't be crispy after reheating, unless you pop it back into a really hot oven, like 475 for a few minutes, but they are still delicious.
However, you can cook the breaded chicken tenderloins, let them cool and then freeze them for meal prepping or if you want to make these in bulk. Take them out of the freezer and bake frozen at 425, adding a few minutes to the cooking time. Then top with the sauce and cheese, or if you want just keep them plain for a delicious chicken tender!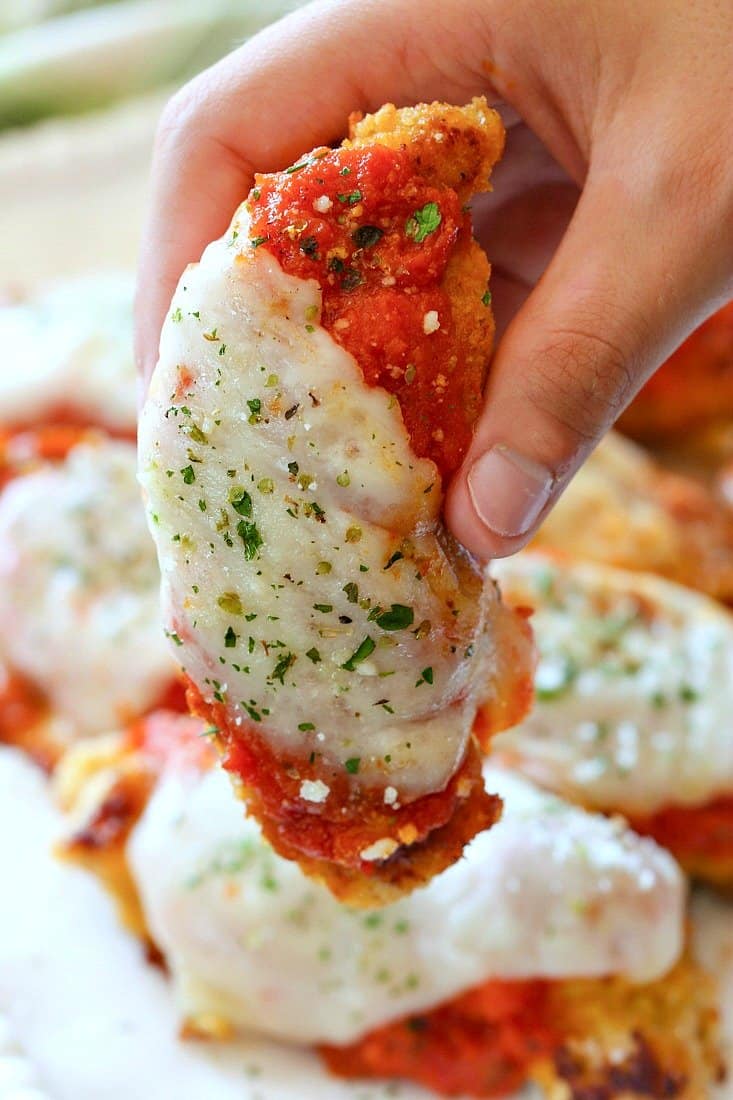 What Sides Can I Serve With This Easy Chicken Dinner?
Sometimes, I have to admit, there aren't any sides…on busy nights we'll have a tray of these chicken tenders on the stove and a bag of baby carrots or sliced cucumbers for grabbing. It works, it's still healthy and super easy. But on nights that aren't as busy we do loves our sides!
Looking For More Easy Chicken Recipes?
Print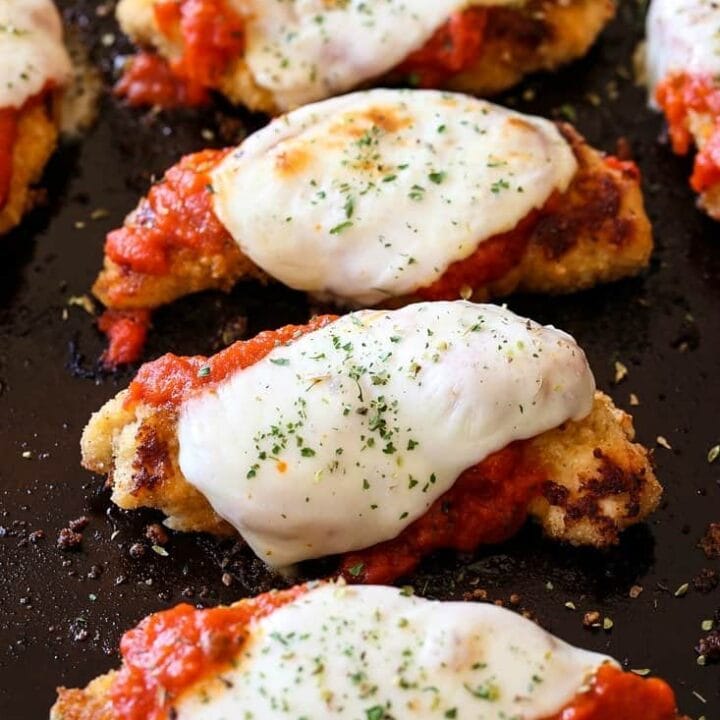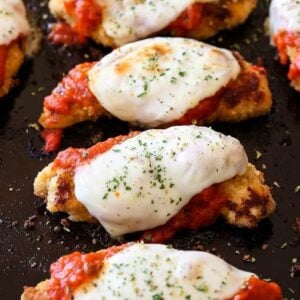 Easy Parmesan Chicken Tenderloins
Author:

Prep Time:

10 minutes

Cook Time:

15 minutes

Total Time:

25 minutes

Yield:

4

servings

1

x
These easy to make chicken tenders are always a family hit! Miniature pieces of cheesy chicken parmesan that you can serve with pasta or a salad!
Scale
Ingredients
1

pound chicken tenderloins
Salt, pepper and garlic powder (for seasoning the chicken)

1

egg, beaten with 1 tablespoon milk

1/2 cup

breadcrumbs

1/2 cup

grated parmesan cheese

1/2 cup

marinara sauce (plus extra for serving)

4

slices mozzarella cheese, cut in half
Fresh or dried parsley for garnish
Instructions
Preheat the oven to 425 degrees.
Season both sides of the chicken tenderloins with the salt, pepper and garlic powder.
Mix the breadcrumbs and parmesan cheese together in a bowl. Dip each chicken tenderloin into the egg mixture first, letting the excess drip off and then into the breadcrumbs, pressing to adhere the breadcrumbs to the chicken. Place on a baking sheet that's been sprayed with non-stick cooking spray and repeat with the remaining chicken tenderloins.
Spray the tops of the breaded chicken with an olive oil or avocado oil cooking spray and bake for 8 minutes and then turn the chicken over and bake for another 5.
Remove the tenderloins from the oven and spoon some of the sauce over each piece. Add a half of a mozzarella cheese slice to each tenderloin and return to the oven for another 2-3 minutes to melt the cheese.
Sprinkle the tops of the chicken with fresh or dried parsley and serve.
Category:

Dinner

Method:

Oven

Cuisine:

American
Keywords: easy chicken recipes, chicken recipes, dinner recipes, dinner ideas, chicken tenderloin recipes, oven baked chicken, baked chicken, chicken parmesan