Air Fryer Baby Potatoes are mega crispy on the outside and soft and fluffy on the inside! Using the air fryer lets you cut way down on the oil, making these potatoes a healthy side dish option!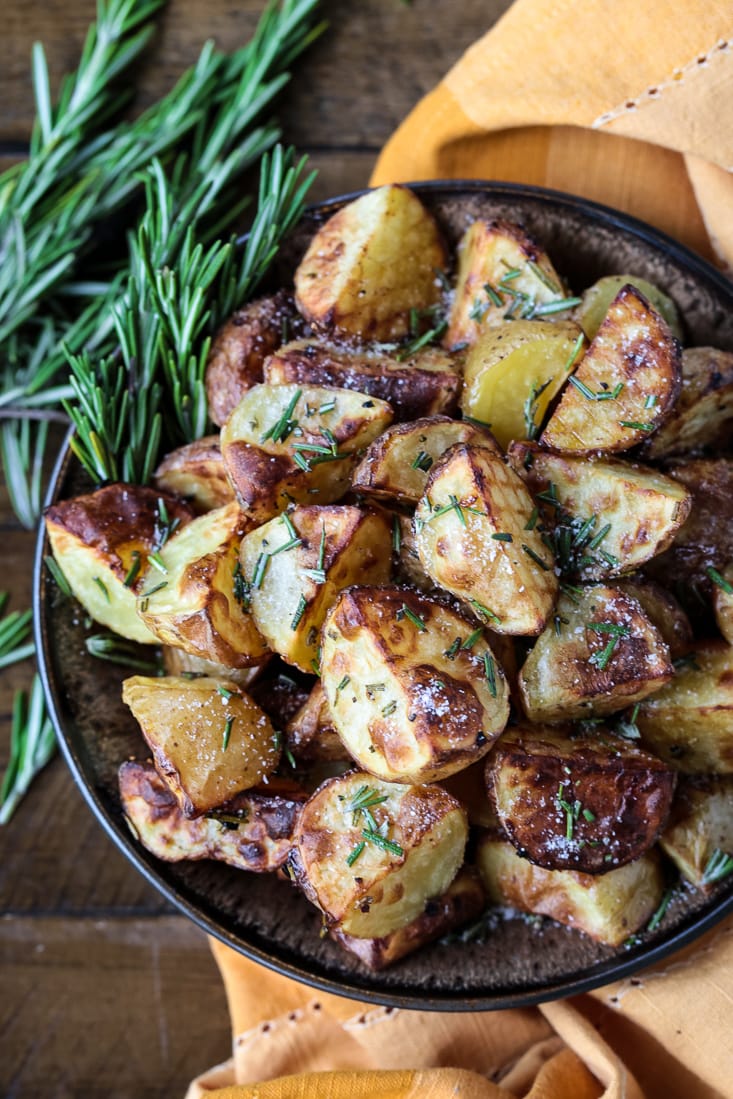 Super Crispy Air Fryer Potatoes
There are some things, I have to say, that air fryers just do better. These Air Fryer Baby Potatoes are an example of air frying at its best!
Of course, we could fry these baby potatoes in oil to achieve a super crispy, fried potato. But in the effort to save some calories and fat content, the air fryer does the job wonderfully.
Our family literally gobbles these potatoes up, they're always the first thing to go at the dinner table! A super versatile side dish recipe, these air fried potatoes go with just about any dinner!
How Do You Make Crispy Air Fryer Potatoes?
We do have a few tips to getting these potatoes mega crispy in your air fryer. Air fryers are really so easy to use, even our kids have somewhat mastered using it (especially for reheating leftover pizza!).
But we do have a couple of tips for making the ultimate, crispy air fryer potatoes!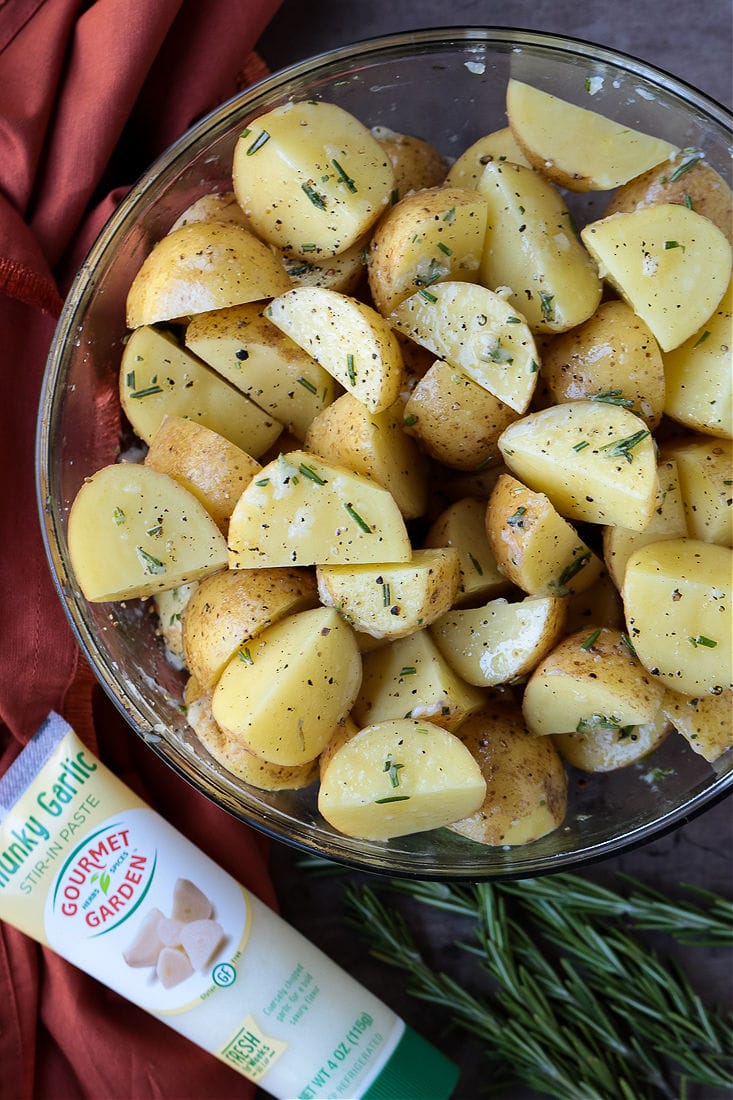 Light on the oil: Yes, we are trying to save some fat grams here by air frying, but truth be told, these potatoes are going to get a lot crispier if there's only a thin layer of olive oil on them.
Size of the potatoes: Make sure that you cut the potatoes so that they are all roughly the same size. This way they will cook at the same time, so you don't have some potatoes getting too brown where others aren't done.
Don't overcrowd: Whether you're using a basket type air fryer or a rack based version, you don't want to overcrowd the air fryer. Give the potatoes space for the air to flow around them for that perfect, crispy crust!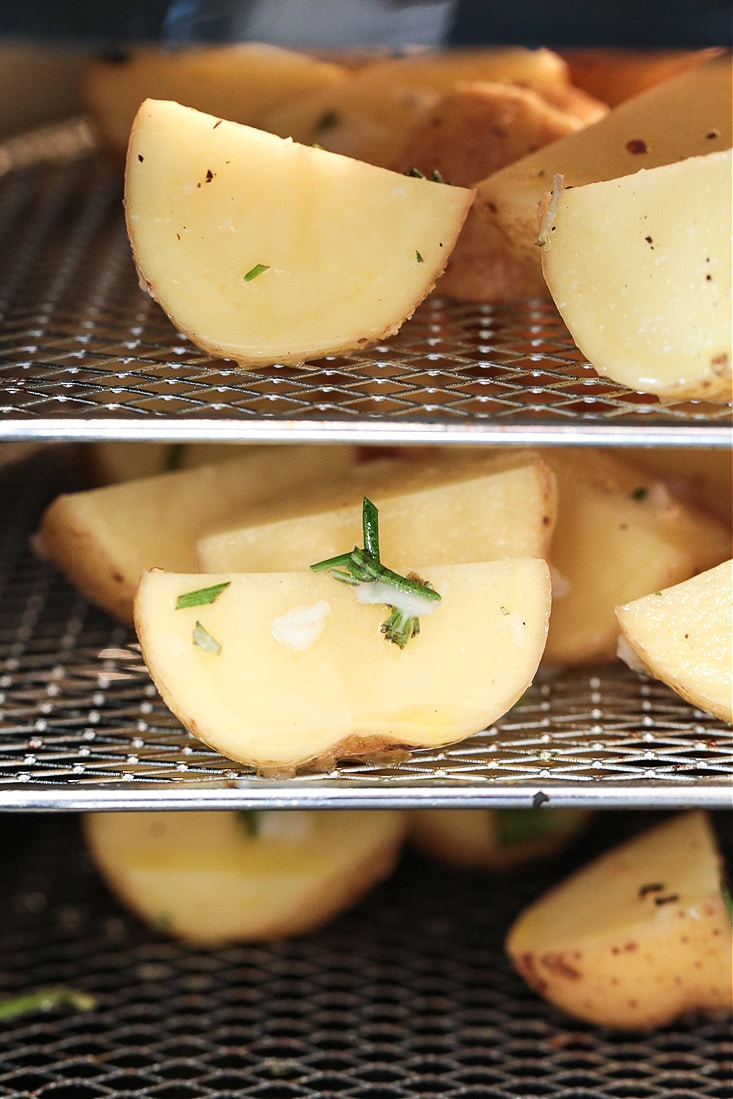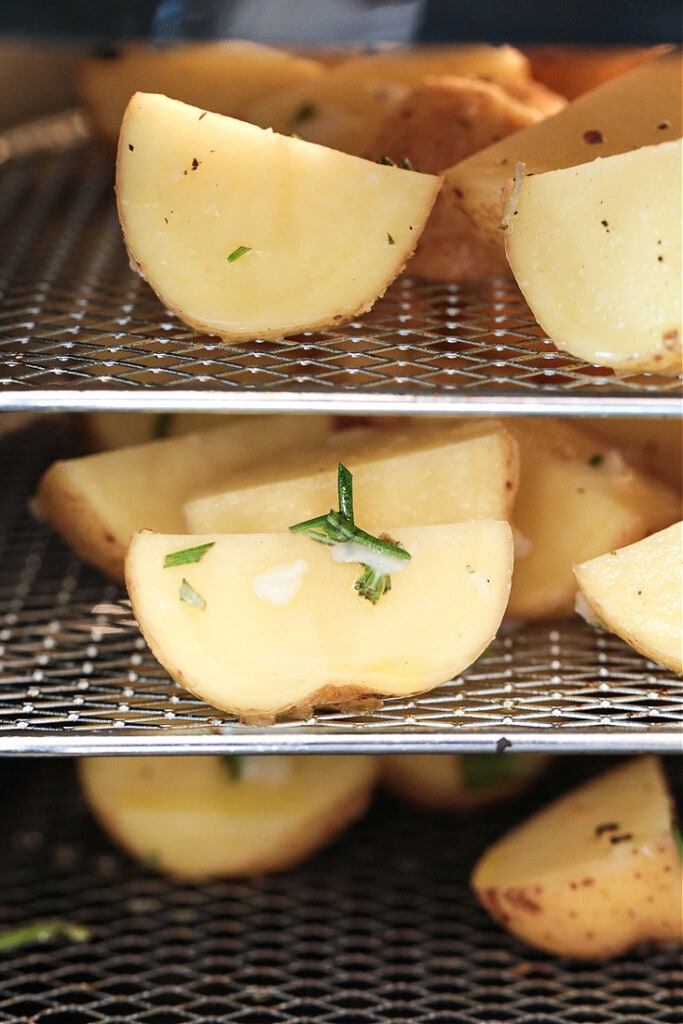 What Temperature Is Best For Air Frying Potatoes?
400 degrees is our go to for air frying potatoes. A high temperature will get these baby potatoes to their crispiest quickly, while maintaining a fluffy interior.
Because these are baby potatoes which are small in size to begin with, they aren't going to take a long time to cook through. Additionally, we're cutting the baby potatoes in half or in quarters if they're very large.
This not only ensures an even cooking time but it allows for the interior surface area of the potato to be exposed, resulting in a crispy exterior all around.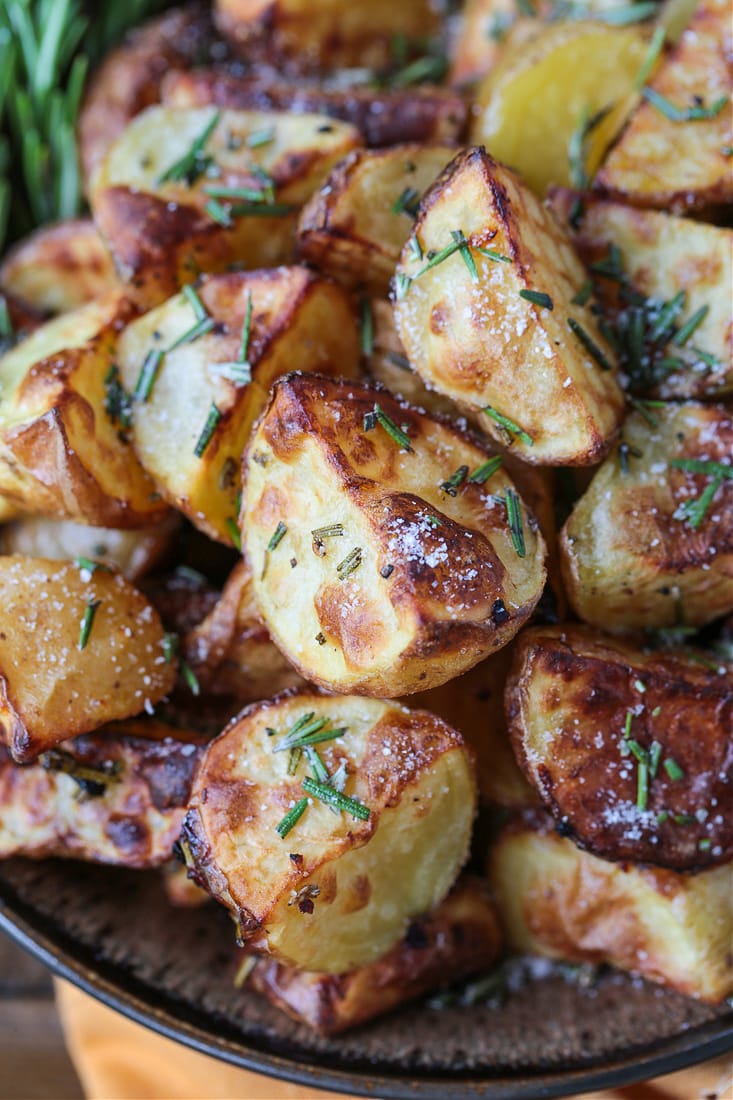 Should You Soak Potatoes In Water Before Air Frying?
Soaking potatoes in water before baking or frying removes excess starch in the potatoes, resulting in a crispier exterior. We use this method often for oven frying potatoes, or deep frying when we're splurging.
I don't find that these Air Fryer Baby Potatoes require a soak, but you certainly can add that step if you'd like too, 30 minutes in cold water will do the trick.
Just make sure if you do soak the potatoes that you dry them off very well with paper towels before adding the olive oil and seasonings.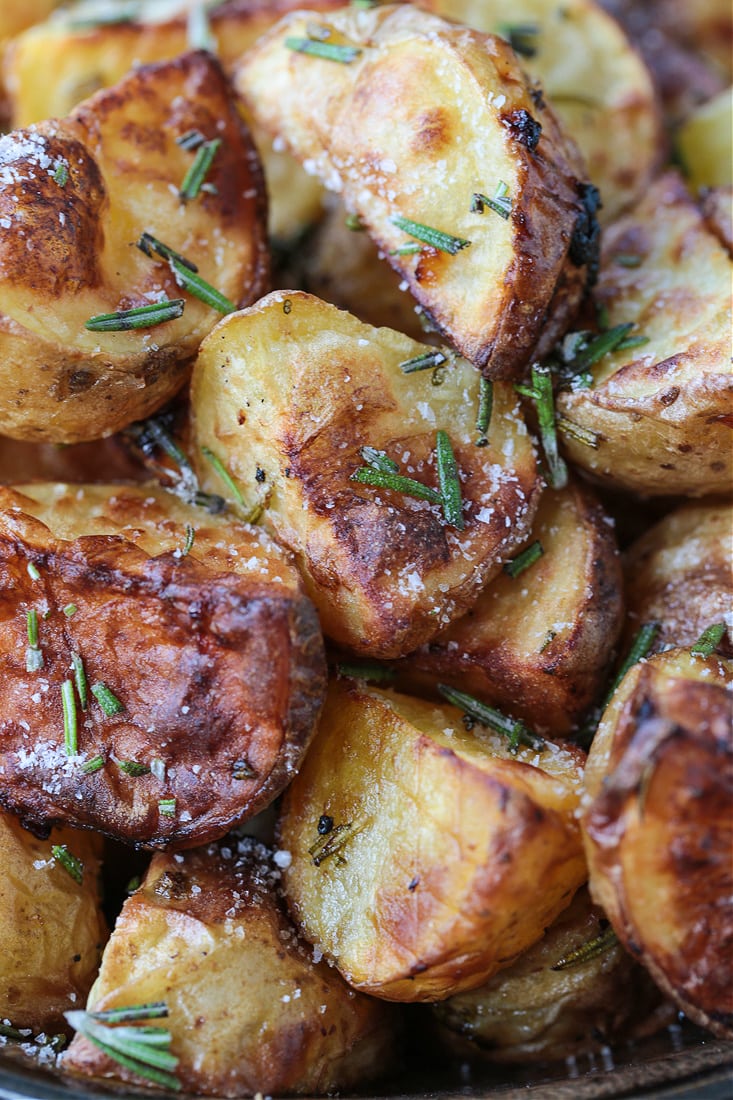 Do I Have To Use Oil To Make These Air Fryer Potatoes?
Using olive oil, or other oils like avocado or canola oil does help these baby potatoes to get extra crispy. But if you really don't want to use any oil, spray these potatoes with an olive oil or avocado oil cooking spray.
I promise, this will still result in crispy, air fried potatoes, so don't be afraid to try this method!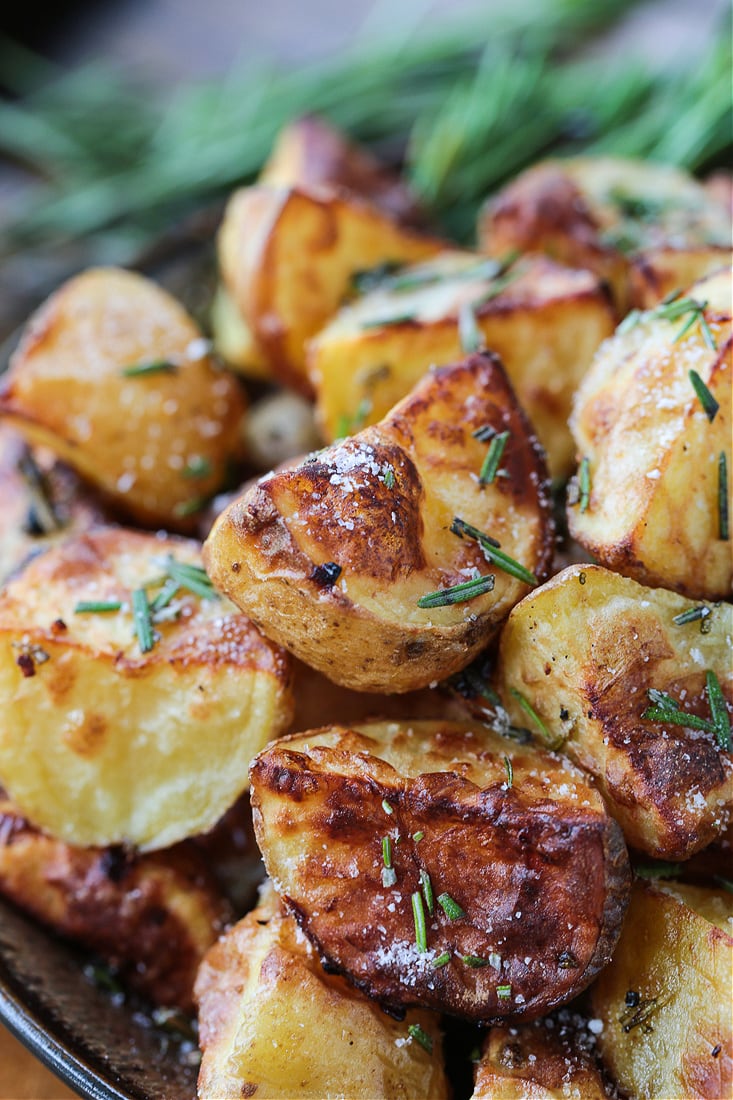 What Dinner Recipes Go Well With Potatoes?
Besides literally everything…we are a potato loving family so we'll eat a potato side dish with just about any meal! Here are a few of our favorite suggestions for dinner to serve with a potato side dish:
Looking For Some More Air Fryer Recipes?
Print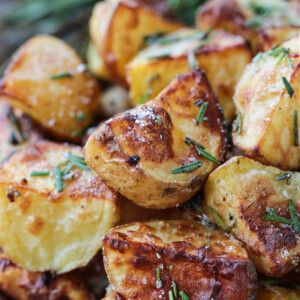 Air Fryer Baby Potatoes
Author:

Prep Time:

5 minutes

Cook Time:

15 minutes

Total Time:

20 minutes

Yield:

6

Servings

1

x
These Air Fryer Baby Potatoes are so crispy on the outside and tender and fluffy on the inside! A 15 minute, healthy side dish!
Scale
Ingredients
2

pounds baby yellow or red potatoes

2 tablespoons

chopped fresh rosemary

1 tablespoon

olive oil

1 1/2 teaspoons

kosher salt
Fresh black pepper to taste
Instructions
Preheat your air fryer, if needed, to 400 degrees.
Cut the baby potatoes in half or quarters if the potato is very large. You want to try and have the potatoes roughly the same size for even cooking. Add the potatoes to a bowl and toss with olive oil, rosemary, salt and pepper.
Place the potatoes in the air fryer basket, or on racks depending on your air fryer, and cook at 400 degrees for 10 minutes.
Toss the potatoes (if using a basket) or switch the racks to rotate the tops from the bottom racks. Cook another 6-7 minutes until the potatoes are brown and crispy.
Season with extra salt and pepper if needed, serve immediately.
Recipe Notes
Store: Store potatoes in a container or bowl covered with plastic wrap for 3-4 days.
Reheat: Potatoes will loose some crispiness after being in the refrigerator. To maintain crispiness, heat up in the air fryer at 400 degrees for 5 minutes or until warmed through. Alternately, in a skillet with a drizzle of olive oil will crisp the potatoes up as well. The microwave will warm the potatoes through but won't result in a crispy potato.
Freeze: Freeze cooked potatoes for up to 6 months in an air tight container or resealable freezer bag. To reheat potatoes from frozen, place in the air fryer at 375 for 10 minutes, tossing or adjusting racks in between cooking. Or place frozen potatoes on a baking sheet in the oven at 400 degrees for 12-15 minutes.
Category:

Side Dish

Method:

Air Fryer

Cuisine:

American
Keywords: mantitlement, air fryer recipes, potato side dishes, healthy recipes, low fat recipes, easy recipes, vegetable side dishes