These Crispy Baked Pork Chops have a panko breadcrumb and parmesan cheese coating that's out of this world delicious! A simple kitchen tool helps these chops get super crispy, right in the oven!
Love pork recipes? So do we! Be sure to heck out our Chinese Boneless Spare Ribs that can also be baked in the oven, or air fried or made in your slow cooker. And of course you can't ever go wrong with our Perfect Pulled Pork recipe!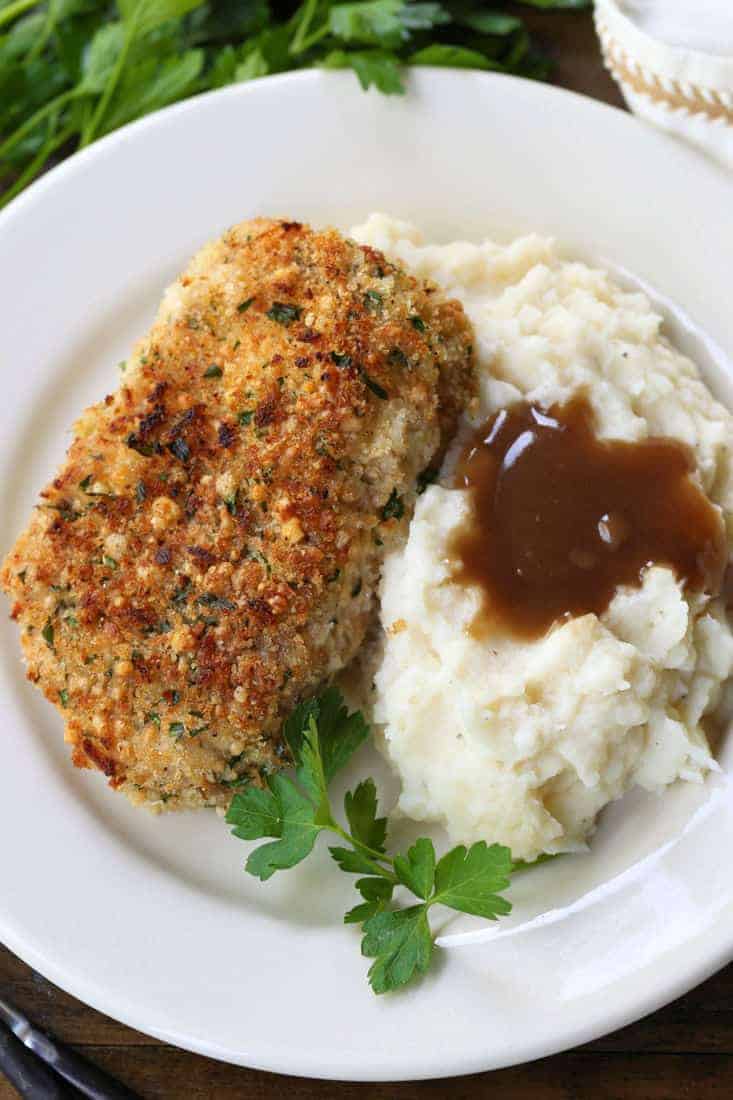 Oven Baked Pork Chop Recipe
These Crispy Baked Pork Chops turn out SO amazingly crispy, you won't believe that they weren't fried in oil. Using a baking rack placed over a baking sheet helps to get these pork chops crispy on both sides, instead of just the top.
We also added a lot of good quality parmesan cheese to the breadcrumb coating to give it tons of flavor. Our other secret to making these chops the best baked pork chops ever is our secret spice ingredient! You don't really know it's there but it adds a punch of flavor that makes these pork chops stand out from the rest.
How Do You Make Breaded Pork Chops In The Oven?
Grab 4 boneless, center cut pork chops from the store. They should be fairly thick, we're looking for about 2 inches thick for these chops. Definitely not the thin cut, those are great for cutlets, but not for this recipe.
Once you get your pork chops home you're going to pound them out until they are about half the thickness that they were originally. Why, you ask? Because pounding the meat tenderizes the pork and helps to keep it juicy, not dry.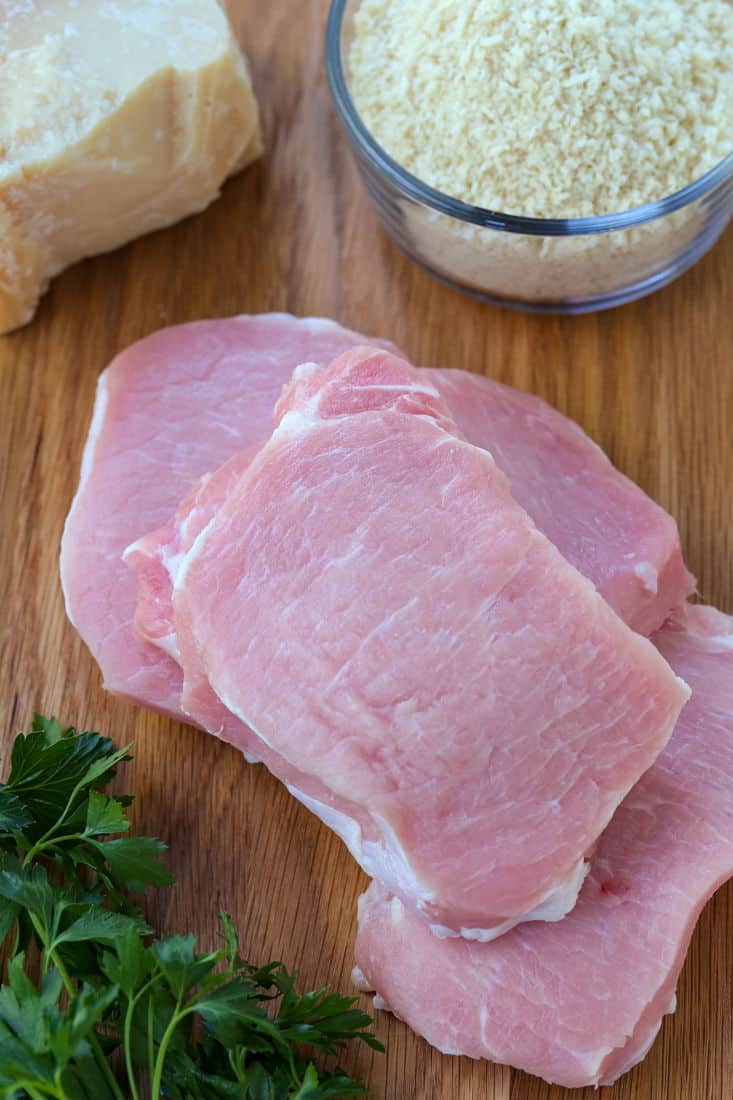 So when you start with a nice 2 inch thick pork chop and then pound them out, you're still going to have a nice, thick pork chop to cook. That's the goal here, a thick pork chop that's crispy oven baked, super flavorful and juicy on the inside. Think we can do it? You bet.
If you do get the right size pork chops, this Crispy Baked Pork Chops recipe has the perfect cooking time – and I mean perfect. You end up with a juicy pork chop that has that ever so slight pink hue to it, which is just what you're looking for.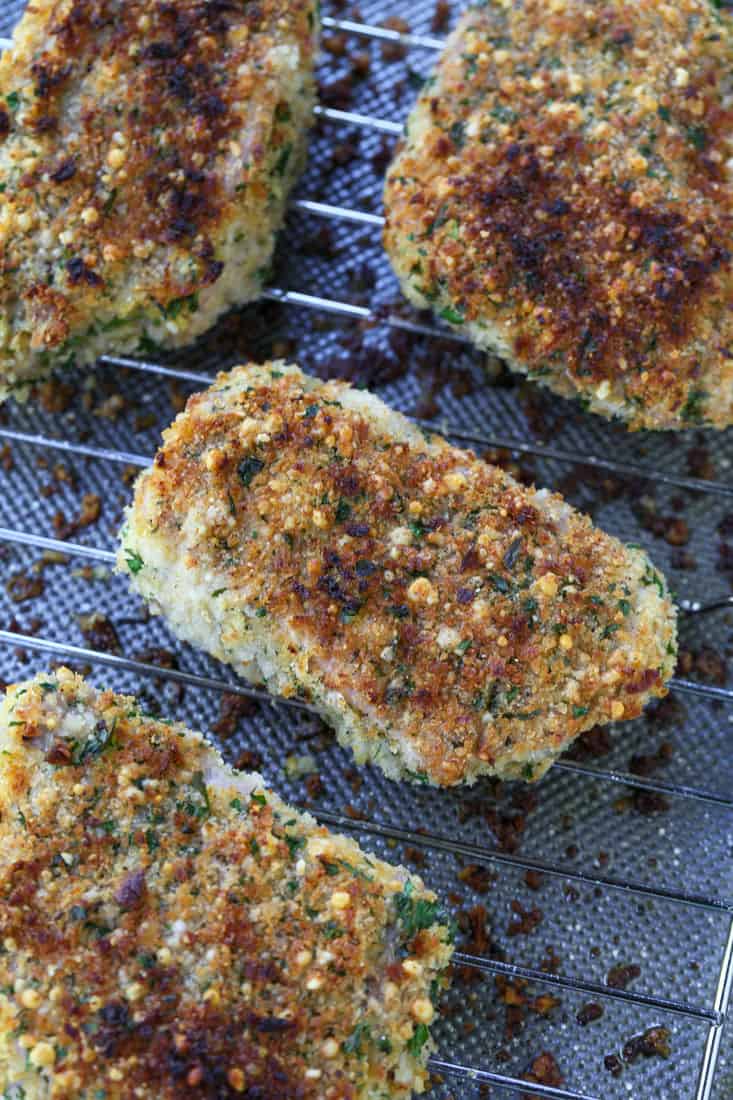 Look at how crispy those chops are! After you pound out the pork chops, set up a breading station with flour, eggs and the parmesan cheese and panko coating. Bread the pork and place it on a wire rack over a baking sheet.
This way both sides of the pork chops will get crispy – no soggy bottomed pork chops on our watch. You're going to bake these for 15 minutes on each side and then broil them for 4-5 minutes in your broiler. Let the chops rest covered with foil for another five minutes and you'll have THE most perfect pork chops.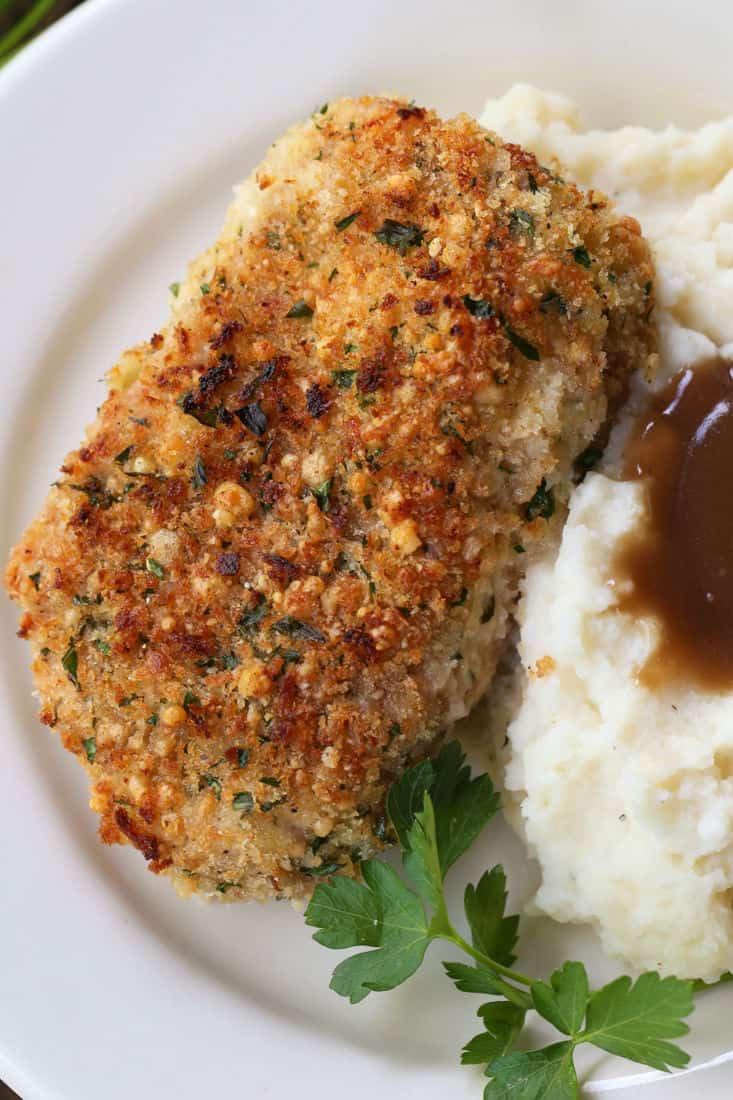 Can I Make This Pork Chop Recipe Ahead Of Time?
The short answer is not really. The crispy coating does get softer (dare we say mushy) when you go to reheat it, but I can promise you that leftovers are still going to be delicious.
The best way to reheat these leftover Crispy Baked Pork Chops is to place them back in the oven, directly on a sheet pan this time. Slicing the pork chop in half before reheating will help to cut down on the time so that the pork doesn't dry out.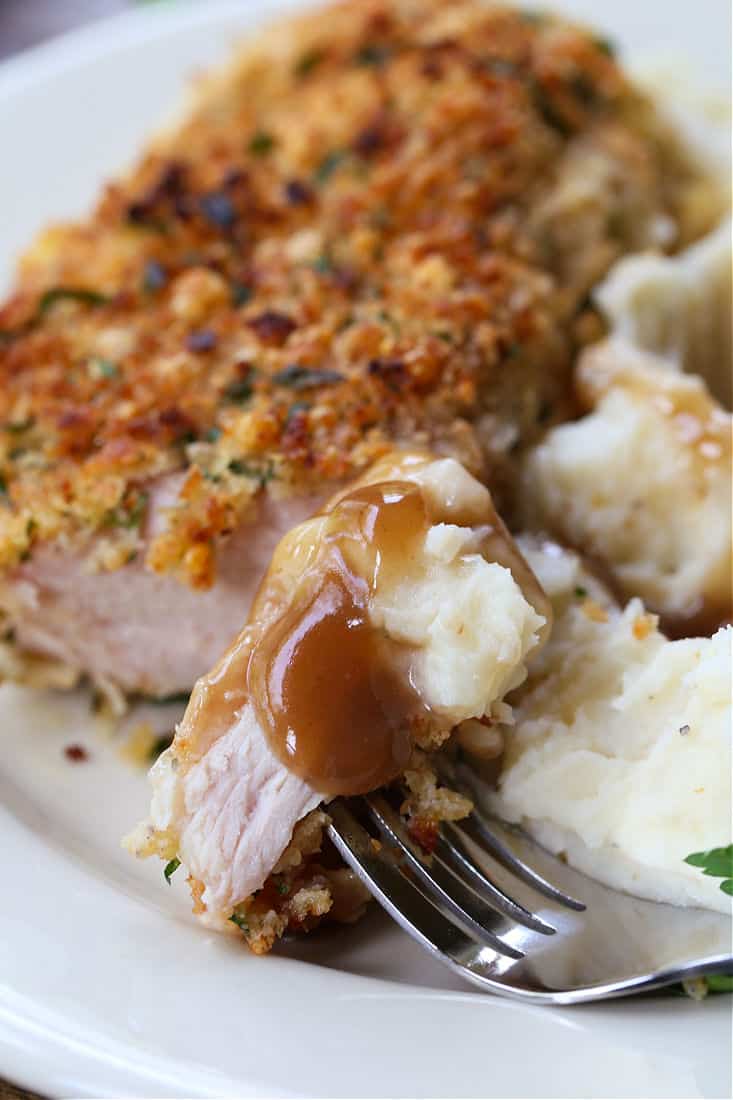 Looking For Side Dishes To Go With These Pork Chops?
Print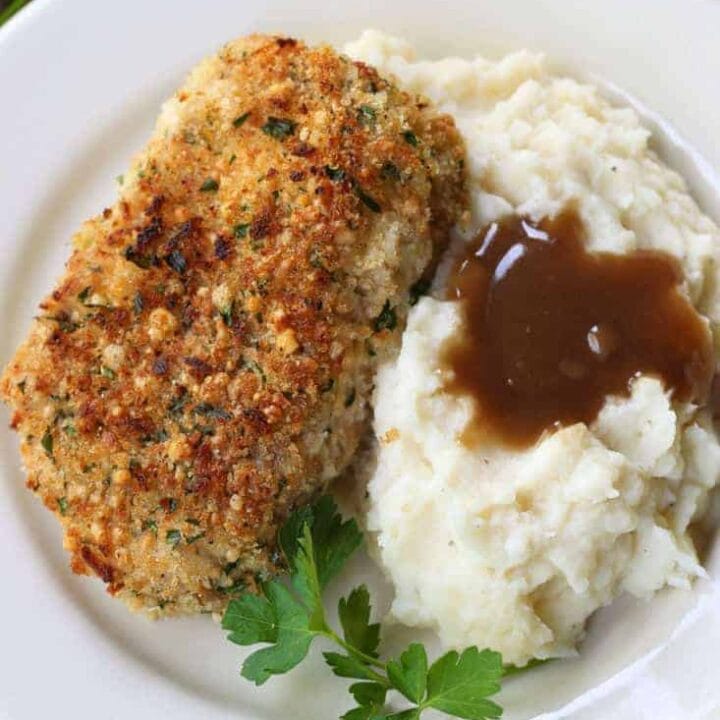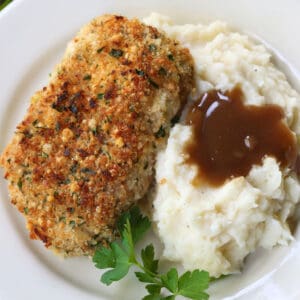 Crispy Baked Pork Chops
Author:

Prep Time:

10 minutes

Cook Time:

35 minutes

Total Time:

45 minutes

Yield:

4

servings

1

x
These oven baked pork chops turn out SO crispy on both sides – using a simple kitchen tool that you most likely have on hand! A parmesan cheese and panko coating makes these chops irresistibly delicious!
Scale
Ingredients
4

–

2

inch thick center cut pork chops (about

2 1/2

pounds)
Kosher salt, fresh black pepper and garlic powder for seasoning the pork chops

1 cup

panko breadcrumbs

1/2 cup

grated parmesan cheese

1/4 cup

chopped parsley

1 teaspoon

ground nutmeg

4

eggs

2 tablespoons

of milk

1 cup

flour
Instructions
Preheat the oven to 350 degrees. Cover a pork chop with plastic wrap and pound with a meat mallet so that the chops are approximately 1 inch thick (about half the original thickness of the pork chop). Repeat with the remaining pork chops.
Season the pork chops generously on both sides with the salt, pepper and garlic powder. Place the flour in a shallow bowl, whisk the eggs and milk together in another bowl, and the breadcrumbs combined with the parmesan cheese, parsley and nutmeg in a third bowl.
Dredge a pork chop in the flour on both sides, including the edges, and then tap the excess flour off. Dip into the egg mixture, letting the excess drip off and then lastly into the breadcrumbs and parmesan cheese. Press the breadcrumb coating into the pork chop on both sides until it is coated well. Repeat with the remaining pork chops.
Place the a wire rack over a sheet pan and spray with non-stick cooking spray. Place the pork chops on the rack and spray the tops with an olive oil cooking spray. Bake for 15 minutes and then carefully flip the pork chops over and bake for another 15 minutes. Some of the coating might come off when flipping, just add it back on to the tops of the pork chops.
Remove the pork chops from the oven and cover loosely with foil to keep warm while you preheat the broiler. Place the pork chops under the broiler for 3-4 minutes to crisp up and brown the tops of the pork chops. Remove from the oven, cover with foil and let rest for 5 minutes before serving.
Recipe Notes
Pork should be cooked to a temperature of 145 degrees before removing from the oven and resting, which will carry over to 150 degrees. Properly cooked pork should have a very slight pink color to it, not completely white. Over cooking pork is what makes it dry and not juicy!
How to reheat these pork chops: Place leftover pork chops on a baking sheet that's been sprayed with cooking spray. Place in a 400 degree oven for 7-8 minutes on each side. Cover and let rest for 5 and your pork chop should be warmed through without being dry.
Category:

Dinner

Method:

Oven

Cuisine:

American
Keywords: mantitlement, pork recipes, pork chop recipes, oven baked pork chops, baked pork chops, easy dinner recipes