These Chinese Boneless Spare Ribs are ridiculously easy to make! You can make these spare ribs three ways – the oven, air fryer and crock pot!
We're in love with Chinese food recipes! Be sure and try our Homemade Stir Fry Sauce that we use on pretty much everything…this delicious Slow Cooker Mongolian Chicken recipe and this Easy Rotisserie Chicken & Broccoli!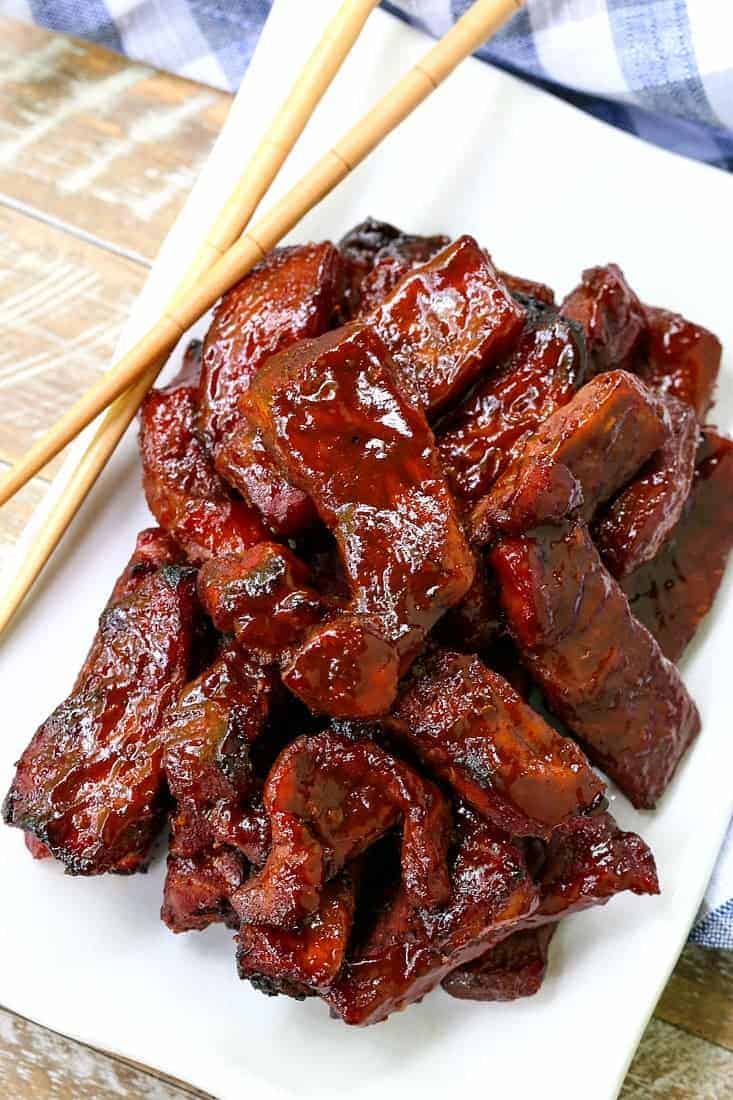 What Exactly Are Boneless Spare Ribs?
This used to confuse me a little, too I have to admit. Boneless spare ribs really aren't ribs, they are pieces of pork that's been cut into strips.
You can either use pork chops or pork tenderloin to make boneless spare ribs, just cut the pork into pieces about the size you see here and you'll be good to go!
These Chinese Boneless Spare Ribs taste just like take out – but even better. There's no crazy red food coloring (although some recipes say you can add it) But I mean, no thanks.
If I'm making Chinese food recipes, or any recipes really, why would I take all that homemade goodness and add food coloring? One bite of these spare ribs and you'll realize the color doesn't matter at all.
How Do You Make Chinese Boneless Spare Ribs?
Easy dinner ideas like this one are on our constant rotation. We don't live in an area that has a ton of food delivery options so if we want Chinese food, we have to go out and get it.
Once you make this pork recipe you're going to be grabbing pork chops at the grocery store every week! Pork chops are usually really inexpensive so if you are on a budget or feeding a large family, this Chinese food recipe is going to cost you a lot less than take out.
I've made this recipe for you 3 ways. Oven, air fryer and slow cooker. Each cooking option is equally delicious, it just depends on what you have time to do. The process photos here are done in the oven, but the other cooking methods are so easy you won't need a picture to show you!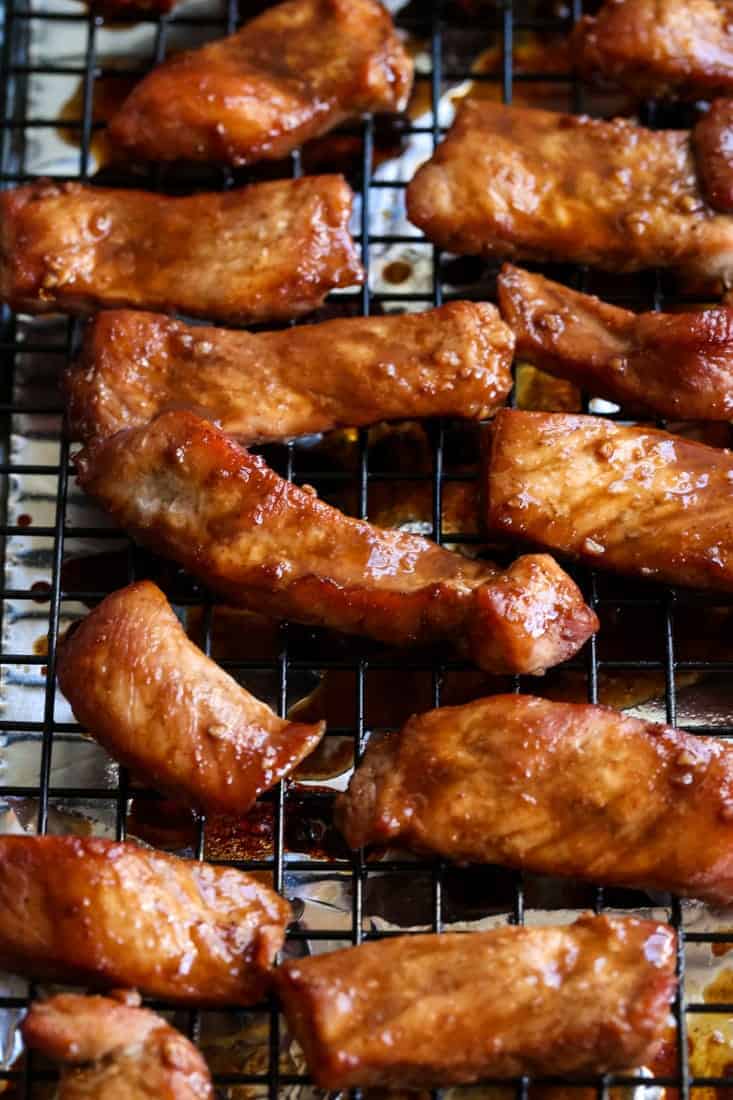 Once you've marinated the pork ( the longer the better) place them on a wire rack over a baking sheet covered with foil. Don't forget the foil here, it makes for such an easy clean up!
While the pork is in the oven, make the sauce by pouring the marinade into a pot. Bring the marinade to a boil, then add in your favorite barbecue sauce and let it simmer.
Bake the boneless spare ribs in the oven then pull them out and baste them with the sauce…and they're going to look like this.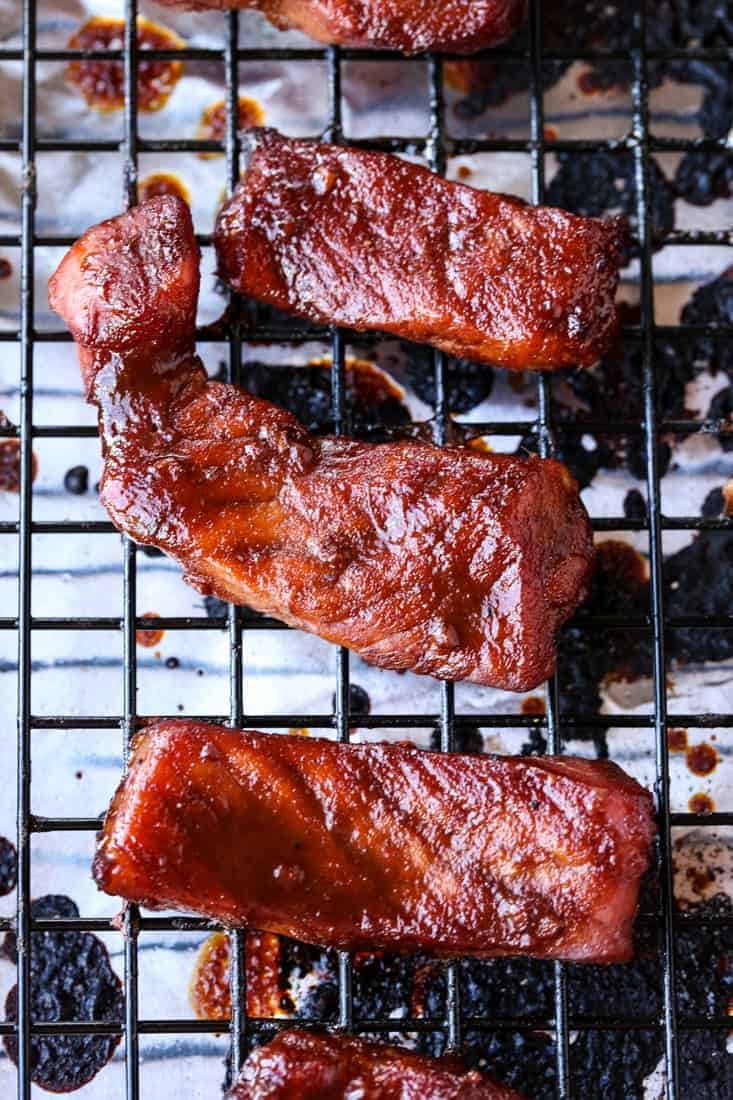 Can You Make This Recipe Ahead Of Time?
Just marinating the pork needs to be done first. But the actual cooking time is so fast you won't need to make this recipe ahead of time.
I do have to say that these boneless spare ribs are best when they are first cooked, but no one in my family complains about getting them reheated the next day, either.
Reheat these ribs for just a few seconds in the microwave until warm and serve them with broccoli or steamed rice. Or just eat them as is for a lower carb meal!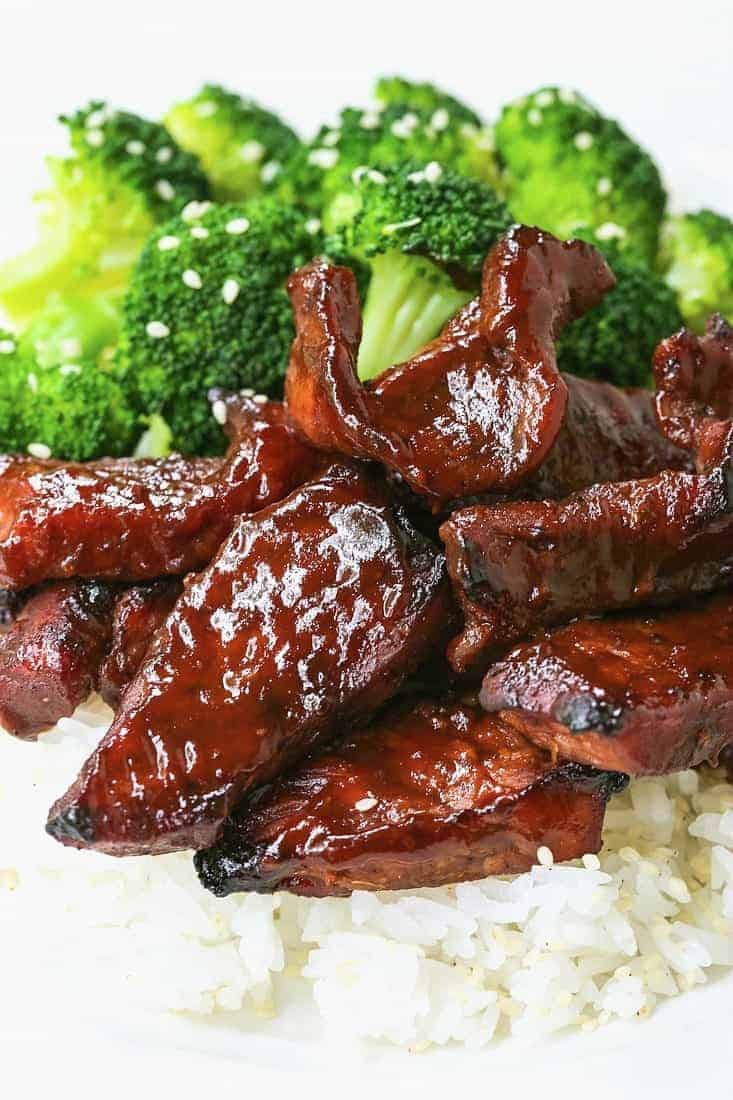 Here's a run down for each cooking method for you…
Oven:
Baking these boneless spare ribs in the oven is the most common way to do it and it turns out awesome. The crispy edges on the pork really can't be beat, and you're only talking about 15 minutes of cooking time!
Air Fryer:
Then I tried this same pork recipe in my air fryer. If you guys have an air fryer, promise me you'll try it this way! Now we're talking only about 8 minutes from start to finish and you still get those crispy edges like the oven. Also I think the pork cooked this way might be juicier than when it's baked in the oven.
Slow Cooker:
Using a crock pot or slow cooker for this pork recipe will result in a much softer piece of pork. Obviously you're not going to get the crispy edges which is my favorite part about this recipe, but you're still going to love the outcome.
I would choose this cooking method if you're looking for a more tender piece of pork and if you're looking to come home to dinner being done.
Looking For More Pork Recipes?
Pin It!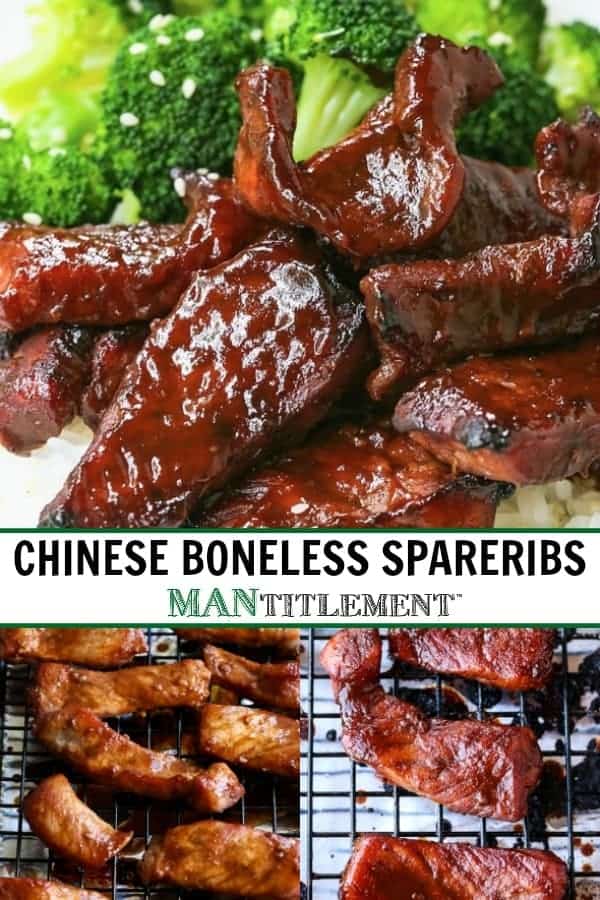 Print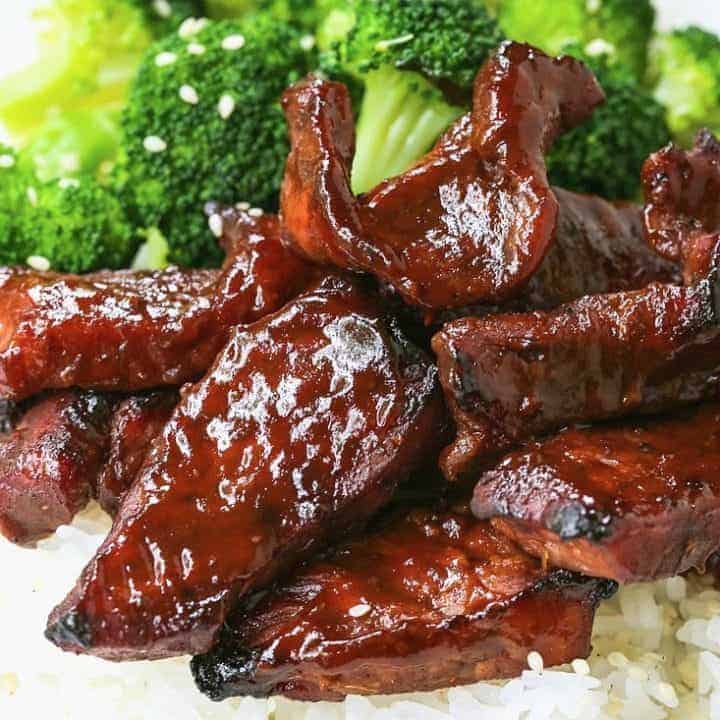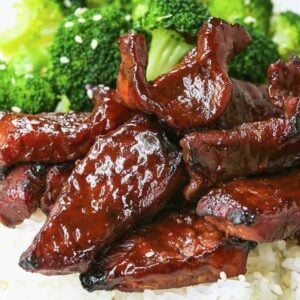 Chinese Boneless Spare Ribs
Author:

Prep Time:

6 hours

Cook Time:

8 minutes

Total Time:

6 hours 8 minutes

Yield:

8

1

x
These boneless spare ribs are done in less than 20 minutes in the oven and only 8 minutes using an air fryer! Faster then take out and tastier, too!
Scale
Ingredients
3 pounds pork tenderloin or boneless pork chops cut into strips
1/2 cup hoisin sauce
1/2 cup soy sauce
1/2 cup red wine
1 tablespoon minced garlic
1 tablespoon sugar
1/8 teaspoon cinnamon
1/8 teaspoon ground coriander
Pinch of cloves
Fresh black pepper to taste
1/4 cup BBQ sauce
Instructions
Combine the ingredients for the marinade (everything except the BBQ sauce) in a large plastic resealable bag.
Add the pork strips and marinate at least 6 hours or overnight. (Overnight is recommended)
Remove the pork from the marinade, reserving the marinade, and place on a wire rack that's been sprayed with cooking spray. Place the wire rack over a baking sheet that's been lined with aluminum foil.
Bake at 375 for 10 minutes.
While the pork is cooking, pour the marinade into a pot and bring to a boil. Let the marinade boil for 2-3 minutes, then stir in the BBQ sauce. Let the sauce simmer over low heat while the pork is cooking.
Remove the pork from the oven, baste with the sauce then bake again for 7-8 minutes until the edges of the pork are crisp.
Baste the pork one more time with the sauce before serving, if desired.
Air Fryer:
Preheat your air fryer to 400 degrees.
Add the pork in a single layer and cook for 4 minutes. Remove the pork from the air fryer, baste generously with the sauce (follow the instructions above for the sauce) and cook another 4 minutes until the pork is crispy.
Baste with more sauce if desired and serve.
Slow Cooker:
Spray the inside of your slow cooker with non stick cooking spray.
Drain the marinade from the pork (reserving the marinade) and add the pork to the slow cooker.
Cook on low for 4-6 hours. (The longer you cook the spare ribs the softer the pork will be)
Pour the reserved marinade into a pot and bring to a boil for 2-3 minutes. Add the barbecue sauce and let simmer over low heat for 5 minutes.
Toss the pork with the sauce sand serve.
Category:

Dinner

Method:

Air Fryer, Oven, Slow Cooker

Cuisine:

American
Keywords: slow cooker recipes, crock pot recipes, air fryer recipes, boneless spare ribs, chinese spare ribs, low carb recipe, chinese food recipe, easy dinner recipe, easy dinner ideas, pork recipes