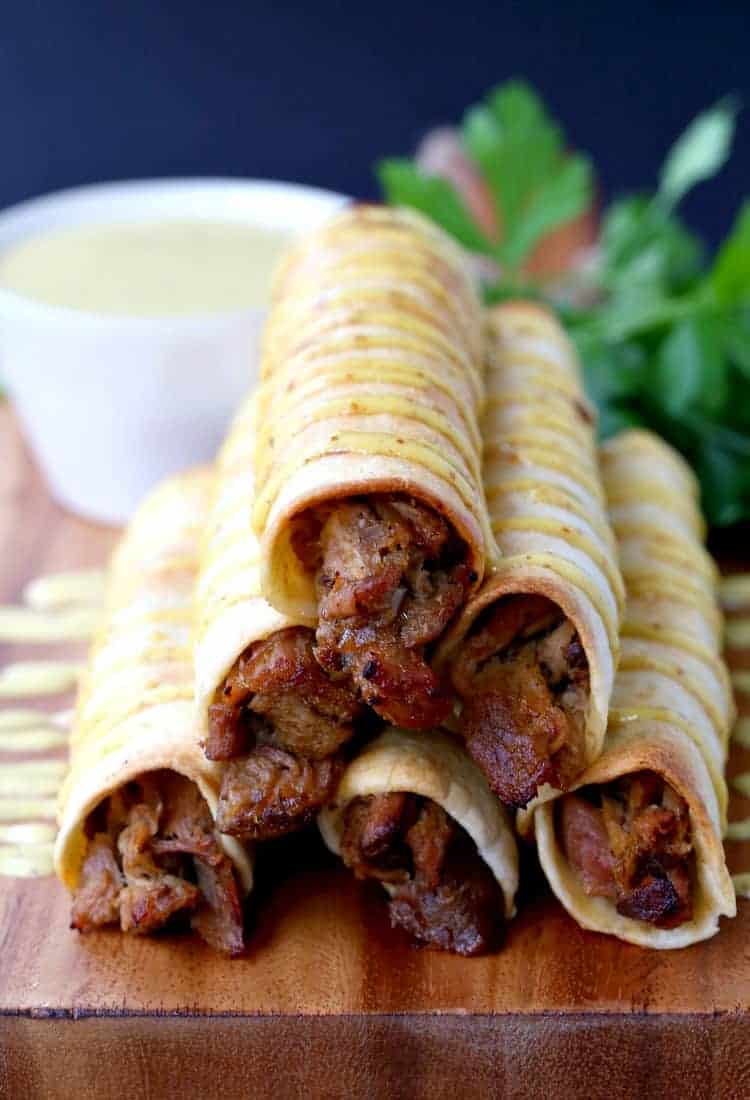 Honey Mustard Pulled Pork Taquitos
These Honey Mustard Pulled Pork Taquitos are so addicting! Perfect, slow cooked pulled pork wrapped in crispy tortillas and the most perfect dipping sauce!
If you love slow cooker pulled pork, try our Cheesy BBQ Pulled Pork Recipe! One bite and you'll know why it's one of our favorites!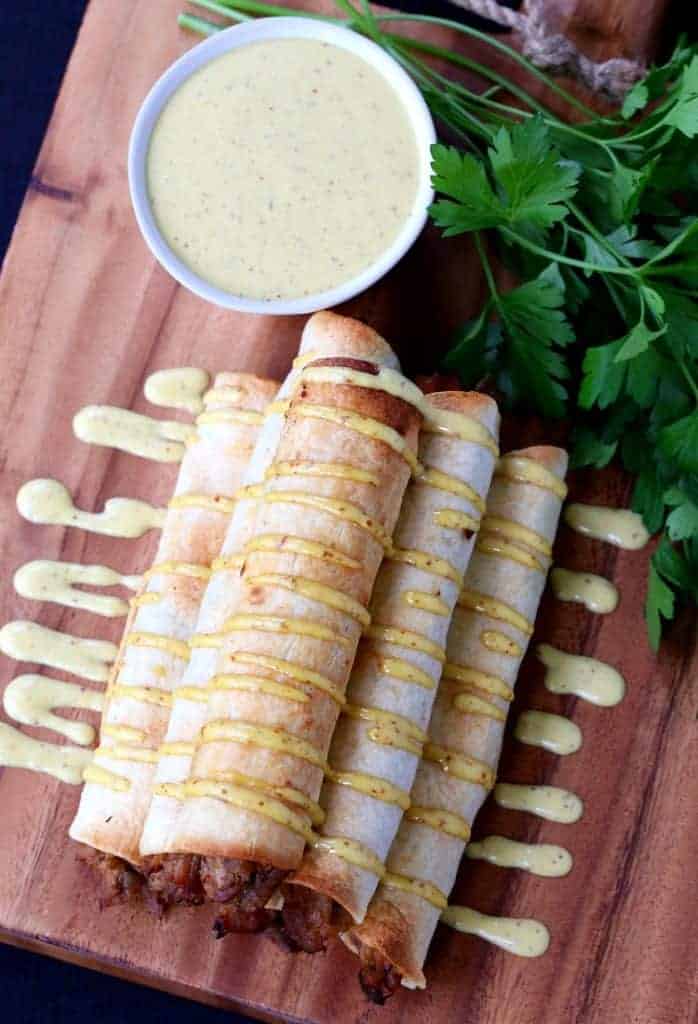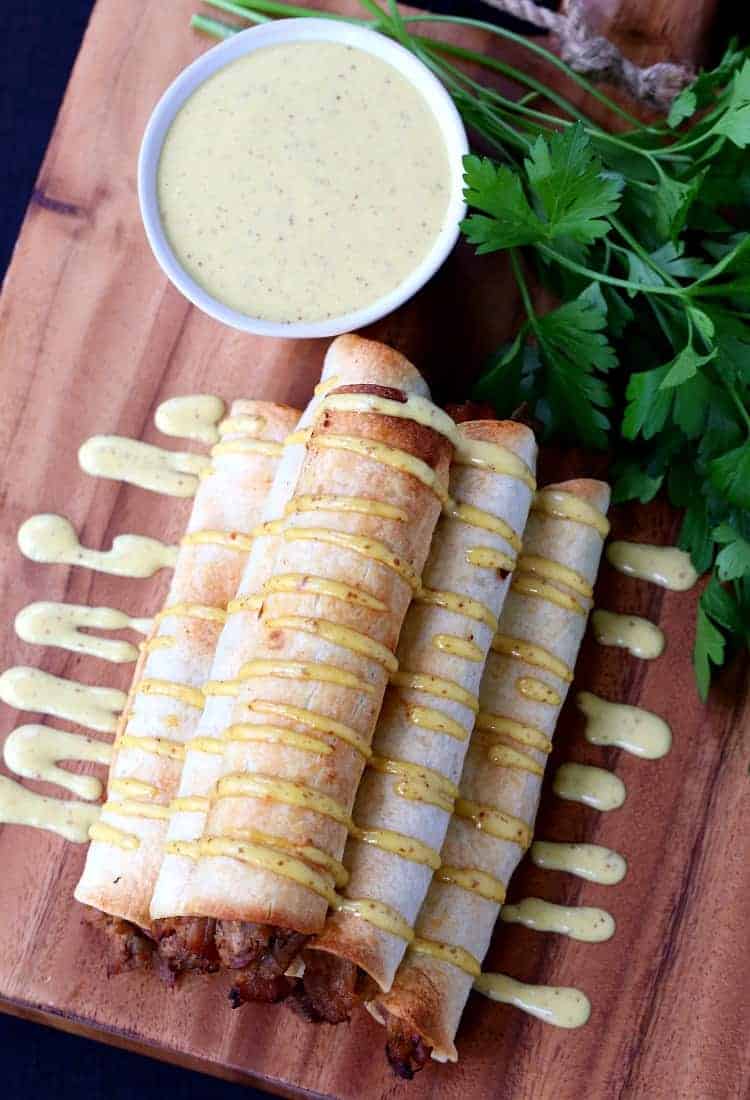 Slow Cooker Pulled Pork
Sometimes you make a recipe two or even three times before you get it right. And sometimes you nail it on the first try.
So this recipe you ask? We nailed it. First try.
The first bite of these Honey Mustard Pulled Pork Taquitos was amazing…and so was every single bite after that.
I wanted to make a pulled pork recipe that wasn't covered in sauce, but not too vinegary either like a Carolina pulled pork. This pulled pork recipe is the best of both worlds – the perfect balance in between.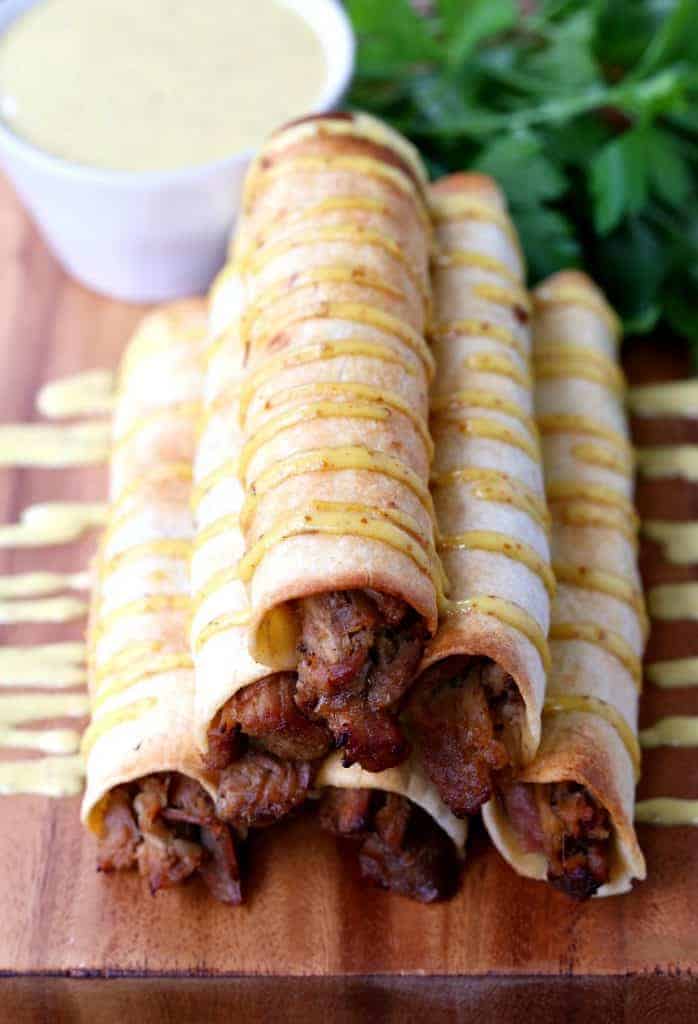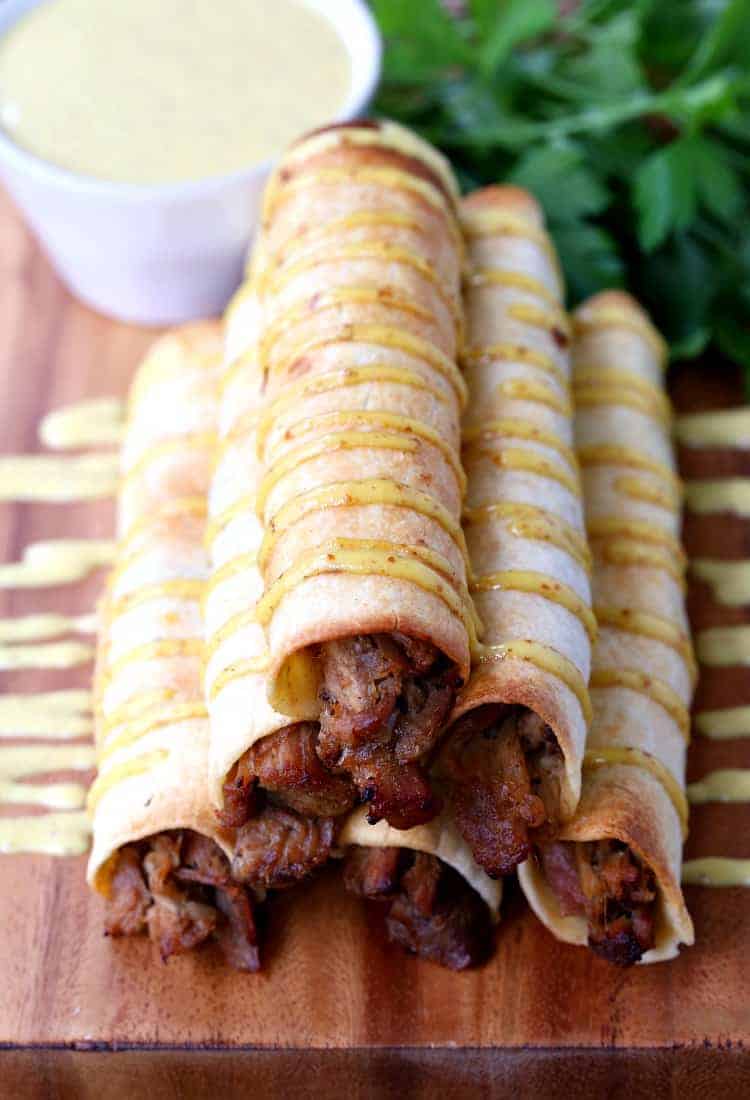 So yes, you can take you can use this pulled pork recipe, shred it and add it to a bun for pulled pork sandwiches. Then add a big fat drizzle of the homemade honey mustard sauce to the top.
Seeing as these Honey Mustard Pulled Pork Taquitos are almost a 3-in-one recipe, they can be used in so many different ways.
First you have the pulled pork recipe, then the honey mustard recipe, then the taquito recipe. Main dinner recipe, side dish recipe and appetizer recipe all in one post right here!
Taquitos For The Win
But today we made taquitos because taquitos are fun food. This taquito recipe can be served as the main course or for appetizers, too.
Taquitos are such an addicting, delicious recipe that you can serve for dinner, at parties or even a fun holiday like Cinco de Mayo! The options are endless, and if you're family is anything like mine, Tex-Mex recipes are always a hit!
Start off by making the pork in your slow cooker…add a dry rub and tons of onions. Then let it cook for a good 10 hours on low. You can make this pulled pork with a boneless pork butt too, just shave the cooking time to 6-8 hours.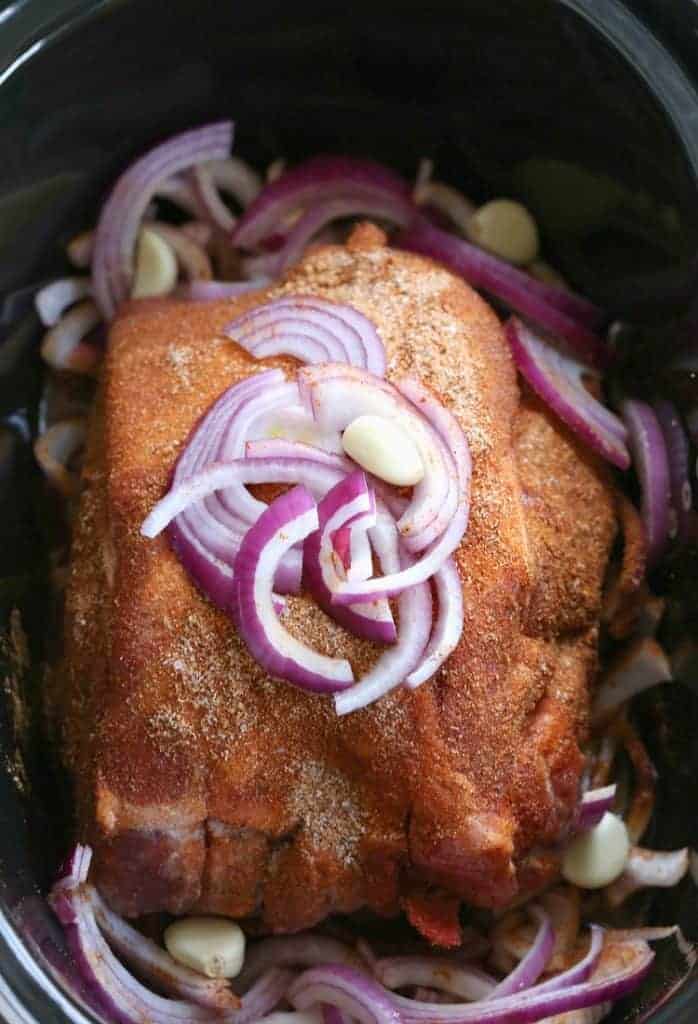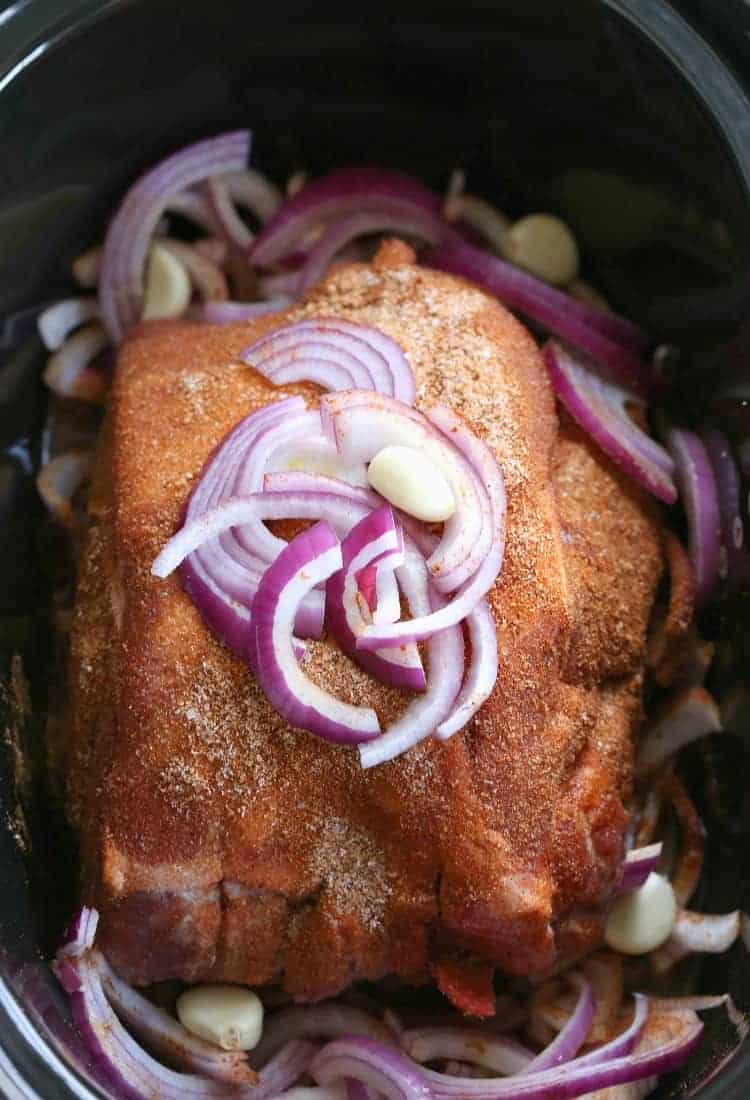 I know a lot of recipes will say 10 on low or 5 on high…but I think this pork is going to give you the best results if you keep it on low.
Low and slow is the ket to this perfect pulled pork recipe.
When the pork is done, take it out of the slow cooker and on to a board. Let it cool for a bit, then shred it with a couple of forks or with your hands.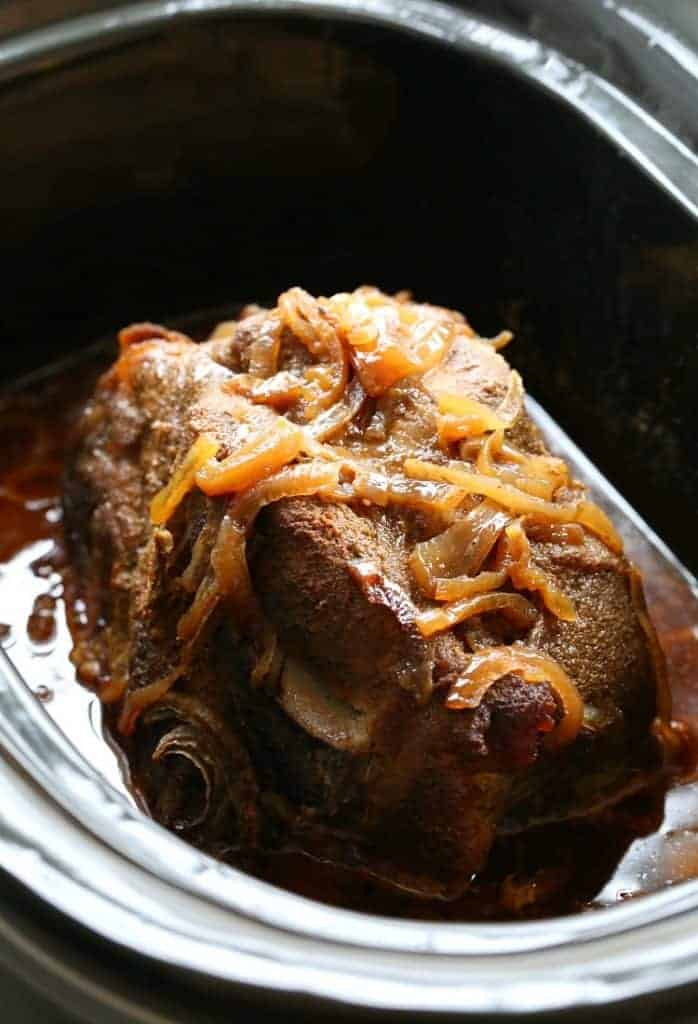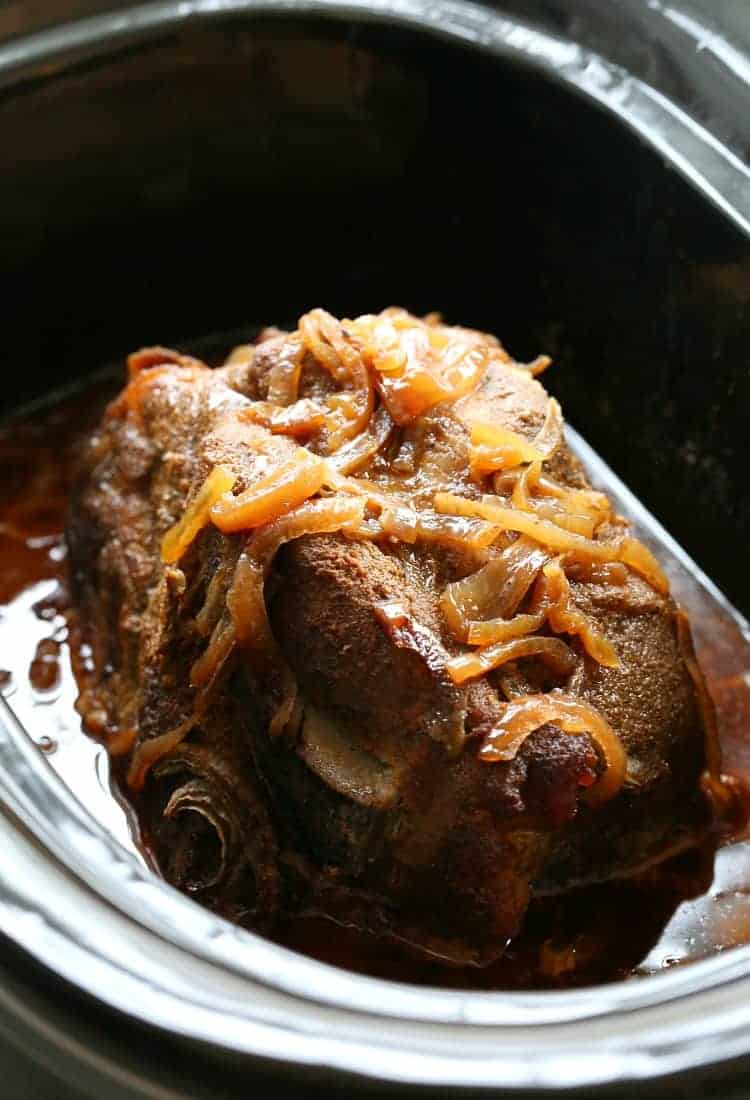 Using a slotted spoon, grab all the onions from the slow cooker and add it to the shredded pork, then stir in a cup of the juices from the meat.
How Do You Make Taquitos?
Flour or whole wheat tortillas are my choice for this taquito recipe, but you can use corn tortillas too if you make sure to soften them first before you roll them up.
Add about a 1/4 cup of the meat to a small flour tortilla and wrap it up tightly. Place it into a baking dish, seam side down.
You might need 2 baking dishes to get all these taquitos to fit, or if you have one large dish that will work too. This recipe is going to make about 24 taquitos.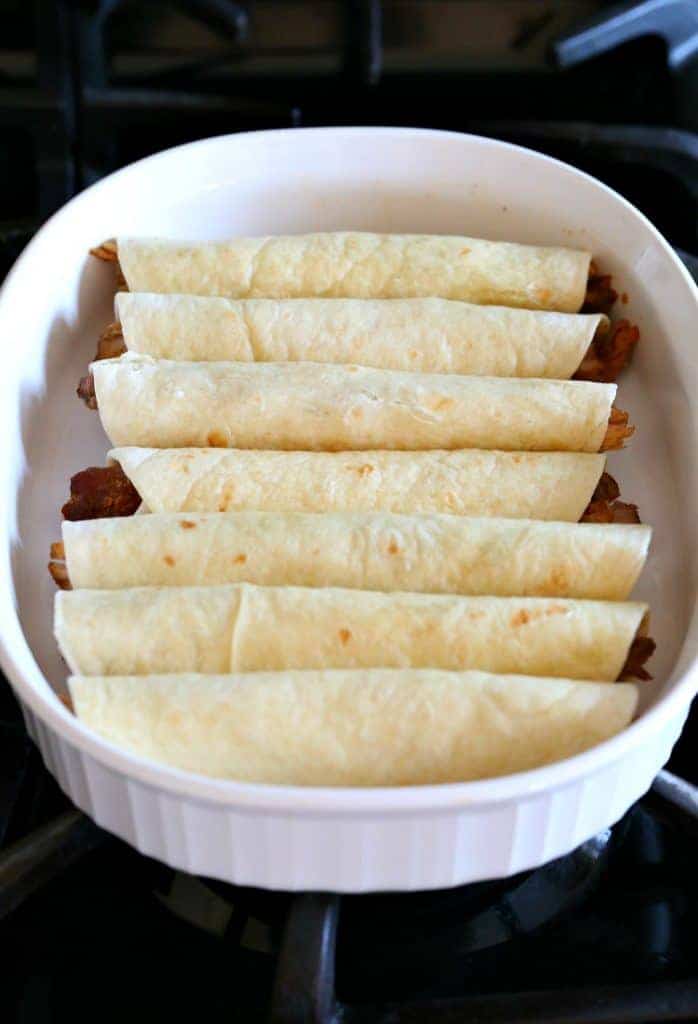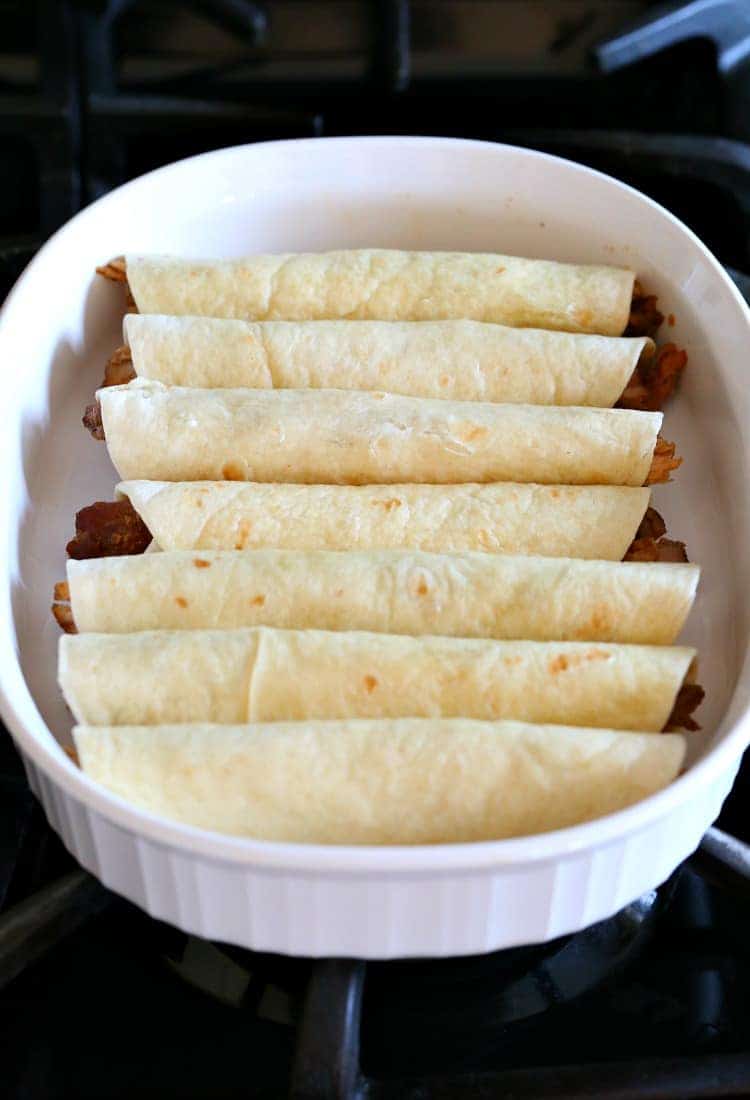 Brush the tops of the taquitos with oil and bake for 15 minutes until the tortillas are browned and crispy on top.
AND while they're baking you can stir together the honey mustard sauce! This is our favorite honey mustard sauce ever – so make sure to keep this one handy!
Never, ever buy honey mustard sauce again, If your kids are honey mustard sauce fans they're going to go crazy for this one. Once you make it you'll see how easy it is, and how much better it is than store bought.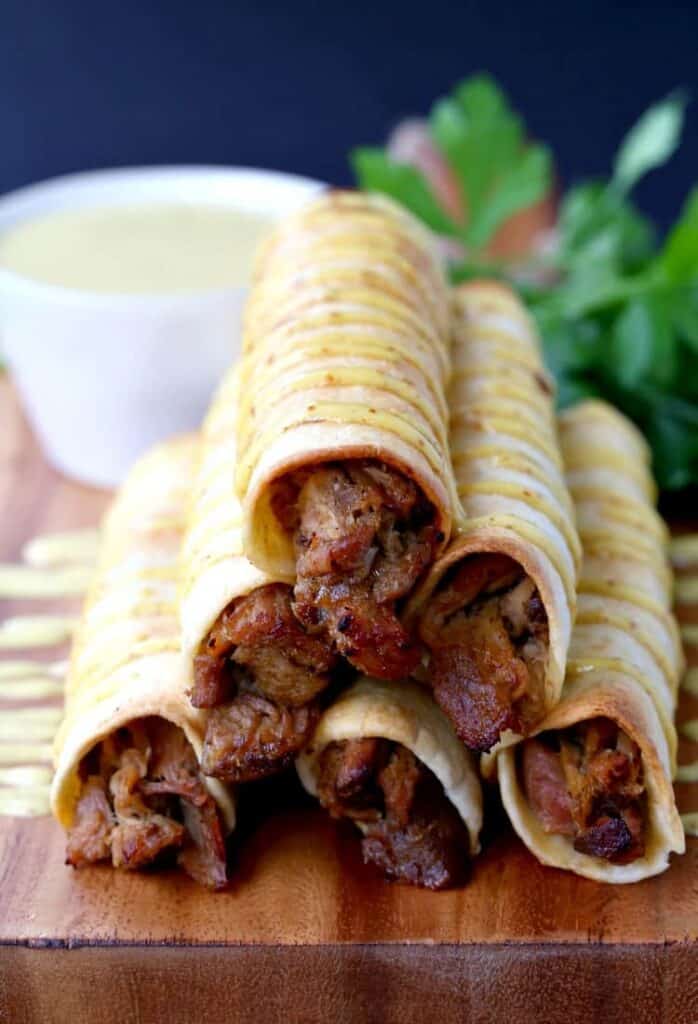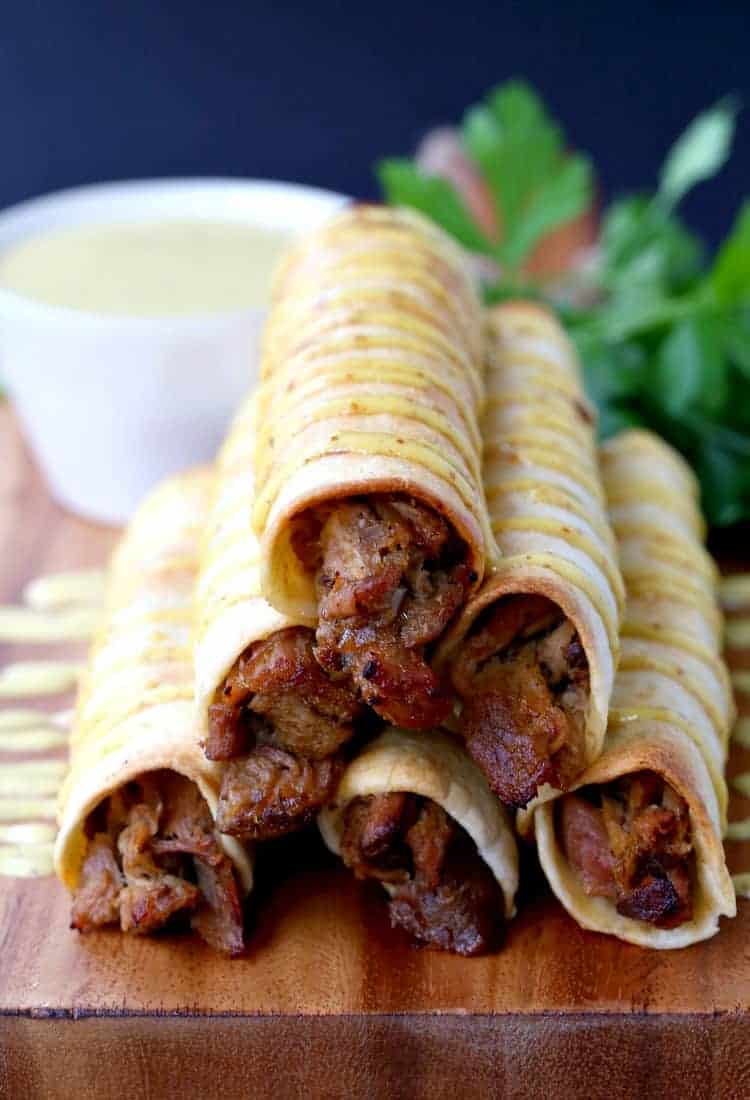 You can drizzle the tops of these Honey Mustard Pulled Pork Taquitos or just serve them as is with the sauce for dipping. Or both, my vote is for both.
But do keep this honey mustard sauce recipe on hand, because as you know it can be used for so many different things! Got Chicken nuggets? Yep. Our favorite.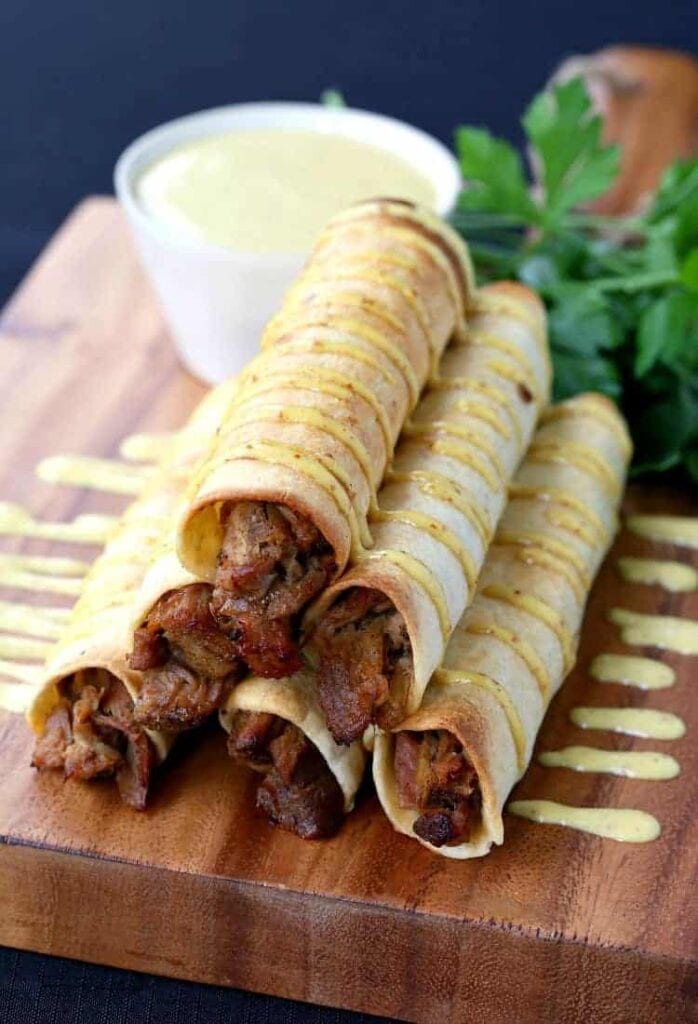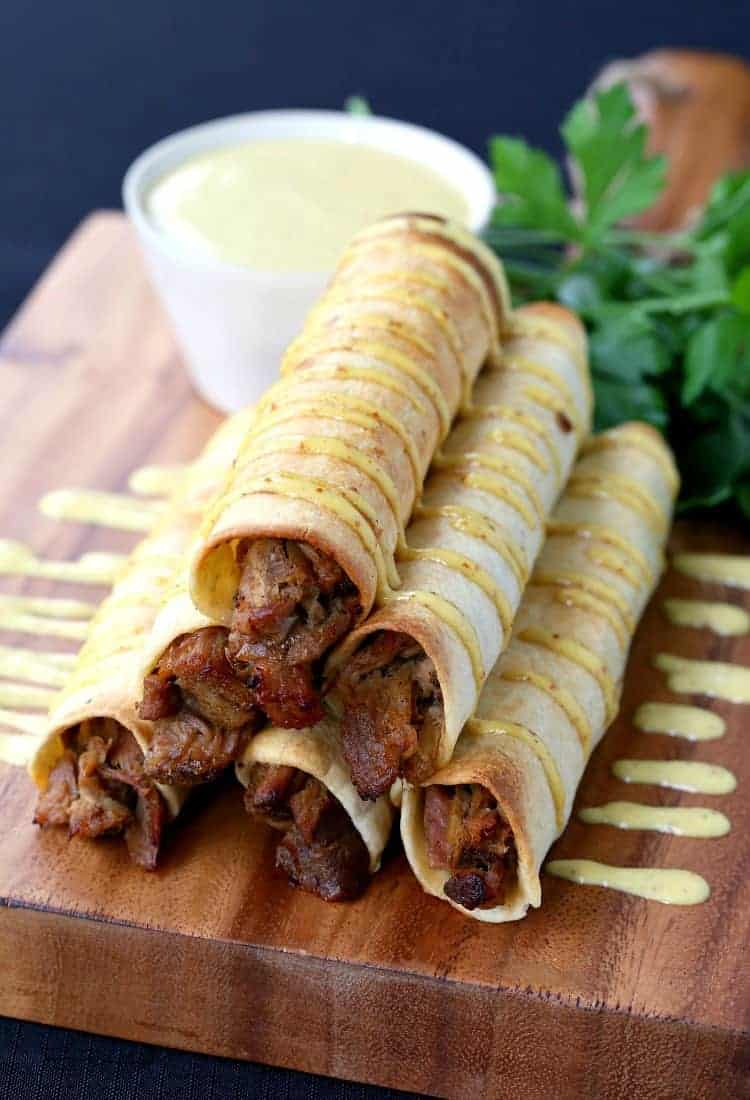 Looking For More Appetizers?
• Skillet Spinach Artichoke DIp
Print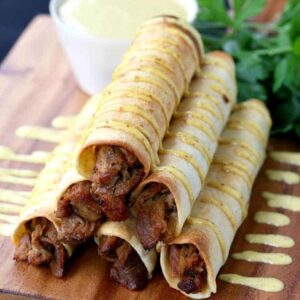 Honey Mustard Pulled Pork Taquitos
Author:

Prep Time:

10 minutes

Cook Time:

8 hours

Total Time:

8 hours 10 minutes

Yield:

24

Category:

Dinner

Method:

Slow Cooker

Cuisine:

American
---
Description
This addicting taquito recipe starts with the most amazing pulled pork! Drizzled with a homemade honey mustard sauce, you can't go wrong with this recipe!
---
Ingredients
For the Pork
5 lb. bone in pork shoulder
1 cup apple juice
2 medium red onions, peeled and sliced
5 cloves of garlic
24 small flour tortillas plus olive oil for brushing tops
For the dry rub
1 1/2 tablespoons paprika
2 tablespoons salt
1 teaspoon cayenne pepper
1 teaspoon ground ginger
2 teaspoons – 1 tablespoon cumin (depending on your taste, we use 1 tablespoon)
1 teaspoon black pepper
3 tablespoons brown sugar
For the Honey Mustard Sauce (Makes 2 cups)
1 cup mayonnaise
1/4 cup brown mustard
1/4 cup yellow mustard
1 teaspoon garlic powder
1/2 teaspoon salt
1 tablespoon Worcestershire sauce
2 tablespoons apple cider vinegar
2 tablespoons honey
---
Instructions
Season the pork with the dry rub and place into the slow cooker.
Add the onion slices, garlic cloves and apple juice.
Cook 8-10 hours on low.
Mix together the ingredients for the honey mustard sauce and place into the refrigerator until ready to use.
Take the pork out and let cool on a board.
Scoop the onions our of the broth, discarding the garlic, and place into a large bowl with 1/2 cup of the broth.
Shred the pork (making sure to remove any excess fat and any bones) and place into the bowl with the onions and broth. Mix to combine.
Preheat the oven to 400 degrees.
Take a flour tortilla and add a heaping 1/4 cup of meat (I get as much in there as I can) to the center in a line, right to the ends of the tortilla.
Roll up, seam side down and place in a baking dish.
Repeat with the remaining tortillas. You'll probably need two baking dishes to hold all the tortillas.
Bake for 15 minutes until the tops of the tortillas are brown.
Serve with honey mustard drizzled on top or for dipping on the side.
---
Notes
Nutrition information is for the taquitos only
Keywords: taquitos, pulled pork recipe, honey mustard recipe, slow cooker pork roast, appetizer recipes