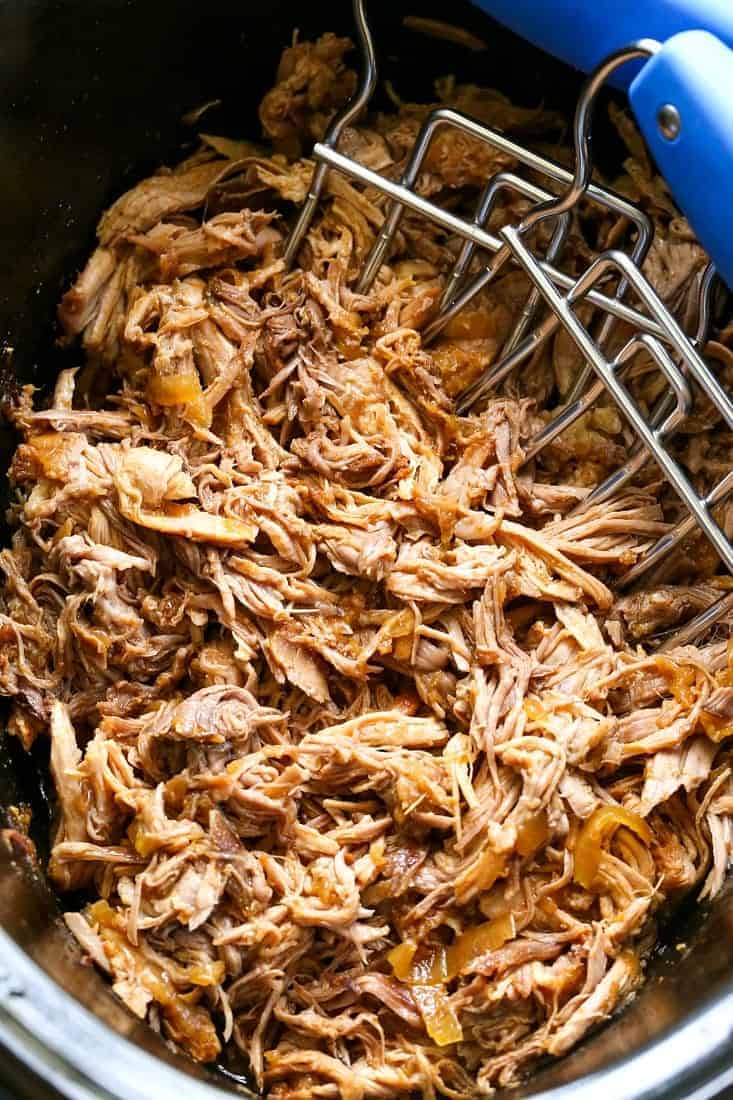 This Slow Cooker Pulled Pork is our favorite pulled pork recipe! This pulled pork recipe uses a dry rub, no sauce, and is so tender and juicy!
We use this pulled pork to make so many different recipes like our Honey Mustard Pulled Pork Taquitos or add some cheese and BBQ sauce to make Cheesy BBQ Pulled Pork!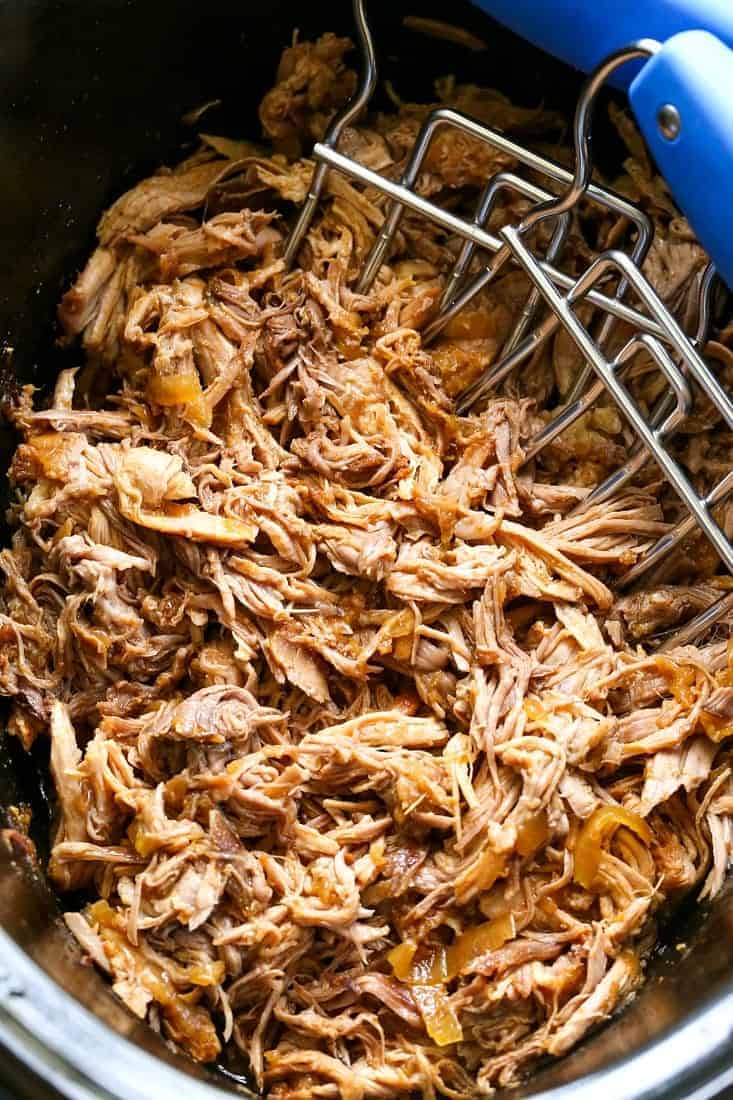 Why We Love Slow Cooker Recipes
Recipes like this Slow Cooker Pulled Pork are really hard to beat.
Doesn't everyone love slow cooker recipes? Actually, I can tell you that the answer to that is almost everyone. I do have one friend who was not a fan of the crock pot or slow cooker, until we slowly converted him.
So we brought over meal after meal that we cooked in our crock pot but didn't tell him until after we ate. And we won, he's now on team crock pot.
Crock pot recipes are just so easy…most recipes just have a few steps to them and then you turn on your slow cooker and come home to an amazing smelling house and a delicious meal.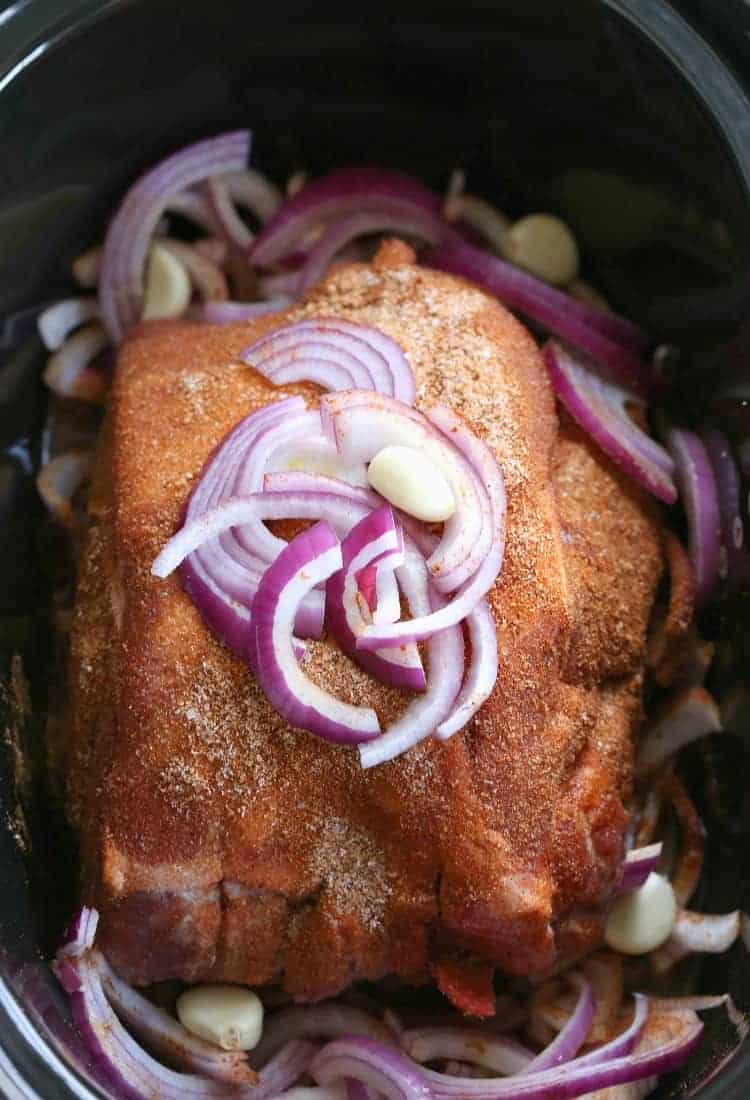 But besides being an easy kitchen tool to use, a crock pot also helps to evenly regulate temperatures while it's cooking. There's no better tool for that magic low and slow thing! Using a slow cooker makes your dinner comes out tender and juicy instead of dried up and tough.
What Is The Best Cut Of Meat For Making Pulled Pork?
The best cut of meat for making pulled pork is a pork shoulder, either bone in or boneless. The bone in pork shoulder will take a little less time to cook than the boneless and also will be a little juicier than a boneless pork shoulder.
Or you can use what the butcher department calls a Boston Butt, a pork butt. A Boston Butt is half of a pork shoulder, the other half is called a Picnic Shoulder.
There are also a lot of recipes for pulled pork that use pork tenderloins but those aren't my favorite. You're definitely not going to get the flavor from a pork tenderloin that you will from a pork shoulder or pork butt.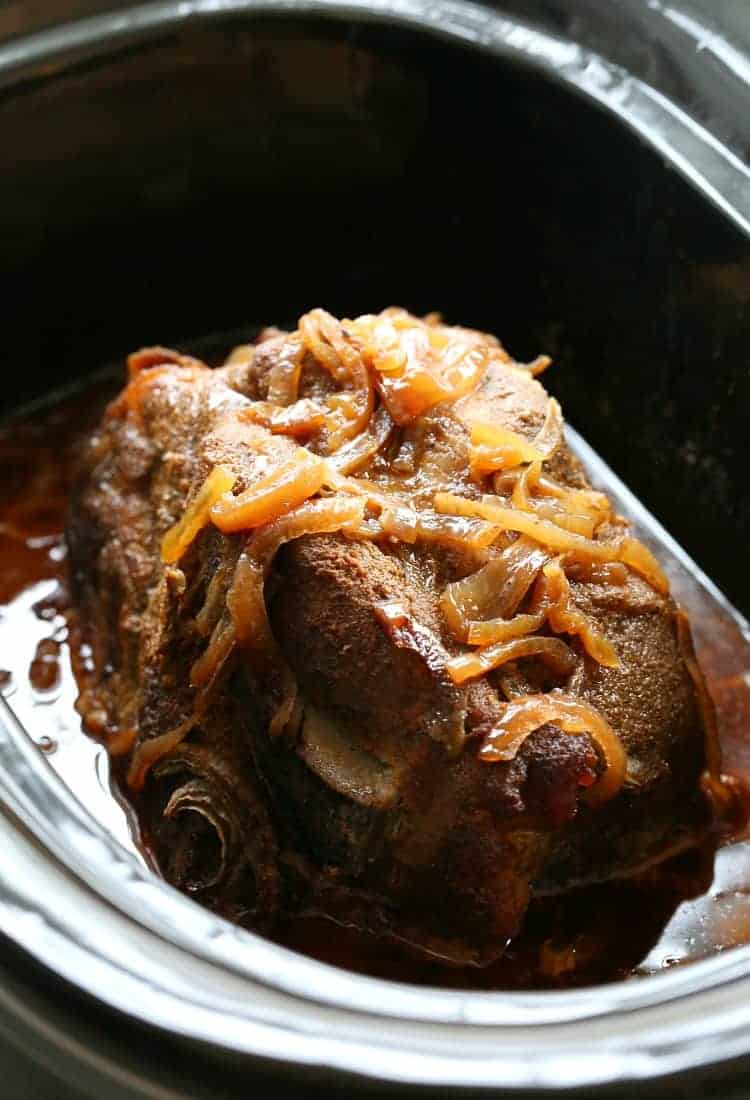 We used red onions in this crock pot recipe but if you only have yellow onions it's totally fine. Not an onion fan? Maybe you should try a bite or two of this pulled pork with the onions and then make a decision!
No worries though! Make the recipe as is with the onions for flavor, then after you shred the pork you can leave them out.
Simple as that!
Now get in there and start shredding up that pork.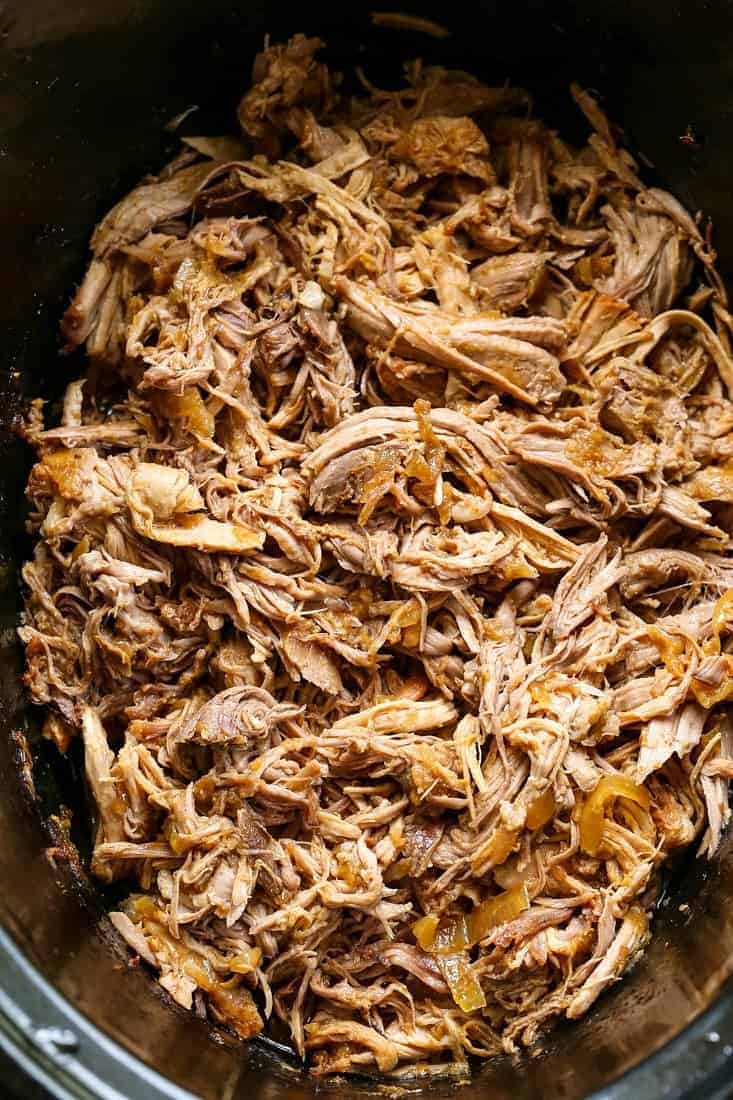 We do add the onions back in and some of the juices from when the pork was cooking. Now this easy pulled pork is good to go – load it on buns for sandwiches or use it to make other dinner recipes or appetizer recipes.
Pork recipes like this are so adaptable to using in different ways because pork, for one, doesn't have a strong flavor to begin with. Also we're not adding barbecue sauce to this pulled pork recipe so it can be flavored further in a lot of different ways.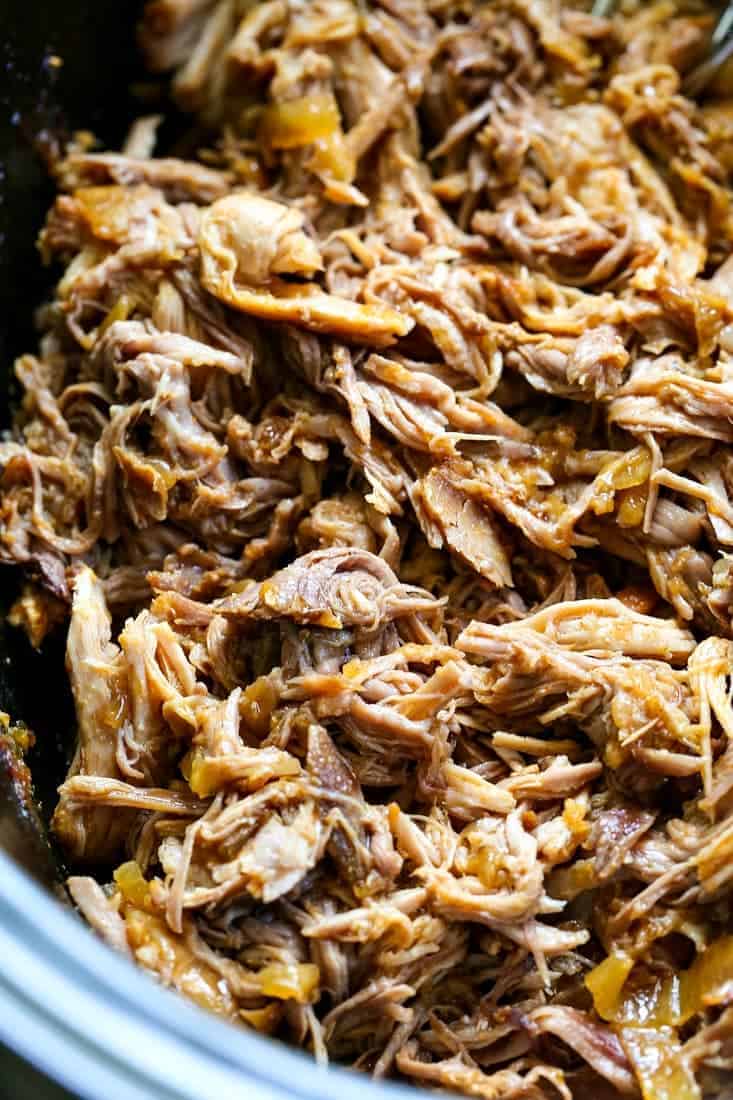 What Other Recipes Can I Make With This Pulled Pork Recipe?
Since we've already mentioned taquitos and our cheesy bbq pulled pork, here's some more ideas!
• Pile on baked potatoes
• Use in quesadillas
• Add to nachos
• BBQ pulled pork pizza
• Add to grilled cheese sandwiches
• Make a burrito bowl
• Eat as is for a low carb dinner!
Looking For More Pork Recipes?
• Slow Cooker Nutty Asian Pork
• Crock Pot Applessauce Pulled Pork
Pin It!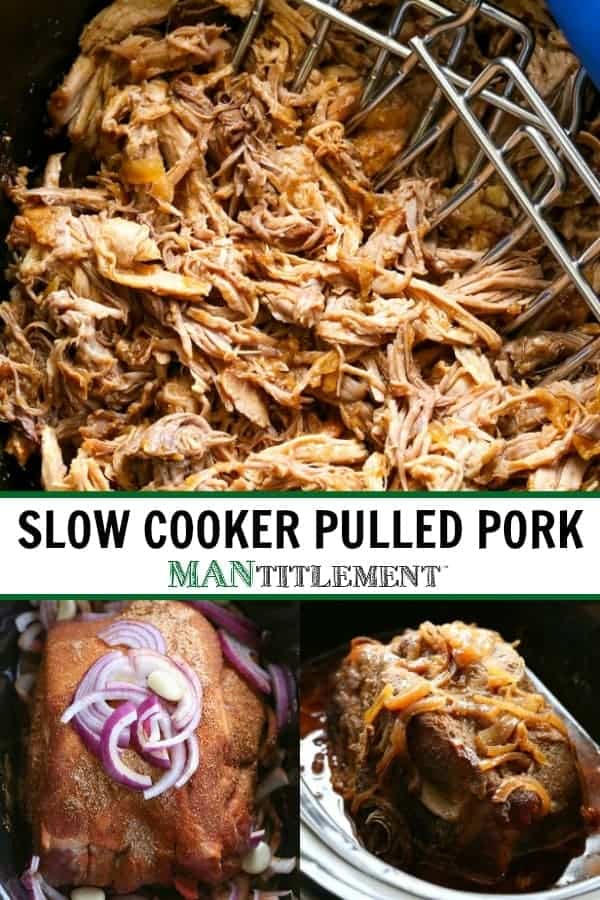 Yield: 12 servings
Slow Cooker Pulled Pork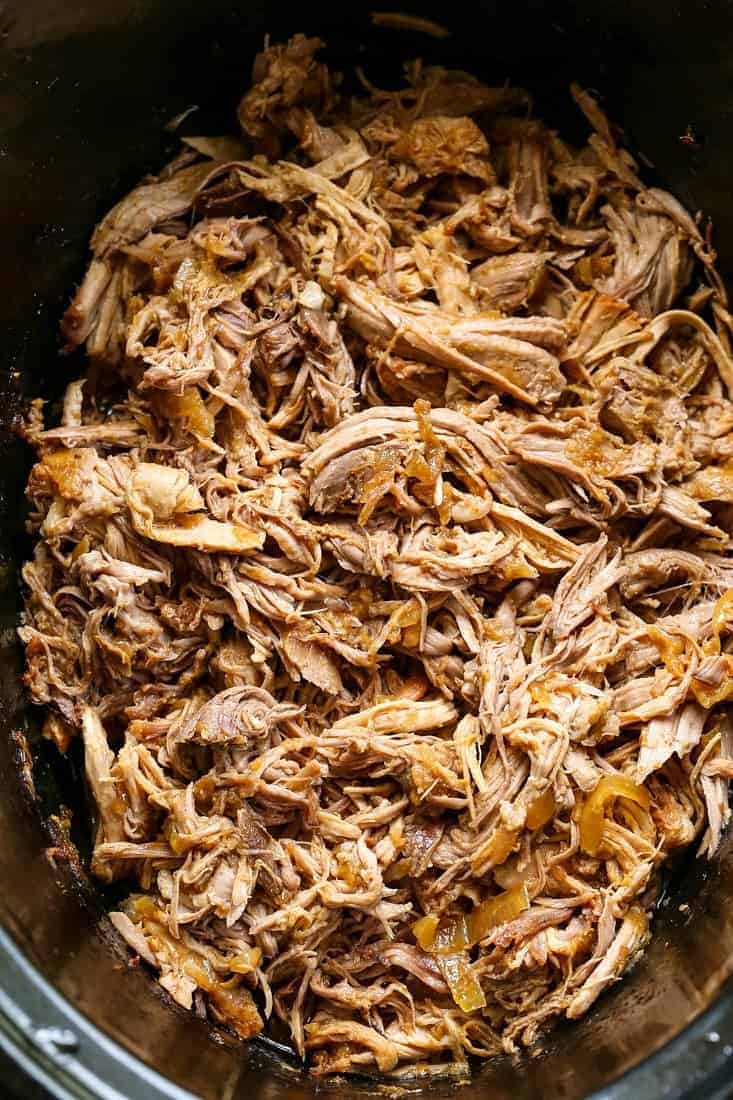 This pulled pork recipe is our family favorite! Pile it on buns or use it to make so many other recipes!
Total Time
8 hours
5 minutes
Ingredients
4 pounds pork tenderloin
1/2 cup apple juice
2 medium red onions, peeled and sliced
5 cloves of garlic
For the Dry Rub
1 1/2 tablespoons paprika
2 tablespoons salt
1 teaspoon cayenne pepper
1 teaspoon ground ginger
2 teaspoons - 1 tablespoon cumin (depending on your taste, we use 1 tablespoon)
1 teaspoon black pepper
3 tablespoons brown sugar
Instructions
Add the ingredients for the dry rub into a small bowl and mix together.
Use all of the rub to coat the pork, it will seem like a lot but the dry rub flavors the pork as well as the juice when the pork is done.
Add the pork to your slow cooker along with the apple juice, onions and garlic.
Set the slow cooker on low for 8 hours. Since slow cookers cook at different temperatures, check the pork after 6 hours to see if it shreds easily with a fork, if not let it go for another hour or two.
Remove the pork from the slow cooker to a board to cool slightly. Drain the juices from the slow cooker into a bowl, discarding the garlic cloves.
Shred the pork with two forks or meat claws and add back to the slow cooker. Add the onions (if using) and up to a cup of the reserved juices. You don't want the pulled pork to have too much liquid so add the juices a little at a time and stir until you have the right consistency.
Notes
You can also use a boneless pork shoulder, the cooking time might be closer to 8 hours.
Keep this pulled pork on the warm setting until you are ready to serve and also to keep warm during your party if needed.
Nutrition Information:
Yield:
12
Serving Size:
1
Amount Per Serving:
Calories:

253
Total Fat:

6g
Saturated Fat:

2g
Trans Fat:

0g
Unsaturated Fat:

3g
Cholesterol:

110mg
Sodium:

1149mg
Carbohydrates:

7g
Fiber:

1g
Sugar:

5g
Protein:

40g
This nutritional information is for informational purposes only. As I am not a nutritionist, this information is provided only as a courtesy.