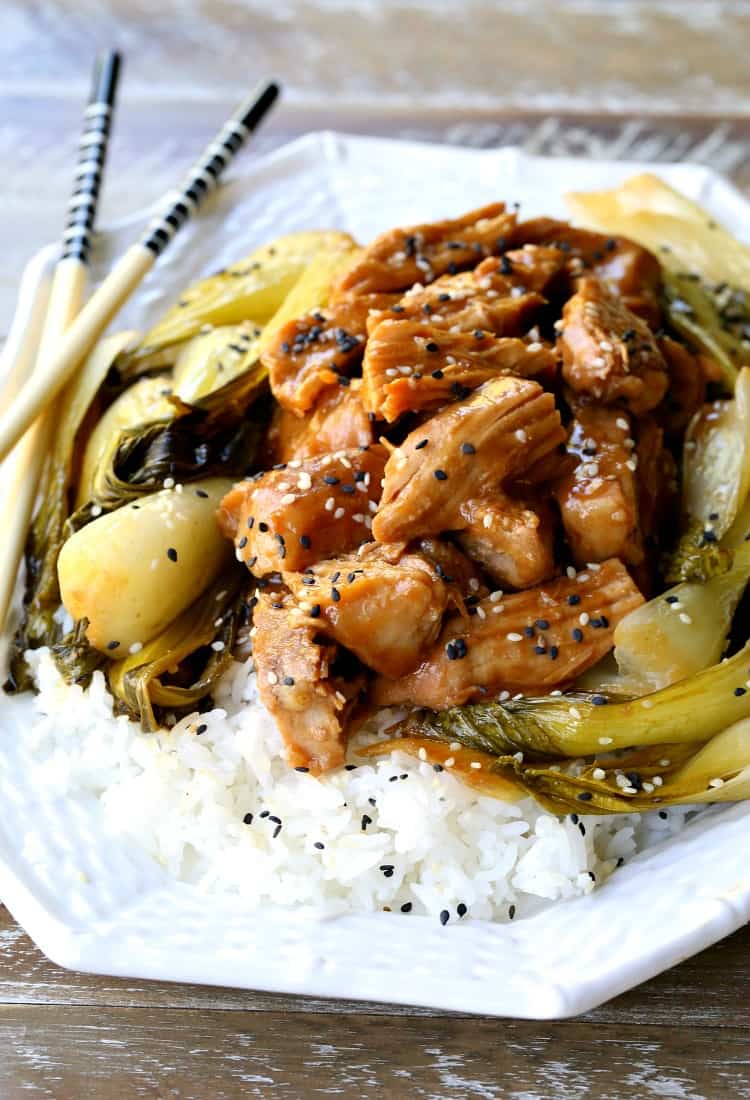 Slow Cooker Nutty Asian Pork
Slow Cooker Nutty Asian Pork makes your kitchen smell so good, they'll be running to the dinner table! This pork can be eaten alone for low carb or served over rice for a delicious take out at home meal!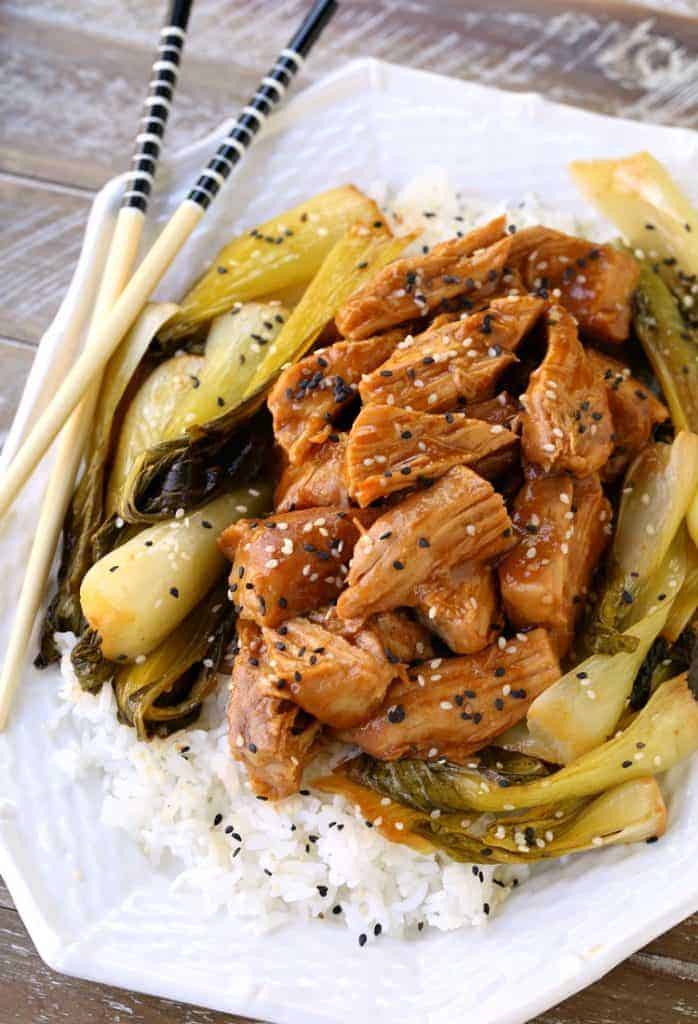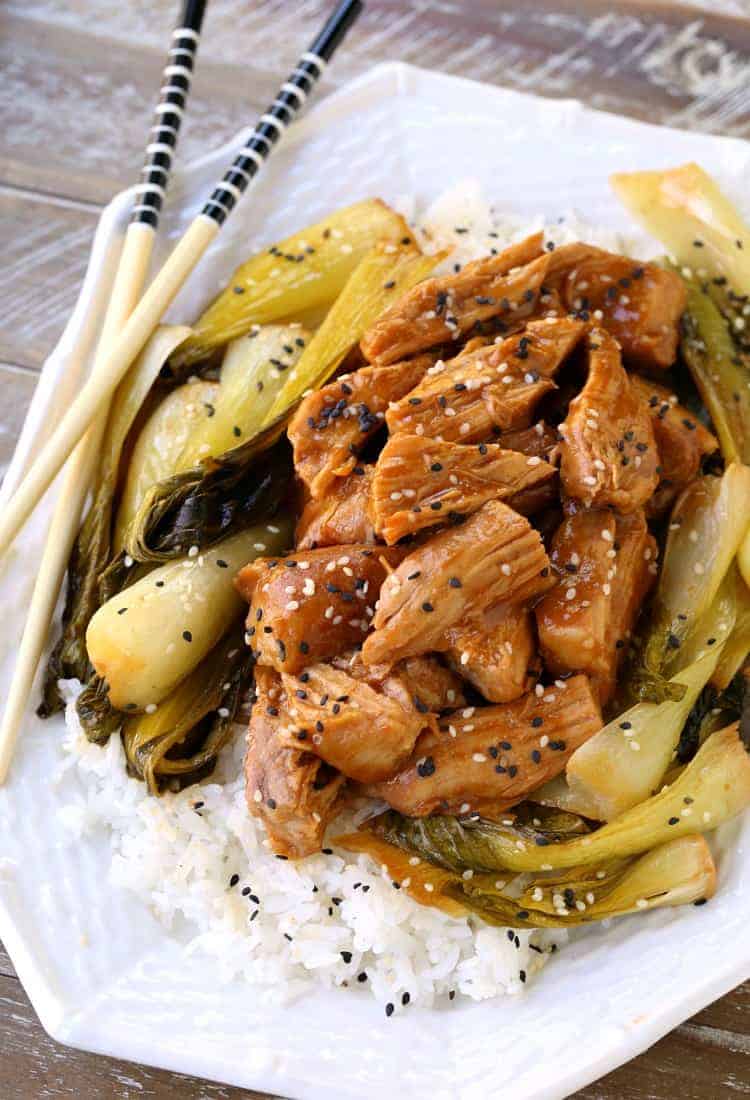 I don't think I've really met anyone who doesn't like Chinese food. Some sort of Chinese food anyway, you can usually find something for everyone on the menu.
For our boys it's chicken lo mein and dumplings although they'll eat pretty much anything we give them from chinese take out because it all tastes SO GOOD.
So at home, we make a lot of food like this. It could be fried rice, lo mein, stir fry, anything with those amazing Asian flavors is going to be a dinner win for us.
Then add the fact that you can cook it in your slow cooker like this Shaking Beef Recipe while you're gone for the day, that's a double win.
I'm not usually a big fan of pork, I'm a beef guy through and through. But there are some ways I do like pork (mostly ground pork in recipes like this one) but this Slow Cooker Nutty Asian Pork is definitely one of those recipes that I'm adding to the list.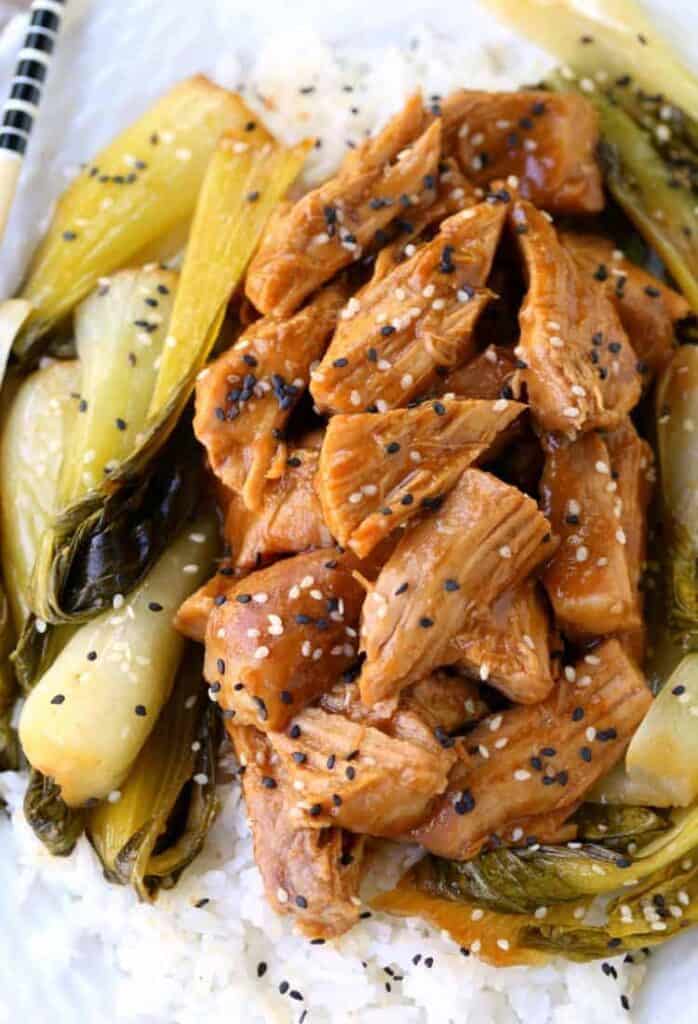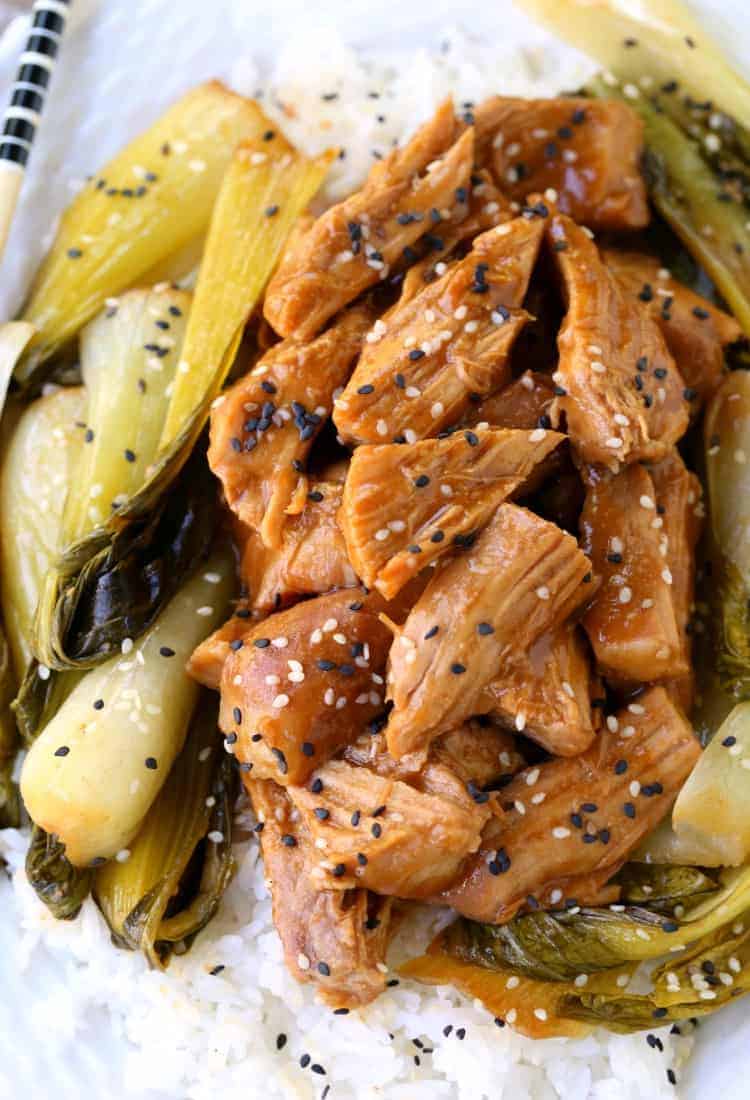 The reason I think I don't like pork is that it can be really dry, but I guess that's when it's over cooked or just bland in flavor…there's no bland flavors here though I can promise you that.
Oyster sauce, garlic, sesame oil, soy sauce, brown sugar and peanut butter.
Peanut butter.
So now we're throwing in some Thai flavors, that's right. It's Slow Cooker Nutty Asian Pork here. Not just Chinese pork. And that mild peanut utter flavor is what makes this pork taste so good, you can't stop eating it.
If you've never had bok choy before, and I think you have because it's in a lot of Chinese take out meals, it's like a crunchy mild cabbage flavor. It's better than cabbage though in my opinion, so if you can find it you should try some.
If baby bok choy isn't at your store that day then you can always swap out broccoli or snow peas. Just steam them first and then stir them into the sauce when the pork is done. I think broccoli gets too mushy in any slow cooker recipe so that's how we do it, cook it then just add it in at the end.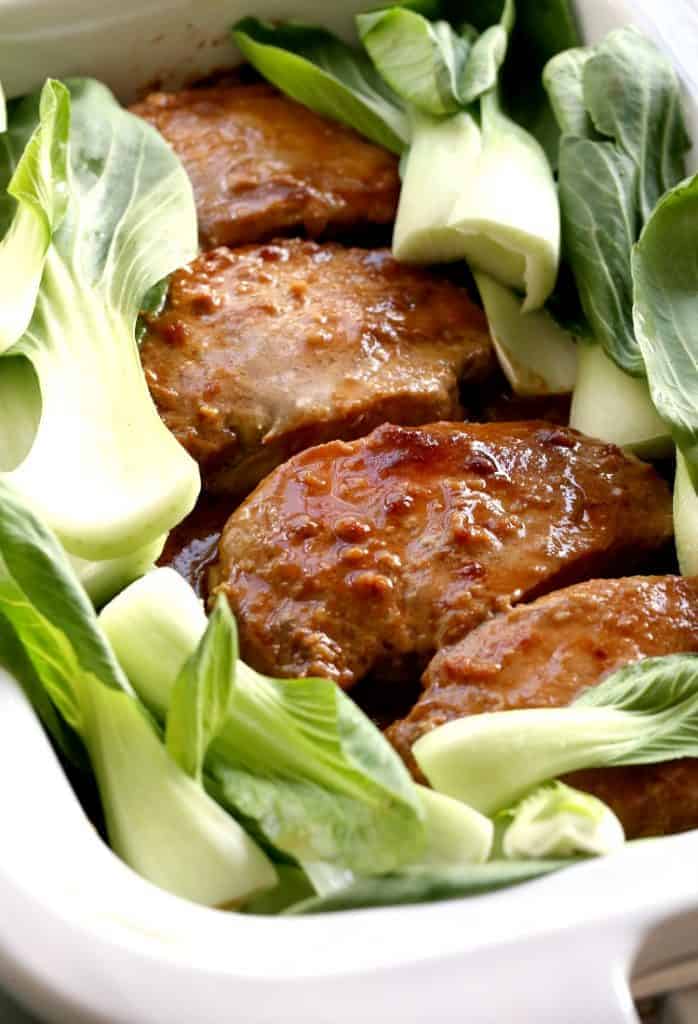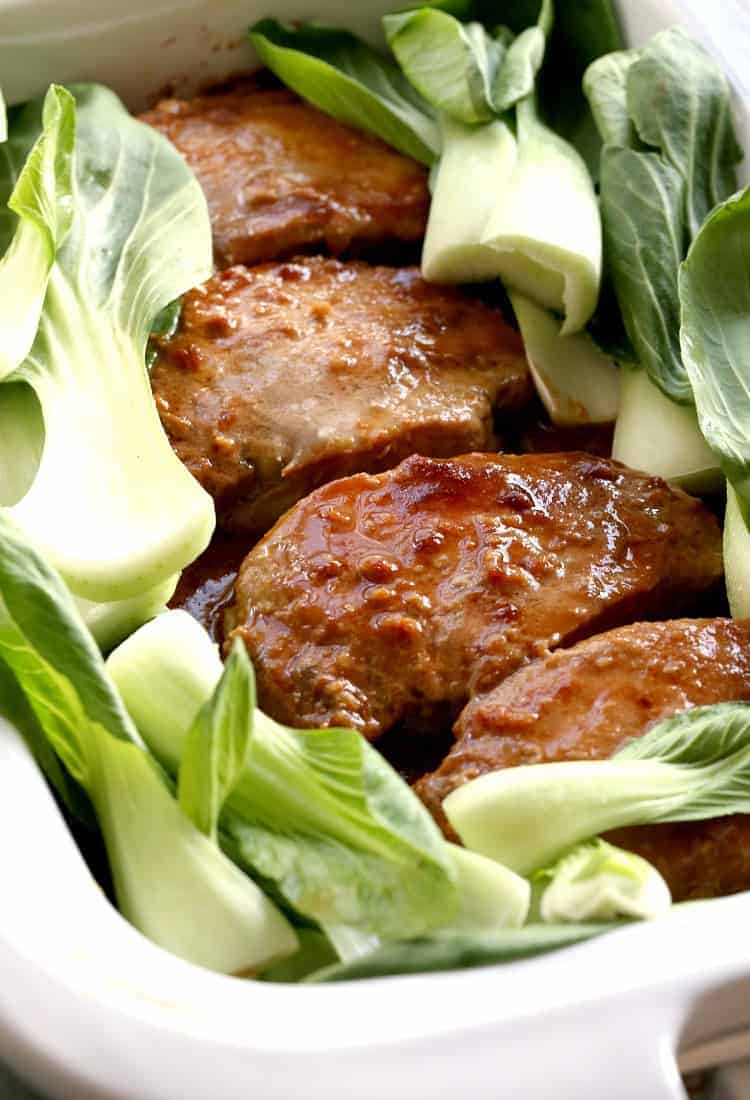 There's nothing that needs to be super tender and falling apart about broccoli.
Also if any of you are following low carb, this recipe is for you. You can serve it over cauliflower rice to soak up all the sauce or just eat it as is.
Our boys eat this Slow Cooker Nutty Asian Pork with bowls and bowls of rice or noodles, all while still attempting to master their chop stick skills.
That's a work in progress.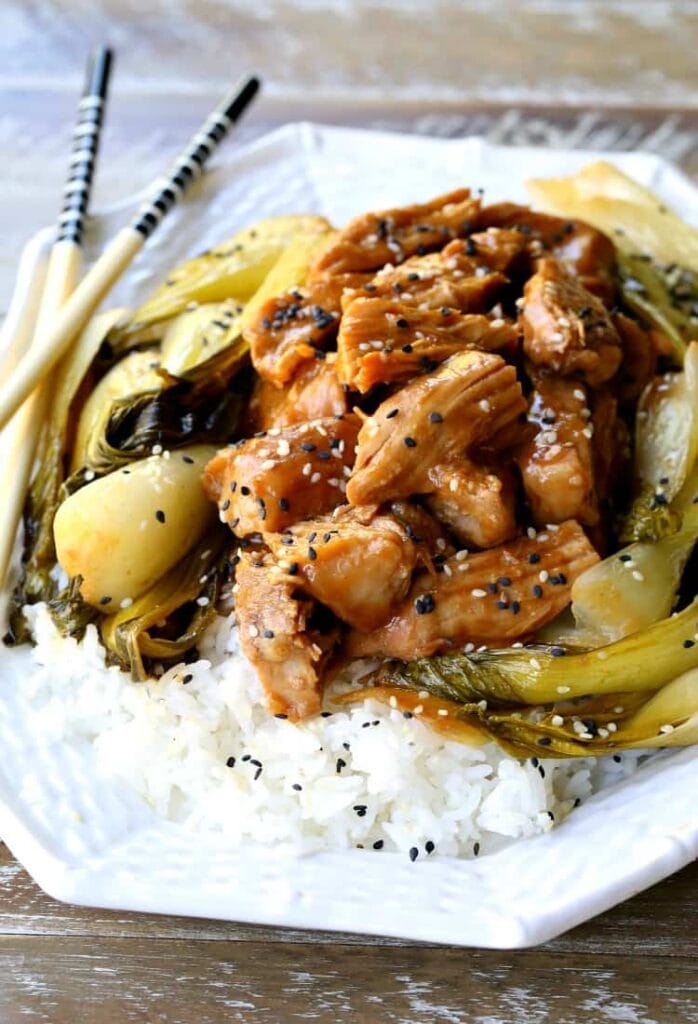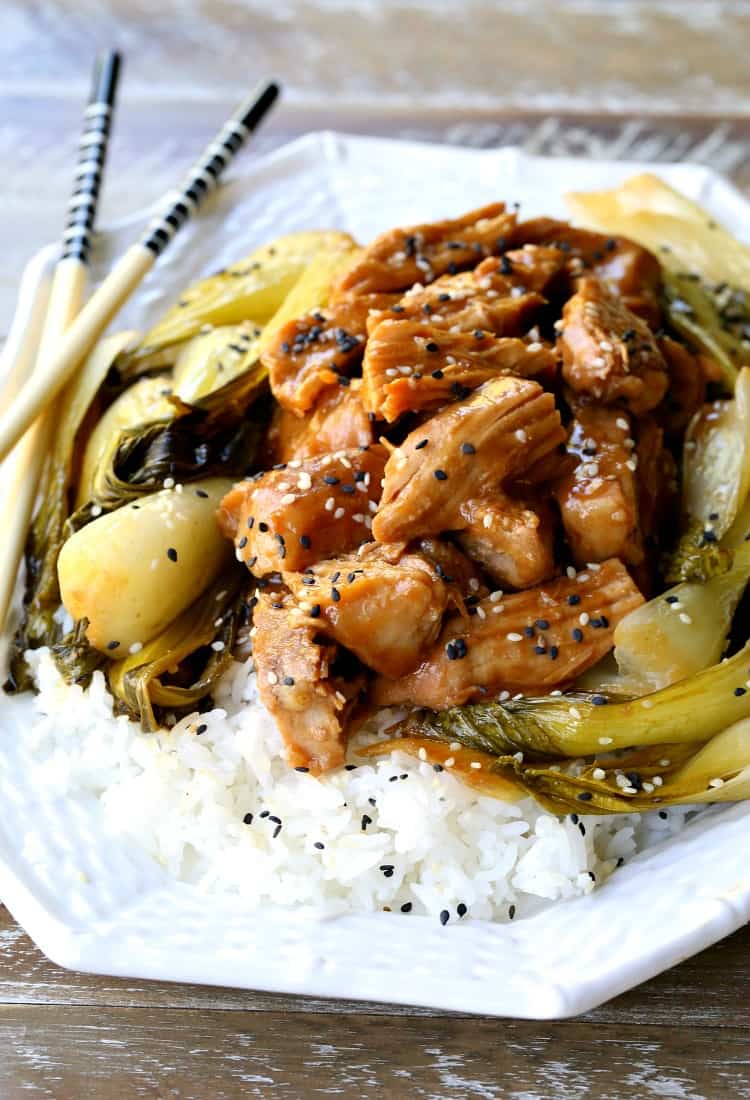 But hey, I'm still using my fork here so I give them credit. As long as this Slow Cooker Nutty Asian Pork is getting eaten up they can eat it however they want!
Print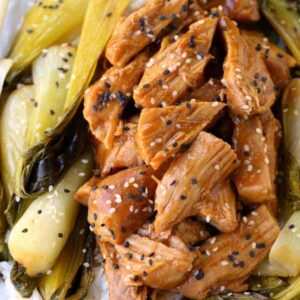 Slow Cooker Nutty Asian Pork
Author:

Prep Time:

15 minutes

Cook Time:

8 hours

Total Time:

8 hours 15 minutes

Yield:

6 servings

Method:

slow cooker

Cuisine:

Asian
---
Ingredients
2 1/2 pounds boneless pork chops
3-4 baby bok choy, cleaned and trimmed, leaves separated (you can substitute 3 cups of steamed broccoli or snow peas)
3/4 cup soy sauce
2 tablespoons brown sugar
1/4 cup oyster sauce
4 garlic cloves, crushed
1 tablespoon sesame oil
2 tablespoons creamy peanut butter
1/2 teaspoon crushed red pepper flakes
---
Instructions
Add the pork chops to the slow cooker.
Mix the sauce ingredients together and pour over the chops, making sure some is on the bottom of the pork as well.
Cook on low for 8-10 hours until pork is tender, or high for 6.
Add baby box choy in the slow cooker an hour before the end of cooking time making sure to get it down into the sauce. (If substituting broccoli or snow peas, steam the vegetables first until tender but crisp then add them into the sauce when the pork is done.)
Remove pork and bok choy from slow cooker and drain sauce into a pot.
Cut the bok choy into desired size pieces, then shred the pork and place into a bowl with the box choy.
Bring the sauce to a boil, then add 1 tablespoon of cornstarch mixed with 1 tablespoon of water to the sauce, whisk together and let thicken for 5 minutes.
Pour the sauce over the shredded pork and bok choy, tossing together to combine.
Serve over rice, cauliflower rice or noodles.
Keywords: slow cooker, pork, bok choy, low carb