Honey Mustard Pulled Pork Taquitos
are so addicting! Tender, slow cooked pulled pork wrapped in crispy tortillas with the most amazing dipping sauce!
We use our delicious Slow Cooker Pulled Pork recipe for the base of these taquitos! Also be sure and try our Cheesy BBQ Pulled Pork Recipe! One bite and you'll know why these are our some of our favorites!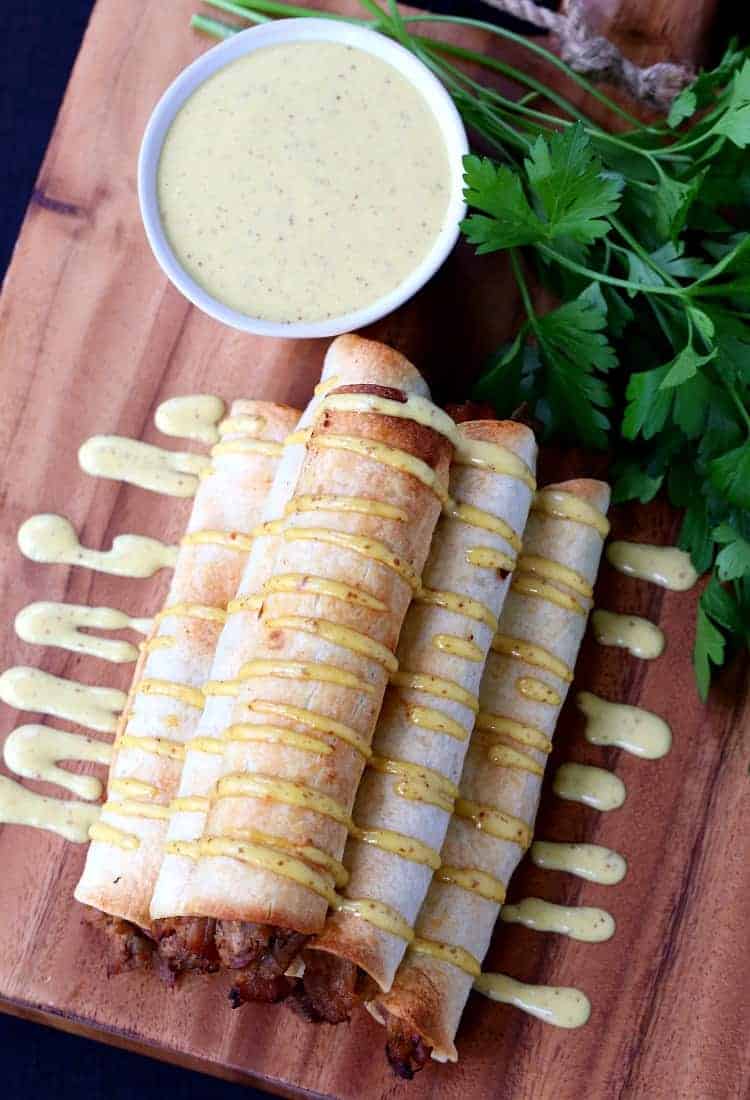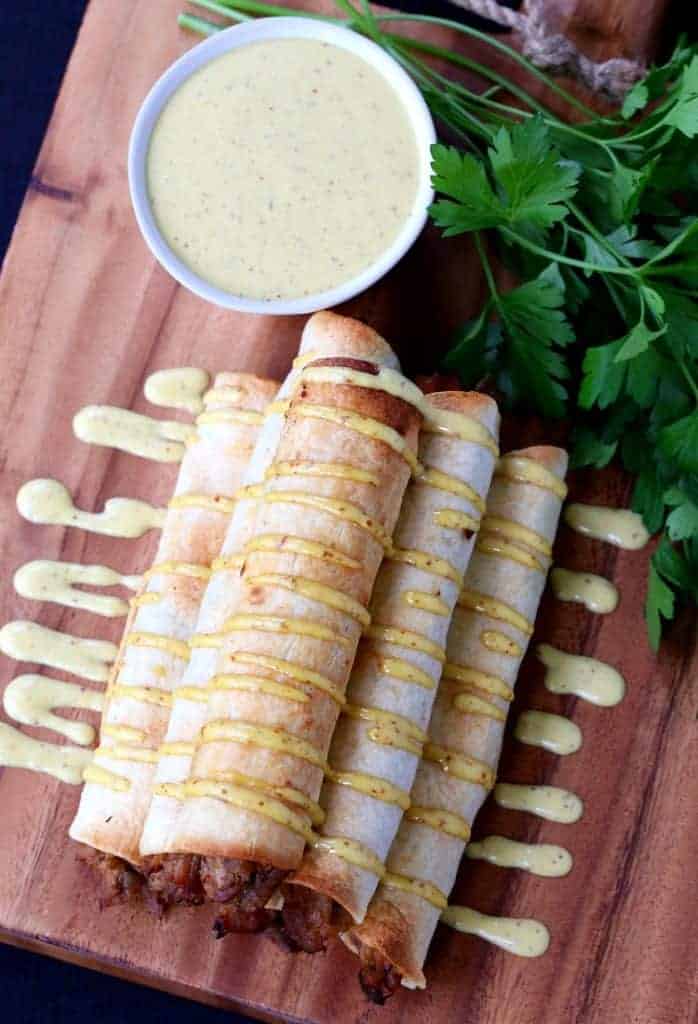 These Taquitos Are Perfect For Appetizers OR Dinner!
Actually, these taquitos are actually perfect for both. We love serving this taquito recipe for appetizers, people can't get enough of them! Any party or happy hour will do. I mean, who isn't going to love a big platter of these taquitos?
But we also make this taquito recipe often for dinner if we have pulled pork leftovers or if we're meal prepping for the week with a slow cooker of pulled pork. Our boys use pulled pork on just about anything, baked potatoes, french fries, nachos, on a bun or in these taquitos.
And the best part about recipes like these pork taquitos is sometimes you serve them for appetizers but then…you're done. Your friends or family won't be able to stop eating them and then you've just got yourself a two for one recipe!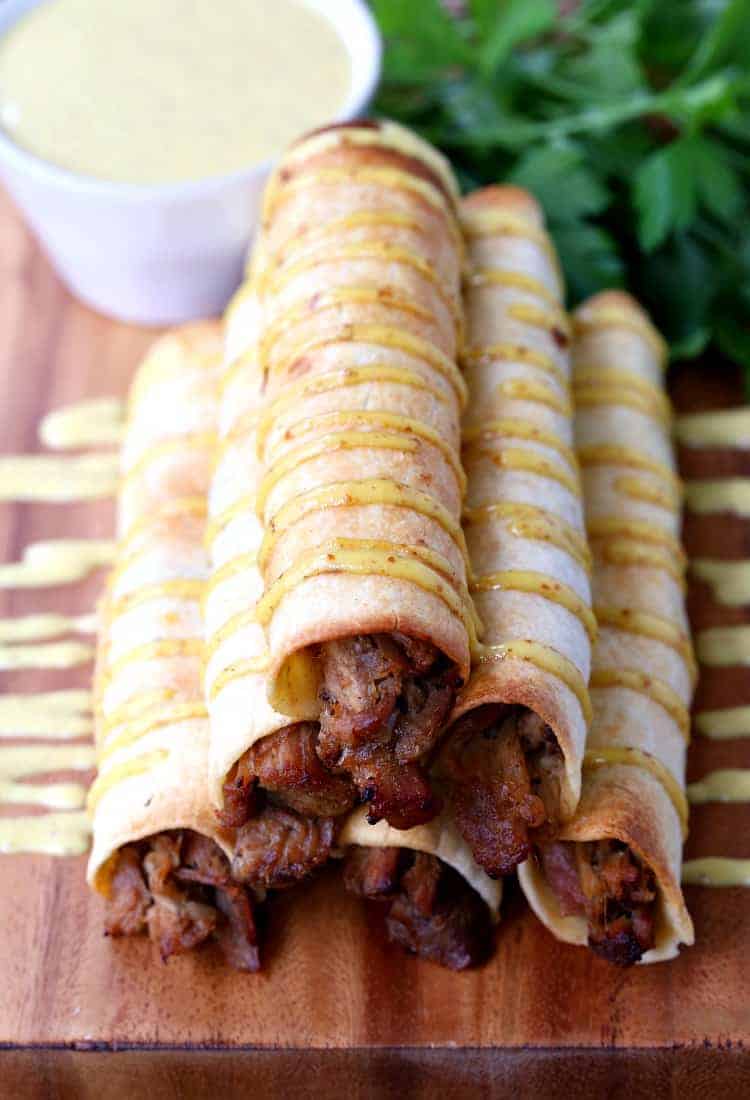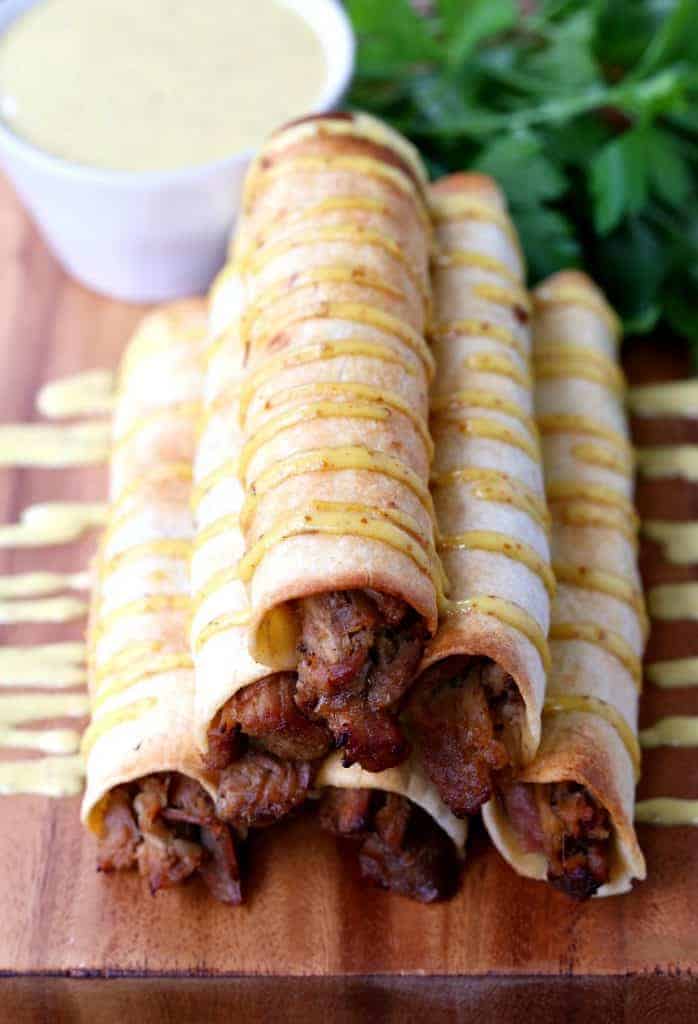 Can You Make These Taquitos Ahead Of Time?
Oh yeah. I think that's going to be a whole new menu item here on the site, food that can be made entirely ahead of time! Because we're busy, am I right?
There's not one person I know that would say they always have to time to prepare food for dinner each night or whip up party appetizers or dinner for a crowd. Which is why we LOVE make ahead recipes so, so much.
Obviously you can make the pulled pork ahead of time for these taquitos, but you can actually take these taquitos all the way through to the end! Roll them up, bake them, let them cool then freeze in resealable bags.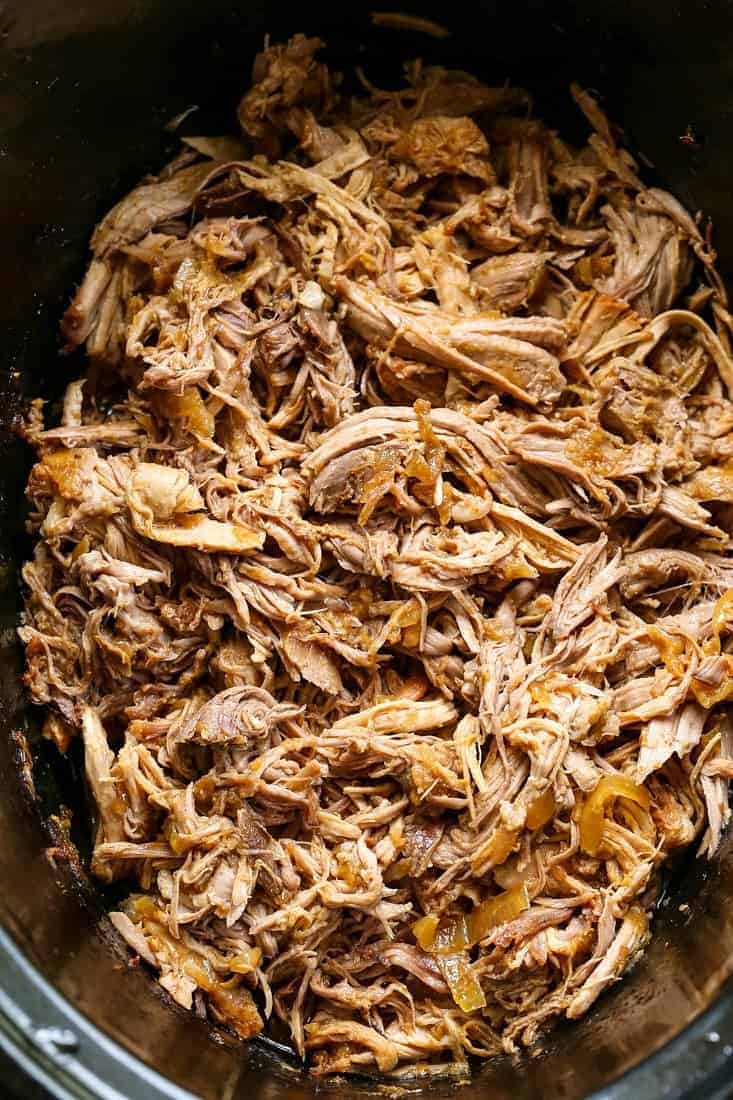 How Do You Make These Taquitos?
Flour or whole wheat tortillas are my choice for this taquito recipe, but you can use corn tortillas also, just make sure to soften them first before you roll them up.
There are a lot of recipes that call for frying taquitos and I am not opposed to fried food in any way shape or form. So fry away if you like, but I think these taquitos are just as good baked in the oven.
Start by adding about a 1/4 cup of the meat to a tortilla and wrap it up tightly. Place it into a baking dish, seam side down.
You might need two baking dishes to get all these taquitos to fit, or if you have one large dish that will work too. This recipe is going to make about 24 taquitos – so start inviting your friends over.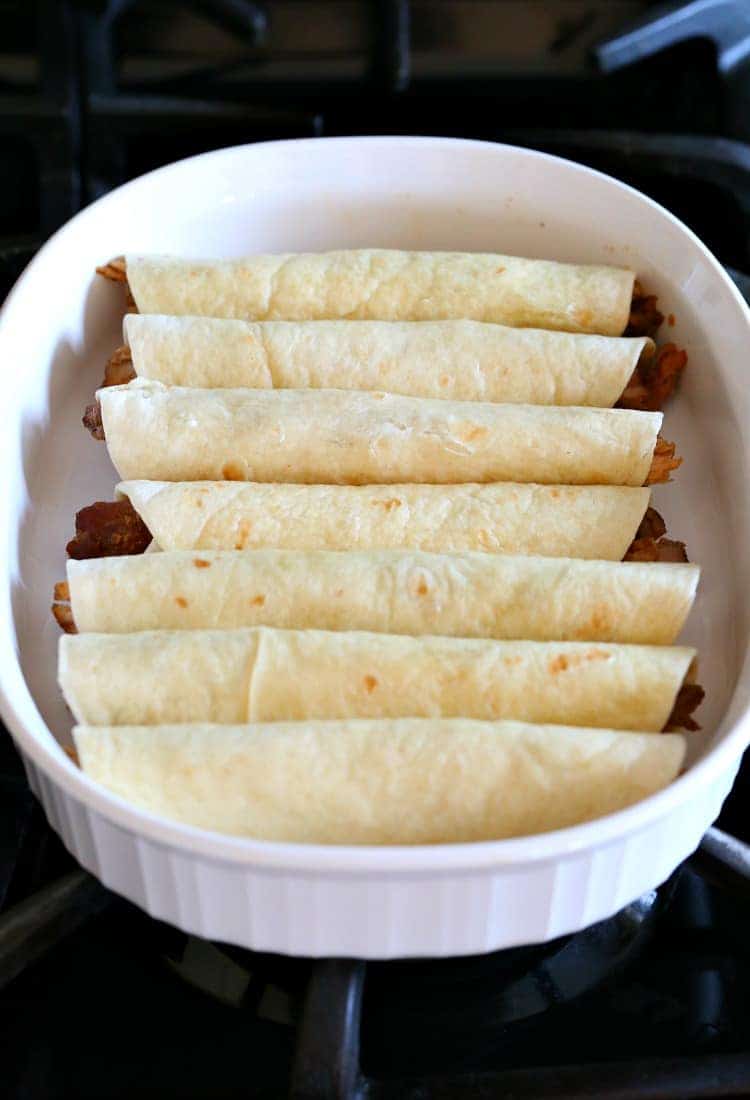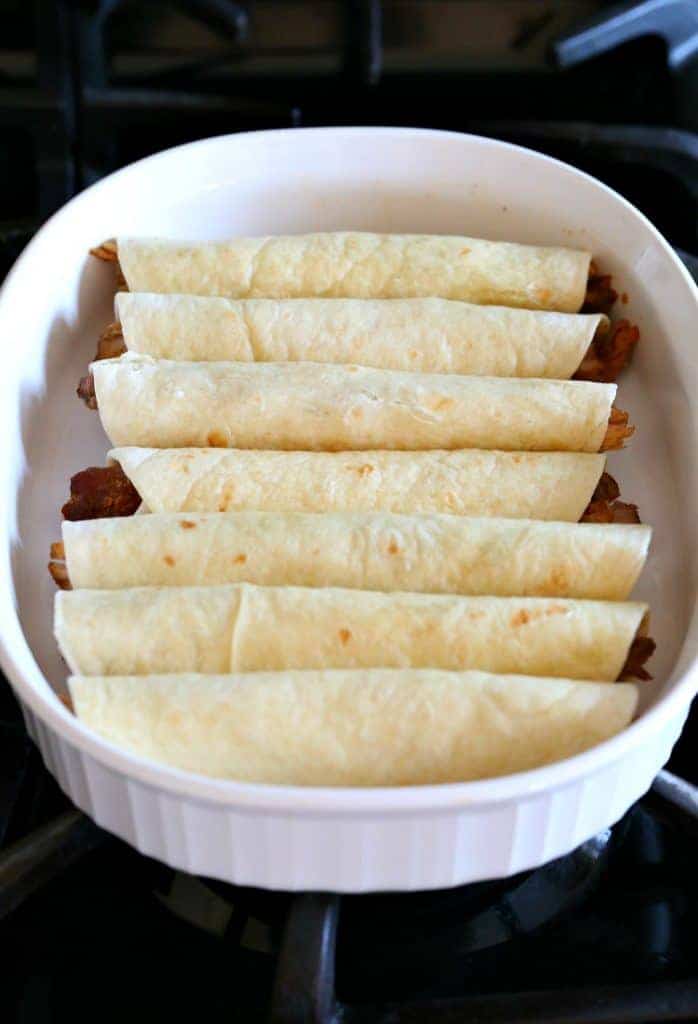 Brush the tops of the taquitos with oil and bake for 15 minutes until the tortillas are browned and crispy on top.
AND while they're baking you can stir together the honey mustard sauce! This is our favorite honey mustard sauce recipe and it's SO easy to make! We use it on all sorts of recipes or just for dipping (chicken nuggets, anyone?)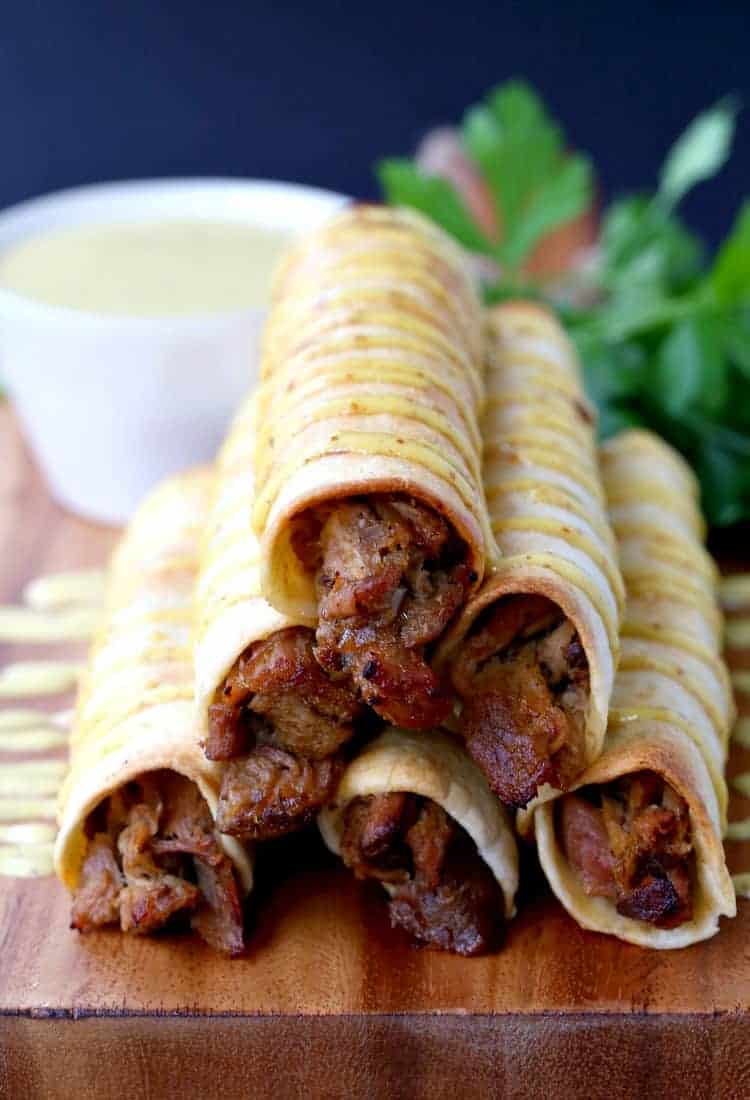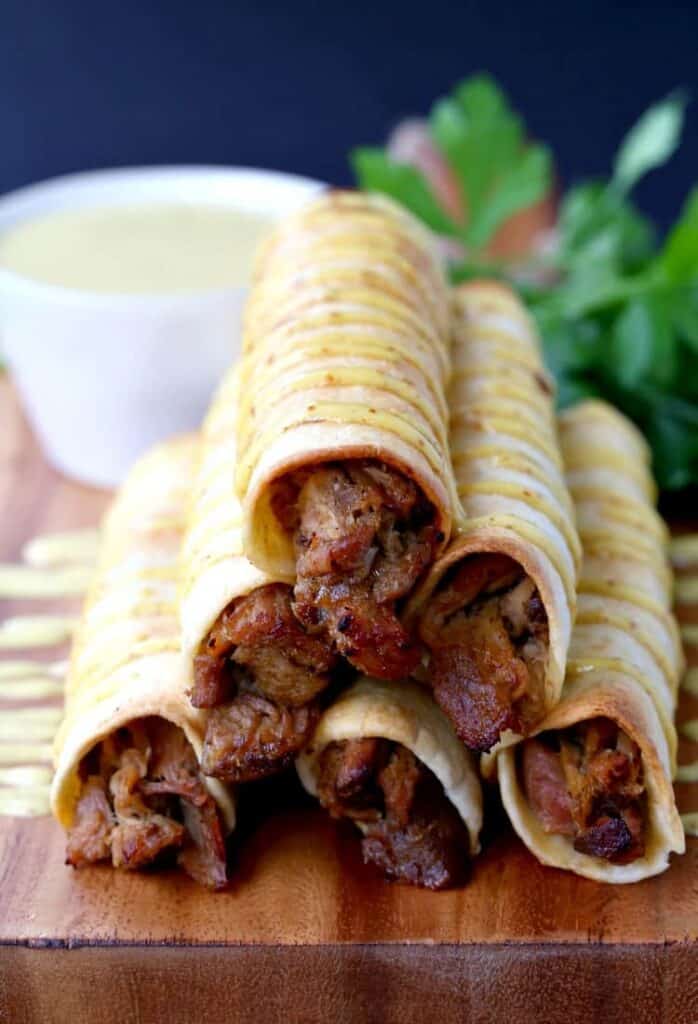 Drizzle the tops of these Honey Mustard Pulled Pork Taquitos like we've done here or just serve them as is with the sauce on the side for dipping.
What Other Kind Of Sauce Can I Serve With These Taquitos?
Salsa
Sour cream that's been thinned out with milk and fresh lime juice
Guacamole
BBQ Sauce
Ranch dressing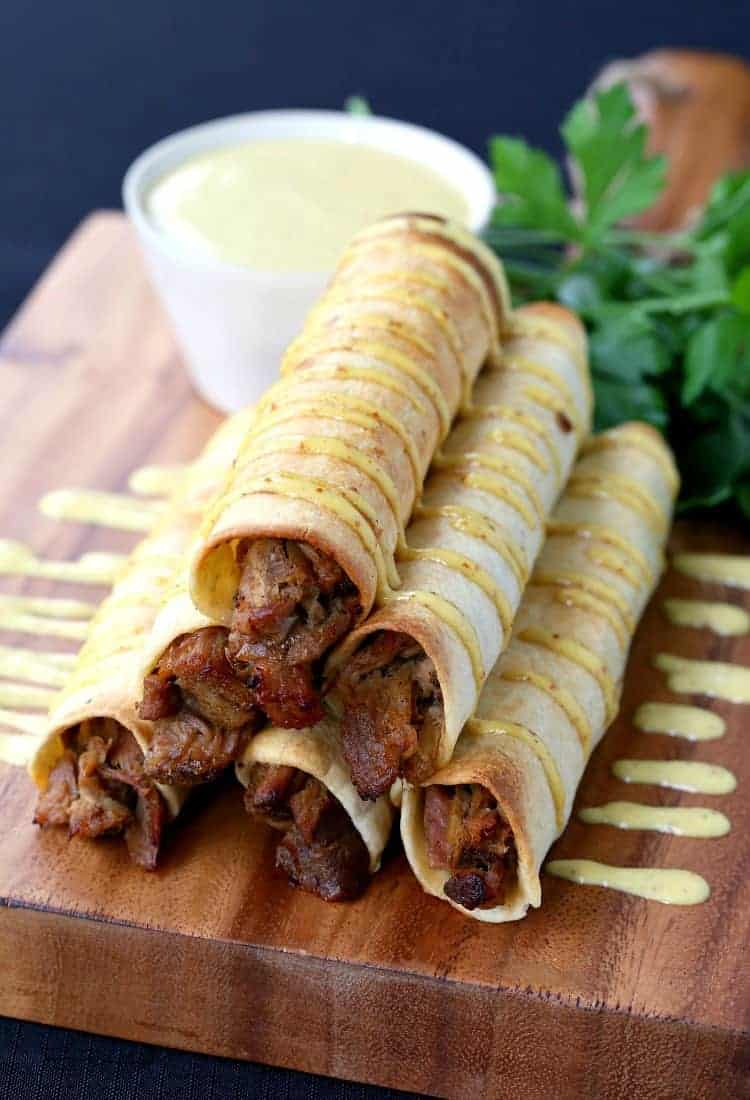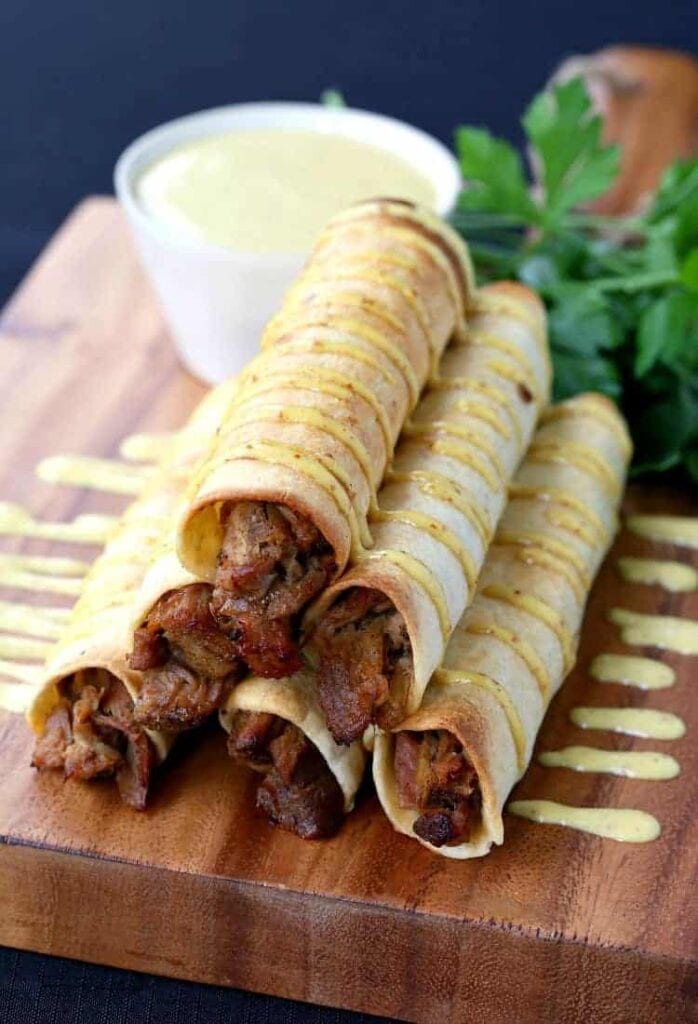 PIN IT!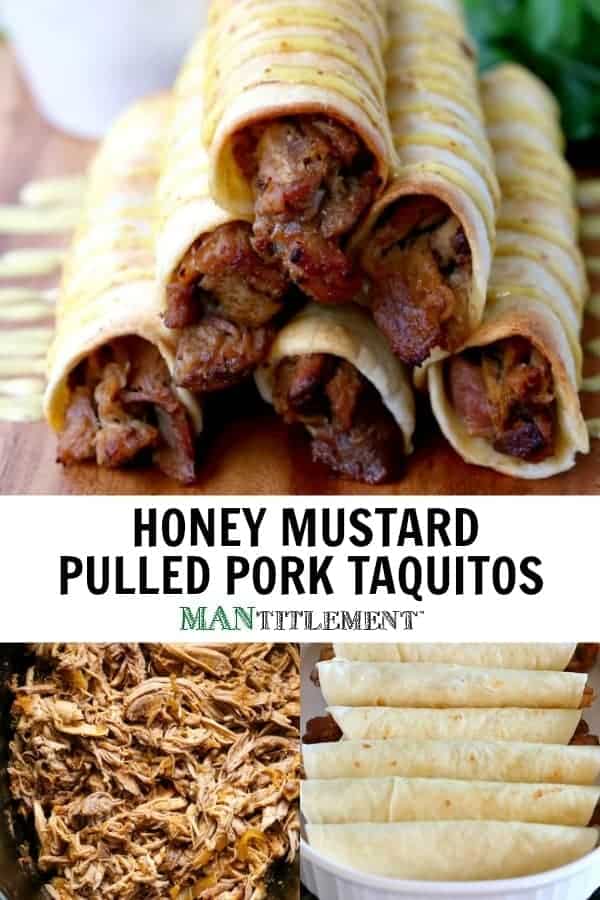 Looking For More Appetizer Recipes?
Print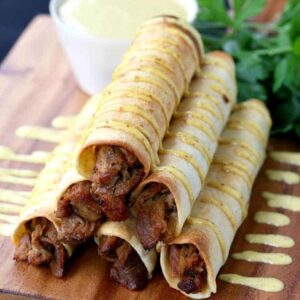 Honey Mustard Pulled Pork Taquitos
Author:

Prep Time:

10 minutes

Cook Time:

8 hours

Total Time:

8 hours 10 minutes

Yield:

2

4

1

x
This addicting taquito recipe starts with the most amazing pulled pork! Serve these taquitos for appetizers or dinner!
Scale
Ingredients
24 (8 inch) flour tortillas
Olive oil
For the Honey Mustard Sauce (Makes about 2 cups)
1 cup

mayonnaise

1/4 cup

brown mustard

1/4 cup

yellow mustard

1 teaspoon

garlic powder

1/2 teaspoon

salt

1 tablespoon

Worcestershire sauce

2 tablespoons

apple cider vinegar

2 tablespoons

honey
Instructions
Preheat the oven to 400 degrees.
Place a flour tortilla on a board and add a heaping 1/4 cup of pulled pork to the center of the tortilla in a line, right to the ends of the tortilla.
Roll the tortilla up as tightly as you can then place it seam side down in a baking dish.
Repeat with the remaining tortillas using an additional baking dish if needed.
Brush the tops of the taquitos with olive oil and bake in the oven for 15 minutes.
Serve with honey mustard drizzled on top or for dipping on the side.
Recipe Notes
You can use store bought pulled pork for a short cut too!
Category:

Dinner

Method:

Slow Cooker

Cuisine:

American
Keywords: taquitos, pulled pork recipe, honey mustard recipe, slow cooker pork roast, appetizer recipes

These