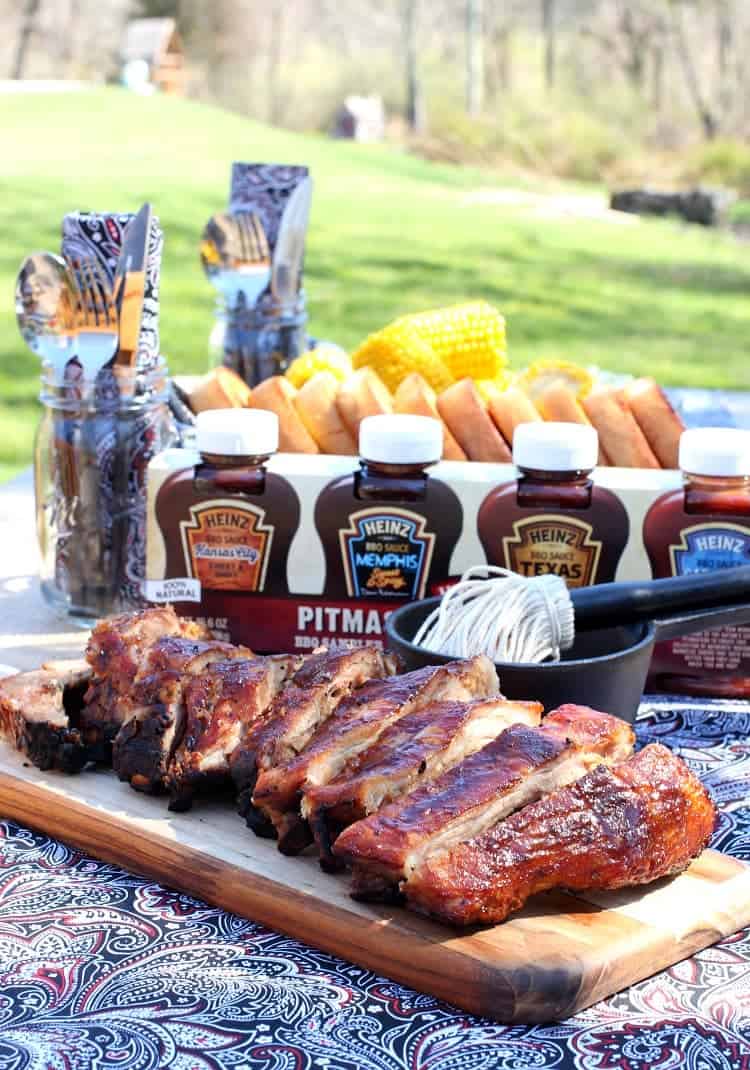 BBQ Party Ribs has been compensated by Collective Bias, Inc. and it's advertiser. All opinions are mine alone.
#MadeWithTheMasters #HeinzBBQ #CollectiveBias
BBQ Party Ribs are the best way to get your friends and family to take part in the fun!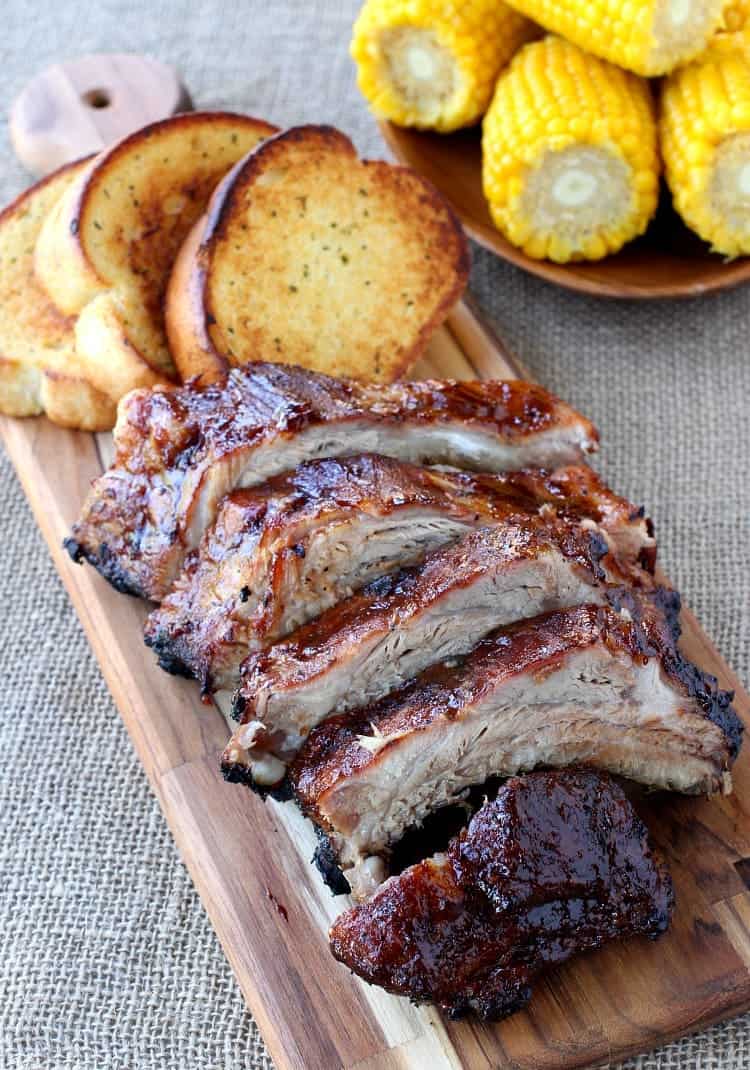 We all know how parties can get. You think you have it all planned out and then something happens, you run out of ice or you forgot to grab something at the store – or worse, you have a pickier crowd coming and you have no idea what to serve them.
That's the problem I'm always afraid of.
Because when guests come over to my house, I want them leaving thinking that was one of the best dinners I ever had…or maybe it was something they didn't think they'd like and they ended up inhaling the whole dinner. That's actually the best – because it happens to me all the time.
So when grilling season comes around and it's time to party, I like to make the BBQ Party Ribs and let my guests feel like the have some control.
Memorial Day parties are always a combo type deal in our house. May is our big party month, with birthdays for all of us and then we have our Anniversary and Memorial Day in the same weekend. So inviting friends and family over and celebrating everything at once is what we've found makes our month go by a little smoother – and a lot more fun.
And our favorite thing to get on the grill is ribs.
Ribs are so easy to make for a crowd since you can pre-cook them low and slow in your oven and then finish them off on the grill when it's time for dinner.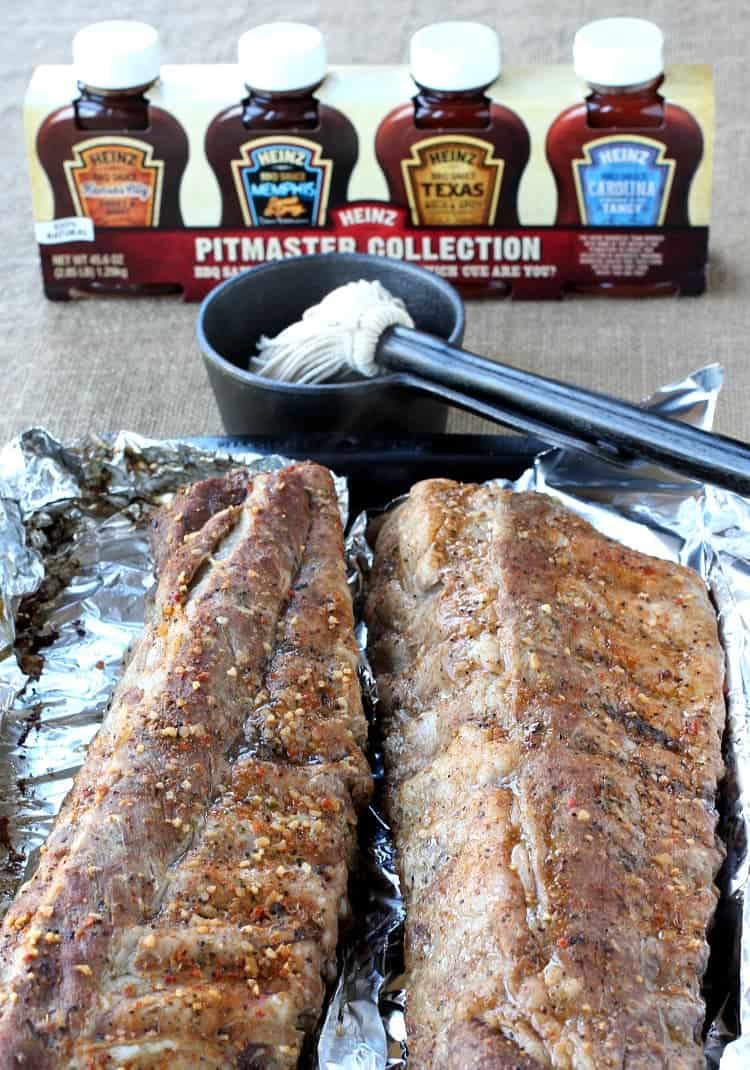 The only problem is when it comes to the sauce. Some like their sauce spicy, others like it more smokey and others (especially the kids) like it a little more on the sweet side. This BBQ Party Ribs recipe is the cure for all the different tastes – set out your Heinz Pitmaster Collection BBQ Sampler Pack and everyone can have exactly what they want.
The easy choice is to grab Heinz since it's BBQ sauce is 100% natural, and the taste is out of the world. Heinz has even partnered with Regional Pitmasters like Joe & Mike Pearce from Kansas City, Slap's BBQ in Memphis, Dan Brown from Leonard's PIT BBQ in Texas, Robert Sierra from the S+S Pit Crew – Carolina and Sam Jones from the Skylight Inn. So let's just say that heinz has done their homework and learned these recipes from the best.
You can check out more party ideas and recipes using Heinz BBQ sauces here!
I cook the ribs in a low oven for 2 1/2 to 3 hours with nothing but a simple dry rub. When they come out you can either get them right on the grill or put them in the refrigerator until it's time for the grill.
Then come party time, fire up your grill and get the ribs right on there. You can baste them with the sauce at this point, or just heat them up with no sauce so your guests can choose their own.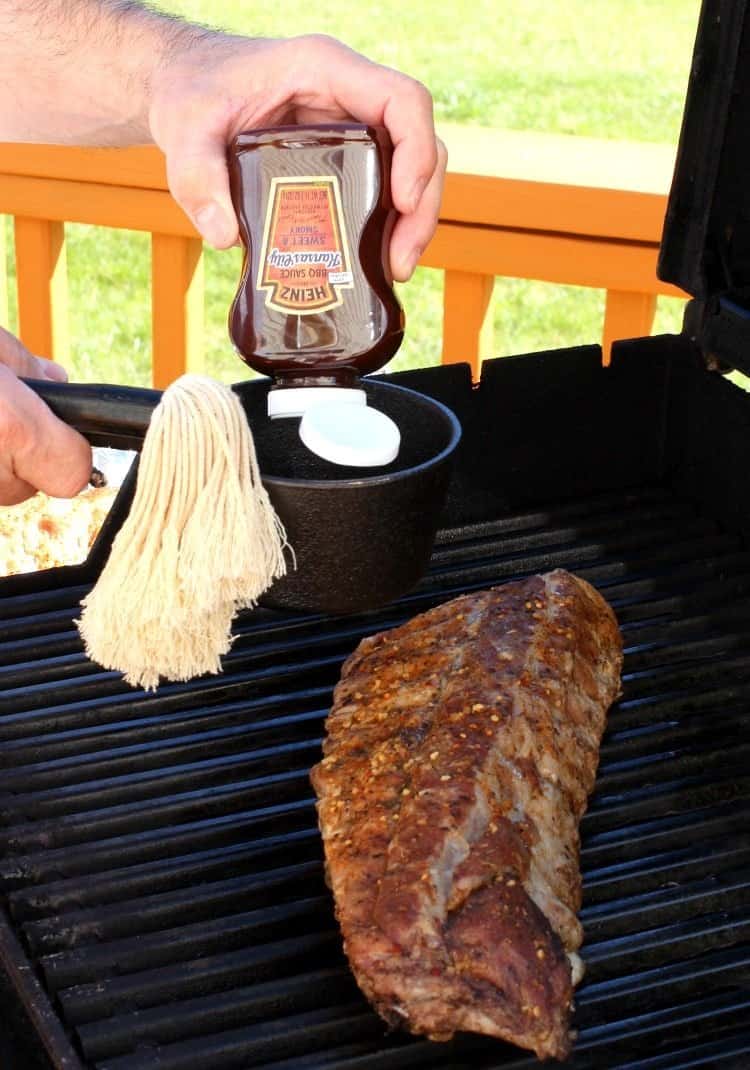 I went ahead and made a couple of racks with the Kansas City Sweet & Smoky BBQ Sauce since that's the kind I wanted…and it's my party. Then I leave a few plain without sauce so that everyone can pick their own flavors at the table and hopefully try them all!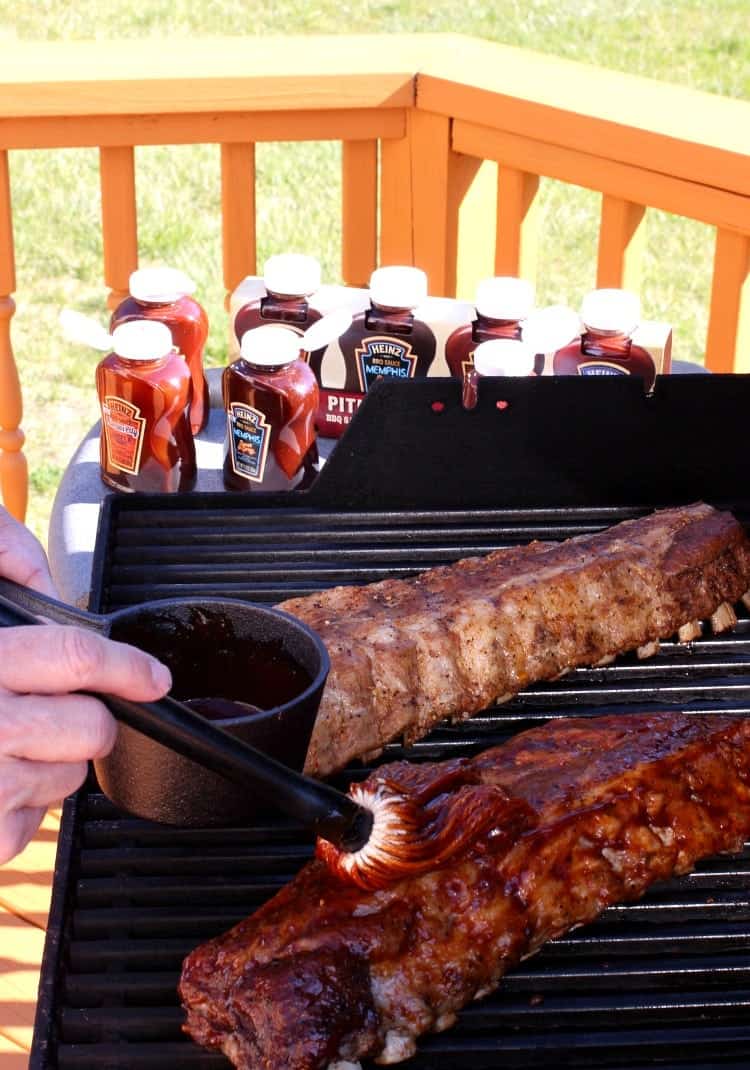 Setting up the table is usually my job, I like to have a theme for my set up – and this time it's all about BBQ! What's even better than having tender, perfectly seasoned BBQ ribs? All the sides. The sides count almost as much as the main course when it comes to a BBQ. We grabbed some corn on the cob, homemade cole slaw and huge pieces of texas toast.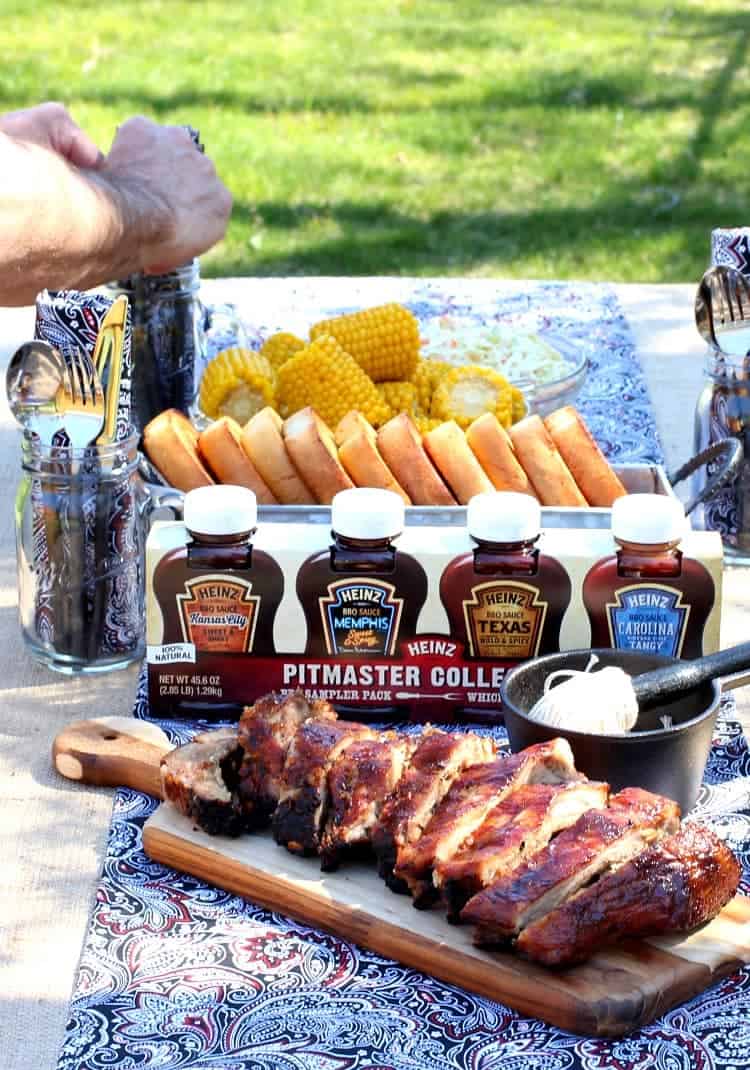 And of course the Heinz Pitmaster Collection of sauces at the table for your guests to "customize" their own ribs. Maybe you want a few ribs with the Carolina Tangy…maybe a few with the Memphis Sweet & Spicy, or the Classic Sweet & Thick is always a good choice. I like to set out a few slabs sauced on a board at different ends of the table like this one…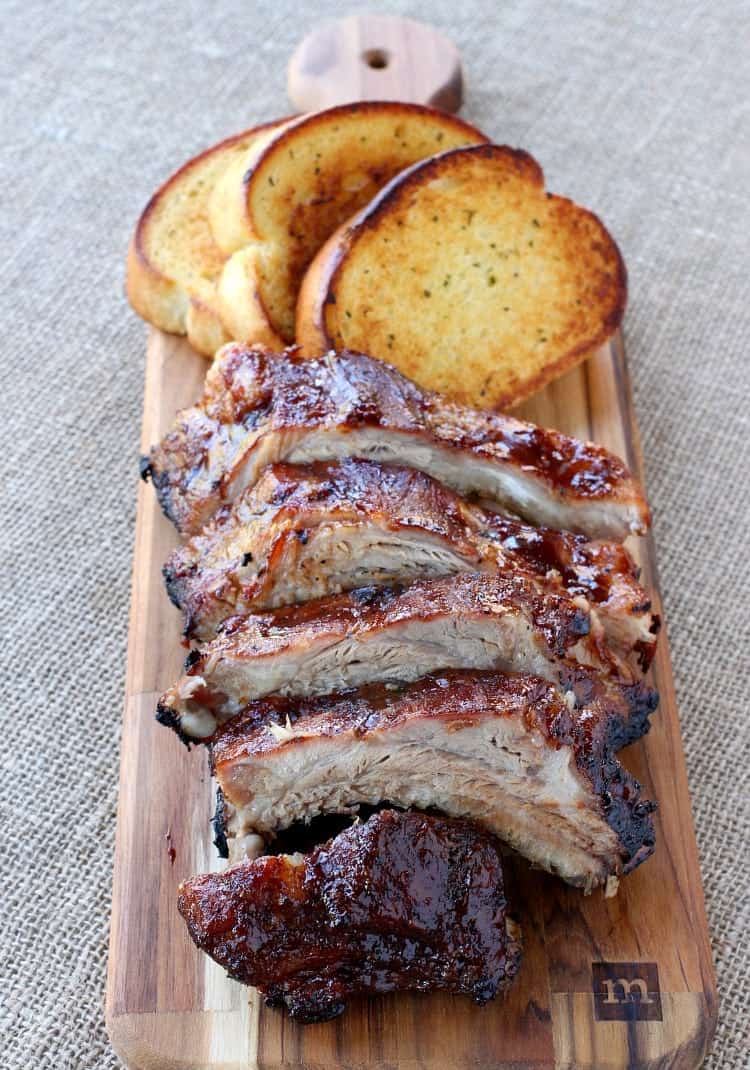 So at one end of the table you'll have this set up here, and exactly the same set up at the other end of the table so that all your guests can have access to everything there is to grab!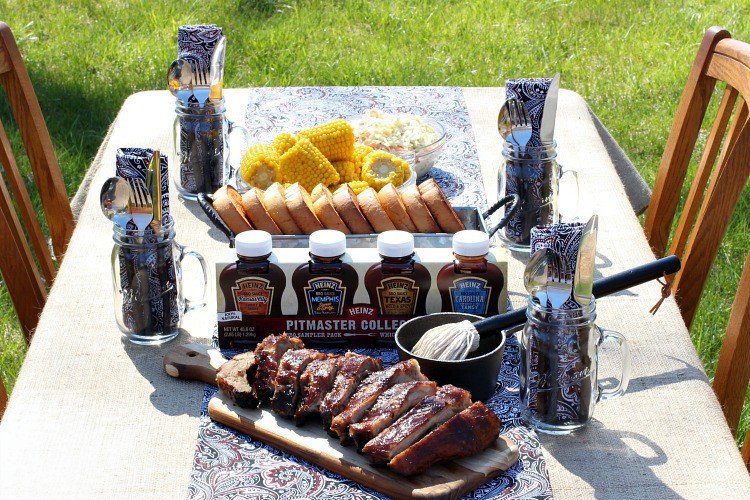 But really the best party about a BBQ? Is getting to eat outside and enjoy the awesome weather. There's not much that can go wrong when you've got a day like this to have a BBQ!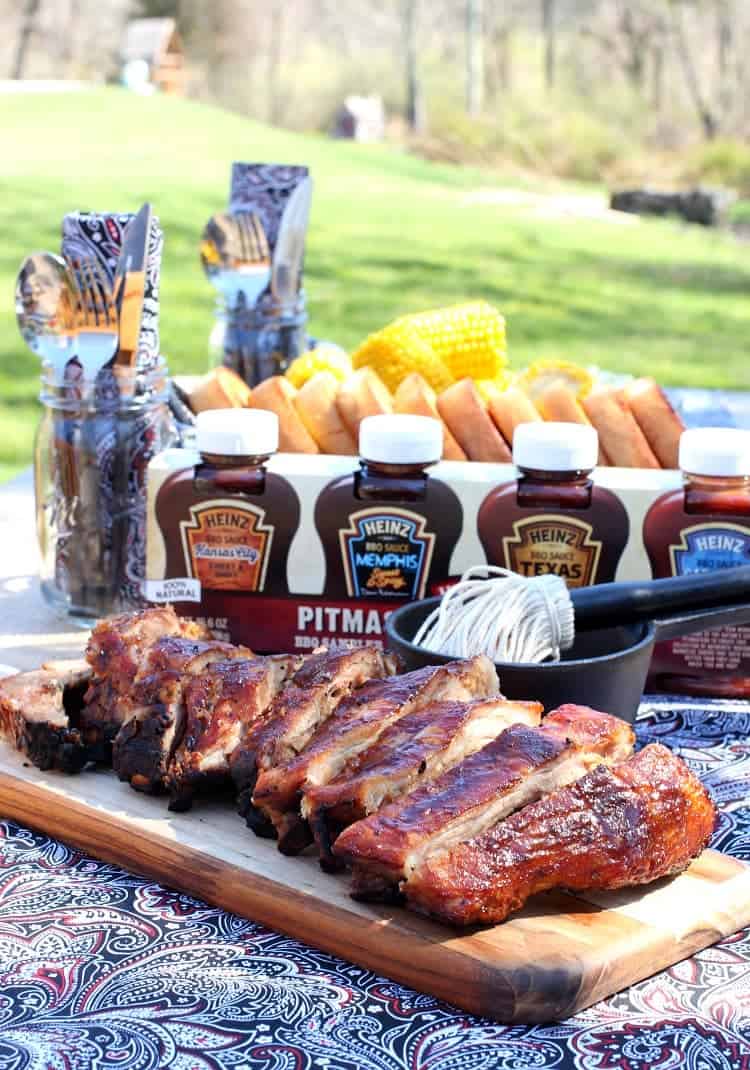 Print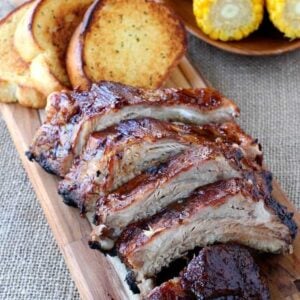 BBQ Party Ribs
Author:

Yield:

8
---
Ingredients
(4) 3 lb. pork baby back ribs
1 Heinz Pitmaster Collection BBQ sampler pack
For the Dry Rub
1 tablespoon cumin
1 tablespoon garlic powder
1 tablespoon paprika
1 tablespoon chili powder
1 tablespoon brown sugar
2 tablespoons kosher salt
1 teaspoon cayenne pepper
1 teaspoon black pepper
---
Instructions
Preheat the oven to 325 degrees.
Add all the ingredients for the dry rub to a small bowl and mix.
Divide the rub evenly between the four slabs of ribs and rub in well on both sides.
Wrap each slab of ribs tightly in foil then place onto a baking sheet.
Bake in the oven for 2 1/2 to 3 hours until tender.
At this point you can cool the ribs and keep in the refrigerator until you're ready for the grill if you want to get this step done ahead of time.
When you're ready to grill the ribs, preheat your grill to medium heat, then place each slab of ribs onto the grill.
If you want to baste the ribs with sauce, you'll need about a half cup per slab of ribs, or you can heat the ribs up without sauce and let your guests sauce them using the BBQ sauce of their choice at the table.
Heat up the ribs for 8-10 minutes on the grill, then cut into pieces with 2 -3 ribs per segment and serve.
Set out the Heinz Pitmaster Collection BBQ sampler pack sauces along with the ribs at the table.