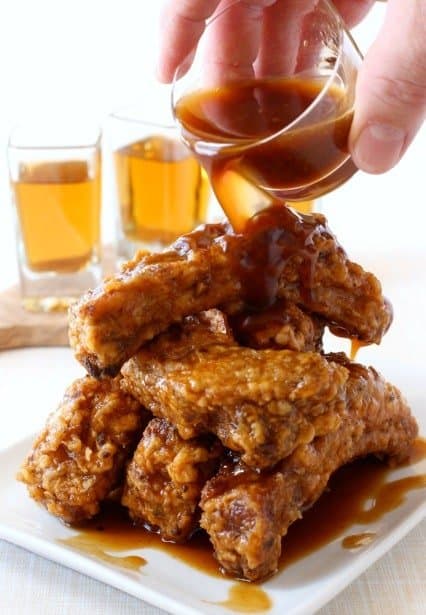 Chicken Fried Ribs with Whiskey Glaze
Chicken Fried Ribs with Whiskey Glaze are a crispy fried rib recipe! Deep fried ribs coated with my famous whiskey glaze makes the ultimate rib recipe!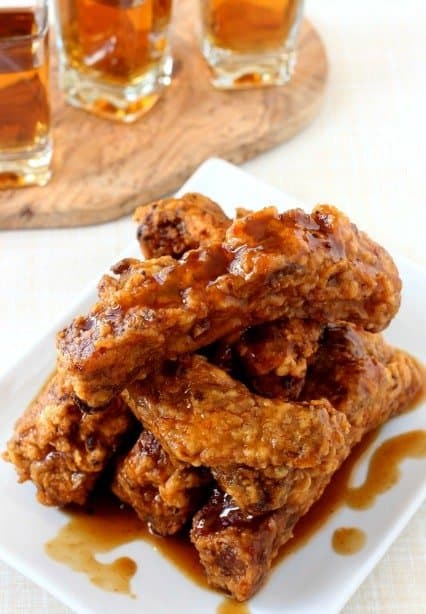 What Is Chicken Fried Steak?
I've never had chicken fried steak before – another shocker. So I asked the wife what it was all about.
So I find out that it has nothing to do with chicken and that it's called "chicken fry" because the method and the breading is similar to what you would use to fry chicken.
You can basically chicken fry any type of meat you want, so my mind went to ribs.
I'm going to make this fried rib recipe and then I'm going to toss them in my famous whiskey glaze.
Can you imagine putting out a platter of these Chicken Fried Ribs with Whiskey Glaze for game day, or any party? You'll be the house that everyone always wants to come back to.
Now that might be a good thing or a bad thing, I'll leave that one up to you!
Let's get to these fried ribs! Start by putting a dry rub on the ribs and cooking them in the oven for an hour and a half.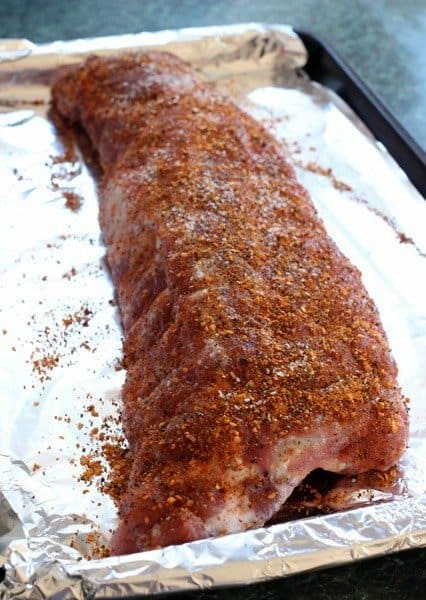 You can put together the whiskey glaze and let that start cooking down while the ribs are in the oven.
Use any whiskey you like to drink, I used Crown Royal for these ribs since it's a special day – game day that is. And I really love the smooth flavor of Crown Royal…so why not add it to my ribs?
And use it I did. There's a lot of whiskey in this glaze…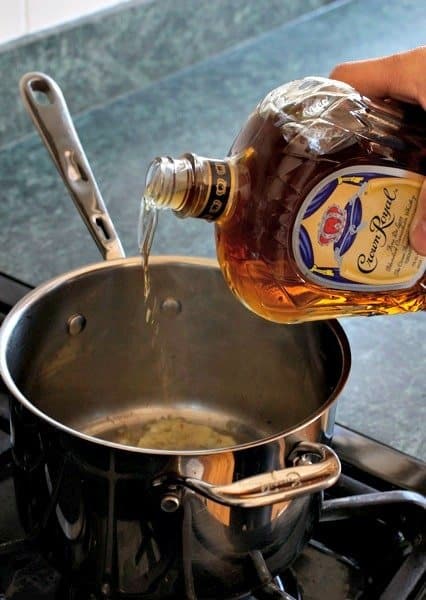 Get the rest of the glaze ingredients in the pot and let it cook down for about 10 minutes. Next you're going to thicken it up with a cornstarch mixture and let it cook for another 10 minutes until thickened.
When the ribs are done baking in the oven, section them and let them cool.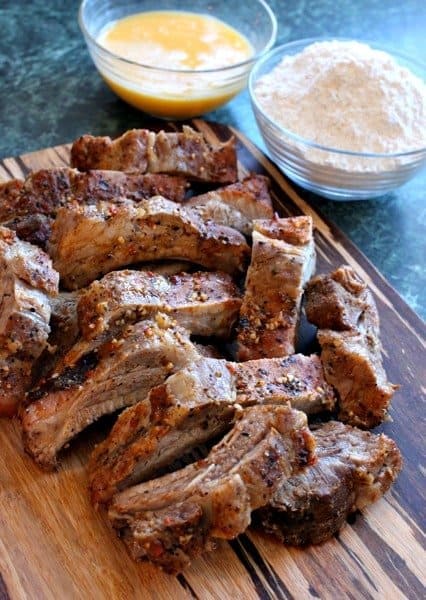 Now it's time to deep fry these ribs.
Coat the ribs in seasoned flour, dip them in the egg and back again in the flour. Using this double coated method of battering the ribs makes for a super crispy coating.
Just about five minutes in the hot oil is all you'll need to get these deep fried ribs super crispy.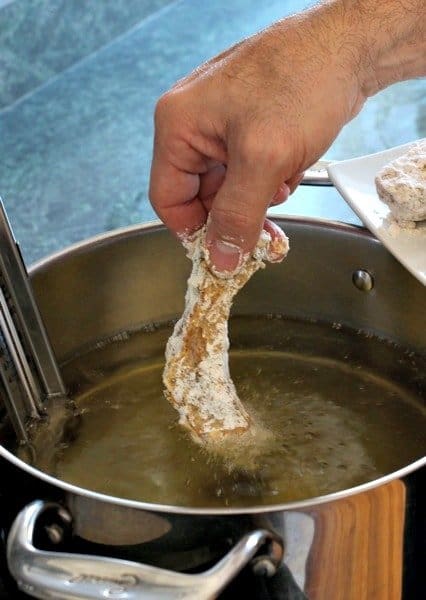 Fried ribs. Can you even believe it? Well, wait until you give these chicken fried ribs a taste.
Toss them all over in that whiskey glaze and serve immediately.
Messy – yes.
Unbelievable – hell yes. We're talking ultimate party food recipe here!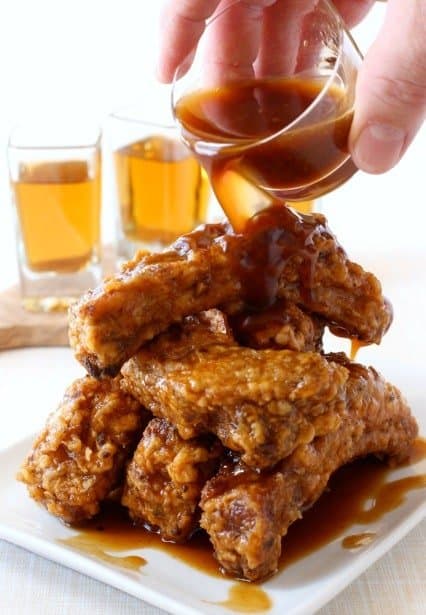 Make sure you have lots of napkins for these whiskey fried ribs! And definitely a glass of whiskey on the side.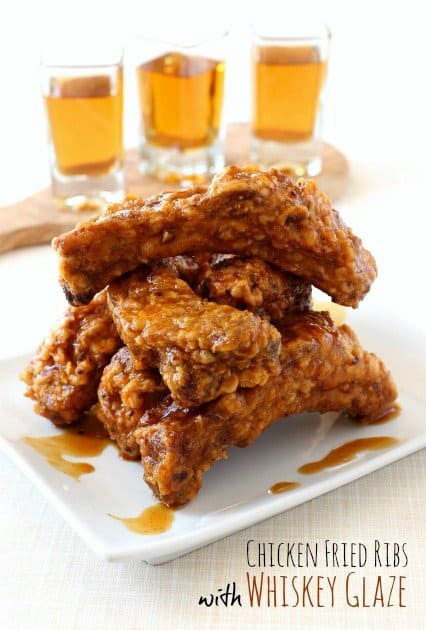 Looking For More Ribs Recipes?
• Beefy French Onion Soup (with short ribs)
Print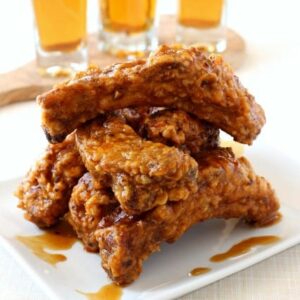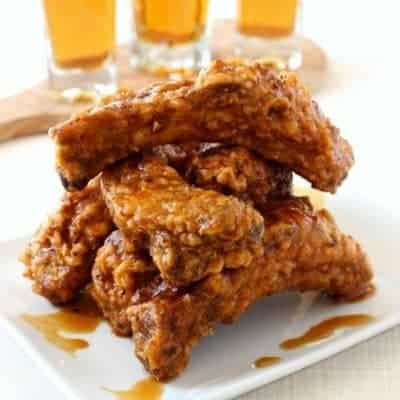 Chicken Fried Ribs with Whiskey Glaze
Author:

Prep Time:

30 minutes

Cook Time:

2

Total Time:

32 minutes

Yield:

10

servings

1

x
Category:

appetizers

Method:

oven/fry

Cuisine:

American
---
Description
This fried rib recipe is going to blow your taste buds away! Crispy, fried ribs with whiskey glaze are perfect for appetizers or a fun dinner or appetizers!
---
Ingredients
For the Ribs
(1) 2 3/4 – 3 lb. package of pork spareribs

1/4

c. McCormick® Grill Mates Brown Sugar Bourbon Seasoning

1

T. salt
For the Whiskey Glaze
6

cloves of garlic, grated with a hand grater or chopped very fine

1

T. canola oil

1/2

c. water

3/4

c. pineapple juice

3/4

c. brown sugar

1/2

c. teriyaki sauce

1/2

c. Crown Royal Whiskey

1/4

t. cayenne pepper

1 1/2

T. cornstarch mixed with 1 1/2 T. of water
For Dredging the Ribs
2

c. flour

1

T. McCormick® Grill Mates Brown Sugar Bourbon Seasoning

1

T. salt

1/2

t. fresh ground black pepper

3

eggs beaten with 1 T. water
Vegetable or canola oil for frying
---
Instructions
Preheat the oven to 350º.
Place the rack of ribs on a foil lined baking sheet.
Rub the ribs with the 1/4 c. of the McCormick® Grill Mates Brown Sugar Bourbon Seasoning mixed with 1 T. of salt.
Cover the ribs with another sheet of foil and fold the ends in to seal up the ribs and cook for 1 1/2 hours.
Start the glaze while the ribs are cooking, add the oil to a pot over medium heat then add the grated garlic and let cook for one minute, stirring.
Carefully pour in the whiskey and let reduce for 2 minuets.
Now you can add the rest of the ingredients for the glaze, except the cornstarch mixture and cook over medium heat for 10 minutes.
Mix the cornstarch with the water and pour into the glaze, whisking as you pour.
Cook and thicken for 10 minutes, then set aside.
When the ribs are done take them out of the foil and let cool slightly.
Get a large, heavy bottomed pot and fill it half way with canola or vegetable oil and heat the oil up over medium heat until it reaches 350 degrees.
While the oil is heating up you can get the ribs ready to fry.
Cut each rib separately (you should have 14-16 individual ribs)
Mix the flour with the tablespoon of the grill seasoning, the salt and pepper in a bowl.
In another bowl, beat the eggs together with the water.
Take each ribs and coat first in the flour, shaking of the excess, then in the egg wash and then back again in the flour.
Place on a plate and repeat with the remaining ribs.
Once the oil comes to temperature, start frying about 4-5 ribs at at time for 5 minutes until the breading is slightly browned and crispy.
Repeat until all the ribs are fried.
At this point (if you're not ready to eat) you could place the ribs in a 250º oven and keep them warm until your ready to serve.
When you're ready to eat, take the ribs and dip them in the glaze (warm it up again if you've had them in the oven) until they're well coated.
Serve with additional sauce on the side.
Keywords: fried ribs, chicken fried, chicken fried ribs, rib recipes, how to cook ribs, appetizers, fried food, whiskey glaze, party food