Green Bean Casserole is a holiday classic! We've updated this version with a creamy sauce from scratch and a good helping of cheddar cheese. You've never tasted green beans so good!
Make ahead casseroles are PERFECT for planning holiday meals! Also be sure to check out our popular Brussels Sprouts Casserole that turns everyone into a sprout lover! For a low carb recipe, try our new favorite, Bacon & Gruyere Spaghetti Squash Casserole!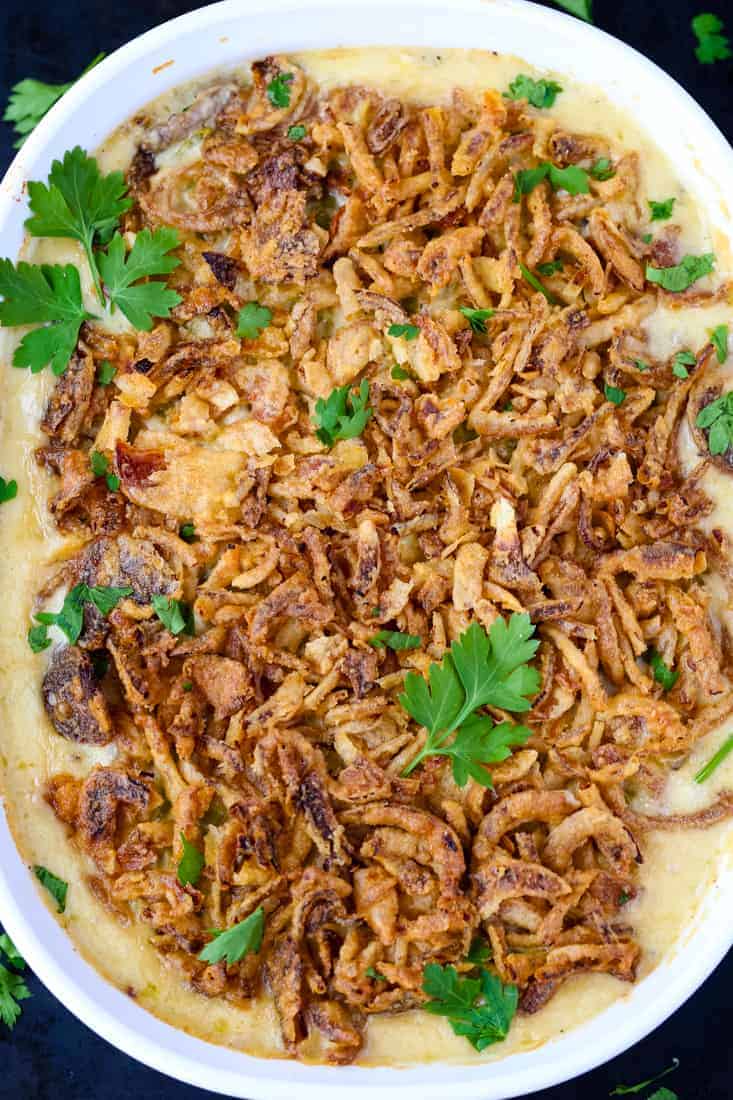 Updated Version Of A Classic Green Bean Casserole
Classic Green Bean Casserole has stood the test of time for many reasons. It's a delicious, comforting vegetable side dish that can be made ahead of time for busy holidays or parties. We've updated this recipe a bit to use a sauce made from scratch, and a few handfuls of cheese just to take this casserole up a notch.
But we also want to keep this green bean casserole from tasting too much different from the classic version, so we kept the canned french green beans and canned sliced mushrooms.
Of course, you can use all fresh ingredients, too. We've got all the instructions for you here either way!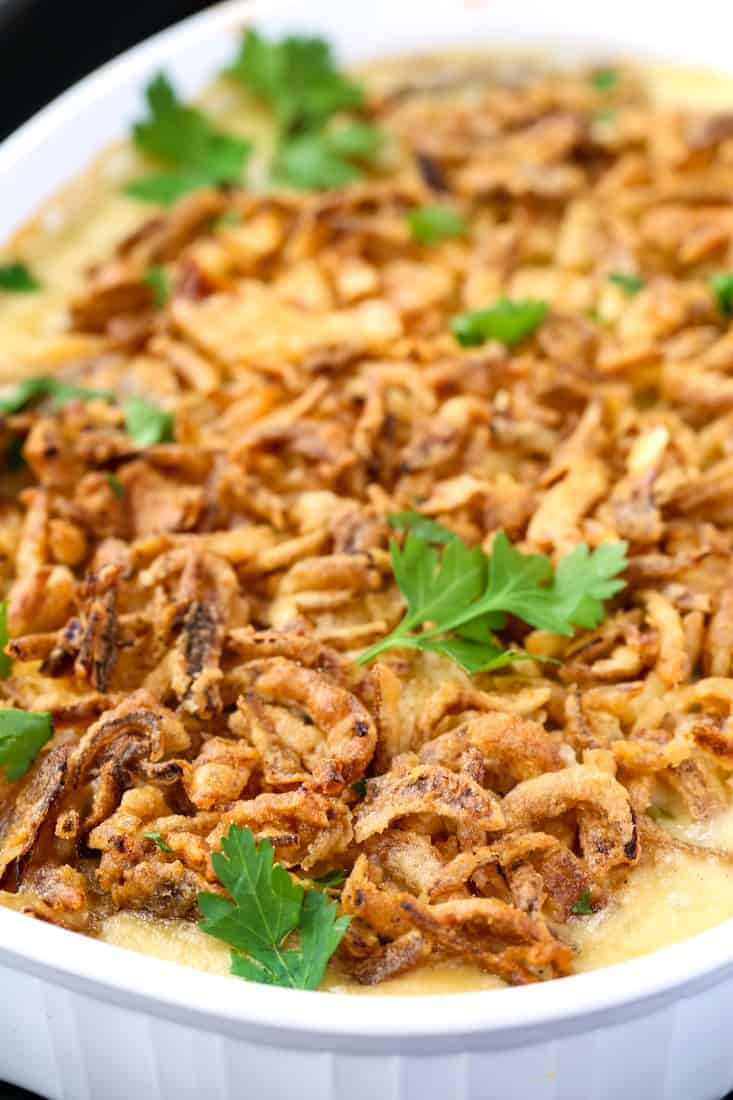 Can I Use Fresh Green Beans For This Casserole Recipe?
As we said before, classic green bean casserole was made with canned green beans but fresh green beans work just as well in this recipe. If you're using fresh green beans you can steam them for 5 minutes in the microwave or blanche them in a pot of water to soften them first.
I think it's a matter of preference, or a matter of taste. We're using canned today because it's what we had on hand, and to give a nod to the classic green bean casserole recipe.
I've made this green bean casserole both ways and either way it's delicious. One tip I have for using canned green beans is to rinse them before adding them to the casserole. This gets rid of that "canned green bean" flavor so the beans taste fresher.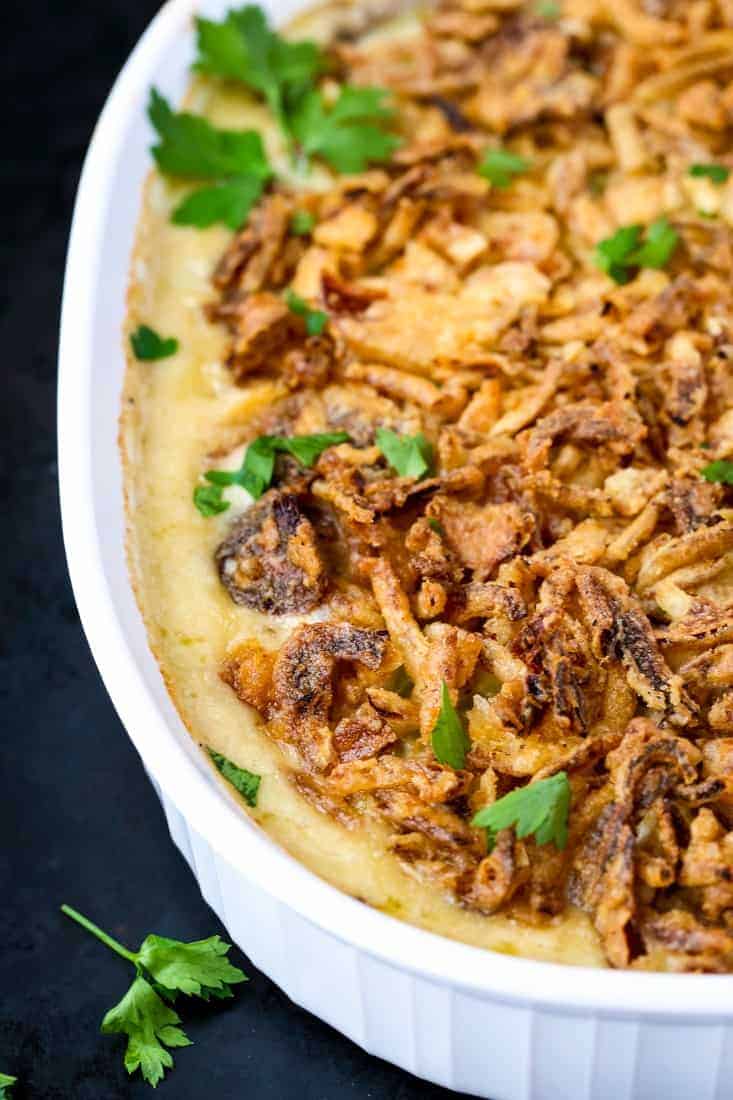 Does This Green Bean Casserole Use Canned Cream of Mushroom Soup?
Because we've updated this green bean casserole just a little…we opted to make the sauce from scratch. There's nothing wrong with canned cream of mushroom soup – nothing at all. We just think that you can make your own sauce taste WAY better and without a ton of extra time.
PLUS we're adding cheese to our cream sauce so already you know this version is going to be top notch.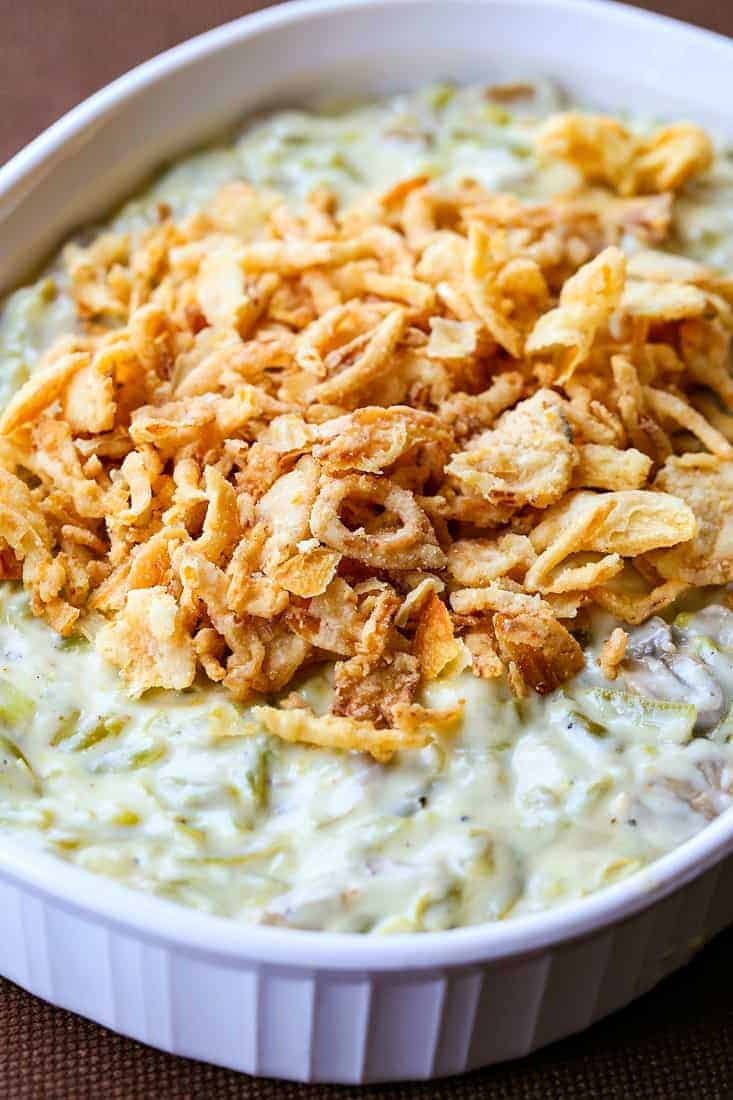 What Ingredients Do I Need To Make This Casserole?
Just to give you an idea of the basics, we'll list the main ingredients that you need for this green bean casserole below!
Canned French Green Beans: French style green beans are the classic type used in this casserole. As we discussed you can use fresh green beans as well, just check out the NOTE section in the recipe card.
Canned, Sliced Mushrooms: Canned mushrooms work really well in this recipe, we love the kind from Trader Joe's that don't have that tinny flavor, but an easy way to remove that is to give the mushrooms (or any canned vegetable) a quick rinse before using. You can substitute fresh mushrooms, see the NOTE section in the recipe card.
Gruyere or White Cheddar Cheese: Or a combination of both would be delicious. Gruyere is a little more expensive than cheddar but if your budget allows, try the gruyere in this casserole. It adds such a delicious nutty flavor that I know you're going to love. A combination of half gruyere and half cheddar will work great too!
Heavy Cream: No substitutions here, heavy cream is a must for making the sauce super thick and creamy!
Chicken Stock: Use the best flavored stock or broth that you can find to make the flavor of this cheese sauce the best.
Nutmeg: Fresh grated nutmeg (a little goes a long way) adds that certain flavor to cream sauces that you just can't put your finger on. All everyone will know is that it's the best thing they've ever tasted.
Fried Onions: Grab a can of your favorite fried onions for topping this green bean casserole. There's really nothing like that salty crunch on top!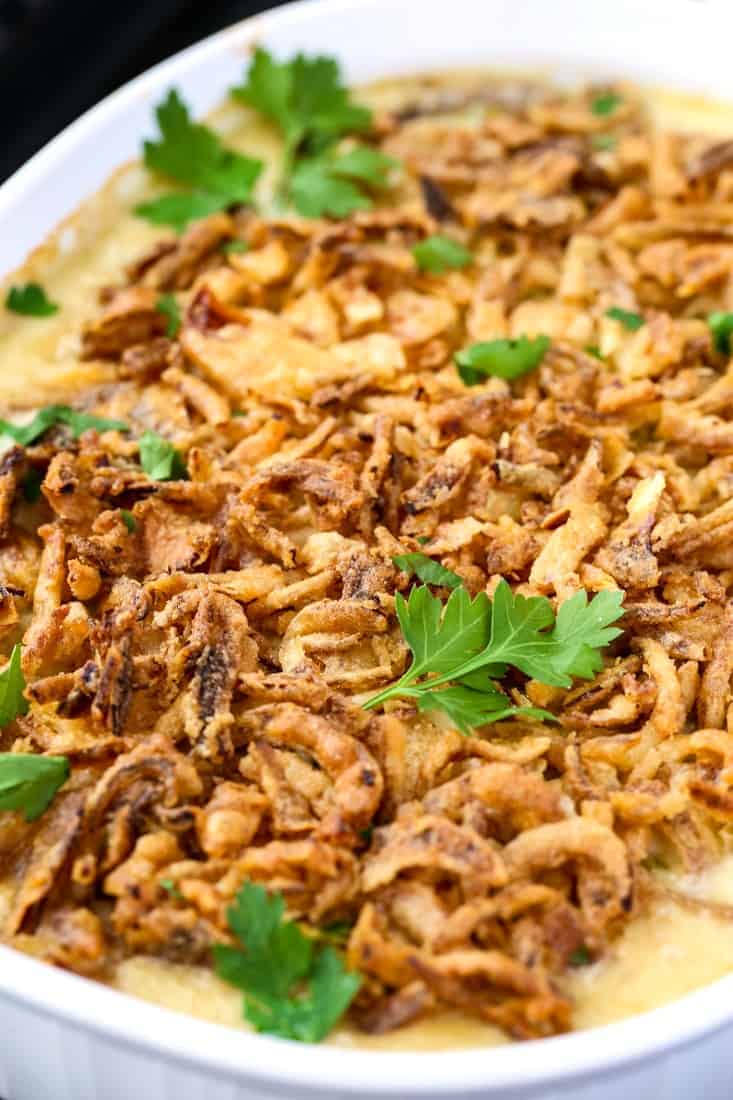 Can I Make This Side Dish Recipe Ahead Of Time?
Yes you can, and you should! If you're making this casserole for Thanksgiving or any dinner party – or just dinner…you should do whatever you can ahead of time if you can.
You can make this casserole completely through to the end, except adding the fried onions on top. The fried onion topping might get mushy if you add it to the casserole and let it sit in your refrigerator, so that's an easy thing to add right before getting your casserole in the oven.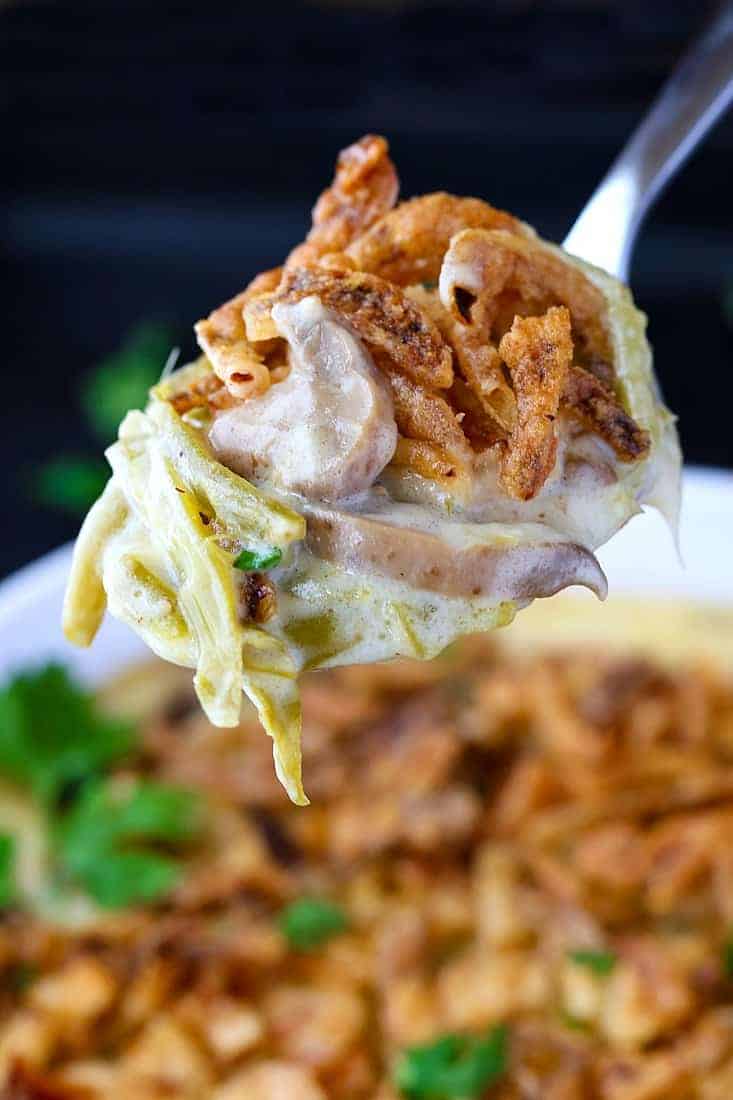 OK so I hope I've given you guys ALL the options here so that you can add this green bean recipe to your holiday side dish menu with ease!
Looking For More Side Dish Recipes?
Print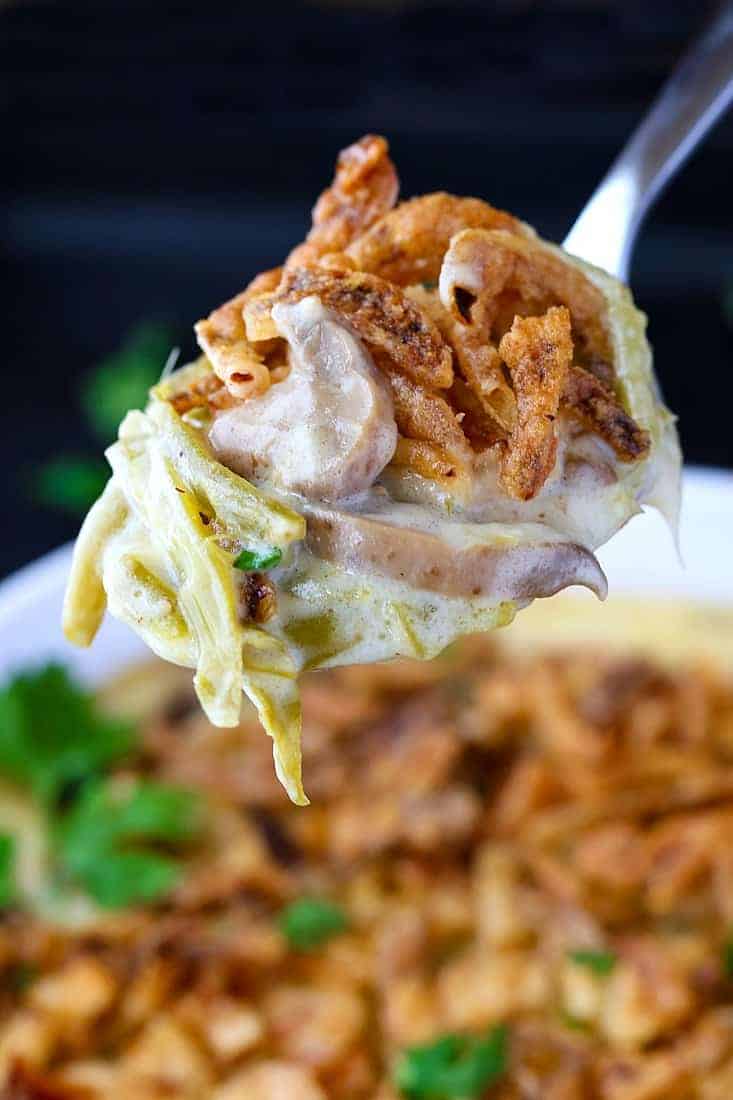 Green Bean Casserole
Author:

Prep Time:

15 minutes

Cook Time:

25 minutes

Total Time:

40 minutes

Yield:

8

servings

1

x
This Green Bean Casserole is a holiday dinner favorite! We kicked up the classic green bean casserole with fresh flavors and sauce from scratch!
Scale
Ingredients
4 tablespoons

butter

1 cup

diced onion

1 tablespoon

chopped garlic

4 tablespoons

flour

1 1/2 cups

chicken broth

3/4 cup

heavy cream

1/2 cup

shredded gruyere cheese

1/2 cup

shredded white cheddar cheese

3

cans (14.5 oz. each) french green beans, rinsed and drained (*can substitute fresh, see note)

2

cans (8 oz.) sliced mushrooms, rinsed and drained (*can substitute fresh, see note)

1 1/2 teaspoons

kosher salt

1/2 teaspoon

fresh ground black pepper

1/4 teaspoon

fresh grated nutmeg

1 1/2 cups

canned fried onions
Instructions
Preheat the oven to 400 degrees.
Add the butter to a large skillet over medium heat. Once the butter is melted, add the onion and cook for 3-4 minutes to soften.
Add the garlic to the pan and then cook a minute longer. Whisk in the flour, stir the flour into the onions and cook for 1 minute.
Pour in the chicken broth and whisk until the flour is incorporated into the broth. Stir in the cream and bring to a simmer to thicken for 2-3 minutes.
Whisk the cheese into the sauce then season with salt, pepper and nutmeg.
Add the green beans and mushrooms and stir to combine with the sauce. Remove the skillet from the heat.
Pour the mixture into an 9″ x 13″ baking dish (2 quarts) and top with the fried onions.
Bake for 25 minutes until the filling is bubbling. Let the casserole rest for 5 minutes before serving.
Recipe Notes
If substituting fresh green beans you'll need about 2 pounds of beans, steamed or blanched. To steam the beans add them to a glass bowl with 2 tablespoons of water, cover with plastic wrap and cook in the microwave for 5 minutes. To blanche the beans, add them to salted boiling water for 5 minutes and drain.
To substitute fresh mushrooms, you'll need an 8 ounce package of mushrooms, cleaned and sliced. Add the mushrooms to the skillet after the onions have cooked and before the garlic goes in. Cook the mushrooms for 5 minutes until browned, then continue with the instructions.
Category:

Side Dish

Method:

Oven

Cuisine:

American
Keywords: mantitlement, green bean casserole, casseroles, side dish recipes, green bean casserole recipe, thanksgiving sides, green bean recipes, vegetable recipes