This Brown Sugar Carrot Soufflé is soft and creamy on the inside with a double sugar crust! You'll want this tasty side dish for all your holiday meals!
Wondering what to serve with this carrot soufflé? Check out our SUPER Simple Roast Turkey or try our Brown Butter Baked Ham.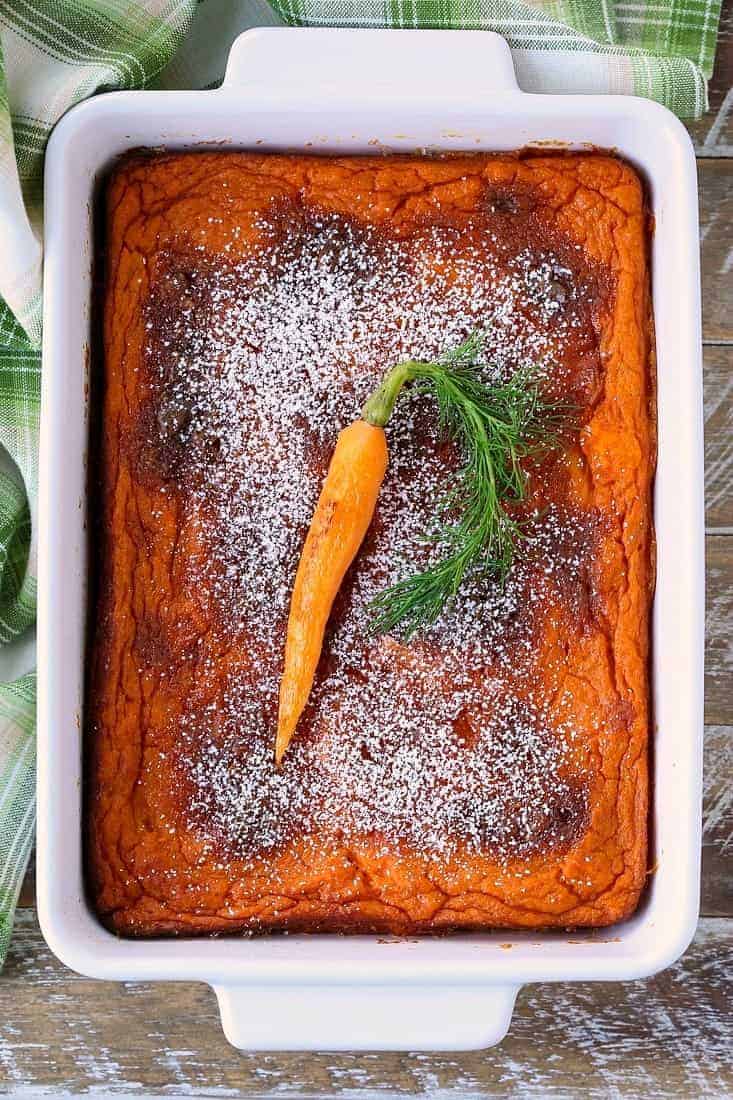 What Is A Carrot Soufflé?
If you've never heard of it before, this Brown Sugar Carrot Soufflé is going to be the talk of your holiday dinner! Sweet, rich, creamy, buttery…it's everything you want from a Thanksgiving side dish.
Also a Christmas side dish and definitely an Easter side dish! This carrot soufflé goes perfectly with ham, turkey or that beautiful prime rib roast we know some of you are making.
Carrot soufflé is basically cooked carrots that you put into a food processor to blend, leaving some carrot pieces for texture. Then you mix the blended carrots with butter, brown sugar, cream and some seasonings.
We've taken this recipe a little further to add brown sugar to the top of the soufflé that caramelizes in the oven while it's baking…but we didn't stop there. A sprinkling of powdered sugar right before serving adds the final touch.
How Do You Make A Carrot Soufflé?
Well, we kind of gave you the basics already, but once you get your cooked, pureed carrots mixed with all the yummy ingredients we mentioned above, get that into a baking dish and top with brown sugar.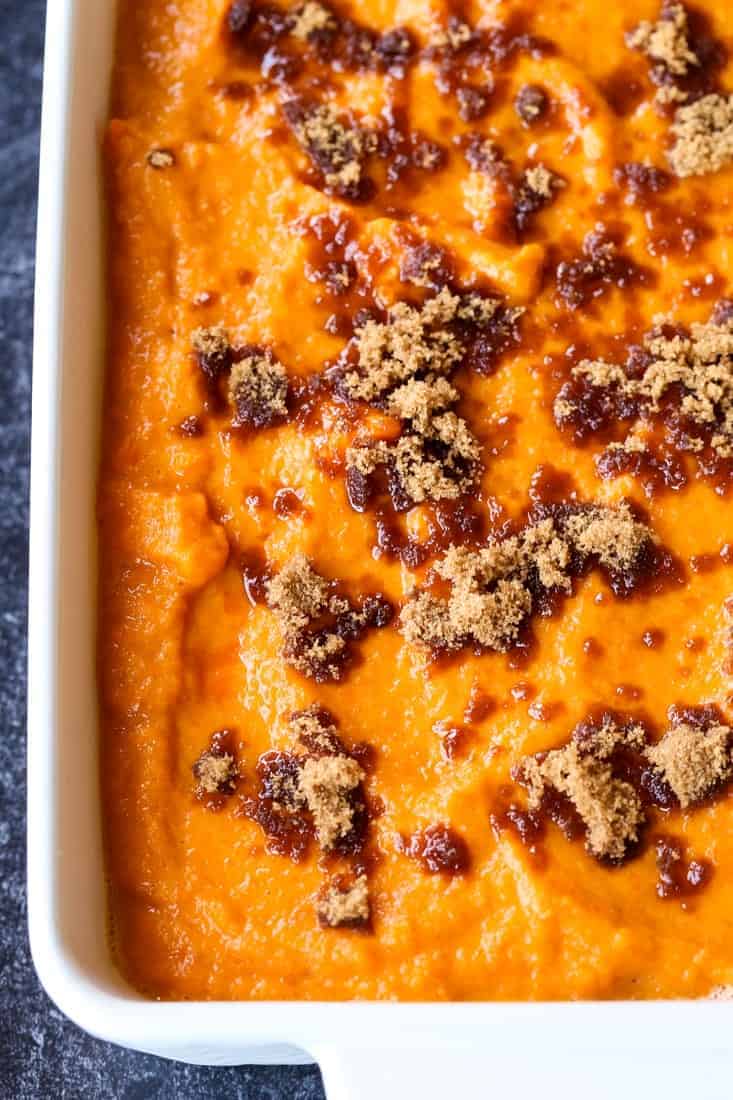 Baking powder also gets added to the carrot puree to make the filling light and fluffy, not dense at all. So even though there's a lot of rich ingredients and flavors in here, each spoonful is like a pillowy bite!
Bake the carrot soufflé for about 35-40 minutes until the filling is set and the brown sugar looks caramelized on top like this…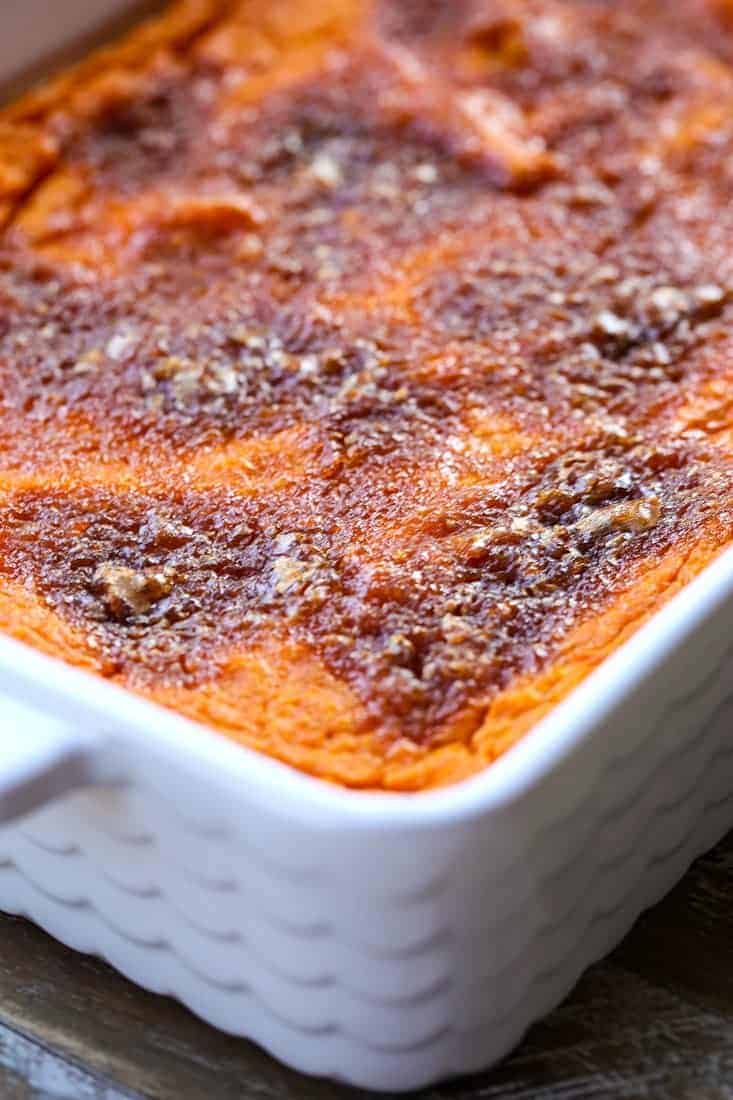 Once the soufflé comes out of the oven you can let it sit for at least 30 minutes to cool slightly and set completely. Then top it with powdered sugar right before serving and a nice looking tiny roasted carrot like we did here if you can find one!
I mean, it's the holidays people, it's all about the presentation! Of course the carrot garnish is optional, this carrot soufflé really doesn't need much to make it a stand out, just wait until your guests take a bite.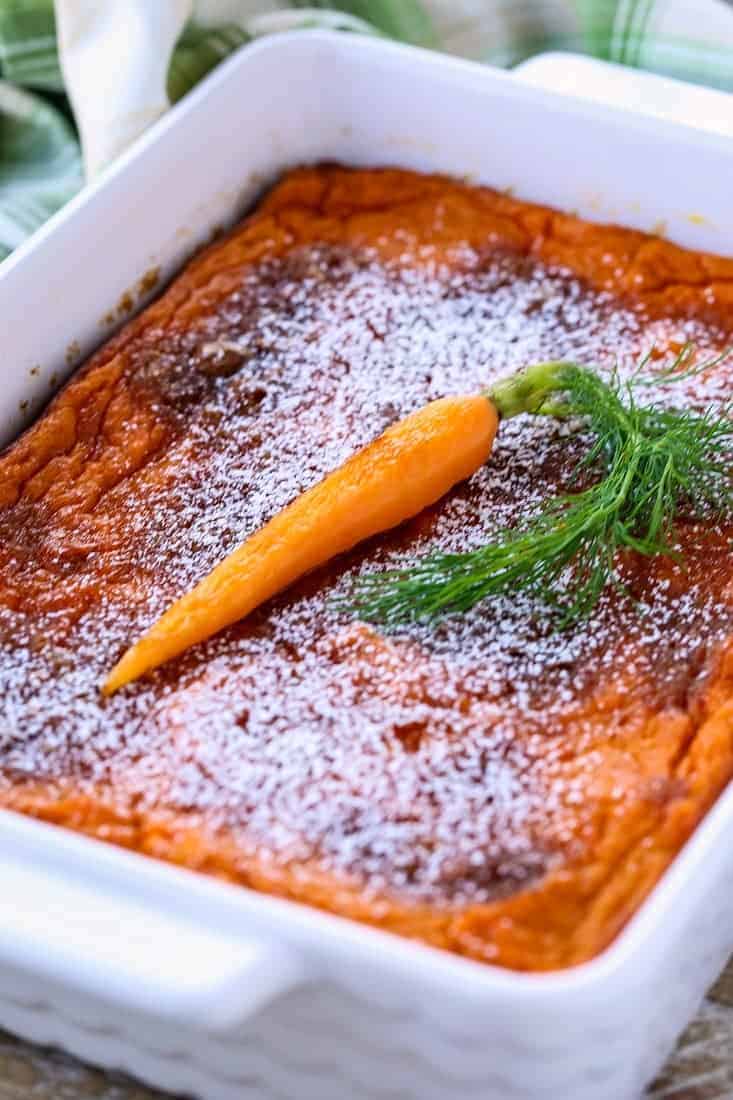 Can You Make A Carrot Soufflé Ahead Of Time?
Not really…this is one side dish recipe that you want to take out of the oven and serve. While you can reheat it, the texture is best as soon as it comes out of the oven.
As with most things that puff up like this soufflé, it will deflate slightly the more it cools and sits. Still going to be totally delicious, but for that light, airy texture it is best right from the oven.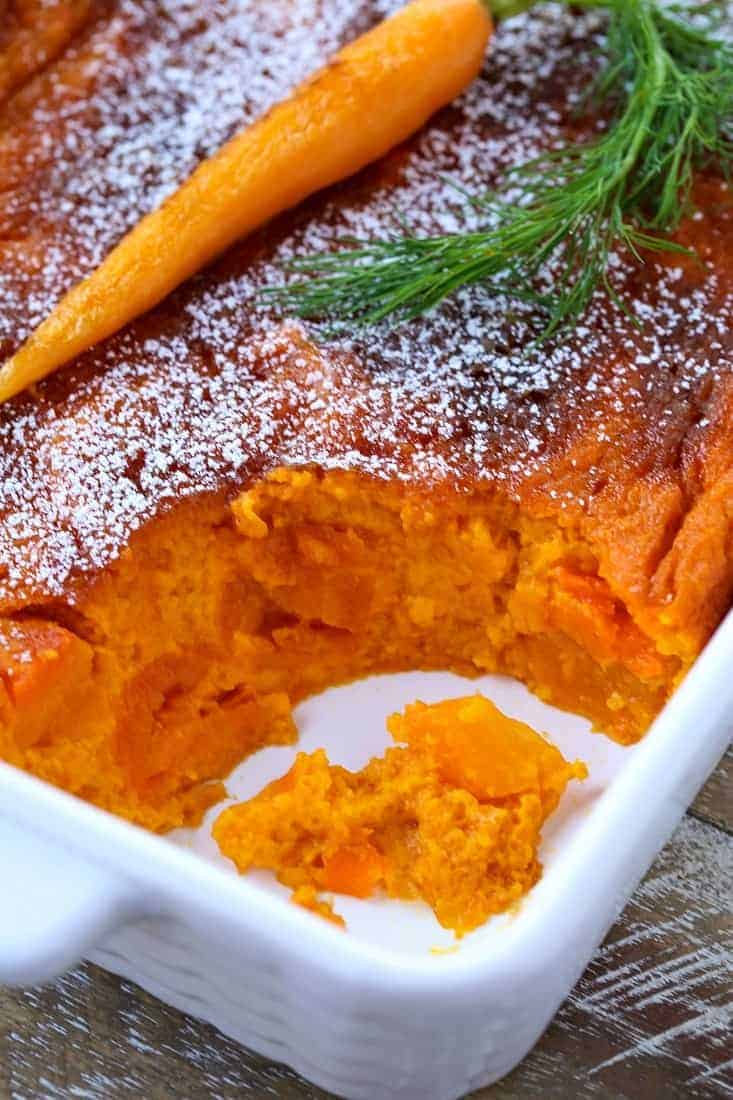 Looking For More Side Dish Recipes?
Bourbon Sweet Potato Casserole
Buttered Carrots with Streusel Topping
The BEST Brussels Sprouts Casserole
Perfectly Smooth Mashed Potatoes
PIN IT!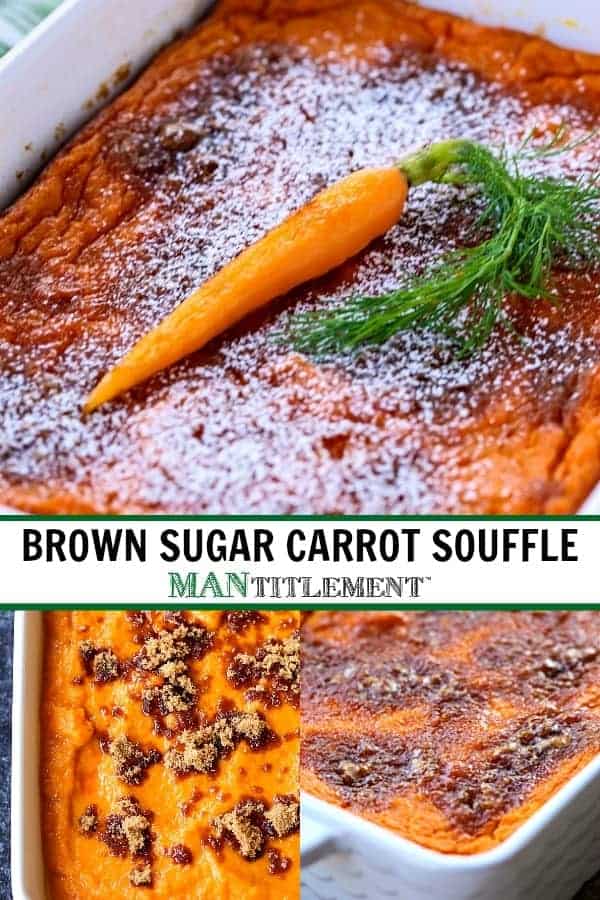 Print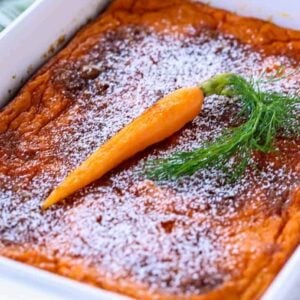 Brown Sugar Carrot Soufflé
Author:

Prep Time:

5 minutes

Cook Time:

60 minutes

Total Time:

1 hour 5 minutes

Yield:

8 Servings
This light and fluffy carrot soufflé is one of our families favorite sided dish recipes!
Ingredients
3 pounds carrots, peeled and cut into 2 inch pieces
1 stick of butter, room temperature
1/4 cup granulated sugar
1/4 cup brown sugar, plus 2 tablespoons for topping
3 tablespoons flour
1 tablespoon baking soda
1/4 cup heavy cream
3 eggs, beaten
1 teaspoon ground cinnamon
Powdered sugar for topping
Instructions
Preheat the oven to 350 degrees.
Boil the carrots for 12-15 minutes until they are fork tender. Drain the carrots and let cool slightly before adding to your food processor.
Blend the carrots until almost completely smooth, leaving a few pieces for texture.
Add the pureed carrots to a bowl along with the butter, white sugar, 1/4 cup of brown sugar, flour, baking soda, cream, eggs and cinnamon.
Add the carrot mixture to a 8″ x 8″ buttered baking dish. Top with the additional 2 tablespoons of brown sugar.
Bake for 40-45 minutes, remove from the oven and let cool slightly before adding the powdered sugar. Serve immediately.
Category:

Side Dish

Method:

Oven

Cuisine:

American
Keywords: carrot souffle recipe, side dish recipe, side dishes, thanksgiving sides, christmas sides, easter sides, carrot recipes, how to make carrot souffle, easy carrot side dish