These Incredible Comfort Food Recipes are some of our most popular dinner recipes to cozy up to! Grab your blanket and sweats because dinner is ready!
This list is in response to the 30 Incredible Low Carb Dinners I put out a couple of weeks ago. It got a ton of good feedback, like I said, I son't think a lot of readers know me for my "good for you" food…
But today I'm onto the comfort food.
The dinners you look forward to when the weather is cold, or if you are under the weather. Or party food, where we usually get more indulgent with our menu choices…it's all here for you in one list that you can keep going back to whenever you need it!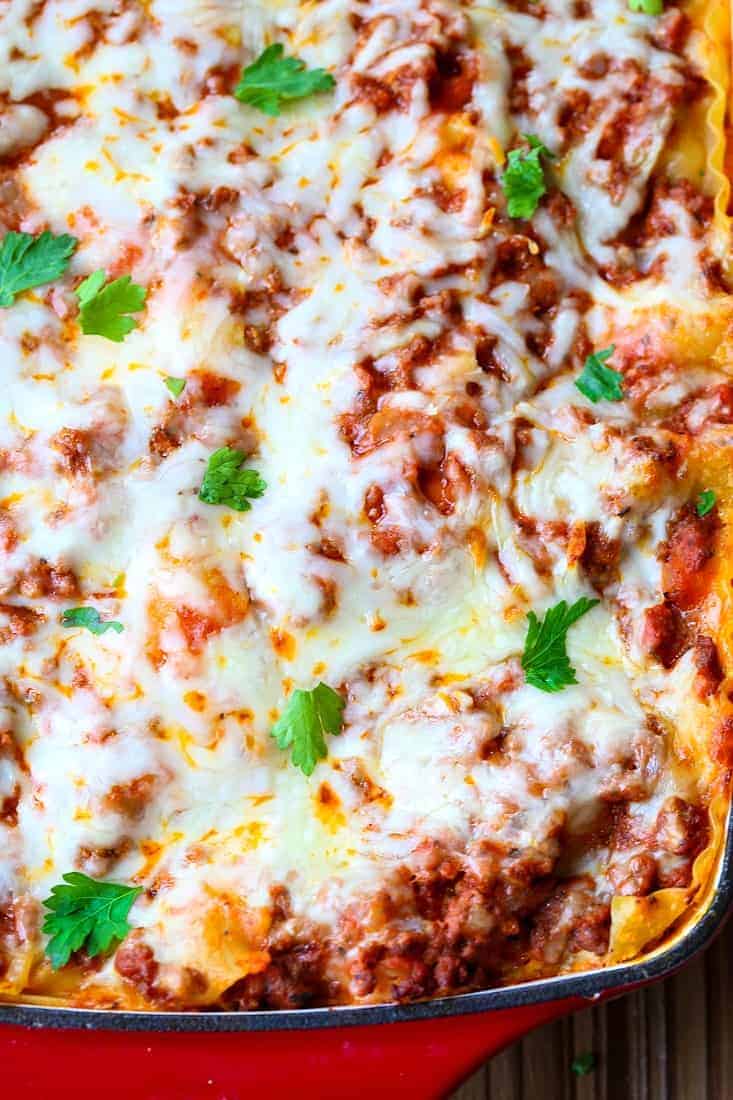 Nothing says comfort food like pasta – and lasagna is the kind if pasta recipes so we're going to start off with a classic! Our lasagna recipe has been perfected, time and time again so there's no wondering if you have too much sauce or if it will fall apart when you slice it. It's always perfect!
Grandma's Sunday Meatballs & Sauce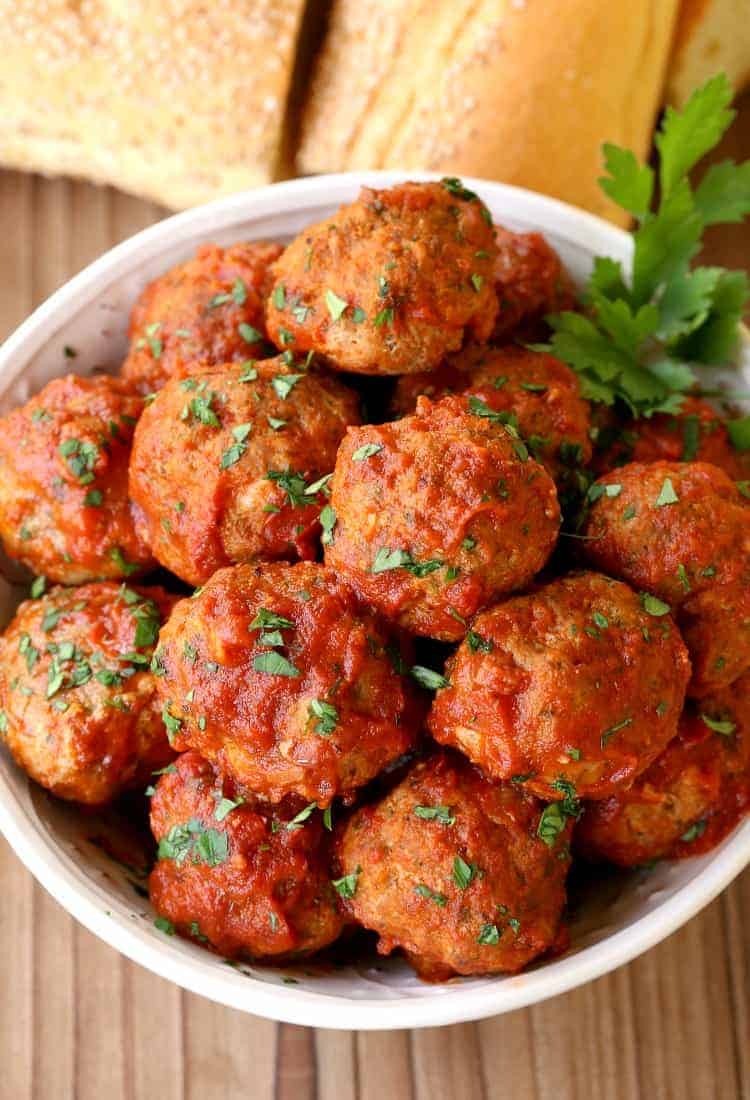 The smell in your house when this pot of meatballs and sauce is cooking away on the stove really is incredible. Because this is a longer cooking recipe you get to enjoy the wonderful aroma of this Italian favorite comfort food all afternoon!
Pasta with bacon and cheese? Well that's comfort food to me. This easy pasta recipe uses beaten eggs mixed with parmesan cheese to make a creamy "sauce" that only takes a few minutes to make!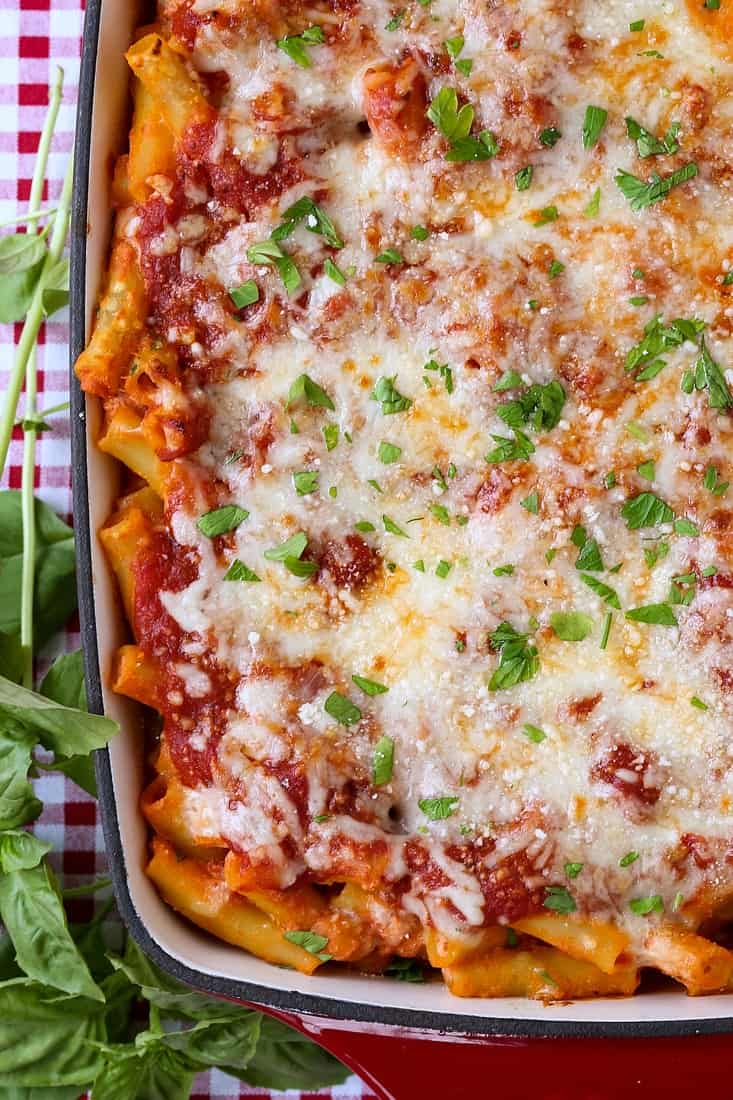 Some people might think that baked ziti is boring, but that's only if you don't know how to make it right. This baked ziti recipe is anything but boring, the perfect combination of ziti, cheese and sauce that's baked until bubbling. Just try to stop eating it!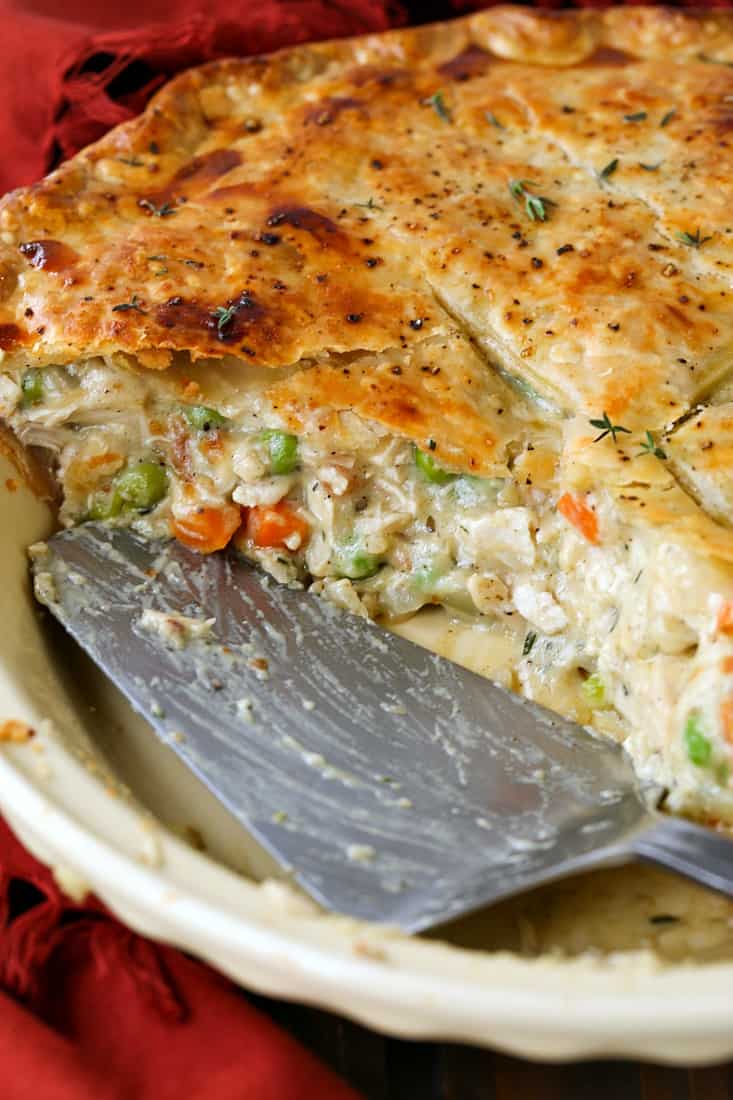 Chicken Pot Pie is another classic, comfort food recipe that we have made so many times, it's literally perfect. Perfectly creamy and loaded with chicken and vegetables, you won't walk away from the dinner table hungry after a slice of this pot pie!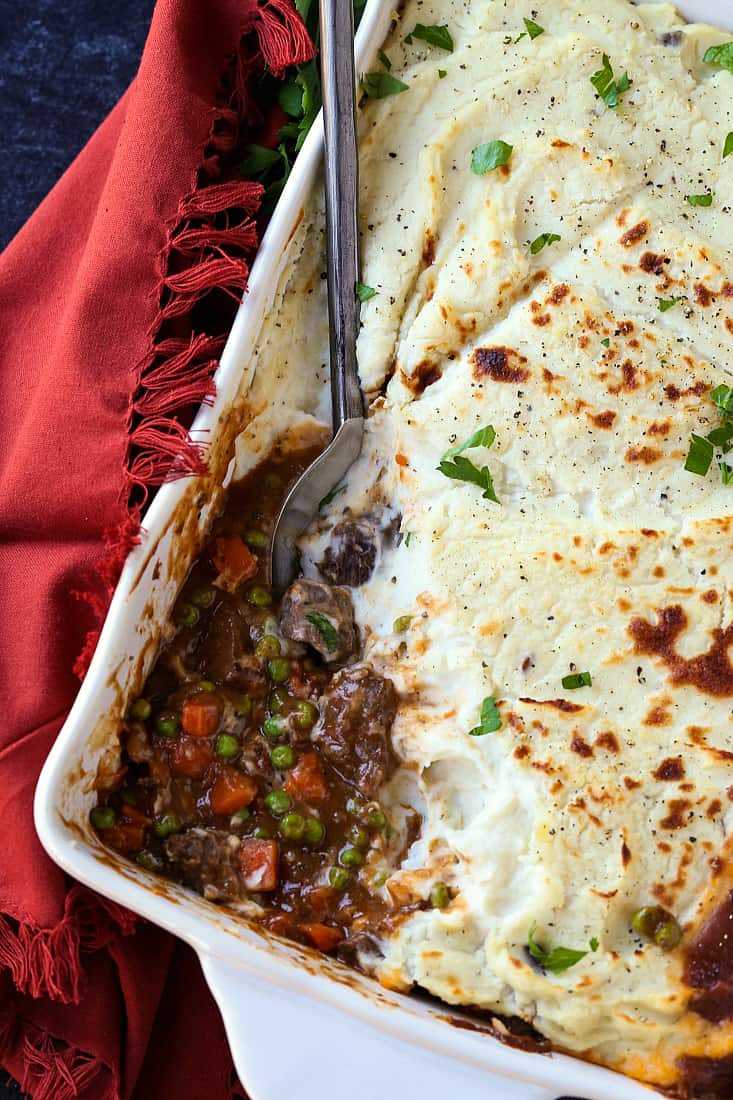 All the comfort of a shepherd's pie with a splash of Guinness beer just to make it even better! This beef and vegetable filling is crazy good on it's own, but top it off with buttery mashed potatoes and you've got a casserole for dinner that's worthy of company.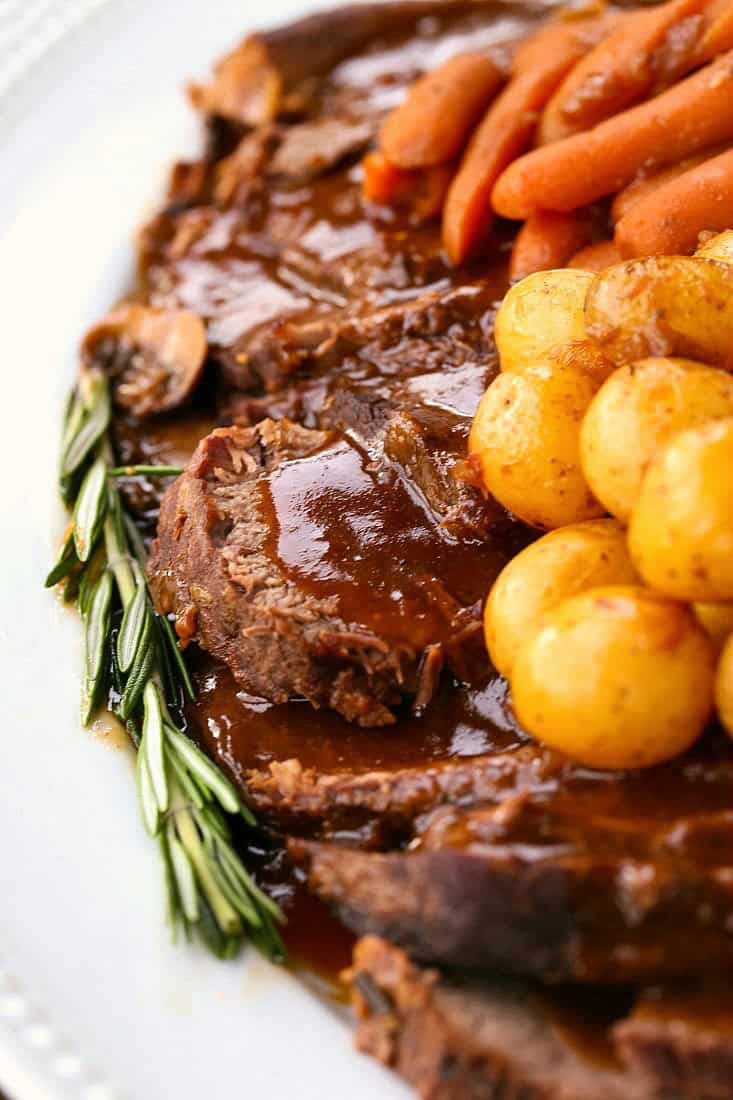 Another great comfort food recipe that leaves your house smelling simply amazing. This is an all in one dinner recipe, too so all there is to do is pour yourself a glass of wine and sit down to eat!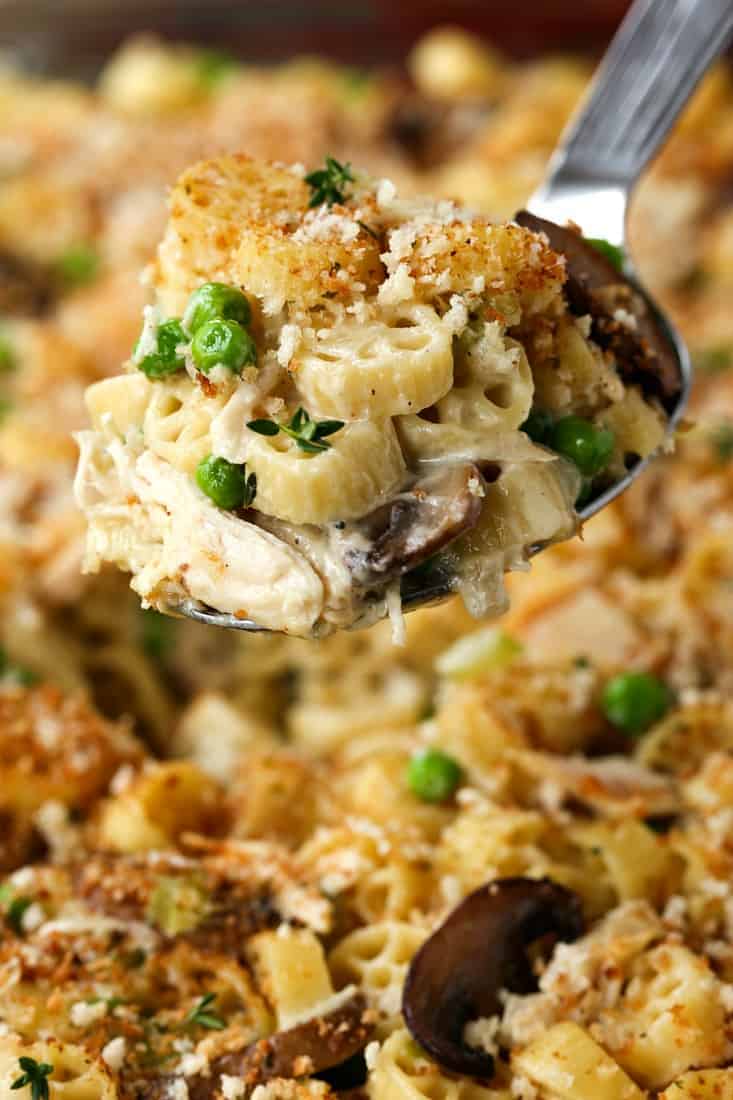 This creamy casserole is perfect for using up leftover turkey or chicken, but if you don't have any just grab a rotisserie chicken from the store. Any short, tube shape pasta will work for this recipe!
Ground Beef Tater Tot Casserole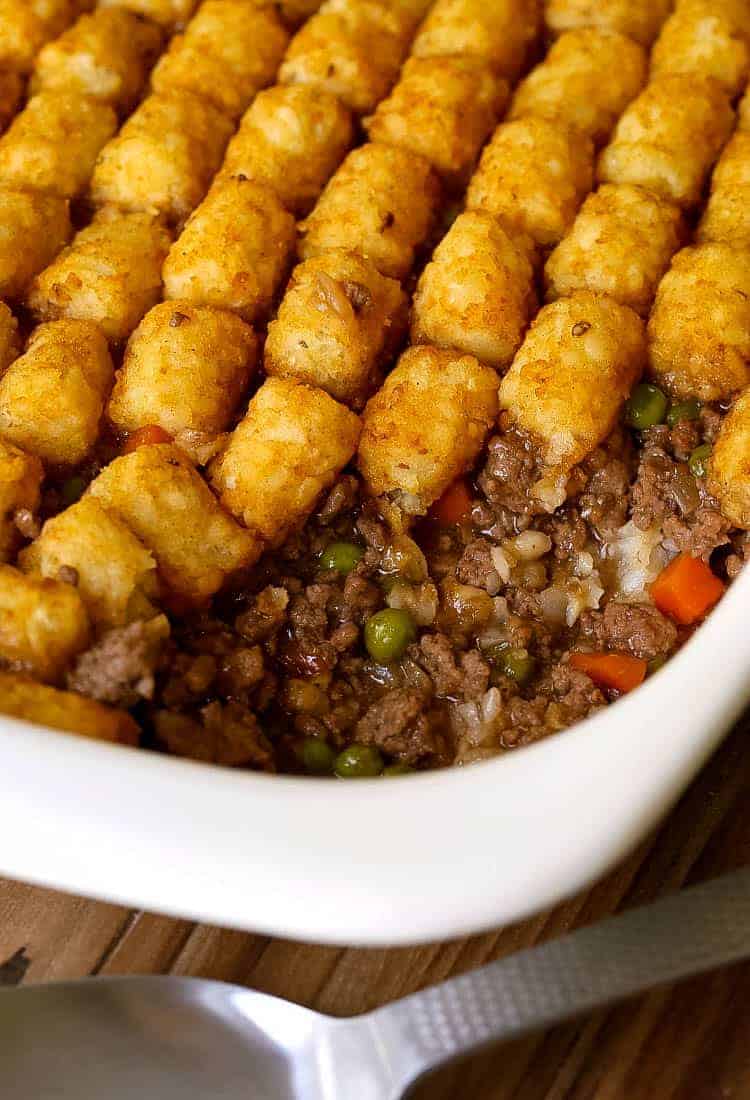 This tater tot casserole is proof that comfort food doesn't have to take all day to make! This casserole is filled with ground beef, vegetables and store bought gravy, or you can use our easy 5 minute brown gravy recipe!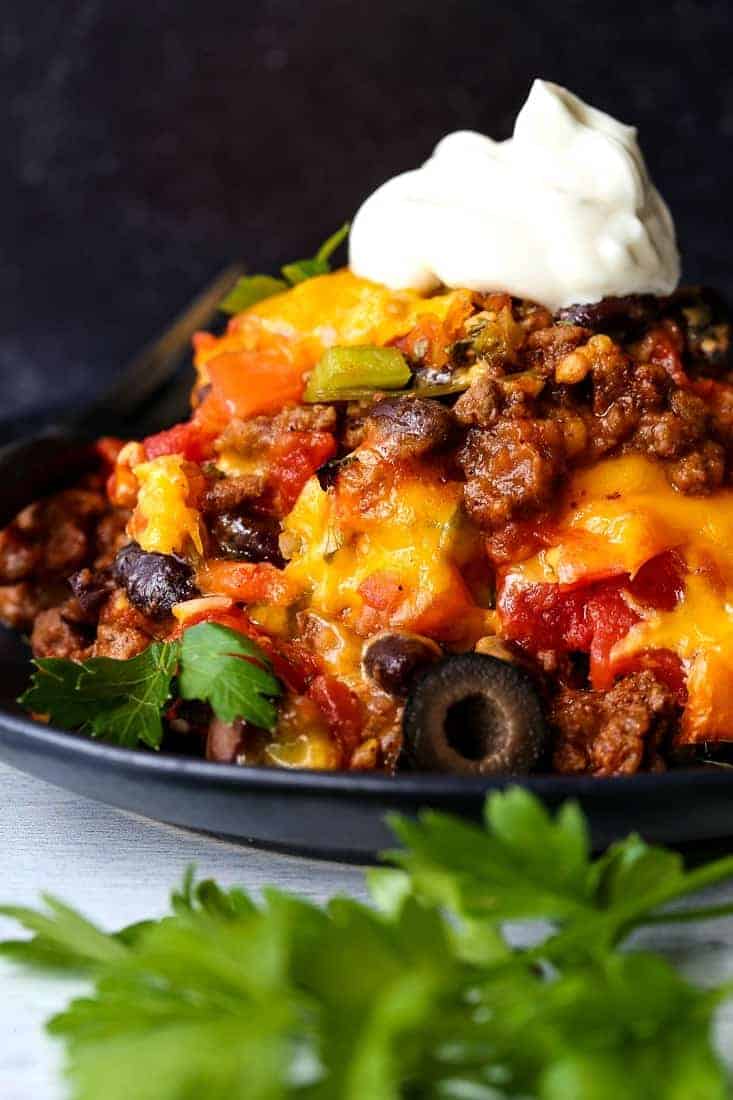 If this taco casserole doesn't equal comfort food to you then we might not be friends. All the taco flavors you love baked into a cheesy casserole for dinner! Grab some chips for dipping!
15 Minute Buffalo Chicken Spaghetti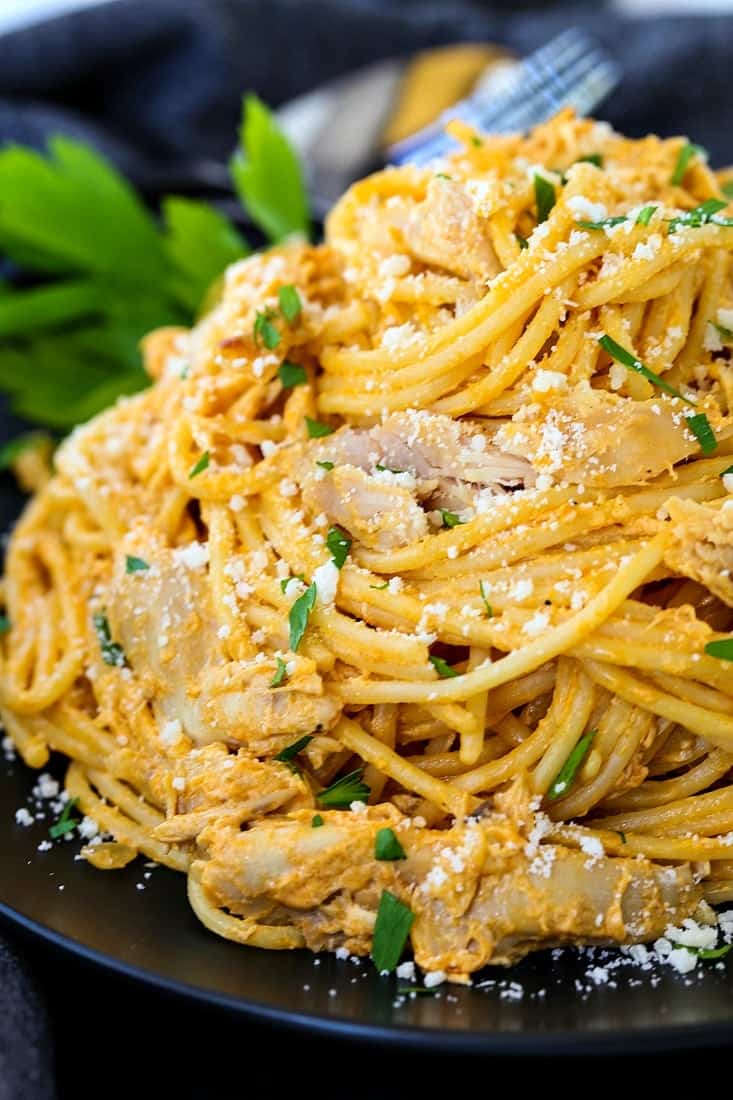 More proof that comforting recipes don't have to take all day to cook! This super creamy, buffalo flavored spaghetti is done in the time it takes to boil the spaghetti!
The BEST Ground Beef Stroganoff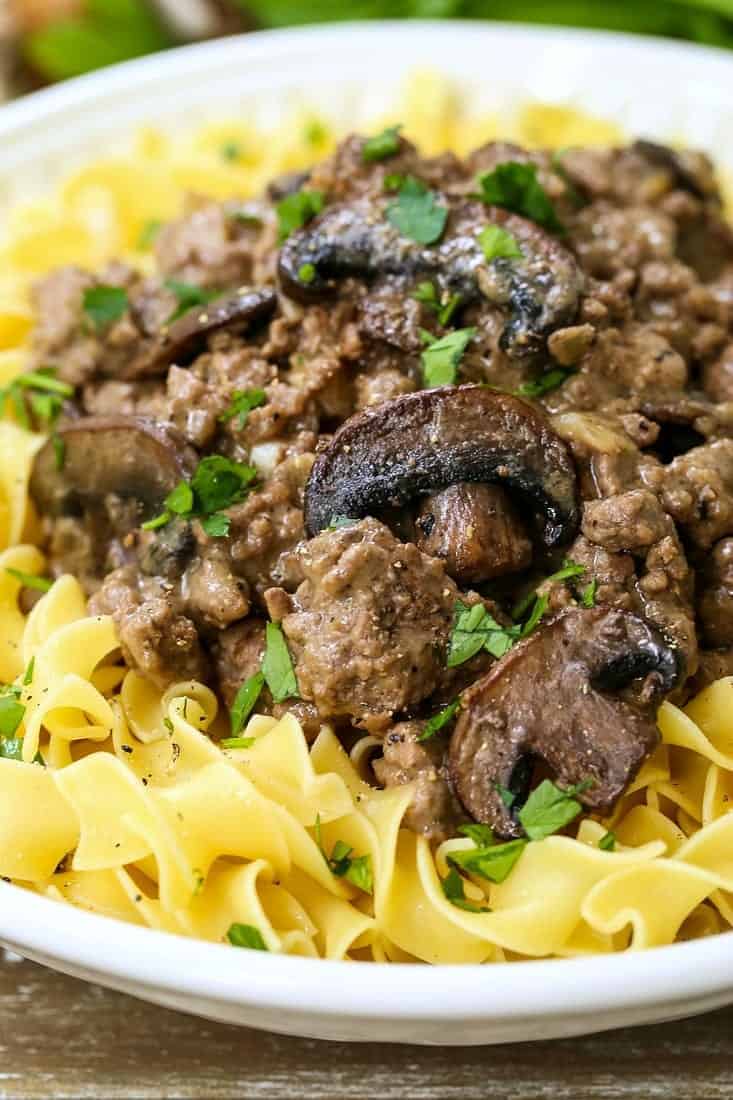 A quicker version of this classic recipe that we make with ground beef instead of steak. Still the same, amazing, take-me-back-home flavors as regular beef stronanoff, just in less time!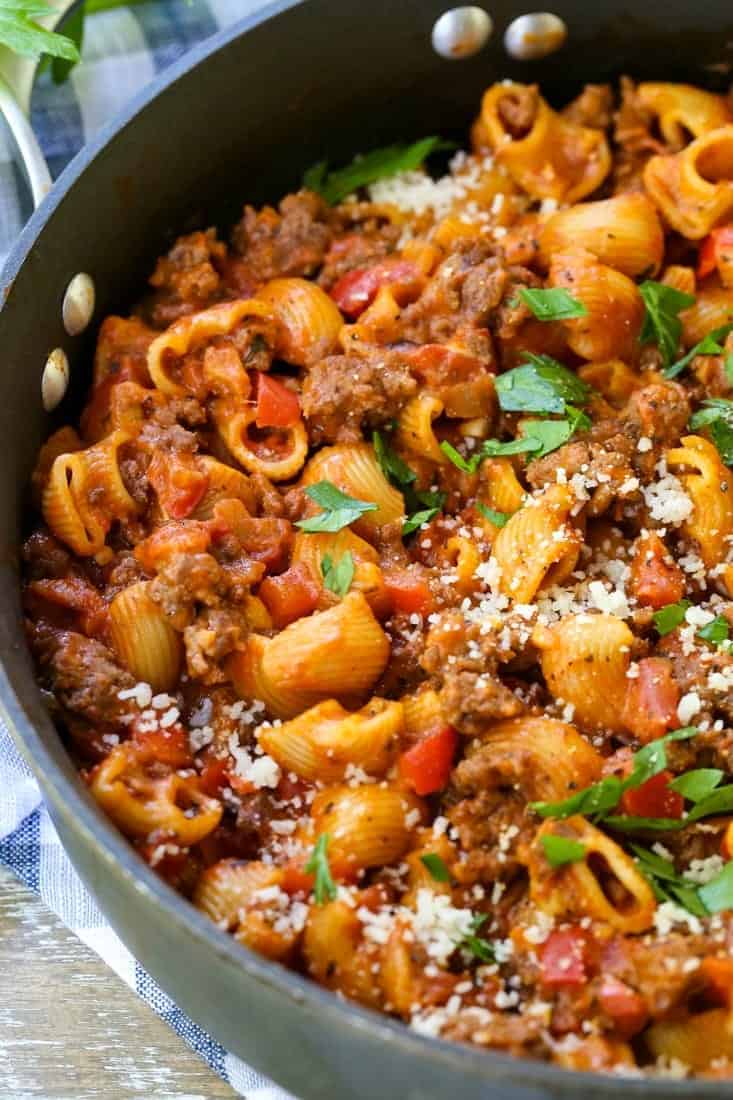 This one pot pasta dish is easy, comforting and loved by everyone! Substitute ground turkey or even Italian sausage in this goulash if you like, there won't be a clean plate on the table!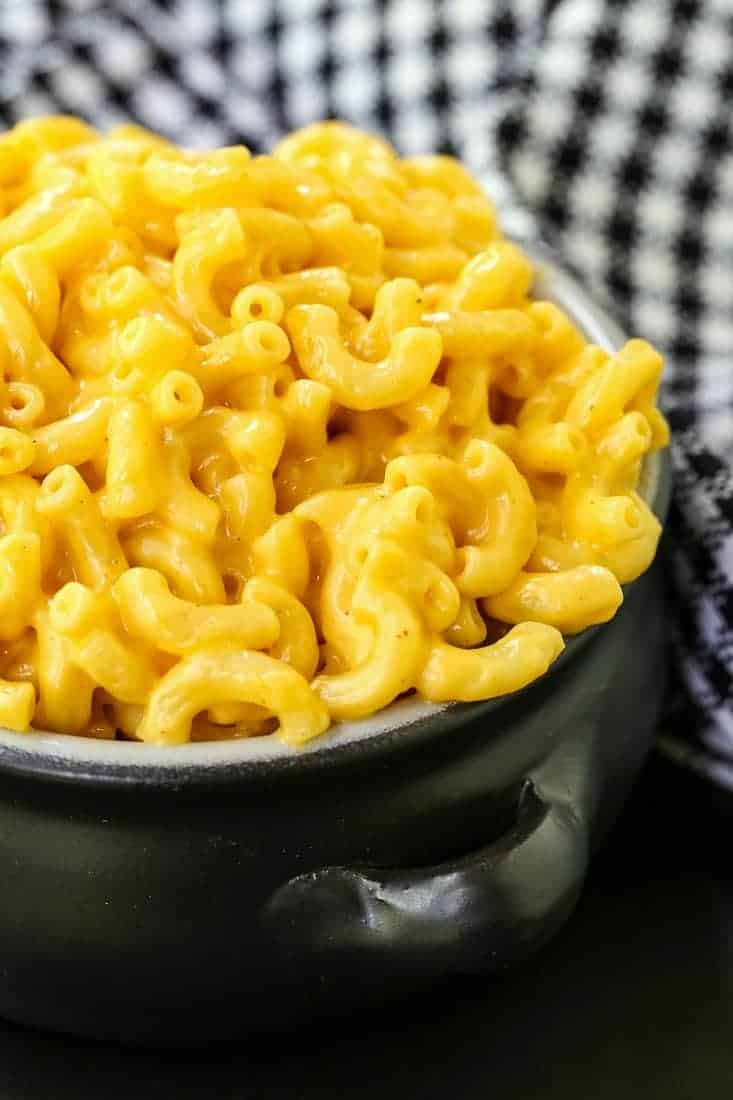 You know we have to have macaroni and cheese on our Incredible Comfort Food Recipes list! This homemade version only take 15 minutes and is WAY better than the box!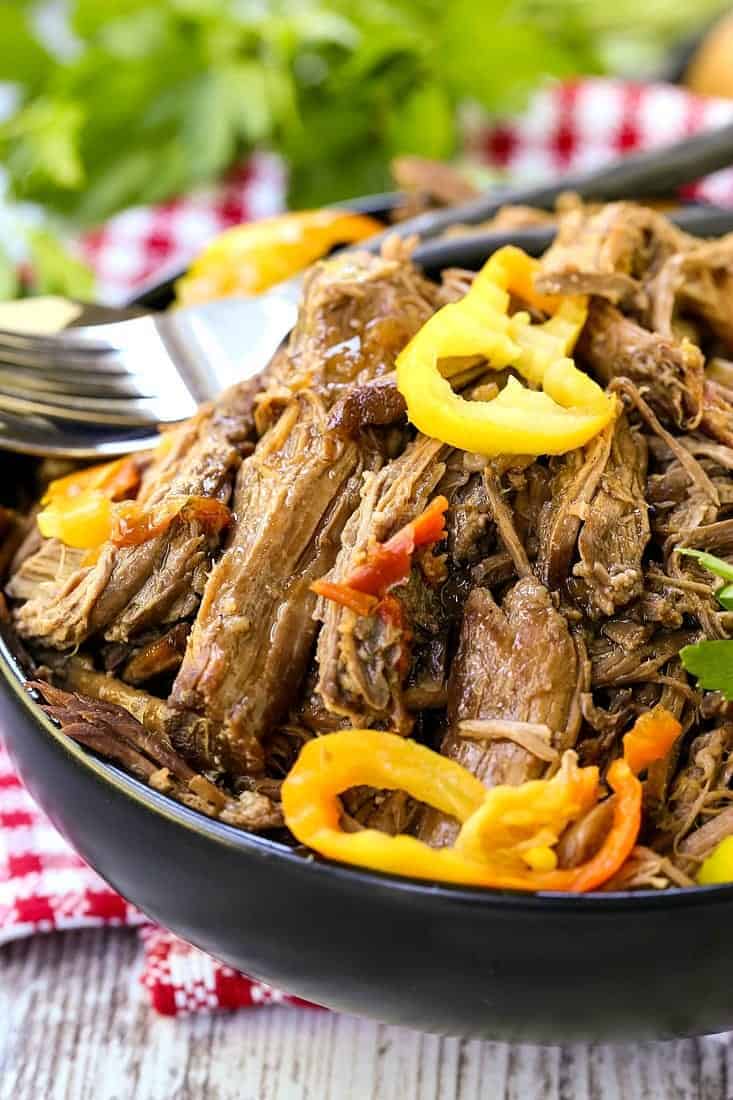 Pile this flavorful, tender Italian beef into sub rolls, baked potatoes, on top of nachos or pizza, or just eat it as is right out of the bowl! This slow cooker beef is so addicting, it's a good thing it makes a ton of food!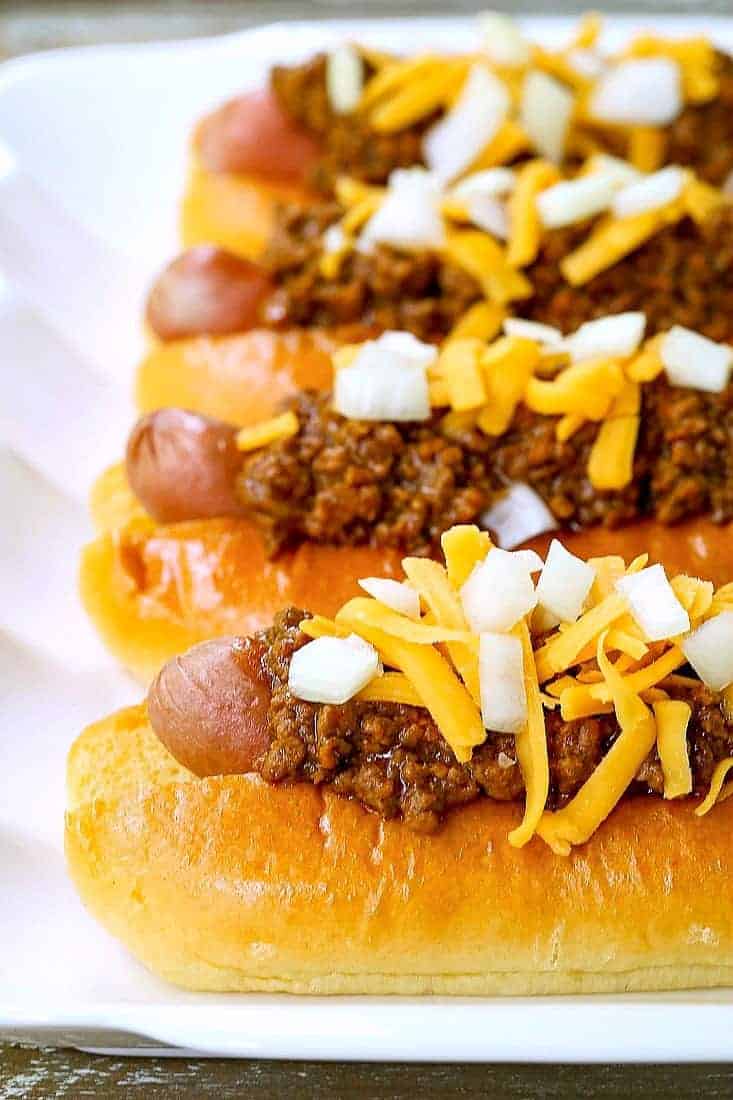 Maybe you don't consider hot dogs comfort food but when you top them with this no bean chili recipe and cheese…well then they are. This hot dog chili can also be added to baked potatoes, nachos, burgers or eaten as is!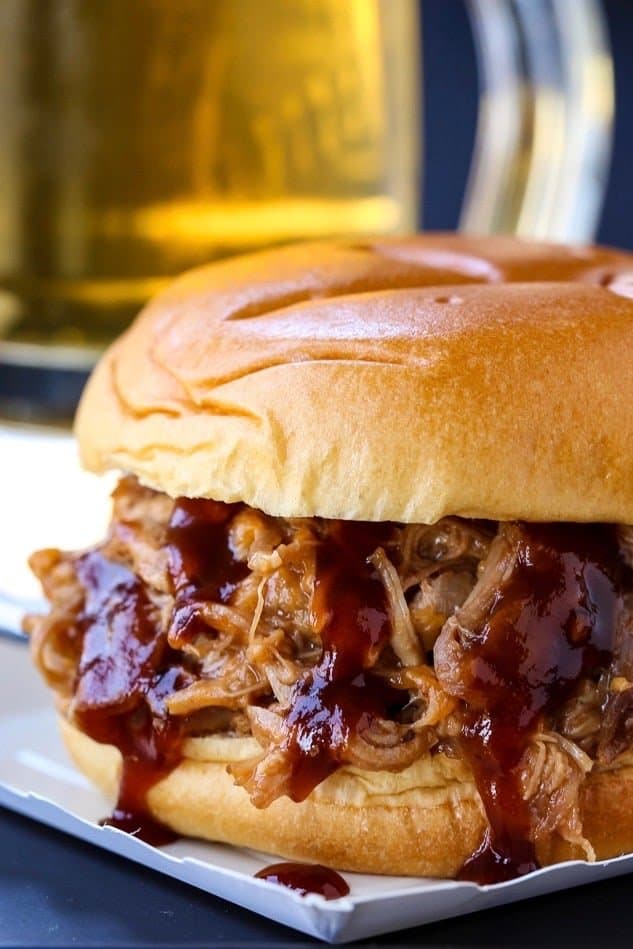 When you take our favorite pulled pork recipe and stir in a whole lot of cheese you've got a big old pot of comfort food! Top it off with a drizzle of BBQ sauce and pile it onto soft buns!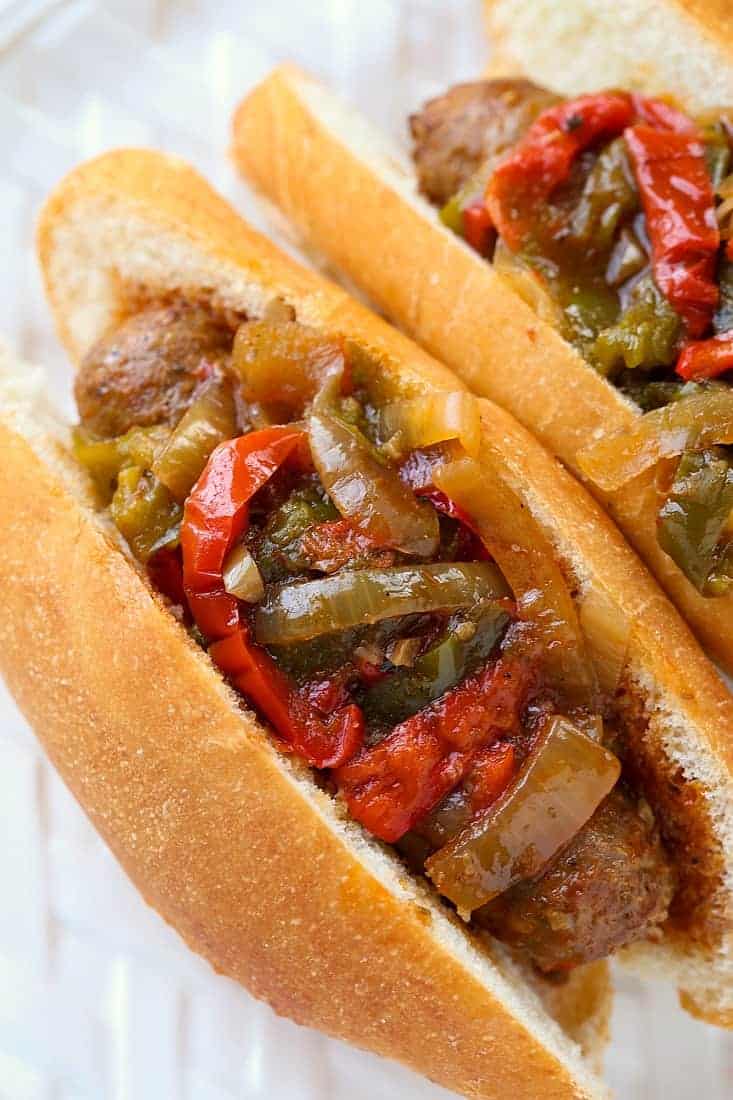 This sausage and peppers recipe is a total crowd pleaser which makes it perfect for parties or holidays but also a great diner recipe to make and plan on leftovers.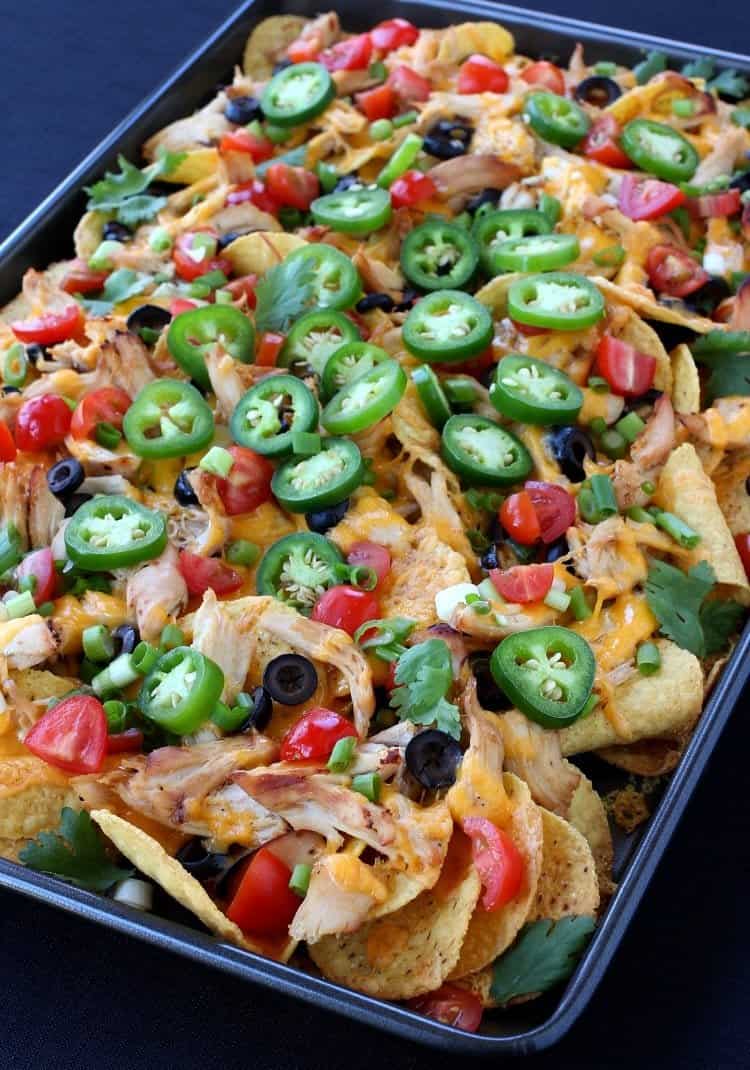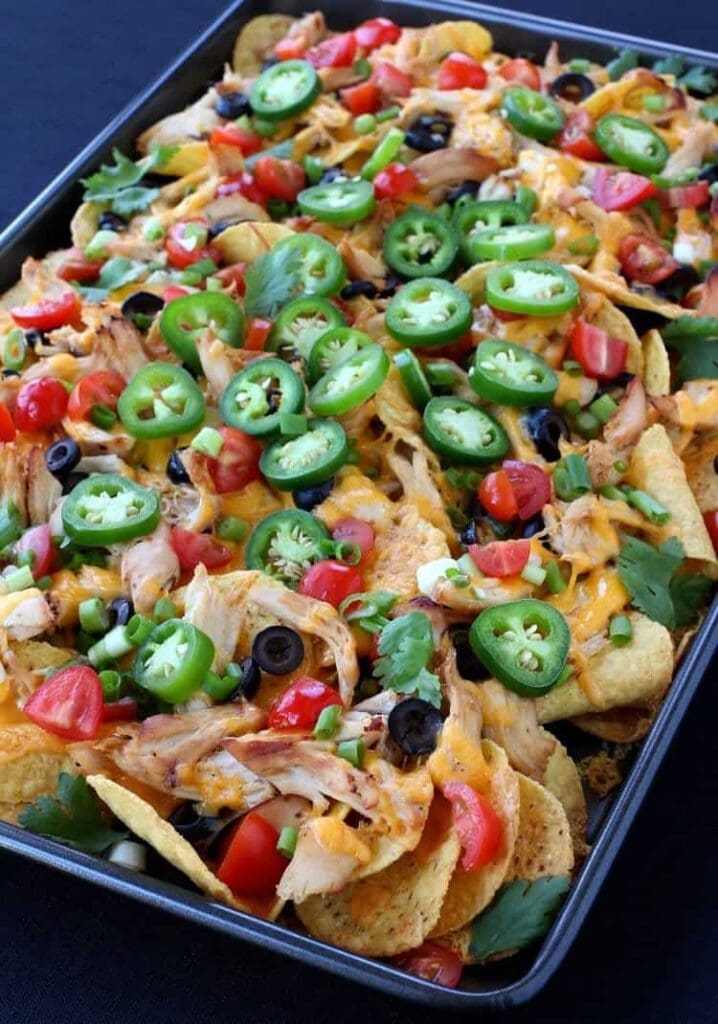 Nachos = comfort food in my house. SO when we're talking about Incredible Comfort Food Recipes, nothing beats a big sheet pan of nachos covered with cheese and tons of toppings, piping hot out of the oven.
Copycat Campbell's Tomato Soup –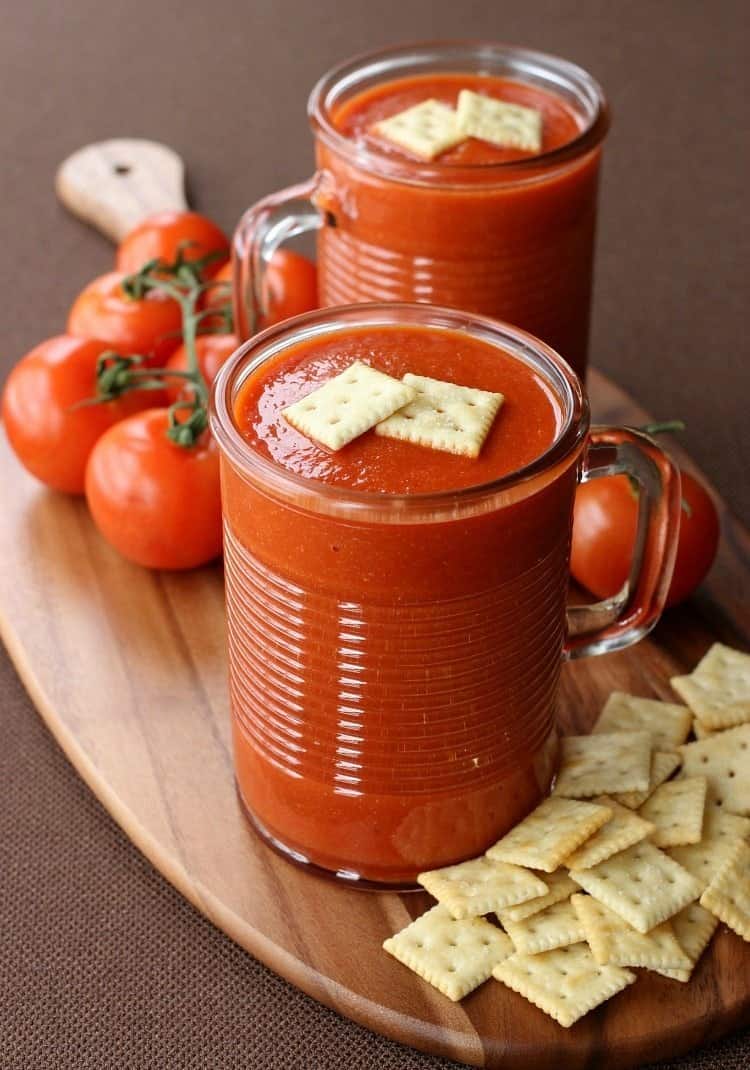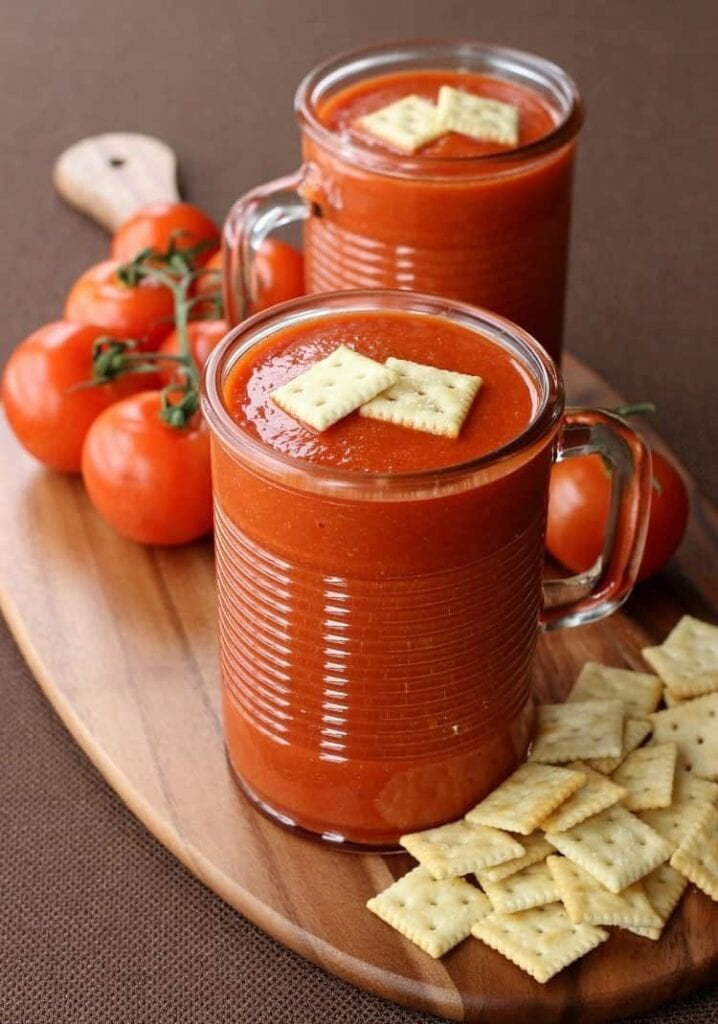 This one was made for my little guy. He loves tomato soup so much we make this in bulk and store it in the freezer for a quick meal or when he's sick. It's that one thing that he'll eat when he's sick, so we have to have it on hand!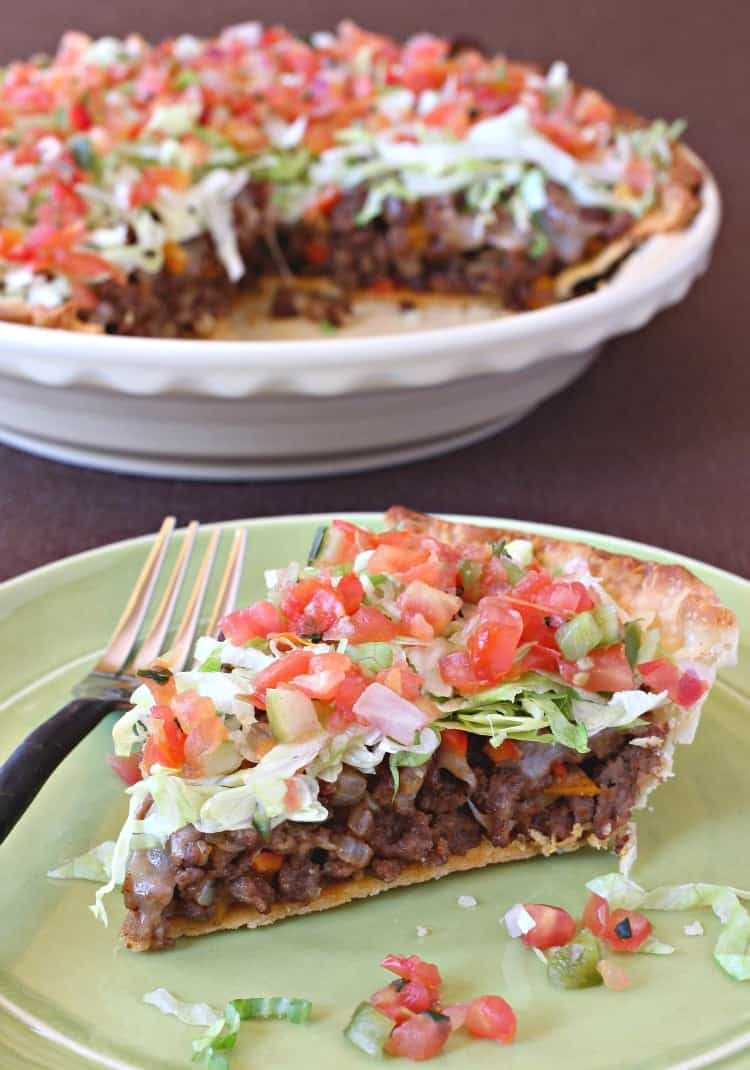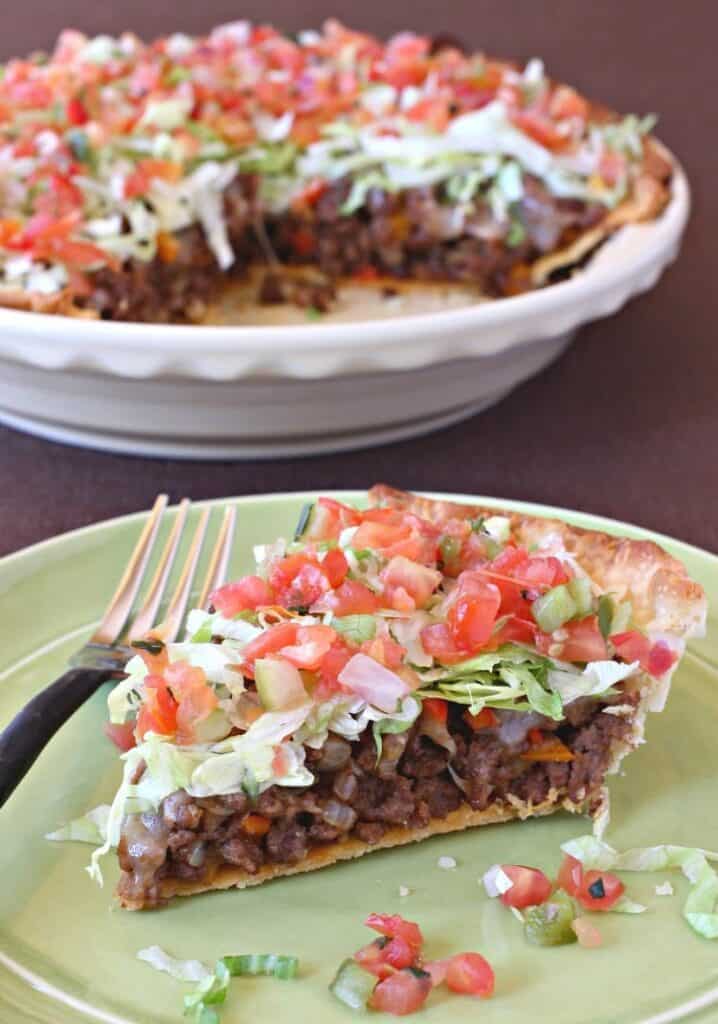 Beefy, taco seasoned filling topped with all your favorite taco toppings. Baked in a store-bought crust for an easy, comfort food dinner the whole family will love!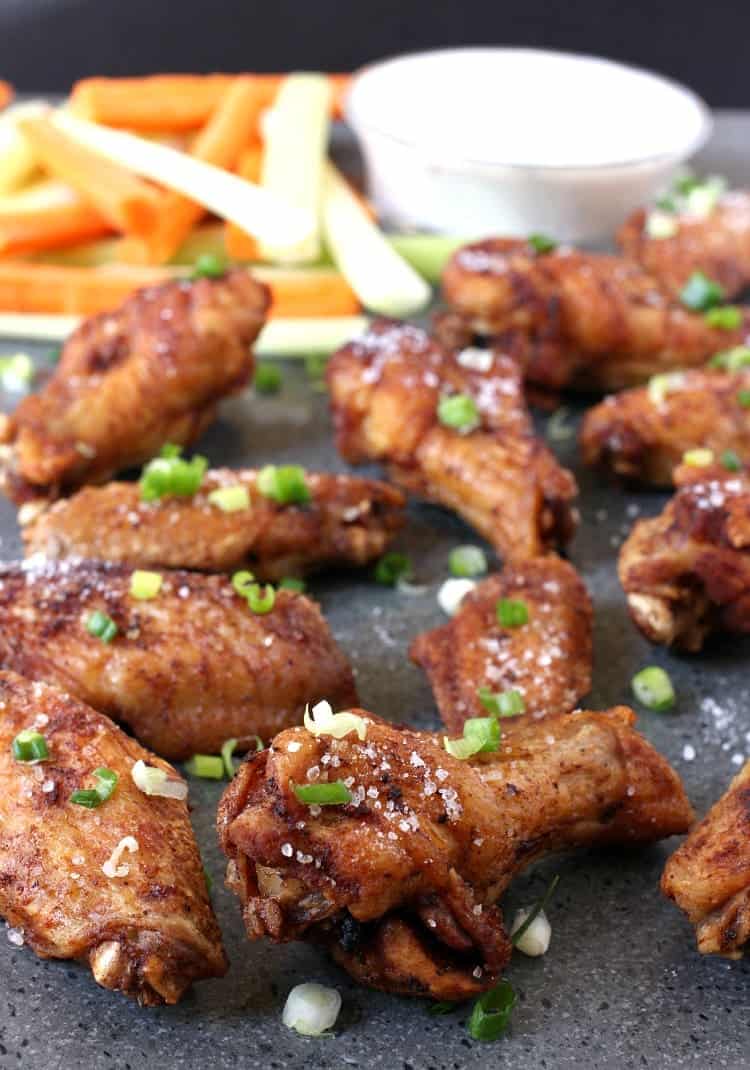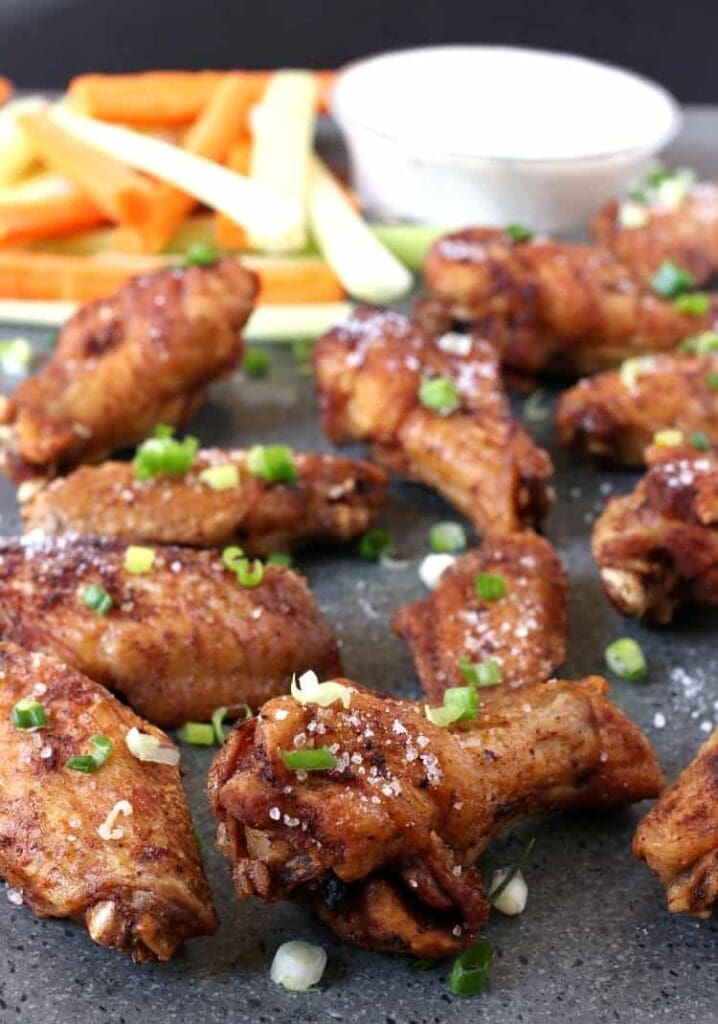 Wings. Who doesn't love going out for them? What's even better is if you can make them at home like these Salt & Vinegar Wings, a take off my favorite BWW wing for when I can't get out to get them.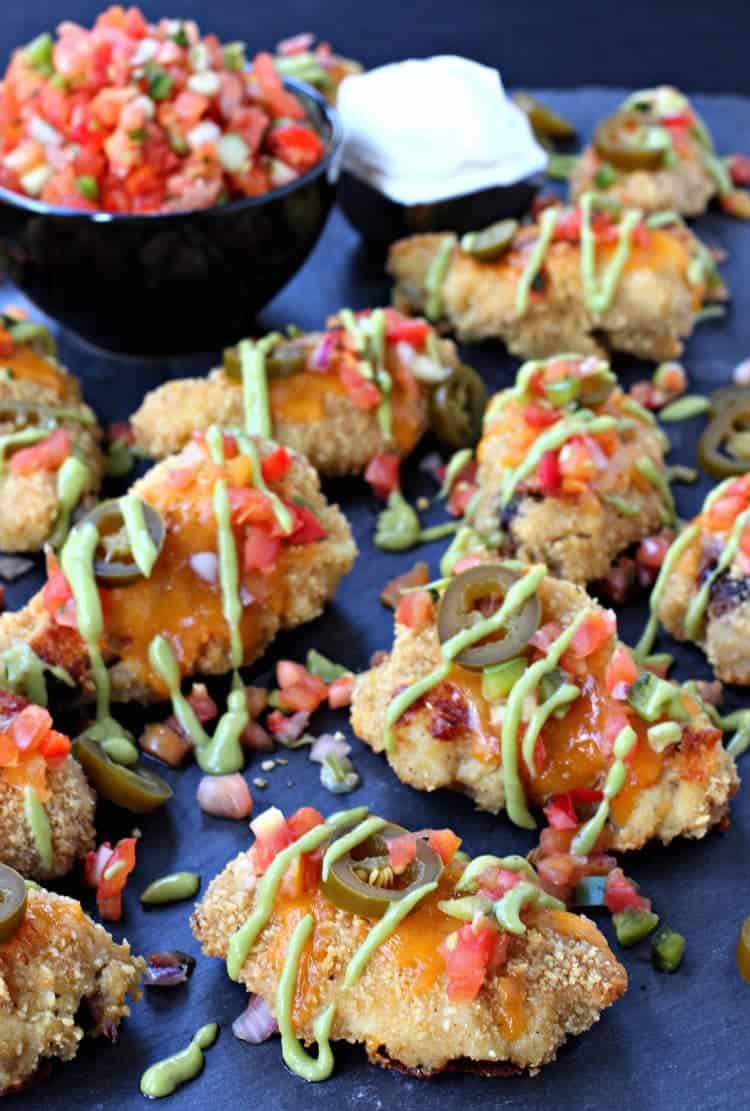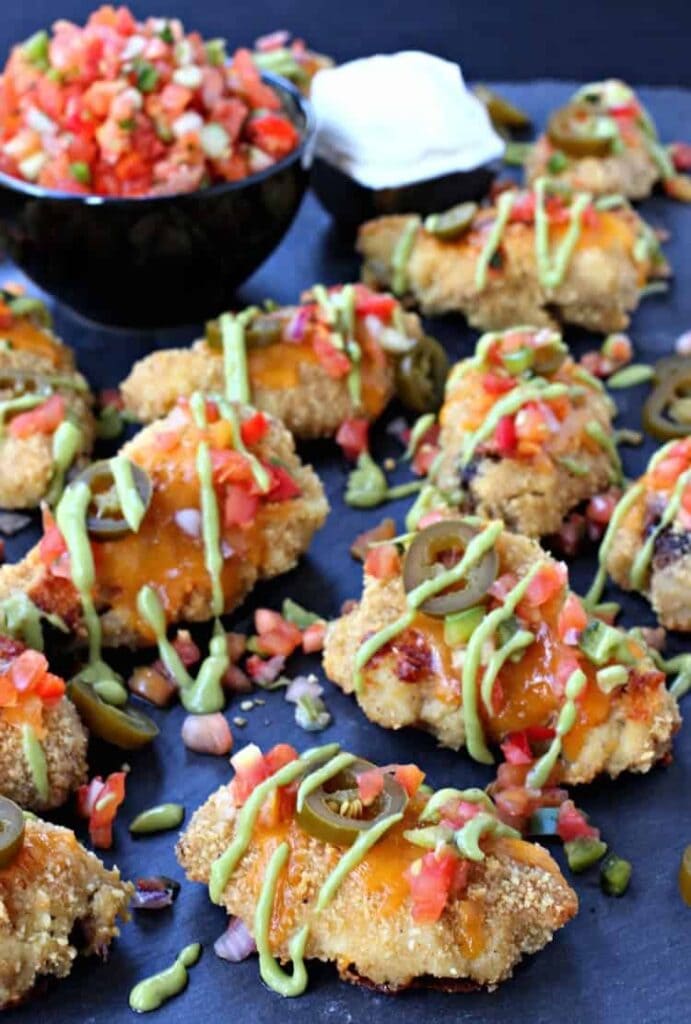 Let's stick with the wings here a second, this one combines two of my favorite comfort food dinners! Wings and Nachos. A crushed up, tortilla crust coats these wings. Topped with all the favorites. Try it.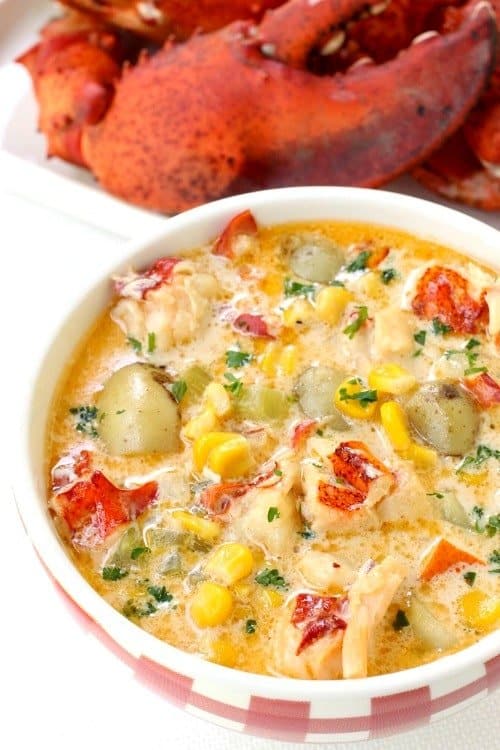 Indulgent, yes. Comfort food, yes. This chowder works for all seasons, mostly the "season" when lobster is on sale for us! Then we grab them up, shell the meat and freeze it so we can have this chowder whenever we want it!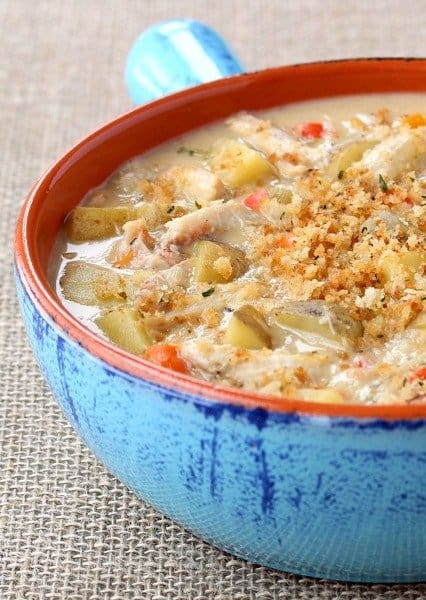 One of my favorite things to eat as far as seafood goes are crab cakes. This chowder is my way to get the same flavor of a crab cake in chowder form. Also a little more budget friendly than crab cakes for dinner for my boys who'd eat at least 2 each!
Slow Cooker Creamy Cider Chicken –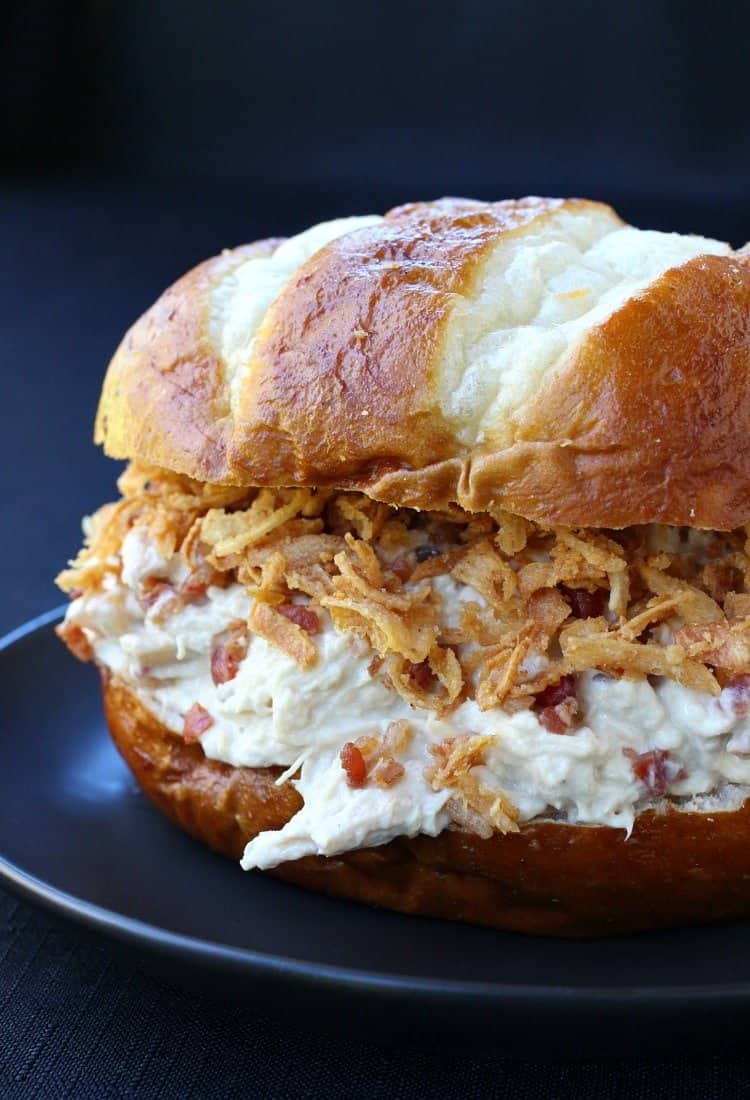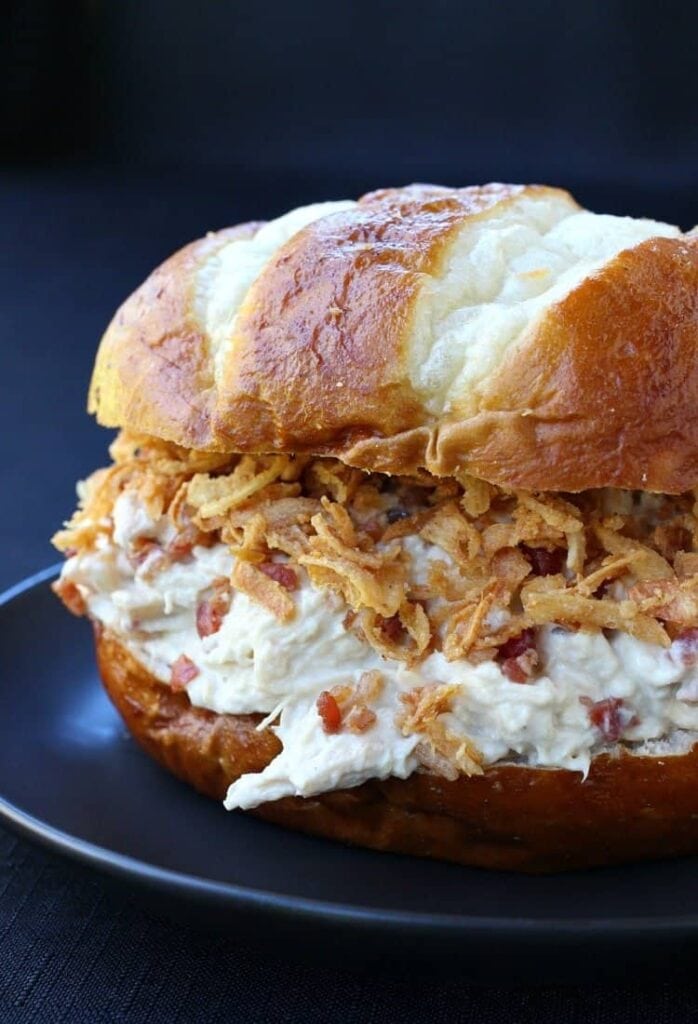 This one says it all. This chicken is so flavorful with only a few ingredients, chicken, bacon, cream cheese and apple cider. Load it on pretzel or slider buns and top it with french fried onions – you've got yourself one heck of a party.
Philly Cheesesteak Stuffed Shells –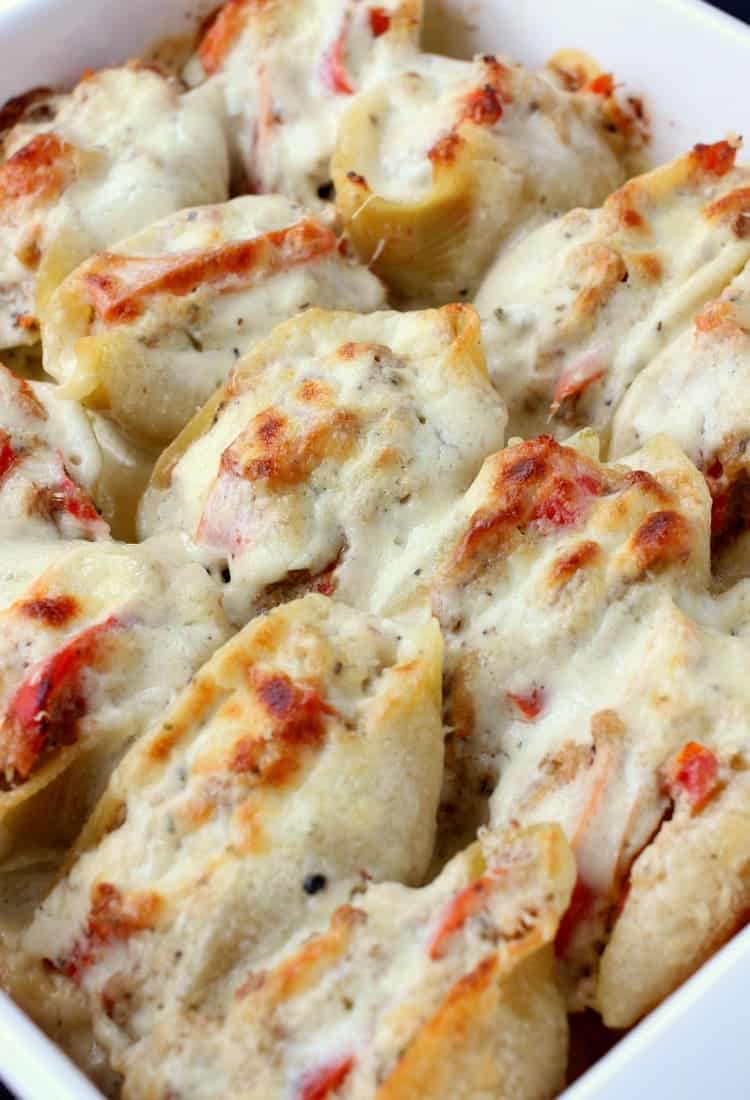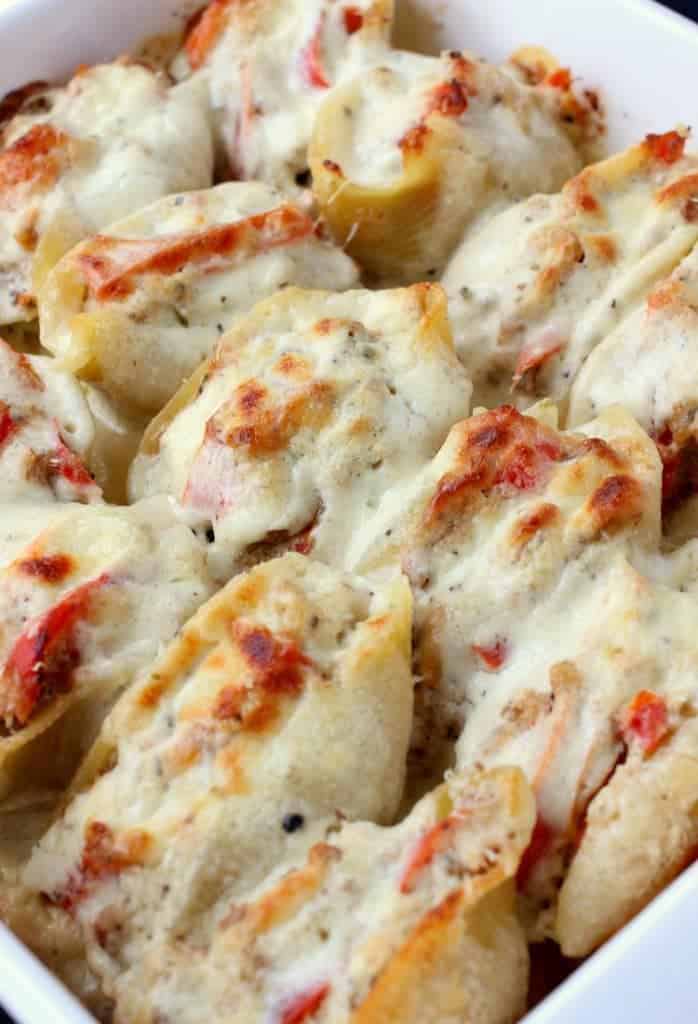 Shredded beef, peppers and onions stuffed into shells and baked with a 5 minute creamy, alfredo sauce. You can make it ahead and throw it in the oven at dinner time!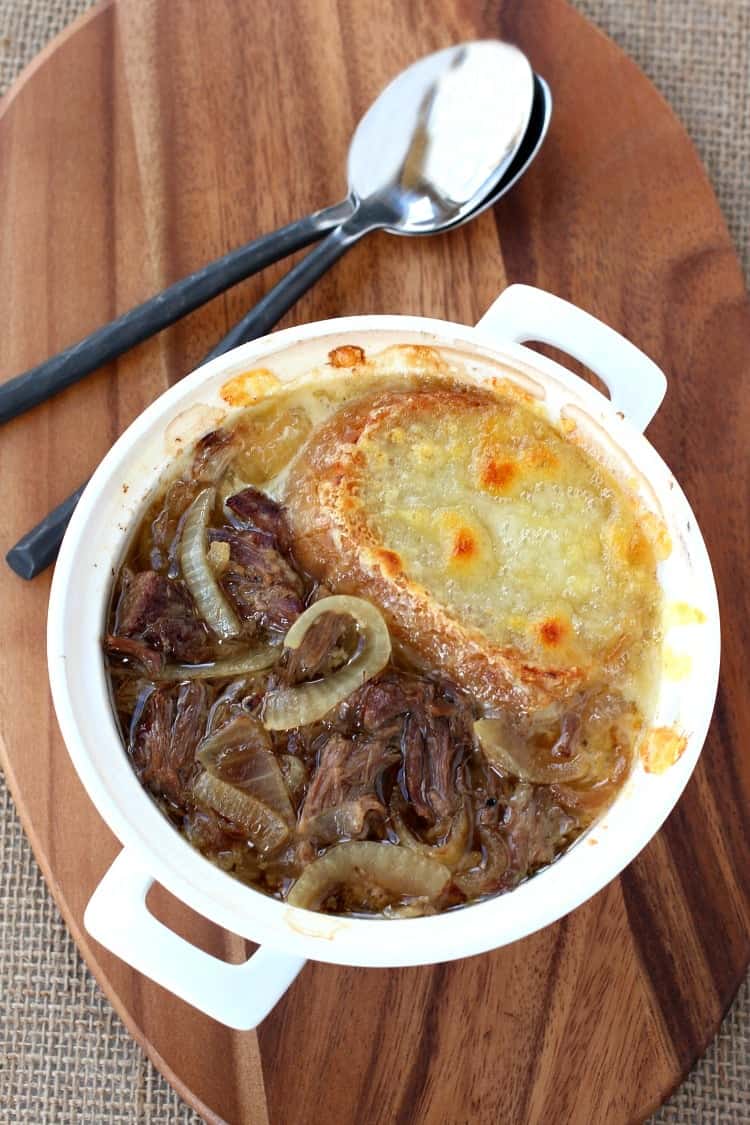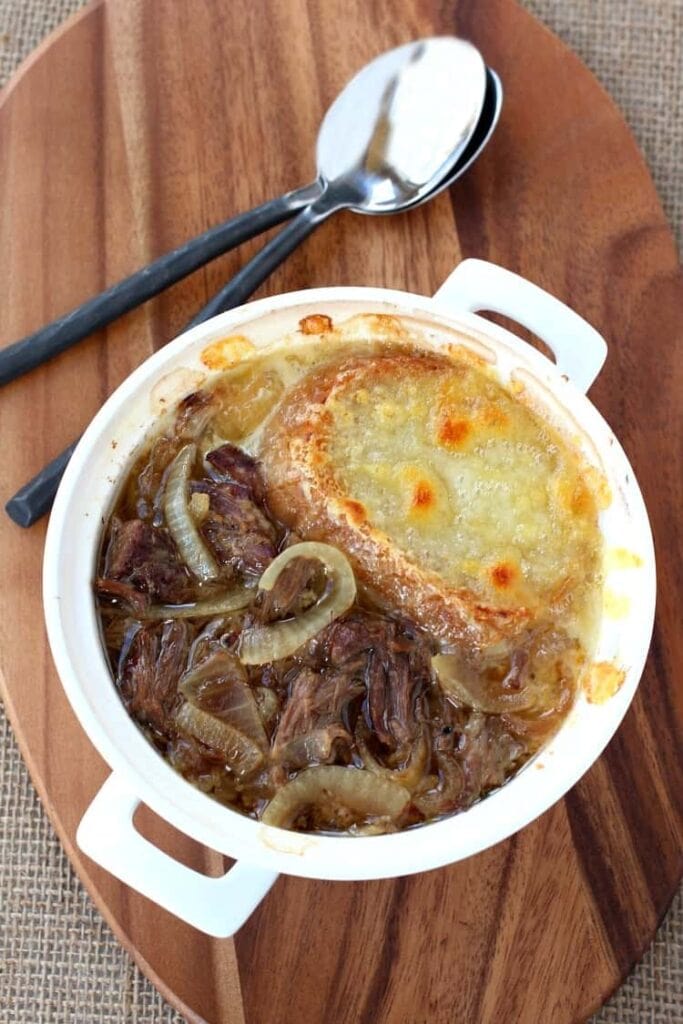 One of our newest recipes, this one was inspired by our vacation to St. John where we had it at a restaurant for dinner one night. I'll never go back to regular French Onion soup!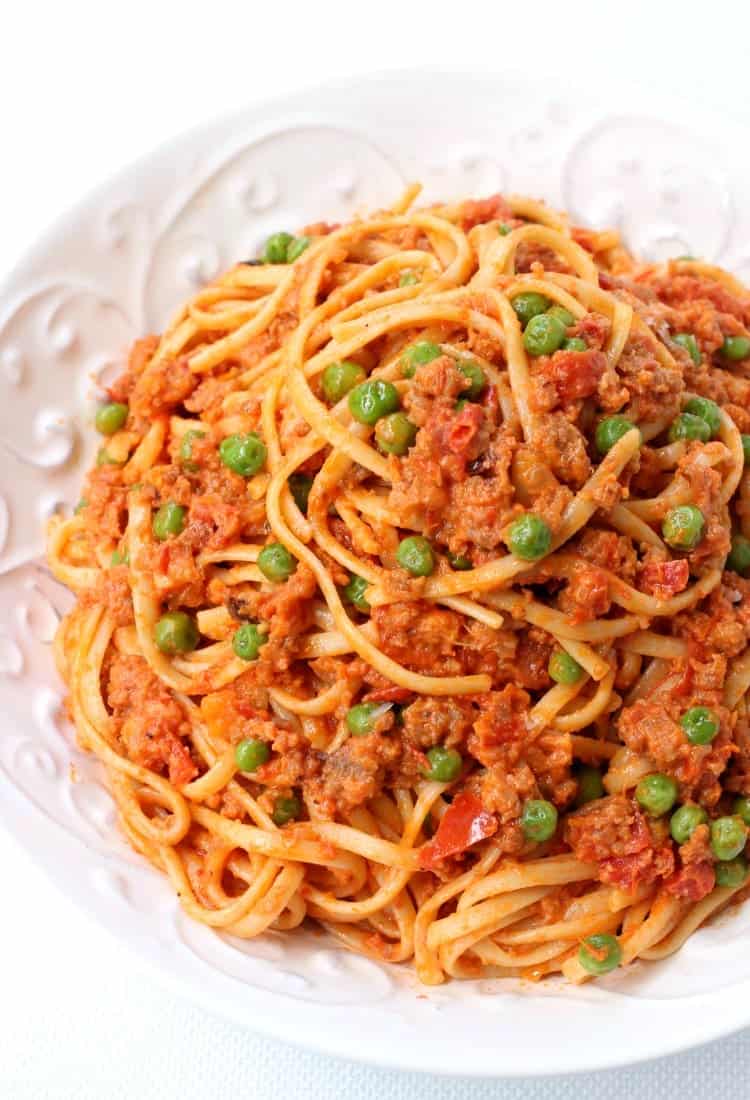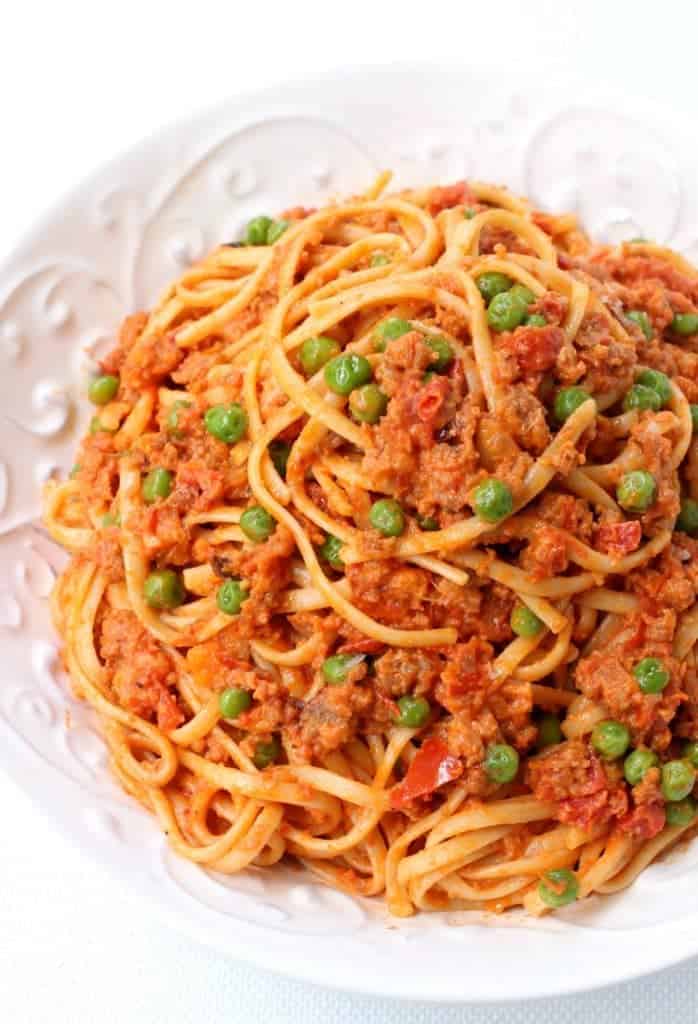 I love the method in this recipe, pulsing the sausage filling in a food processor so it gets broken up really fine so that when you mix it in with your spaghetti you get sausage in every bite, instead of all the meat sauce falling to the bottom of the pot.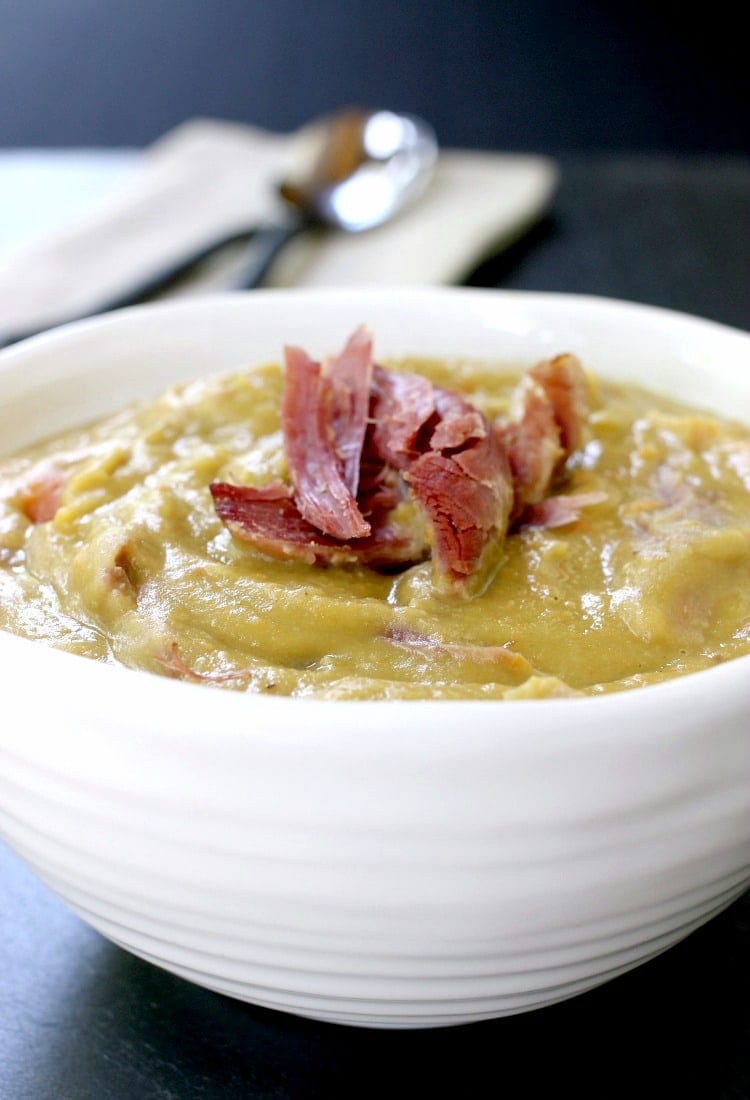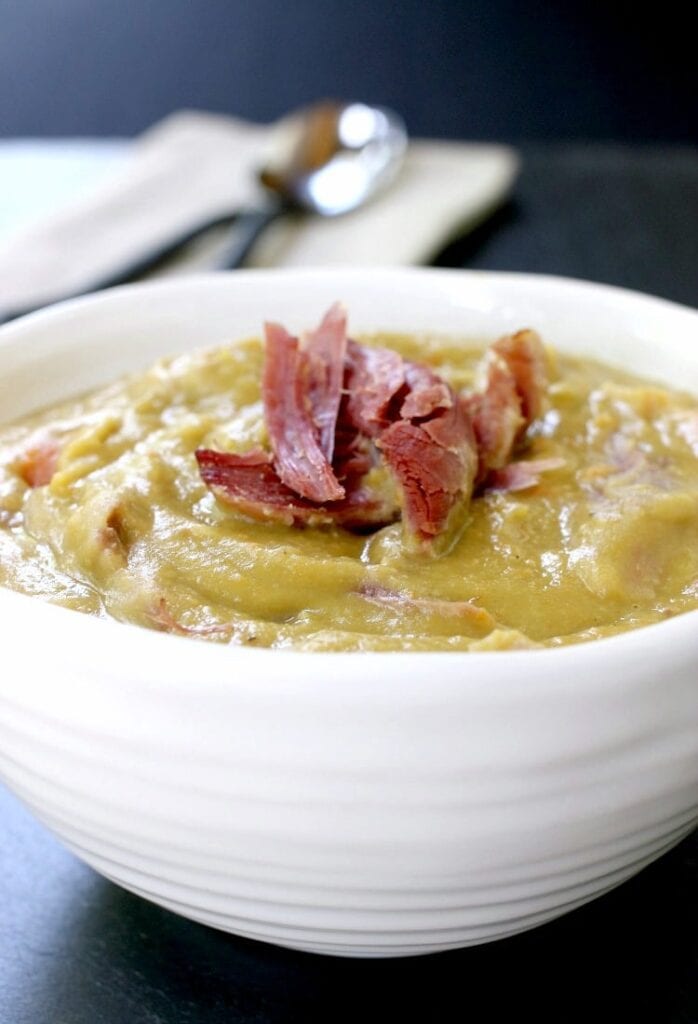 After we got back from Disney, I saw smoked turkey legs in my local grocery store. Throw them in your slow cooker with split peas, herbs and water and you've got comfort food in a bowl for dinner.
Bacon Cheeseburger Quesadillas –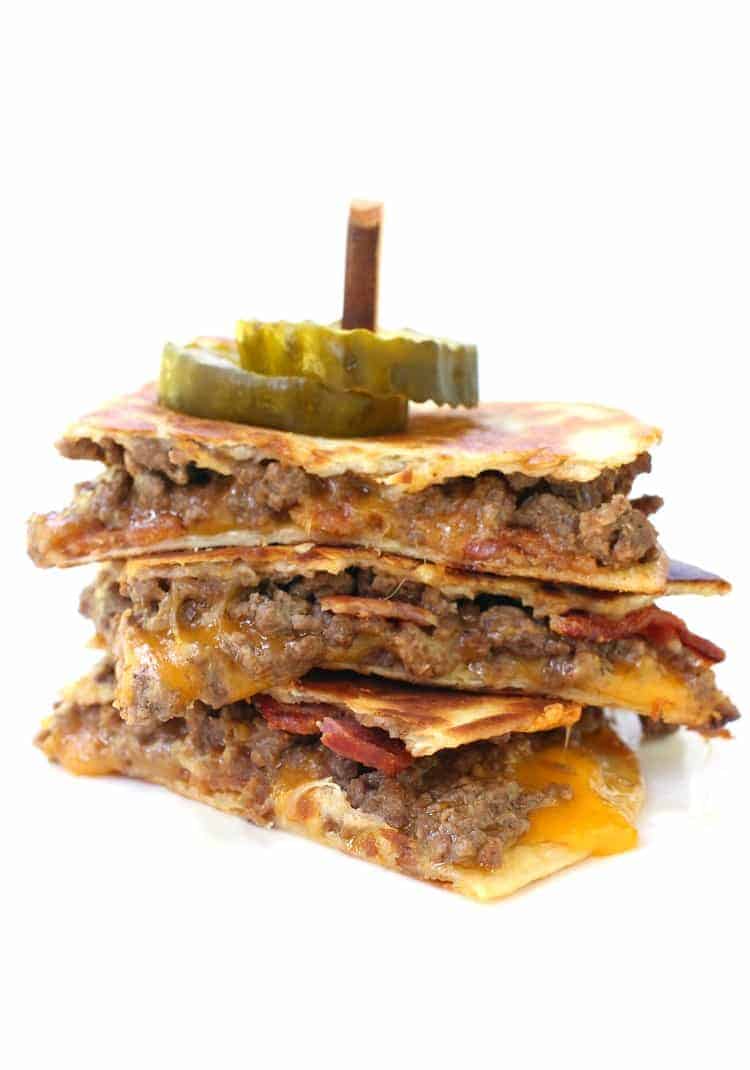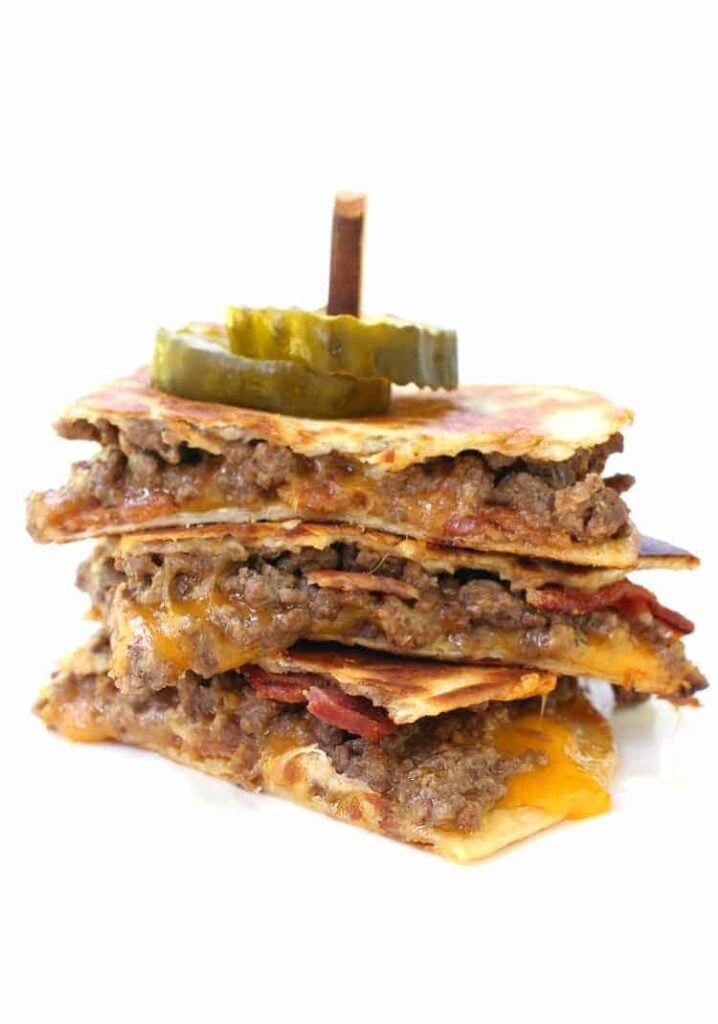 All the flavors of a delicious cheeseburger made into quesadilla form. Crispy on the outside and a cheesy, beefy filling on the inside.
Turkey Lasagna Rolls with Pumpkin Alfredo Sauce –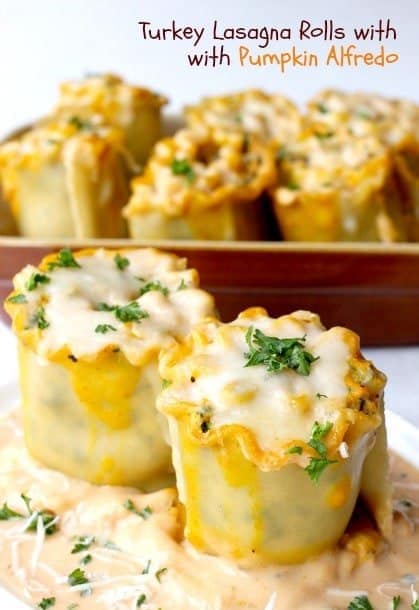 These lasagna rolls are so tasty, a turkey filling with a creamy pumpkin alfredo sauce. Don't wait for Fall to make these!
Cheeseburger and Fries Chowder –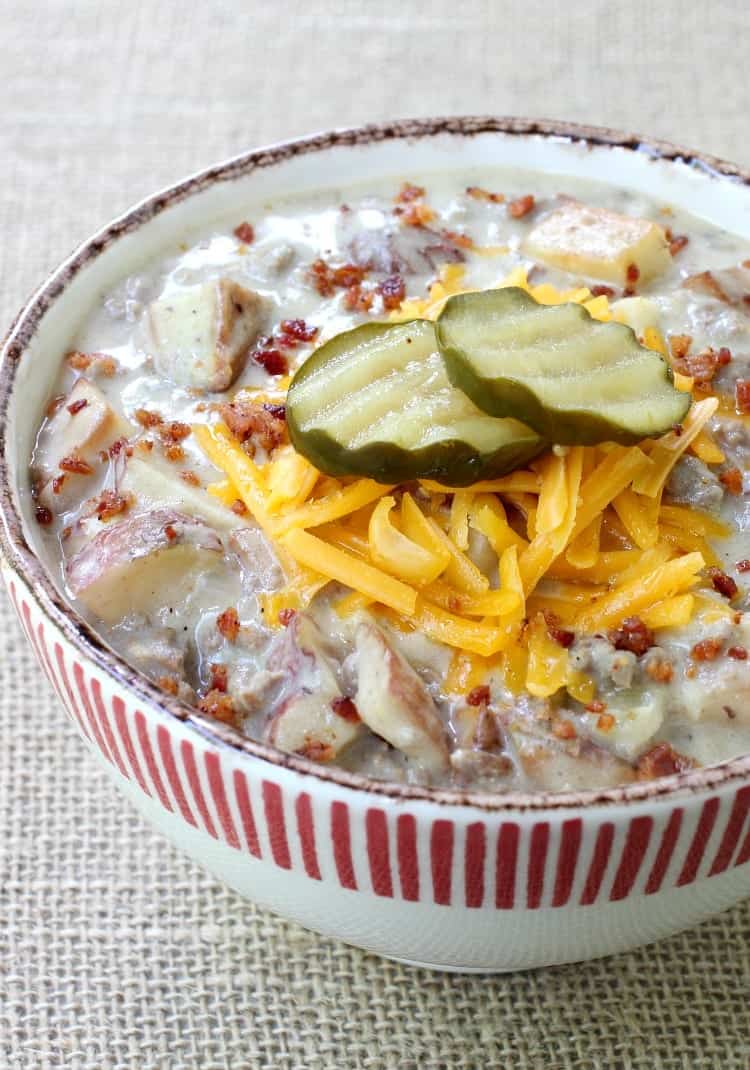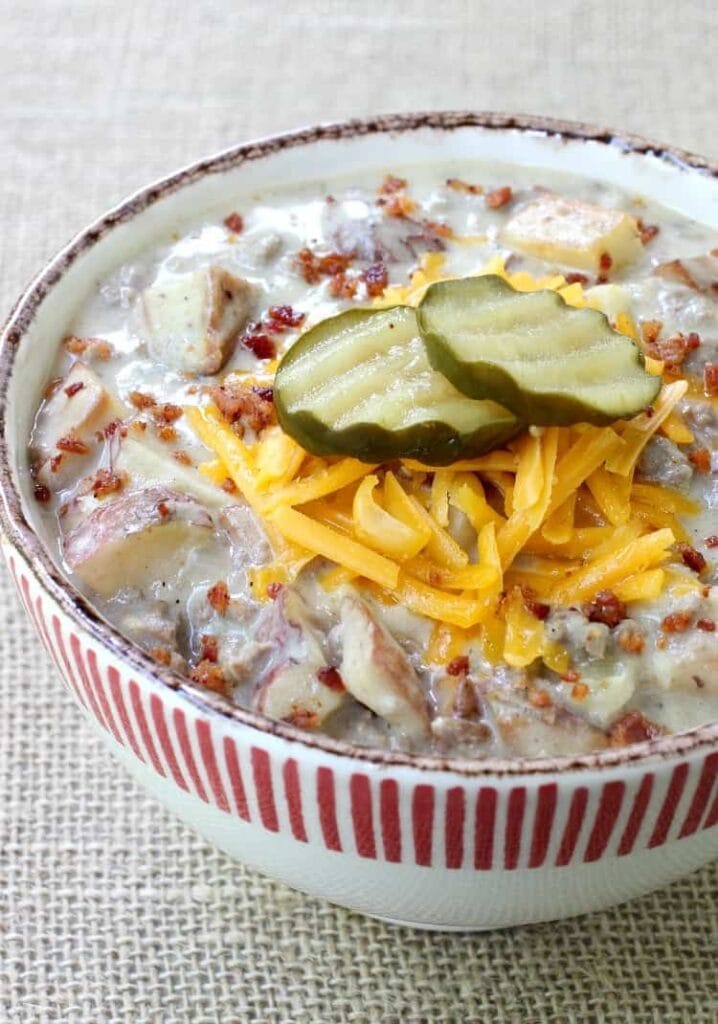 Can you tell so far that cheeseburgers might be a comfort food for me? This chowder is awesome. Simply put. Creamy, loaded with potatoes and beef and the "fries" are roasted in the oven before hand then added to the chowder so they stay crisp, like fries.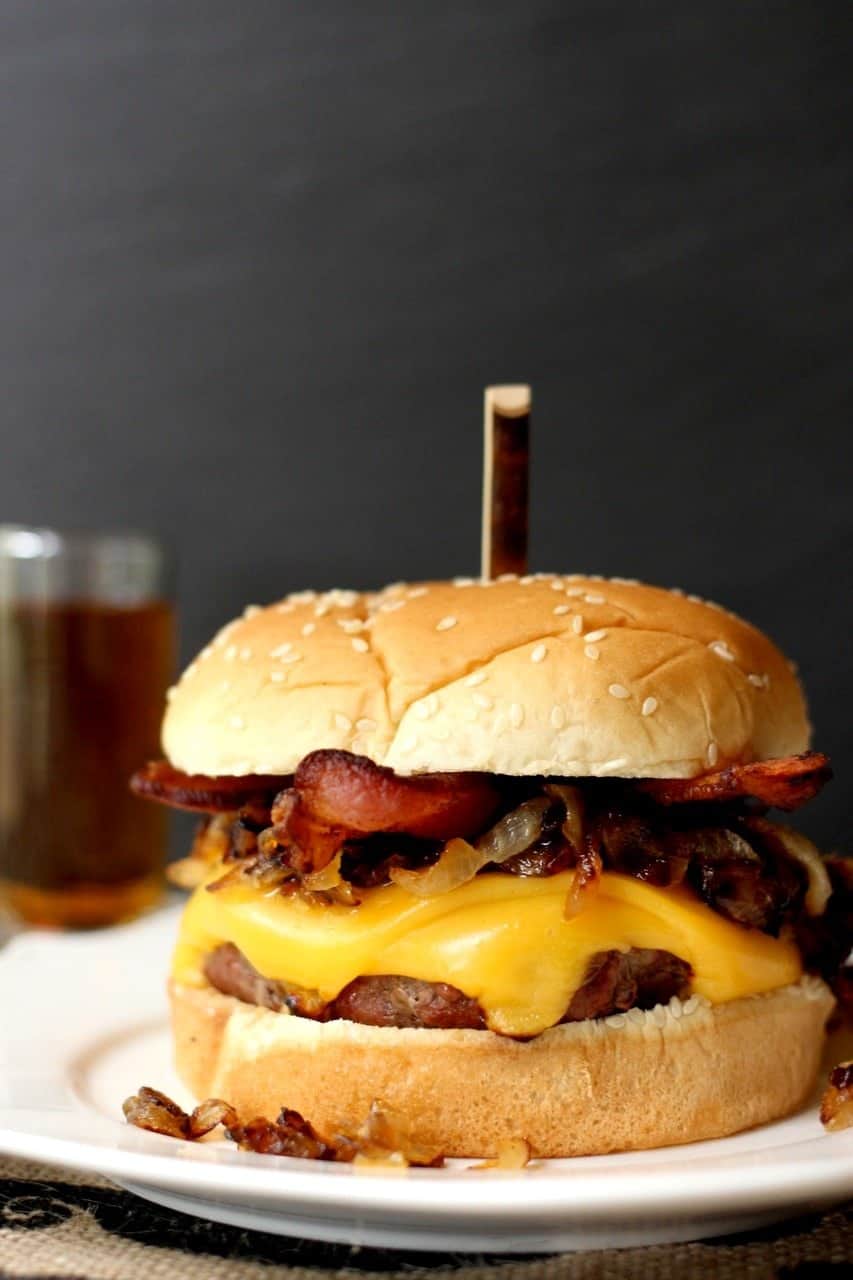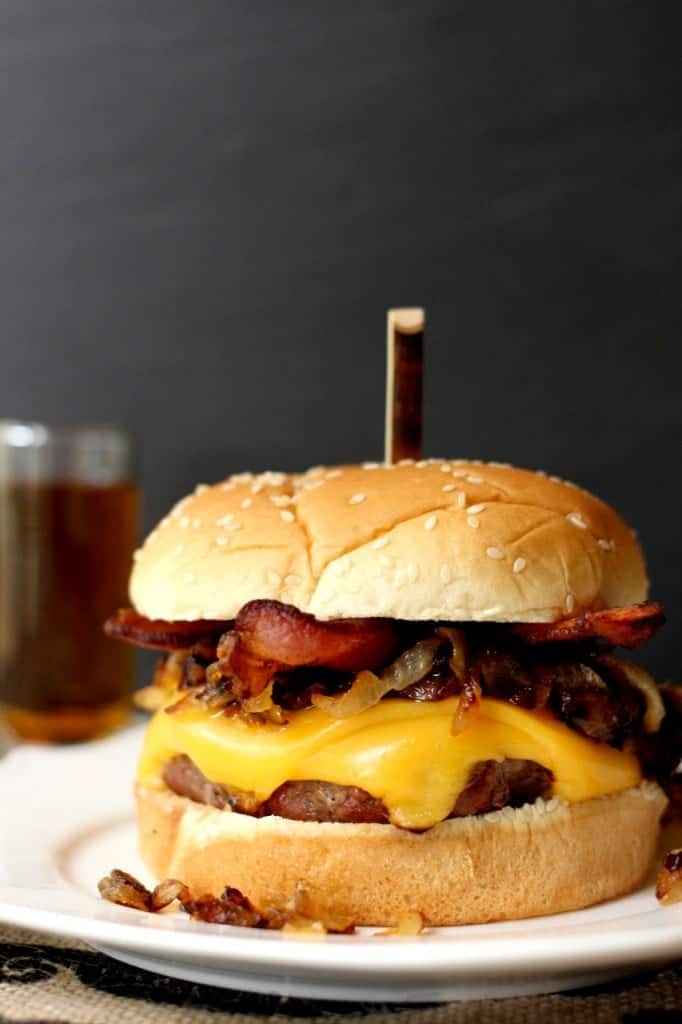 One more burger on the list, this one is actually soaked in whiskey and garlic before it hits the grill. I promise you'll never make a burger without whiskey again.
A great way to use up leftover turkey, but thick sliced turkey from the deli works too. The gravy that coats these sandwiches has bacon chopped up inside it, instead of bacon on the sandwich, but feel free to layer some extra bacon on top too!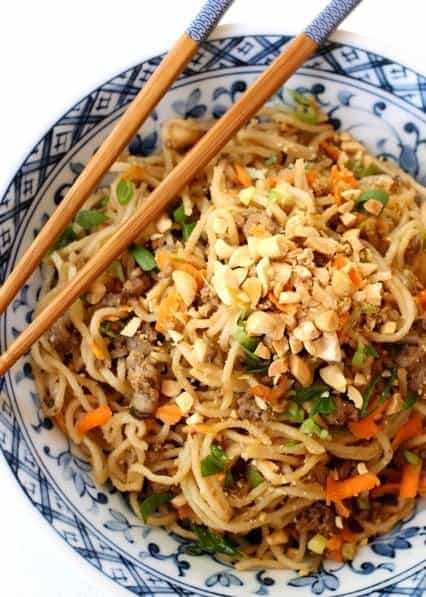 Had to make this one just because it was named after me! But the flavors are killer, peanut sauce, vegetables and ground beef tossed with noodles…take out made better at home. Where, let's face it, you're more comfortable anyway.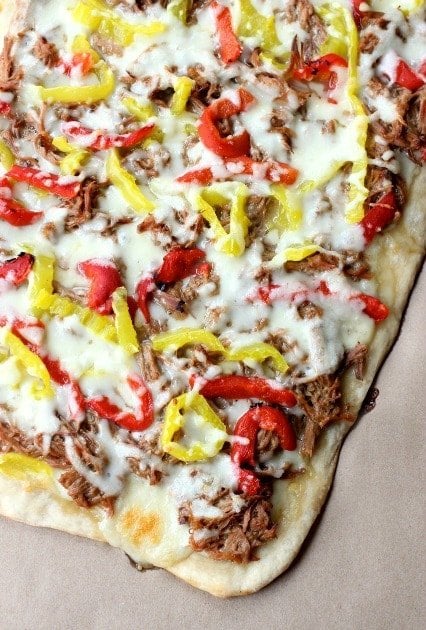 This recipe is a two for one. The beef in the crock pot for the first dinner, then with the leftovers you can make this crazy good, Italian Beef Pizza.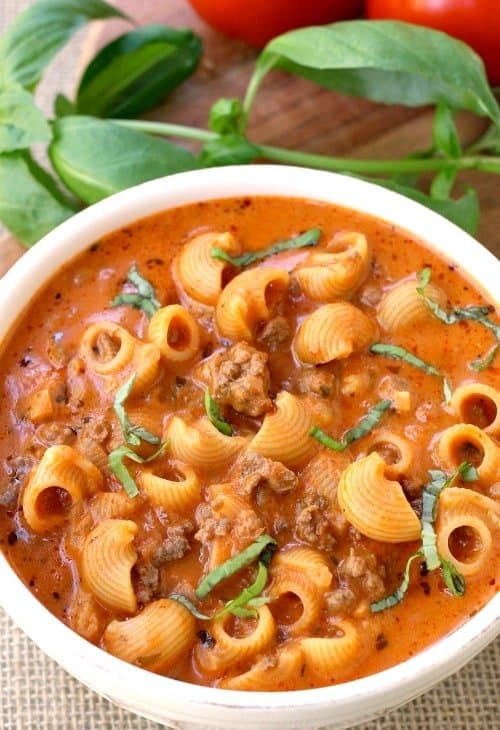 Our most popular recipe! So it's a comfort to us…but something about the creamy tomato broth that's loaded with pasta and beef makes people go crazy! It's not a brothy soup, more like a chowder so it's thick, satisfying and filling…comfort food 101.
We hope you enjoy this list of our Incredible Comfort Food Recipes! Keep this post pinned or bookmarked so that you can come back to it time and time again!