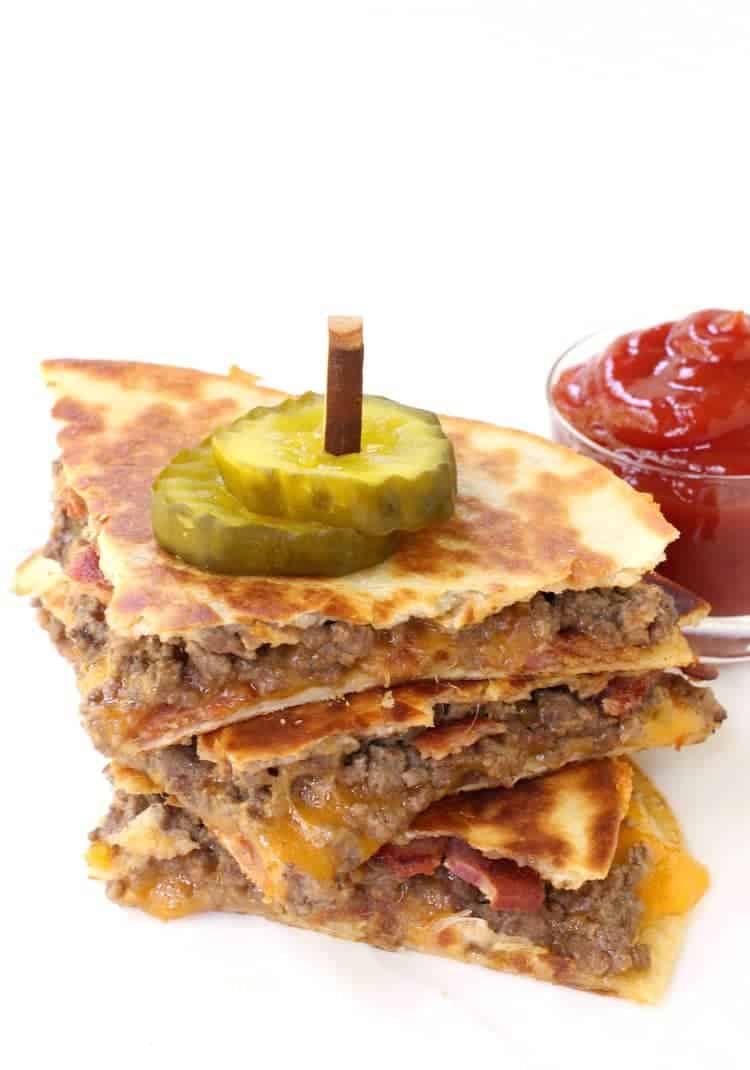 Bacon Cheeseburger Quesadillas
Bacon Cheeseburger Quesadillas are loaded with a cheesy, hamburger filling covered with bacon and tons and tons of cheese!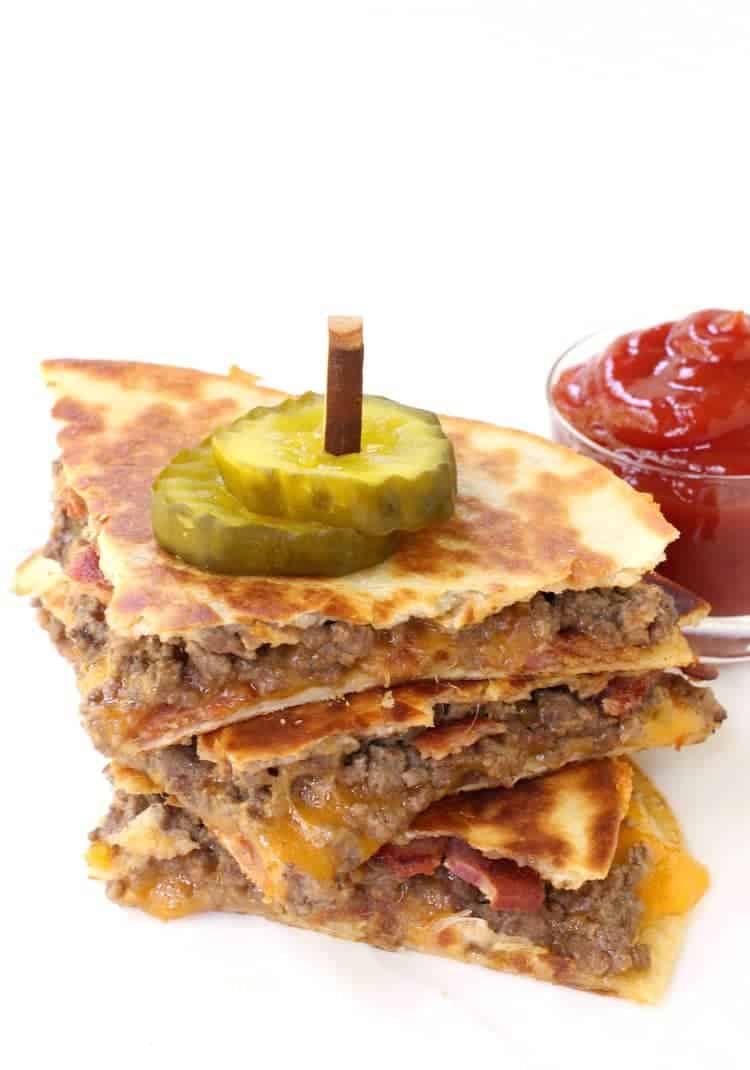 Cheesy filling, then covered with cheese?
Yep. We're talking lots of cheese here. Two different types of cheese for two different reasons.
There's a little bit of cream cheese in the hamburger filling for extra creaminess but also it holds the filling together for you.
Don't know if you've ever tried to flip a quesadilla over in a pan and all the filling just falls out? I have. Many times, and it's not fun.
So by adding some cream cheese to this crazy good hamburger filling we're going to avoid that disaster as much as possible.
Then you've got the shredded cheddar cheese which is there for flavor, of course, but it also seals the quesadilla closed to prevent any filling escaping during the flip.
The cheese is the key to this quesadilla, like most things, it's all about the cheese.
The filling is just ground beef, worcestershire sauce, a few seasonings, ketchup and cream cheese. Once you've got that put together you can start assembling your quesadillas.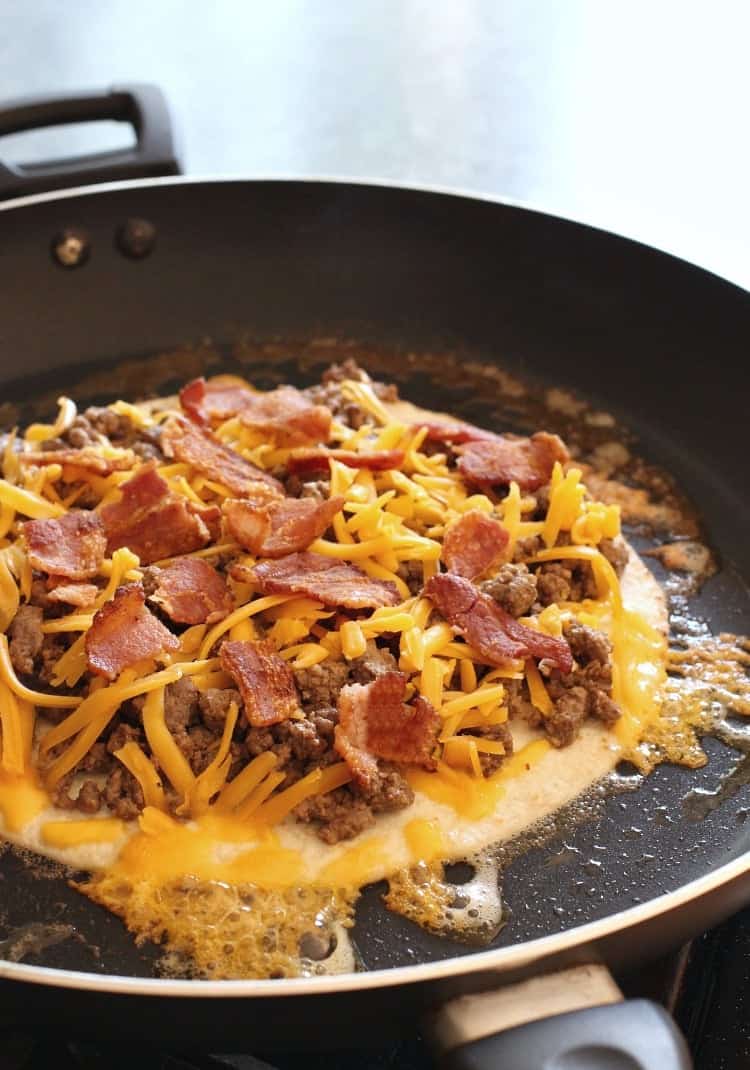 Lay one flour tortilla down in a skillet with butter then layer on the beef, cheese and bacon.
Yes, there's bacon in these Bacon Cheeseburger Quesadillas…there's no useful purpose to the bacon. It's just there because it makes everything taste better.
Place another tortilla on top and press down with a plate. Only a minute or two, remember that bottom quesadilla had been in the skillet for the assembly time too, so be careful not to burn it.
Then the flip.
It takes a little getting used to but you can do it, I've only ruined a couple (hundred) so far…but even if you do, just take a spatula and tuck all the filling back in that flew out.
I've had a lot of practice with all the quesadillas we've made here on the site like these Chicken Enchilada Quesadillas or our Korean Beef Quesadillas.
They all turned out just fine, even with a few flipping disasters.
Cook on the other side for another couple of minutes so the cheese melts and remove it to a cutting board.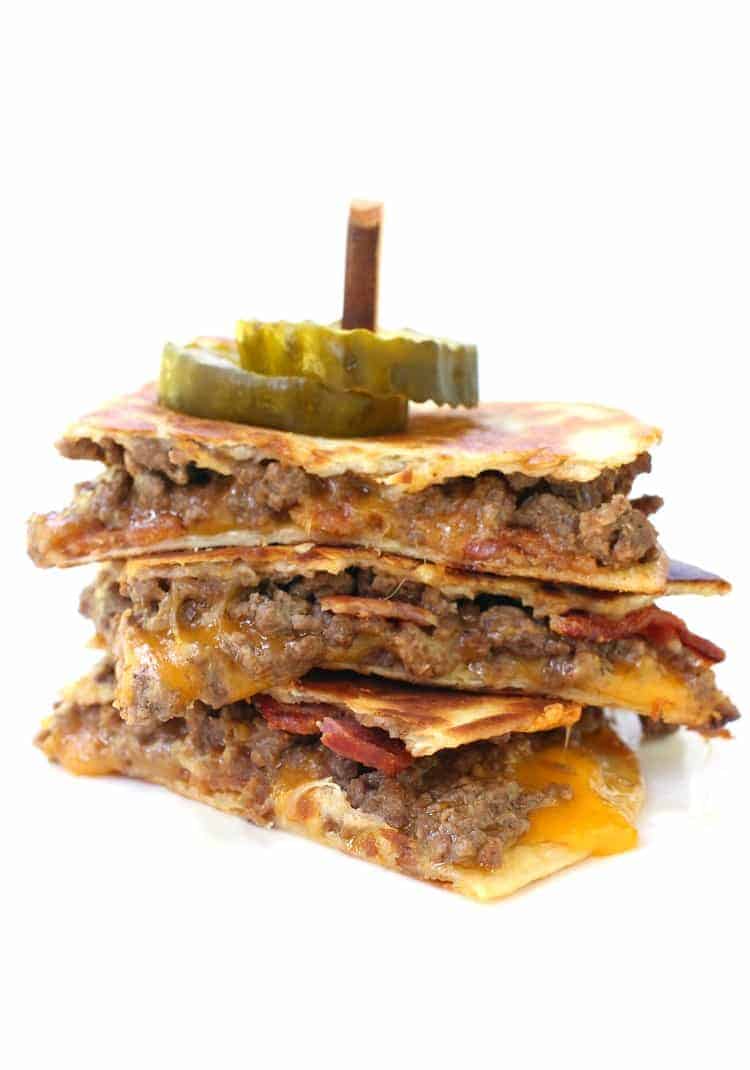 You can serve these Bacon Cheeseburger Quesadillas with ketchup on the side for dipping, or whatever sauces you put on your cheeseburger.
Definitely put out a few different types of dipping sauces if you're doing this for a party…BBQ sauce, sriracha mayo, honey mustard, even ranch dressing.
Then let the party start – even if it's just dinner for the family, these quesadillas are going to make it seem like you're having a party!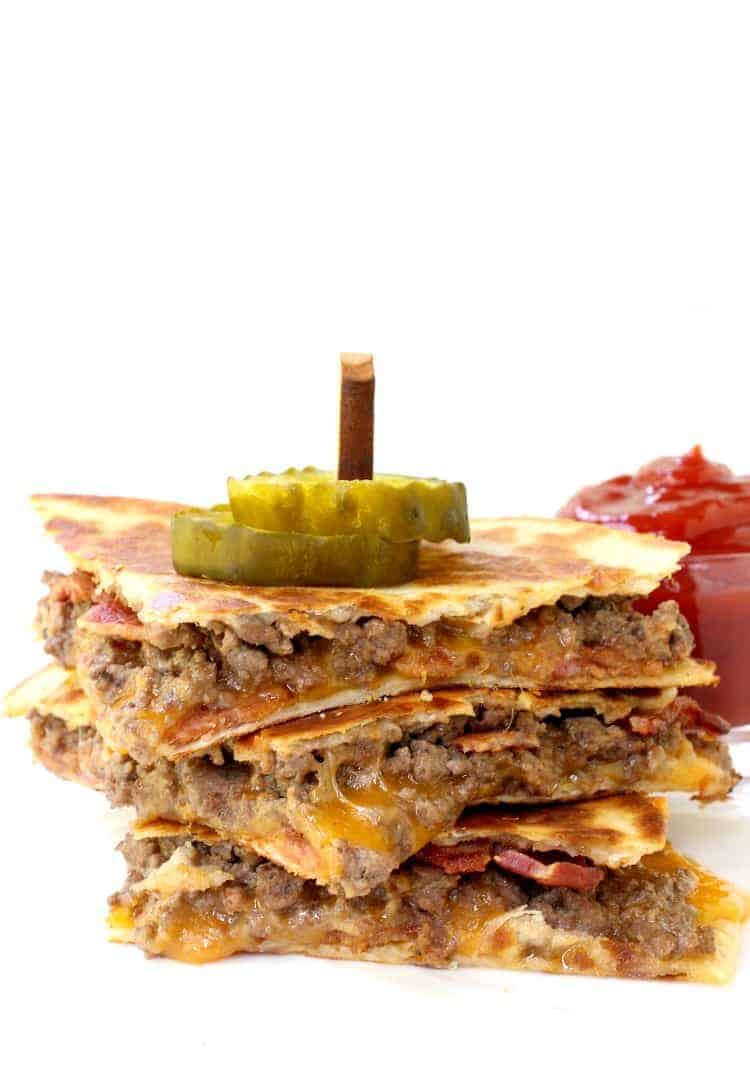 Print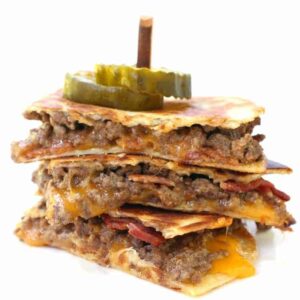 Bacon Cheeseburger Quesadillas
Author:

Yield:

4

1

x
---
Description
This recipe makes 4 large quesadillas which can be cut into 16 or 32 wedges for parties.
---
Ingredients
1 tablespoon

olive oil

1

lb. ground beef
tablespoon worcestershire sauce

2 tablespoon

s ketchup

2 tablespoon

s cream cheese

1/2 teaspoon

garlic powder

1/2 teaspoon

salt

6

strips bacon

8

flour tortillas

2 cup

s cheddar cheese grated
---
Instructions
To make the beef filling, heat a large skillet with the olive oil, then add the ground beef to brown.
After the beef has been broken up and browned through, add the ketchup, cream cheese, garlic powder and salt and stir to combine.
Remove the beef filling from the pan and let the skillet cool for a few minutes, then wipe out with a paper towel.
Return the skillet to the heat and add a tablespoon of butter to start melting.
Add one flour tortilla to the skillet then lay on a cup of the beef filling followed buy a half cup of cheese and a handful of bacon pieces.
Place another flour tortilla on top and press down with a plate.
Cook for a minute, then check the bottom of the quesadilla with a spatula for doneness.
Cook for another minute or two until the bottom is browned, then remove the plate and flip the quesadilla over.
If needed, add a little more butter to the pan for the other side to brown.
Cook for 2-3 minutes for the other side to brown then remove from the skillet to a cutting board.
Repeat with the remaining 3 quesadillas.