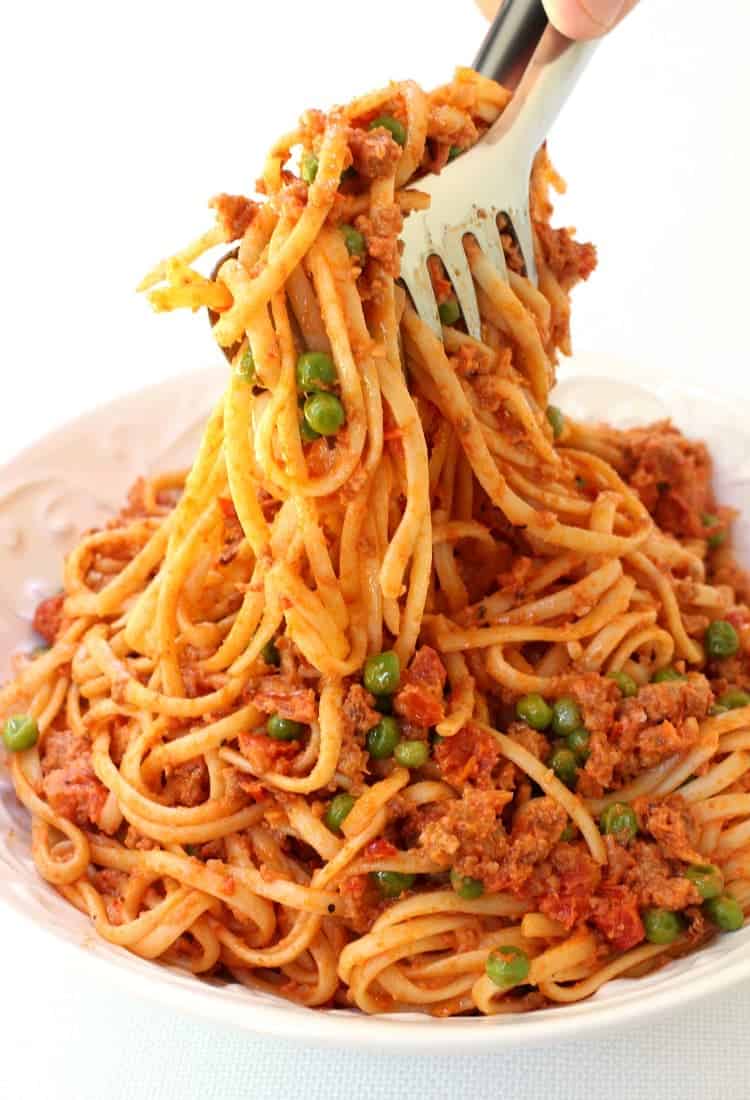 Creamy Sausage Spaghetti will become one of your favorite pasta dinners! The trick is that the sausage is in every single bite!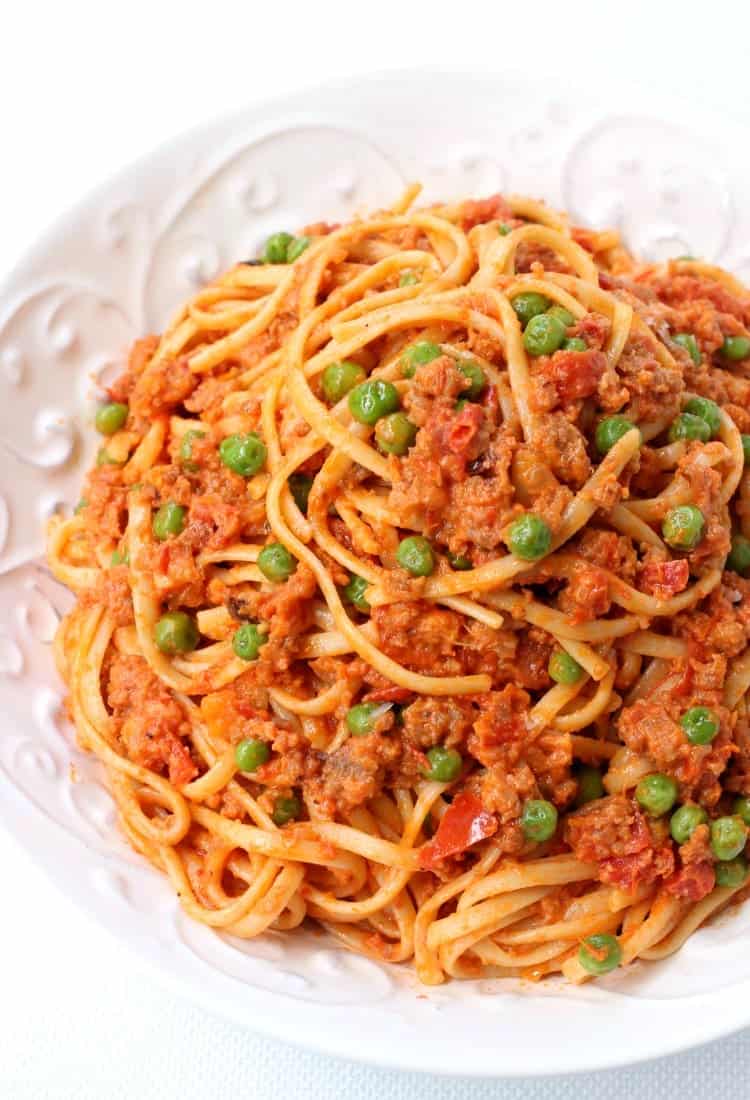 I definitely have an opinion about the ratio of ingredients in recipes.
It needs to be right. A sandwich can taste totally different if theres too much of one ingredient on it, even when the ingredients are the same. Right?
That's what I'm talking about.
This Creamy Sausage Spaghetti is a perfect example of that!
Not one bite of pasta while your fishing around for the sausage, the sausage is more part of the sauce, crumbled up very small so it goes all in every bite. Like this Garlic Bread Pasta – one of my favorites.
OK, so now that I think you've got the idea – here's how you make it.
Brown the sausage and then transfer it to a food processor. Yep, food processor. No way you can crumble it this fine with a spoon – the machine can do it better.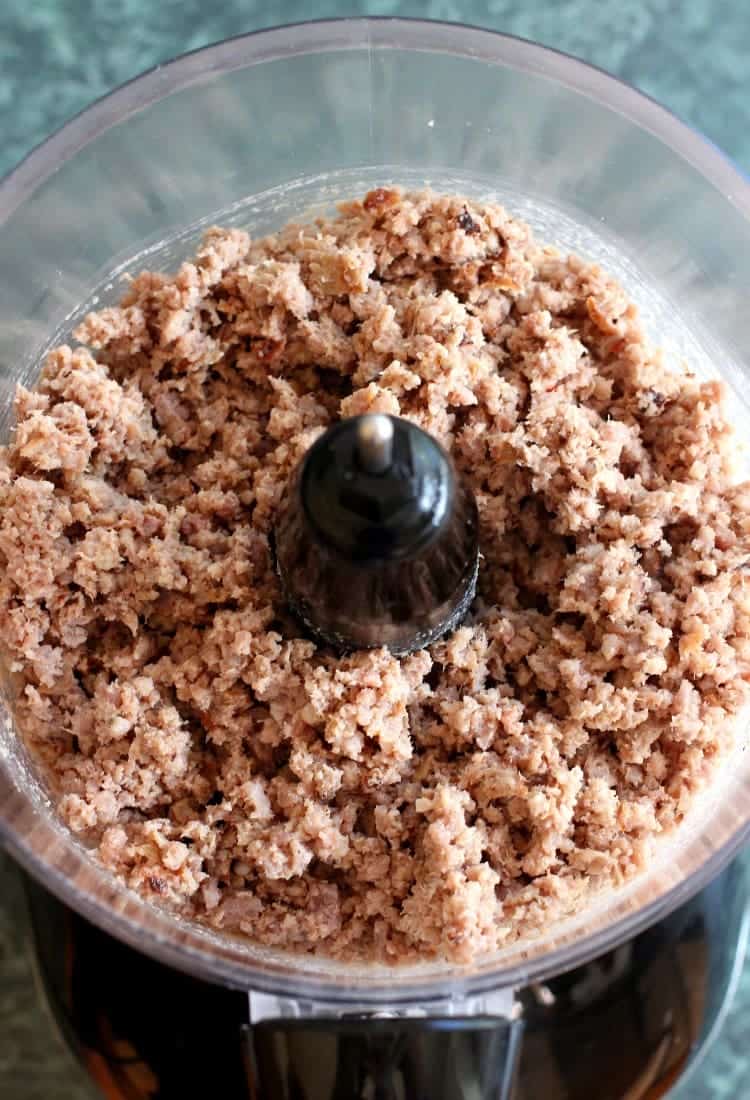 Now add the sausage back to the same skillet with the onions, garlic and sun dried tomatoes.
Pour in crushed tomatoes and stir it all together.
You'll need to cook it down for about 20 minutes or so, but in the meantime you can boil the spaghetti and drain it so it's ready and waiting for you when the sauce is done.
Pour in the cream…this is CREAMY Sausage Spaghetti after all…then add a few handfuls of frozen peas.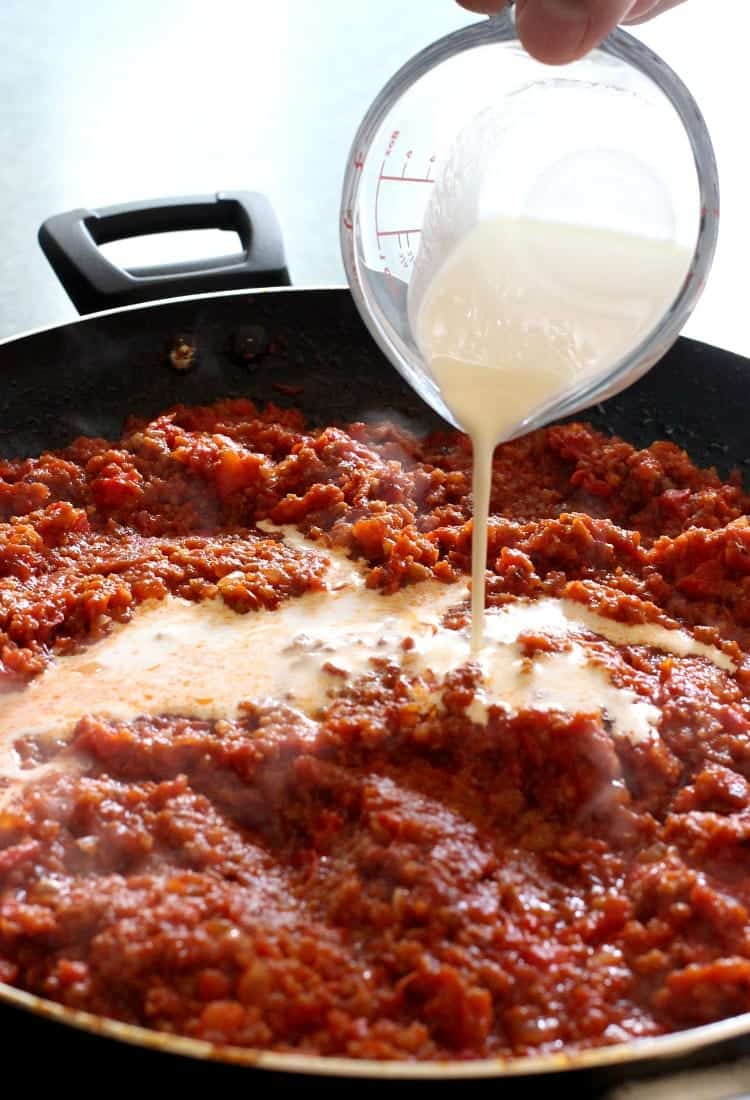 Only a few more minutes and you're on your way to this.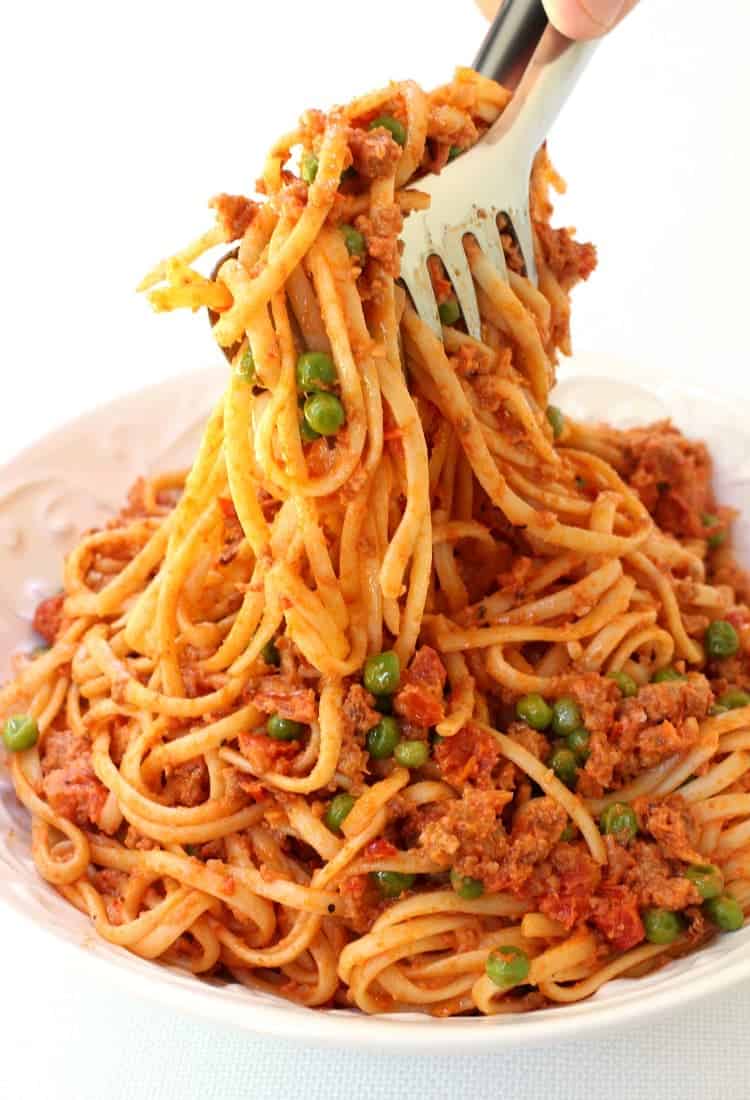 This Creamy Sausage Spaghetti is the pasta dinner that you won't be able to stop eating.
Like the push away from the table because your pants don't fit anymore spaghetti dinner. It's that good.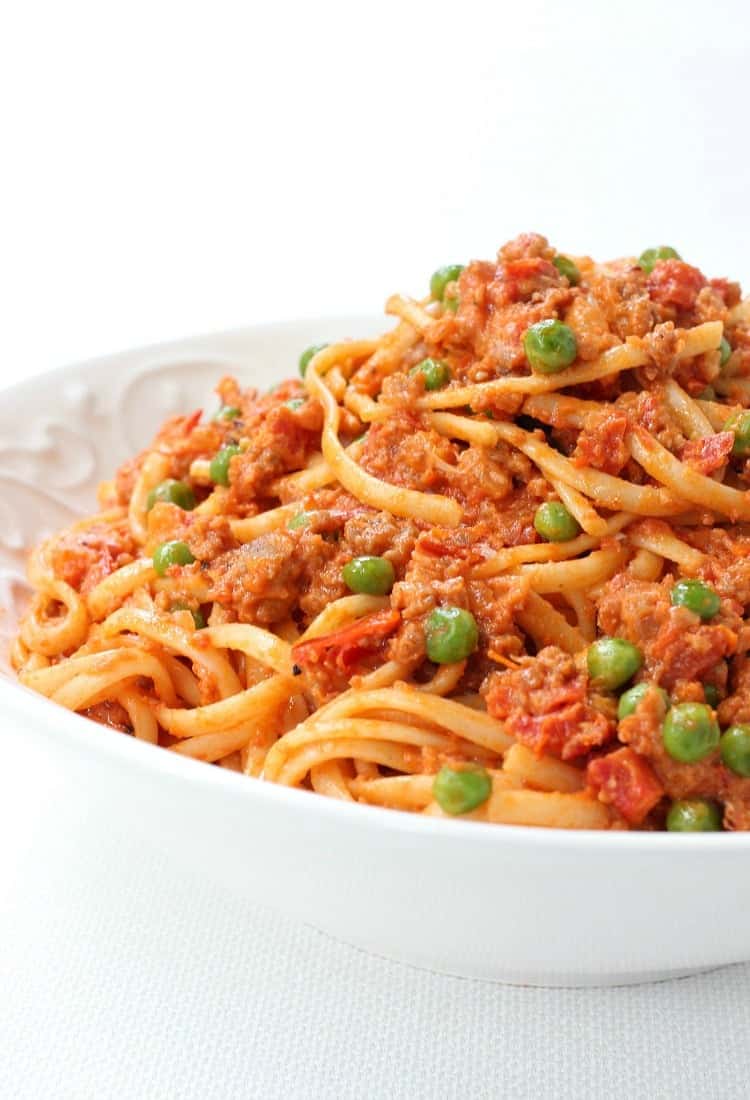 But I can promise you, it's totally worth it!
Print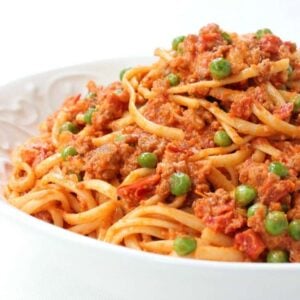 Creamy Sausage Spaghetti
Author:

Yield:

6

1

x
---
Ingredients
1

lb. spaghetti

1

lb. Italian sausage

1 cup

finely diced onion

1 tablespoon

olive oil

4

garlic cloves crushed

1/2 cup

sun dried tomatoes, chopped

1/2 teaspoon

salt

1/2 teaspoon

ground black pepper

1

28 oz. can crushed tomatoes

1 cup

heavy cream

2 cup

s frozen peas, defrosted
---
Instructions
Place a large pot of water over high heat and bring to a boil.
Once boiling add the spaghetti, cook according to the package directions and drain.
Meanwhile, brown the sausage in a large skillet that's been sprayed with cooking spray.
Crumble up the sausage while it's browning, about 5 minutes, until it's completely browned through.
Let the sausage cool slightly then add it to the bowl of a food processor. Pulse until finely crumbled.
Return the sausage back to the skillet along with the onions, garlic and sun dried tomatoes.
Stir and let cook for 5 minuets until the onions have softened.
Carefully pour in the crushed tomatoes, stir and let simmer on low for 20 minutes.
After the sauce has simmered, stir in the cream and the peas.
Toss the spaghetti together with the sauce and serve.