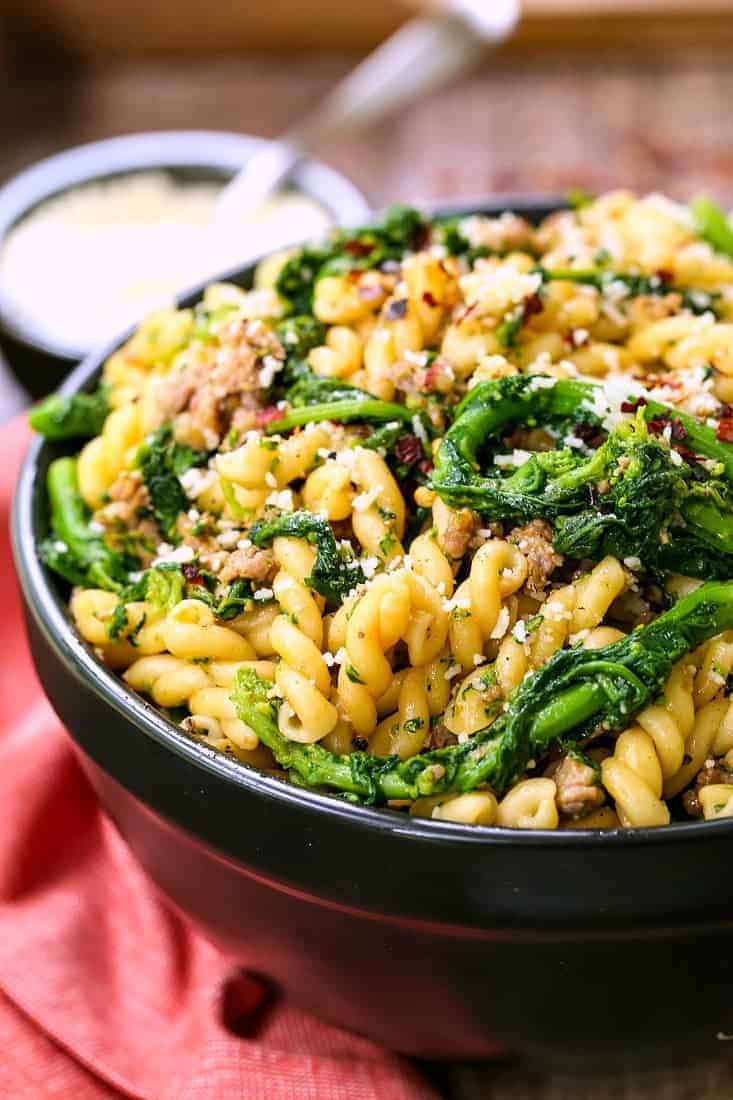 Pasta with Sausage and Broccolini
This Pasta with Sausage and Broccolini is one of our go to pasta recipes! Italian sausage and broccolini make this dinner a complete meal!
We love all kinds of pasta recipes! Also be sure and try our Grandma's Sunday Meatballs and Sauce or for a pasta filled soup recipe try our famous Beefy Tomato Soup!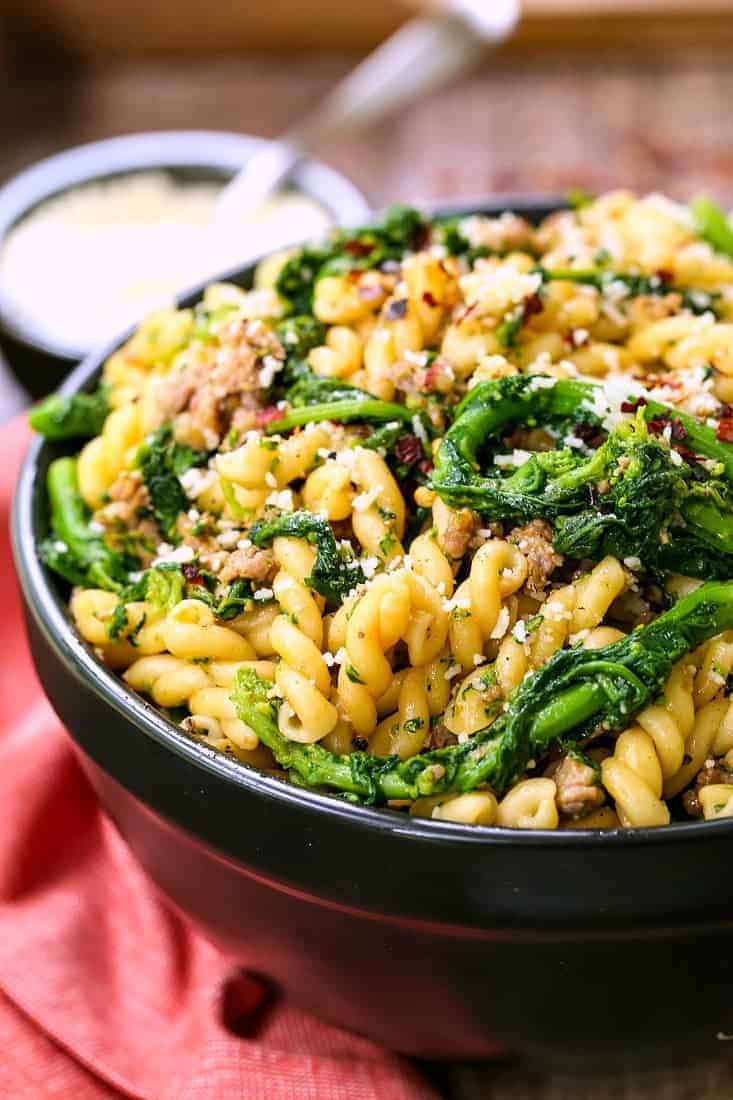 Can I Use A Different Type Of Pasta In This Recipe?
How many types of pasta can you name? I mean, there's a lot to choose from, so many that it's impossible to name them all!
Basically we can break down pasta shapes into three basic categories – tube shaped pasta, noodle shaped pasta and filled pasta like ravioli.
For this pasta recipe we used gemelli, which falls under tube shaped, even though there's no hole in the middle. So the point here is that you can use any short tube or long tube pasta shape like ziti or rigatoni if you have those on hand.
Boil up your pasta, SAVE THE WATER, (sorry for the shouting but it's crucial to making the sauce!) then add it to a bowl with the browned Italian sausage and cooked broccolini.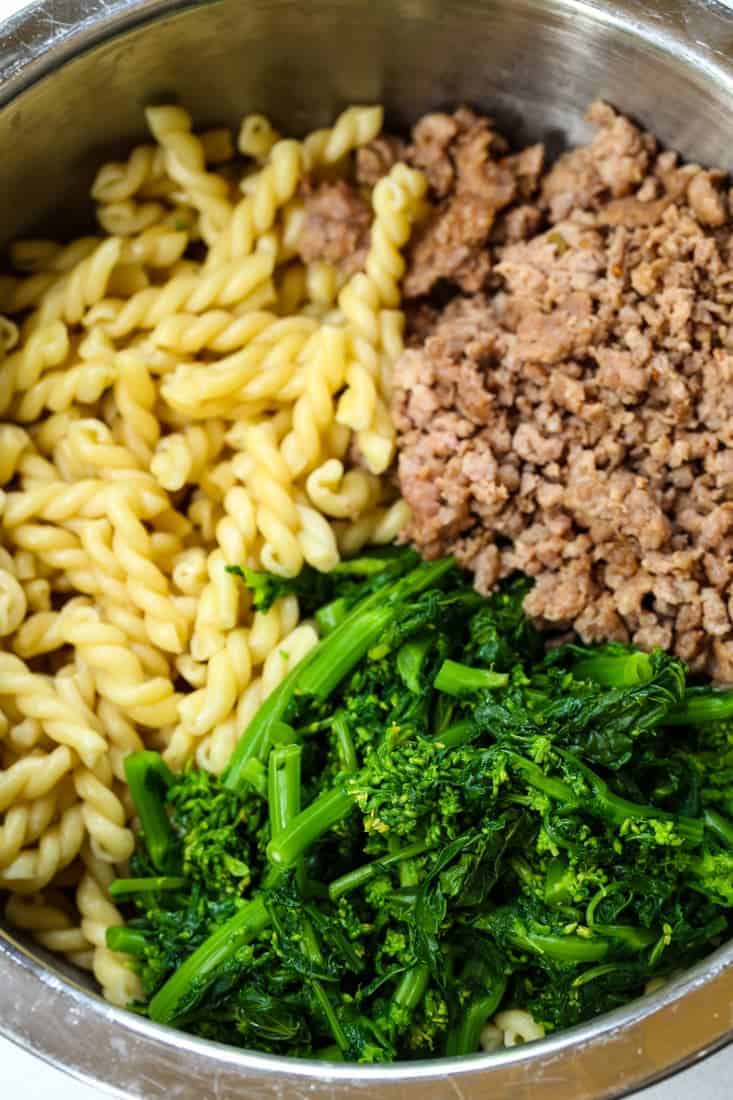 What Is Broccolini?
If you like broccoli, you're going to like broccolini too. Broccolini is very similar in flavor to regular broccoli but it has smaller florets and longer stalks. Since the stalks are longer and thinner they are more tender than regular broccoli stalks.
Because the stalks are tender, you use the whole piece of broccolini in your recipes as opposed to broccoli where you might trim off most of the stalks.
You can also use broccoli rabe in this pasta recipe or even regular broccoli. Just trim the stalks as you would for any recipe that you are using broccoli in.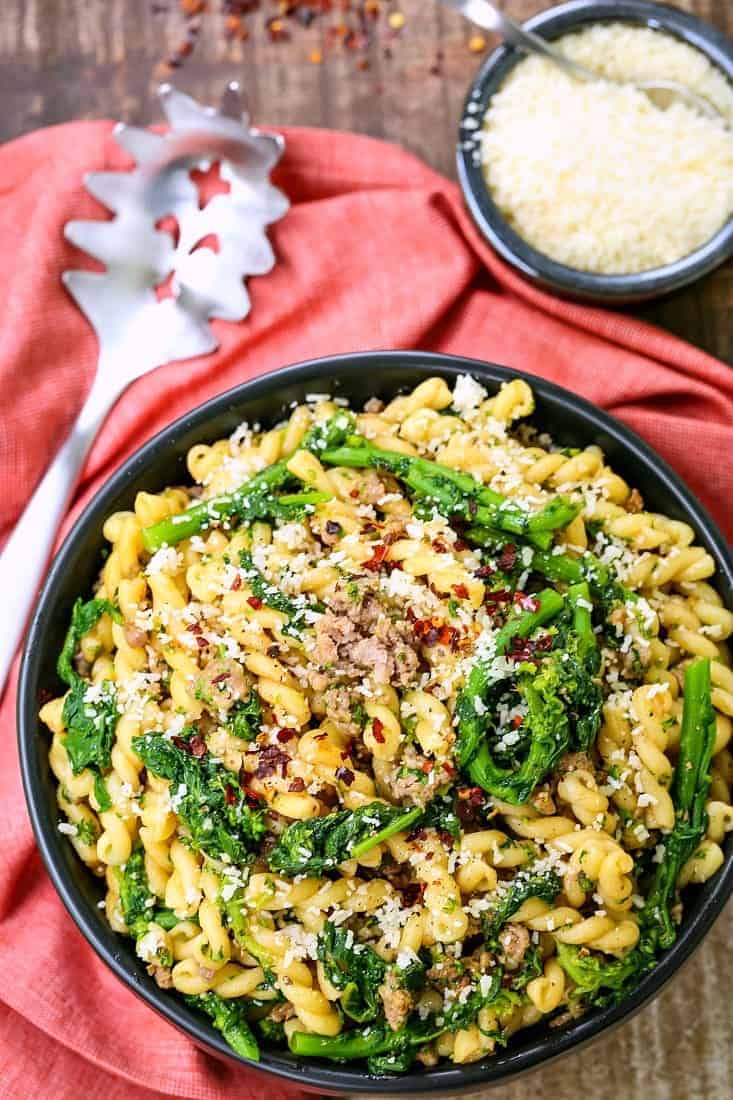 Once you cook the sausage, you can start making the sauce by adding tomato paste, beef broth and some of the pasta water to the skillet. Stir to combine with the sausage and then add the cooked pasta and broccolini back to the pan.
If you're skillet isn't large enough, add the pasta back to the skillet so you can toss it together with the sauce and the sausage, then pour it into a large bowl and toss together with the broccolini and parmesan cheese.
We love adding some crushed red pepper flakes to this pasta dish, but you can do that to your own bowl of pasta if you have kids that might not like the spice.
Not blow your head off spice but just a mild spiciness in the background…it's absolutely perfect.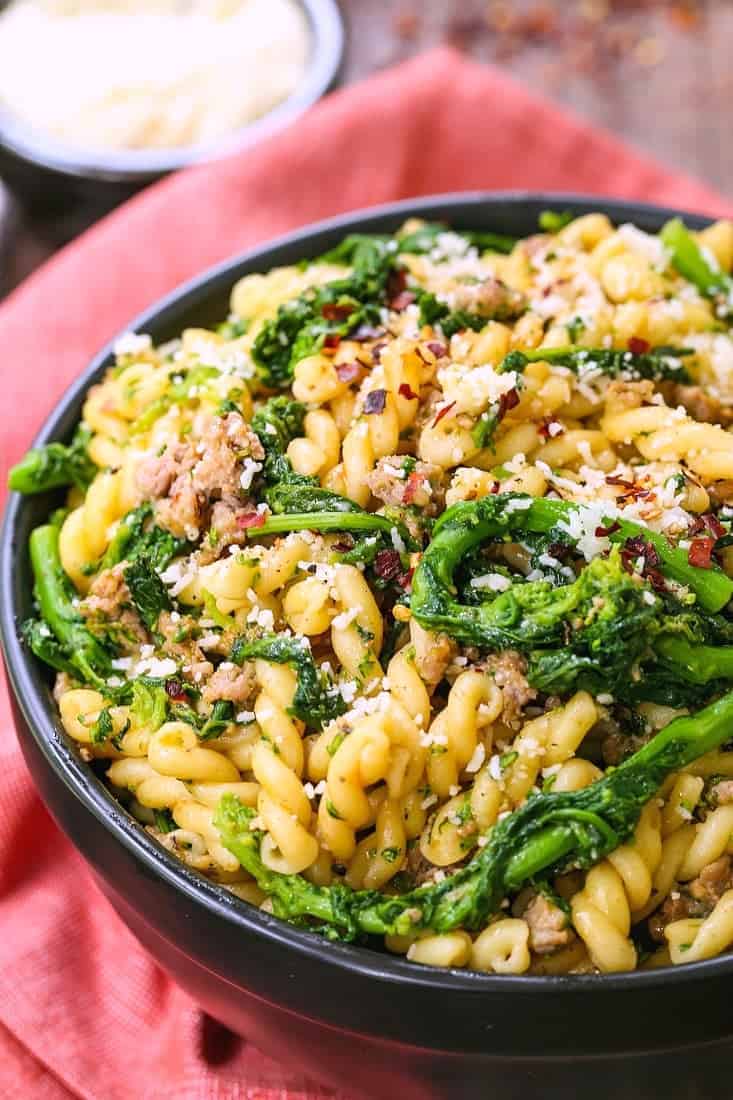 Looking For More Pasta Recipes?
Pin It!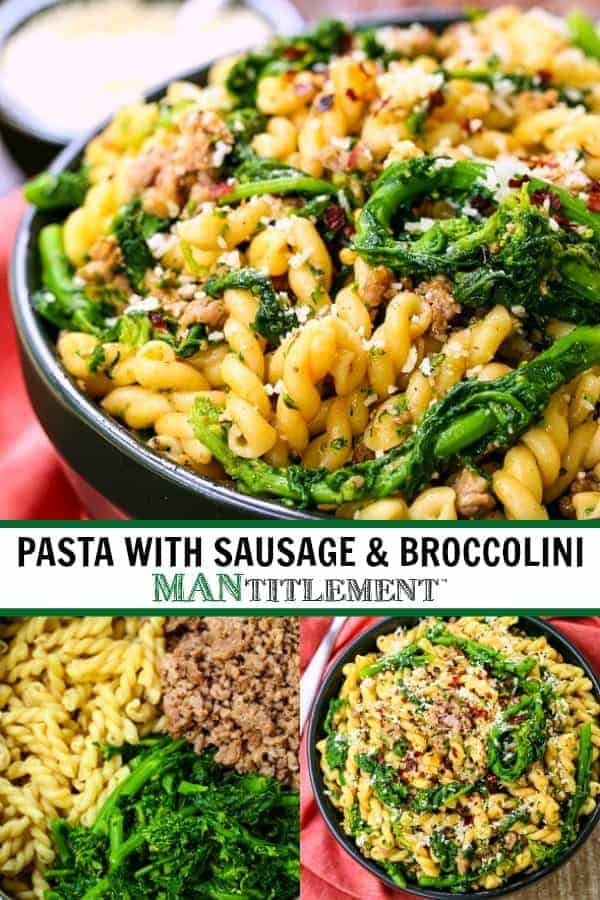 Yield: 6 Servings
Pasta with sausage and broccolini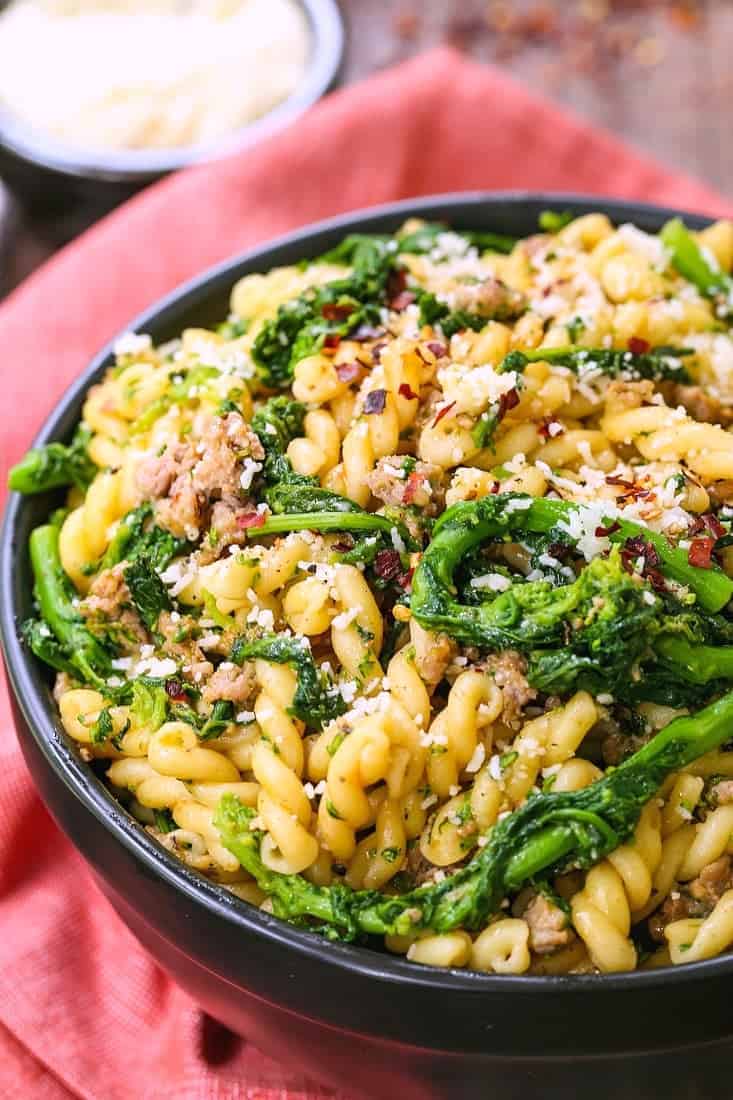 This simple pasta dish is a family favorite!
Ingredients
1 pound gemelli or other tube pasta such as rigatoni or penne
2 tablespoons olive oil
1 pound Italian sausage, casings removed
1 bunch broccolini or broccoli rabe
1 teaspoon kosher salt
Fresh black pepper to taste
2 teaspoons chopped garlic
1 tablespoon tomato paste
1/4 cup reserved pasta water
1/4 cup beef broth
1/2 cup grated parmesan cheese
Instructions
Bring a large pot of water to a boil for the broccolini. Add about a tablespoon of salt to the water then add the broccolini and cook for 3-4 minutes until bright green and tender but still crisp.
Scoop the broccolini out with tongs, add to a colander and rinse with cold water to stop the cooking process.
Return the pot of water to a boil and cook the pasta according to the package directions.
Before draining the pasta, ladle out about 1/2 cup of the pasta water and set aside. Drain the pasta, do not rinse with cold water, and set aside.
Add the olive oil to a 13 or 14 inch skillet then add the sausage to brown. Break the sausage up with a wooden spoon until it's completely cooked through and brown.
Drain some of the grease from the pan if necessary, then add the salt, pepper, garlic and tomato paste.
Pour in the beef broth and 1/4 cup of the pasta water and bring to a boil. Let the sauce reduce for 3 minutes, then add the cooked pasta and broccolini and toss to combine.
Add the parmesan cheese and taste for seasonings. Add more salt and pepper and parmesan cheese if needed, and more pasta water if the pasta is too dry.
Serve with crushed red pepper flakes and more parmesan cheese if desired.
Notes
If you don't have a 13 or 14 inch skillet, you can also make this in the bottom of the pot you used to cook the pasta.
Nutrition Information:
Yield:
6
Serving Size:
1
Amount Per Serving:
Calories:

475
Total Fat:

28g
Saturated Fat:

10g
Trans Fat:

0g
Unsaturated Fat:

21g
Cholesterol:

50mg
Sodium:

1114mg
Carbohydrates:

32g
Fiber:

3g
Sugar:

2g
Protein:

22g
This nutritional information is for informational purposes only. As I am not a nutritionist, this information is provided only as a courtesy.