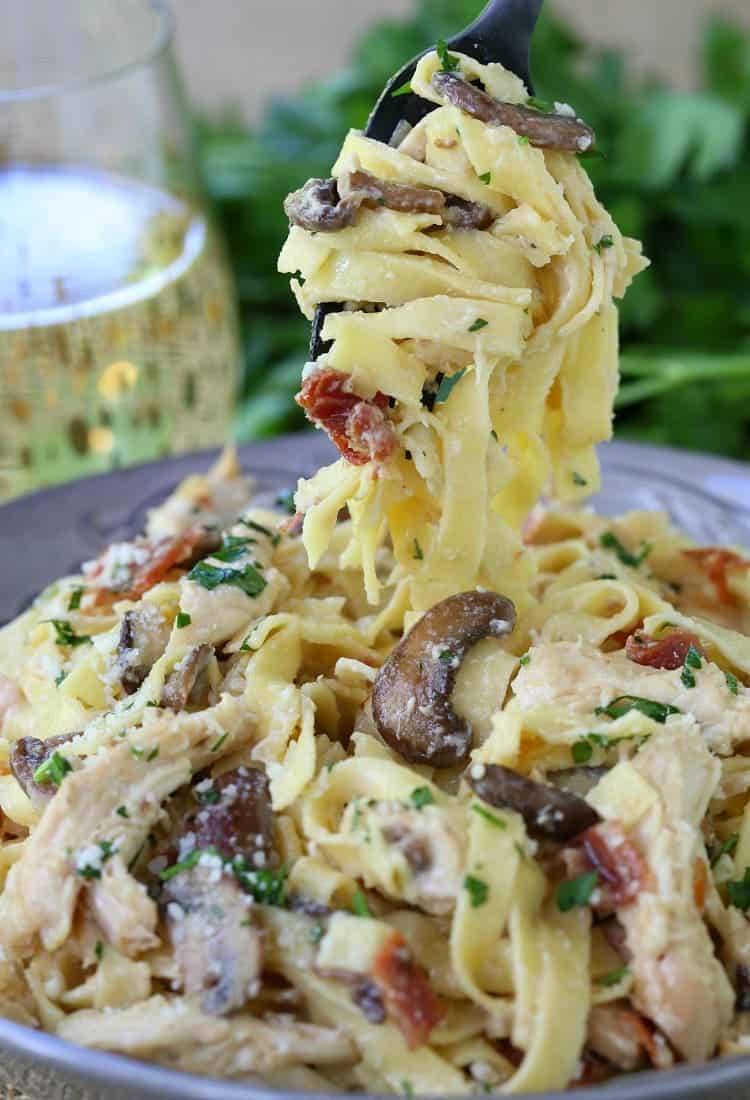 This Chicken Marsala Alfredo is going to rock your pasta dinner! Take some help from the store and get this dish on the table faster!
Pasta night is always a big hit at my house. The wife and I try to not eat pasta as much as we would normally want to, but our boys they could eat it every day.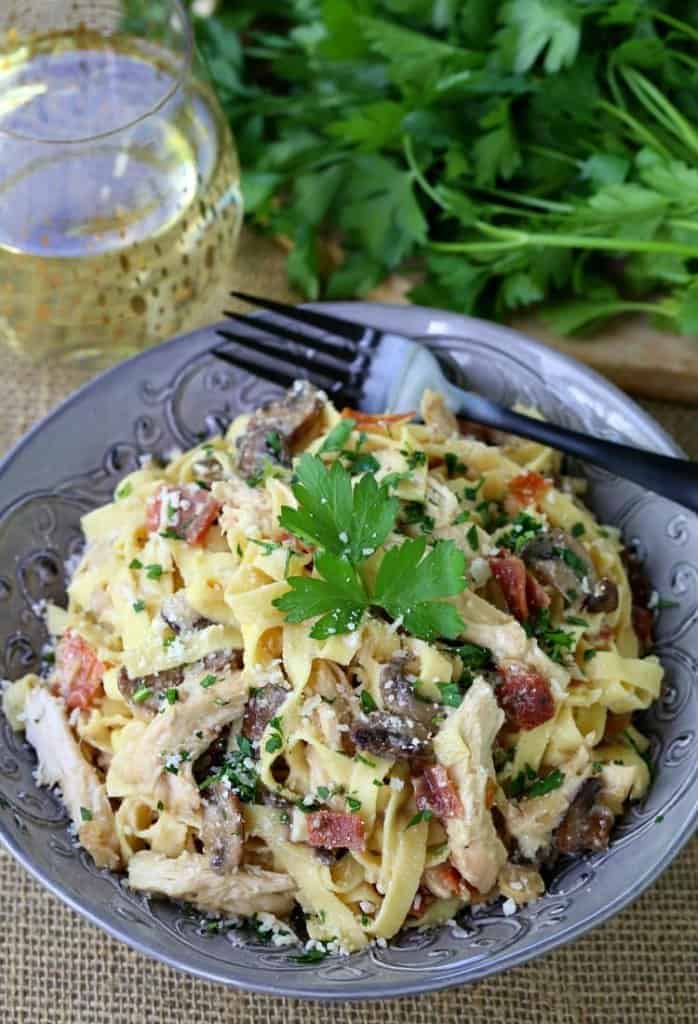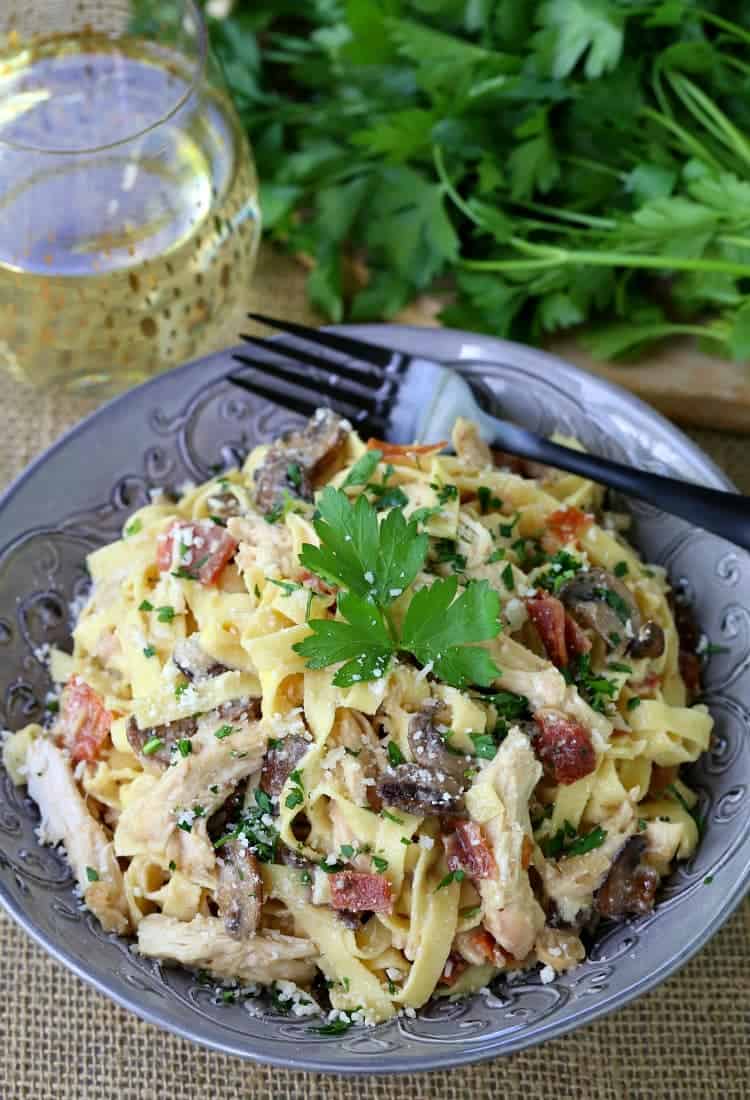 When my wife and I were first married, before kids…hard to remember that time but yep, before kids…we used to eat chicken marsala and twice baked potatoes for dinner at least once a week.
You can see how much I like chicken marsala recipes…I've made these Chicken Marsala Portobello Mushrooms, Chicken Marsala Mac and Cheese, Chicken Marsala Wings…there might even be a few more but I do like my chicken marsala.
And back in those days it was just the wife that did the cooking so she had that dinner down to a science, like on the table in 30.
But every once in a while either because we were out of potatoes or just to switch things up she'd swap out the potatoes for pasta. Just plain pasta really isn't my favorite but something about ho the sauce from the chicken marsala combined with the pasta made it unbelievably tasty.
This Chicken Marsala Alfredo is my version of that dinner from way back then…but with a cheesy alfredo sauce instead of plain pasta. You know I've got to kick things up just a little bit more.
Don't get all freaked out when you see the steps here, although this might not be a really quick and easy dinner, it's still doable in about 30 minutes. Especially if you grab a rotisserie chicken from the store.
I like prosciutto in this Chicken Marsala Alfredo but if you want to swap out bacon that's totally fine, the pancetta isn't smoked though so it does give this recipe a different flavor than bacon that I really like.
Crisp the pancetta in a pan then take it out but leave any drippings behind to cook up the mushrooms. You want to get the mushrooms nice and brown so ti's going to take about 10 minutes for that step.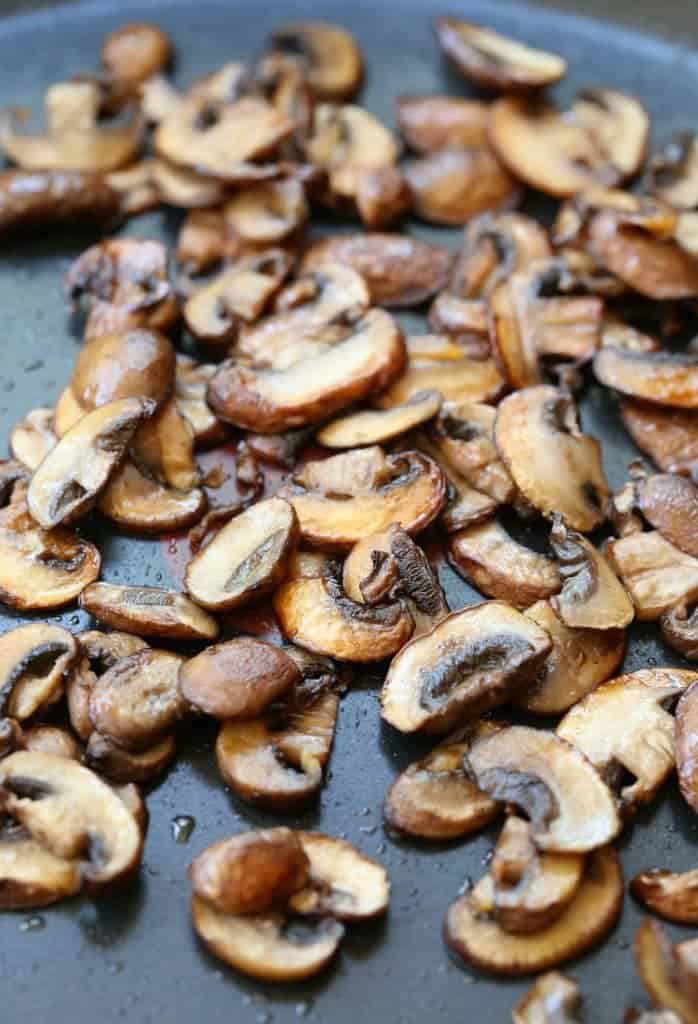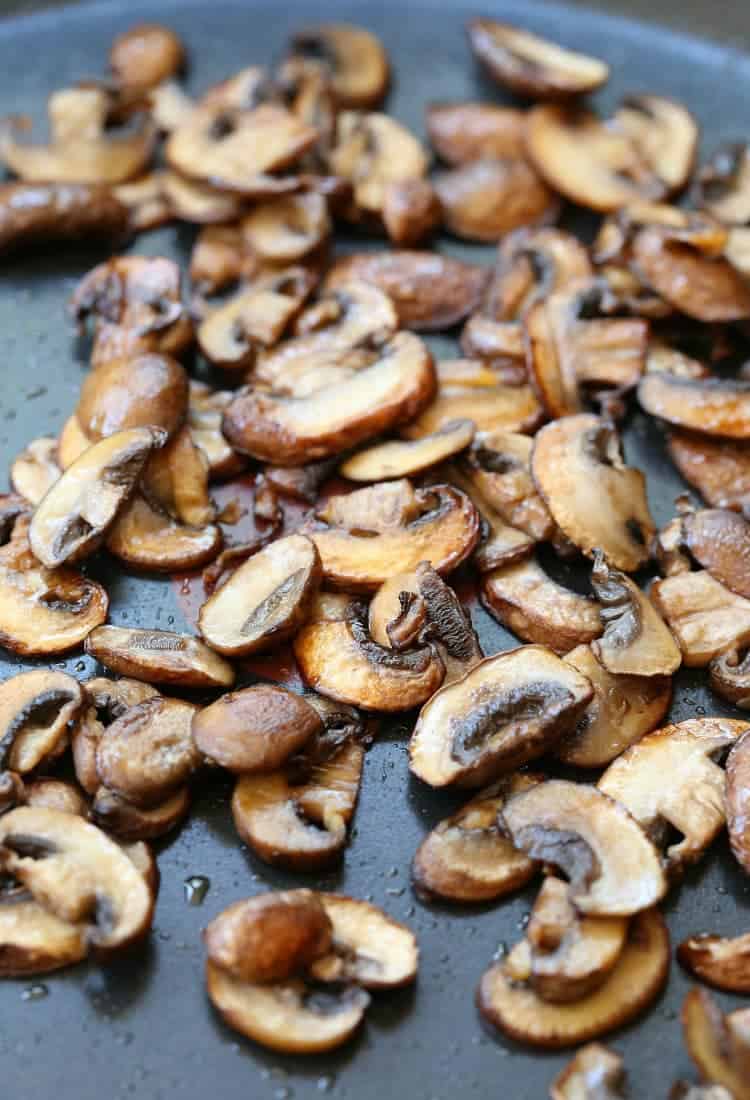 But don't worry, you save all that time buying the chicken already, just skin it, shred it and set it aside.
After the mushrooms are browned, add the onions and garlic, cook for a few minutes for the onion to soften then pour in marsala wine. Try not to use the cooking wine that they sell in the grocery store for this – it's really pretty awful tasting and there's a lot of marsala in here so you want the good stuff.
The good marsala only costs like 10 bucks a bottle in the liquor store so it's not a huge investment. And if you're planning on making this Chicken Marsala Alfredo as much as we do, it'll be a good investment too.
Now you're going to pour in cream, butter and parmsesan cheese – yep this is an alfredo sauce. Lots of rich ingredients going on here…but we're going to add los of fresh pasta so it's not going to be drowning in sauce.
When the alfredo sauce is thickened you can add the shredded chicken to the pan along with the crispy prosciutto and pasta. Toss it all together and serve.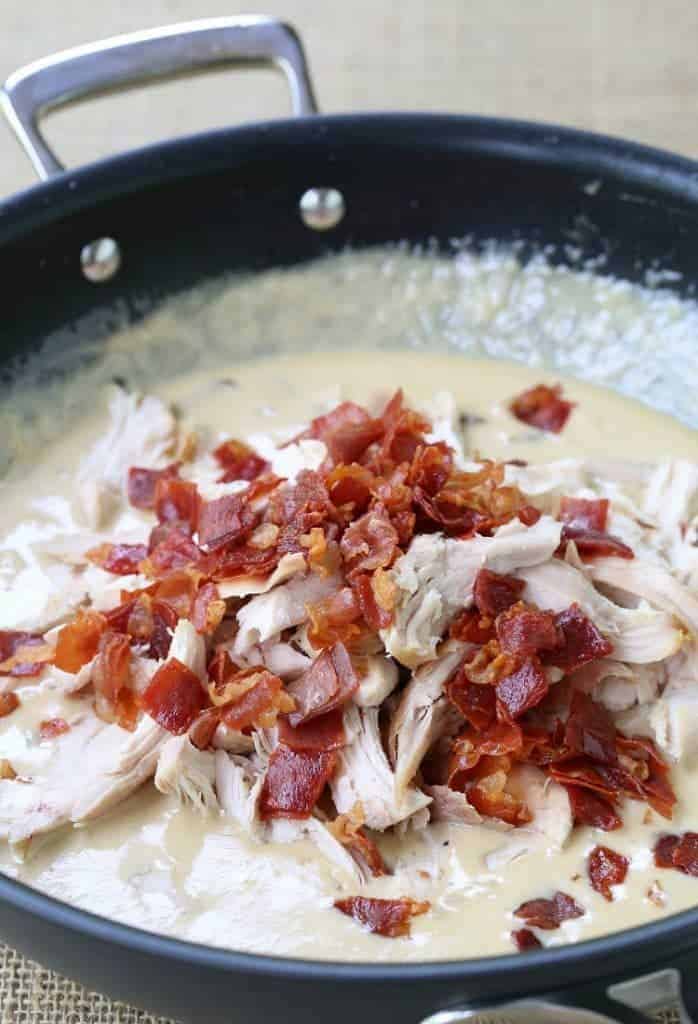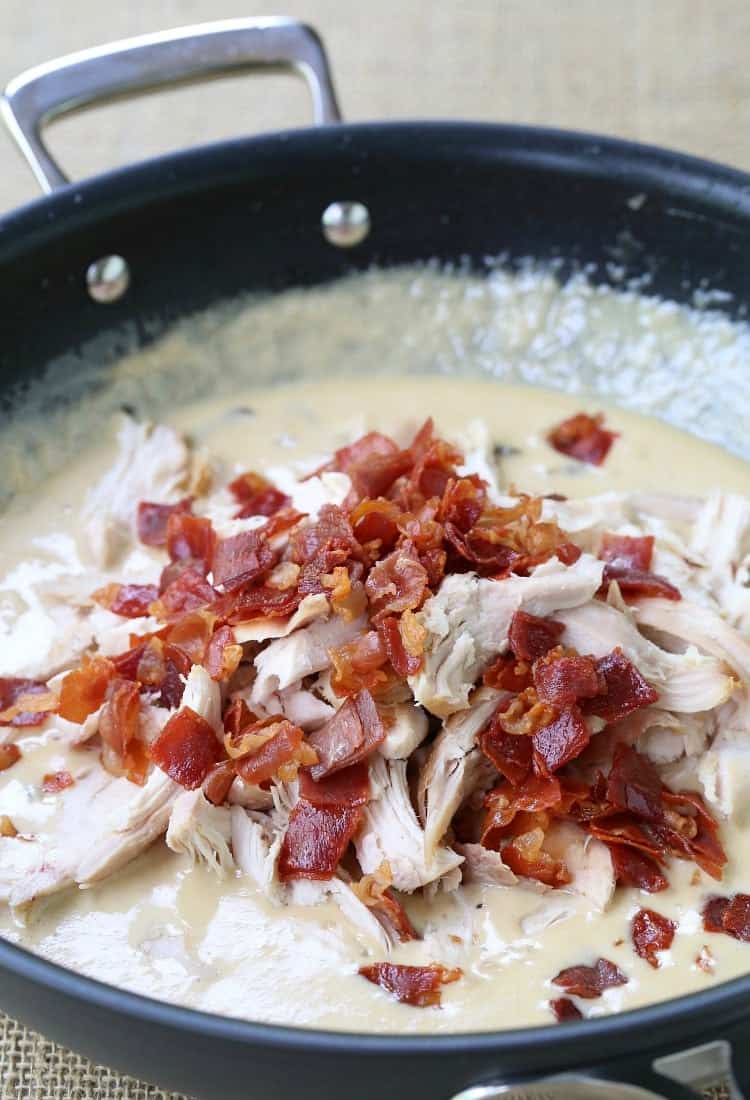 I think it's easier to put the drained pasta back in the pot and pour the sauce over the top, then toss. It's a lot of food going on here so the large pasta pot gives you more room to combine the ingredients. Because you want every piece of pasta covered in sauce, no doubt.
Serve this Chicken Marsala Alfredo withe fresh chopped parsley and some more parmesan cheese on top if you're like me and my boys and want the most cheese possible…then dig in.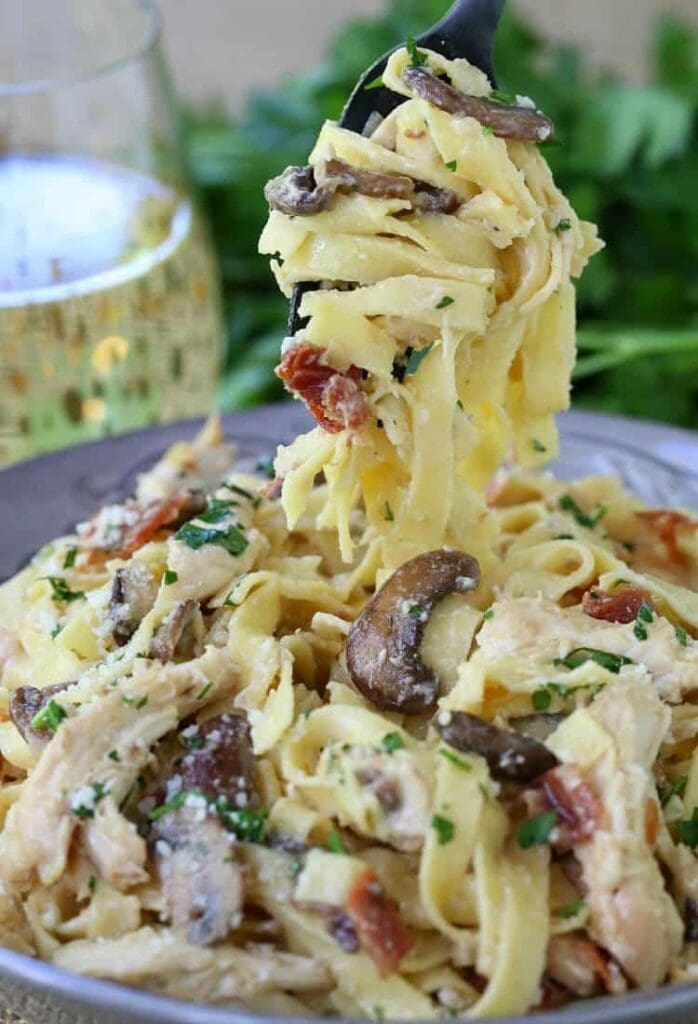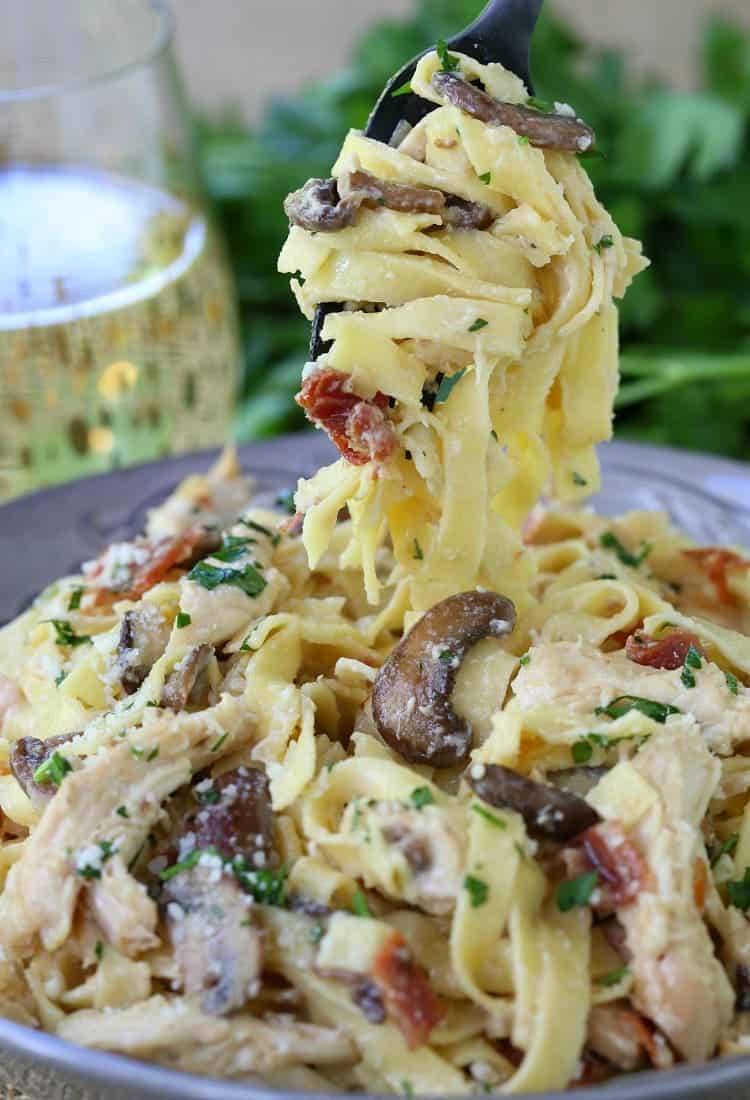 I'm trying to make this recipe a lot these days since the boys like it so much, trying to get it down to a 30 minutes meal like back in the days of our chicken marsala and twice baked potatoes!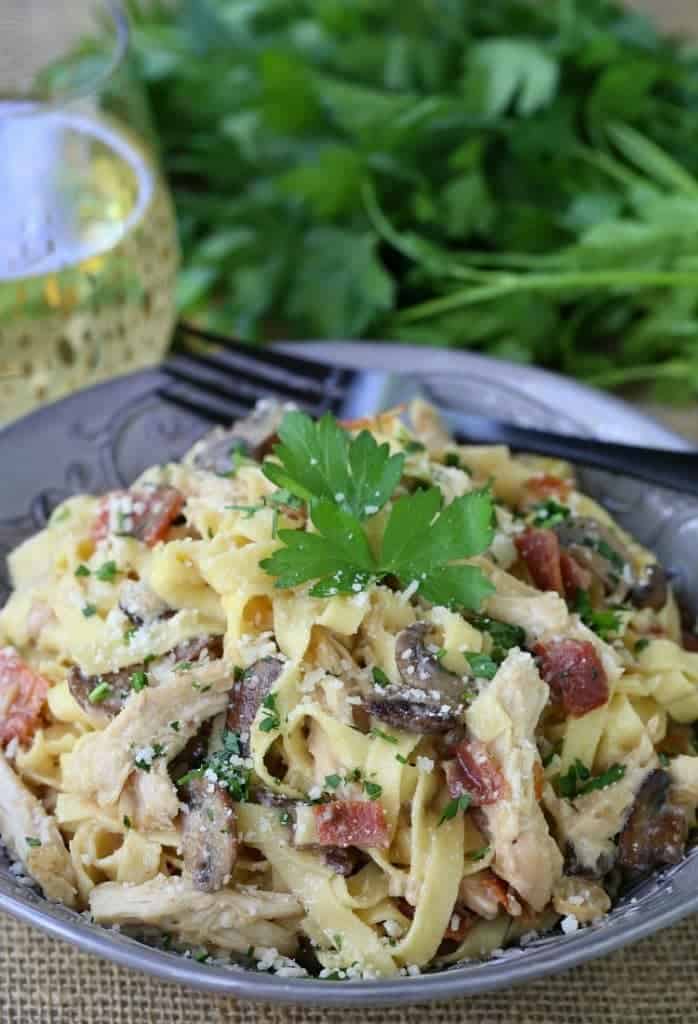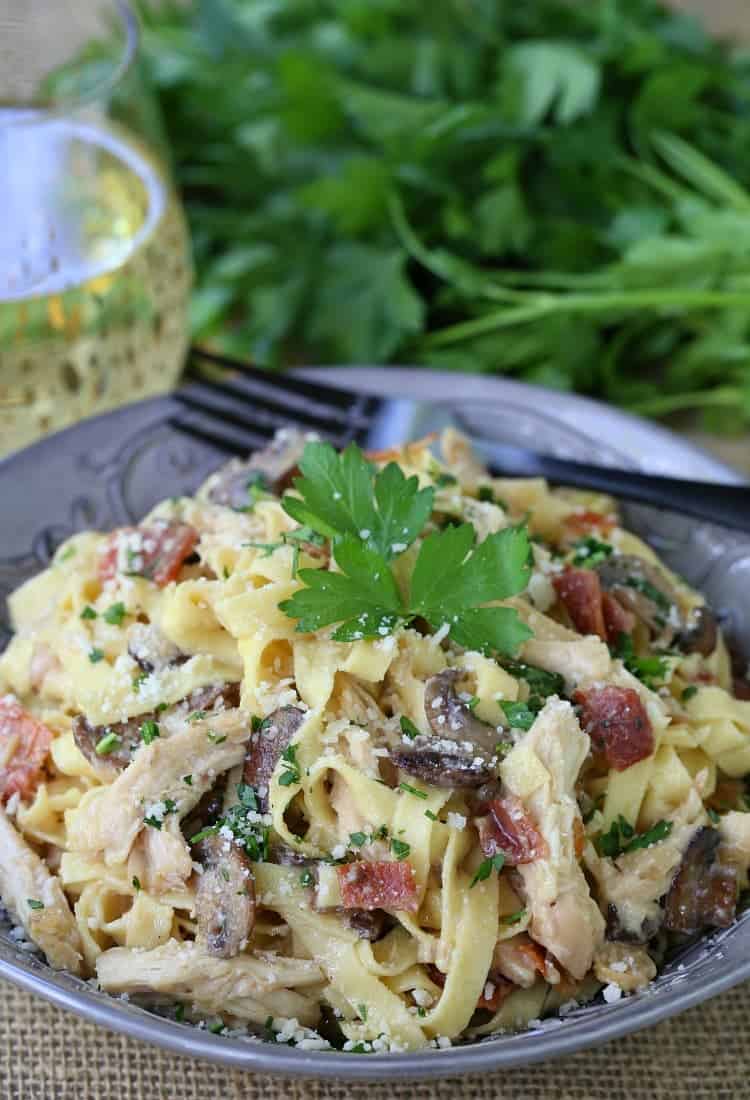 Print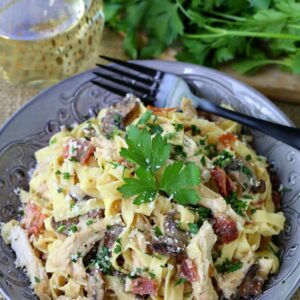 Chicken Marsala Alfredo
Author:

Yield:

6
---
Ingredients
2 (9 oz.) packages of fresh fettuccine can substitute a 1 pound box of dried pasta
1 tablespoon olive oil
10 oz. package of mushrooms, wiped clean and sliced
1 onion, chopped
3 large cloves of garlic, minced
3 oz. package of prosciutto, chopped
1 rotisserie chicken, skin removed and shredded
2 cups of heavy cream
4 tablespoons butter
3/4 cup grated parmesan cheese
1/2 cup marsala wine
salt and pepper to taste
olive oil
parsley, chopped finely for garnish
extra parmesan cheese for garnish
---
Instructions
Start a large pot of water to boil for the pasta.
Add the olive oil to a large skillet over medium heat. Add the prosciutto and brown for 5 minutes until crisp.
Remove the prosciutto from the pan and set on a paper towel to drain.
To the same pan, add the mushrooms and brown, stirring for 8-10 minutes until browned. Season with salt and pepper to taste, then add the onions, stir and cook for another 5 minutes.
Add the garlic, stir for 30 seconds then pour in the marsala wine and let reduce for 3-4 minutes.
Pour in the cream and let come to a simmer, then add the butter and stir until melted.
Add the parmesan cheese and stir until combined.
Add the pasta to the boiling water and cook according to package directions. Drain and return the pasta to the pot.
Add the shredded chicken, prosciutto to the sauce, stirring to combine.
Pour the sauce over the pasta in the pot and toss together gently until all the pasta is coated.
Garnish with chopped parley and parmesan cheese and serve.