Gemelli with Sausage and Asparagus is one of our all time favorite pasta recipes! White wine and sun dried tomatoes add so much flavor to the sauce!
We love making easy but authentic tasting pasta recipes like this! Check out our super simple Penne Alla Vodka recipe, that our boys make all the time by themselves – or this creamy, bacon filled Pasta Carbonara. Both of these pasta dishes can be on the table in just 20 minutes!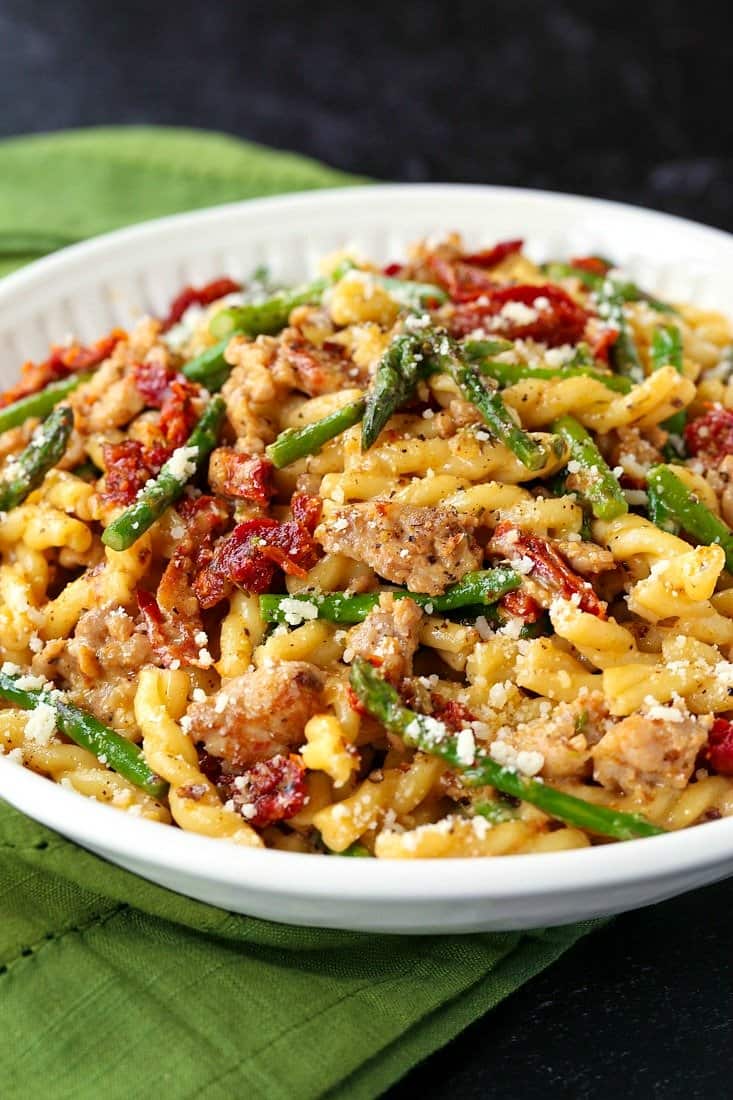 A Restaurant Worthy Pasta Recipe
These days we aren't finding ourselves going out to eat as much as we used to, but we're still craving amazing pasta recipes like this Gemelli with Sausage and Asparagus!
There's a few tricks to getting a pasta dish to turn out tasting as good as it does when you go out to eat at a restaurant, and we're here to share them with you today. Because even if we can't go out to eat we should still be able to enjoy our favorite flavors right at home! Plus it's way more budget friendly to eat and drink in your own kitchen rather than going out and paying restaurant prices.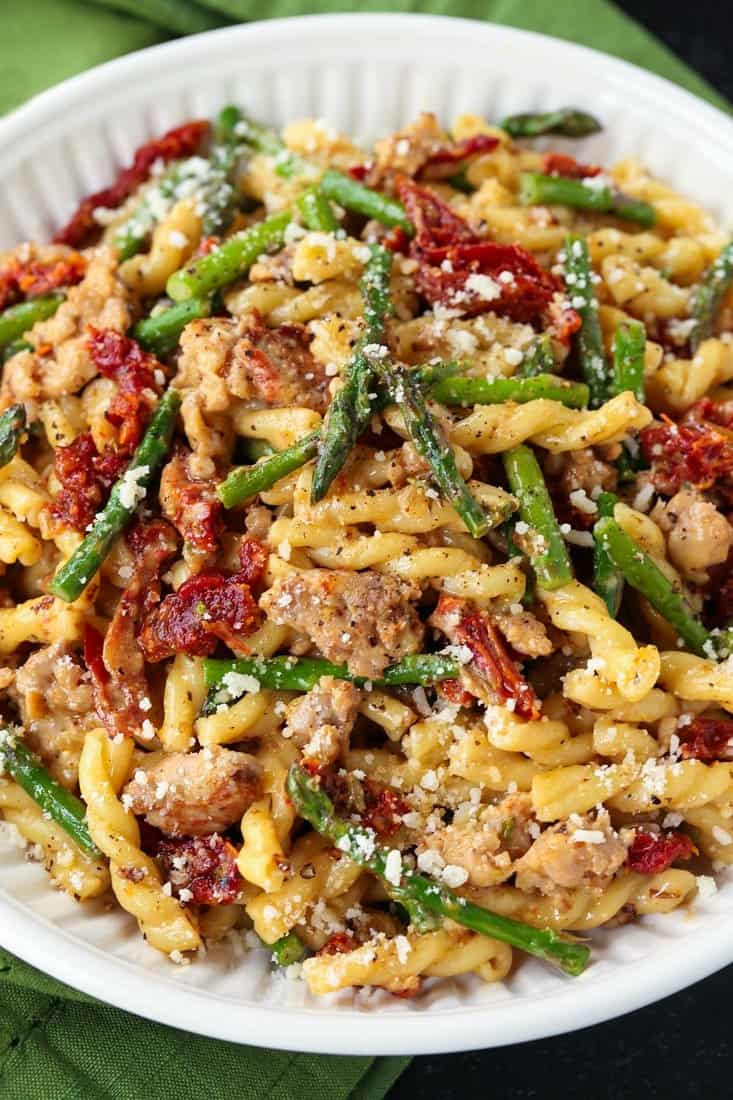 Ingredients To Make Gemelli with Sausage and Asparagus
As you might have guesses, there's sausage and asparagus in this pasta recipe! We'll run down the list and give you a few swap out/add in ideas, too!
Gemelli: Gemelli is this fun, tube shape pasta that we used in this recipe. It doesn't have a hollow center like rigatoni or penne. But when it cooks up it's tender and almost chewy, and all the ridges cling to the sauce. However you can swap out another tube shape pasta if you prefer, even rotini would be delicious!
Italian Sausage: This sausage adds tons of flavor so I wouldn't recommend substituting it with anything, really. We've also made this recipe with chicken sausage, too and it's wonderful. In a pinch you can use regular bulk pork sausage but you really want the flavor that sausage adds instead of ground beef, for instance.
Asparagus: Fresh asparagus is best, but if you only have frozen that will work too.
White Wine: A dry white wine that you enjoy drinking.
Sun Dried Tomatoes: Sun dried tomatoes give you a flavor packed bang for your buck. Just a few in a pasta recipe like this one will make all the difference.
Garlic: Fresh garlic is always the best option – and no, we won't tell you how much to put in here…that's a personal matter;)
Onion: Sweet yellow onions are best for this pasta recipe.
Chicken Broth: Use the best tasting chicken broth or stock you can find.
Heavy Cream: Don't swap out the heavy cream in this sauce, milk or half and half will result in a much thinner sauce that won't cling to the pasta.
Parmesan Cheese: The best quality parmesan cheese you can find – not the stuff in the can.
How To Make This Pasta and Asparagus Recipe
Start by browning the sausage with onion and garlic in a large skillet. Once the sausage has browned through, add fresh asparagus, sun dried tomatoes and the seasonings to the skillet.
Pour in white wine to deglaze the bottom of the pan, scraping up and brown bits from the skillet. Let the wine reduce until it's almost evaporated as shown in the picture below.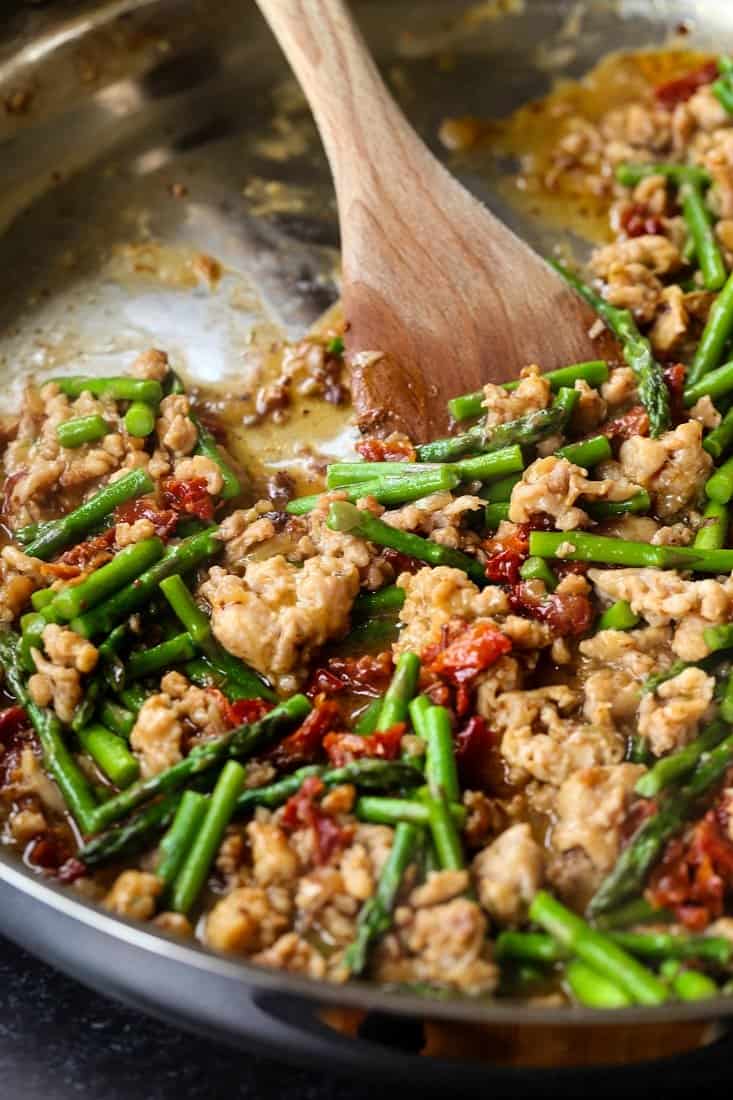 Now it's time to add the cream and chicken broth to make the sauce. Heavy cream is going to add the most flavor to this pasta sauce, and the best consistency. So try not to swap it out for light cream or half and half, and definitely not milk.
Our recipe here has the perfect proportions for us, but if you like your sauce thicker or thinner you can adjust as needed by adding a little more cream if you like.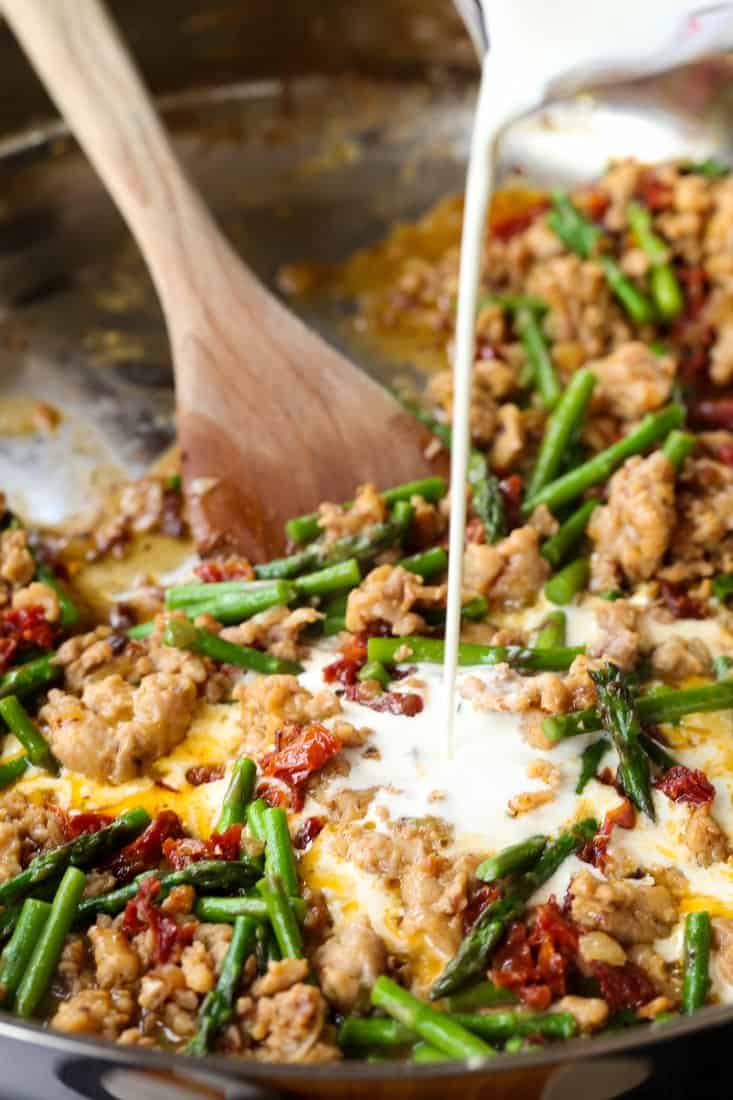 Once the sauce is together, let it simmer with the asparagus and sausage for about 5 minutes to thicken and then taste for seasonings and adjust if needed.
Add the cooked gemelli pasta, stir together and let simmer another 5 minutes to combine with the sauce and then get ready to serve. We love serving this Gemelli with Sausage and Asparagus with fresh grated black pepper and lots of good parmesan cheese!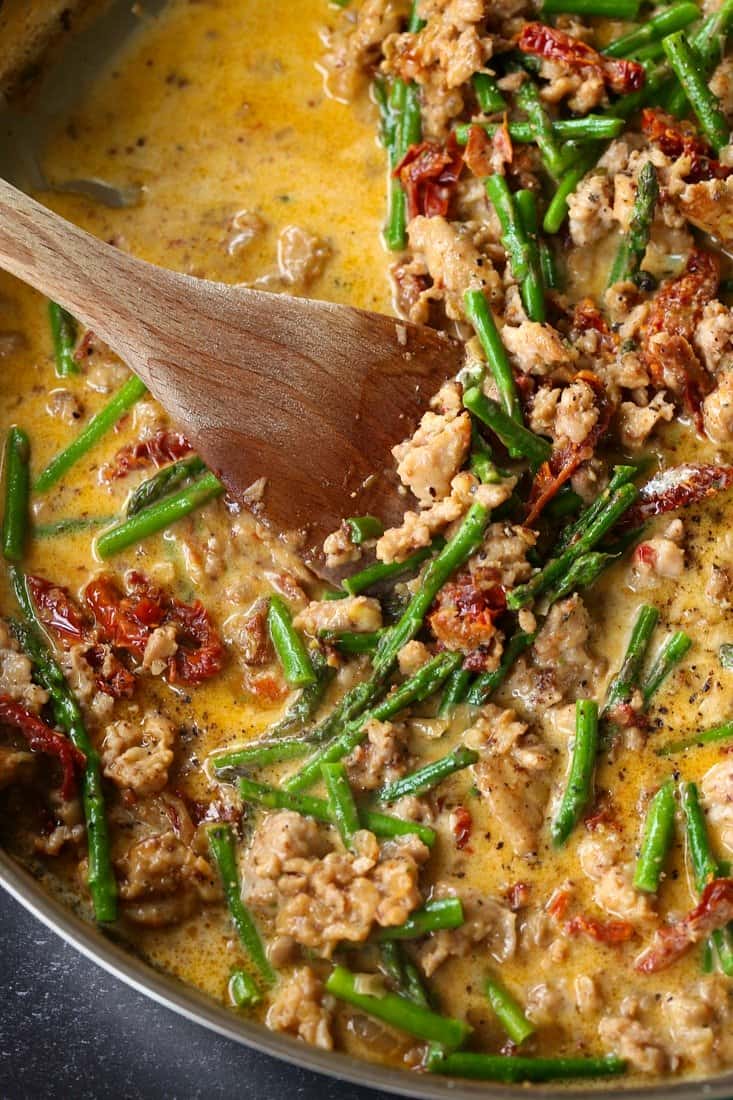 Tips For Reheating This Pasta and Asparagus Recipe
This is one of those pasta recipes that the sauce gets soaked up by the pasta as it sits. So this sausage and asparagus pasta is best served immediately, but leftovers are still fantastic.
A couple of minutes in the microwave works best for reheating this pasta. If the pasta gets too dry out you can add a splash of chicken broth or cream (or both) before heating up in the microwave. Doing this will release the sauce from the cooked pasta and combine the flavors again with the broth and cream.
Honestly, there have been zero complaints at our house if any of this pasta is leftover the next day! We usually don't have too many leftovers, so when we do everyone fights for them!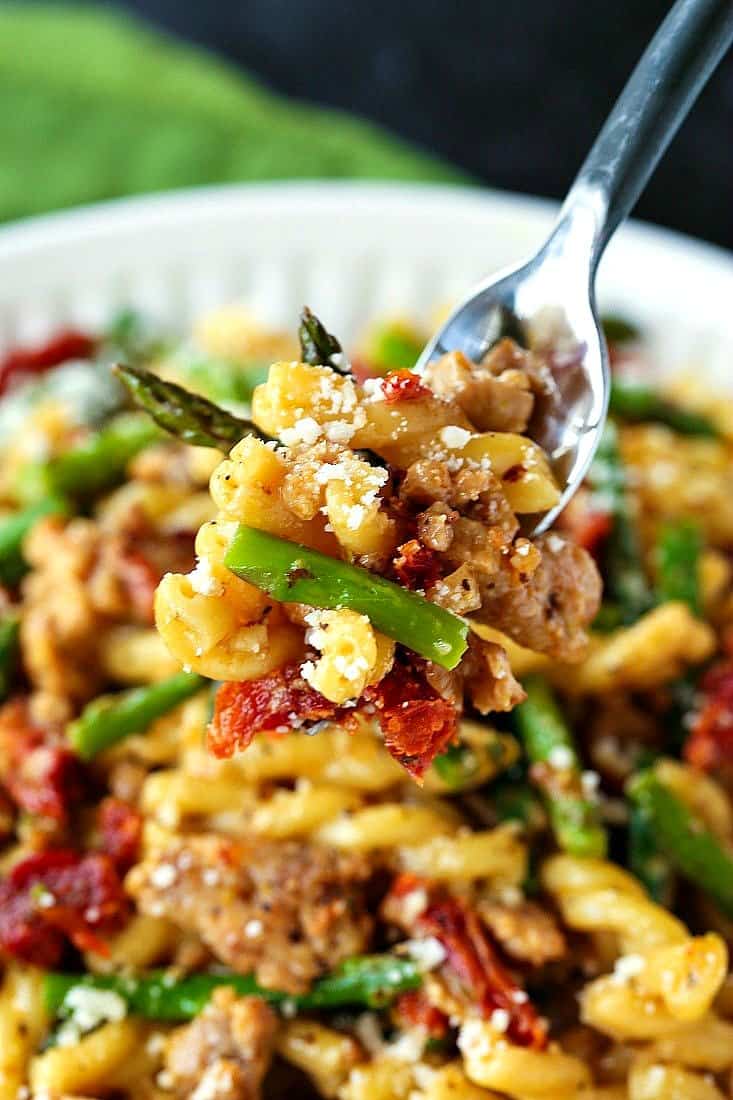 Tips for Making This Pasta Recipe As Good As A Restaurant
Start by undercooking the pasta by a minute or two. The reason for this is that the pasta will cook for another couple of minutes in the sauce and for one, you don't want the pasta to then be over cooked. The other reason is that you want the pasta to still have room to expand in the sauce so that it can absorb the flavor.
Do use the best quality ingredients that you can get. Your recipe is only as good as the ingredients that you use, so use the best quality that you can find. For instance, canned parmesan cheese isn't going to add as much nutty, parmesan flavor to this pasta recipe as fresh grated. Fresh asparagus will taste better than frozen, but in a pinch you can swap out frozen if it's what you have to use.
Let the wine reduce and properly before adding the chicken broth. You want the flavor of the wine that you're adding, not really as an ingredient in the sauce. Let the wine reduce until it's just about evaporated before adding the chicken broth.
When you add the cooked pasta to the sauce, stir to combine and let it cook for 2-3 minutes in the sauce before serving. This step is one that a lot of people skip, once they stir the sauce into the pasta they serve it right away. If you let the pasta cook another couple of minutes in the sauce it will absorb so many more flavors – it'll taste just like your favorite restaurant!
Looking For More Pasta Recipes?
Print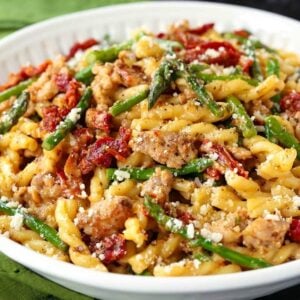 Gemelli with Sausage and Asparagus
Author:

Prep Time:

10 minutes

Cook Time:

15 minutes

Total Time:

25 minutes

Yield:

6

Servings

1

x
This pasta recipe is so full of flavor, you'll think it came from your favorite Italian restaurant!
Scale
Ingredients
12 ounces gemelli or other tube shaped pasta
1 tablespoon olive oil
3/4 pound Italian sausage (can also use chicken sausage or bulk pork sausage)
1/2 cup diced onion
1 teaspoon chopped garlic
3/4 pound asparagus, ends trimmed and cut into thirds
1 tablespoon flour
1/2 cup dry white wine
1 cup chicken broth
1/2 cup heavy cream
1/2 teaspoon kosher salt
Fresh black pepper to taste
1/2 cup chopped sun dried tomatoes in oil
Grated parmesan cheese for serving
Instructions
Cook the gemelli just a minute or two shy of the package directions. Drain and set aside.
Heat oil in a large, 12 or 13 inch skillet over medium heat. Add the sausage, breaking up as it browns. Once the sausage has cooked through, add the onions and cook 5 minutes until the onions have softened. Add the garlic to the skillet and cook for one minute longer.
Add the asparagus to the pan and stir to combine with the sausage. Cook for 2-3 minute until the asparagus has turned a bright green color, then sprinkle the flour into the pan and stir to combine.
Pour the wine into the skillet and let it reduce, while scraping up the bottom of the skillet, for 2-3 minutes. Next add the chicken broth and stir, then bring the sauce to a simmer. Simmer the sauce for 2-3 minutes to thicken, then stir in the cream.
Season the sauce with the salt and pepper, then add sun dried tomatoes and cooked pasta to the skillet. Stir to combine the pasta with sauce and cook for 2-3 minutes.
Serve immediately in bowls and garnish with parmesan cheese and fresh black pepper if desired.
Category:

Dinner

Method:

Stove Top

Cuisine:

American
Keywords: pasta recipe, pasta with asparagus, pasta with sausage, dinner recipes, dinner ideas, gemelli pasta