Guinness Shepherd's Pie is our take on the classic recipe with a splash of dark beer! This beef and potato casserole is total comfort food!
Looking for more recipes for the epic St. Patrick's Day party that you're planning? Also check out our Crock Pot Corned Beef and these crazy good Roasted Cabbage Steaks!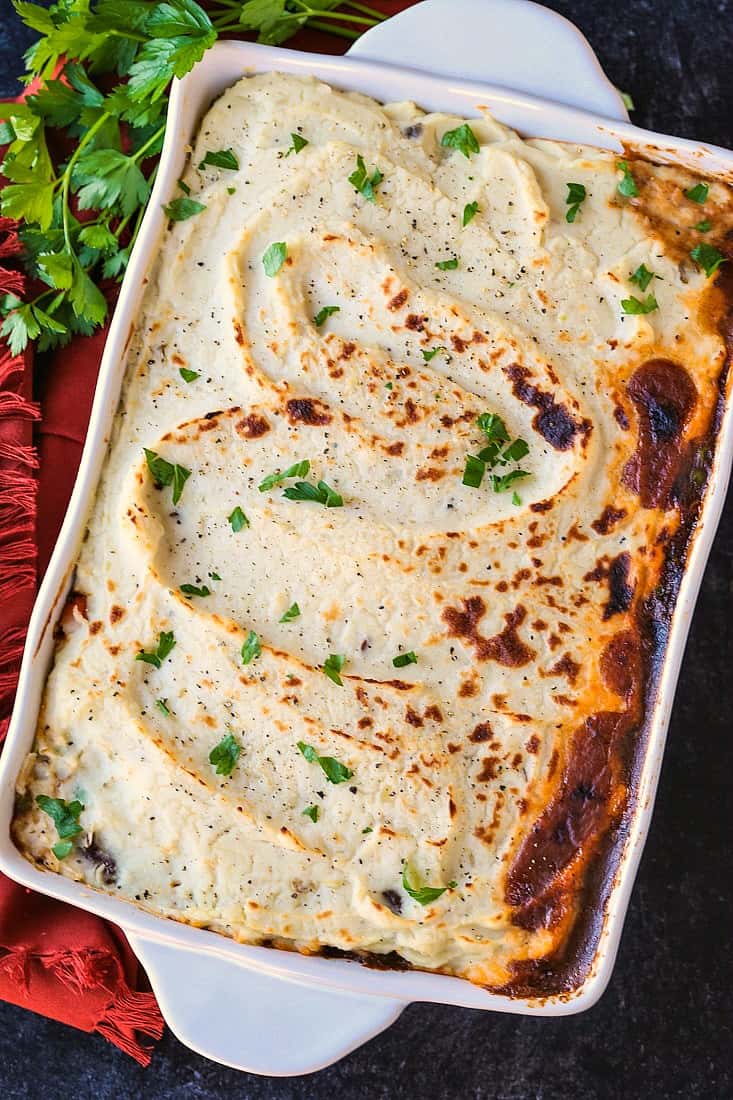 What Is Shepherd's Pie?
Shepherd's Pie, or Cottage Pie, is a meat pie topped with a potato crust. Often, we see the top of the casserole with a mashed potato topping but it could be layers of thinly sliced potatoes or even tater tots or shredded potatoes.
Sometimes you'll even find a shepherd's pie recipe with a layer of cheese instead of potatoes, but we're going with a more traditional recipe here.
The filling can consist of beef or lamb that's been cooked like a stew in gravy with peas, carrots and onions. Other vegetables can include mushrooms or celery or whatever you would add to your favorite stew recipe.
Another variation that you'll find with shepherd's pie recipes is ground beef or lamb or pieces of beef or lamb, more like a stew. We like using pieces of beef for our filling and essentially making a delicious, thick beef stew for our bottom layer.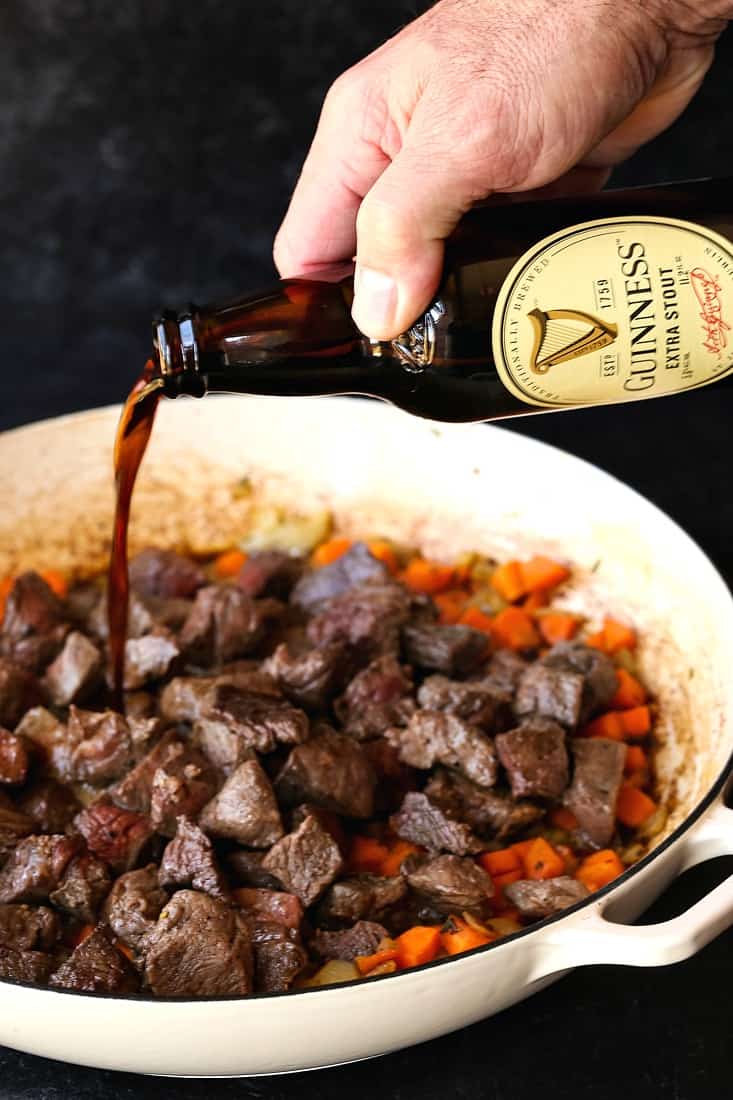 How Do You Make Shepherd's Pie?
Start out by making the beef filling which like we said before is basically like making a beef stew. Once the stew is finished you can transfer it to a 9″ x 13″ 2 quart baking dish. This recipe makes a TON of food so make sure you have a nice, deep casserole dish.
Now it's time for the mashed potato layer! You can make your own Mashed Potato Recipe and use it on the top of this casserole, or you can buy pre-made mashed potatoes right from the grocery store.
If we have leftover mashed potatoes then we'll most likely use those for this recipe. But if we're starting this Guinness Shepherd's Pie from scratch we'll just grab our favorite store bought brand.
What Are The Ingredients For This Guinness Shepherd's Pie?
Well of course you're going to need some Guinness Beer! We're swapping out beef for the wine that you would use to deglaze the pan when you make a beef stew, very much like our Marsala Beef Stew recipe.
Besides seasonings, the basic ingredients that you need to make this shepherd's pie are as follows:
Beef tips or stew meat (chuck): Chuck is a cut of type of beef that has a lot of marbling, you can buy a whole chuck roast and cut it up or grab already cut up pieces at the butcher counter
Frozen peas: You can also use a bag of frozen peas and carrots instead of using fresh carrots.
Carrots: We like using up our fresh carrots in the refrigerator for this recipe, but as we said above you can use frozen, too.
Onions: Sweet, yellow onions give tons of flavor to this stew!
Beef broth: Beef broth will help make the sauce rich and flavorful, do use a good quality beef stock.
Beer: We used Guinness beer, but you can use any dark stout that you like
Rosemary: Fresh rosemary is very flavorful but also a strong herb. If you don't like rosemary you can substitute fresh thyme as well.
Tomato paste: Tomato paste will add depth and flavor to the gravy.
Mashed potatoes: Homemade or leftover mashed potatoes work, also store bought ready made mashed potatoes work great in this recipe!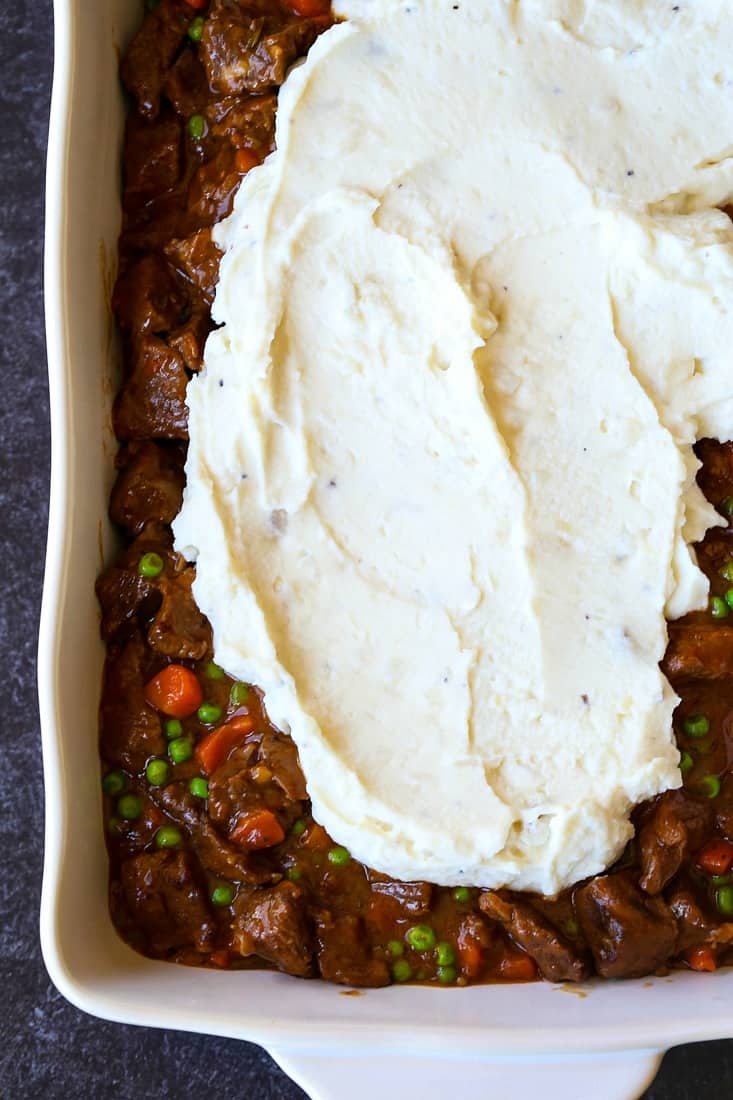 You can swap out a 10 ounce bag of frozen peas and carrots if you have that on hand, too. We seem to always have giant bags of carrot in our refrigerator so this is a good recipe to use them up.
Once you get the stew made and top it with the mashed potatoes, you're pretty much there. Just place the baking dish in the oven on a sheet pan to prevent any spilling over and bake at 400 degrees for 25 minutes.
When this Guinness Shepherd's Pie comes out of the oven the beef stew filling will be bubbling up over the layer of browned mashed potatoes. I'm telling you guys, this recipe is totally whet you need for your St. Patrick's Day dinner, or any night that you need some hearty comfort food.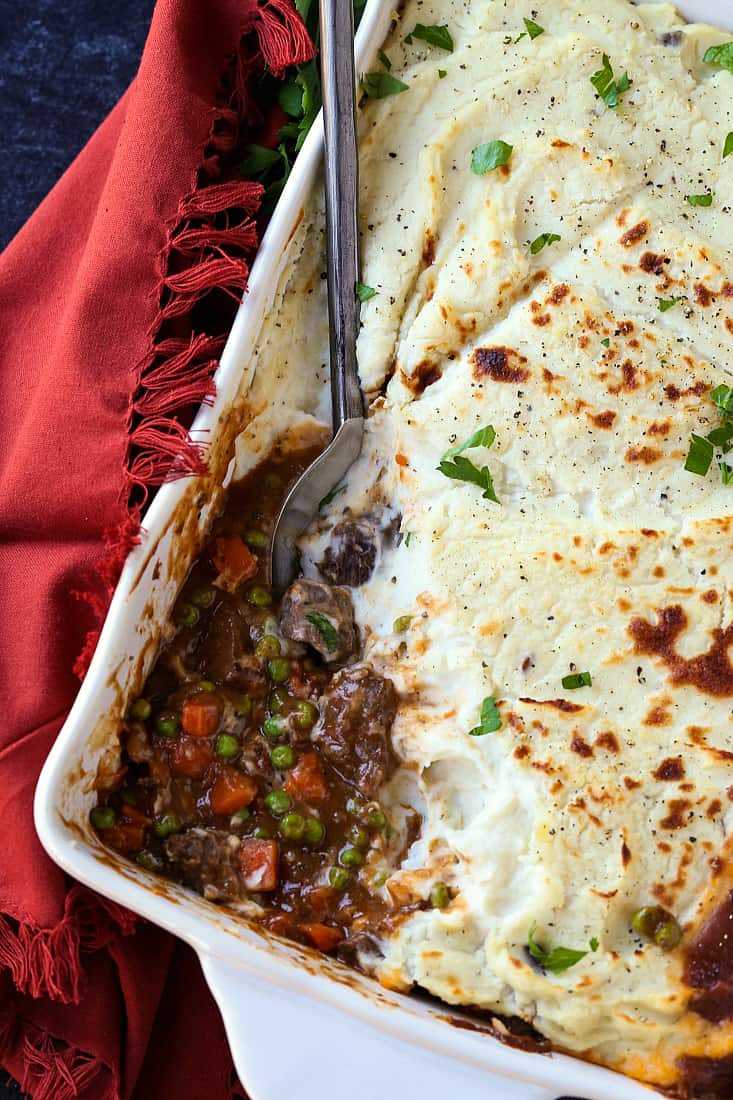 The bonus to making this beef casserole is that it feeds a crowd. Especially if you're serving this dinner with sides and lots of Guinness Beer!
Can I Make This Shepherd's Pie Recipe Ahead Of Time?
Totally, 100% yes. All you need to do is make this recipe up until the point of baking, then cover and keep in the refrigerator for up to 2 days. Then take the dish out of the refrigerator about 30 minutes before you need to bake it, just to take the chill off and then bake per the instructions.
This shepherd's pie also reheats really well in the oven or even the microwave. Not one bite of this delicious recipe is going to go to waste!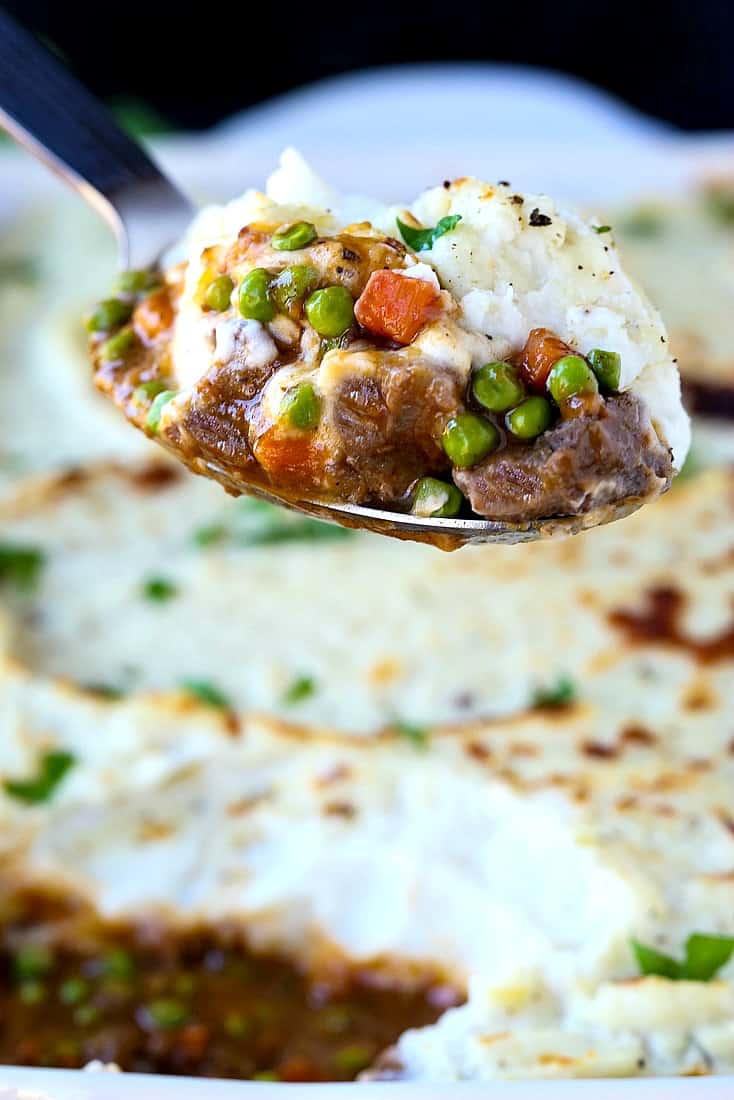 Can I Make Guinness Shepherd's Pie Without Alcohol?
If you can't or don't drink alcohol you can still make this shepherd's pie recipe! Just swap out more beef broth for the beer when you go to deglaze the pan. There are also some really good non-alcoholic beers that would be a good substitute if you can't drink alcohol but still want the flavor.
And yes, most of the alcohol will cook off so no need to worry about serving this dinner to the kids. Because if they're anything like our boys they won't be able to get enough of this meal!
PIN IT!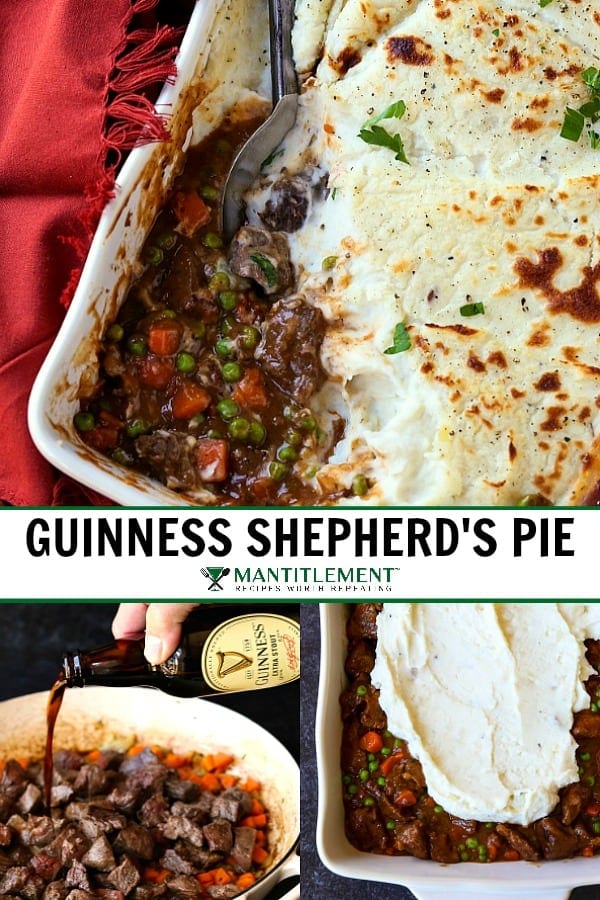 Looking For More Casserole Recipes?
Low Carb Casserole Recipes:
Print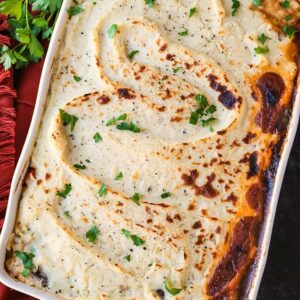 Guinness Shepherd's Pie
Author:

Prep Time:

30 minutes

Cook Time:

25 minutes

Total Time:

55 minutes

Yield:

8

servings

1

x
This hearty and comforting beef casserole is topped with a thick layer of mashed potatoes. Our shepherd's pie recipe is made even better with a splash of Guinness beer!
Scale
Ingredients
3

–

3 1/2

pounds beef stew meat or beef tips (chuck)
Olive oil for browning
Kosher salt and pepper for seasoning the beef

2 1/2 cups

diced carrots

1 1/2 cups

diced onions

1 1/2 teaspoons

kosher salt

2 teaspoons

fresh rosemary, chopped

1 tablespoon

tomato paste

1/4 cup

flour

1 cup

Guinness beer or another dark stout

1 1/2 cups

beef broth

2 cups

frozen peas

4

–

6

cups Mashed Potatoes, depending on how thick you want the layer to be (we used 6) or you can substitute 3 (

24 ounce

) packages store bought mashed potatoes
Instructions
Cut the beef tips down into smaller pieces if necessary. See photo in the post for size but you want about 1 1/2″ pieces.  Season the beef generously with kosher salt and fresh black pepper.
Add a thin layer of olive oil to a large dutch. Sear the beef until brown, working in batches so that you can sear the beef in a single layer without crowding the pot. Remove the browned beef to a plate and continue browning the rest of the beef.
Wipe out the skillet and add another drizzle of olive oil, then add the carrots and onions. Cook for 5 minutes until softened, then add the 2 teaspoons of salt, black pepper to taste and the chopped rosemary.
Return the beef back to the pan with any juices from the plate. Stir in the tomato paste and then sprinkle the flour over the beef and vegetables. Toss to coat the beef and vegetables with the flour and then carefully pour in the beer to deglaze the pan.
Scrape up the bottom of the pan while stirring, bring to a simmer and let the beer reduce for 5 minutes.
Pour in the beef broth, stir and bring back to a simmer and cover. Cook over low heat (making sure the stew is still simmering) for 30 minutes. Stir once in between cooking time to make sure the gravy isn't sticking to the bottom of your pot.
Preheat the oven to 400 degrees.
Remove the lid, taste the stew for seasonings and then stir in the peas. Transfer the stew to a 9″ x 13″, 2 quart baking dish.
Cover the stew with a thick layer of mashed potatoes and then bake, uncovered for 25 minutes until the stew is bubbling and the potatoes are browned and warmed through.
After the 25 minute cooking time you can pop the baking dish under the broiler for an extra crispy, brown top!
Category:

Dinner

Method:

Stove Top/Oven

Cuisine:

American
Keywords: shepherd's pie recipe, shepherd's pie, beef stew recipe, beef casserole recipe, st. patrick's day recipes, guinness shepherd's pie, dinner recipes, recipes for a crowd, beef