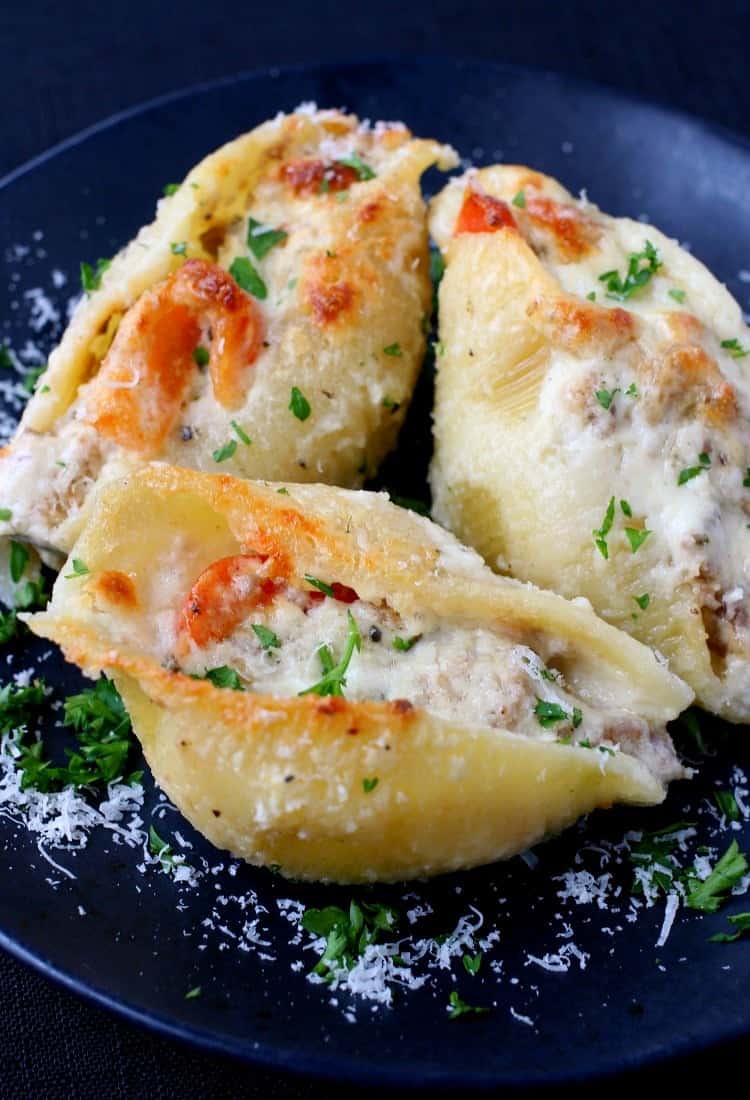 Philly Cheesesteak Stuffed Shells
Philly Cheesesteak Stuffed Shells are my new favorite pasta dish! Stuffed with a creamy, cheesy shredded beef and pepper filling they're hard to beat!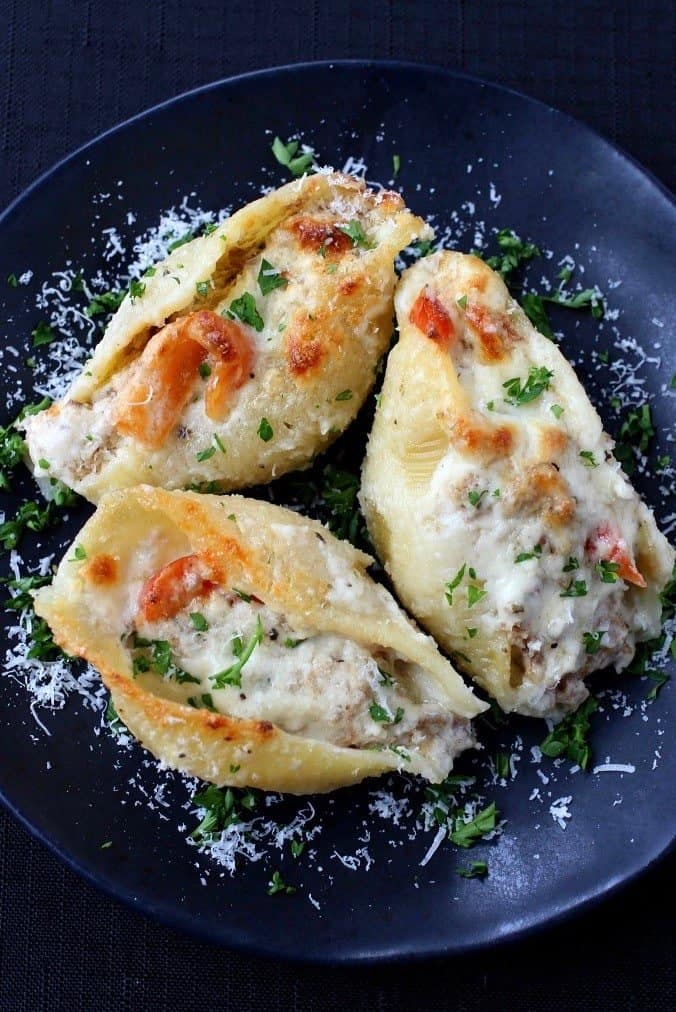 Pasta in all forms is good for me.
We actually just came back from a vacation in St. John (more on that later) and I ordered a fresh pasta dish with Caribbean lobster and shrimp that was out of this WORLD.
So good that Christie ended up stealing it from me and I got her dinner. Win win for me since she ordered a braised short rib that was even more out of this world.
But heading back to reality…in the land of Jersey where Caribbean lobster and fresh pasta at home during the week really isn't an option – we've got thee Philly Cheesesteak Stuffed Shells.
And you won't be disappointed.
Let's face it – most comfort food pasta dinners like this one with sausage and broccoli rabe or this Garlic Bread pasta, it's hard to really walk away hungry. You just keep eating until your so full…well, you might have to loosen the belt a little.
Same goes for these Philly Cheesesteak Stuffed Shells, you won't want to stop eating them. Ever.
The filling is pretty legit, ricotta cheese, sweet peppers, onions and shaved beef. All stuffed into a jumbo shell, covered with a homemade alfredo sauce and baked. I found the prefect recipe for alfredo sauce that's super quick to make but if you want to grab your favorite jarred sauce that works too.
The filling starts off by cooking down some onions and bell peppers. Use whatever color pepper you like, I like the red ones so that's what I used. A traditional Philly Cheesesteak would probably use green so go ahead and grab those if you want!
Cook the peppers down with a large onion, then add in the shaved beef. If found mine at the grocery store, I've also seen it at Trader joe's but if you can't find shaved beef then grab a sirloin and slice is super thin. If you freeze it for about 30 minutes it will slice much easier for you.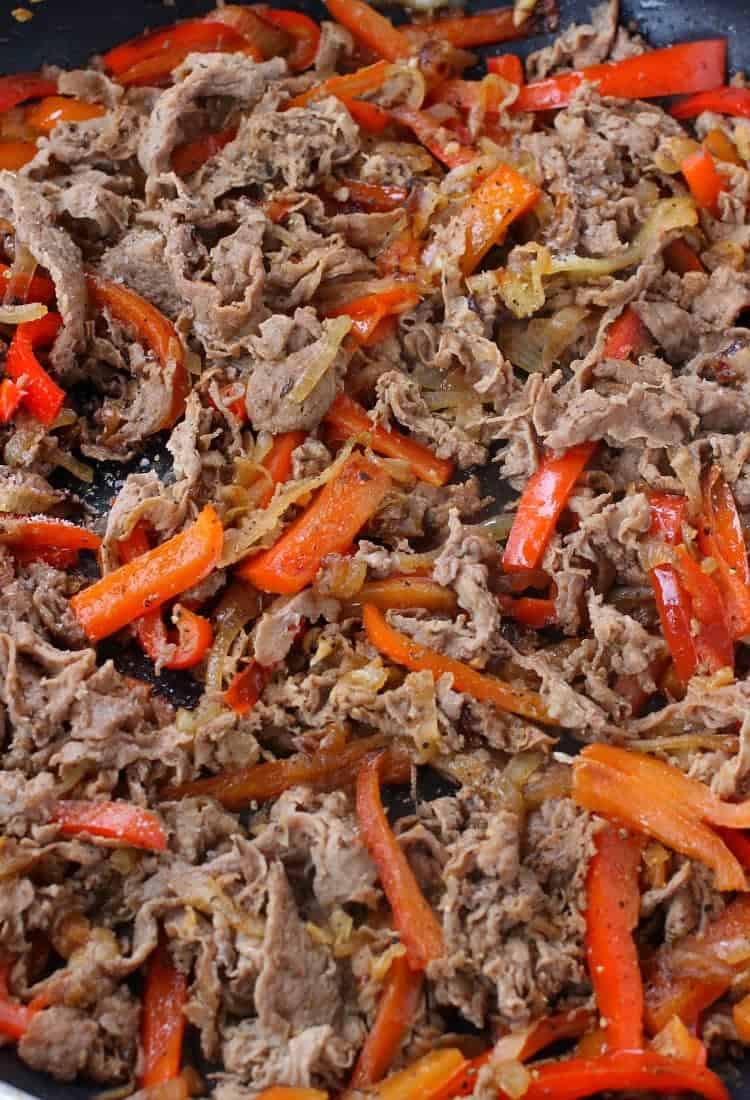 While you're making the filling start a large pot of water to boil.
Drop the box of shells in, boil, drain and run with cold water to cool them down.
Now it's time for stuffing! Grab a shell and load it up with the Philly cheesesteak stuffing then place it in a rectangular baking dish (9″x12″) and repeat.
Pour the alfredo sauce all over the top, cover with foil and get them in the oven.
They'll only bake for about 25 minutes to warm the filling through, then you can take the foil off and put them back in the oven for another 15 minutes to brown the tops.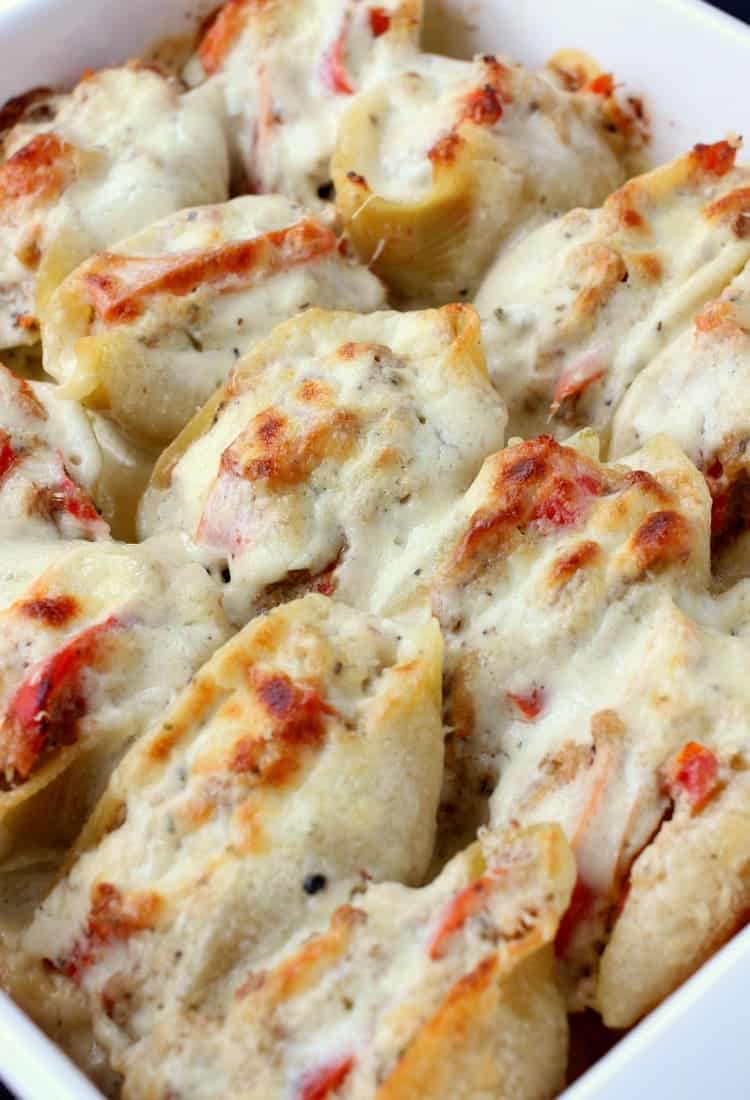 Dig in and enjoy. These shells are rich, creamy and totally indulgent. Perfect for a comfort food dinner or a holiday side dish or any party that you need to wow your friends.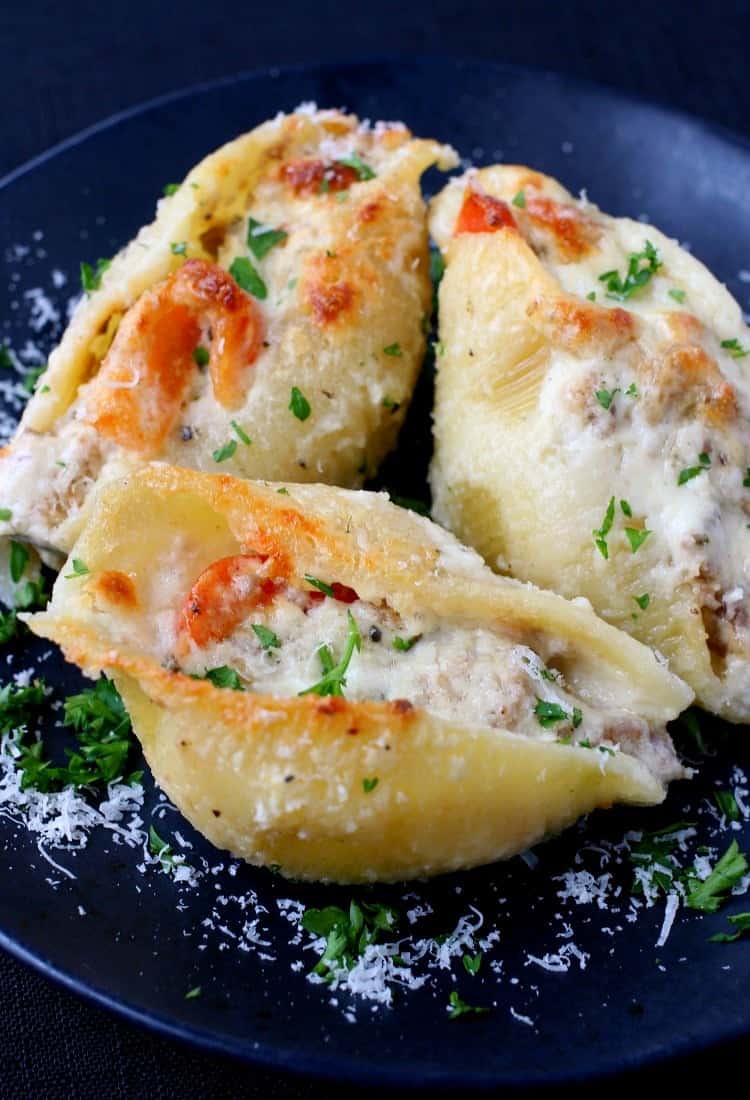 Or just wow your family. That counts for bonus points too!
Print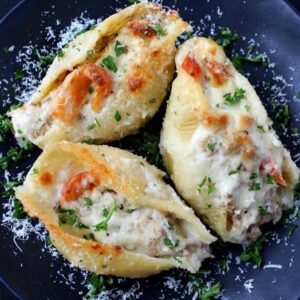 Philly Cheesesteak Stuffed Shells
Author:

Yield:

6
---
Ingredients
1 lb. box jumbo shells
2 tablespoons olive oil
2 large bell peppers cut into strips and then in half
1 large onion, sliced
3 cloves garlic
2 teaspoons salt
1 teaspoon dried oregano
2 tablespoons sweet marsala wine
1 lb. shaved beef (if you can't find the beef shredded, see *note)
1 1/2 cups ricotta cheese
1 egg
additional 1/2 teaspoon black pepper and 1/2 -1 teaspoon salt
For the Alfredo Sauce
1/2 cup butter
1 pint heavy cream
4 ounces cream cheese
1 teaspoon garlic powder
1/2 teaspoon Italian seasoning
1/4 teaspoon salt
1/4 teaspoon pepper
1 cup grated parmesan cheese
---
Instructions
Start a large pot of water to boil.
Cook the shells according to the package directions, drain and rinse with cool water so they don't stick together and set aside.
Preheat the oven to 400 degrees.
In a large skillet, add the oil then the peppers and onions.
Cook for 5 minutes while stirring, then add the garlic, salt and oregano.
Stir and cook down for 15 minutes until the peppers and onions are soft.
Push the onions and peppers to one side of the pan and add the beef.
Cook the beef until brown, breaking up with a spoon as you cook it. Once the beef is browned you can stir it into the peppers and onions.
Pour the marsala wine into the skillet and stir until most of the wine cooks off, turn the heat off and set aside.
Once cooled, transfer the beef and pepper mixture into a bowl and stir in the ricotta cheese and the egg.
Spray a 9″ x 12″ baking dish with cooking spray.
Take a shell and stuff with the filling and place in the baking dish. Repeat until all the shells are stuffed.
Add the butter to a small saucepan to melt.
Once it's melted whisk in the cream, the cream cheese, garlic powder, Italian seasoning, salt and pepper.
Simmer for 5 minuets over medium heat then add the parmesan cheese.
Stir to combine the cheese into the sauce, then pour the sauce over the shells to cover.
Cover the baking dish with foil and bake for 25 minutes.
Remove the pan from the oven, take the foil off and bake for another 15 minutes to brown the top.
---