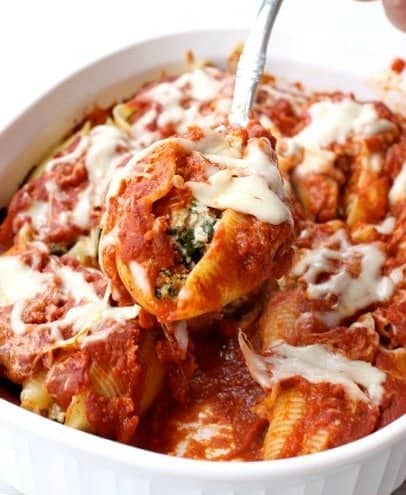 Everyone loves a good stuffed shell recipe and these Ravioli Stuffed Shells are one of our favorites! My favorite ravioli filling made easier using shells!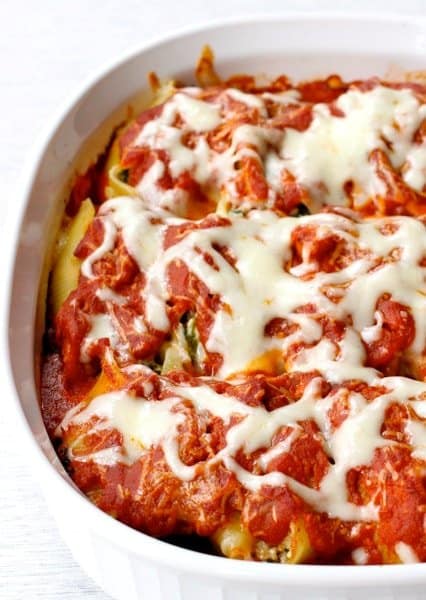 The name might be confusing, it might lead you to believe that these stuffed shells are actually stuffed with ravioli.
They aren't, that would be strange.
But the filling inside these Ravioli Stuffed Shells is made from one of our favorite ravioli recipes.
So instead of going through all the work of making homemade ravioli we put it inside stuffed shells.
I'm always looking for short cuts to make things easier. Dinner time or entertaining doesn't have to be another stress in life.
The filling starts by browning up some meat. They call it a "meatloaf mix" in my store, a mixture of pork, beef and veal.
After the meat is browned add in some chopped spinach and seasonings and let it cool.
Now you can stir in the ricotta and parmesan cheese and give it a taste for seasoning. There's no egg in this filling mixture like in a lot of other recipes that I see. It doesn't need to hold together like in a lasagna so we didn't see the need to put one in.
Oh and in the meantime while your making your filling you'll be boiling up your pasta shells…drain them and let them cool.
Then stuff them up with your filling.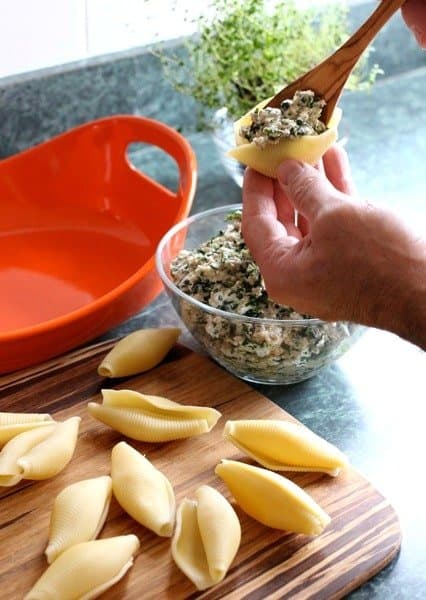 You can use a homemade marinara sauce like we did, or buy your favorite store-bought sauce. Get a large jar if you buy it, you'll need about 5 cups.
We didn't use a ton of mozzarella on top of the shells before we baked them. I have to admit that none of us are big fans of baked ziti or shells covered in an a blanket of mozzarella cheese. But if you are then feel free to add as much as you want to the top before baking.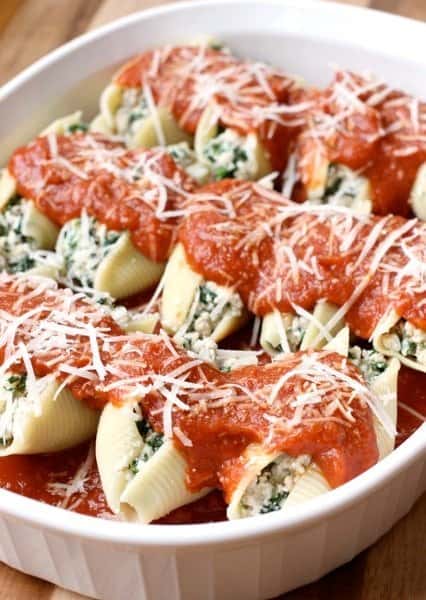 This filling would also be awesome in a lasagna or if you wanted to get out that pasta maker – it is amazing as a ravioli filling.
This Ravioli Stuffed Shells recipe feeds a small army, or my family and a few more. So if you're looking for a recipe to entertain with or for leftovers during the week this one is perfect!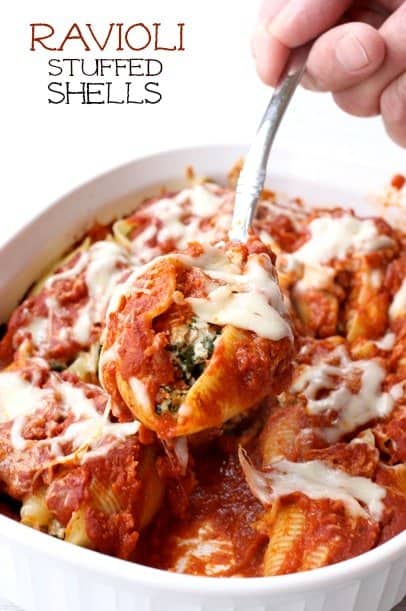 Print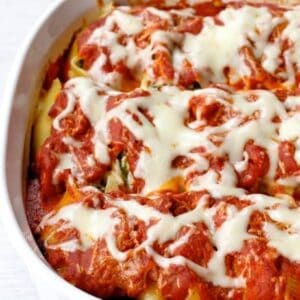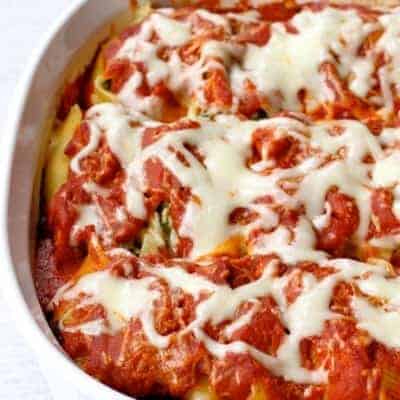 Ravioli Stuffed Shells
---
---
Ingredients
2

lbs. meatloaf mix (pork, beef and veal combined)

1

(10 oz.) box frozen spinach, thawed and squeezed dry

2

T. olive oil

1 1/2

t. salt

1 1/2

t. pepper

1

t. garlic powder

1/2

t. dried basil

1/2

t. dried oregano

2

c. ricotta cheese (part-skim or regular)

1/2

c. grated parmesan cheese

5

c. marinara sauce
---
Instructions
Heat a large pot of water to boil then add in 1 box of jumbo shells.
Cook according to package directions, then drain.
Heat the olive oil in a large skillet, then add the meat to brown, breaking up as you go.
Once the meat is browned, stir in the spinach, salt, pepper, dried oregano, garlic powder and dried basil.
Remove from the heat and let cool.
In a large bowl, add the ricotta and parmesan cheese and stir to combine.
Pour in the cooled sausage mixture and stir together with the cheese to make the filling.
Heat the oven to 375 degrees.
Get 2 9×13″ baking dishes and spoon about a cup of the marinara sauce on the bottom of each to coat.
Start filling the shells with the sausage mixture and placing on top of the sauce.
Once the shells are filled, pour more sauce over the top to almost cover and then top with additional parmesan and mozzarella cheese.
Bake for 20 minutes covered with aluminum foil, then remove the foil and bake another 20.
---
Notes
You'll need 2 baking dishes for this recipe, a whole box is about 32 shells and you'll have enough filling for almost all of them.
You can make the shells completely and then bake when your ready. Just add a few more minutes to the cook time since they'll be cold from the refrigerator.