This Chicken Pot Pie Recipe is a classic comfort food meal! Our double crust pot pie is filled with chicken & vegetables in the most delicious cream sauce!
We love comforting chicken dinners like this pot pie! If you're looking for a lower carb version, try this low carb Spaghetti Squash Casserole that has all the same flavors! Love soup? Check out our creamy Chicken Pot Pie Soup with pie crust dippers!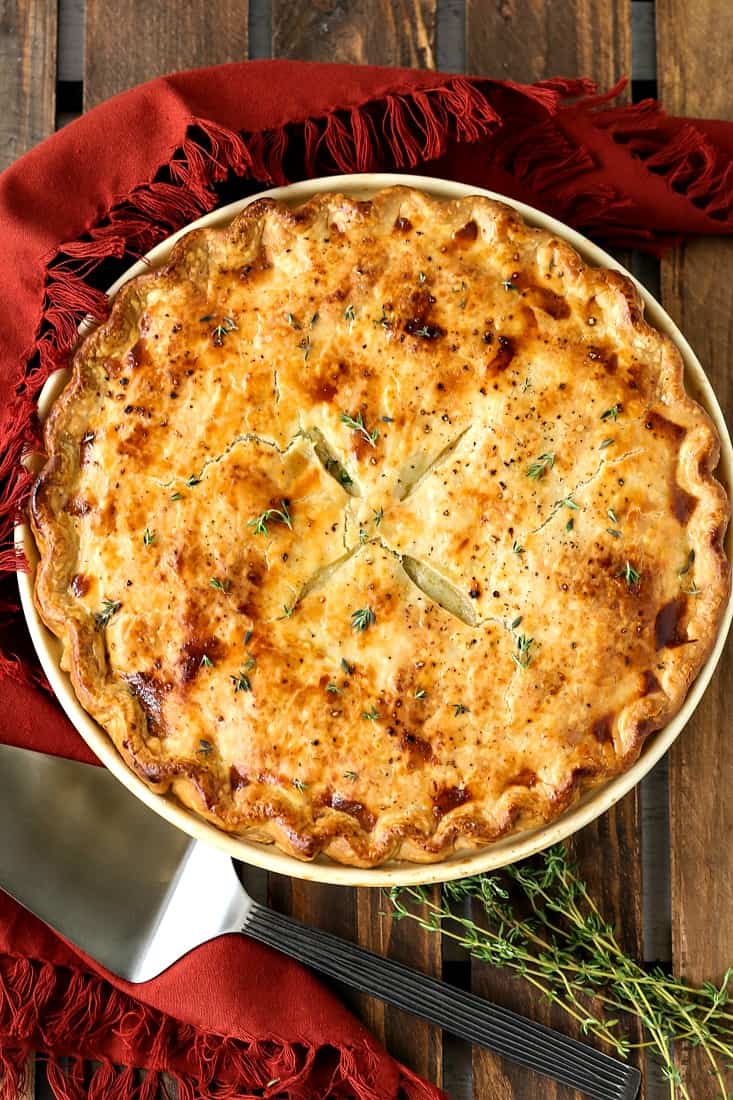 A Double Crust Chicken Pot Pie Recipe
But you can also make this chicken pot pie recipe with one crust if that's all you have…
We like this two crust pot pie recipe, but if you only have one pie crust in the refrigerator, just leave the bottom crust out and use your pie crust on the top. Chicken pot pie can be made in so many ways, with so many different filling options.
We stuck with a pretty classic version of the recipe, it's one that our kids crave all the time and get super excited about when they smell it cooking in the oven. What I love about the double crust is that the bottom crust cooks and browns, but is softer because it's holding all that creamy chicken filling.
Then you have the contrast of the top crust that gets brown and totally crispy so when you cut into a slice with your fork you get the best of both worlds in one bite.
What Ingredients Do I Need To Make This Chicken Pot Pie?
Like I said before, you can swap out a lot of different vegetables in the filling for this chicken pot pie, you can use up your leftover chopped broccoli or spinach, even mushrooms and corn.
Cooked Chicken: You'll need about 3 cups of cooked, shredded or chopped chicken for this recipe. A rotisserie chicken works great for this, or grab any leftover chicken breasts (or dark meat) that you have. If you want to cook boneless chicken breast from scratch you can simply season it with salt and pepper and bake it in the oven at 400 degrees for about 25 minutes until the juices run clear.
Frozen Peas & Carrots: No need to get fancy here, just grab a bag of frozen peas and carrots. You don't even need to defrost them!
Store Bought Pie Crust: You'll need 2 pie crusts for this pot pie, which most packages from the store come with. Of course you can use homemade pie crust if you prefer.
Heavy Cream: You really do need heavy cream to make the filling, unless you don't like a super creamy, rich, thick filling. The only thing I might substitute here if you have to is half and half or lastly whole milk. The latter 2 will result in a thinner filling consistency, but will still be delicious.
Chicken Stock: Try and find the most flavorful brand at the grocery store. There are some really watery chicken broths and stocks on the shelves and they won't give the best flavor to the sauce.
Onions: Sweet yellow onions are the best for this recipe.
Celery: Celery will add a delicious crunch to this rich pot pie filling.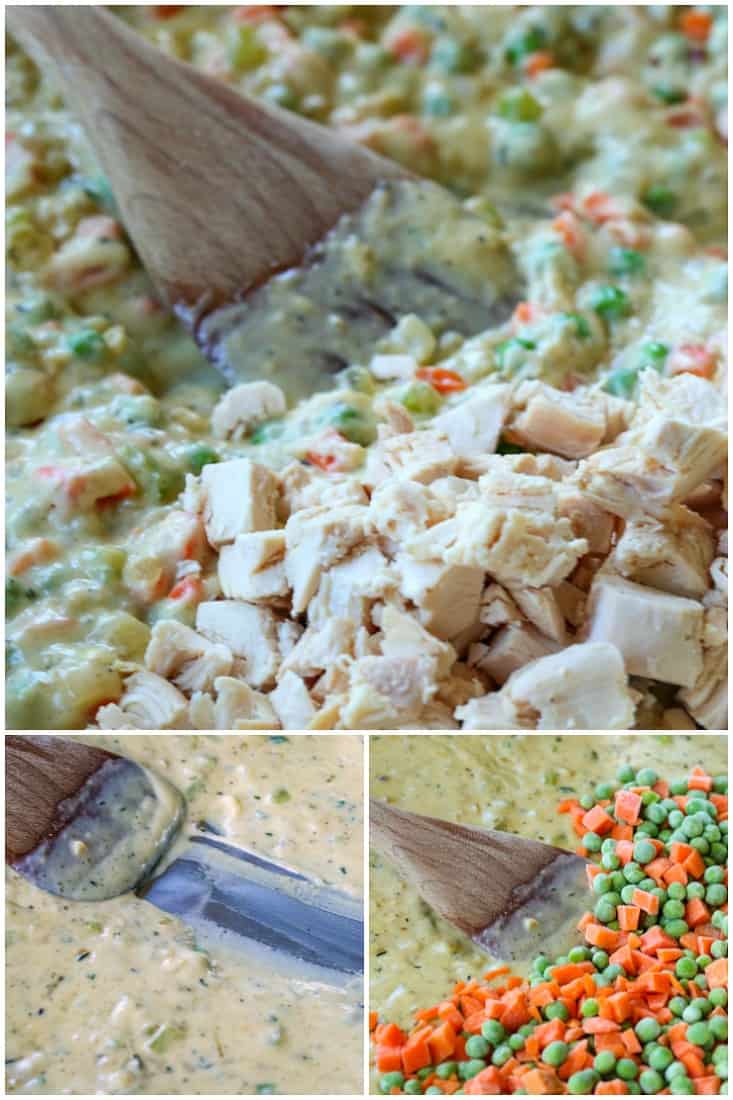 How Do I Make This Chicken Pot Pie?
Pot pies are really so easy to make, especially if you follow a few short cuts like in this recipe! Grab a store bought pie crust for one, I mean you can't beat some of the big name brands at the store. Grab a rotisserie chicken, remove the skin and shred it. It'll be just as good as poaching or baking your own.
Start by making the sauce for the filling: Melt butter in a large skillet and add onions, celery and garlic to soften. After about 5-7 minutes, sprinkle in flour to make a roux. Let the roux cook for 1 minute, then slowly pour in chicken broth while whisking. Add seasonings, heavy cream, cooked chicken and frozen peas and carrots to the sauce. Stir to combine and set aside.
Assemble the pot pie: Place one of the pie crusts in the bottom of a 9 inch pie plate. Press to form it to the bottom of the pie plate and along the sides. Pour in the chicken and vegetable filling, then ad the second pie crust to the top. Tuck the top pie crust under the edge of the pie plate and underneath the bottom crust, all the way around. Go back and crimp the edges of the crusts together with your knuckle and two fingers.
Bake the pot pie: Brush the top of the pot pie with egg wash and then season with salt and pepper. Make a few slits in the crust with a knife so that the steam can release while baking. Place the pie dish on a baking sheet and bake in a 425 degree oven for 35 minutes. Cover the crust with foil if it browns too much during cooking. Let the pot pie rest for 10 minutes before slicing and serving.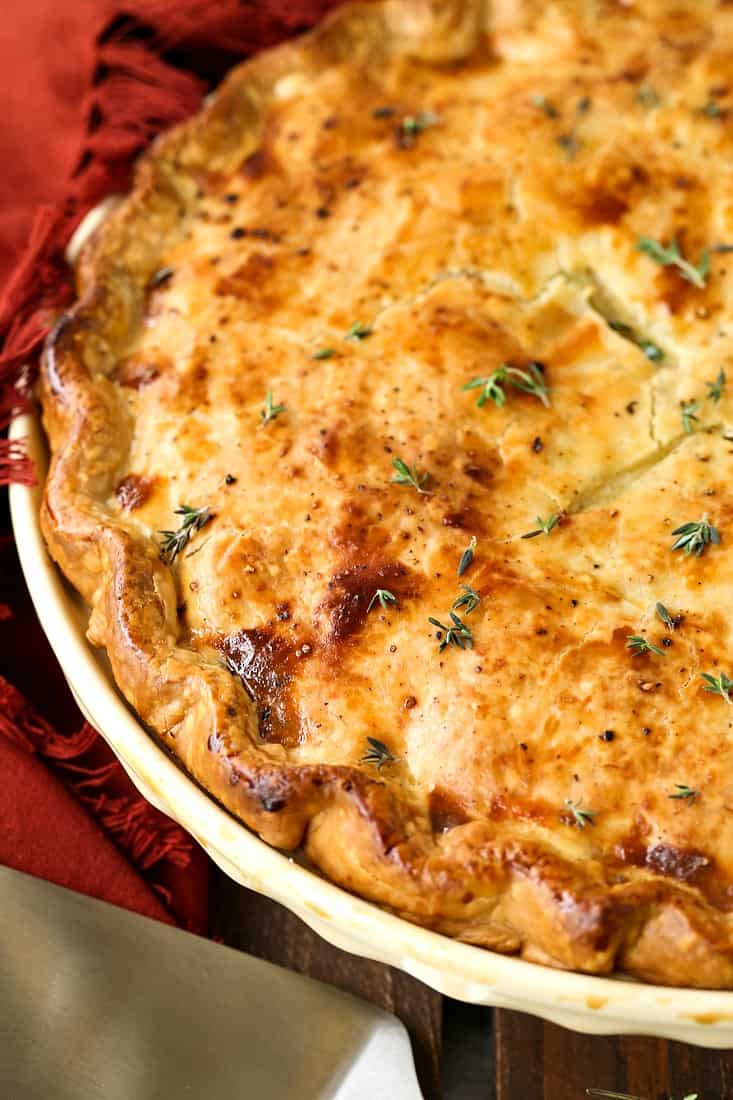 How Do I Serve This Pot Pie Recipe?
After the pot pie rests you can slice it and serve with a pie server. The filling will deliciously spill out while you lift out the wedge of pot pie, so get back in there and spoon up more of the filling onto the plate.
The filling will set up even more as it sits, you can even let this pot pie sit for up to 30 minutes after it comes out of the oven. It will still be piping hot! We use 2 1/2 cups of chicken stock in our filling and we have found that to be the perfect amount. It's a creamy, saucy texture that stands up to the crust and leftovers aren't dried up in ay way. If you like a really thick filling, cut the chicken stock down to 2 cups.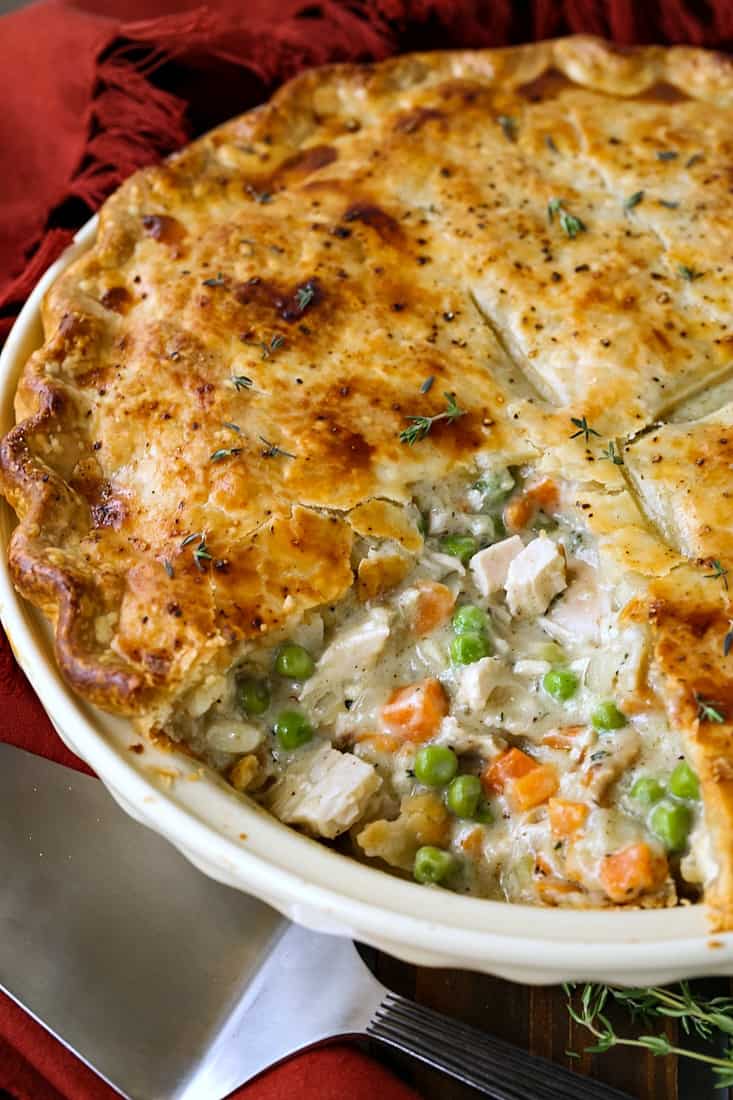 How Do You Reheat This Chicken Pot Pie?
For a quick reheating option, the microwave works just fine. Once you chill the leftover pot pie, you'll see that the sauce thickens up quite a bit, which is why we think this is really the most perfect chicken pot pie recipe!
You can get 6 large pieces or servings from this recipe, but if you're looking to stretch it a little you can serve 8 smaller pieces and a salad on the side. Another reheating option is the oven, the crust will stay a little crispier on top if you have the time to heat it up this way.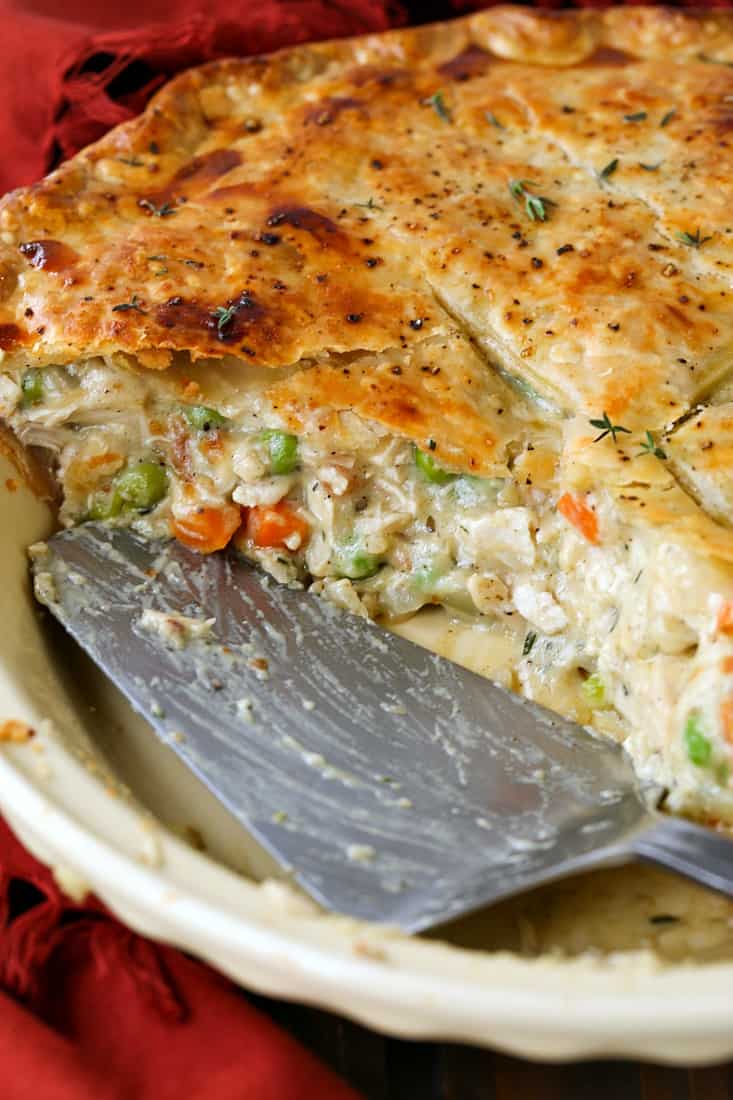 Looking For More Comforting Dinner Ideas?
Print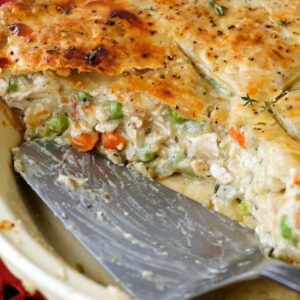 Chicken Pot Pies
Author:

Prep Time:

10 minutes

Cook Time:

35 minutes

Total Time:

45 minutes

Yield:

6

1

x
This comforting dinner is one of our favorites! We use a double crust for our chicken pot pie to stand up to the hearty, and creamy chicken & vegetable filling!
Scale
Ingredients
1/4 cup

butter

1 cup

diced onion

1/2

diced celery

1 tablespoon

chopped garlic

1/4 cup

flour

2 1/2 cups

chicken broth

1 cup

heavy cream

1 teaspoon

kosher salt
Fresh black pepper to taste

1 tablespoon

chopped fresh thyme

1 teaspoon

poultry seasoning

2 cups

frozen peas & carrots

3 cups

cooked, diced chicken
Store bought pie crust (with 2 crusts)
egg wash (egg beaten with a splash of water)
Instructions
Preheat the oven to 425 degrees.
Melt the butter in a large skillet over medium-low heat. Add the onions, celery and garlic. Cook while stirring for 5-7 minutes until the vegetables have softened but not browned.
Sprinkle the flour into the skillet and stir to combine with the vegetables. Cook for 1 minute and then slowly pour in the chicken broth while whisking to prevent lumps form forming. Bring the sauce to a simmer for 2-3 minutes to thicken.
Once the sauce has thickened, stir in the cream and add the salt, pepper, fresh thyme and poultry seasoning. Stir the sauce, taste for seasonings and adjust if needed.
Add the peas, carrots and chicken to the skillet, stir to combine with the sauce and remove from the heat.
Place one of the pie crusts in the bottom of a deep, 10 inch pie dish (See note). Form the crust to fit to the bottom and along the edges. Pour in the pot pie filling and then top with the second crust. Tuck the top crust under the edge of the pie dish and underneath the bottom crust all the way around. Now crimp the crust using your knuckle and two fingers all the way around to seal the top and bottom crust together.
Brush the top crust with egg wash and then season with more salt and pepper. Make 3 or 4 slits in the crust with a sharp knife to allow the steam to escape.
Place the pie dish on a baking sheet and then bake for 35-40 minutes until the crust is browned and the filling is bubbling. Cover the crust with foil if you notice that it's getting too brown while the pot pie is baking.
Let the pot pie rest for at least 10 minutes after it comes out of the oven, then slice and serve.
Recipe Notes
The filling will be right to the top, which is why we put the pie dish on a baking sheet to prevent any spills in your oven. If you only have a 9 inch pie dish, you can still use it but you will have extra filling.
Category:

Dinner

Method:

Oven/Stove Top

Cuisine:

American
Keywords: chicken pot pie, pot pie recipe, chicken recipes, dinner ideas, comfort food
PIN IT!