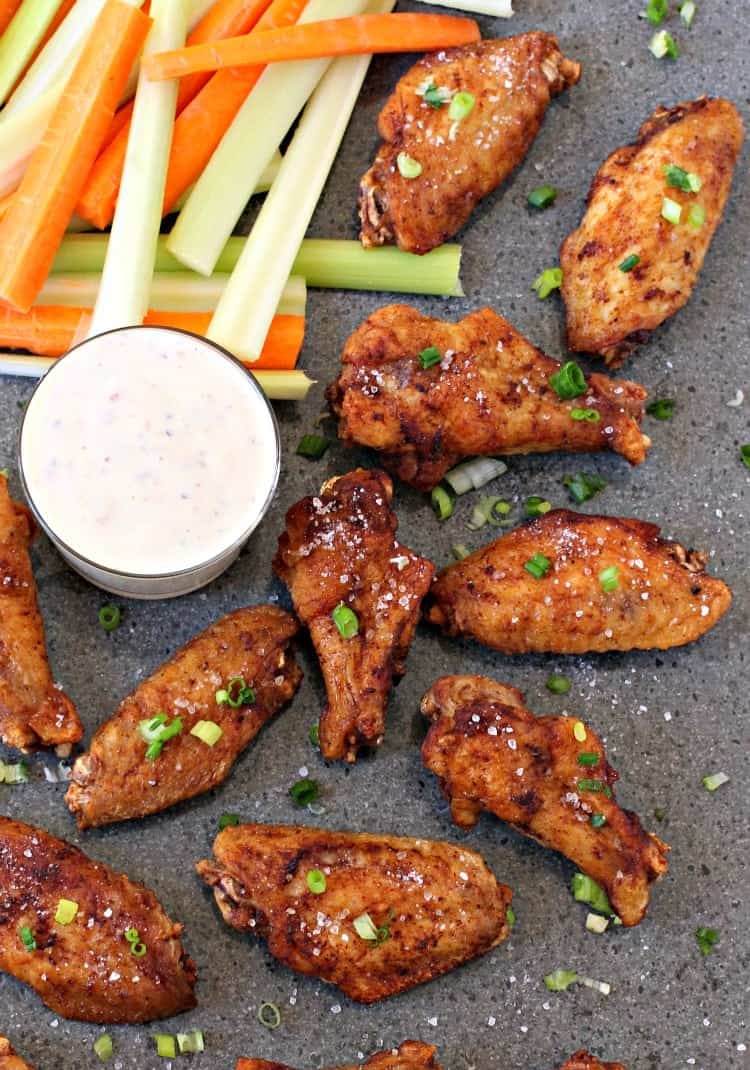 Salt and Vinegar Wings are my favorite thing to order out, or were my favorite wings to order out. Now I can make them even better at home!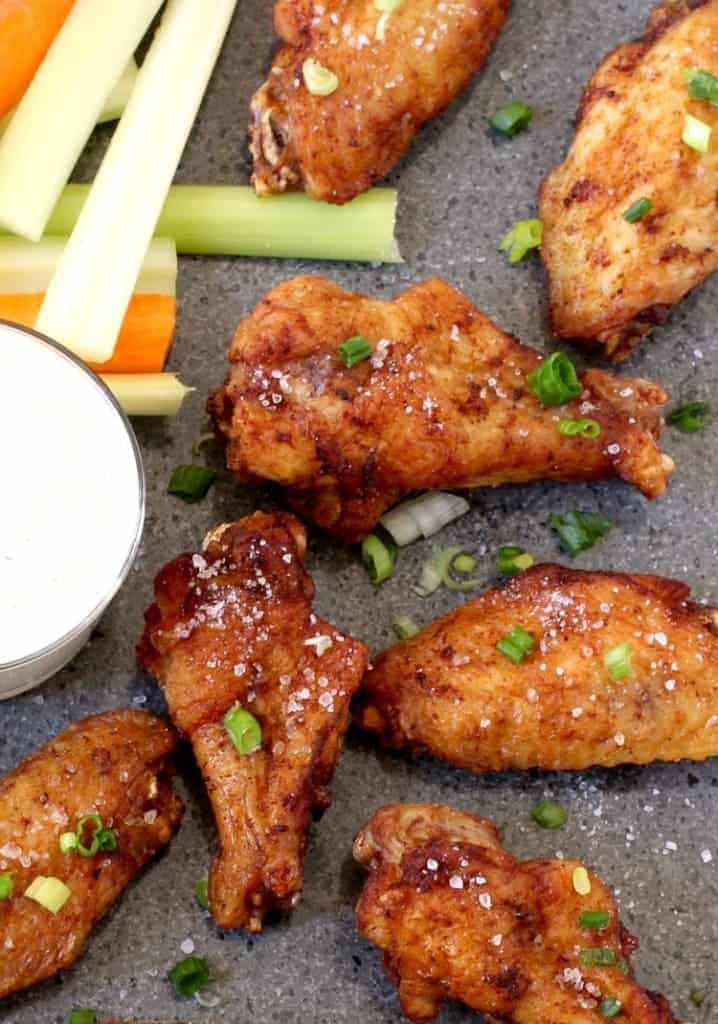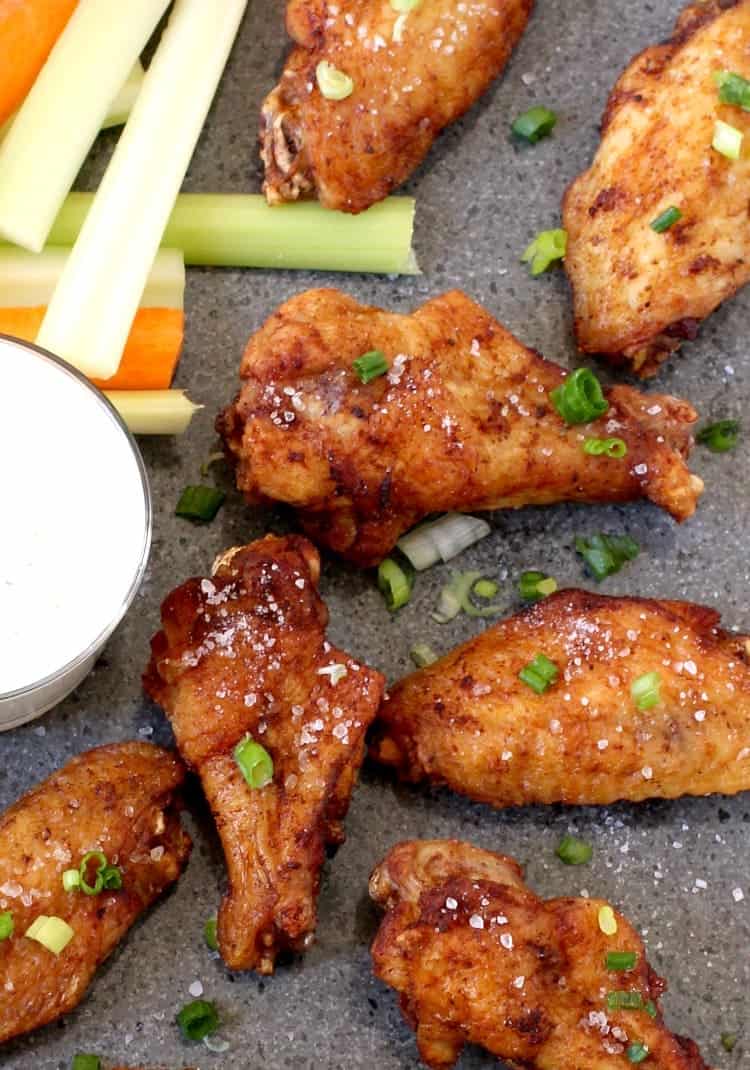 Before Buffalo Wild Wings came around I had never had a salt and vinegar anything, let alone any type of chicken wing that wasn't buffalo flavored. Not a potato chip or nuts or popcorn. Nothing salt and vinegar would tempt me at all. But then I had them.
The Salt and Vinegar Wings at BDUBS. And it was all over.
I know there's like 10,000 different wing and sauce combinations on the menu but I can't bring myself to order any of them. It's Salt and Vinegar every single time.
So it was a totally normal thing for me to try and re-create them at home. So that I can eat them whenever I want to.
I'll start off by saying that yes, I fired these wings. Just like they do at Buffalo Wild Wings. Sometimes you can't deny the deep fry…
But I'll say it.
You can definitely bake them if you wanted to.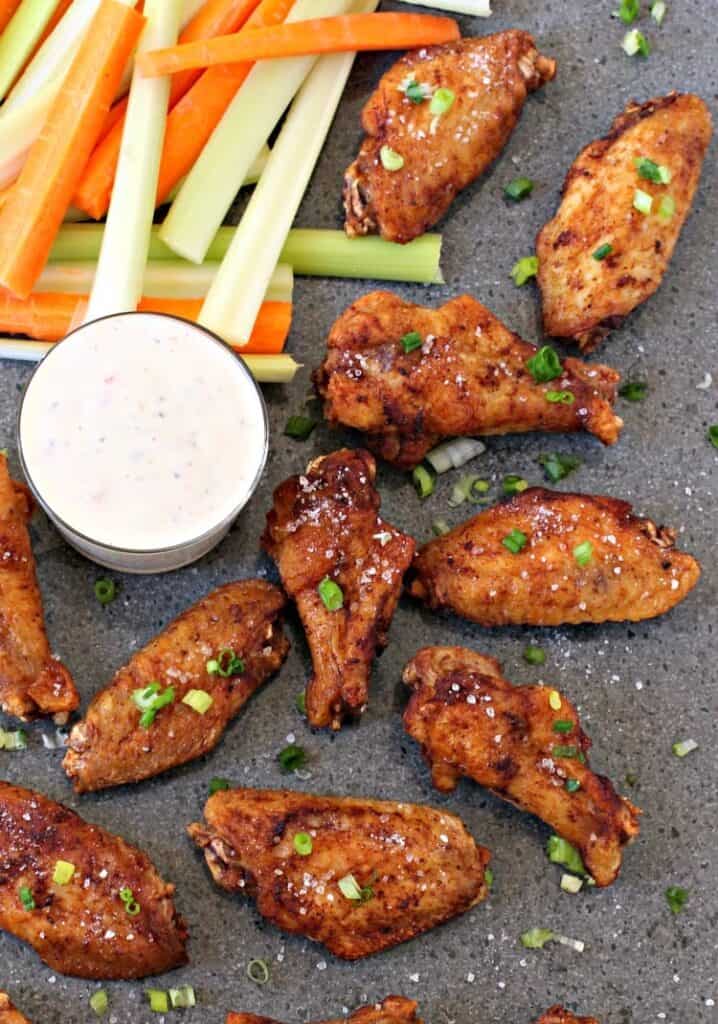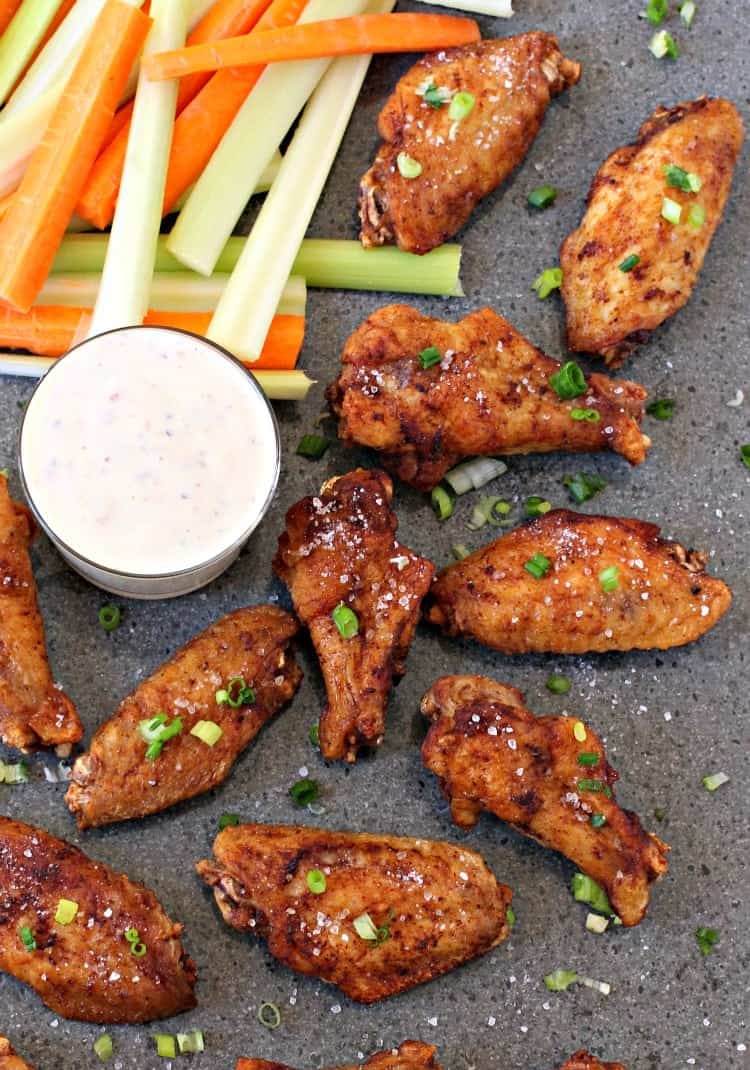 Bake them in a 475 degree oven, turning over halfway in between. You'll get pretty much the same result and maybe that way you can eat a heck of a lot more of them.
Start out by heating up a pot of oil about halfway filled. Don't go over the halfway line of your pot because you'll have bubbling hot oil all over your stove – and hopefully not yourself.
So keep it safe and just fill halfway…then season up your wings.
I used garlic powder, salt (of course) and paprika. Nothing out of the ordinary right? Wait for it – the secret ingredient is…
Sugar.
Why sugar? Because I read somewhere at some point in a magazine that this chef uses sugar to coat his roasted chickens because it gives that brown, caramelized color to the chickens that everyone looks for. So why not use it on my wings?
It also adds just the right amount of sweet flavor to balance out the salt and the vinegar. I have to say, we nailed these. I think (and my boys agree) that they are even better than BWW.
Yep. Better.
So I was going to call these wings "Copycat BWW Salt & Vinegar Wings" but I didn't, because mine are actually better.
Take that BDubs.
OK so fry up your wings (or bake them) and then get them in a large bowl while they're still hot.
Toss them with malt vinegar – as little or as much as you like. Then coat them with a good layer of kosher salt.
That's it. That's all there is too the most perfect wings you'll ever eat.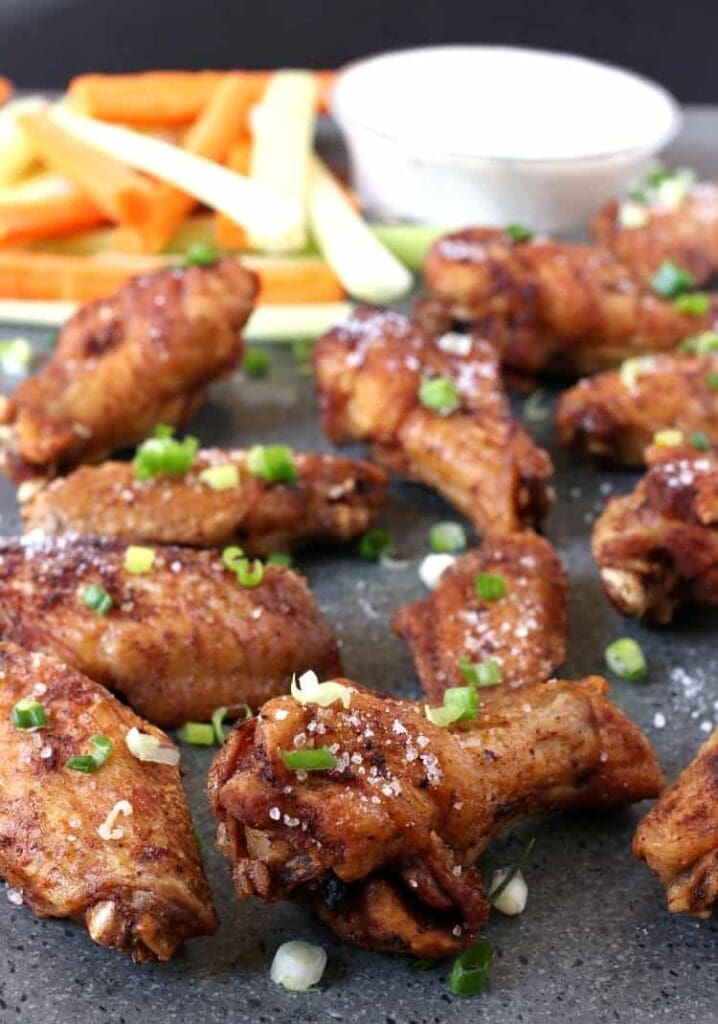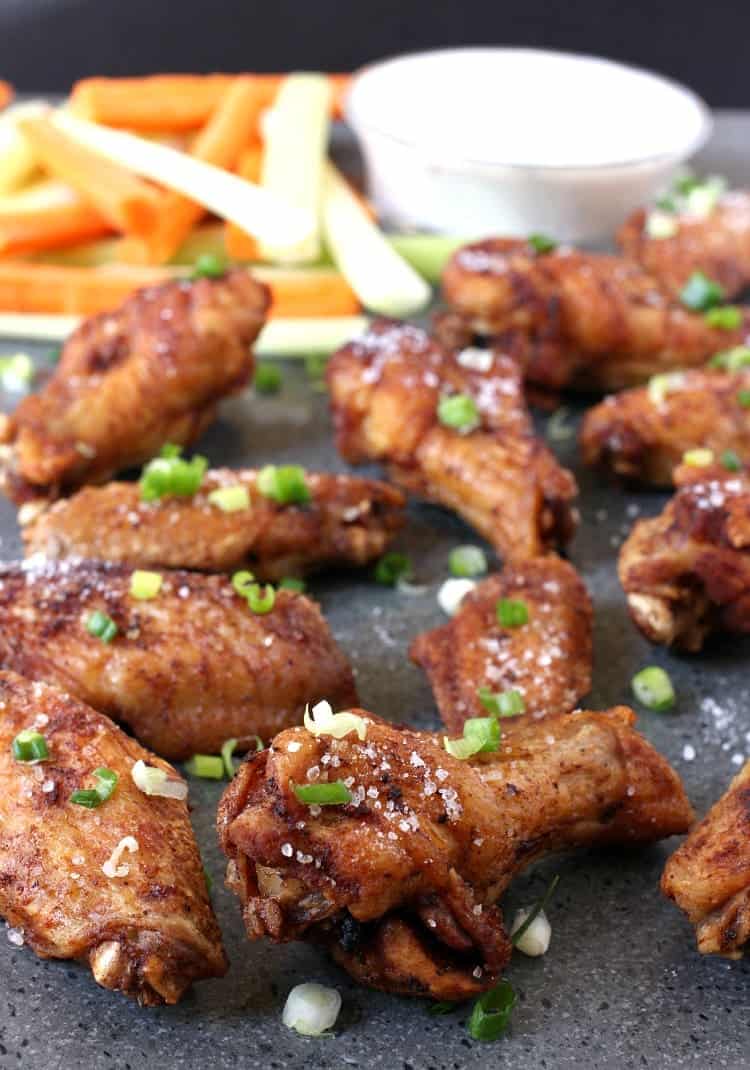 Print
---
Ingredients
1

(48 oz. package) chicken wings, about

20

wings.

1/2 teaspoon

salt

1/2 teaspoon

garlic powder

1/2 teaspoon

paprika

1 teaspoon

sugar
vegetable oil for frying
toppings
malt vinegar
sea salt or kosher salt
ranch or blue cheese dressing for dipping
---
Instructions
Fill a large pot filled halfway with vegetable oil over medium heat and heat until a thermometer reaches 375 degrees.
While the oil is heating up, toss the wings in the salt, garlic powder, paprika and sugar.
Fry the wings in batches of 6-7 and cook for 8 minutes until crispy.
Drain on a plate lined with paper towels and repeat.
Toss the wings in a large bowl with 2 tablespoons of the malt vinegar and 1 tablespoon of salt.
Serve with ranch or blue cheese dressing on the side for dipping.
---
Notes
Alternately, you can bake the wings in a 475 degree oven for 15 minutes until crispy, turning halfway through cooking time.